The original soundtrack to the ongoing TV anime series BAKI will be released on December 12, 2018.
BAKI is a hugely popular series currently available on Netflix and is being aired in Japan on Tokyo MX1 and six other channels. Kenji Fujisawa is responsible for the soundtrack. Fujisawa is a guitarist who has appeared in music videos and live performances for a long list of artists and is also a music composer, having provided soundtracks for GeGeGe no Kitaro and Ninja Slayer From Animation (2015). The soundtrack features performances from taiko drum player Hiroshi Motofuji as well Yaiba who has performed music for Naruto Shippuden and Fairy Tail.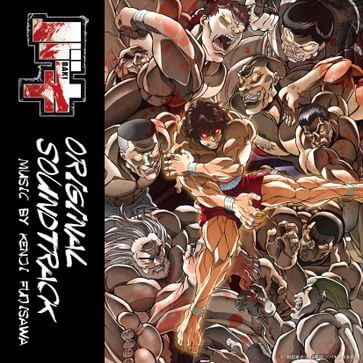 The OST features 50 tracks spanning across two discs as well as 7 additional BGM tracks that were included with volume 14 of Baki-Dou.
Information
BAKI Original Soundtrack
Release Date: December 12, 2108
Tracks: 57 (2 CDs)
Price: ¥3,000 (+Tax)
*Will be released on iTunes and other music platforms.
BAKI Blu-ray BOX Vol.1
Release Date: November 16, 2018 (Episodes 1-13)
Price: ¥19,800 (+Tax)
*Episodes 14-26 to be released as Vol.2 on February 27, 2019.
©Keisuke Itagaki (Akita Shoten) / BAKI Production Committee