Authentic Uji Matcha Soft Serve Ice Cream Released at MINISTOP in Japan
MINISTOP convenience stores across Japan released two new matcha soft service ice creams on November 2: the Uji Matcha Soft and the Premium Adzuki Matcha Soft.
MINISTOP has served a range of Premium Soft ice cream products made with top quality ingredients since 2015 including their Premium Belgium Chocolate Soft and Premium Chestnut Mont Blanc Soft. This year's ingredient is matcha, the hugely popular tea flavour loved both in Japan and overseas.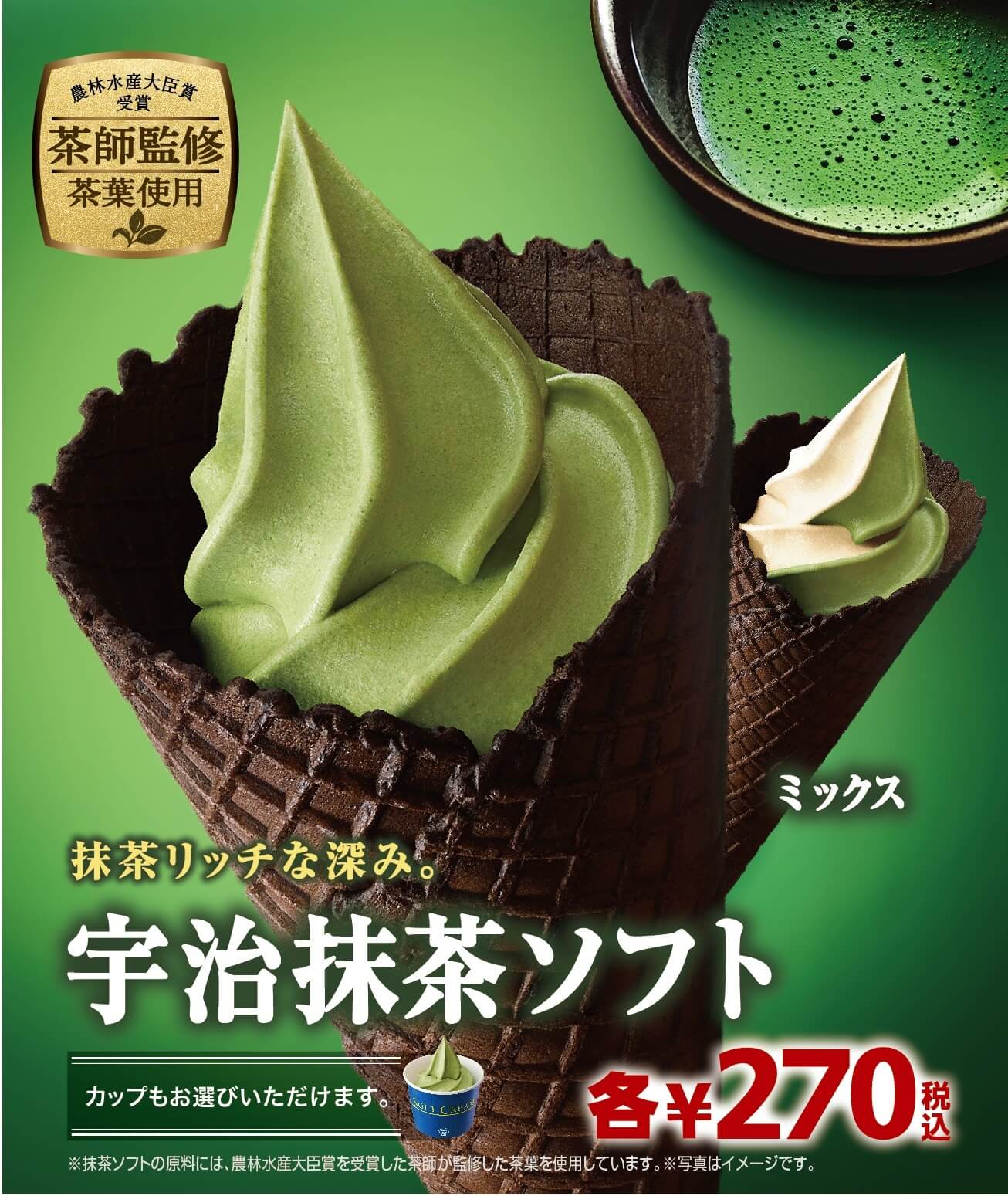 Uji Matcha Soft / Uji Matcha Mix Soft: ¥270 Each (Tax Included)
Premium Azuki Matcha Soft / Premium Azuki Matcha Mix Soft: ¥300 Each (Tax Included)
The soft serves are made with full-bodied matcha carefully selected by the tea experts of Hokodo, a long-standing Uji tea shop. You can choose from the regular Uji Matcha Soft or go the full mile and get the Premium Azuki Matcha Soft which comes topped with adzuki red bean sauce and soybean mochi pieces.
The cones are also made in the image of a matcha teacup. Their colour comes from brown sugar syrup which uses brown sugar from Okinawa Prefecture, offering a sweet sugary addition to the bitter flavour of the matcha.
These ice creams are available for a limited time only so head to a MINISTOP convenience store while you can and try them yourself!
Information
Premium Azuki Matcha Soft
Uji Matcha Soft
Release Date: Released at branches sequentially from November 2, 2018 (Available at all branches from November 9, 2018)
Available Regions: Whole of Japan
*Flavours to alternate at each branch from November 2 to November 9.
*Available with a cone or cup.
Official Website: https://www.ministop.co.jp
RELATED ENTRIES
FamilyMart Starts Pokemon Campaign, Pikachu Pineapple Frappe Now Available

FamilyMart stores nationwide have started a campaign in collaboration with the free-to-play mobile game Pokemon Cafe ReMix! From June 21 until July 18, visitors will be able to pick up some special treats and exclusive merchandise.

Pikachu Frappes

A new addition to the Frappe series, customers will be able to enjoy Pikachu's Pineapple Frappe starting June 21, featuring Pikachu in a cute cafe uniform. Made with golden pineapple pulp, the drink is perfect for summer, offering a refreshing sweet and sour taste. There are three cup designs available–one with Pikachu in red, one in blue, and another in green.

Original Merchandise Campaign

Part I: June 21, 10:00~ / Original PP Coaster (4 varieties)

Part 2: July 5, 10:00~ / Cafe Menu Design Original Memo Pad (4 varieties)

*Sample Images

A goods campaign is also underway. Customers purchasing three qualifying products will receive exclusive merchandise–while supplies last, of course! The event will run from June 21 at 10:00 through July 18.

Stamp Campaign

Left: 5 stamps, Original Lunch Bag / Right: 10 stamps, Original Plates (Set of 3)

Collecting stamps on the FamilyMart app can also net fans some special prizes! At the same time, Pokemon fans can use the app to win tickets to Pokemon GO Fest 2022 Sapporo.

© 2022 Pokémon. © 1995-2022 Nintendo/Creatures Inc./GAME FREAK inc.
Developed by Genius Sonority Inc.
ポケットモンスター・ポケモン・Pokémonは任天堂・クリーチャーズ・ゲームフリークの
登録商標です。Nintendo Switchのロゴ・Nintendo Switchは任天堂の商標です。

©2022 Niantic, Inc. ©2022 Pokémon. 
©1995-2022 Nintendo/Creatures Inc. /GAME FREAK inc. 
ポケモン・Pokémonは任天堂・クリーチャーズ・ゲームフリークの登録商標です。

Hydrangea Parfait Featuring Local Matcha Available at Itohkyuemon in Kyoto

Located in Uji, Kyoto, matcha shop Itohkyuemon was founded in the late Edo period. Three cozy locations have just launched a Hydrangea Parfait, perfect for spring.

Hydrangea Parfait

Hydrangea Coaster

The shop's main location is headquartered in Uji, which is also home to Mimuroto Temple, known for its hydrangeas. The flowery location attracts thousands of tourists during the rainy season. 

The Hydrangea Parfait has been offered since 2013, now celebrating its 10th year. The popular seasonal treat features matcha hydrangea mashed sweet potatoes, hydrangea-colored jelly, leaf-shaped matcha cookies, and blueberries. Those ordering a parfait will also receive a hydrangea coaster as a gift, so why not enjoy the rainy season with something sweet to lift your spirits?

Kyo Hayashiya and Hayashiya Shinbei Offering Special Parfaits Perfect for Spring

Hibiya Hayashiya Shinbei in Tokyo Midtown Hibiya is now offering a scrumptious Strawberry Matcha Parfait until April 24, 2022! If that's not up your alley, four Kyo Hayashiya locations in Shinjuku, Omiya, Yokohama, and Ikebukuro will begin offering a Matcha and Berry Mascarpone Parfait from April 1 until May 8, 2022. 

Strawberry Matcha Parfait


The Strawberry Matcha Parfait is an eye-catching mix of green and pink, reminiscent of cherry blossoms and bright green grass. Green tea blends with rose jelly and lychee sorbet, offering a refreshing taste with a hint of bitterness. The sweet accent of crunchy chocolate feuillantine gives each bite a little kick.

Matcha and Berry Mascarpone Parfait


The Matcha and Berry Mascarpone Parfait mixes the deep, bitter taste of Uji matcha, the sweet and sour taste of berries, and the gentle sweetness of mascarpone cream. The berry sauce is blended with crunchy chocolate feuillantine, a layer of whipped cream, green tea jelly, green tea ice cream, and milk panna cotta. To finish, it's garnished with refreshing raspberry sorbet, bittersweet matcha ice cream, and fresh strawberries.

Information

Strawberry Matcha Parfait

Price: ¥1,650 (Tax Included) / with Tea: ¥2,090 (Tax Included)

Available: March 18 – April 24, 2022

Available at Hibiya Hayashiya Shinbei (Tokyo Midtown Hibiya 2F)

Matcha and Berry Mascarpone Parfait

Price: ¥1,430 (Tax Included) / with Tea: ¥1,870 (Tax Included)

Available: April 1 – May 8, 2022

*Available until April 30 at the SOGO Yokohama location.

Available at the following 4 Kyo Hayashiya locations. 

・Takashimaya Times Square (Shinjuku Takashimaya Times Square Main Building 2F)

・Seibu Ikebukuro (Seibu Ikebukuro Main Building 8F)

・SOGO Omiya (SOGO Omiya Main Building 9F) 

・SOGO Yokohama (SOGO Yokohama 10F)

McDonald's 'McCafe by Barista' to Offer Uji Matcha Sweets for Spring

McDonald's Japan locations with 'McCafe by Barista' areas will begin selling special spring treats for a limited time starting April 6, 2022. Customers will be able to grab the 'Strawberry Uji Matcha Frappe' and the 'Uji Matcha Mont Blanc Tart.'

McCafe by Barista invites guests to enjoy high-quality frappes and smoothies. The Uji Matcha Frappe was added to the regular product lineup in June 2021, and features a mellow matcha flavor. The Strawberry variant is coming back for the first time in three years. The Mont Blanc Tart is a new addition, and is a perfect treat to enjoy with this popular frappe! 

Strawberry Uji Matcha Frappe: ¥490

The Strawberry Matcha Frappe mixes together the full-bodied flavor of matcha together with sweet and sour strawberries. It includes both a strawberry paste made from whole strawberries and a strawberry whipped cream at the bottom. The drink is topped with more strawberry whipped cream and a sprinkling of matcha powder. The refreshing taste of the strawberry sauce coupled with the whipped cream serves to elevate the great flavor of the Uji Matcha even more.

Uji Matcha Mont Blanc Tart: ¥390


The Uji Matcha Mont Blanc Tart is made with Uji Matcha batter, Uji Matcha whipped cream, white bean paste, and green tea cream. The refined sweetness is complemented by the mellow aroma and slight bitterness of Uji Matcha.

How would you like to enjoy these treats beneath the cherry trees?

Information

Strawberry Uji Matcha Frappe

Uji Matcha Mont Blanc Tart

Available: April 6 – Mid-May, 2022

Available at Participating McDonald's Japan Locations with 'McCafe by Barista'

Official Site: https://www.mcdonalds.co.jp/

Attack on Titan and NewDays Collaborate for Second Time

To celebrate the final season of Attack on Titan, NewDays, a convenience store chain in Japan, has started a special campaign until January 10, 2022. Plenty of collaborate snacks will be available for the next few weeks.

Collaboration Food

Special Attack on Titan Packaging

Special Attack on Titan Packaging, "Exterminate Every Last Grain!" 

Luxury Seafood Onigiri (Special Packaging)

Luxury Seafood Onigiri

Nine Titan Bento

Collaboration Merch

Acrylic Keychain

Acrylic Keychain

Pin

Pin

Acrylic Stand

Bonus (Round 1)

Bonus (Round 2)

Present Campaign

A Prize: Signed Poster (3 Winners)

B Prize: NewDays Original Illustration Blanket (50 Winners)

Super-sized luxury onigiri are now available as part of the collaboration, along with special bread and bento featuring images of popular Attack on Titan characters. Seven types of original merchandise will be available at participating NewDays locations, and those spending over ¥600 including one or more Suntory beverages will be entered to win a poster signed by the cast. Don't miss it!

Famous Oil Blotting Paper Brand's Yojiya Café Reforms Three Popular Parfait Flavors

The Yojiya Café, opened by the Yojiya brand famous for its Aburatorigami, or facial oil blotting paper, will be renewing its menu from September 13. The popular face parfait, which features the logo alongside a Kyoto woman with a mole, comes in three flavors available – Kinako, Matcha, and Milk Tea. Each parfait comes with a sauce, so you can adjust the taste as you eat.

 

Kinako Parfait: ¥1,200 (Tax Incl.)

Matcha Parfait: ¥1,200 (Tax Incl.)

Milk Tea Parfait: ¥1,200 (Tax Incl.)

The Yojiya Café is currently open in two locations, Gion and Sagano Arashiyama, offering a relaxing space to rest between shopping and sightseeing.

The café has renewed their iconic Kinako Parfait, which combines Japanese Kinako and Western Maple Syrup, along with the Matcha Parfait, which is packed full of matcha ice cream, jelly, and cookies. The Milk Tea Parfait is made with a rich Japanese Tea and Earl Gray ice cream.

Take a trip to Yojiya and find out which parfait is your favorite!

Information

Yojiya Café – Parfait Renewal

Release Date: 14 September 2021

Availability:

Yojiya Café Gion

Address: Izawa Building 2F, 266 Gionmachi Kitagawa, Higashiyama-ku, Kyoto

Opening Hours:

Weekdays 11:00 ~ 17:00 (LO16:30)

Weekends/Holidays: 10:00 ~ 18:00 (LO17:30)

YOJIYA CAFE Sagano Arashiyama

Opening Hours:

Weekdays 11:00 ~ 17:00 (LO16:30)

Weekends/Holidays: 10:00 ~ 18:00 (LO17:30)

Address: 2 Tateishicho, Sagatenryuji, Ukyo-Ku, Kyoto

Official Site: https://www.yojiya.co.jp/

McCafe by Barista® Offering New Kuromitsu Uji Matcha Frappe

In Japan, McDonalds McCafe by Barista will be releasing the new Kuromitsu Uji Matcha Frappe beginning September 1. The sweet autumn drink will only be available for a limited time.

McCafe by Barista has been popular with customers looking for sweet beverages, such as Frappes and smoothies. The Uji Matcha Frappe was added to the regular product lineup in June 2021, and features a mellow matcha flavor. With this release, kuromitsu, or Japanese black sugar syrup, has been added to enhance the drink's flavor.

Kuromitsu Uji Matcha Frappe: ¥490 (M), ¥560 (L)

 

The Kuromitsu Uji Matcha Frappe is made with powdered Uji Matcha tea from Kyoto, mixed with milk and topped with Kuromitsu jelly, known for its gentle sweetness and rich flavor. Brown sugar from Okinawa Prefecture along with whipped cream is added on top.

Uji Matcha Frappe: ¥440 (M), ¥490 (L)

The regularly available Uji Matcha Frappe is made with Uji Matcha powder from Kyoto, milk, and fluffy whipped cream. Dark green matcha powder and pure white whipped cream gives the beverage a gorgeous appearance, along with a truly Japanese flavor.

These are two drinks not to miss if you're in Japan!

Long-Standing Kyoto Tea Wholesaler Yamamasa Koyamaen Opens Cafe in Tokyo

TZEN, a company dedicated to promoting traditional Japanese culture around the world, has teamed up with Yamamasa Koyamaen, a tea wholesaler in business since the Edo period, to open a new matcha cafe in Tokyo!

ATELIER MATCHA, a quick walk from Ningyocho station, is harnessing the concept of 'the third wave of matcha,' serving up premium matcha in a cozy atmosphere. 

MATCHA Cookies & Cream Shake: ¥748 (Tax Included) 

MATCHA with Warabimochi and Red Bean Topping: ¥748 (Tax Included)

MATCHA Jelly Cider: ¥660 (Tax Included)

MATCHA Granola and Yogurt Latte: ¥715 (Tax Included)

MATCHA Cotton Candy Milkshake: ¥748 (Tax Included)

MATCHA Affogato: ¥660 (Tax Included)

MATCHA Shot (Espresso Style): ¥220 (Tax Included) / MATCHA Water: ¥275 (Tax Included) / MATCHA Green Tea: ¥330 (Tax Included)

Supreme MATCHA Terrine: ¥660 (Tax Included)

(This is a partial menu, all prices are for those dining in.)

Matcha is becoming popular around the world. ATELIER MATCHA was created to offer customers a unique experience which showcases the true taste and culture of this beloved tea grown in Japan. 

Yamamasa Koyamaen is a Kyoto institution, cultivating and grinding matcha tea leaves for 160 years. Over 1,000 tea retailers, department stores, domestic and international trading companies and hotels stock their high-grade matcha, gyokuro, sencha, and other specialty teas, making them one of the most recognized and respected names in this traditional Japanese art. The company even prefers to call themselves a 'studio' rather than a 'factory', using the 800-year history of tea cultivation in Uji, Kyoto as a starting point to create their masterpieces. 

ATELIER MATCHA is Yamamasa Koyamaen's first cafe, and also the company's first experience selling directly to consumers. 

Blending the highest-grade matcha with locally made sweets, the cafe hopes customers will enjoy these original creations while surrounded by the relaxing aroma of tea. 

The matcha used in the cafe includes signature Yamamasa Koyamaen blends, including Ogurayama and Tennozan, both varieties often used in tea ceremonies. For a limited time, the cafe is offering a single-origin blend with one rare variety of matcha, as well as a beverage made with tencha, which are the leaves used to make matcha before being ground down in a stone mortar. Visitors can also enjoy gyokuro and hojicha teas, made from carefully selected leaves. 

Pulling recipes from Yamamasa Koyamaen's book 'Kyoto Uji-Koyamaen: Simple Matcha Drinks to Enjoy at Home,' the menu features refreshing drinks blending the traditional with the modern, with unexpected combinations of soda, fruit and yogurt. Seasonal drinks will also be making an appearance, including shaved ice in summer and chocolate drinks in winter. 

The name MATCHA SHOT packs a punch, using matcha instead of espresso for a needed pick-me-up. MATCHA WATER, a refreshing cup of watered-down tea, offers a way to fully enjoy the fullness and more hidden flavors of this popular Japanese tea. 

As expected, ATELIER MATCHA also has a sweets menu set to impress: these sweet treats feature only the best, created with the top 0.03% of total national matcha production. This insanely high-quality matcha is a part of Yamamasa Koyamaen's ultimate matcha experience project, titled "ALL FOR ONE," which provides these rare leaves to some of the country's top professionals in various fields. 

At opening, only limited qualities of the Supreme MATCHA Terrine, made by well-known pâtissier Toshi Yoroizuka, will be available. 

These authentic matcha creations are perfect for a hot summer's day, or as a gift for a friend. When in Tokyo, don't miss it!

Information

ATELIER MATCHA 

Address: 1-5-8 Nihonbashi Ningyocho, Chuo Ward, Tokyo 103-0013, Japan

Access: 30-second walk from Ningyocho Station/5-minute walk from Suitengumae Station

Open Date: August 2, 8:00

Hours of Operation: 8:00-19:00 (Last order 18:30)

Closed on Tuesdays (Open daily throughout August) 

Phone Number: 03-3667-7277

Official Site: https://ateliermatcha.com/

Matcha Republic Takes Kyoto's Uji Matcha to Tokyo For the First Time

Uji-based matcha tea shop Matcha Republic is taking their menu to Tokyo for the first time with a pop-up shop inside Shibuya Hikarie which will run from July 15-28.

Matcha Ink Hikarie Exclusive Version Premium Matcha Latte | ¥681 (Tax Included)

Original Clear Shopping Bag

Matcha Republic's ink bottle matcha lattes are super popular on Japanese social media. For their Tokyo pop-up shop, their premium matcha latte arrives in an exclusive design. The dirnk is made from only the best picked matcha leaves to make a smooth, milky beverage. The bottle is also sold in an original shopping bag.

Matcha Panna Cotta Hikarie Exclusive Version | ¥681 (Tax Included)

The brand's popular panna cotta set also arrives in a Hikarie exclusive design. The delicious dessert is made with fragrant Uji matcha.

PREMIUM GOLDEN UJI MATCHA CASTELLA | ¥2,381 (Tax Included)

Matcha Republic's moist matcha castella is sprinkled delicately with gold leaf, creating a luxurious dessert.

Information

Matcha Kyowakoku

Location: Shibuya Hikarie ShinQs B2 Food Stage

Running: July 15, 2021 – July 28, 2021

Opening Hours: 11:00-20:00

Official Website: https://www.matcha-republic.com

Uji Matcha and White Peach Shaved Ice Gets Served at Nihonbashi E-Chaya in Tokyo For Summer

Eitaro Sohonpo Co. Ltd. has released two new seasonal shaved ice desserts at Nihonbashi E-Chaya in Tokyo for summertime.

Uji Matcha Yamamotoyama x Eitaro | ¥660

Made with Uji matcha from Yamamotoyama and honey from Eirato, this shaved ice is topped with adzuki beans from Hokkaido. A refreshing delight for the hot Japanese summer that's not overly sweet.

Peach & Cream Cheese | ¥660

This flavour is made with lots of white peach puree from Yamanashi along with fresh peach pieces and Eitaro's honey. It's finished with cream cheese from Hokkaido and peach fluffy cream. Another perfect pick for cooling down this summer.

Information

Nihonbashi E-Chaya

Address: Eitaro Bldg. 1F, 1-2-5 Nihonbashi, Chuo-ku, Tokyo

Opening Hours: [Mon-Fri] 8:00-16:00 / [Sat] 10:00-16:30

Closed: Sundays/Public Holidays

Official Website: https://www.eitaro.com/

*These desserts are eat-in only

Yojiya Matcha Cosmetic Blotting Paper Releasing This Summer

Kyoto-based cosmetic brand Yojiya is set to release its seasonal summer matcha cosmetic blotting paper online on July 1. Pre-orders opened on Monday along with a present campaign that's running until the release date.

Matcha Oil Blotting Paper

Free limited-edition slim clear bottle for the first 50 people who spend over ¥8,000

Exclusive pre-order set

Yojiya's oil blotting paper is a popular product. Every summer, they release it in special limited-time scents, with this year seeing the paper infused with Uji matcha leaves.

Information

Yojiya Oil Blotting Paper Matcha

Release Date: July 1, 2021 (Online Exclusive)

Pre-Orders: June 21, 2021

Buy Online: https://www.yojiyacosme.com/

Present Campaign

Running: June 21, 2021 – June 30, 2021

Requirements: Spend over ¥8,000

Stock: 50

Demon Slayer: Kimetsu no Yaiba Turns Into Confections at Japanese Convenience Stores

Bandai's character-inspired Japanese confectionery series Tabemas released a new collection of traditional Japanese wagashi confections and tarts inspired by the Demon Slayer: Kimetsu no Yaiba anime series at Lawson convenience stores across Japan on June 15.

Tabemas Demon Slayer

'Tabemas' is an abbreviation of the Japanese words taberareru masukotto, meaning 'mascots that you can eat.' It is a Japanese confectionery series that combines well-known characters and Japanese sweets made from ingredients like red bean paste, sugar and rice flour.

Their line-up of three confections are based on Tanjiro, Nezuko, and Zenitsu from the series, each of which captures their charm points in terms of colour and design. Tanjiro is chocolate flavoured, Nezuko is strawberry, and Zenitsu is custard.





Tabemas Demon Slayer: Kimetsu no Yaiba 2021 | ¥285 Each (Tax Included)

Demon Slayer Tarts

Tabemas has also baked up some no-baked cheesecake tarts featuring designs of Tanjiro, Nezuko, Zenitsu, Inosuke, Tomioka, Kyojuro, and Shinobu.


Demon Slayer: Kimetsu no Yaiba Tarts | ¥249 Each (Tax Included)

©︎ 吾峠呼世晴/集英社・アニプレックス・ufotable

Information

Tabemas Demon Slayer: Kimetsu no Yaiba 2021

Released: June 15, 2021

Available: At the chilled sweets section of Lawson convenience stores in Japan

*Natural Lawson and Lawson Store 100 stores not participating