Miniature Exhibition: A Tiny Christmas in Your Hands, Begins November 30
BACON are a company known for holding the Sleeping Cat Exhibition earlier this year, a popular photography exhibition that saw 500,000 people in attendance. Now they are set to hold a miniature Christmas exhibition from November 30 to December 25 at TODAYS GALLERY STUDIO in Tokyo.
The exhibition will see Koruha, who has over 70,000 followers on Instagram, as well as tole painter Enchanter appear for the first time, amongst others. Returning this year will be Rikko who boasts more than 50,000 followers on Instagram and 1/87 no Teihen Salary Man in addition to a range of other creators also popular online.
This year will see a range of winter inspired pieces in addition to a line-up of miniature 3D designs. Most pieces on display will also be available to purchase. Popular creator Hikarinohana who is known for creating miniature food is also set to sell a range of limited edition Christmas items.
The first 3,000 people to turn up to the event will also receive an original Christmas card.
Each and every piece on display is painstakingly handcrafted down to the finest of details to look like the original thing. Originally it was going to be an exhibition of just miniature items, but photos will also be displayed at the exhibition.
The exhibition promises to feel like you are really lost in a miniature world. Photos are permitted at the entire event too.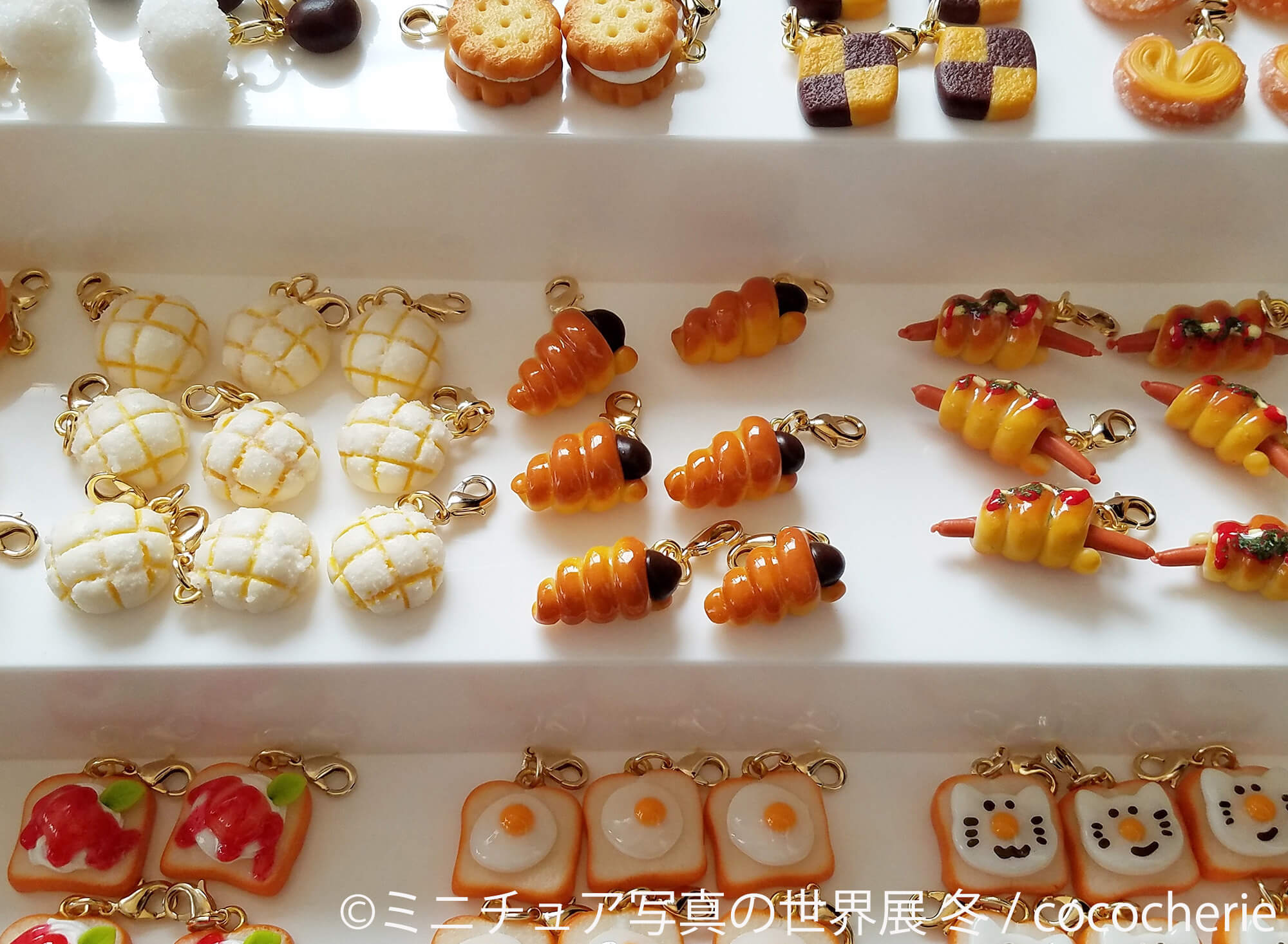 There will also be a special corner decked out with miniature fruits, taiyaki and more created by Sweet Palette nana. A video will be shown for the very first time showcasing how the food is made.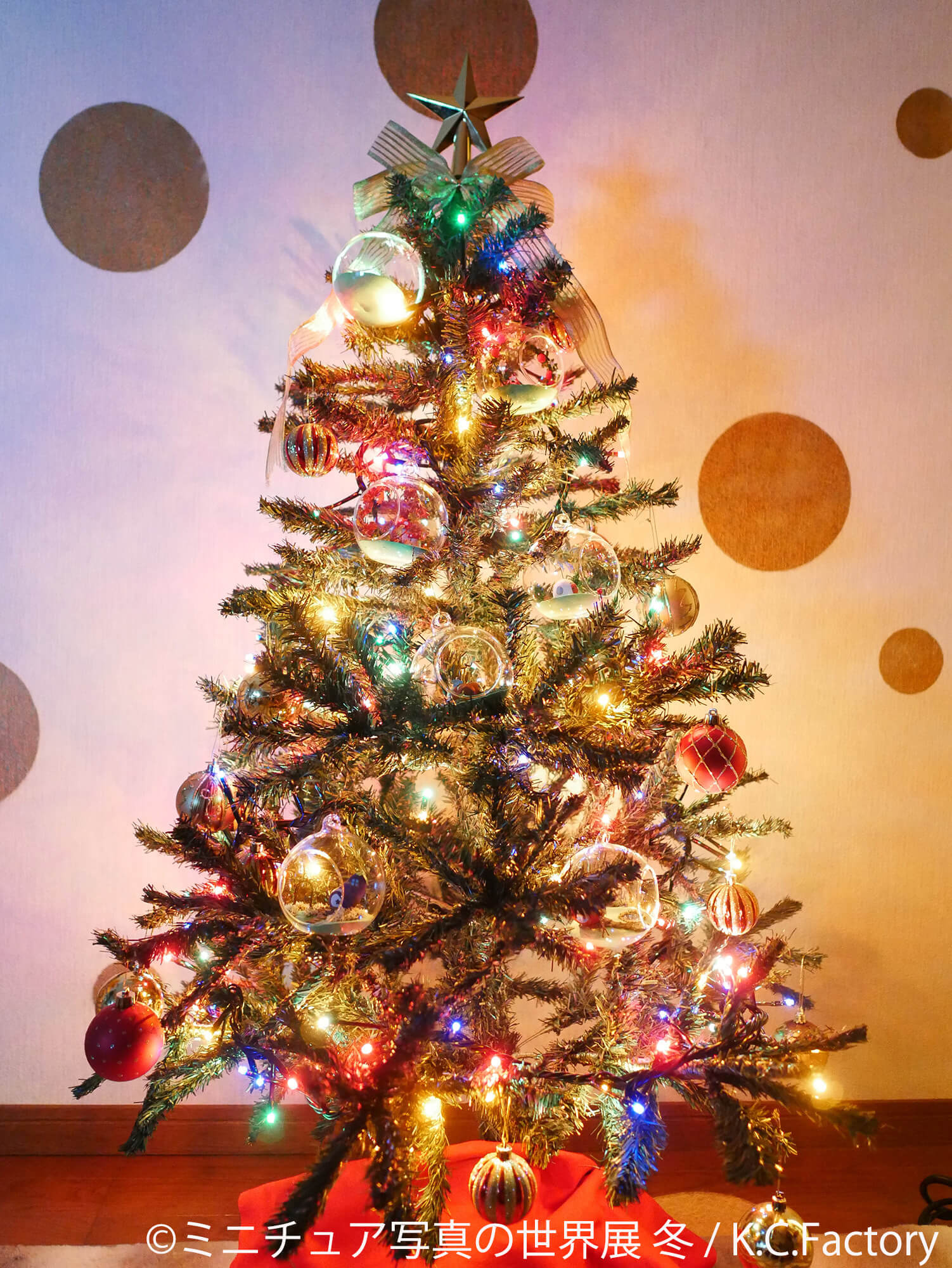 K.C. Factory have created a range of new pieces too all fitted with illuminations including a Christmas tree.
Enter the world of a miniature Christmas this year at TODAYS GALLERY STUDIO!
Information
The World of Miniature Photo Exhibition
Location: TODAYS GALLERY STUDIO Floor 5F (5-27-6 Asakusabashi, Taito Ward, Tokyo)
Running: November 30, 2018 – December 25, 2018
Time: 11:00-19:00
Closed: Mondays (*Open December 24)
Entry Price: ¥500 (Free for those aged 3 and below)
Exhibitors: 20 (subject to change)
RECOMMENDED ENTRIES
Christmas 2018 at Universal Studios Japan, Sanrio Puroland & Tokyo Disney Resort

Universal Studios Japan, Sanrio Puroland and Tokyo Disney Resort are packed full of Christmas events for this year's holiday season. Let's take a look at what's going on at each park right now.

Universal Studios Japan – "Universal Wonder Christmas"

Universal Studios Japan has added a new daytime program titled Yellow Christmas to its "Universal Wonder Christmas" winter event which is running until January 6, 2019.

The main event of Yellow Christmas is seeing the cheeky Minions from the Despicable Me film franchise come together for the Minion Hacha Mecha Christmas Party. This party is bigger, better and crazier than last year's hugely successful run. Expect to see Minions donning Christmas attire as well as appearances from Gru and Santa Claus. Yellow balloons float across the event and bubbles are blown as everyone comes together for festive merry making. The event finale sees Minion-yellow confetti shoot across the whole area. The decorations give rise to a completely new kind of Christmas aesthetic from the usual red and green combination. Embrace your inner Minion!

Sanrio Puroland – "Puro Christmas"

Sanrio Puroland's white Christmas-themed event "Puro Christmas" is currently being held up until Christmas Day.

"The Puro Christmas" is a brand new musical that has arrived at the park to warm the hearts of its guests this Christmas. It will is centred around Hello Kitty and the Little Twin Stars (Kiki and Lala) who are joined by some other familiar Sanrio faces. The show contains lots of Christmas songs, and guests are pulled into a winter wonderland as gorgeous flurries of snow fall before them.

Magical Snow is a new attraction at the park made in collaboration with NAKED that is running for a limited time only. It takes place at Kiki & Lala Twinkling Tour, an attraction based on the Yume Star-Cloud where Kiki and Lala were born. The attraction has been turned into a snowy world for this Christmas only.

Enjoy Christmas as you never have before this year at Sanrio Puroland.

Tokyo Disney Resort – "Disney Christmas"

Tokyo Disneyland and Tokyo DisneySea are now hosting a special Christmas event this year which is running up to December 25.

Tokyo Disneyland is celebrating its 35th anniversary this Christmas. At Celebration Street, which is open at the park's World Bazaar to commemorate 35 years, it is holding a very special performance you can only see during this holiday period. Christmas music, visuals and lights carry the Christmas spirit through the bazaar centred around Celebration Tower which is decorated in all the colours of Christmas. And for the first time ever, this year sees a Christmas tree behind Cinderalla's castle with the 35th anniversary logo on it.

Over at Tokyo DisneySea they are hosting a range of festive events. This includes the new daytime harbor show "It's Christmas Time" at the Mediterranean Harbor which sees Mickey Mouse and friends together with tap dancers and line dancers backed by breathtaking singers.

There are plenty of other Christmas themed events at the park too for the whole family to enjoy to be sure to check out their website.

Which of these theme parks do you want to spend your Christmas at the most?

Be Spirited Away at Nagoya Castle's Night Walk Event 'NIGHT CASTLE OWARI EDO FANTASIA'

To celebrate the restoration of Nagoya Castle's Hommaru Palace and its opening to the public, an event titled NIGHT CASTLE OWARI EDO FANTASIA is set to run from December 1 to 16, an immersive night walk that will have people strolling around the castle grounds when the sun goes down. The planning, production and performances are all developed by NAKED.

NAKED are a creative company who use projection mapping and installations to further draw out the historical and architectural beauty of certain locations. This has included the UNESCO-recognised World Heritage Site Nijō Castle, Hirado Castle in Nagasaki Prefecture and more.

NAKED are set to attach new value to Nagoya Castle with their immersive night walk which will showcase the phantasmagorical beauty that falls on the castle when the sun goes down.


The whole of the castle grounds will be met with lights and music. Dazzling images will be shone onto the outside wall of the eastern side of Hommaru Palace, and fantastic projection mapping will recreate the sights of Owari Province.

Information

Nagoya Castle x NAKED – "NIGHT CASTLE OWARI EDO FANTASIA"
Location: Nagoya Castle (1-1 Honmaru, Naka Ward, Nagoya)

*Entry from the East Gate only
Running: December 1, 2018 – December 16, 2018

Time: 18:00-20:30 (gate closes at 21:00) *Will still run even during irain

Price (Tax Included)

High School Students and Older: Advance – ¥1,000 / Same Day: ¥1,200

Senior Nagoya Citizens: Advance – ¥680 / Same Day: ¥880 (*Must provide proof of age and address)

*Includes fee for entry to Nagoya Castle (Entry not permitted to Honmaru Palace or Tenshukaku)

Ticket Sale Period
Advance: October 22, 2018 at 10:00m – November 30, 2018 at 23:59 (JST)
Same-Day: December 1, 2018 at 00:00 – December 16, 2018 at 20:00 (JST)

Ticket Vendors

Lawson Ticket (L-Code: 43193 / Purchasable at Lawson and MINISTOP), Ticket Pia (P-Code: Regular Ticket: 991-982 / With Food & Drink Ticket: 991-983), 7-Eleven, Family Mart, e+, Chunichi Shimbun+

Event Website: http://nagoya-nightcastle.com

NAKED Inc. Website: http://naked-inc.com

Future Firework Entertainment Event 'STAR ISLAND' Heads to Singapore

STAR ISLAND is an event that describes itself as 'future firework entertainment.' The show has been held twice in the past and sold over 30,000 tickets. Now, for the first time ever, the fireworks will be exploding overseas.

STAR ISLAND Singapore Countdown Edition will welcome the New Year at The Float @ Marina Bay in Singapore at 23:00 on December 31, 2018.

STAR ISLAND brings together top creators in Japan to evolve Japan's firework culture. Some big names include creative director Kenji Kohashi, the 150-year-old firework company Marutamaya Ogatsu Fireworks, 3D sound pioneer Katsuyuki Seto, globally-active lighting engineer AIBA, and more.

The event offers new ways to enjoy watching fireworks. The 'Bed Area' lets you gaze up at the lights while laying on a bed. The 'Dinner Area' is a place where can enjoy a meal while watching the fireworks. The 'Kids Area' is perfect for families, allowing attendees to see the explosions with their children. The event has given rise to a brand new business model that combines multiple paid-seating areas with fireworks.

STAR ISLAND has been held two years in a row in 2017 and 2018 at Odaiba Kaihin-Koen in Tokyo. Now, with backing from the Singaporean government, it is headed to what is said to be the largest region in Asia. The huge New Year's countdown will take place with Singapore's landmark Marina Bay Sands in the background.

12,000 fireworks will be launched, with each individual one firing to each beat of the music in sync. Cutting edge sound technology will propel the music which will blare from over 300 individual 3D sound speakers for a full 360° experience. A string of performances will take place on stage, including one from the LED BAND who combine the fireworks with 3D sound and lighting to create a rainbow of colours. The kid's area will be decked out with a jungle gym, ball pit and breast-feeding area for mothers.

Celebrate the coming new year Japanese-style in Singapore.

Information

STAR ISLAND SINGAPORE COUNTDOWN EDITION in conjunction with Marina Bay Singapore Countdown

Date: December 31, 2018

Time: 23:00-02:00 (Open from 17:00) (Local Time)

Location: The Float @ Marina Bay (20 Raffles Ave, Singapore 039805)

*Event will go ahead even if it rains.

Tickets

Japan: Available November 3, 2018 from 11:00 (JST) at http://w.pia.jp/t/starislandsingapore/

Singapore; Available November 1, 2018 (Local Time) from 15:00 at https://star-island.sg/

Official Event Website

Japan: http://www.star-island.jp

Singapore: https://star-island.sg
RELATED ENTRIES
CreepHyp to Bring 10th Anniversary Exhibition to Nagoya PARCO

From February 11 to February 26, an exhibition inspired by the popular rock band CreepHyp will be held at the PARCO GALLERY on the 6th floor of the Nagoya PARCO West Building. The event is being held to celebrate the 10th anniversary of CreepHyp.

The exhibition is themed around a 'Museum of Voices.'

A person's voice is said to be a true expression of their personality. This exhibition will give fans a new sense of what CreepHyp is and will feature their music, their MC content, and various radio appearances.

Visitors will be able to listen to the member's voices, but they'll also be able to step on them, dive into them, look at them, and experience plenty of other ways to enjoy the band's content. Completely immersed in this world of voices, this experience promises to be like no other. Come experience it while you can!

The exhibition was largely created by CHOCOLATE, the creative team behind CreepHyp's past exhibitions. Exclusive merchandise will also be available on-site.

Macaroni Empitsu 10th Anniversary Exhibition Makes Triumphant Return to Tokyo

Fans of the pop rock band Macaroni Empitsu will want to head to Tokyo from February 17 to March 6, 2023 to enjoy a newly-reworked 10th-anniversary exhibition. Guests are invited to look through various macaroni holes around the exhibition hall to catch glimpses of some curious and rare items only on display for a limited time.

After being held at several locations around Japan, the exhibition will return to Ikebukuro PARCO in Tokyo next month.

Items appearing in the Macaroni Empitsu 10th Anniversary Book -Macaroni Kuronikuru- will be on display, and a short film titled Aspirations will be screened following its premiere in Shibuya.

Graphic designer Shun Sasaki served as the art director for the exhibition.

Fans won't want to miss out on the exhibition's original merchandise featuring key visuals and lyrics from the band. Come get a glimpse at the history and personal lives of Macaroni Empitsu's members while you can!

[Comment from Vocalist Hattori]
"Macaroni Empitsu's exhibition is making a triumphant return to Tokyo! New content has been added this time around, so be sure to come fall into the macaroni hole!"

Information

Macaroni Empitsu 10th Anniversary Exhibition in Tokyo
Running: February 17 – March 6, 2023
Venue: Ikebukuro PARCO 7F / PARCO FACTORY
Hours: 11:00 – 21:00 *Admission permitted up to 30 minutes prior to closing
*Closing at 18:00 on March 6
Admission: ¥500 (Tax Included) *Reservations required. For more information, check parco.art.
*Free for preschool children
Details: https://art.parco.jp/parcomuseum/detail/?id=1147
*Event details are subject to change without notice.
*Hours of operation are subject to change.

<Touring Exhibition Information>
Osaka Venue
Umeda LOFT 4F Event Space
Running: January 13 – February 5, 2023

■Release
wheel of life EP
Release Date: March 8, 2023
wheel of life EP Special Site: https://macaroniempitsu-wheeloflife.com/

■LIVE
TALTO Night 2023
March 3, 2023 / Zepp Haneda
Performers: SAKANAMON / Macaroni Empitsu / Yayuyo / WON
*Opening act planned

Official Site: http://macaroniempitsu.com/

Akiyoshido Cave in Yamaguchi to be Illuminated for Christmas & Valentine Theater Event

The Mine City Tourism Association has announced a Christmas & Valentine's Day event at Akiyoshido Cave, one of the largest limestone caves in Japan. The event will see the natural wonder illuminated by a number of colorful lights. The Christmas event will run from December 21 to 25, 2022, while the Valentine's Day event will run from February 10 to 14, 2023.

Akiyoshido Cave is one of Yamaguchi Prefecture's most popular tourist attractions. The interior will be decorated with colorful lights and unique soundscapes, creating a once-in-a-lifetime setting for visitors. These illuminations and sounds were directed by world-renowned lighting designer Motoko Ishii, known for her work on Tokyo Tower and the Akashi-Kaikyo Bridge.

Information

Christmas & Valentine Theater ~ Akiyoshido Cave 'Fantasy of Light and Echoes'

Dates:
Christmas Theater: December 21 – December 25, 2022
Valentine Theater: February 10 – February 14, 2023
Times: (1) 10:00-11:00 (2) 12:00-13:00 (3) 14:00-15:00
3 events per day

Venue:
Akiyoshido Cave, Shuhocho Akiyoshi, Mine, Yamaguchi

Tickets/Details:  https://karusuto.com/event/christmas-valentine-theater-2022/

Eve to Hold YouTube LIVE on Christmas Eve with Afterparty for Premium Members

Eve has announced a special YouTube LIVE scheduled to take place on December 24 at 19:00. The stream will take place on the artist's official YouTube channel and those with YouTube Premium memberships will be able to take place in an Afterparty starting at 19:30. 

Starting at 19:00 on Christmas Eve, fans can enjoy a rare live studio performance complete with a full band. The Afterparty will include a special chat with Eve in which the artist reflects on the past year and gives hints on what's to come. Fans won't want to miss this exclusive opportunity!

Chainsaw Man Gets Mini Exhibition at TSUTAYA Locations Nationwide Starting December 23

The globally popular anime series Chainsaw Man will get a mini-exhibition at TSUTAYA and TSUTAYA Books locations nationwide from December 23, 2022 until January 22, 2023. A special poster is being prepared for the exhibition and original drawings will be on display. New merchandise will be available during the event period. For more information, follow MAPPA's official Twitter page (@MAPPA_Info) for updates!

Original Reproductions to be on Display

One original reproduction will be displayed at each of the approximately 300 participating stores. 

Original Goods

Details on MAPPA x TSUTAYA Chainsaw Man Mini-Exhibition Goods

Acrylic Keychain (4 varieties), ¥935 each / Pin (4 varieties, random), ¥550 each / Acrylic Figure (4 varieties), ¥1,925 each / Clear Folder (4 varieties), ¥440 each / Leather Sticky Note Book (4 varieties), ¥605 each / Premium Postcard Holder (1 variety), ¥1,760 each / Mobile Accessory Case (1 variety), ¥2,200 each

 

As a purchase bonus, guests spending ¥2,200 (including tax) or more will receive a limited edition postcard (4 varieties).

©藤本タツキ/集英社・ MAPPA

Information

Chainsaw Man Mini-Exhibition

Running: December 23, 2022 – January 22, 2023

Venue: TSUTAYA locations nationwide, TSUTAYA Books (participating locations only) *See the website for list of stores.

Special Website: https://tsutaya.tsite.jp/article/animation/481.html

Snoopy Museum to Open Tasty Exhibition Titled 'What's Your Favorite Food?'

Following the conclusion of the current 'Little Best Friend Woodstock' exhibition, the Snoopy Museum will hold a food-centric event from January 14 until July 9, 2023!

Selected Works on Display

Peanuts Comic (January 20, 1991)

Peanuts Comic (September 6, 1988)

Peanuts Comic (February 7, 1988)

Peanuts Comic (September 14, 1954)

Peanuts Comic (March 27, 1986)

Peanuts Reprint (Partial / January 13, 1973)

Goods at a Glance

Approximately 40 rare original drawings of Snoopy and his friends will appear at the exhibition, all focused on the character's favorite foods. Food features prominently in the Peanuts comic strip, whether it be friends eating breakfast or school lunch.

The exhibition features items from the collection at the Charles M. Schulz Museum and Research Center in Santa Rosa, California. 

Snoopy loves to eat and loves doughnuts and marshmallows, but absolutely hates coconuts. Of course, the gang loves cookies, and eating lunch while chatting is the highlight of the day! Come enjoy this tasty event in 2023.

(C) Peanuts Worldwide LLC

Information

Snoopy Museum Exhibition – What's Your Favorite Food? ~Food in PEANUTS~

Running: January 14 – July 9, 2023

Closed on Tuesday, February 21 (Open every other day of the exhibition period)

Hours: 10:00-18:00 (Last entry at 17:30)

Official Site: https://www.snoopy.co.jp/

Final Fantasy Artist Yoshitaka Amano Holds Art Exhibition at Myoshin-ji in Kyoto

Yoshitaka Amano, known by international fans as the artist behind the legendary Final Fantasy video game series, is celebrating his 70th birthday with a unique art project from November 23 until December 8 at Myoshin-ji in Kyoto. 

On the first day of the event, the venue, decorated with autumn leaves, was crowded with visitors including foreign tourists, who marveled at the fantastic space filled harmoniously with gold and blue. The exhibition will be held at Myoshin-ji, the head temple of the associated branch of Rinzai Zen Buddhism. This collection of works was designed to question visitors' sensibilities and provide a new kind of art exhibition for fans to enjoy.

After the exhibition, the main art piece by Yoshitaka himself will be converted to 3DCG, and a Virtual Golden World will be developed in collaboration with the Yoshitaka Amano VR Museum. By integrating traditional and modern art methods, guests will be able to engage more deeply in the art by enjoying digital works, the metaverse, and NFTs.

Don't miss this curious exhibition!

Information

Golden World: Infinite Light by Yoshitaka Amano 

~GOLDEN VIEW OF THE WORLD~

Running: November 23 – December 8, 2022

Venue: Myoshin-ji

Hours: 9:00-12:00 / 13:00-16:00

Tickets on sale until 15:30 each day.

Official Site: https://www.myoshinji.or.jp/


British Beauty Brand Elemis Sponsors Christmas Afternoon Tea Bus Tour Through Tokyo

There are plenty of events going on in Tokyo to celebrate the holiday season, but this one might be the most peculiar. Elemis, a skincare brand from England, has teamed up with bus operator Upstar for Japan's first bus tour featuring afternoon tea! This extremely limited event will drive guests around the city to see some of the most impressive Christmas lights in Shibuya, Roppongi, Omotesando, and other spots. Only 60 seats are available each day and the bus will run from December 1 until December 25, 2022.

 

5 Unique Features of the Elemis Special Christmas Afternoon Tea Bus Tour

① Enjoy a Special Christmas Afternoon Tea Menu by Elemis

A special Christmas menu will be available on board, including a Santa Claus shortcake and a party popper-inspired sandwich. 

② Travel on a Bus Filled with Elemis Christmas Decorations

Inside the bus, guests can enjoy fir trees and original decorations inspired by the Elemis holiday collection!

③ Best-Selling Elemis Goods will be Gifted to Guests!

Guests will receive a trial size of Elemis' best-selling Pro-Collagen Cleansing Balm as a Christmas present!

④ A Special Gift Campaign will run from November 15 until December 25

Prior to the start of the bus tour, a campaign will be held on Instagram and Twitter. Winners will snag tickets for the bus tour and an Elemis makeup set worth over $12,000!

⑤ Travel on a Special Route to Enjoy Tokyo's Christmas Lights!

The bus tour will take visitors to some of Tokyo's best Christmas locales, from Shibuya and Omotesando to Keyakizaka and Roppongi. The 90-minute journey starts and ends in Omotesando.

How would you like to enjoy Tokyo's Christmas lights on a British bus enjoying some of the best beauty products on Earth? Get into the holiday spirit with this unusual and unique tour!

Information

Elemis Christmas Afternoon Tea

Running: December 1 – December 25, 2022 *Not running December 12, 13

Times:
1st Service / 15:00~16:30
2nd Service / 17:00-18:30
3rd Service / 19:00-20:30

Length: 90 minutes

Departure Point: In front of the Shioda Building (5-10 Minamiaoyama, Minato-ku, Tokyo)

Price: ¥6,800 (Adults, Tax Included) / ¥3,000 (Children, Tax Included)

Reservations: https://www.upstar-londonbus-travellingnewtokyo.com/booking

Eve to Sing Theme Song for Christmas Comedy Film 'Black Night Parade'

Popular singer Eve will sing the theme song for the film Black Night Parade, coming to theaters nationwide on December 23, 2022. A new trailer featuring the track has also been released alongside the announcement.

Eve's YouTube channel has over 4.2 million subscribers with video views of over 1.9 billion. The new song, Shirayuki, was written by the singer himself, who has become incredibly popular with overseas music fans as well. The track manages to be both gentle and powerful in equal measure, combining an orchestra with Eve's unique vocals. In conjunction with the release of the trailer, an exclusive pre-release version of the song has been posted to TikTok.

Black Night Parade Trailer: https://youtu.be/57CkdVMky4o

Black Night Parade was originally manga series by Hikaru Nakamura, the creator of Arakawa Under the Bridge and Saint Young Men. The live-action film will be directed by Yuichi Fukuda, who has worked on a number of live-action film adaptations of manga series including Gintama and Kyo Kara Ore Wa! Fukuda also wrote the screenplay along with Tetsuo Kamata. The protagonist Miharu Hino will be played by Ryo Yoshizawa, while Shino Hojo will be played by Kanna Hashimoto. Taishi Nakagawa will play Kaizer Tanaka and Keisuke Watanabe will play Teppei Kohira.  

The story follows Miharu Hino, a man who is completely hopeless at everything he does. He failed his entrance exam, failed at job hunting, and has no love life to speak of. After working at a convenience store for three years, he meets a man in a black Santa suit who kidnaps him, offering him a job. Miharu then begins working at Santa Claus House, a mysterious company at the North Pole that delivers gifts to children around the world.

Comment from Eve

"I'm incredibly honored because I loved both the original manga and Fukuda's past works. I wrote this song Shirayuki with the hope that Christmas could be an important day for everyone. I would be so glad if this song makes you nostalgic for winter, making you imagine the cold air that stings your nose and the stars in the clear night sky. I love Kunehito, so I am looking forward to seeing him in the film."

©︎2022「ブラックナイトパレード」製作委員会 ©︎中村光/集英社

Sailor Moon Museum Releases New Christmas Menu

The Sailor Moon franchise's 30th-anniversary museum is open from July 1 to December 30 at Tokyo's Roppongi Museum. The series became a global phenomenon in the 1990s and remains incredibly popular with audiences around the world to this day. The museum itself is located near Azabu-Juban, where Sailor Moon took place.


 
Volume 3 of the museum, the final installment, will take place from November 12 until the museum closes on December 30. During this period, fans can see over 100 pieces of rare Sailor Moon goods from its run in Nakayoshi magazine.

 

All of the original color drawings currently on display will be replaced, with over 60 new pieces being added including previously unreleased works. Fans will also get a glimpse of the original drawing that appeared on the cover of Nakayoshi when the final chapter of Sailor Moon was published!

Christmas Menu

Sailor Moon Museum Christmas Pancake

Sailor Moon Museum Cheese Melt Muffin

Latte Art featuring Famous Quotes

THE ALLEY Collaboration Drinks

Christmas Tapioca Banana Pumpkin

Princess Serenity Cream Cheese Yogurt

New Christmas menu items will also be available during Vol.3. Guests can enjoy the cafe's original Christmas tree-inspired pancakes and collaboration drinks with THE ALLEY. The main menu has also been overhauled and now includes plenty of dishes perfect for the cold winter months. The drink menu will also feature original coasters and straw tags only available at the museum.




Will you be visiting the museum during its last few weeks?

(c) Naoko Takeuchi

Information

Sailor Moon Museum

Running: July 1 – December 30, 2022

Vol. 3: November 12 – December 30, 2022

Hours: 

Weekdays: 10:00-18:00 (Last entry at 17:30)
Weekends/Holidays: 10:00-20:00 (Last entry at 19:30)
*Open from 10:00-20:00 from December 26 – December 30
Venue: Roppongi Museum (5-6-20 Roppongi, Minato-ku, Tokyo)
Official Site: www.sailormoon-museum.com


60th Anniversary Sanrio Exhibition: The Beginning of Kawaii to Open at Hokkaido Museum of Modern Art in February 2023

The word 'kawaii' is now commonly used around the world. Sanrio is largely to thank for this, and the beloved company has announced that the 60th Anniversary Sanrio Exhibition will open at the Hokkaido Museum of Modern Art from February 11 until April 2, 2023. Advance tickets will include a discount and will be available until November 14 online. 

"Sanrio celebrated its 60th anniversary in 2020, and the company continues to share Japan's character culture with fans around the world," Sanrio said in a comment. "Kawaii is now a universal language, and this is very much thanks to the over 450 characters that are part of Sanrio's history, from Hello Kitty to My Melody. 

This exhibition traces the history of Sanrio and guests can enjoy seeing rare materials including merchandise, publications, and early designs from the company's founding. We want to continue to grow and develop our characters while valuing communication with our fans, ensuring that our adorable characters are loved by generations to come."

The Sanrio exhibition is something that generations of fans can enjoy, so come immerse yourself in this kawaii world! For more details, visit the official website. 

Information

60th Anniversary Sanrio Exhibition: The Beginning of Kawaii

Running: February 11 – April 2, 2023

Hours: 9:30 – 17:00 (Last entry at 16:30)

Venue: Hokkaido Museum of Modern Art (17-chome Kita 1 Jonishi, Chuo-ku, Sapporo, Hokkaido)

Official Site: https://stv.jp/event/sanrio

Naruto Anime Series Celebrates 20th Anniversary With New Gallery Featuring Collaborations With Five Animators

To celebrate the 20th anniversary of the globally popular Naruto anime series, NARUTO THE GALLERY will be held at AKIBA_SQUARE inside Akihabara UDX from December 10, 2022 until January 31, 2023. The gallery will feature collaborations with five animators. 

This will be the first Naruto exhibition held since 2015. The event will focus on the growth of the characters, the bonds they share with their friends, and the many fights that have taken place over the past two decades. 

 

Iconic scenes from the Naruto anime series will be on display in collaboration with five up-and-coming animators: Ai Niina, Kohei Kadowaki, que, Kosuke Sugimoto, and Kohta Morie. This will give fans the chance to see an unprecedented and unique view of the world of Naruto which can only be seen at the event. 

Admission Bonus: Gemaki-style Card

Goods

An original Gemaki-style Card featuring a newly-drawn visual will be handed out to those visiting the exhibition. 

 

The first lineup of exclusive event-only merchandise has been revealed and longtime fans of the series won't want to miss adding some of these goods to their collection. 

Participating Artists / Episode

Ai Niina / Sasuke's Ninja Way

Kohei Kadowaki / Naruto's Path

que / The Land of Waves

Kosuke Sugimoto / Sasuke's Vessel

Kohta Morie / Naruto and Kurama

©NARUTO THE GALLERY実行委員会

Information

NARUTO THE GALLERY (Naruto 20th Anniversary Project)

Running: December 10, 2022 – January 31, 2023
Hours: 10:00-20:00 (Last entry at 19:30)
Venue: AKIBA_SQUARE (Inside Akihabara UDX)
Official Site: https://naruto-20th.jp