New Crimson Red Illumination Event to Hit Nihonbashi from November 30
Shinku no Hikari Machi ~Nihonbashi~ ("Town Illuminated in Deep Crimson ~Nihonbashi~") is a new event coming to Nihonbashi that's set to dye the town in deep red hues starting on November 30. The entire area along with Edo Sakura-dori will be illuminated by captivating crimson.
Nihonbashi has a history with Edo period textile patterns, and this is what the event is themed on – it will combine patterns with winter lights. Some of the must-see illuminations around the town include Mitsui Honkan, a historical building that has been designated as important cultural property, Nihonbashi Mitsui Tower, and COREDO Muromachi.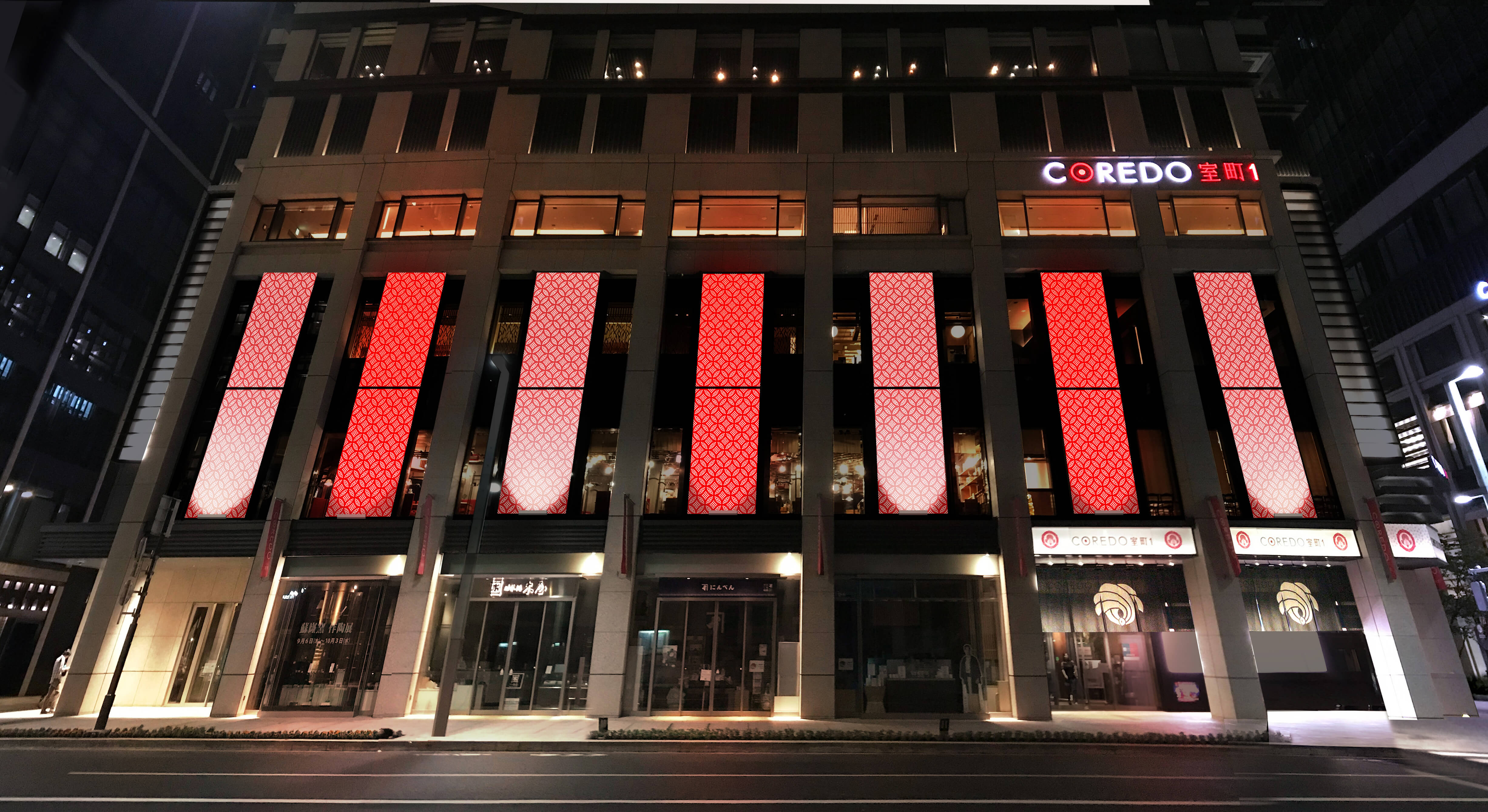 Also running alongside this event will be Edo Sakura Illumination 2018, another light-up extravaganza of crimson and champagne gold along Edo Sakura-dori which connects to Chuo-dori Street.
While enjoying the lights you can enjoy the perfect winter food at the Attaka Fair which will be held at COREDO Muromachi and Nihonbashi Mitsui Tower. Those who take a photo of themselves at the fair on Instagram will receive a range of specially made products from around Japan to warm yourself up in winter. There will also be a talk event themed on appreciating the beauty of Edo patterns and Ise-katagami, the Japanese craft of making paper stencils for dyeing textiles.
"Edo Komon Patterns x Winter Lights"
Location: Chuo-dori (中央通り)
Running: November 30, 2018 – December 28, 2018
Time: 17:00-23:00
"Edo Sakura Illumination 2018"
Location: Edo Sakura-dori (江戸桜通り)
Running: November 30, 2018 – December 28, 2018
Time: 17:00-23:00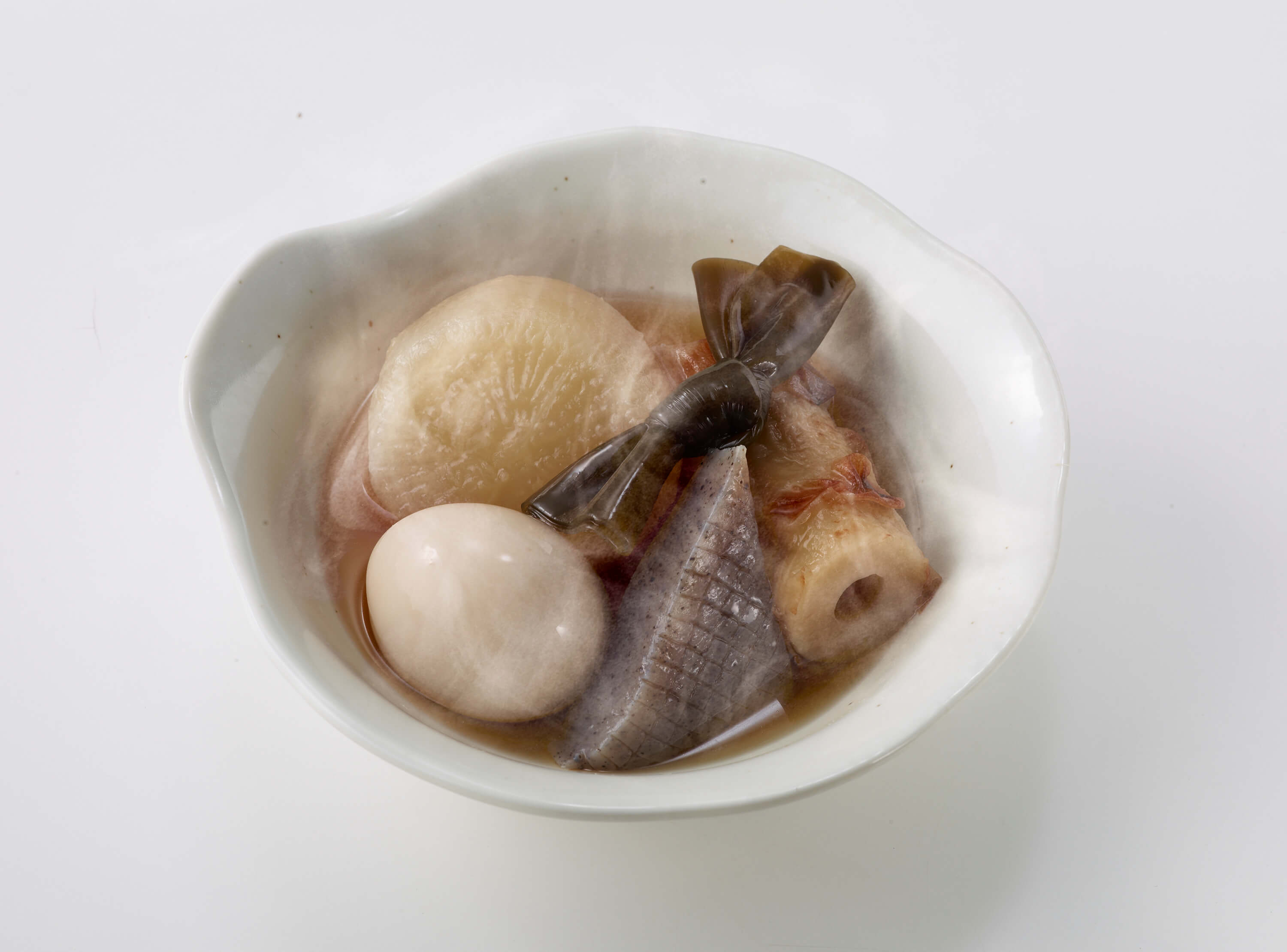 "Attaka Fair" Food
Location: COREDO Muromachi 1, 2 & 3 / Nihonbashi Mitsui Tower
Running: November 30, 2018 – December 28, 2018
There are plenty events happening this winter to enjoy with friends and family in Nihonbashi, so if you're in Japan be sure to get involved!
Information
Shinku no Hikari Machi ~Nihonbashi~
Locations: COREDO Muromachi, Nihonbashi Mitsui Tower, Mitsui Honkan
Associated Areas: Edo Sakura-dori, Nihonbashi Mitsukoshi Honkan, YUITO, YUITO ANNEX, OVOL
Running: November 30, 2018 December 28, 2018
Time: 17:00-23:00
RECOMMENDED ENTRIES
Omohara Beer Forest Illuminations in Omotesando to Begin on November 15

The Omohara Beer Forest―located on the sixth floor rooftop of Tokyu Plaza Omotesando Harajuku―is hosting an illumination event from November 15 to February 28 next year.

The Omohara illuminations will bring a mix of natural light and gentle fairy lights to central Harajuku. A space surrounded by trees will give rise to 16,000 illuminations with warm light, evoking a sense of nostalgia from somewhere and makes you relax.

The illuminations can be enjoyed through Christmas and the New Year's Holidays. Opening hours will be extended to 11:00pm from the usual 9:00pm for people to gaze at.

Tokyu Plaza will also be decked out with plenty of Christmas gifts up until December 25 including clothes, cosmetics and other miscellaneous items, so head there this holiday season to feel that nostalgia Christmas feeling.

Information

Omohara Illuminations

Running: November 15, 2018 – February 28, 2019

Location: Omohara Beer Forest (Tokyu Plaza Omotesando Harajuku 6F Rooftop, 4-30-3 Jingumae, Shibuya, Tokyo)場

Time: 17:00-23:00 (Last Entries 22:30 – subject to changes during New Year's Holiday)

Website: https://omohara.tokyu-plaza.com/

Pink Illuminations to Adorn Meguro River's Famous Cherry Blossom Trees

Meguro River is famous for its cherry trees which line stretch 4km along the waters and bring beautiful cherry blossoms in spring. This winter, 'Megurogawa Minna no Illumi 2018' will take place from November 9, 2018 to January 6, 2019. Translating to 'Meguro River: Illuminations for Everyone,' the event will see the path along the river decorated with lights which will reflect off the water's surface.

The event was created out of locals' love for the town of Meguro. It's a time of mutual bonding and a reminder that winter is here. Last year, apartments in the neighbourhood and restaurants collected 5,500 litres of waste cooking oil which powered the generator for the lights. Waste cooking oils will be recycled again this year as biodiesel to power 100% of the illuminations.

The Fuyu no Sakura® ('Winter Cherry Blossoms') flower viewing spot which was a huge hit last year will make an appearance again this year. People will be able to enjoy the 'winter cherry blossoms'ーthe pink illuminationsーfrom the comfort of one of the three garden igloos which all have different interiors. Sitting in one of these means you don't have to worry about wind, rain or cold weather.

Fuyu no Sakura

Locaion: Gotanda Fureai Waterside Square, Shinagawa

Running: November 22, 2018 – December 26, 2018

This year marks the 9th run of Fuyu no Sakura®. The 100% local energy illuminations were picked up by news media both in Japan and overseas last year. The event also won second-place in the 2017 A' Design Award.

If you missed the spring cherry blossoms in Japan and are travelling there in wintertime then enjoy some 'flower viewing' at Meguro River!

Information

Megurogawa Minna no Illumi 2018

Locations: Meguro River / Gotanda Fureai Waterside Square (2-9 Higashi-Gotanda, Shinagawa, Tokyo)

Illumination Period: November 9, 2018 – January 6, 2019

Illumination Time: 17:00-22:00 (Will go ahead during rain)

*Closed during storms. Additionally, illumination time will begin at 17:30 on November 9 only.

Entry: Free

Access: 6-minutes on foot from Osaki Station and Gotanda Station via JR Lines

TEL: 03-5330-7675

Official Website: http://www.minna-no-illumi.com/

Roppongi Hills Christmas 2018: Keyakizaka Illuminations, 10m Tall Christmas Tree & More!

Christmas at Roppongi Hills is a bustling time having brought together 7 million people last year. There will be lots happening this year, starting with Keyakizaka street being lit up from early November up to Christmas Day. Illuminations will be held in 3 places and there will be numerous events including a Christmas market and concerts.

Around 700,000 LED lights will decorate the trees of Keyakizaka street, bringing to light that charming feeling of Tokyo wintertime. This marks the 15th year of the street's illuminations, and this year's theme is "LIVE veil." Passersby will be greeted with the glow of crisp blue and snow white LED lights. The bridge located in the centre of Keyakizaka street will make for a great photo with Tokyo Tower in the background.

Date: Early November 2018 – December 25, 2018
Time: 17:00-23:00

Location: Roppongi Keyakizaka-dori

A Christmas market will take place at 66 Plaza which will be overlooked by a towering 10m tall Christmas tree. The tree will light up during the event making for a must-visit spot with that special someone.

Date: Early November 2018 – December 25, 2018
Time: 17:00-24:00

Location: 66 Plaza

If you take a stroll along West Walk you'll also see a very unique looking "knitted" Christmas tree. This specially made tree is made of a knitted material that will feel soft to touch. You'll even be able to lie down at the base of it. The material the tree is made of will also run through the corridor of West Walk, embracing the area with warmth.

Running: November 16, 2018 – December 25, 2018 (subject to change)

Location: 2F West Walk South Side and Corridor

As well as the Christmas market and concert, the restaurants and cafes will also sell Christmas cakes, and there will be plenty of opportunities for Christmas shopping.

Take your family, friends or special someone to Roppongi Hills for Christmas this year!

■Information

Roppongi Hills Christmas 2018
Location: Roppongi Hills (Roppongi Keyakizaka-dori, 66 Plaza, West Walk, Roppongi Hills Arena, Oyane Plaza, and elsewhere)

Christmas Market 2018

Date: November 23, 2018 – December 15, 2018

Time: 11:00-21:00

*On the first day (November 23) the market will open in the evening.

*Opening times extended to 22:00 on Fridays, the weekend and December 24.

Location: Oyane Plaza
RELATED ENTRIES
See Tokyo's Cherry Blossoms at the SAKURA FES NIHONBASHI/OFF TO MEET Event

SAKURA FES NIHONBASHI/OFF TO MEET is set to take place in the Nihonbashi, Yaesu and Kyobashi areas of Tokyo from March 15 to April 5 this year.

This marks the 7th run of the event. Naoki Ono, the chief editor of Kohkoku magazine, was invited on board as creative director for this year's event, which promises plenty of cherry blossom-themed activities and content which you won't experience anywhere else.

Running alongside the festival will be the Kengai・NIHONBASHI event which will take place on March 28 and 29. This two-day event encourages people to turn off their smartphones and spend some quality time in the real world away from the digital world. There will be a food market run by local famous restaurants of Nihonbashi, which is known for its incredible food, who are preparing some special bites to eat. There will also be live performances, a book market, and much more.

SAKURA FES NIHONBASHI/OFF TO MEET Schedule

The Tree Of Light –Akari Sakura-

This cherry blossom art display will see around 100,000 LED lights bloom their beautiful radiance.

Running: March 16, 2020 – March 31, 2020

Location: COREDO Muromachi Terrace Main Roof

Nihonbashi Art Street -Kotobana Mik–

Inspired by the weeping cherry trees that blossom in Nihonbashi during springtime, this art installation will react to people's voices as they walk and talk around it, causing the trees to bloom.

Running: March 16, 2020 – March 31, 2020

Location: Naka-dori Street

Sakura Menu Walk

Around 120 participating restaurants and eateries will serve up special cherry blossom-inspired menus for the season. When you order any  of these menu items, you'll receive a special novelty gift exclusive to the SAKURA FES NIHONBASHI/OFF TO MEET event.

Running: March 15, 2020 – April 5, 2020

Location: Restaurants in the Nihonbashi area

 

Sakura Light Up

The town's major facilities and establishments will be adorned and lit up beautifully with cherry blossom pink, as well the rows of cherry trees along Edozakura-dori Street.

Running: March 15, 2020 – April 5, 2020

Location: Edozakura-dori Street / Facilities along Chuo-dori Street

Kengai・NIHONBASHI Schedule

Kengai・SACOCHE

10,000 bags will be given away for free for locking your smartphone inside. This will enable attendees to enjoy the here and now of the event without being distracted by technology

Location: Handed out around Fukutoku Shrine

 

Kengai・BOOK MARKET

The book market is offering a new way to encounter books. The stock will include those featured at the Eslite Spectrum Nihonbashi pop-up shop from September 2019, as well as a selection of books from around Japan.

 

This is just a small look at what to look forward to at this year's event, there is lots more planned. More details are to be announced in the coming months, so stay tuned.

FLOWERS BY NAKED 2020: Details Revealed For Tokyo's Flower-Themed Art Event

FLOWERS BY NAKED is an annual flower-themed art event held by NAKED Inc., and the company has announced its next run: FLOWERS BY NAKED 2020 – Sakura – will take place from January 30 to March 1 next year at Nihonbashi Mitsui Hall in Tokyo, where visitors can enjoy flowers an a wholly new kind of interactive experience. Tickets went on sale on December 17, 2019, and this event will mark its 5th anniversary of taking place in Nihonbashi.

To date, FLOWERS BY NAKED has seen over 500,000 people attend the events, which have become a place for Instagrammable photos with over 660,000 posts made with the hashtag #flowersbynaked.

2020's theme is cherry blossoms, so to celebrate, NAKED has unveiled four key visuals for four gardens set for the event along descriptions. As visitors journey through the gardens, they will experience an immersive story melding the worlds of flowers and art.

■Prologue

"When a butterfly telling the spring dances in the snowy winter world, the page is turned and the world changes from winter to spring."

This is where the story begins: where winter flowers bloom. But as the pages of the big book are turned, the space is transformed into springtime as the snow melts.

■Dandelion Hill

"When you blow dandelion as if you were playing as a child, the fluff soars up to the sky with your old memories."

Watch as the scenery changes when you blow on the towering dandelions in this incredible interactive experience that combines real life with digital technology.

■Glowing Garden

"In a shimmering space that seems to be lost in a kaleidoscope by a mirror, the sun shines even more."

When you step into this radiant garden which is lit by the pouring sunlight, it will seem as if the entire world around you glows with the fiery light of our burning star.

■OUSAI Garden

"The fastest cherry blossom viewing space in Japan where you can enjoy the five senses, such as the blossoming cherry blossoms and the scent of spring."

The river seen at the beginning of the story leads to here, a holy cherry blossom garden watched over by an enormous pink cherry tree. There is plenty to interact with in this area for visitors to experience cherry blossoms with all five of their senses.

Advance tickets for this event are now on sale, so don't miss out.

Information

FLOWERS BY NAKED 2020 – Sakura –

Running: January 30, 2020 –  March 1, 2020

Opening Hours: 10:00-20:00 (Last entries 30 minutes before closing time)

*Opening hours subject to change

Location: Nihonbashi Mitsui Hall COREDO Muromachi Floors 1F + 5F (Entrance is on 4F)

Official Website (English/Japanese): https://flowers.naked.works/2020nihonbashi/

Pokémon Sword and Shield Themed Food to be Served at the Pokémon Cafes in Tokyo and Osaka

The Tokyo (Nihonbashi) and Osaka (Shinsaibashi) branches of the Pokémon Cafe are releasing their second batch of menu items in collaboration with Pokémon Sword and Shield which will be served between January 18 and March 19 next year.

Pokémon Sword and Pokémon Shield are the latest games in the Pokémon video game franchise and were released for the Nintendo Switch on November 15, 2019. The two new menu items fans can hope to enjoy based on Weezing and Morpeko. Also, due to popular demand, the serving period for the first collaborative menu which featured Grookey, Scorbunny, and Sobble has been extended to March 19, 2020.

Weezing's Chemical Change Gas Pancakes – ¥1,628

Try pouring the accompanying blueberry sauce over Weezing's cotton candy gas clouds and you might just see an actual chemical change yourself!

Ingredients: Pancakes, Matcha Whipped Cream, White Chocolate Sauce, Blueberry Sauce

Morpeko's Hungry W Sauce Omurice – ¥1,628

Just like Morpeko can change between two forms via its Hunger Switch ability, this omurice too is served with two different flavoured sauces.

Ingredients: Omurice, Demi Glace Sauce, Tomato Cream Sauce

If you've yet to visit the Pokémon Cafe in Japan be sure to put it on your list of things-to-do, and expect to enjoy a whole range of Pokémon-themed treats!

*All listed prices include tax

©2019 Pokémon. ©1995-2019 Nintendo/Creatures Inc./GAME FREAK inc.

Pokémon, ポケットモンスター and ポケモン are registered trademarks of Nintendo, Creatures Inc., and GAME FREAK inc..

Information

Pokémon Cafe (Nihombashi, Tokyo)
Address: Nihombashi Takashimaya SC East Bldg. 5F, 2-1-2 Nihombashi, Chuo Ward, Tokyo
Business Hours: 10:30-22:00
No Fixed Holidays (Except when Nihombashi Takashimaya SC is closed)
Reservations: https://www.pokemoncenter-online.com/cafe/reservation.html

Pokémon Cafe (Shinsaibashi, Osaka)
Address: Daimaru Shinsaibashi Honkan 9F, 1-7-1 Shinsaibashisuji, Chuo Ward, Osaka, Osaka Prefecture
Business Hours: 10:00-21:30
No Fixed Holidays (Except when Daimaru Shinsaibashi is closed)
Reservations: https://www.pokemoncenter-online.com/cafe/reservation.html

*Reservations available online only. Telephone reservations not available.

Watch the Stars and Snow Glow at the Shiraito Falls Midwinter Light Up in Karuizawa

Throughout the year, Japanese people escape their busy city life to Karuizawa: a popular resort town hidden in the mountains near Nagano. From December 21, 2019 – February 15, 2020, Shiraito Falls located in Jōshin'etsu-kōgen National Park, Karuizawa will be holding the Shiraito Falls Midwinter Light Up, providing the perfect excuse for a soothing getaway.

The 3-metre-tall and 70-metre-wide Shiraito Falls does not freeze below freezing temperature as the water flows from a subterranean river of Mount Asama. The winter lighting will make the water glisten and the falling snow and starry night sky glow with the charm of winter. 

This light up event is a follow up from last year's illumination event. The Midwinter Light Up aims to make Shiraito Falls a beautiful tourist spot which can be enjoyed even on a winter night.

The Midwinter Light Up is one step ahead of the summer light up event which previously took place. To emphasise the beauty of nature, the illumination this time round will allows visitors to appreciate the starry night sky on a fine day and reveal the stunning natural scenery which is not visible during the daytime. 

As the Shiraito Falls light up event will take place in Jōshin'etsu-kōgen National Park, the event contents were created strictly abiding the guidelines and regulations from the Ministry of the Environment​. The quantity of light produced, its hues and even the way it is produced has been carefully considered, creating a light display that does not disrupt the natural environment. 

This breathtaking light display will give you an entirely new perspective on the breathtaking winter scenery of Shiraito Falls and would be the perfect experience to share with your family or friends. 

Information

Karuizawa Shiraito Falls Midwinter Light Up

Location: Shiraito Falls, Karuizawa

Running on 18 days between December 21, 2019 and February 15, 2020

The running period is split into the following sessions:

・Christmas Session December 21 – 24, 2019

・New Year Session January 4 – 5, 2020

・Spring Festival Session February 1 – 2, 2020, February 7 – 11, 2020, February 14 – 15, 2020

* There will be no light up event on days other than those stated above.

* The light up event on February 15 is a Valentine's Day special. This includes the display of an ice sculpture and the chance to meet Ruiza: Kauizawa's mascot. Visitors will also be given a gift.   

Openining Hours

・Christmas Session    17:00 – 19:00

・New Year Session     17:00 – 19:00

・Spring Festival Session   17:30 – 19:30

Price: There is no entry fee. However, there is a fee to cross the toll road. (The price is subject to change)

Meguro River Winter Sakura to be Illuminated Using 100% Recycled Oil Until January

This winter, MINNA no ILLUMI Executive Committee will be decorating Meguro River with an unmissable illumination display that will warm your heart. 100% of the energy for the illumination will be produced by recycled oil. The display will run from November 8, 2019 to January 5, 2020.

As Shinagawa Ward will also be lit up at the same time, visitors will be able to treat themselves to a glorious view of approximately 410 thousand sakura-coloured lights, creating a unique opportunity to witness Winter Sakura®. The beautiful illumination along the riverbanks of Meguro River will be the largest illumination project within Yamanote Line with a total length of 2.2km of riverbanks covered (counting both sides of the river). Enjoy the beautiful warm light reflecting off the river's surface.

The megurogawa MINNA no ILLUMINATION project was launched in response to the locals' desire, love and praise for riverside illumination displays. The project involves collecting waste oil from restaurants, cafés and households and recycling it as the sole energy source to power the illumination display. This project has become a symbol of winter and plays a significant role in strengthening bonds with the locals. 

Last year, approximately 5,500 litres of oil was collected from 11 places including restaurants, cafés and apartment blocks. This was converted by a power generator which supplied all the electricity necessary to run all the lights. This year, unused oil from local restaurants and apartment blocks will be recycled into biodiesel once again to run another Winter Sakura® light display which tourists flock to see. 

This year will also see the return of German Outdoor Dome Garden Igloos from last year. This creates the perfect spot to watch the Winter Sakura® without getting cold or being affected by rain or the wind. There will be three garden igloos at this year's event and each will have a unique colour theme. Each igloo will be 3.6 metres in diameter, 2.2m high and contain a ground area of 10m², allowing for plenty of space to relax.   

Igloo Availability: December 16 – 25, 2019 *Subject to change

Gotanda Fureai Mizube Hirobamade even made the news in overseas countries as a result of the illumination project. This is the perfect way warm your heart during the cold winter.

Information

meguro MINNA no ILLUMINATION 2019

Locations: Gotanda Fureai Mizube Hiroba (2 Chome-9-11 Higashigotanda, Shinagawa City, Tokyo)

Gotanda Minami Park and Meguro Riverside (2 Chome-8-8 Higashigotanda, Shinagawa City, Tokyo)

Running Dates: November 8, 2019 – January 1, 2020

Running Times: 17:00 – 22:00 

*The illumination project will still run in rainy weather but will be postponed in stormy weather.

Website: http://www.minna-no-illumi.com/ 

Website Opens: 10:00 on October 29, 2019

Roof Star Gardens Illumination Event to Take Place On GINZA SIX's Rooftop Garden

Ginza's biggest shopping centre GINZA SIX has announced that it's set to light up its rooftop garden with an enchanting illumination event titled Rooftop Star Garden which will begin on November 26 and run until February 24 next year.

Standing at 56 meters high, the rooftop garden is the "closest place to the stars" in Ginza. This will be GINZA SIX's first ever illumination event and it will shine a bright spotlight against the nightscape of Ginza's streets.

Rooftop Star Garden will take place in two areas in the garden: the Water Fountain Area and the Forest Area, both of which will welcome star-themed light shows.

The theme of the Water Fountain Area is "Shooting Star," whose LED lights will elicit a sense of profoundness in its observers. 147 LED lights will form the main monument of this area, with bright, sparkling illuminations that will remind one of shooting and twinkling stars.

The Forest Area is made up of two separate areas between the Water Fountain Area. Lasers will shoot through crystals, creating an ocean of countless specks of light that look like little stars that make it feel like you're in space.

This limited-time event is the perfect way to spend this year's Christmas, so don't miss out.

*Photos are for illustrative purposes only

Information

Rooftop Star Garden

Location: GINZA SIX Garden (Building Rooftop)

Address: 6-10-1 Ginza, Chuo Ward, Tokyo

Running: November 26, 2019 – February 24, 2019

*Will close during bad weather or during invitation-only events

Time: Sunset to 23:00

Entry: Free

GINZA SIX Official Website: https://ginza6.tokyo/

Hokkaido Confectionery Makers Ishiya Open New Cafe in COREDO Muromachi Terrace

COREDO Muromachi Terrace is a new shopping complex in Nihonbashi, Tokyo that opened its doors on September 27, 2019. Confectionery company Ishiya, which is known for its Shiroi Koibito cookers that are considered a souvenir and speciality of Hokkaido, opened its first ever cafe outside Hokkaido entitled ISHIYA NIHONBASHI at the shopping centre.

ISHIYA NIHONBASHI is the first cafe managed by Ishiya outside of Sapporo, Hokkaido. The cafe's concept is to treat the people of Tokyo to the wonderful flavours of Hokkaido. This includes a selection of popular sweets and desserts, including the Shime Parfait―a common accompaniment to the end of any drinking party in Sapporo.

During the day, the establishment offers a sumptuous cafe menu whipped up by the chefs, such as pancakes and parfaits. Let's take a look.

Strawberry Ishiya Pancake (Fluffy) – ¥1,400 (Tax Included)

The Ishiya Pancakes are fluffier than clouds, made lavishly with cream cheese and fresh cream. They're topped with even more fresh cream and strawberries and are finished sweetly with condensed milk and a sweet and sour raspberry sauce. The pure white cream and raspberry sauce make these pancakes look cute and tempting♡

Shiroi Koibito Blend Coffee – ¥400 (Tax Included)

This original blend of coffee was crafted so it goes perfectly with a Shiroi Koibito biscuit. When you order a cup of this coffee you get one biscuit to enjoy with it.

During the evening and late night, the cafe serves snacks made to pair with alcohol as well as exclusive parfaits drizzled in Japanese sake. They also sell the "Shime Parfait," a classic post-drinking dessert in Sapporo.

Parfait Nihonbashi – ¥1,600 (Tax Included)

This Nihonbashi-exclusive parfait is topped with alcohol which you drizzle sake over. The parfait includes rich jelly. You can create even more delicious flavours with the accompanying matcha pudding or brown sugar syrup.

The cafe also sells Saqu, colourful high-class biscuits normally only sold in Hokkaido. They make for a perfect souvenir.

Taste the flavours of Hokkaido in Tokyo at Nihonbashi's newest hot spot.

Information

ISHIYA NIHONBASHI

Address: COREDO Muromachi Terrace 1F, 3-2-1 Nihonbashimuromachi, Chuo Ward, Tokyo

Opening Hours: 11:00-23:00

TEL: 03−6265−1143

No fixed holidays except when COREDO Muromachi Terrace is closed.

Taiwanese Bookstore Chain Eslite Opens New Outlet in Nihonbashi, Tokyo

Eslite Bookstore is one of the prominent bookstore chains in Taiwan that opened an all-new outlet in Nihonbashi, Tokyo on September 27, 2019 that promotes reading, culture and lifestyle.

This will be the first Eslite Spectrum shopping mall to open outside Greater China. Its concept is "a cultural wonderland for reading and living" under wh ich Eslite has curated Nihonbashi's rich history and culture to promote to the people of Tokyo.

Eslite Spectrum is always in the front row when it comes to the latest in Taiwanese trends, and it's a place I never fail to visit when I travel to Taiwan. When I heard they would be expanding to Tokyo, I couldn't wait for the day of the grand opening to arrive. I made my merry way there, excited and eager to see what kind of place it would be, and what kind of items they would stock.

The outlet is split into 4 different zones: the bookshop zone, the stationery zone, the miscellaneous item and workshop zone, and the restaurant zone. The bookshop features a line-up of carefully selected reading material and book recommendations.

One hundred brands from around the world make up the miscellaneous and eating areas. Half of the brands are Taiwanese, meaning you can get your hands on authentic goods from Taiwan itself.

The building was designed by leading Taiwanese architect Kris Yao, whose concept for the design was "interweaving the old and new." It's a stylish, welcoming building with elements of the traditional Japanese aesthetic in there. The store front has indigo blue noren entry curtains, which is both stylish and quintessentially Japanese.

This new branch of Eslite Spectrum is home to stores setting up shop in Japan for the very first time. There are also many shops here selling items exclusive to Nihonbashi. I'm going to showcase four of the places I was particularly interested in.

Kuo Yuan Ye

Kuo Yuan Ye is a confectionery shop based in Shinlin, Taipei. Since opening, they have continued to use traditional confectionery-making methods, serving sweets with deep, rich flavours.

As well as having maintained tradition, they have also released products in collaboration with rising designers. I encourage you to try their beautiful line-up yourself to taste their long, delicious history.

Sarutahiko Coffee

We have covered Sarutahiko Coffee on MOSHI MOSHI NIPPON in the past when we visited the branch in Ebisu.

The first thing that struck me upon visiting this new branch is how different the interior design is to other places. The design and its concept of "coffee and words" were created by book director Yoshitaka Haba. Quotes pulled from the books can be found written all around the cafe. There is also a space underneath the chairs for storing books. No matter where you look in the cafe, it's nothing less than stylish.

The cafe has their own special hot cakes and original coffee blends exclusive to Nihonbashi. The hot cakes are topped lavishly with mont blanc, giving it an extremely rich taste and one reminiscent of autumn-time. Both the hot cakes and this original coffee blend are limited-time menu options available until November 14, so you'll want to get in there quick.

Wonder Chuan

For the first time ever, long-standing Taiwanese tea store Wonder Chuan arrives on the shore of Japan. The shop takes great care in the growing and brewing of its tea leaves, pouring their heart and soul into every cup.

The Taiwanese oolong tea drank was a similar colour to matcha. It had a sweet flavour and a much smoother taste compared to Japanese oolong. The shop also serves a selection of cocktails made with oolong tea as well as perform traditional tea-making methods for customers. They even have plans to host their very own Taiwanese tea workshops in the future.

Fujin Tree

The last place I want to introduce is Fujin Tree, also a first in Japan. This is another one of my favourites, so I was thrilled when this one was coming to Tokyo too!

It's uncommon to be able to drink wine in restaurants in Taiwan, but the popular Fujin Tree serves Taiwanese cuisine and champagne in style.

Their dishes are packed full of fresh vegetables and fruit. One of their popular picks is their springstar and century egg with spicy minced pork. It's a tasty dish with full, rich flavours that goes well with sake. It's also great with rice. There are many amazing options on the menu, but if you're spoilt for choice then I recommend this one.

Eslite is the bridge between Japanese and Taiwanese that aims to become a hub for Asian culture. Centred around reading, there are countless experiences to look enjoy here. Discover a new side of Nihonbashi by paying a visit.

Writer: Sayuri Mizuno (MOSHI MOSHI NIPPON)

Translator: Joshua Kitosi-Isanga

Information

Eslite Spectrum Nihonbashi

Address: COREDO Muromachi Terrace 2F, 3-2-1 Nihonbashimuromachi, Chuo Ward, Tokyo

Opening Hours: 10:00-21:00 (Fuji Tree is open 11:00-23:00)

No Fixed Holidays

Official Website: http://www.eslitespectrum.jp

COREDO Muromachi Terrace: Shops and Exclusive Gourmet Treats to Arrive at Nihonbashi's New Hot Spot

COREDO Muromachi Terrace is a new shopping facility set to open on September 27, 2019. Connected directly to Mitsukoshimae Station via the Tokyo Metro Ginza Line and Tokyo Metro Hanzōmon Line, like its neighbouring facilities COREDO Muromachi 1, 2 and 3, it is set to incorporate the halcyon days of Japanese culture while hailing as the latest must-visit spot delivering the charm and appeal of Nihonbashi.

The facility has been gathering stark attention in the run up to its grand opening, so we have compiled a list of store and restaurant chains setting up shop in the Kanto region for the first time, and products exclusive to COREDO Muromachi Terrace.

Hakata NEW COMATSU (Floor B1F)

With its at-the-counter-seat style setup, Hakata NEW COMATSU sets foot in Japan's Kanto region for the very first time, ready to serve up a gorgeous menu made with ingredients from Kyushu. Whether it's lunch, dinner or just a little drink, their menu line-up caters to the needs of all of its customers.

Agodashi Kyushu Soy Sauce Motsunabe – ¥1,380 (Before Tax)

Motsunabe is a staple hot pot dish of Hakata. The deep-fried tofu is filled with yuzukoshō―a seasoning made from chili peppers, yuzu peel and salt―for a refreshing kick.

Hakata Chicken Skin Skewers With Sansho Black Pepper – ¥165 Each (Before Tax)

The people of Tokyo will now get to enjoy Hakata NEW COMATSU's most popular menu item: chicken skin skewers, seasoned with soy sauce and sansho black pepper

Dashi Inari Kaiboku (Floor 1F)

Kaiboku is a restaurant located along Watanabedori in the city of Fukuoka. This one too is set to take a spot in Kanto for the first time, serving freshly-made dashi inari sushi.

You can order them for takeout, including sets of 4 (¥1,296) and 8 (¥2,592). Or you can sit at the stylish counter seats and order the set of 2 with miso soup (¥1,296).

Dashi-soaked inari sushi is fluffy and has a completely different texture to Kanto-style inari.

Ferme La Terre Biei (Floor 1F)

This will be the first branch of Ferme La Terre Biei outside Hokkaido. Everyday, the bakery cooks up over 100 different types of bread, with over 30 different types of wheat flour used.

Hokkaido Jersey Milk Loaf – ¥600 (Before Tax)

Made with milk from Jersey cattle, Biei's popular Jersey Milk Loaf has been made even more delicious, and feels extremely soft and fluffy from the moment you take it in your hands.

Hokkaido Butter Croissants – ¥1,000 (Before Tax)

Biei's beautiful and buttery croissants are made over the course of 3 days, resulting in a crunchy texture and a lusciously buttery flavour.

Hokkaido Matured Cheese Bread – ¥450 (Before Tax)

The cheese bread is made with fresh mascarpone cheese and cream cheese, both from Hokkaido. It's also rounded in the shape of a cheese wheel.

Butter Cheese Sandwiches – ¥300 Each (Before Tax)

These butter cheese sandwiches are carefully handmade one by one by Biei's expert bakers. They are layers of thin, crunchy sablé biscuits and cream. They sell them individually and in sets, so they would make as great gifts.

Gino Sorbillo Artista Pizza Napoletana (Floor 1F)

With a history spanning over 80 years, immensely popular pizzeria Gino Sorbillo arrives in Japan for the very first time.

Margherita – ¥1,180 (Before Tax)

The margherita pizza is loaded with organic ingredients, made classically with tomato sauce, oregano, garlic, olive oil and basil. The pizza dough is cooked thin so it's nice and easy to eat.

Minamiaso Tea House (Floor 1F)

Established in the village of Minamiaso in Kumamoto, Minamiaso Tea House is a herbal tea house arriving in Tokyo for the very first time. The cafe creates their own original tea blends made from herbs grown by the cafe themselves and others carefully selected from around the world.

Limited Edition First-Pick Lemongrass (50g) – ¥1,620 (Tax Included)

Their lemongrass is a seasonal exclusive, with each bag made up of only the best first-picks. Once all bags have been sold, it will discontinue, so you'll want to get in there quick! Perfect for tea time, eliminating strong odours from fish when cooking, and many other things.

365 DAYS HERB (180g) – ¥1,944 (Tax Included)

This is one of the shop's most popular products. It uses Rooibos as the base blended with lemongrass, rose hip which is known for its beautifying effects, and peach leaves. It's a flavour that even those not familiar with herbs can enjoy.

ISHIYA (Floor 1F)

Ishiya Co., Ltd., a confectionery maker which is known for its Shiroi Koibito cookies, is setting up its ISHIYA cafe outside Hokkaido for the first time.

Parfait Nihonshu – ¥1,600 (Tax Included)

This parfait is exclusive to the new Nihonbashi branch, made with Japanese sake and cotton candy. It comes with a side of honey and matcha pudding for an amalgamation of flavours.

Saqu LANGUE DE CHAT (12 Included) – From ¥1,296

Packaged in six different flavours, their Language de Chat biscuits are crunchy and melt in your mouth. Their packaging is cute too, making them perfect gifts!

Did you enjoy our picks? There are countless other restaurants and shops to look forward too when COREDO Muromachi Terrace opens its doors on September 27.

Blue Grotto Fukuoka Illuminations 2019: Exquisite Food & Enchanting Lights

Blue Grotto FUKUOKA is an illumination event that opened at Nakasu Bridge in Fukuoka on September 16 and will run until October 6.

Nakasu Bridge is located in the shopping district Nakase, where two exhibits are taking place: "Blue Grotto" and "Blue Waterfall." They are also offering a very special romantic and magical 30-minute boat cruise which takes passengers from Nakasu Bridge to Canal City Hakata and Hakata Bay.

As well as the breathtaking lights, passengers can look forward to a specially-prepared Blue Grotto Bolognese meal made by Nisshin Foods. Passengers will also receive an original Blue Grotto postcard courtesy of their boarding.

During the illumination event, there will be multiple food booths around Nakase Bridge serving an assortment of delicious food, including some made using Blue Grotto brand ingredients in collaboration with Nisshin Foods.

Information

Blue Grotto FUKUOKA

Running: September 16, 2019 – October 6, 2019

Location: Nakasu Bridge (中洲懸橋), Fukuoka

Illumination Times: 18:30-22:00 (subject to change)
Access: 6-minutes on foot fromNakasu-Kawabata Station / 7-minutes on foot from Tenjin-Minami Station

Official Website: http://shibuya-aonodokutsu.jp/

Cruise by the Dazzling Blue Grotto Illuminations in Fukuoka

As part of a project to vitalise and develop the town of Hakata in Fukuoka and promote its wonderful culture to the people of the world, the Blue Grotto FUKUOKA Executive Committee is set to hold a special illumination event titled Blue Grotto FUKUOKA at Nakasu Bridge from September 16 to October 6.

This illumination event first began in Nakameguro, Tokyo back in 2014 where it enjoyed great success. The location was then moved in 2016 to Shibuya where over 2.8 million people attended. It was then held outside the Tokyo area for the first time in Sapporo in February 2018 and then in Osaka in September of the same year. This enabled it to become widespread across the country and has consequentially made it become one of the main illumination events of Japan.

Blue Grotto will now make its way to Kyushu for the first time with Blue Grotto FUKUOKA. Boats will be prepared for the romantic and magical cruise which will take passengers from Nakasu Bridge to Canal City Hakata and Hakata Bay.

As well as the breathtaking lights, passengers can look forward to a specially-prepared pasta meal made by Nisshin Foods using Blue Grotto brand products.

Information

Blue Grotto FUKUOKA

Running: September 16, 2019 – October 6, 2019

Location: Nakasu Bridge (中洲懸橋), Fukuoka

Illumination Times: 18:30-22:00 (subject to change)
Access: 6-minutes on foot fromNakasu-Kawabata Station / 7-minutes on foot from Tenjin-Minami Station

Official Website: http://shibuya-aonodokutsu.jp/

A Date With Yutaro: Soaking Up the Japanese Summer Sun & Visiting the Art Aquarium | Tokyo Stroll

It's been a while since our last date with Yutaro. He's been very busy with film shoots. He had some spare time today so we paid a visit to Nihonbashi for our next date. "ECO EDO Nihonbashi: Enjoy Cool Edo With All Five Senses" is an event held every year in the Nihonbashi area which takes the Edo period cultural idea of "coolness"―an in, to enjoy being cool during the summer-and puts a modern spin on it. There are many exciting things to look forward to, including the art aquarium which proves massively popular every year.

We gave ourselves more time to arrive at the meeting place to be in the safe side, but it seems Yutaro-kun was already there waiting for us!

Nihonbashi Information Center | IPPIN CAFÉ "Sparkling Herb Tea" – ¥518 (Tax Included)

"Here, you must be boiling." Yutaro-kun kindly offers a cup of IPPIN CAFE's limited-edition sparkling herb tea. It's a delicious mix of fizzy soda and lemon, a perfect refreshment for the summer. Since he ordered takeout the drink came with a goldfish straw. Goldfish are a staple sight during Japanese summer festivals so it's very fitting for the occasion! 

With our drinks in hand, it's time to head to Nihonbashi for our Edo summer date!

Wind-Chime Forest Path

Lining the path between Fukutoku Shrine and Fukutoku Garden is the Wind-Chime Forest Path where around 200 Edo-style wind chimes dangled. This year, during the evenings, the path is illuminated with beautiful lighting. 

When the breeze rolls past the wind chimes ring one by one-a cool and refreshing sound.

"I hear each one of these Edo wind chimes are individually handmade by craftsmen."

When you hear the sound of the wind chimes it makes you feel cool like a gentle breeze of the wind.

After strolling along the Wind-Chime Forest Path we make our way towards this year's ECO EDO Art Aquarium event.

The moment we step instead Yutaro is already dazzled by all the goldfish: "Wow! I knew about this place from what I'd seen online, but this my first time here! This art aquarium really is something!"

The full title of the event is "ECO EDO Nihonbashi ART AQUARIUM 2019 ~Edo, Coolness of Kingyo~ & Night Aquarium."  Goldfish were a huge part of the common culture in Nihonbashi during the Edo period. This event recreates that and brings that "coolness" aspect while combining it with contemporary art by having people observe the fish in lots of different artistic environments.

Super Oiran

"This is the biggest fish tank, apparently it has 3,000 fish swimming inside!"

"Seeing the light reflect on the water from the illuminations lets you see the fish in a different light, doesn't it?"

Looks like Yutaro-kun is having a lot of fun taking photos.

He's equally interested in just about every fish tank!

These other fish tanks have a different aesthetic to them. Their Japanese-style designs make for great photos.

Kaleidorium 3D

"This one's beautiful, it's like a kaleidoscope."

It really does look like one. When you take a peek instead you can glimpse all kinds of colourful fish gently swimming around.

Ceiling Kingyo

"There're goldfish swimming on the ceiling too. So cool! This aquarium is incredible. It brings together the great culture of Edo and contemporary art."

The Art Aquarium bustles every single year with visitors, but this year will mark its last run. It's being held at Nihonbashi Mitsui Hall, so if you have the chance to go then please do.

We of course checked out some local Nihonbashi treats too! We stopped by morozoff for some cheesecake after the aquarium.

morozoff Kamadashi Cheesecake (Goldfish) – ¥270 Each (Tax Included)

These cute cheesecakes with their goldfish designs are available for a limited time only. They're filled with sweet red bean paste. They perfect with iced tea.

"Got some! Let's eat them while we head back."

Goldfish Lantern Walkway

Our first date in Nihonbashi was so much fun. While on the date Yutaro-kun spoke about the new live-action film he's in, Kaguya-sama: Love Is War.

"It's a romance film with mind games to try and make the other person confess their love. I play the character Tsubasa. His number one highlight scene is the kabedon scene. That was my first day shooting, so I was super nervous, but I got along well with the other actors, and the atmosphere on set was harmonious, so I was able to relax for the shoots. Tsubasa is a genuine guy who will believe things that have been said to him in earnest. You've definitely gotta check out all his scenes throughout the film!"

"A lot of the cast are the same age as me, so we were all energetic together in the waiting room. There's a scene at the end where all the cast get together. It took 3 days to shoot so we ended up getting along really well."

"This film has made me realise that love comes in many shapes, and that mind games happen in a variety of ways between guys and girls. There's cute scenes that express that small bit of pride that teenagers have, the embarassment they feel, when they get butterflies, scenes that will warm your heart. The film has various elements to it so I thoroughly enjoyed watching it myself. I hope that couples in love in their teens and twenties watch it, and I also hope that married couples watch it and crack up laughing too."

"In the film it's summer break, and they go and see fireworks and stuff. It's definitely one to watch durnig the summer. You're gonna come watch it too, right? Shall we go?"

An offer we cannot refuse! We'll definitely go and see it with you, Yutaro-kun! 

Model: Yutaro

Writer: Yuki Yokoo

Photographer: Kayo Sekiguchi

Information

ECO EDO Nihonbashi 2019 ~Enjoy Cool Edo With All Five Senses~

Running: July 5, 2019 – September 23, 2019

Location: Nihonbashi Area

TEL: 03-3242-0010 (Nihonbashi Information Center)

Event Page: https://www.nihonbashi-tokyo.jp/en/ecoedo2019/

ECO EDO Nihonbashi ART AQUARIUM 2019 ~Edo, Coolness of Kingyo~ & Night Aquarium

Running: July 5, 2019 – September 23, 2019

Location: Nihonbashi Mitsui Hall Floor 5F (Entrance at 4F),  COREDO Muromachi 1, 2-2-1 Nihonbashimuromachi, Chuo Ward, Tokyo

Opening Hours: Art Aquarium 11:00-19:00 / Night Aquarium From 19:00

[Sun-Fri] 11:00-22:00 (Last Entries 22:00) [Sat & days prior to public hoiday] 11:00-23:30 (Last Entries 23:00)

Access: Directly connected to Exit A6 of Mitsukoshimae Station, accessible on the Tokyo Metro Ginza Line and Hanzomon Line / Directly connected to Shin-Nihombashi Station / 8-minutes on foot from East Exit of Kanda Station JR 8-minutes on foot from Nihonbashi Exit of Tokyo Station

TEL: 03-3270-2590

Event Page: https://www.nihonbashi-tokyo.jp/en/ecoedo2019/contents/005.html

Kaguya-sama: Love Is War Film

Release Date: September 6, 2019

Adapted from the manga of the same name by Aka Akasaka (Shueisha/Weekly Young Jump)

Cast: Sho Hirano (King & Prince), Kanna Hashimoto, Hayato Sano, Natsumi Ikema, Nana Asakawa, Mayu Hotta, YUTARO, Takashima Masahiro, Jiro Sato

Official Website: https://kaguyasama-movie.com/

TALENT PROFILE

Yutaro

Yutaro was born in Hiroshima on June 3rd 1998. His modeling career has earned him lots of attention as a fashion icon of the new generation. The famous model also works as a "charisma" shop assistant. Yutaro has gained his reputation as a "mysterious and handsome guy" from his appearance on Japanese variety shows. His debut was made on the show "Gyoretsu no Dekiru Horitsu Sodanjo" and has since then appeared on numerous different TV shows. He challenged himself to appear on stage for the very first time in March this year and is gaining popularity by the day for his diverse work.