Entering the Magical Art Museum of Cardcaptor Sakura in Roppongi Hills
Hi, everyone. Minimaru here from the MOSHI MOSHI BOX Harajuku Tourist Information Center!
I went to check out the Cardcaptor Sakura Exhibition in Roppongi Hills. I was born in Hong Kong, and the Cardcaptor Sakura anime series aired there too. When I was a kid I would imitate Sakura everyday. I'm reading the new serialisation and watching the new anime too so I was really looking forward to visiting the exhibition.
The exhibition is located on the 52nd floor of Roppongi Hills Mori Tower in the Mori Arts Center Gallery and has been running since October 26. It is split into two different periods and is ongoing until January.
Without further ado, let's head into the world of Cardcaptor Sakura!
The moment you enter the exhibition you're met with an enormous book! This area is called The Library of Beginnings which is home to works by prominent artists from all fields. Each of them showcases the reason why Cardcaptor Sakura is such a popular series.
Next I entered the Flower Room. You're allowed to take your favourite flower stickers here and stick them anywhere you like.
We look lots of photos of the artistic flower-bloomed room.
The next area I entered was the Maze of Original Pictures. Photography here is off-limits. Be sure to visit the exhibition yourself too so you can see this area with your own eyes. There's around 200 original illustrations spanning across the series from the Clow Card arc to the Sakura Card and Clear Card arcs. I stayed in this area alone for half an hour!
Moving on, I visited the Tomoyo's Sieged Atelier area. All of Sakura's outfits are made by her best friend Tomoyo – she always appears wearing something different. This area is filled with all the different outfits made by Tomoyo across the series.
This one is of course my favourite!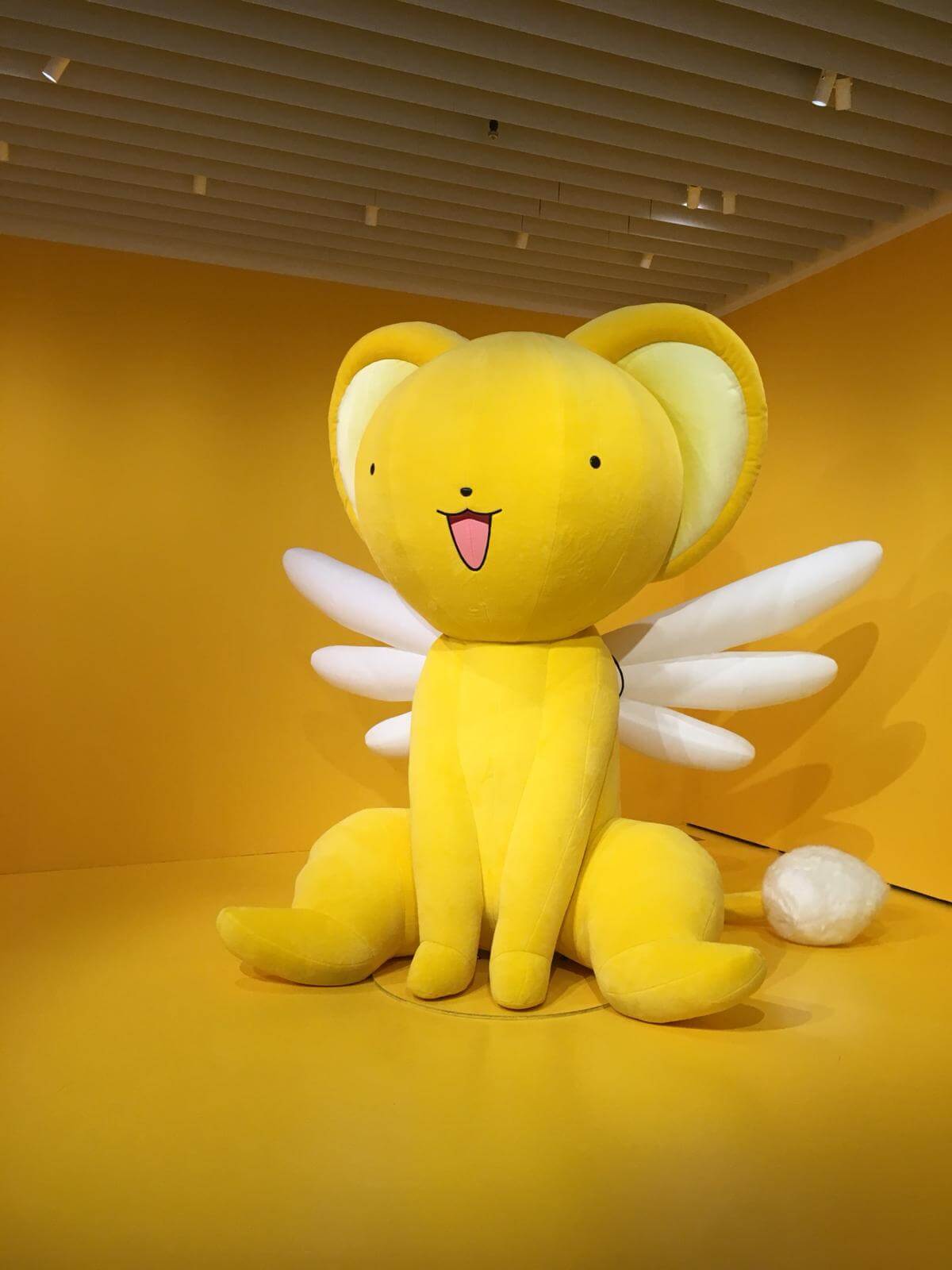 A gigantic Cerberus was in the next area! He's so much bigger in the flesh, the picture doesn't do him justice!
You're allowed to take a photo with him so be sure you get one if you visit!
There's another important thing you need to know about. On weekdays until December 21 at 16:00-19:00 you're allowed to borrow Sakura's wand and magical outfit. Transform into a magical girl and take a photo with Cerberus!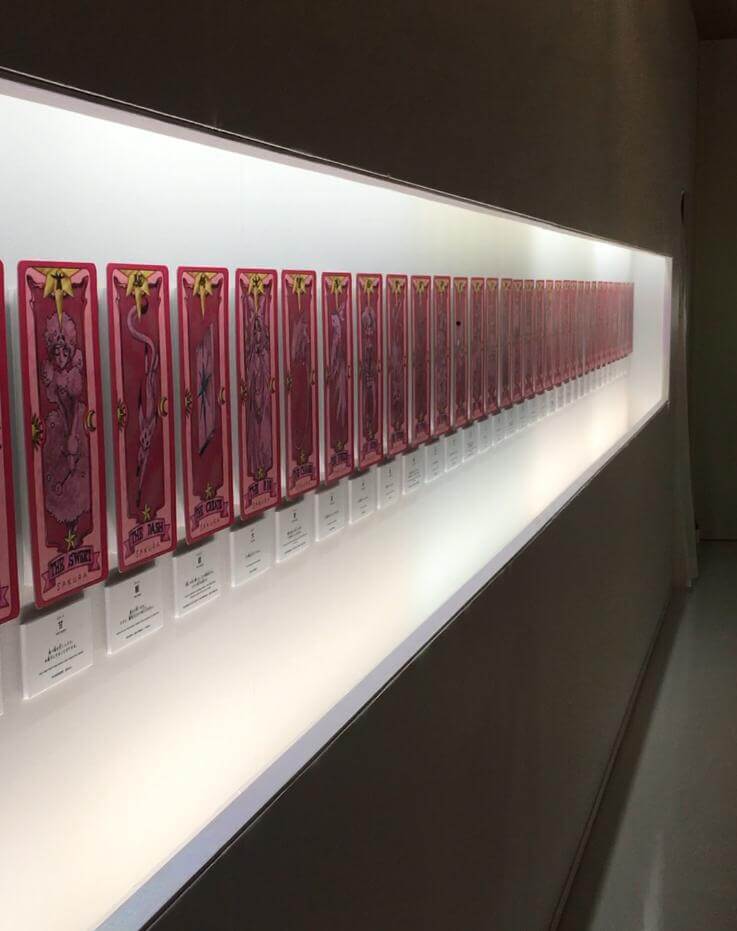 The final area is the Card Room where Clow Cards, Sakura Cards and Clear Cards are on display.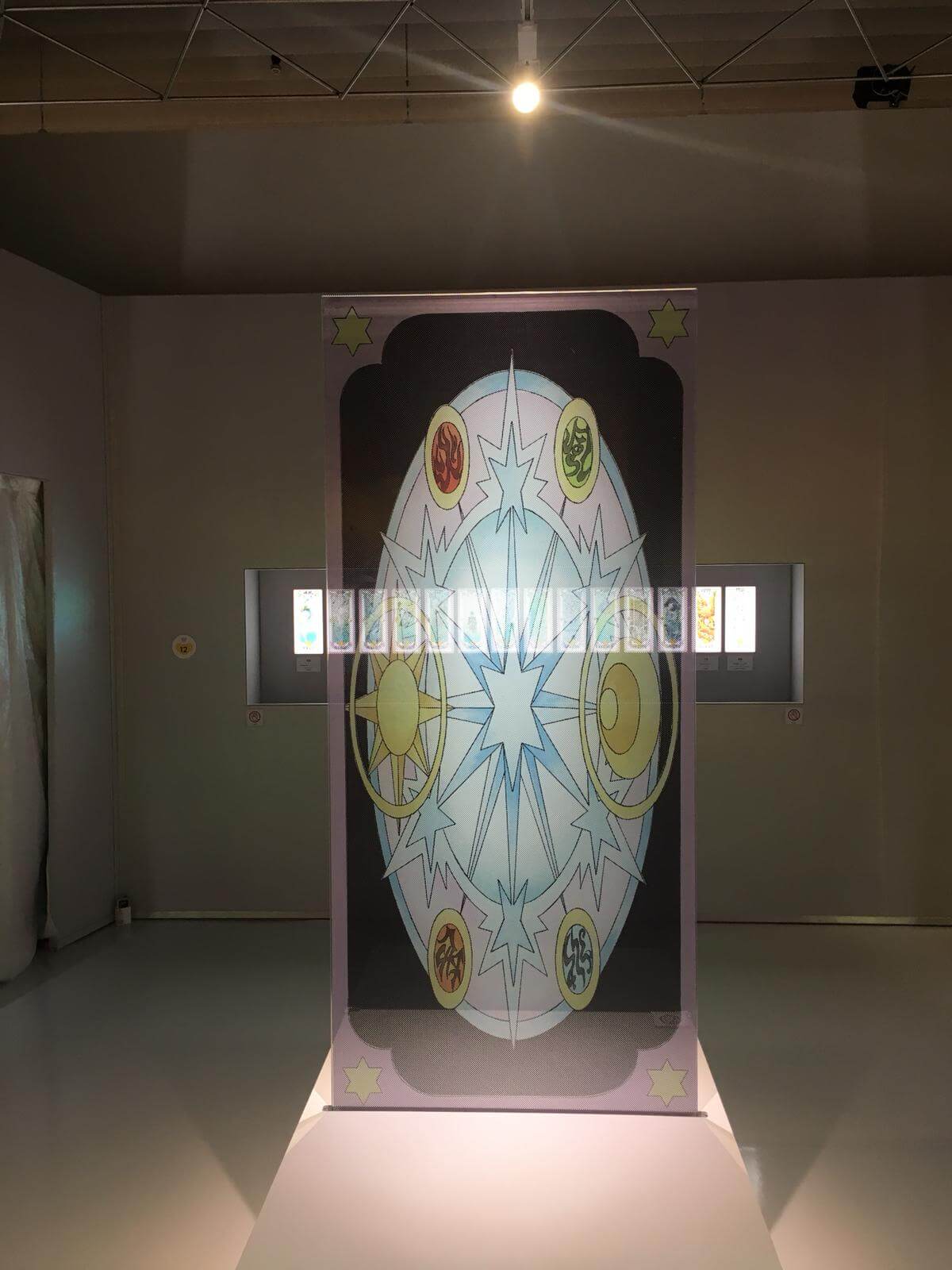 It's an overwhelming experience seeing all of the cards lined up.
When you come out of the exhibition there is a Cardcaptor Sakura museum shop. They sell lots of exclusive and original merchandise you can't get anywhere else. Being a fan myself I couldn't contain myself and bought lots of things.
The exhibition really felt like Sakura had cast her magic on it. You're sure to enjoy your time there no matter how many times you go back, so don't miss out while it's still running!
Information
Cardcaptor Sakura Exhibition -Magical Art Museum-
Running: October 26, 2018 – January 3, 2019
First Period: October 26 – November 30 / Second Period: December 1 – January 3
*Select displays will be different for both periods.
Location: Mori Arts Center, Roppongi Hills Mori Tower 52F
Opening Hours: 10:00-20:00 (Last Entries 19:00)
Exhibition Page: http://ccsakura-official.com/ccsakuraten/
RELATED ENTRIES
Limited Edition Cardcaptor Sakura Earrings Available Now

Ladies brand Mayla Classic has started taking orders for a collection of earrings inspired by Cardcaptor Sakura. The gorgeous jewelry items will be available to purchase from August 5 until September 26, 2022. 

Rocket Beat

Clear

Candy Lotus

Eternal Girly

Purchase Bonus: Limited Edition Postcard (The Postcard will be the same color as the item purchased.)

Purchase Bonus: Original Box and Frame

Combining Sakura's wand and battle costumes that appear in the series, the world of Cardcaptor Sakura comes to life in dainty Mayla Classic style.

 

The shiny metal gives off an elegant mood with each sway, and the colors will ensure that customers will have both a mature and cute style. 

Will you be grabbing one of these earring sets? Mayla Classic accepts orders from overseas!

©CLAMP・ST/講談社・NEP・NHK

Cardcaptor Sakura Inspires Four Pairs of Gorgeous Pumps

Women's fashion brand mayla classic is now accepting orders for four unique pairs of pumps inspired by Cardcaptor Sakura: Clear Card!

Original Box

Rocket Beat

Clear

Candy Lotus

Eternal Girly

Purchase Bonus

The collection features four pairs of shoes inspired by Sakura's iconic battle costumes seen in the anime series.

The elaborate finishes make it seem like the costumes have been directly transformed into shoes! These are perfect to wear for a special occasion or to simply put on display in your home.

©CLAMP・ST/講談社・NEP・NHK

Cardcaptor Sakura Anime Series 25th Anniversary Project Unveiled

Cardcaptor Sakura made its debut on Japanese television on April 7, 1998. To celebrate the series' 25th anniversary, a number of exciting events are underway!



CLAMP's Cardcaptor Sakura manga series was serialized in the monthly manga magazine Nakayoshi from June 1996 until August 2000 and remains a massive hit to this day.

The series celebrated its 20th anniversary in 2016 with the announcement of a new anime series, Cardcaptor Sakura: Clear Card Arc, which aired in 2018. The manga has sold over 19 million copies worldwide and its popularity has spread around the world to fans of all ages. 

Sanrio Collaboration Capsule Toys – Minifigure Series 2 / Cardcaptor Sakura 25th Anniversary Lunch Mat

To commemorate the 25th anniversary of the anime's original broadcast, a series of new goods, collaboration cafes, and events are planned for 2022. Those who grew up with the show should be sure to grab some cute items perfect for adults!

Collaboration Room

A collaboration room inspired by Cardcaptor Sakura: Clear Card Arc will also be available to book soon! Aside from Sakura, Kero, Syaoran, and Tomoyo voice lines that will play in the room, guests can also enjoy a full dinner course using concepts and designs from the Cardcaptor Sakura world. 

Those who stay at the hotel will also receive a number of special take-home goods featuring illustrations drawn exclusively for the collaboration. Other original goods will also be available for purchase through the room's catalog and on the official website.

Collaboration Cafe

The Cardcaptor Sakura collaboration cafe that ran until February 6, 2022 at Shibuya PARCO in Tokyo will also head to Nagoya and Osaka! Don't miss the special menu and exclusive goods. 

Cardcaptor Sakura and Sanrio Collaborate on New Collection

A new collection of goods featuring Sakura Kinomoto and popular Sanrio characters is here! The collection features everyone's favorite magical girl combined with beloved characters such as Hello Kitty, My Melody Pompompurin, Cinnamoroll, and Kuromi. 

The Cardcaptor Sakura manga series was serialized from 1996 until 2000 in the monthly girls' manga magazine Nakayoshi. In 2016, a new version of the series was released titled Cardcaptor Sakura: Clear Card and the magical girl series is celebrating its 25th anniversary in 2021. An anime series aired from 1998 to 2000, with a Clear Card adaptation airing in 2018. 

Costume Design

This is the second collaboration between Sanrio and Cardcaptor Sakura, with the first coming in 2018 with Little Twin Stars. In these collaboration designs, each Sanrio character wears costumes made by Sakura's best friend Tomoyo, and Sakura wears a special costume with Hello Kitty and My Melody ears. One of these designs is only available at official Sanrio stores. 

Sanrio Store Designs

The Sanrio Characters x Cardcaptor Sakura series will be available starting November 26 at Sanrio stores and November 25 at the Sanrio online shop. 

Drawstring Bag Set: ¥1,980

Secret Acrylic Keychains (6 varieties): ¥715 each

Acrylic keychains and charms will come in blind packaging. Five of the designs have been revealed, but there is a sixth secret one to find!

Fluffy Designs

Square Tags (5 varieties): ¥660 each / A5 Clear Folder (6 varieties): ¥385 each

Special Rubber Mascot Keychains

These keychains will be available in capsule machines nationwide, and in March 2022, Cardcaptor Sakura x Sanrio plushies will also be available!

©️C,ST/K,EP,N ©️'21 SANRIO 著作(株)サンリオ

Shibuya PARCO to Host Cardcaptor Sakura Cafe for a Limited Time

Popular magical girl series Cardcaptor Sakura is getting a brand-new collaboration cafe at Shibuya PARCO for a limited time! The event is happening from November 13, 2021, until January 10, 2022, and will feature an original menu inspired by the most recent anime adaptation Cardcaptor Sakura: Clear Card. 

Plenty of sweets and themed drinks will be available, with the main character Sakura featured in the event's key visual. How would you like to come to the 'colorful à la mode' cafe?

Collaboration Menu

Sakura and Friends Sweets Party Set: ¥3,960 (Tax Included) 

Order Bonus: Sakura Clear Lunch Mat

Sakura Doll Cake (Pink ver.): ¥1,650 (Tax Included) 

Sakura Doll Cake (Blue ver.): ¥1,650 (Tax Included) 

Sakura Doll Cake (Yellow ver.): ¥1,650 (Tax Included) 

Kero's Creamy Gnocchi -Surprise: It's Takoyaki flavored?!- : ¥1,430 (Tax Included) 

Sakura's Fruit Tea Soda: ¥990 (Tax Included, available for takeout) 

Bonuses

Paper Lunch Mat for Visitors to the Cafe (2 varieties) 

Menu Order Bonus

Original Merchandise

Acrylic Diorama Stand Part 2: ¥3,080 (Tax Included) 

Swinging Keychain: ¥880 (Tax Included) 

Heart Pin (Random, 6 varieties): ¥550 (Tax Included)

Stainless Steel Bottle feat. Kero, Suppi, and Momo: ¥2,750 (Tax Included) 

Advanced Reservation Bonus – Sakura's Invitation (3 varieties) 

 

The original art for the cafe was drawn by illustrator Etoile et Griotte, and fans of the long-running series won't want to miss out!

ⓒCLAMP・ST/講談社・NEP・NHK

Information

Shibuya TOKYO PARADE goods&cafe

Running: November 13, 2021 – January 10, 2022

Hours: 11:00-20:00

Location: Shibuya PARCO 6F 

(Last Food Order at 19:00 / Last Drink Order 19:30)

Official Site: https://cafe.parco.jp/parade/detail/?id=7203

Smell as Sweet as Cardcaptor Sakura With Her New Eau de Toilette

Pre-sales of a new Cardcaptor Sakura: Clear Card themed eau de toilette will begin at ITS'DEMO in Japan on December 11, 2020. The scented cologne is the series' second collaboration with AQUASAVON following the success of the first product design which released on January 6 this year.

Sakura Floral Scent Eau de Toilette (CCS) | 21S 80ml | ¥2,420 (Tax Included)

The packaging is inspired by Sakura's blue costume and features motifs from the series like a magic circle, Cerberus, stars, and moons. The bottle is based on Sakura's iconic Dream Staff and is a gradation of pink and white with loose glass balls at the bottom. The fragrance is a sweet mix of refreshing green apple and citrus fruits, sweet cherries, clean soap, and luxurious cherry blossom, inviting a feeling of spring.

The first collaborative design will also go on sale next year in limited quantities.

Smell as fresh as springtime Sakura with her new eau de toilette.

ⓒCLAMP・ST/講談社・NEP・NHK

Information

Sakura Floral Scent Eau de Toilette (CCS) 21S
Pre-Sales: December 11, 2020

Available: ITS'DEMO stores in Japan (Select branches not participating
Official Website: https://www.aquasavon.jp/

CLAMP Promote 30th Anniversary With Official Cardcaptor Sakura Plate

Manga artist group CLAMP are celebrating their 30th anniversary with the release of an official plate which hit the official CLAMP fan shop on Monday (November 9).

The plate, which was made by tableware company Noritake, features the original Cardcaptor Sakura design from 1998.


CLAMP 30th Anniversary Cardcaptor Sakura Noritake Plate | ¥12,000 (Tax Included)


The 23cm plate is made from bone china and has a sparkly gold leaf rim. It features Sakura and Cerberus from the series amongst a flurry of flowers and is a must-have for fans of the series.

The back of the plate bears a 30th anniversary logo. The plate, which is exclusive to the official fan shop, also comes with a stand. It's a high quality product made by the masters at Noritake and is one to not be missed by CLAMP fans.

© CLAMP・ShigatsuTsuitachi CO.,LTD. / Shueisha


Information

CLAMP 30th Anniversary Cardcaptor Sakura Noritake Plate
Order Window: November 9, 2020 – November 23, 2020
Shipping: March 2021
Buy: CLAMP OFFICIAL FAN SHOP

*Please check the official fan shop for the latest details
*Available while supplies last
*Design subject to change without notice

Cardcaptor Sakura Roomwear and Merchandise Collection Releasing by ITS'DEMO

Japanese fashion variety store ITS'DEMO has revealed its new collection of Cardcaptor Sakura: Clear Card merchandise which is set to drop in Japan on October 13, 2020.

The items feature an original design and include everything from towels to pouches, stationery, confections, cosmetics like an eyeshadow palette, and more. ITS'DEMO is also releasing a range of roomwear on October 27 for those chilly autumn nights including room shoes, socks, a blanket, and other goodies.

© CLAMP・ST/Kodansha・NEP・NHK

Information

ITS'DEMO x Cardcaptor Sakura: Clear Card
Release Date: Rolling out October 13, 2020 at ITS'DEMO stores in Japan and their online store
Line-Up: Stationery, Pouch, Towel, Food, Cosmetics, and more
Items: 106 (Includes design and colour variations)

Price Range: ¥260-¥3,900 (Before Tax)

Official Website: http://itsdemo.jp

Escape From The Labyrinth of Time with Cardcaptor Sakura in This New Escape Game

Approximately 6 million people worldwide have stepped up to the thrilling challenge of an escape game by Real Dashutsu Game. They're now collaborating with Cardcaptor Sakura to launch a new puzzle-solving adventure called "Escape From the Labyrinth of Time" (Toki no meikyū kara no dasshutsu).  The main visuals for the event along with the story have been unveiled.

The event will be launched at the world's first ever mystery-solving theme park Tokyo Mystery Circus on April 1, 2020. The escape game will also be held in five cities across Japan. Participants are invited to join Sakura Kinomoto on a journey back in time, using the power of Sakura's staff and cards as a Cardcaptor to solve the puzzles and crack the codes.  





There's not long to wait until the games are launched. The main visuals for the event have now been revealed. The main visuals depict Sakura at junior high school-age from the Clear Card Saga along with Sakura at elementary school-age from the Clow Card Saga. 


The designs for the bonus merchandise that come with the purchase of bonus advanced tickets have also been unveiled. This includes a card with an original design of Sakura that cannot be obtained from anywhere else. 

If you purchase a bonus merchandise advanced ticket, you will receive clipboard designed with the pattern on Sakura's card book. The functional and beautiful clipboard and the cute Cardcaptor Sakura-themed card are both original merchandise that cannot be obtained from anywhere else. If you're a fan, don't miss out. 

Plunge into the world of Cardcaptor Sakura this spring. 

© CLAMP・ST/Kodansha, NEP, NHK

Information

Real Life Escape Game: Escape From the Labyrinth of Time (Toki no meikyū kara no dasshutsu). 

Game Time: 60 minutes/ Estimated Completion Time (including explanations etc) : 120 Minutes

Group Size: 4 People Max

Indoors

Game Type: All start simultaneously

Tokyo Mystery Circus

Dates: April 1 – June 21, 2020

Nazo Complex Nagoya, Aichi

Dates: April 24 – July 26, 2020

Osaka secret base of scrap

Dates: June 5 – July 26, 2020

Ajito of Scrap, Tenjin, Fukuoka

Dates: May 22 – July 26, 2020

Ticket Information
Advanced Tickets: ¥3,400
Advanced Tickets with Bonus Merchandise: ¥7,000 per person
Same Day Ticket: ¥3,900

*No same day tickets will be available if all advanced tickets have been purchased. 

*If you purchase a ticket with a student discount, you must bring your student card for inspection on the day.

* For young students without ID who wish to apply a discount, the accompanying parent or guardian must bring official ID with the date of birth of the child for inspection (such as their health insurance card). If you do not bring ID, you may be asked to pay the remaining balance for a general ticket. 

*Please be aware that you cannot get any kind of refund for your ticket once purchased. 

Special Edition Website: http://realdgame.jp/cc_sakura/

Tokyo Otaku Mode Now Selling Cute Cardcaptor Sakura Jewellery Online

Tokyo Otaku Mode Inc. is collaborating with adult jewellery and merchandise makers U-TREASURE to create dainty and delicate jewellery based on the anime and manga Cardcaptor Sakura. Preorders for their brand new jewellery series are now being accepted. 

 

This is the third time Cardcaptor Sakura collaboration jewellery has been created. This time, the designs are focussed around the characters Sakura, Syaoran and Yue from the Cardcaptor Sakura: Clear Card series.


Cardcaptor Sakura Petit series: Sakura

This petit series consists of a necklace and earrings which are both full of Sakura's cute personality. A twinkling diamond can be seen at the centre of the star motif. The back of the star also bears Sakura's cherry blossom flower motif. The back of the necklace is even decorated with a wing pattern. You are bound to fall in love with this intricate and dainty design. 

Cardcaptor Sakura Petit series: Syaoran

 

The Syaoran-themed necklace and earrings are based on Syaoran's compass and uniform hat. Even the details of the decoration on his hat are perfectly replicated in the design. Your eyes will be immediately drawn to the centre of the compass, where a small diamond sparkles. The back of the necklace is decorated with the design of Syaoran's Thunder Jufu paper charm. 

Cardcaptor Sakura Petit series: Yue

The design for this collection is based on Yukito and Yue. The motif of the design is a snowflake and the moon, which represents the acknowledgement of the other's presence. The charm incorporates both symbols together in its design, representing the unity of the two characters. The centre of this design also features a shiny diamond. The back of the necklace features the Clow Book design.

As a special bonus, you will receive a cleaning cloth for each item of jewellery purchased. (Not sold separately) 

Preorders are being accepted until September 23, 2019 so please check them out as soon as possible. 

 *These jewellery items are still in the development process. Therefore, the final product may differ slightly from the images shown.

©CLAMP, ST/Kodansha Ltd.・NEP・NHK

Cardcaptor Sakura & Alice on Wednesday Reveal Collaborative Merchandise

The Alice in Wonderland themed concept shop Alice on Wednesday is joining hands with Cardcaptor Sakura for the first time to release 74 pieces of merchandise with limited-edition designs at four branches of Alice on Wednesday on July 1.

Pocket Watches (3 Designs): ¥2,200 Each (Before Tax)

Book Covers (3 Designs): ¥1,100 Each (Before Tax)

Alice on Wednesday is every Alice in Wonderland fans' dream shop, with accessories and items all inspired by the series, and decor that makes it feel like you have fallen down the rabbit hole with her.

Jarred Popcorn (2 Designs): ¥600 Each (Before Tax)

Round Satin Pouches (3 Designs): ¥1,580 (Before Tax)

These exclusive collaboration items can only be purchased at Alice on Wednesday. They are also limited in stock, so be sure to get your hands on them quick. Branch information can be found below.

©CLAMP・ST / Kodansha・NEP・NHK

Information

Cardcaptor Sakura x Alice on Wednesday Collaboration

Release Date: July 1, 2019

*Items are limited to three per person between July 1 – July 3.

*Available via on online shop from July 8 at 18:00 (JST). Online shop does not include select snacks, the die-cut cushion, pocket watches or compact mirror.

Participating Branches

Alice on Wednesday Tokyo

Address: Kanon Bldg., 6-28-3 Jingumae, Shibuya, Tokyo

Tel: 03-6427-9868

Business Hours: 11:00-20:00

No Fixed Holidays

Alice on Wednesday Osaka

Address: Asahi Plaza Shinsaibashi Floor 1F, 2-12-25 Nishi-Shinsaibashi, Chuo Ward, Osaka, Osaka Prefecture

Tel: 06-6211-6506

Business Hours: Weekdays 11:00-19:30 / Weekends & Holidays 10:00-19:30

No Fixed Holidays

Alice on Wednesday Nagoya

Address: 2-20-25 Osu, Naka Ward, Nagoya, Aichi Prefecture

Tel: 052-684-6064

Business Hours: 10:00-20:00

No Fixed Holidays

Alice on Wednesday Fukuoka

Address: NEO Daimyo II Floor 1F, 1-3-3 Daimyo, Chuo Ward, Fukuoka, Fukuoka Prefecture

Tel: 092-406-8038

Business Hours: Weekdays 11:00-20:00 / Weekends & Holidays 10:30-20:30

No Fixed Holidays

Online Shop: http://www.coucou-onlineshop.com/shopbrand/AliceonWednesday

New Cardcaptor Sakura exhibition to open at Hirakata Park, Osaka!

From Saturday 8th June to Sunday 15th September 2019, Hirakata Park, Osaka will be hosting The Cardcaptor Sakura Exhibition: Magical Art Museum. Popular manga Cardcaptor Sakura has captured the hearts of people of all ages all over the world! Now you can enter the world of Cardcaptor Sakura!

At this magical exhibition, many original works from the manga have been reproduced. The exhibition is also a place where you can experience the magic of the cards that appear in the series.

Looking for spoilers? This is what the Roppongi Hills exhibition was like: Entering the Magical Art Museum of Cardcaptor Sakura in Roppongi Hills

Illustrations drawn specifically for the exhibition by the series' authors and illustrators CLAMP are featured in the original artwork zone of the exhibition. Make sure to look out for a photospot! This is your chance to get a picture with your favourite character!

Still wanting more? Dive into a world of fun! There's a Kero-themed ball pit decorated with Kero's special stickers!

 There will also be a giant, fluffy Kero on display along with giant takoyaki* props to complete the attraction Osaka-style! Not only can you enjoy a giant hug from Kero, but you can take a fun picture to commemorate your trip! How about taking a picture holding the giant takoyaki for a very Osaka-like photo! There is also a magic circle photo spot that you just can't miss!

*Takoyaki is a ball of wheat flour-based batter that is typically filled with diced octopus, cooked in a moulded pan, and then topped with various sauces and toppings. Osaka is famous for its takoyaki.

This Osaka exhibition is bound to be loads of fun! Please come visit!

Information

Cardcaptor Sakura Exhibition: Magical Art Museum

Location: Hirakata Park Event Hall 1 (1-1 Hirakatakōenchō, Hirakata, Osaka)

Running: June 8, 2019 – September 15, 2019

1st Run: June 8, 2019 – July 31, 2019 / 2nd Run: August 1, 2019 – September 15, 2019

Opening hours: 10:00 ー 18:00 (Last entries: 17:00)

Closed:

June: 12 (Weds), 19 (Weds), 26 (Weds),

July: 1(Mon) ー 5 (Fri) , 10  (Weds), 17 (Weds)

September: 2 (Mon) ー 6 (Fri) , 11 (Weds)

*Some artwork and content of the exhibition will differ for both runs.

※ The animations, notes and manuscripts at the exhibition are not originals.

※Please refer to the website below for more information on prices.

Website: http://ccsakura-official.com/ccsakuraten/#outline