Little Twin Stars Themed Café & Christmas Market Arriving to Shinjuku's Lumine EST
Christmas is flurrying to the Lumine EST shopping mall in Shinjuku this year with the Twinkle Snow Market.

Themed on Sanrio's Little Twin Stars pair Kiki and Lala, the market will run from December 3 to 16 and feature a pop-up shop decked out with a wintry blue design.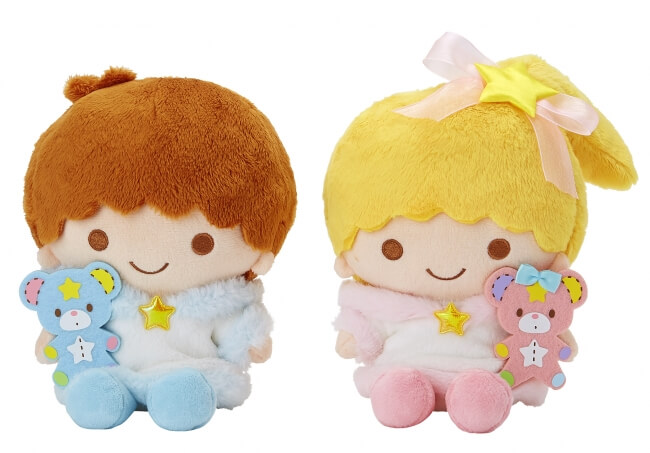 Kiki & Lala Plush Toy Set: ¥3,800 (Pre-Tax)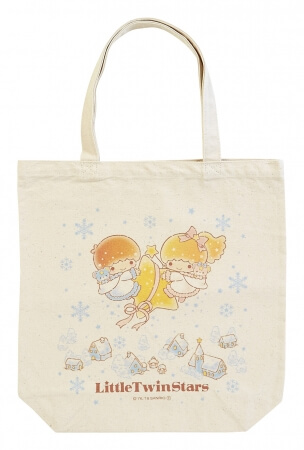 Tote Bag: ¥2,000 (Pre-Tax)
The store will feature four different photo spots for you to snap pictures that immerse you in the kawaii and dreamy world of Kiki and Lala. To remember your time at the market there are seven exclusive pieces of merchandise to pick from all available for this winter only. These items are also available at Sanrio now!!! in LUCUA 1100 in Osaka.
Puff & Poff Plush Toy Set: ¥10,000 (Pre-Tax)
Acrylic Key Rings (10 Designs): ¥500 Each (Pre-Tax)

The Lumine EST Shinjuku branch of Sanrio now!!! on the third floor will also transform into a Kiki and Lala themed shop from December 3 until early February next year. The item to look out for are the plushies of Kiki and Lala's friends Puff and Poff. Only 100 sets of these giant 50cm long toys are being sold at the Lumine EST branch as well as the branch in Osaka.
Sparkling Star Omelette☆Curry: ¥1,550 (Pre-Tax)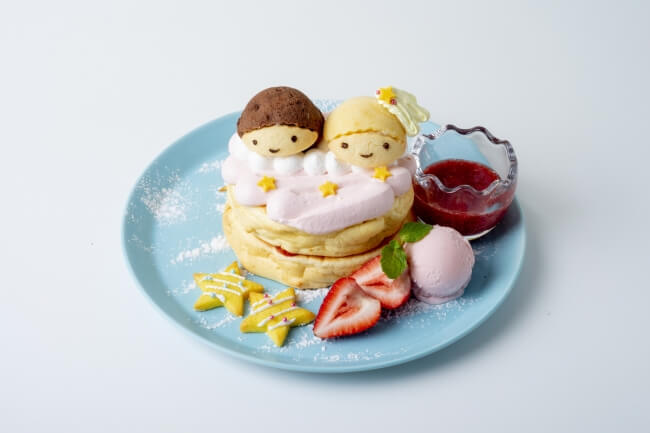 Kiki & Lala's Nakayoshi Strawberry Pancake: ¥1,500 (Pre-Tax)
The Twinkle Snow Café is also now running at EGG&SPUMA on the 8th floor until January 6. The menu features cute and dreamy Kiki and Lala themed food.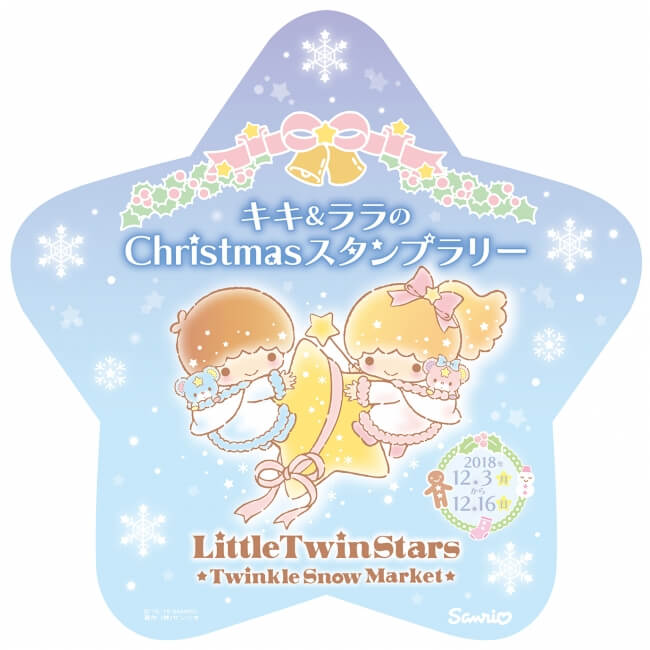 A stamp rally is also taking place from December 3 to December 16 at all the Kiki and Lala collaborative shops at Lumine EST. Visit each location, collect three stamps and receive nail seals with an original design. The paper required to collect the stamps is given to those who meet the condition on the official website.
Enter the loving winter wonderland of Kiki and Lala this Christmas.
Information
Lumine EST Shinjuku – Kiki & Lala Christmas Fair
Kiki & Lala Pop-Up Store
Running: December 3, 2018 – December 16, 2018
Sanrio now!!! Limited Time Kiki & Lala Themed Shop
Running: December 3, 2018 – Early February 20192019
Twinkle Snow Café at EGG&SPUMA (Floor 8F)
Running: October 15, 2018 – January 6, 2019
Official Website: https://www.sanrio.co.jp/news/ts-event-lumineest-20181127/
©'76, '18 SANRIO 著作(株)サンリオ
RELATED ENTRIES
Minnie Mouse Design Merchandise to be Sold at Lumine EST Shinjuku's 'Positively Minnie' Event

Lumine EST Shinjuku is set to hold a campaign from July 21 to August 31 this year as part of Walt Disney Japan's "Positively Minnie" promotion.

Disney "Positively MINNIE"

Minnie Mouse is known as an independent, charming spirit as well as a fashion icon. Positively Minnie is a promotional campaign launched by Disney for the global market which has Minnie inspiring all with her positive personality. She intends to teach us to live our best lives how we want to.

No shortage of Kawaii merchandise

29 shops inside Lumine EST Shinjuku are participating in the event by stocking their own range of Minnie Mouse merchandise. Let's take a look at some of them.

Minnie Mouse Ringer Telephone T-Shirts: ¥5,490 Each (Tax Included)

Shop: GYDA (Floor B1F) *Lumine EST exclusive, limited edition

Minnie Mouse Fleece Lined Tight Skirt: ¥8,800 (Tax Included)

Shop: Merry Jenny (Floor 2F)

Minnie Socks: ¥2,750 (Tax Included)

Shop: Tabio (Floor 3F) *Limited edition item

Minnie Mouse Mobile Cases: ¥4,180 Each (Tax Included)

Shop: Lycka (Floor 4F) *Lumine EST exclusive, limited-edition

Large Rollbahn Notebooks With Pocket: ¥850 Each (Tax Included)

Shop: Smith (Floor 6F) *Lumine EST exclusive

There will also be a pop-up shop by PONEYCOMB on the first floor of Lumine EST Shinjuku where you can get your hands on limited-edition merchandise with original art. It will be open from July 31 to August 13, and the items will also be available on Lumine's online shop until August 31.

When customers buy select items from the pop-up shop, they'll receive one of the three top stickers pictured above. When they order online, they'll receive one of the bottom three.

Luminest EST Shinjuku will be decorated in all things Minnie Mouse for the event, so that fashionista Minnie can serve her positive vibes to all who visit this summer.

©DISNEY

Information

Lumine EST Shinjuku Positively Minnie Campaign
Running: July 21, 2020 – August 31, 2020

Location: Lumine EST Shinjuku (Connected to JR Shinjuku Station's East Exit) / Lumine Online Shop

Campaign Website: https://www.lumine.ne.jp/est/positivelyminnie/ *Accessible from July 14 at 18:00 (JST)

Lumine Online Shop: https://i.lumine.jp/

Little Twin Stars 45th Anniversary Celebrated at Tokyo Tower

To celebrate the 45th anniversary of Sanrio's popular characters Kiki & Lala, also known as the Little Twin Stars, Tokyo Tower is now hosting an event called "Twinkle color miracle☆" which began on July 1.

A special projection mapping display called "TOKYO TOWER CITY LIGHT FANTASIA ~Twinkle color miracle☆~" by NAKED, INC. is being shown on the second floor main deck of Tokyo Tower. This three-minute video covers the entire 30-meter long north window of the tower, showing a cluster of fireworks, the ocean, Tanabata, and other designs featuring Kiki & Lala's iconic pastel colouring. The video can be enjoyed with the gorgeous Tokyo nightscape in the background from the window.

TOKYO TOWER CITY LIGHT FANTASIA ~Twinkle color miracle☆~

Schedule
Dates: July 1, 2020 – July 31, 2020 / Time: 19:30-22:50
Dates: August 1, 2020 – August 26, 2020 / Time: 19:30-22:50
Dates: August 27, 2020 – September 22, 2020 / Time: 18:30-22:50
Location: Tokyo Tower Main Deck (150cm) Floor 2F, North Side
Price: Adults ¥1,200 / High School Students ¥1,000 / Children (Elementary & Junior High School Students) ¥700 / Aged 4+ Years ¥500

Tokyo Tower's first floor cafe "Cafe La Tour" is also serving some exclusive Little Twin Stars menu items, like ice cream and drinks. If you order one of the Kiki & Lala drinks, you'll get one of the above-pictured coasters which feature the various Little Twin Stars designs from over the years.

Cafe La Tour x Kiki & Lala Collaboration
Running: July 1, 2020 – September 30, 2020
Time: 10:00-22:00 (Last Orders 21:30)
Location: Tokyo Tower Main Deck (150cm) Floor 1F

Information

Tokyo Tower x Little Twin Stars 〜Twinkle color miracle☆〜
Running: July 1, 2020 – September 30, 2020
Location: Tokyo Tower

Tokyo Tower Official Website: https://www.tokyotower.co.jp

Tokyo's New Shaved Ice Cafe 'Kakigoori Parlor Floche' Opens in LUMINE EST Shinjuku

A new shaved ice shop by the name of Kakigoori Parlor Floche is now open on the 8th floor food arena "The PARK SHINJUKU" inside LUMINE EST Shinjuku for a limited time until August 31, 2020.

Kakigoori Parlor Floche is inspired by floche, a cake served at a Japanese cafe in the 70s and 80s which they have turned into shaved ice. Its luxurious taste is similar to a cake, with an appearance that's sure to have you smiling when it arrives at the table. It's topped generously with cream, creating a cake x shaved ice fusion.

"Floche" is a French word meaning fluffy, a fitting name for a shop specialising in serving sweet and fluffy shaved ice. They have prepared three different flavours: Tiramisu, Shortcake, and Japone.

Shortcake: ¥980 (Before Tax)

Tiramisu: ¥830 (Before Tax)

Japone: ¥880 (Before Tax)

If you're in Tokyo this summer, don't miss out on this delicious and refreshing line-up.

Information

Kakigoori Parlor Floche
Opening Hours: 11:00-21:00 (Last Orders 20:00)
Address: LUMINE EST Shinjuku 8F, 3-38-1 Shinjuku, Shinjuku-ku, Tokyo
TEL: 03-6457-4566
No Fixed Holidays

Official Website: https://www.potomak.co.jp/shop/6392/

New Japanese Haori Brand NOBLE SAVAGE to Arrive in Shinjuku Isetan

When talking about traditional Japanese clothes, the first to come to mind is undoubtedly the kimono, something adored the world over. But another type of traditional attire from Japan that's gaining attention for adapting more to today's modern lifestyle is the haori. NOBLE SAVAGE is a new brand by 10th generation owner of Kondaya Genbei set to be sold inside Shinjuku Isetan for a limited time.

NOBLE SAVAGE is redefining tradition by taking the ancient dyeing and weaving techniques forged in Japan and adding new value to them by adapting them to today's lifestyle.

The haori is incorporated into a diverse number of outfits in Europe and America, from everyday clothes to streetwear. Kondaya Genbei has a history spanning over 280 years. Using their enormous inventory is materials from around the world, they are using Japanese techniques to weave new haori.

NOBLE SAVAGE Haori: ¥63,800

This design is known as the yabure-kouji, an iconic design by the 10th generation owner. It's a revival of a pattern worn by people working in kabuki theatre around 250 years ago and holds the meaning of "breaking down order."

NOBLE SAVAGE Haori: ¥418,000

This muga silk is handwoven with wild silkworm and dyed with vegetables. The pockets are arranged with a special silver leaf that has been used by Kondaya Genbei for 100 years.

NOBLE SAVAGE Haori: ¥69,300

Made from deadstock Laos fabric and dyed with catechu, something which has been used since the Nara Period, the haori gets a distinct earth colour.

NOBLE SAVAGE is also collaborating with Pascal marie desmarais to release washable face masks online at Isetan on June 16 at 10:00 (JST).

NOBLE SAVAGE will showcase their products at a showrooming in Isetan Shinjuku from June 17 to 23 and sell them from June 24 to 30.​

Modern Japonisme Beauty Products and Fragrances Arrive at SABON's Shinjuku Pop-Up Store

Japanese beauty company SABON opened its first ever pop-up shop on Wednesday on the first floor of Isetan Shinjuku in the makeup and promotion section. The shop will run until June 23, 2020.


Items on show include classic SABON products as well as their "TOKYO CELEBRATION" line-up, a collection of "modern Japonisme" items made in collaboration with millennial generation Japanese calligrapher MAMI. The fragrance of this special collection is "Clear Citrus Green" which combines notes of sparkling lemon, fresh verdure, transparent jasmine, and dreay orange blossom.

The collection is first on pre-sale at the Isetan Shinjuku pop-up store until June 23. After that, it will go on limited sales at SABON stores across Japan and SABON's online store on June 25.

Additionally, customers who spend over ¥8,000 (tax included) on the TOKYO CELEBRATION collection have the chance to receive the above-pictured fan. These are available while supplies last.

Information

Pop-Up Shop
Location: Isetan Shinjuku (1st Floor Makeup/Promotion)
Running: June 10, 2020 – June 23, 2020

Line-Up: SABON Products / TOKYO CELEBRATION Collection

Prices: ¥1,300-¥18,500 (Before Tax)

Official Website: https://www.sabon.co.jp

TOKYO MYSTERY CIRCUS Releases More Snoopy Merchandise as Part of SCRAP x SNOOPY Puzzle Game Project

As part of the second SCRAP x SNOOPY Puzzle Game Project taking place at TOKYO MYSTERY CIRCUSーthe world's first puzzle-themed theme parkーthe Shinjuku-based theme indoor theme park has its third batch of original and exclusive merchandise which is comprised of 8 new pieces.

This will be the final batch of merchandise made for the project, featuring illustrations of Snoopy, Charlie Brown, and other characters from Peanuts and themed around the puzzle game.

Puzzle Origami: ¥1,000

7 of the 8 origami designs come with their own puzzle. When you make your own Snoopy and Charlie Brown, the puzzle is completed too.

Puzzle Mirror: ¥1,000

Puzzle Folders: ¥900 Each

Puzzle Handkerchief: ¥1,200

The merchandise line-up sold at TOKYO MYSTERY CIRCUS is available to people not participating in the event too. The first two batches of merchandise are also available via the online SCRAP GOODS SHOP.

An English version of the second puzzle game, officially titled "Snoopy and the Secret Recipe," was released at TOKYO MYSTERY CIRCUS on June 11 so that English speakers can enjoy the event too.

© 2020 Peanuts Worldwide LLC

Information

SCRAP x SNOOPY Puzzle Game Project

Event Page: https://mysterycircus.jp/snoopy/en/

TOKYO MYSTERY CIRCUS

Address: APM Bldg., 1-27-5 Kabukicho, Shinjuku, Tokyo, 160-0021

Opening Hours: Weekdays 11:30-23:00 / Weekends & Holidays 09:30-23:00

No Fixed Holidays.

Price: Free Entry (*Separate tickets required for games)

TOKYO MYSTERY CIRCUS x Snoopy Official Website: https://mysterycircus.jp/snoopy/en/

PEANUTS TRAILER SHOP: Official Men's Snoopy Shop to Open in Shinjuku

Sony Creative Products Inc., an agent of the Peanuts franchise in Japan, has announced that it will open an official men's shop called "PEANUTS TRAILER SHOP" in Yaraicho, Shinjuku on June 6, 2020.

Yaraicho is an ancient and historical area just a 3-minute walk from Kagurazaka Station via the Tokyo Metro Tōzai Line. PEANUTS TRAILER SHOP will open in a part of Yaraicho called "Oku Kagurazaka" which is home to a variety of stylish restaurants, galleries, and more. The shop is in fact inspired by American-style trailers.

The shop will sell cabinets and lockers from British furniture company Bisley; foldable chairs from US chair makers Clarin whose chairs have been used at Madison Square Garden, stadiums, schools, and elsewhere; clothes from Brittany, France-based company Le Minor; bags and wallets from Joe Porter; glasses from French tempered glass tableware and kitchenware manufacturer Duralex; and more.

So that everyone can enjoy a relaxing shopping experience, customers must book a slot in advance to shop at PEANUTS TRAILER SHOP which can be done via their official website.

©2020 Peanuts Worldwide

Information

PEANUTS TRAILER SHOP
Address: 41 Yuraicho, Shinjuku, Tokyo
TEL: 03-6280-8576
Opening Hours: 11:00-19:00
Closed: Wednesdays

Official Website: https://peanutstrailershop.jp

Tokyo's Robot Restaurant to Open Ticket Centre This March

Tokyo's internationally-acclaimed, located in Kabukicho, Shinjuku, is set to open a new ticket centre sometime this month.

The ticket centre will be located in the very middle of Kabukicho facing the Shinjuku Toho Building. Since it will be close to a range of luxury hotels, it means both foreign tourists and locals can easily get to it. It means to be a facility that can be used easily by anyone and everyone.

The ticket centre will also sell a range of tickets for various activities. It will also provide sightseeing and tourist services where they can recommend local restaurants, tourist sites, and more.

Information

Ticket Centre

Address: 1-18-7 Kabukicho, Shinjuku, Tokyo

No Fixed Holidays

Opening Hours: 11:00-21:00

TEL: 03-3200-5500

Access: 5-minutes on foot from Seibu Shinjuku Station, Shinjuku-sanchome Station, and JR Shinjuku Station

Official Website: https://www.shinjuku-robot.com/pc/?lng=en

Isetan Shinjuku's Restaurant Floor EAT PARADISE Turns Into a Pink Paradise

To celebrate the 30th anniversary of EAT PARADISEーthe restaurant floor located on the 7th floor of Isetan Shinjuku in Tokyoーthe entire area, as well as restaurants and cafes throughout Isetan Shinjuku, are going pink from March 4 to 31. 

Chocolate Printanière – ¥2,860 (+Separate 10% Service Charge) @ Le Salon Jacques Borie / *5 served per day


Watch this animated chocolate dessert melt as you pour over the hot sauce and tuck in. The centre is filled with a fluffy berry cream.

Vacherin With Japanese Strawberries – ¥1,320 @ Cafe Rejiig


Located on the 8th floor of the men's building, Cafe Rejiig is serving up a pink-coloured French dessert made up of a tower of meringue, ice cream, and various other delicious delights.

Strawberry & Cranberry Cream Mont Blanc Parfait – ¥1,211 @ latte chano-mama

latte chano-mama is a cafe popular with mothers who go there with their children. The cafe's new mont blanc parfait is made with strawberries and sponge which has cranberry sauce hidden inside.

Left: Pink Non-Alcoholic Cocktail – ¥981 / Right: Pink Champagne Cocktail – ¥1,201 @ The Stand


These two cocktails are cherry blossom-inspired. As well as all of these cute pink delights, EAT PARADISE is celebrating with a range of other dishes other than desserts and drinks too, like soba and risotto.

There's plenty of visually-striking items to tuck into at EAT PARADISE for their 30th anniversary, so be sure to pay a visit if you're visiting Tokyo this spring.

TOKYO MYSTERY CIRCUS Releases Snoopy Merchandise as Part of SCRAP x SNOOPY Puzzle Game Project

As part of the second SCRAP x SNOOPY Puzzle Game Project taking place at TOKYO MYSTERY CIRCUSーthe world's first puzzle-themed theme parkーthe Shinjuku-based theme indoor theme park has released ten pieces of original and exclusive merchandise.

What is the SCRAP x SNOOPY Puzzle Game Project?

Visitors are joining Snoopy and the Peanuts Gang for a whole bunch of puzzle-solving fun. The project begin in November 2019, and will run through three periods. The first edition has seen over 10,000 people play this first puzzle game, which is titled "Snoopy and the Clue Solving Circus" and has players helping Snoopy to retrieve his Circus Leader badge back. The second game, "Snoopy and the Secret Recipe," will begin on February 26. In the meantime, a selection of 10 pieces of merchandise have dropped.

Mugs (2 Designs) – ¥1,400 Each

Paper Napkins (Set of 10) – ¥600

Art Card Set w/ Puzzle (Set of 5) – ¥1,000

The two mugs see Snoopy wearing his chef's hat and ready to cook up some delicious pastries for the new game. There's also a paper napkin set, items that come with their own unique puzzles, and more. Available at the TOKYO MYSTERY CIRCUS shop, these items can all be purchased by non-participants of the game too.

Information

SCRAP x SNOOPY Puzzle Game Project

Event Page: https://mysterycircus.jp/snoopy/en/

TOKYO MYSTERY CIRCUS

Address: APM Bldg., 1-27-5 Kabukicho, Shinjuku, Tokyo, 160-0021

Opening Hours: Weekdays 11:30-23:00 / Weekends & Holidays 09:30-23:00

No Fixed Holidays.

Price: Free Entry (*Separate tickets required for games)

Official Website: https://mysterycircus.jp/en/

Sanrio to Open Official My Melody Shops in Tokyo, Osaka and Nagoya to Celebrate Character's 45th Anniversary

Sanrio has announced that it is opening an official My Melody store to commemorate the popular character's 45th anniversary this year. It will open for a limited time on the first floor of Takashimaya Shinjuku in Tokyo from February 12 to 25.

The store is a must-visit for fans of Sanrio's kawaii white rabbit where they can get their hands on a huge assortment of merchandise, including exclusives, so adorable you'll want to add everything to your collection.

The line-up looks back at My Melody's 45 years in the business. The first 4,000 people to visit the store will be given a limited-edition shopping back, and the first 1,000 people who spend over ¥2,000 (tax included) will receive a free card.
*One card per person, per transaction

The store will also feature interactive projection mapping showcasing My Melody's 45-year history which when touched reacts. On February 15, the designer for the store will be drawing illustrations as well as doing signings for people.

As well as Takashimaya Shinjuku, the shop is set to hit Nagoya's Takashimaya Gate Tower Mall Nagoya and Osaka Takashiyama. Check the dates below, and help My Melody commemorate her 45th anniversary!

©'76, '20 SANRIO 著作(株)サンリオ

Information

My Melody 45th Anniversary Shop
Location: Takashimaya Shinjuku 1st Floor Main Square
Running: February 12, 2020 – February 25, 2020 (Closed February 19)
Opening Hours: [Mon-Thurs & Sun] 10:00-20:00 / [Fri-Sat] 10:00-20:30

Signings
Date: February 15, 2020 (Two Slots – ①11:30 / ②15:00)
No. of People: 20 per slot
Location: My Melody 45th Anniversary Shop
How to Participate:
・Receive a lottery draw ticket to the signing at the shop on the day (February 15) between 10:00-10:20.

・In the case that there are more people who want to join, one person may not receive two tickets for two signings. Additionally, tickets will not be handed out after 10:20.

・Winners and the order they will enter the signing will be announced at 10:20.

・Those who are chosen will receive a "Buyers Ticket." This must be exchanged for a ticket to attend the signing by spending more than ¥4,000 (tax included) at the My Melody 45th Anniversary Shop and handing over your Buyers Ticket.

*Signings and illustrations will only be done on paper and not merchandise.

*Requests for designs cannot be made

・My Melody 45th Anniversary Shop Nagoya
Running: March 25, 2020 – April 7, 2020
Location: Takashimaya Gate Tower Mall 7th Floor Rose Terrace

・My Melody 45th Anniversary Shop Osaka
Running: April 1, 2020 – April 7, 2020
Location: Takashimaya 1st Floor Good Shock Place

Sanrio Official Website: https://www.sanrio.co.jp/

Soar Into The Kawaii Dream World of The Little Twin Stars For Their 45th Anniversary

Sanrio's adorable star-themed characters the Little Twin Stars are celebrating their 45th anniversary this year. The adorable twin stars named Kiki and Lala were born into the universe in 1975 in the hyped run up to Christmas. Following their debut in the December edition of Sanrio's monthly magazine Ichigo Shimbun, the years saw their hair colours and designs retouched here and there. The one thing that remains unchanged is the love that connects them to fans all over Japan across three generations.

As Hello Kitty was celebrating her 45th anniversary last year and with My Melody also celebrating her 45th anniversary this year, now it's time for the Little Twin Stars' time to shine. 45th anniversary celebrations include collaboration events and special merchandise themed around the adorable, colourful, twinkling twins which are sure to get your heart fluttering with excitement. More information on these events and merchandise will be revealed in the future. A number of special events will be held at Sanrio Puroland and we are also expecting some new merchandise to hit the shelves at the Sanrio shop this summer. 

Sanrio Puroland: "LittleTwinStars 45th Anniversary"

Sanrio Puroland's Little Twin Stars 45th Anniversary event is set to take place from April 24 – December 31, 2020. The theme of the celebration will be Mainichi Kiki & Lala, Mainichi Kirakira (Sparkle Every Day, Kiki and Lala Every Day).


Want to soar up high into the world of Kiki & Lala? As part of Sanrio Puroland's anniversary celebrations, the attraction Kiki & Lala – Twinkling Tour is being improved to a whole new level, transforming into an even higher dreamy world where you can take photos in Puroland-limited photo booths. The attraction will only be operating on certain days.


Of course, there will be a new food menu serving up meals, desserts and more adorable treats based on Kiki and Lala's theme colours of blue and pink. What's more, Kiki and Lala will also take to the scene dressed in anniversary-limited costumes for a special photo event that your Instagram can't miss out on. Add some sparkling magic to your day and plunge deep into the world of Kiki and Lala.

LittleTwinStars 45th Anniversary

Running: April 24 – December 31, 2020. 

Sanrio Puroland Event Information: https://www.puroland.jp/ts45th/ 

Collaboration with Japanese Comedy Duo Nagareboshi

As Japanese comedy duo Nagareboshi (shooting star) is celebrating 20 years since their debut, they will be collaborating for a second time with Kiki and Lala, brightening up the year even more. Check out the collaboration design that features the four stars in Kiki and Lala's blue and pink themes. Merchandise using this design will be sold at Nagareboshi's Japan tour this year. More information on the tour will be released in the future. The first lineup of collaboration merchandise sold face towels and iPhone cases which became so popular that many items were sold out. If you missed out the first time, this is your chance!

Anniversary Collaboration with Detclear Facial Cleansing Gel: 6 Varieties

Kiki and Lala are collaborating with Detclear: a popular facial cleansing gel formulated for dry, sensitive skin that gently removes dead skin cells and dissolves blackheads. The collaboration Detclear Bright & Peel Peeling Jelly will be released on February 25, 2020 with six Kiki and Lala-themed bottle designs. The designs travel through time from the 1970s which sees our twinkling stars with yellow and brown hair to a retro time with a pink and aqua theme to the adorable magical unicorn theme that came out in more recent years. 

Whether it's an adorable pastel dreamworld design or one of the more nostalgic ones, you are bound to find a bottle that you really love. 

Detclear Bright & Peel Peeling Jelly – Unscented

Price: ¥1,200 (Before Tax)

Release Date: February 25, 2020

Available At: drugstores, general stores, cosmetics shops and official beauty online shops.

Sprinkle some stardust into your life this year for Kiki and Lala's 45th anniversary celebrations.

©'76,'20 SANRIO 著作(株)サンリオ