Little Twin Stars Themed Café & Christmas Market Arriving to Shinjuku's Lumine EST
Christmas is flurrying to the Lumine EST shopping mall in Shinjuku this year with the Twinkle Snow Market.

Themed on Sanrio's Little Twin Stars pair Kiki and Lala, the market will run from December 3 to 16 and feature a pop-up shop decked out with a wintry blue design.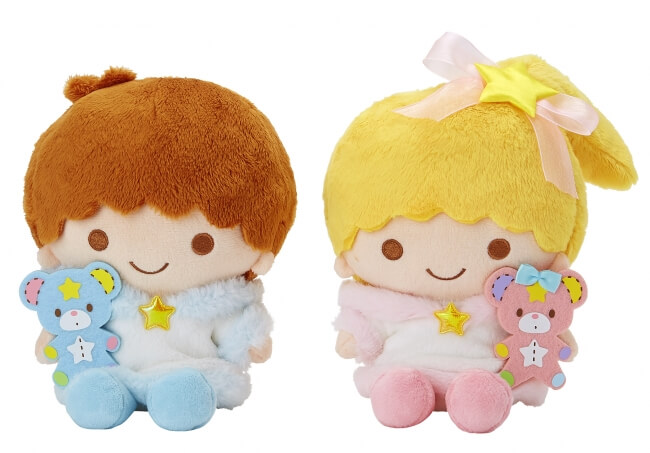 Kiki & Lala Plush Toy Set: ¥3,800 (Pre-Tax)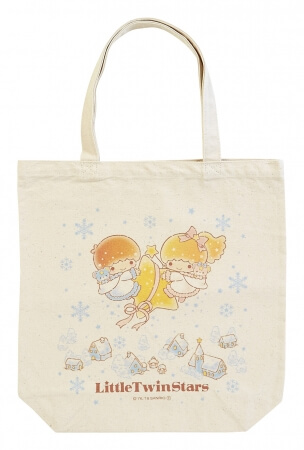 Tote Bag: ¥2,000 (Pre-Tax)
The store will feature four different photo spots for you to snap pictures that immerse you in the kawaii and dreamy world of Kiki and Lala. To remember your time at the market there are seven exclusive pieces of merchandise to pick from all available for this winter only. These items are also available at Sanrio now!!! in LUCUA 1100 in Osaka.
Puff & Poff Plush Toy Set: ¥10,000 (Pre-Tax)
Acrylic Key Rings (10 Designs): ¥500 Each (Pre-Tax)

The Lumine EST Shinjuku branch of Sanrio now!!! on the third floor will also transform into a Kiki and Lala themed shop from December 3 until early February next year. The item to look out for are the plushies of Kiki and Lala's friends Puff and Poff. Only 100 sets of these giant 50cm long toys are being sold at the Lumine EST branch as well as the branch in Osaka.
Sparkling Star Omelette☆Curry: ¥1,550 (Pre-Tax)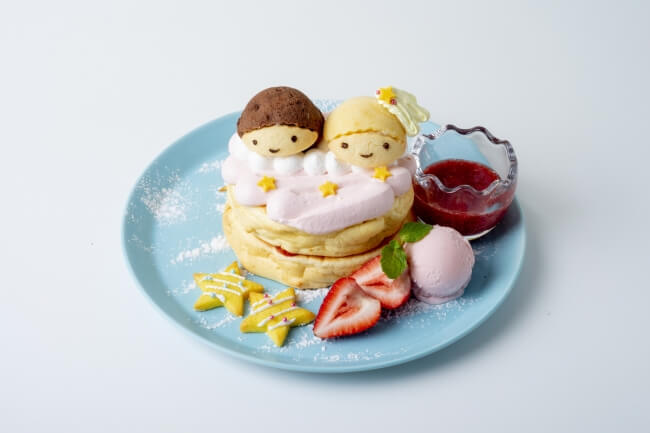 Kiki & Lala's Nakayoshi Strawberry Pancake: ¥1,500 (Pre-Tax)
The Twinkle Snow Café is also now running at EGG&SPUMA on the 8th floor until January 6. The menu features cute and dreamy Kiki and Lala themed food.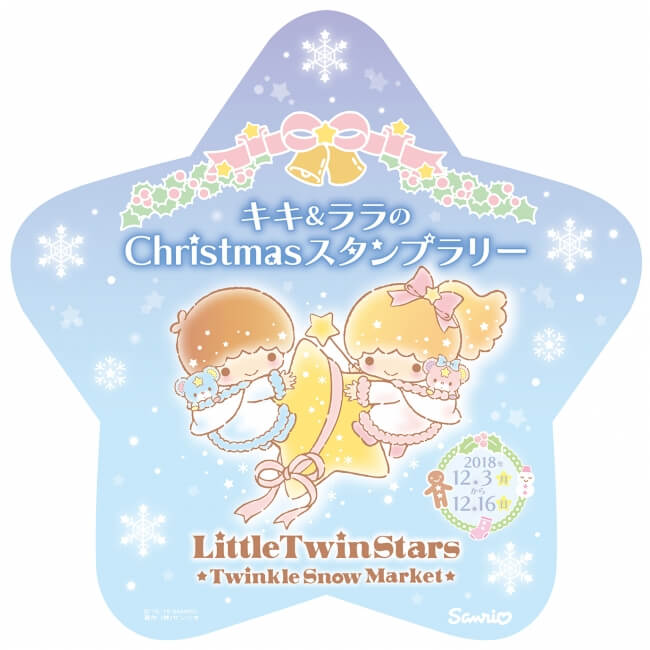 A stamp rally is also taking place from December 3 to December 16 at all the Kiki and Lala collaborative shops at Lumine EST. Visit each location, collect three stamps and receive nail seals with an original design. The paper required to collect the stamps is given to those who meet the condition on the official website.
Enter the loving winter wonderland of Kiki and Lala this Christmas.
Information
Lumine EST Shinjuku – Kiki & Lala Christmas Fair
Kiki & Lala Pop-Up Store
Running: December 3, 2018 – December 16, 2018
Sanrio now!!! Limited Time Kiki & Lala Themed Shop
Running: December 3, 2018 – Early February 20192019
Twinkle Snow Café at EGG&SPUMA (Floor 8F)
Running: October 15, 2018 – January 6, 2019
Official Website: https://www.sanrio.co.jp/news/ts-event-lumineest-20181127/
©'76, '18 SANRIO 著作(株)サンリオ
RELATED ENTRIES
New Food Truck Taiyaki Tainoya to Open in Shinjuku Serving Fish-Shaped Cakes

Taiyaki Tainoya is a food truck set to open in front of the first floor entrance of Flags on September 20 which is connected directly to Shinjuku Station's south-east exit.

  

Taiyaki – ¥200 (Tax Included)

The truck will sell taiyaki, a classic Japanese confection which comes in the form of a crispy fish-shaped cake filled with bean paste. The cakes sold here will be made using Tokachi beans from Hokkaido which have a distinct luxurious sweetness to them.

The taiyaki here are made with takeout and gift-giving in mind, so they have been made nice and crunchy so they don't fall apart or become mushy.

The bean paste isn't overly sweet so is easy to enjoy. The beans, which have a strong aroma, are cooked in sugar beet from Hokkaido, and contain a hint of moshio, which is salt you get from burning seaweed.

The sweet bean paste has such a smooth texture that you wouldn't believe that's what it is. If you're a lover of adzuki bean paste or aren't good with sweet things, then this is a bean paste you're going to love.

For an extra ¥30, you can have the taiyaki packed in a cute gift box if you're thinking of giving it to someone. There are six colours to choose from for all occasions, be it a home party or for clients. They are also wrapped with noshi paper and contain message cards. There are seven of these to pick, so you can write your own words to the person.

If a simple taiyaki isn't enough for you, you can also top it with a rich soft-serve ice cream. Pick between Hokkaido Vanilla or Uji Matcha flavours.

If you're getting off at Shinjuku Station, be sure to head out the south-east exit of the JR Line section to find Taiyaku Tainoya.

Information

Taiyaku Tainoya

Address: 3-37-1 Shinjuku, Shinjuku Ward, Tokyo (1st floor entrance of Flags at Shinjuku Station's south-east exit)

Grand Opening: September 20, 2019

TEL: 080-4179-2365

Opening Hours: 11:00-3:00

No Fixed Holidays

Escape From Godzilla at TOKYO MYSTERY CIRCUS Escape Game Theme Park

TOKYO MYSTERY CIRCUS's catalogue of games just keeps on growing. The puzzle and escape game theme park has just announced the return of its escape game Escape From Shin Godzilla which is being held in collaboration with the 2016 film Shin Godzilla.

The event was previously held last April where it ran until October, enjoying huge popularity with over 40,000 escape game-goers. Players took the role of a member of the Kyosaitai―the anti-Godzilla task force―based in Kabukicho, Shinjuku where you will be tasked with solving puzzles to defeat the colossal giant.

The thrilling event returns once more with original visuals created to make it look like Godzilla has really invaded Kabukicho. Tickets are now on sale, and you can pick up exclusive merchandise and themed food at the venue too. Can you defeat Godzilla?

TM&©TOHO CO., LTD. ©SCRAP

Information

Escape From Shin Godzilla

Location: Himitsu Kichi Lab, TOKYO MYSTERY CIRCUS (Floor B1F)

Running: October 4, 2019 – November 10, 2019

Times

Weekdays: 13:20 / 16:20 / 19:20
Weekends & Holidays: 10:10 / 12:40 / 15:10 / 17:40 / 20:10
*The event will end 100 minutes after each starting time

Price
Advance: Single ¥3,300 / Group ¥12,000 / Repeater Group Ticket ¥12,000
Same-Day: Single ¥3,800 / Group ¥14,000 / Repeater Group Ticket ¥14,000
*Same-day tickets will not be available if all advance tickets sell out

 

TOKYO MYSTERY CIRCUS

Address: APM Bldg., 1-27-5 Kabukicho, Shinjuku, Tokyo, 160-0021

Opening Hours: Weekdays 11:30-23:00 / Weekends & Holidays 09:30-23:00

No Fixed Holidays.

Price: Free Entry (*Separate tickets required for games)

Official Homepage (English): https://mysterycircus.jp/en/

Event Page (Japanese): https://mysterycircus.jp/shin-godzilla/

Scorch your Senses at the Spicy as Hell and Tasty as Well 2019 Food Festival Round 2 in Shinjuku

Spicy as Hell and Tasty as Well 2019 will be holding round 2 on August 16, 2019 at Okubo Park, Kabukicho in Shinjuku. This will be the event's biggest gekikara gourmet saiten (super spicy festival) Japan has ever seen. 

Food services that represent the spicy foods of the world have all joined forces at Kabukicho in Shinjuku; Asia's largest entertainment district to tinge it with a luminescent spicy red colour. So far, around 0.7 million people with a burning passion for spice have made their way to the spice central to test their tolerance to the range of gourmet spicy dishes. From beginner to mania, the event caters to all levels of spice-lovers. From a tiny touch of spice to spicy as hell, there is a wide range of spice levels to choose from. The dishes served and participating shops are changed each week, so you can enjoy a new spicy experience each week. 

At the 1st Round, spice fans had their fill of Ciao em Cafe's Bún bò Huế. This café, which originates from the outskirts of Tokyo in Hana-Koganei, took part in the event for the first time. One of their signature dishes is the Vietnamese soup, which captured the hearts of many women for its perfectly balanced sweet yet spicy flavour.  Despite being Menya Mazeharu's first time serving at the event, their queues stretched out into the sunset from morning to evening each day .

Round 2 will see Cheese to Gibier Curry Naru Ichizoku and Tokyo spice curry Aka to Kuro spicing up the event for the first time. This is the perfect opportunity to experience Awajishima Curry made with the world's most sense-scorching spices including ghost pepper, trinidad scorpion pepper, and the carolina reaper. Tokyo spice curry serves up red curry dishes made with ingredients traditionally used in natural Chinese food therapy. Their black curries are Kashmiri curries that will leave you feeling satisfied. 

These are just a selection of the vast number of noteworthy spicy dishes. You are bound to find the perfect curry to spice up your life at this event, so please check it out.

Information

Spicy as Hell and Tasty as Well 2019 (激辛グルメ祭り2019)

Venue: Okubo Park, Kabukicho, Shinjuku 

Address: 2-43, Kabukicho, Shinjuku, Tokyo

Access: 3-min walk from Seibu-Shinjuku Station or an 8-min walk from Shinjuku station (JR/ Odakyu/ Keio lines)

Entry: Free to enter, pay for your food and drinks. 

Schedule:

2nd round: Aug 16 ー 21

3rd round:  Aug 23 ー 28

4th round: Aug 30 ー Sept 4 

5th round: Sept 6 ー 11

6th round: Sept 13 ー 18 

* Closed on Aug 15, 22, 29 and Sept 5, 12 to change the shops.

* Open on rainy days (closed during stormy weather).

* Spicy as Hell and Tasty as Well is open for a total of 38 days this year, the longest it has ever run in history.  

Website: https://www.gekikara-gourmet.com/

Pop Team Epic Pop-Up Shop Makes its Way to Shinjuku This Month

The Pop Team Epic pop-up shop is set to take to make a return this month. It will open on the sixth floor of Shinjuku Marui Annex and run from August 23 to September 16.

Themed on the the popular manga and anime series, the pop-up shop first appeared in December 2016 and has since popped up many times around Japan over the years. Having been held in various places around Tokyo as well as Nagoya, Fukuoka, Sapporo and Osaka, it is finally making its way to Shinjuku for the first time.

The shop's main visual was drawn by series creator Bkub Okawa. Its design will feature on many exclusive pieces of merchandise at the shop.

Fans of the series have lots to look forward to at the shop, with plenty of cute and hilarious decorations of Popuko and Pipimi and plenty of photo opportunities. Those who spend over ¥3,000 (tax included) at the shop will even receive an original sticker. Only one will be given per person.

More details about the event can be found over at the official Twitter page.

Information

Pop Team Epic Pop-Up Shop

Running: August 23, 2019 – September 16, 2019

Time: 11:00-21:00 (Until 19:00 on September 16, 2019 *Free entry, no planned holidays

Location: Shinjuku Marui Annex 6F (3-1-26 Shinjuku, Shinjuku Ward, Tokyo)

Event Official Twitter: https://twitter.com/pteppopup

Keio Plaza Hotel Tokyo Offers Luxurious Accommodation Plan & Tea Ceremony Experience For Families

Keio Plaza Hotel Tokyo, a highly prestigious and magnificent 4-star hotel located in Shinjuku, is now serving an all-new "luxurious" family package which includes a tea ceremony experience and much more. It is currently running from July 20 to September 1.

The rooms offered in the accommodation plan are the hotel's popular Wide Twin Rooms located on the Premier Grand club floor. Use of the Club Lounge is included in the package. The Wide Twin Rooms include two roomy queen-size beds which span 1.53 meters wide which allow parents to sleep comfortably with their children. Rooms also feature their own bathroom facilities.

The package also includes a check-in simulation for children aged 6-12 years where they can get a feel for what it's like to check-in. They will fill in their own check-in cards with parents and receive a ticket for the tea ceremony experience. They will be able to take their card home with them and take a commemorative photo.

The tea ceremony experience will be held on the hotel's 10th floor in the "Shofuan," an authentic tearoom that has been in the hotel since it opened in 1971. Parents and children will receive proper instruction from the tea ceremony teacher before pouring their own tea, allowing them to learn about traditional Japanese culture and etiquette. They will receive a special certificate of completion at the end.

If you're travelling to Japan as a family this summer then enjoy it in luxury at Hotel Keio Plaza Tokyo.

Information

Tea Ceremony Experience and Luxurious Accommodations for Families

Running: July 20, 2019 – September 1, 2019
Price: ¥18,450 per person for the Wide Twin Rooms on the Premiere Grand Club Floor *Usage for 2-4 people (Includes use of the Club Lounge, breakfast, and includes service charge and tax)

Package Includes:

①Tea Ceremony experience for overnight guests (1.5 hours required, children of preschool age or younger cannot participate but are welcome to watch)

②Simulated Club Lounge check-in experience for children and special commemorative photographs available between 2:00p.m. to 5:00p.m.

③Amenity items for mother use (skin care products etc.)

④Commemorative certificates of stays and tea ceremony completion, and photographs presented to guests

⑤Complimentary late check-out at 12:00p.m. (Normal check-out time is 11:00a.m.)

⑥Complimentary use of Sky Pool facilities

Enquiries & Reservations: +81-35322-8000

Keio Plaza Official Website: https://www.keioplaza.com/

Osamu Watanabe's Mouthwatering Museum of Sweets Showcases Giant Candy Unicorn & More

Have you heard of Osamu Watanabe? You won't forget his name by the end of this article. He is an installation and contemporary artist that draws his inspiration from the world of sweets and confections. He has drawn much attention not just in Japan but overseas too in countries like the US, Italy, Turkey, Indonesia and China with his various exhibitions.

Watanabe is set to take his "Museum of Sweets" exhibition to Shinjuku where it will open at the Odakyu Department Store on July 31.

The candy creations will be split throughout 9 different areas such as the titular room Museum of Sweets as well as the Forest of Sweets, Banquet of Sweets, Sweets Aquarium and more, all of which are sure to tickle the taste buds of sweet tooth visitors.

What's more is that you are permitted to take photos, opening the door for countless photo opportunities for Instagram.

Osamu Watanabe will also be present to host a workshop on 4 separate days so you can craft your own cookie charm using materials Watanabe actually uses in his creations.

Enter a fantastic candy land cooked up by the one and only Osamu Watanabe.

Information

Museum of Sweets

Running: July 31, 2019 – August 14, 2019

Time: 10:00-20:00 (Until 20:30 from August 7-13 / Until 17:00 on August 14)

*Last entries 30 minutes before closing times

Location: Odakyu Department Store Shinjuku Floor 11F

Entry: General ¥600 / High School & Junior High School Students ¥400 / Elementary School Students & Younger – Free

*If you are disabled you and a guardian can get in for free if you take a physical disability certificate

*Those who hold an Odakyu Points Card or Odakyu Ladies Club Card can get ¥100 off entry (applicable only to those who have a card)

Odakyu Department Store Official Website: http://www.odakyu-dept.co.jp/

Workshop: Make a Cookie Charm With Osamu Watanabe!

Running: August 3, 2019 / August 4, 2019 / August 11, 2019 / August 12, 2019

Slots: 13:00 / 13:30 / 14:00 / 14:30 / 15:00 / 15:30 (Each Day)

Participants: 10 per slot

Price: ¥500

Applying: Please apply at the department store from 10:00 on the day

Osamu Watanabe Official Website:  http://watanabeosamu.tokyo/profile_en.html

Sanrio Announces Character Themed Cafe at EGG & SPUMA in Shinjuku

Sanrio has announced that it will open its third-ever limited-time cafe themed on their magazine Ichigo Shimbun at EGG & SPUMA located on the 8th floor of Shinjuku Lumine EST from July 11 to September 30.

Ichigo Shimbun is a monthly magazine published by Sanrio which includes information about the latest character merchandise, the Sanrio Character Awards, and more. Many of Sanrio's characters appear in the magazine and are set to appear at the cafe in the form of food. The theme of the cafe will be "Vacation."

The menu special is the special party combo box for two. Served in an original box, it contains Pochacco and Cinnamoroll burgers, fries, cute Kiki & Lala desserts, two drinks, and more.

EGG & SPUMA are known for their pancakes, so for the Sanrio collaboration, they will serve a special plate of pancakes themed on a beach with Pompompurin sunbathing on top. You can also order refreshing summery soda drinks too.

There will be two different menus served at different periods for the duration of the collaboration, meaning a repeat visit is a must. We hope you get to try everything!

Information

Ichigo Shimbun Diner
Location: EGG & SPUMA, Shinjuku Lumine EST Floor 8F, 3-38-1 Shinjuku, Shinjuku Ward, Tokyo
Running: July 11, 2019 – September 30, 2019
Business Hours: Weekdays 11:00-23:00 (Last Orders 22:00) / Weekends & Holidays 11:00-22:30 (Last Orders 21:30)
TEL: 03-6273-0255
Website: http://salt-group.jp/shop/egg-spuma/

Experiencing Kiki & Lala's Art Exhibition in Omotesando | Event Report

Hi, everyone. I'm Midori from MMN's editorial team.

Tanabata, also known at the Star Festival, is a traditional festival in Japan held annually on July 7 which celebrates the meeting of the deities Orihime and and Hikoboshi who are only able to see each other once a year due to being separated by the Milky Way. During the festival, Japanese people write their wishes on strips of paper and hang them on bamboo and go stargazing.

An eleven-day Tanabata event just began at Cat Street in Harajuku in collaboration with the Sanrio characters Kiki and Lala, also known as the Little Twin Stars. The sparkly and heart-throbbing event, titled LittleTwinStars MILKYWAY MUSEUM -T A N A B A T A- PRODUCED BY LIDDELL, invites people to celebrate Tanabata together with the characters amongst its gorgeous decorations and photo spots.

Upon entering the exhibition, visitors are met by a large crescent moon which they can sit on and hold star balloons to take a photo. The fluffy floating clouds are extremely cute too. The background also reminds one of Tanabata with its Milky Way-like starry sky.

This pure white wreath is inspired by Lala. Normally, you would hang your wishes from bamboo during Tanabata, but at this event you can put them on this wonderful wreath♡ The more strips of paper people hang on it the more busy and beautiful it becomes!

This cosy little booth is based on Kiki. Inside it is a bed of clouds which the Little Twin Stars are always sleeping on. The whole booth is packed full of fluffy clouds and cushions with draping stars so you can take some really nice photos. If you lay down on the bed you can see an enchanting light illuminate the ceiling. You won't want to come away!

Right next to this is the "Moviegenic Booth." A video plays while inside here featuring Kiki and Lala celebrating a cute Tanabata. This is a perfect spot to put on your Instagram story! And since it's a video it means you'll get a different photo from everyone else.

Floating overhead on the first floor are pink and light blue clouds which you can hang your wishes from too. If you search through them you'll find wishes written by Kiki and Lala and their friends too, so be sure to take a look.

Up on the second floor you can get your hands on some exclusive Kiki and Lala merchandise and dine at the themed cafe.

The cafe is a collaboration with Achi Base, a cafe located in Nagano Prefecture's village of Achi which is often called the most beautiful place in Japan for stargazing. Why not order one of their refreshing, limited-time herb teas? They are served in a cup with frozen berries. Grab a cup and serve yourself.

The liquid in the tank is a light blue colour, but…

When it runs into the cup it turns pink!

Even the tables in the cafe are super cute. If you pop your cup of tea on them they make for an extra kawaii photo.

No place in the entire exhibition has been neglected by Kiki and Lala as even behind the merchandise shelves are some sparkly pink decorations♡

Items at the shop include pink badges, folders and more―plenty of stationery and other things you can use in your day-to-day life. For more info on what's on offer check out the official website (Japanese).

The exhibition runs on 8 slots per day so there is no need to worry about overcrowding and being unable to snap photos. Tickets can be found right here, so don't miss out!

Information

LittleTwinStars MILKYWAY MUSEUM -T A N A B A T A- PRODUCED BY LIDDELL

Running: June 27, 2019 – July 7, 2019

Location: The Corner, Omotesando (5-29-1 Jingumae, Shibuya, Tokyo) Website: http://the-corner.tokyo/

Time: 60 minutes / 40 people per slot
①11:00-12:00
②12:15-13:15
③13:30-14:30
④14:45-15:45
⑤16:00-17:00
⑥17:15-18:15
⑦18:30-19:30
⑧19:45-20:45

Entry: Advance ¥500 / Same-Day ¥800
4+ People Group Tickets (Advance Only): ¥1,500

*Those aged 4 years and above must hold a valid ticket

Information Page: https://www.sanrio.co.jp/news/ts-event-20190527/

Little Twin Stars Themed Hotel Room Opens at Keio Plaza Hotel Tama

Two new guest rooms opened at Keio Plaza Hotel Tama on June 15 themed on the Sanrio characters My Melody and the Little Twin Stars (Kiki & Lala).

This year's Sanrio Character Awards were held earlier this month. Both My Melody and the Little Twin Stars proved their popularity with fans as they came in 4th and 6th place respectively. With that in mind, what does Keio Plaza Hotel Tama have in store for fans of the characters in their new guest rooms? I'm here to let you in on the full scoop.

Keio Plaza Hotel is about a 30-minute train ride from Shinjuku and a 3-minute walk from Keio-Tama-Center Station. It's also close to the city of Chofu where the Rugby World Cup will be held this fall as well as located in West Tokyo, an area enjoyed by foreign tourists.

There are two of each rooms available and they will be permanent rooms at the hotel. The hotel already has four Hello Kitty Rooms which were introduced in November 2014 and renovated with the opening of the new My Melody and Little Twin Stars Rooms, making for a total of eight Sanrio character rooms at the hotel. Today, we'll be taking a look at the Little Twin Stars Room.

For the My Melody Room, click here here: https://www.moshimoshi-nippon.jp/225795

Little Twin Stars Room

© 1976, 2019 SANRIO CO., LTD. APPROVAL NO. G601079

The door to the Little Twin Stars Room bears a cute ☆ above the room number.

© 1976, 2019 SANRIO CO., LTD. APPROVAL NO. G601079

Stepping into the magical room you will see Kiki and Lala on the wall riding a unicorn and making their way to the amusement park in the clouds. Floating around the entire room are pink stars and white, fluffy clouds.

© 1976, 2019 SANRIO CO., LTD. APPROVAL NO. G601079

The star-shaped cushions are inspired by the star on the back of Kiki. Guests can fall into a magical dream together with Kiki and Lala who are sleeping with their unicorn atop a cloud on the foot throw at the bottom of the bed.

© 1976, 2019 SANRIO CO., LTD. APPROVAL NO. G601079

The curtains in all of the rooms are blackout curtains so you can have a peaceful, undisturbed sleep until morning.

© 1976, 2019 SANRIO CO., LTD. APPROVAL NO. G601079

When you flip on this floor lamp at nighttime you'll be greeted by an illuminated illustration of Kiki and Lala.

© 1976, 2019 SANRIO CO., LTD. APPROVAL NO. G601079

The hotel has left no part of this fairy tale-like room untouched, with its pink bath tub and drawing of the Little Twin Stars on bathroom mirror too.

© 1976, 2019 SANRIO CO., LTD. APPROVAL NO. G601079

And don't forget the Little Twin Stars Room amenities either, exclusive to guests. The plush toys are branded with an original Sanrio Character Room logo.

© 1976, 2019 SANRIO CO., LTD. APPROVAL NO. G601079

The designs of the toothbrushes are different in each room.

© 1976, 2019 SANRIO CO., LTD. APPROVAL NO. G601079

Even the cup coasters that come with the room feature original desgins exclusive to Keio Plaza Hotel Tama.

© 1976, 2019 SANRIO CO., LTD. APPROVAL NO. G601079

The adorable door signs feature Kiki and Lala sleepy for guests to not be disturbed and energetic for the room to be cleaned.

© 1976, 2019 SANRIO CO., LTD. APPROVAL NO. G601079

Be sure to snap photo of the framed cute Kiki and Lala picture too before you leave.

The Little Twin Stars Room was a world full of pink dreams.  It's sure to be popular with children♡

Next time we will look at the renovated Hello Kitty Room, so stay tuned!

Writer: Ellie (MMN Editorial Team)

Photographer: Kayo Sekiguchi

Translator: Joshua Kitosi-Isanga

Information

Sanrio Character Rooms

My Melody Room: 2 Rooms Available

Little Twin Stars Room: 2 Rooms Available

Hello Kitty Room: 4 Rooms Available

Price

1 Room/1 Person: ¥59,400 (Price for one person, service charge and tax included)

1 Room/2 People: ¥29,700 (Price for one person, service charge and tax included)

1 Room/3 People: ¥21,780 (Price for one person, service charge and tax included)

Sanrio Character Rooms Accommodation Plan: https://www.keioplaza.com/tama/sanrio/index.html

Keio Plaza Hotel Tama

Address: 1-43 Ochiai, Tama, Tokyo

Official Website: https://www.keioplaza.com/tama/

Top 5 Tokyo Beer Gardens to Cool You Down This Summer

Hi, readers! It's Midori, from MMN's editorial team.

When thinking about summer, one of the first things that springs to mind are beer gardens! Drinking a cold beer outdoors on a hot summer's day is a special kind of delicious. More and more beer garden events appear in Japan every year, the vibe and atmosphere is different for each depending on where you are.

Today, I've compiled for you 5 must-visit beer gardens in Tokyo for summer 2019.

Heineken Kirin Beer Garden: Enjoy a lamb BBQ at Kichijoji Daiichi Hotel

This beer garden is being hosted in a BBQ style. Enjoy a two-hour all-you-can-drink course with either a Jingisukan BBQ or oil ponzu fondue as well as a selection of à la carte that go perfectly with the beer on offer. Look out for the lamb BBQ as well, a hugely popular choice every year at the hotel.

▼Kichijoji Daiichi Hotel – "Heineken Kirin Beer Garden"

Location: Kichijoji Daiichi Hotel Floor 8F Garden Terrace (Entrance at floor 7F)

Address: 2-4-14 Honcho, Kichijoji, Musashino, Tokyo
Running: May 24, 2019 – September 1, 2019 (*Closed on Mondays between May 24 – June 30)
Time: 17:00-21:30 (Last Orders 21:00)

Website: https://www.hankyu-hotel.com/hotel/dh/kichijojidh/

Honoo Bulgogi vs. Tamashii Hot Pot: Ikebukuro Tobu Beer Garden

The Tobu Department Store in Ikebukuro is set to serve up its popular bulgogi nabe on the building rooftop. This year also sees the introducing of a new hot pot. Women can also enjoy a discount price on the bulgogi nabe even cheaper than previous years. There is also an happy hour service where all customers can enjoy reduced prices. If you're looking for affordable prices then look no further!

▼Honoo Bulgogi vs. Tamashii Hot Pot: Ikebukuro Tobu Beer Garden

Location: Tobu Department Store Ikebukuro Floor 16F Rooftop

Address: 1-1-25 Nishi-Ikebukuro, Toshima Ward, Tokyo
Running: April 24, 2019 – September 1, 2019
Time: 17:00-23:00 (Last orders for à la carte and drinks at 22:00)
Reservations: Via telephone or online. Reservations must be for 2+ people.

Website: http://www.tobu-dept.jp/ikebukuro/

Beer Garden With an Unbroken View Of the Sea at InterContinental Yokohama Grand

InterContinental Yokohama Grand is bringing its hugely popular beer garden Hama Beer back to Yokohama Minato Mirai again this year. Look forward to tucking into some authentic delights at the hotel terrace with a panoramic view of the Yokohama sea. They also serve a variety of non-alcoholic cocktails too. I recommend this one if you're looking for a romantic, slightly more adult beer garden experience.

▼InterContinental Yokohama Grand Beer Garden

Location: InterContinental Yokohama Grand Floor 1F Outdoor Terrace (*Location will change if it rains)

Address: 1-1-1 Minato Mirai, Nishi Ward, Yokohama, Kanagawa Prefecture
Running: June 14, 2019 – September 16, 2019 (*Except on days when there are scheduled events)

Time: [Mon-Thur] 18:00-21:00 / [Fri-Sun & Hols] 17:00-21:30

Website: https://www.interconti.co.jp/yokohama/

Machida MODI at Renewed "Sky Beer Garden" With Projection Show

The Sky Beer Garden atop Machida MODI has reopened after renovations. A projection show is taking place on the building wall as part of the beer garden. On the official homepage, people can also sign up to have a message projected onto the wall. 7 people will be randomly selected per day. This would be perfect as a surprise to that special someone! You can also enjoy the beer garden at a discounted price if you follow them on Instagram.

▼Sky Beer Garden

Location: LUGAR HA AMOR
Address: Machida MODI Rooftop, 6-2-6 Haramachida, Machida, Tokyo
Running: April 27, 2019 – September 29, 2019

TEL: 042-812-2580

Website: https://www.0101.co.jp/723/

SKY PARADISE BEER GARDEN: Delicious steak and more at Isetan Shinjuku

At Isetan Shinjuku's stylish SKY PARADISE BEER GARDEN visitors can enjoy steak from Steak NO.1 STEAK THE FIRST. The drinks menu also includes beverages other than beer, so if you're not a beer person then I definitely recommend this one. It is being held on the rooftop too so you can enjoy dining in the warm late afternoon and evening outdoors in Tokyo.

▼SKY PARADISE BEER GARDEN

Location: Isetan Shinjuku Rooftop

Address: 4-14-1 Shinjuku, Shinjuku Ward, Tokyo
Running: June 12, 2019 – September 16, 2019
Time: [Mon-Thur] 16:00-22:00 / [Fri-Sun & Hols] 11:30-22:00 (Last Orders – Food 21:00/Drink 21:30)
TEL: 03-6890-0199 (11:30-20:00)

Website: https://www.isetan.mistore.jp/shinjuku.html

There are many different unique beer gardens being held this year, so pick the one that suits you most and cool yourself off this summer in Tokyo♡

Kiki & Lala 360° Exhibition in Omotesando is perfect for your Insta-story!

As Japan is approaching the Star Festival (Tanabata*), you should make your way down to Omotesando in Tokyo! From Wednesday 27th June, there will be a photogenic artwork exhibition dedicated to Little Twin Stars called Little Twin Stars MILKYWAY MUSEUM -T A N A B A T A- PRODUCED BY LIDDELL. There are many ways in which you can get involved in the exhibition. From photo spots/booths and guest participation features to drinks and goods, the exhibition is out of this world! 

Bed of Clouds Booth

This museum exhibition is full of engagement and beautiful spots to combine the world of Little Twin Stars with the Japanese cultural celebration of Tanabata.

*Tanabata is name of the Japanese star festival which celebrates the meeting of Orihime and Hikoboshi; two deities that could only meet once a year during the summer months.

Welcome Photo Booth 

The exhibition has seven photo spots which are a portal into the world of Kiki & Lala. Witness a sky full of fluffy clouds that look like a floating bed, or the enchanting night sky photo spot which makes use of Kiki & Lala's theme colours of pink and light blue.  Make sure you take plenty of pictures and videos!

Make a wish in the tree booth!

The exhibition team are fully aware that Instagram stories are trending among the younger generation and therefore have carefully designed this exhibition to cater for this new social media trend! Engaging features of the exhibition include the beautiful star tree, on which guests can hang little cards full of their wishes! (This is also a typical feature of the Tanabata festival).

Make sure to drop by the cafe where you can enjoy Kiki & Lala-themed original drinks! Before going home, don't forget to check out the exhibition-limited original goods that cannot be purchased anywhere else. This non-conventional exhibition is the perfect place for photography and videos. Immerse yourself in Kiki & Lala's world!

There are also Tanabata-themed Kiki & Lala mascots that are dressed up like the two legendary deities of Orihime and Hikoboshi. This Insta-worthy exhibition's key visuals and the cute Tanabata costumes are just too much to miss out on! ♡

Come soar through the world of Little Twin Stars!!

Information

Little Twin Stars MILKYWAY MUSEUM -T A N A B A T A- PRODUCED BY LIDDELL

Running: Thurs 27/06/2019 ー Sunday 07/07/2019 (11 days)

※ There will be a reception party on Weds 26/06.

Opening hours: 11:00 ー 20:45(60 min times slots, 40 people max per slot, 8 slots per day)

Venue: Omotesando the corner(5-29-1, Jingumae, Shibuya Ward, Tokyo) (http://the-corner.tokyo/)

Entrance fee: Advanced/¥500 On the door/¥800

    Group ticket(advanced only)/¥1,500(4 people max)

※ A ticket is required for 4y/o +

    ※ Tickets: Live Pocket event page (handling fee applies)

http://t.livepocket.jp/t/milkywaymuseum-tanabata-

Little Twin Stars Mascot Keyring (Tanabata) Kiki, Lala

Release date: Weds 12/06/2019

Price: ¥1,944 each (price after tax)

Available at:  

◇Sanrio retail stores (Some Sanrio stores not included)

◇Sanrio corner of 100 yen shops

◇ Sanrio online shop: (https://shop.sanrio.co.jp/)

◇ Rakuten Market: (https://www.rakuten.co.jp/sanrio/)

◇Yahoo! shopping: (https://shopping.geocities.jp/sanrio/)

Sanrio Celebrates Japan's New Reiwa Era With Character Merchandise

To commemorate Japan's new Reiwa era, Sanrio has announced it will sell eleven pieces of exclusive Sanrio character merchandise at Sanrio branches, department stores and their online shop from May 1, 2019.

Sanrio has encouraged everybody to get along through their characters across the Showa and current Heisei eras. They will do the same with their first line of Reiwa merchandise.

The designs feature the word "Reiwa" written in both Roman letters and Japanese kanji and will feature the brand's most popular characters including Hello Kitty, My Melody, Little Twin Stars, Pompompurin, Cinnamoroll, Pochacco, and Badtz-Maru.

Clear File: ¥270 (Tax Included)

Hello Kitty Key Ring: ¥648 (Tax Included)

Items include a tote bag, clear file folder, pin badge, acrylic key rings of each character, and more.

Let's celebrate a happy start to the new era with the Sanrio characters!

 ⓒ1976,1989,1993,1996,2001,2019 SANRIO CO., LTD.