Japan's Largest Sake Event TOKYO SAKE FESTIVAL to be Held in Shinjuku in October
Japan's largest sake event, TOKYO SAKE FESTIVAL 2022, will run from October 4 until October 6 at the Shinjuku Sumitomo Building's Triangle Square.
The event's aim is to make sake more mainstream around the world, with the first festival taking place in 2020. Tokyo Sake Festival blends sake with entertainment, showing off the very best of Japanese culture to those who may be new to craft sake. For the third year, former NMB48 member Yui Takano will serve as ambassador. Takano is known for leaving her idol career to manage the sake specialty store Yui Sake Shop. 
Tokyo Sake Festival 2022 is bringing together forty carefully selected sake breweries from around Japan, including Inoue Seikichi, winner of the Champion Sake award at IWC 2022. Tonoike Sake Brewery, winner of Kura Master 2022's President's Award, will also be in attendance. The full lineup can be found on the official website.
Popular influencers and artists from Raphael to BOYS AND MEN and Ukon Takafuji will take the stage during the event, so be sure to swing by if you're a fan of Japanese spirits!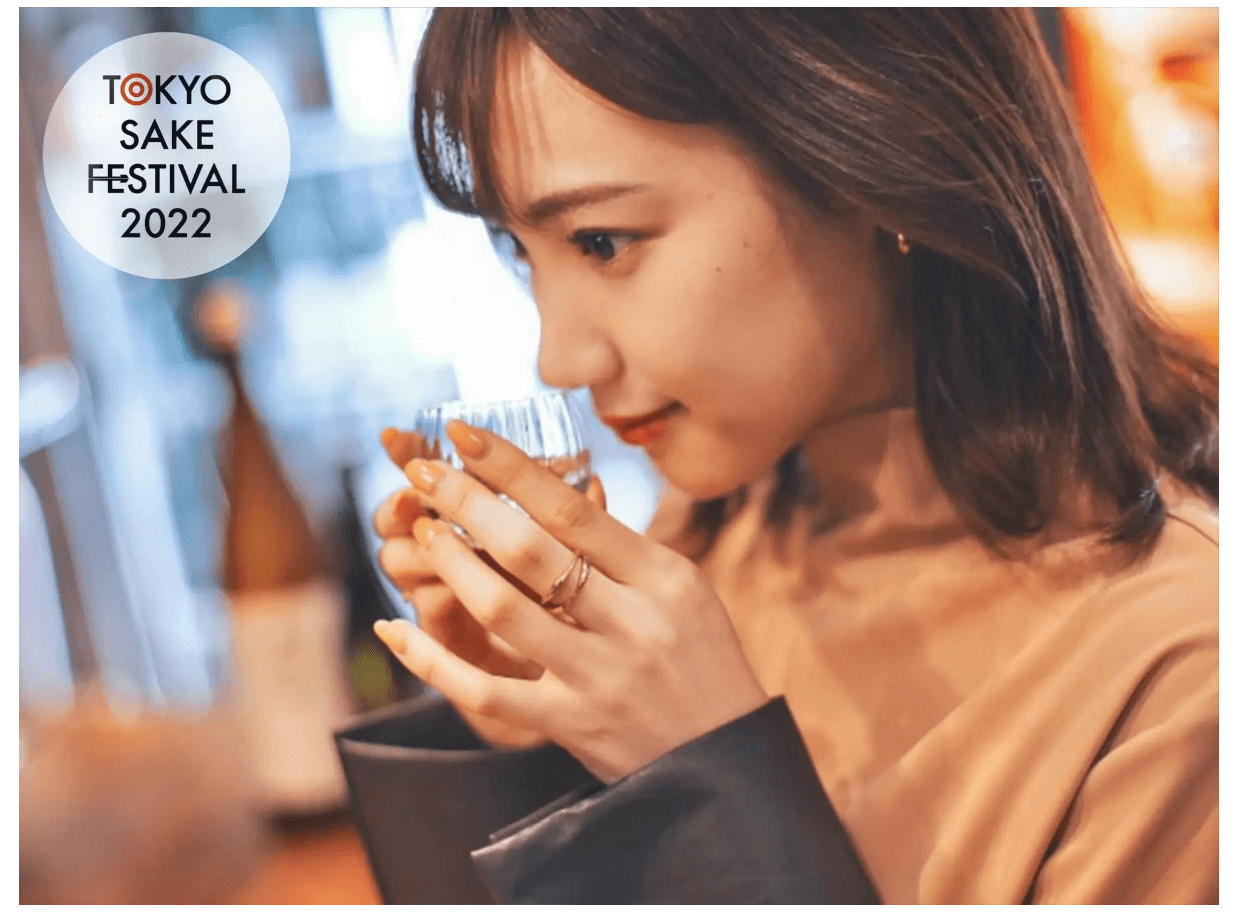 Information
TOKYO SAKE FESTIVAL 2022
Dates: 
October 4: Part 1 13:30-16:30 / Part 2 18:00-21:00
October 5: Part 1 13:30-16:30 / Part 2 18:00-21:00
October 6: 16:00-19:00
Venue: Shinjuku Sumitomo Building Triangle Square
(2-6-1 Nishishinjuku, Shinjuku-ku, Tokyo)
Buy Tickets/Details: https://tokyosakefestival.bitfan.id/
RELATED ENTRIES
New Sake '&Soda' Made Exclusively to be Mixed with Soda Water

Shiragiku Sake Brewery will release a special sake made exclusively to mix with soda water on October 1, 2022. The beverage will be available in Okayama Prefecture.

The company's interest in creating a new sake culture led them to develop &Soda, a delicious sake made to be mixed with soda. This may be helpful for those who don't know much about sake, or who may feel intimidated by the many different types. Being able to mix it with soda will make sake drinking feel more casual. 

Sake Made Exclusively for Mixing with Soda Water, '&Soda'

"Many people may like to mix sake with soda water or drink it on the rocks. By doing this, however, a nice sake may lose its flavor, and the drinker might be wasting a nice sake for the sake of a more easy-drinking beverage. &Soda was made exclusively to be mixed. Using Asahi Rice, a specialty in Okayama Prefecture, and water from the brewery, we've created a sake that has the proper aroma and sweetness. These characteristics will come through even after being mixed! The alcohol content has been increased to 18 percent, and the package will make the product easy to find and understand," a statement from the brewery reads.

For more information on how to enjoy &Soda, please see the special website below!

Information

Sake Made Exclusively for Mixing with Soda Water, '&Soda'

Release Date: October 1, 2022

Official Site: http://www.andsoda.jp/

Dev-c Group from VTuber Project VEE Debuts with Huge Ad in Shinjuku

To celebrate the debut of Dev-c, the new VTuber unit from VEE, a giant ad has appeared in Shinjuku Station! Fans should head to the Promenade connecting Shinjuku Station to Shinjuku 3-come from September 5 until September 11 to catch a glimpse of these new talents!

The ad shows Uriyone, Anew Uparu, Cotonoha, Luminous Sweet, and Aomiya Yozuri strolling down a Tokyo street.

 

Spread out behind them are images of the members of Dev-a and Dev-b, who previously debuted.

 

VEE has managed to bring together some incredible talents so far. On the right side, fans will see Dev-c's key visual and a message from VEE to fans, so if you're near Shinjuku, be sure to check it out!

Information

Dev-c Billboard Celebrating the Group's Debut

On Display: September 5 – September 11, 2022
Location: Tokyo Metro Shinjuku Station – Promenade Area
Official Site: https://vee-official.jp/


*To prevent the spread of COVID-19, try to social distance and enjoy responsibly.
*Please do not contact station staff regarding the billboard.

Halloween Afternoon Tea Featuring AR Technology Coming to Shinjuku

From September 1 until October 31, the District Brasserie, Bar, and Lounge at the Kimpton Shinjuku Tokyo will be offering a spooky Halloween-themed afternoon tea set. The tasty treats won't be the only scary thing on the plate–the event will incorporate AR technology! By holding up your phone, you'll be able to see monsters moving around on your plate.

The goodies will also be available for take-out, making them perfect for souvenirs or at-home Halloween parties! Nine types of Halloween sweets, six small dishes, and two tea sachets will be included. Why not spend Halloween in a more elegant way in 2022?

Information

Kimpton Halloween MONSBLANC Afternoon Tea
Running: September 1 – October 31, 2022
Hours: 11:30-17:00 (Last Order at 15:00), 2-hour seatings
*Reservations must be made by 16:00 on the previous day.
Venue: Kimpton Shinjuku Tokyo, District Brasserie, Bar, and Lounge
Reservations/Details: https://bit.ly/3Qi5d3K

Official Site: https://www.kimptonshinjuku.com/jp/

SiM to Hold Streaming Event 'Amazon Music Live: DEAD POP FESTiVAL 2022'

Amazon Music Live: DEAD POP FESTiVAL 2022 was originally held on June 25 and 26, 2022. Those who missed out on SiM's outdoor festival will be able to watch it on the Amazon Music Japan channel on Twitch on August 16 at 20:00 along with exclusive commentary from the members. In addition, Shuhei Igari (HEY-SMITH), GEN (04 Limited Sazabys), and Takuya Yamanaka (THE ORAL CIGARETTES) will appear. 20 artists who participated in the festival will give their personal thoughts on the June event including behind-the-scenes stories.

Fans of Attack on Titan won't want to miss the first live performance of SiM's track The Rumbling, used as the opening theme for The Final Season Part 2.

Prior to the event on the Amazon Music Japan channel, a playlist consisting of songs performed at DEADPOP FESTiVAL 2022 is available on Amazon Music Unlimited. Be sure to check it out!

NIJISANJI Fes 2022 Reveals 118 Participating VTubers, New Illustrations

NIJISANJI Fes 2022, the largest NIJISANJI event to date, will be held on October 1 and October 2 at Makuhari Messe in Chiba. Ahead of the festival, ANYCOLOR has announced the 118 VTubers that will be participating, along with new illustrations showing some popular personalities wearing class T-shirts which will be available at the venue.

NIJISANJI Fes 2022 Special Announcement Video
https://youtu.be/st-m1G_DYS8

The image song for NIJISANJI Fes 2022, Hurrah!!, is now available to stream. The music video for the track will feature fan art which will also be displayed at the venue, so get your entries in by August 28!

Illustrations Highlighting Class T-Shirts

NIJISANJI Fes 2022 Image Song, Hurrah!!

Music: Mito Tsukino, Sasaki Saku, Kuzuha, Lize Helesta, Sara Hoshikawa, Minato Fuwa, Axia Krone
Lyrics / Composition / Arrangement: Jin

On the special website, newly-drawn illustrations of the 118 participating VTubers are featured. Each member is a part of a different class, and these class T-shirts will be handed out at random to those with tickets to the event as a bonus. They will also be available for purchase, so don't worry if you don't get the one you want!

▼Green
Manami Aizono, Uiha Aiba, Youko Akabane, Axia Krone, Akane Asahina, Hina Asuka, Momo Azuchi, Kokoro Amamiya, Sayo Amemori, Almal Ars, Katrina Ange, Mugi Ienaga, Inui Toko, Ibrahim, Ichigo Ushimi, Muyu Amagase, Vox Akuma

▼Indigo
Kou Uzuki, Albio Ex, Emma★August, Eli Conifer, Elu, Haruka Onomachi, Oliver Evans, Haru Kaida, Hayato Kagami, Kanae, Shoichi Kanda, Hisui Kitakoji, Gilzaren III, Gwelu Os Gar, Kuzuha, Yotsuba Umise, Aza

▼Blue
Natsume Kurusu, Kuroi Shiba, Mirei Gundou, Tojiro Genzuki, Touya Kenmochi, Akina Saegusa, Ritsuki Sakura, Sasaki Saku, Yuika Shiina, Shellin Burgundy, Rin Shizuka, SisterClaire, Hajime Shibuya, Joe Rikiichi, Tomoe Shirayuki, Akira Shikinagi, Eine

▼Red
Sango Suo, Kana Sukoya, Utako Suzuka, Masaru Suzuki, Aki Suzuya, Miyako Seto, Kirame Sorahoshi, Rion Takamiya, Mito Tsukino, Debidebi Debiru, Kohaku Todo, Dola, Kyoko Todoroki, Kei Nagao, Naraka, Kanato Fura, Elira Pendora

▼Orange
Naru Naruse, Chigusa Nishizono, Sociere Nui, Fuyuki Hakase, Hanabatake Chaika, Sou Hayase, Marin Hayama, Air Harusaki, Kaede Higuchi, Gaku Fushimi, Tamaki Fumino, Furen E. Lustario, Fuwa Minato, Belmond Pandelas, Nei Ponto, Pomu Rainpuff

▼Yellow
Sara Hoshikawa, Himawari Honma, Keisuke Maimoto, Ririmu Makaino, Meme Mashiro, Chima Machita, Mao Matsukai, Moira, Alice Mononobe, Kazaki Morinaka, Rine Yaguruma, Kizuki Yashiro, Karuta Yamagami, Chihiro Yuki, Seraph Dazzlegarden, Mysta Rias

▼Violet
Riri Yuhi, Mahiro Yukishiro, Roa Yuzuki, Kakeru Yumeoi, Ratna Petit, Lize Helesta, Ryushen, Mikoto Rindou, Lain Paterson, Luis Cammy, Levi Elipha, Vincent Leos, Lauren Iroas, Hibari Watarai, Finana Ryugu, Hyakumantenbara Salome

Tomakomai Mirai Fest 2022 Announces Second Round of Performers, Additional Details

New performers and events have been announced ahead of the start of Tomakomai Mirai Fest 2022 in Tomakomai, Hokkaido on September 17 and 18. The event will be held in one of the most gorgeous towns on the island and excitement is building!

The purpose of this event is to promote the appeal of the Tomakomai region, not only to those living in Japan but to those living abroad. In addition to music, the event will also feature art, food, technology, and more content that can be enjoyed by kids, families, and people of all ages and genders.

Tomakomai Civic Hall, Large Hall

Incredible live performances will be held in a futuristic setting. Along with Awesome City Club, Kyary Pamyu Pamyu, and Little Glee Monster, guests can look forward to seeing HY, Wednesday Campanella, Taichi Mukai, and Atarashii Gakko!

Tomakomai Civic Hall, Parking Lot

DJ performances and food trucks will welcome guests to the futuristic area, and the illuminations are sure to impress!

Kirakira Park

An AR system accessible by smartphone will allow guests to take pictures of the Tomakomai Mirai Fest logo for a surprise. During the daytime, a food truck area will provide visitors with different types of gourmet offerings and a stage will showcase local dancers and musicians from Tomakomai. A family-friendly picnic area will allow guests to relax and enjoy good food and live music.

At night, in addition to impressive illuminations and a live stage showcasing Hokkaido's best talent, an island bar will amplify the mood.

O-machi/Nishiki-machi

During the daytime, a gourmet area will feature Tomakomai's famous curry ramen, local craft beer, craft spices, and more. At night, visitors can enjoy restaurants in the O-machi and Nishiki-machi areas while still enjoying the vibe of the event.

And More!

A stamp rally will be held during the event, and guests finding stamps at each location will be eligible to win fantastic prizes. A bus service is also planned.

More performers and details will be announced soon, so stay tuned!

Information

Tomakomai Mirai Fest 2022

Dates: September 17 and 18, 2022

Tomakomai Civic Hall, Large Hall (Admission Fee Required)

September 17 / Doors Open 16:30, Event Starts 17:30

September 18 / Doors Open 14:30, Event Starts 15:30

Tomakomai Civic Hall, Parking Lot / Kirakira Park / O-machi, Nishiki-machi (Free Entry)

September 17: Open at 12:00

September 18: Open at 11:00

*May be earlier or later depending on the venue. Detailed event times will be announced at a later date.

Locations: Tomakomai Civic Hall, Large Hall / Parking Lot / Kirakira Park / Around Omachi, Nishikimachi

Ticket Agency: Ticket Pia

[1-day or 2-day Tickets Available]
Official 2nd Advance Ticket Lottery: July 28, 12:00 – August 7, 23:59

https://w.pia.jp/t/tomakomaimiraifest22/

Official Site: http://miraifest-tomakomai.jp/

Teppanyaki and Yakiniku Restaurant Honten Yamashina Opens in Ginza

On July 18, the upscale teppanyaki and yakiniku restaurant Honten Yamashina opened a new location in Ginza! The hybrid restaurant has taken over the entire top floor of GINZA PLACE, which is directly connected to Ginza Station. Overlooking the Ginza 4-chome intersection, it's a gorgeous place to enjoy some authentic Japanese cuisine. 

Honten Yamashina mainly uses fully-matured Omi beef, the highest grade available among Shiga Prefecture's top-tier beef, from Okazaki Farm. The cows are allowed to fatten for a considerable amount of time and live stress-free lives for over 40 months. Less than 1% of all Wagyu cattle are shipped after 24 months of age, and this delectable meat is characterized by its sharp taste and fattiness. 

Luxurious Wagyu and Sea Urchin Sushi

Early Summer Plate to Enjoy with Seasonal Flowers

Selected Extra-thick Beef Tongue Steak Made with Refined Attention to Detail

Grilled Spiny Lobster Made on a Charcoal Grill

The Playful Yamashina Wagyu Slider

Melt-in-your-mouth Sweet Amala Tomato (Vegetable of the Day)

Hand-selected Omi Beef Steak

Truffle Omurice

Japanese-style Teppanyaki

Guests can enjoy authentic Japanese teppanyaki cuisine with a modern twist. While sitting at the contour, visitors will enjoy a live performance by Taku Osada, a teppanyaki chef with over 20 years of experience.  

The wide variety of meat can be enjoyed in a number of different ways, whether it be raw, grilled, stewed, or properly cooked. From tongue and rump to filet and sirloin, you won't leave hungry. Visitors can also enjoy seafood and seasonal Japanese vegetables along with their meat, and the flowers and leaves that adorn each plate will change depending on the time of year.

In addition to rare teppanyaki dishes like skirt steak and 3cm-thick beef tongue, Honten Yamashina also offers some playful dishes such as sliders. As the temperature differs on different parts of the steel cooking plate, each item can be cooked to a temperature that maximizes its specific flavor. Honten Yamashina also has a massive cellar housin over 1,000 bottles of wine and hard-to-find spirits. 

Japanese-style Yakiniku

For those looking for a more private experience, guests can enjoy yakiniku in a completely separate room. Each private room has a grill that will cook meat to the perfect temperature, and only at Honten Yamashina can you enjoy fully-matured Omi beef. The signature cutlet sandwich is made with chateaubriand cooked at a low temperature and deep-fried in a thin batter, then served on crispy bread with a soft, fluffy interior.

Teppanyaki and yakiniku are typically thought of as meat-based dishes, but the restaurant can accommodate vegetarian guests if contacted in advance. 

When Japan opens up to tourism, will you be visiting this incredible restaurant in the heart of Tokyo?

Mount Fuji to be Surrounded by Colorful Blossoms During the Rainbow Flower Festival 2022

Yamanashi's Fuji Motosuko Resort is home to the yearly Fuji Shibazakura Festival, one of the most popular spring flower events in Jaapn. From July 16 until October 10, 2022, guests will also be able to enjoy the Rainbow Flower Festival, with over 80,000 blooms decorating the land around Mount Fuji. 

From Left: Coneflowers, Common Zinnia, Begonia, Ageratum

From Left: Scarlet Sage (Sirius), Scarlet Sage (Bonfire), Scarlet Sage (Deep Blue), Coleus

The theme for the inaugural event is 'Seven Colors of Mount Fuji.' Visitors will be able to take incredible pictures, with a variety of blooms springing from the Earth in seven beautiful colors. Whether you love begonias or zinnias, you won't want to miss this one. 

The venue will also feature photo spots that will be perfect for social media, from a rainbow circle bench to the 'Yellow Door of Happiness.' A campaign will also be held to choose the best photos of the event posted to Instagram.


Koppe-pan (with Yamanashi Peach Butter and Whipped Cream) / Lava Fried Tofu / Bellflower Mochi Ice Cream / Jewel Soda


A unique food menu featuring everything from lava-shaped fried tofu to fluffy bread with local peach butter will appear at the event.

*Sample image.

Pictures aren't the only thing you'll leave with–a selection of souvenirs will be on sale, including 'Stick Jelly' made with five types of local fruit puree. These will only be available at the event, so come have a wonderful time visiting Mount Fuji this summer!

Information

Rainbow Flower Festival

Running: July 16 – October 10, 2022

*Blooming dates may vary. The festival will be open every day during the event period.

Hours: 8:00-16:00 *Subject to change.

Tickets: Adults (Middle school age and up): ¥800 / Children (Ages 3 and up): ¥250

Venue: Fuji Motosuko Resort (212 Fujigane, Fujikawaguchiko, Minamitsuru District, Yamanashi)

Official site:https://www.fujimotosuko-resort.jp/

Long-Established Sake Brewery in Yamagata Prefecture Helps Create SAKE COLA

Aiming to create a new kind of drinking culture, Aika in Gunma Prefecture has started preorders for SAKE COLA, a new cola liquor, on the crowdfunding site Makuake. 

People love cola for its strong carbonation, sweetness, and distinctive spicy flavor. SAKE COLA has a complex, multi-layered aroma and refreshing sweetness offering a unique taste that no one has tasted before.

In creating SAKE COLA, the company attempted to keep the authentic sweetness of sake. To this end, they decided to work with Rokkasen, a long-established sake brewery in Yamagata. 

Rokkasen's authentic rice-based shochu Goujoppari is brewed in the cold like sake and distilled like a ginjo sake. It has a beautiful citrus aroma and tastes similar in sweetness despite having zero sugar.

 

Using Goujoppari as a base, malted rice is used to produce a mild, natural sweetness, and the spices added to the drink meld with the citrus scent to create a flavor defying imagination.

The flavor and aroma of SAKE COLA spread in the mouth, with the spices and herbs lingering on the tongue. The spices were mixed by Hayashi Oki, who studied in Alsace, France before working as a pastry chef at one of Tokyo's top patisseries. 

Mace, the key spice, is characterized by its sweet and somewhat pungent aroma. It's used to recreate the caramelized taste that is found in most cola.

 

Along with that, tonka beans, containing the natural sweeteners Vanillin and Coumarin, were blended into the mix to create a soft, lingering flavor. Customers are sure to enjoy it from the first sip to the last.




SAKE COLA can be enjoyed at any time. It's perfect for enjoying as an aperitif, and it can also be enjoyed with a meal, like beer or wine. 

 

Like whiskey, it can also be enjoyed while relaxing after a meal. At Christmas time, it can be added to warm red wine or served as an affogato with ice cream and a splash of liqueur. How would you like to try this unique creation?

NAKED Summer Festival 2022 to be Held at Nijo Castle in Kyoto

This summer, the World Heritage Site Nijo Castle will host the NAKED Summer Festival 2022 event from July 22 until August 21. Visitors can explore the incredible location at night, illuminated by colorful lights and filled with summer fun.

Festival Stalls

Virtual Content via Smartphone

The entrance gate and Ninomaru Garden will both be illuminated for the event, and a digital fireworks display will be shown on the stone walls surrounding the inner moat.  Continuing from last year, the fan-favorite NAKED Distanced Lanterns and NAKED Tsukubai will be returning.

Come make some summer memories at Nijo Castle!

Tomakomai Mirai Fest 2022 to be Held in September

On September 17 and September 18, the Tomakomai Urban Renewal Project Committee will hold Tomakomai Mirai Fest 2022, inviting guests to celebrate the area around Tomakomai in Hokkaido. 

The purpose of this event is to promote the appeal of the Tomakomai region, not only to those living in Japan but to those living abroad. In addition to music, the event will also feature art, food, technology, and more content that can be enjoyed by kids, families, and people of all ages and genders.

The main venue of the event will be the Tomakomai Civic Hall. Musical acts announced so far include Awesome City Club, Kyary Pamyu Pamyu, and Little Glee Monster.

In the Tomakomai Civic Hall parking lot and the nearby Kirakira Park, guests can enjoy free DJ performances, mini-concerts, art and technology installations, food trucks, picnic areas, and more. In addition, the Nishikimachi and Omachi areas will be decorated with digital art, and food and beverages will be available.

Advanced 2-Day tickets are available now on Ticket Pia by lottery. More performers and additional content will be announced soon, so keep an eye on social media and the official website.

Information

Tomakomai Mirai Fest 2022

Dates: September 17 and 18, 2022

Venue: Tomakomai Civic Hall, Large Hall

Hours: 

September 17 / Doors Open 16:30, Event Starts 17:30

September 18 / Doors Open 14:30, Event Starts 15:30

*More detailed event times and locations will be announced at a later date.
Locations: Tomakomai Civic Hall, Large Hall / Parking Lot / Kirakira Park / Around Omachi, Nishikimachi

Tickets: https://w.pia.jp/t/tomakomaimiraifest22/

Official Site: http://miraifest-tomakomai.jp/

Stuffed Animal Pickles the Frog Inspires Limited Time Collaboration Cafe in Shinjuku

Have you ever heard of Pickles the Frog? The adorable plush has become popular enough to inspire his own collaboration cafe in Shinjuku from May 25 until June 6! A special menu will be available at Brilliant Cafe located on the 11th floor of the Odakyu Department Store.

Green Curry Plate

Birthday Cake Plate

Fruit Tea Soda Float

As part of Pickle the Frog's birthday celebration, the cafe will feature a limited menu of three delectable items. Why not come celebrate Pickle's special day on June 1? 

A pop-up shop will also be opened soon, so keep an eye out!

Information

Pickles the Frog x Brilliant Cafe

Running: May 25 – June 6, 2022
Venue: Odakyu Department Store Shinjuku 11F (1-1-3 Nishishinjuku, Shinjuku, Tokyo)