Visiting Harajuku's Newest Tapioca Drink Store KOI Thé
Japan is going through an unprecedented tapioca boom right now, and Harajuku is no exception, with tapioca stores opening left, right and centre. With so many to choose from no matter which you go to on a weekend there will be a huge line. I visited KOI Thé, a new shop that just opened on November 25.
It's located right near the MOSHI MOSHI BOX Tourist Information Center where you'll find us.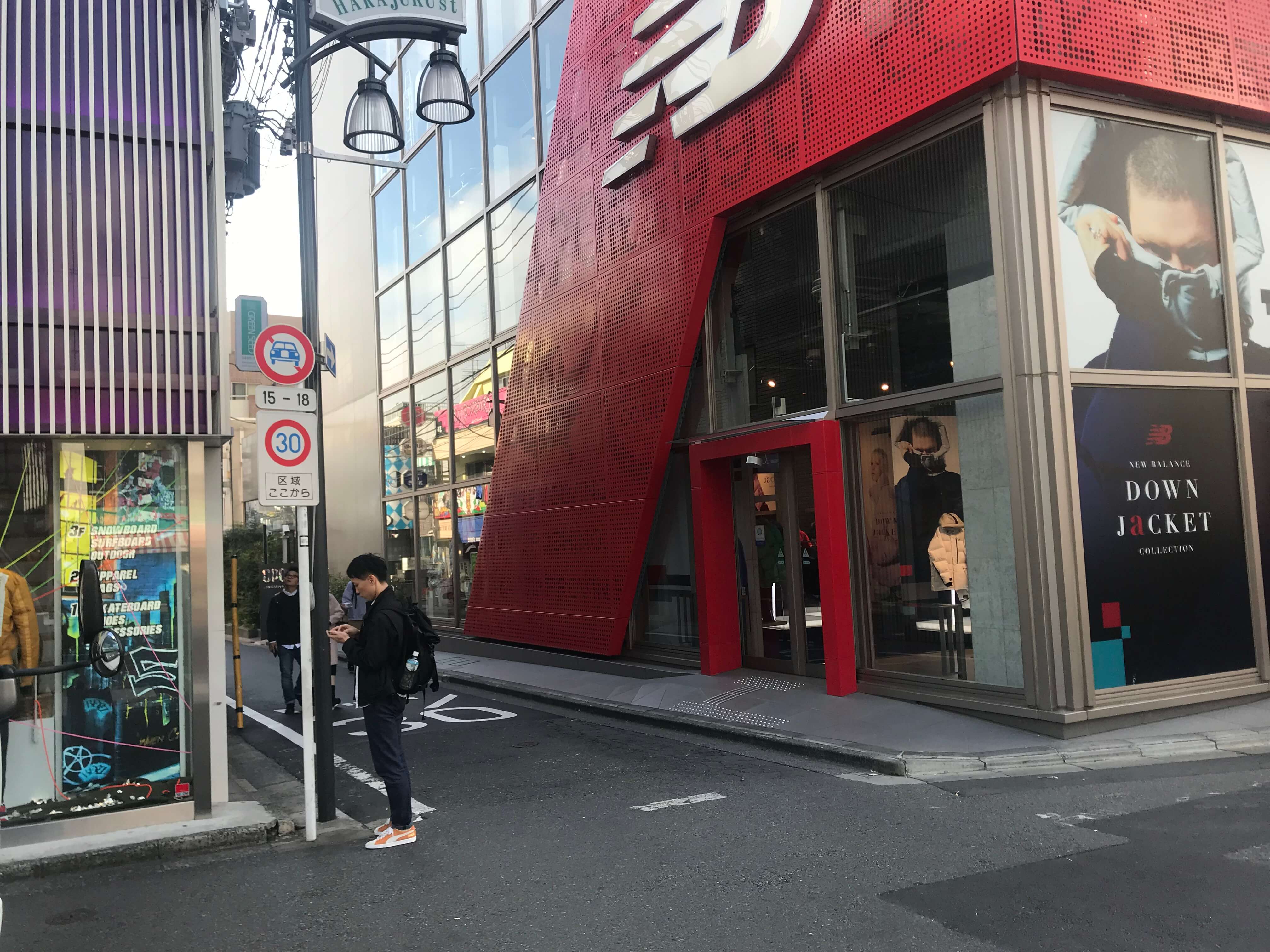 Head through Takeshita Street from Harajuku Station and go down the path between New Balance and Murasaki Sports.
Follow straight down and you'll find KOI Thé on your left. Look for the big tapioca drink outside – you can't miss it!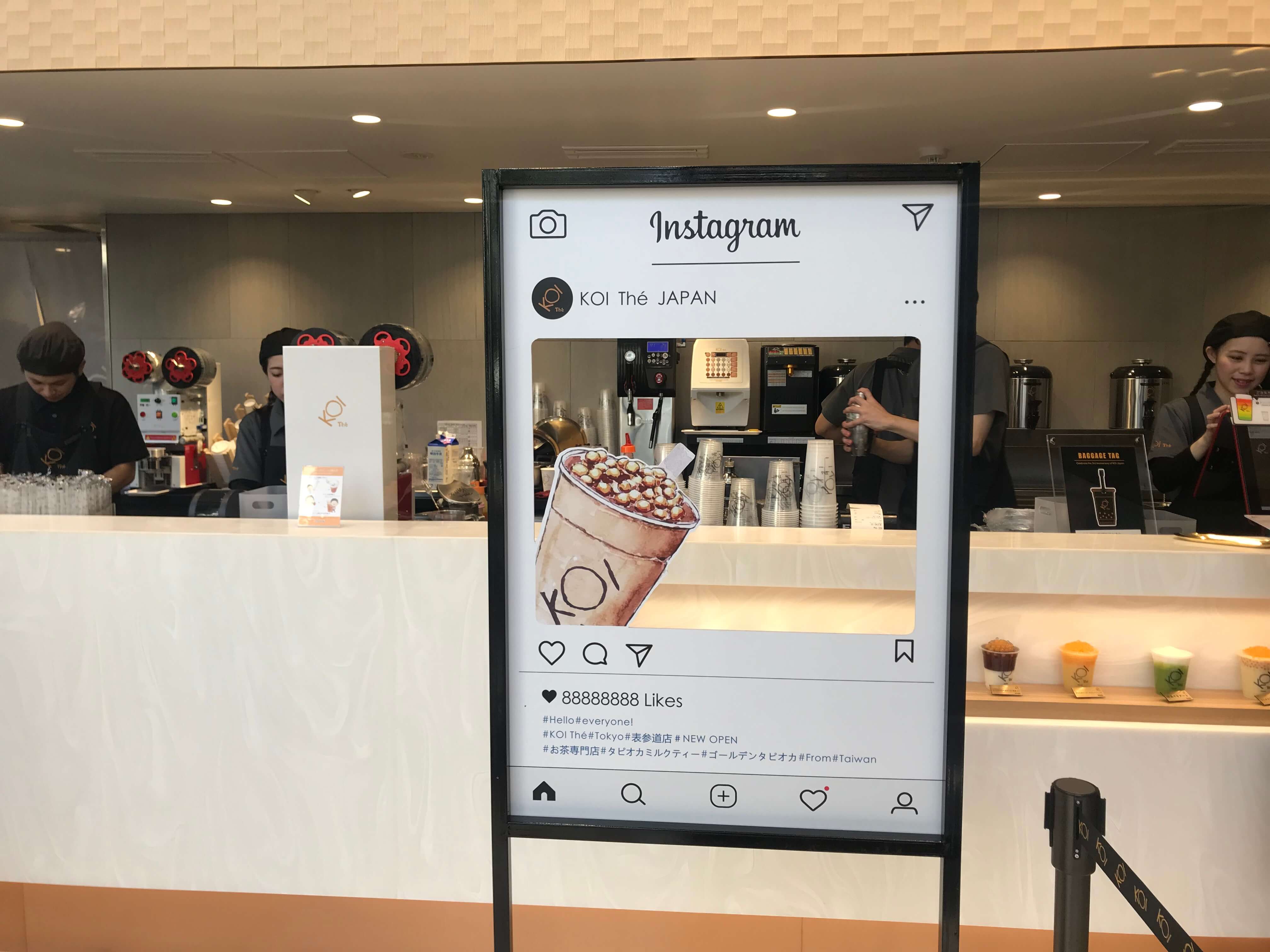 It's quite spacious instead and has simple decor rather than being stylish. Guys can line up without worry too.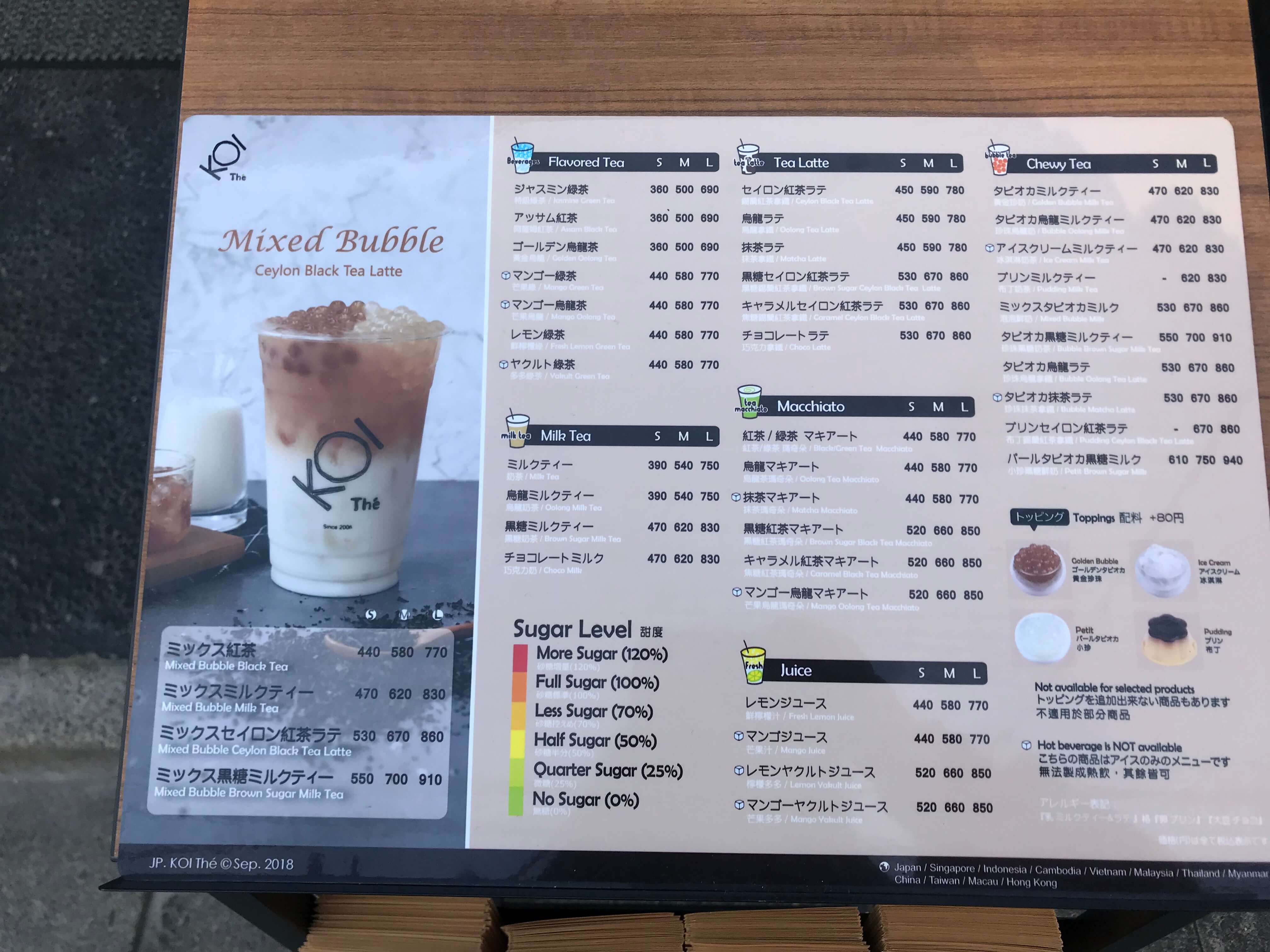 This is how the menu looks. You can adjust how much ice and sugar you want in your drink.
I went with the classic tapioca milk tea!
The tapioca balls here aren't black but in fact golden. The reason they are gold is because they don't use food colouring.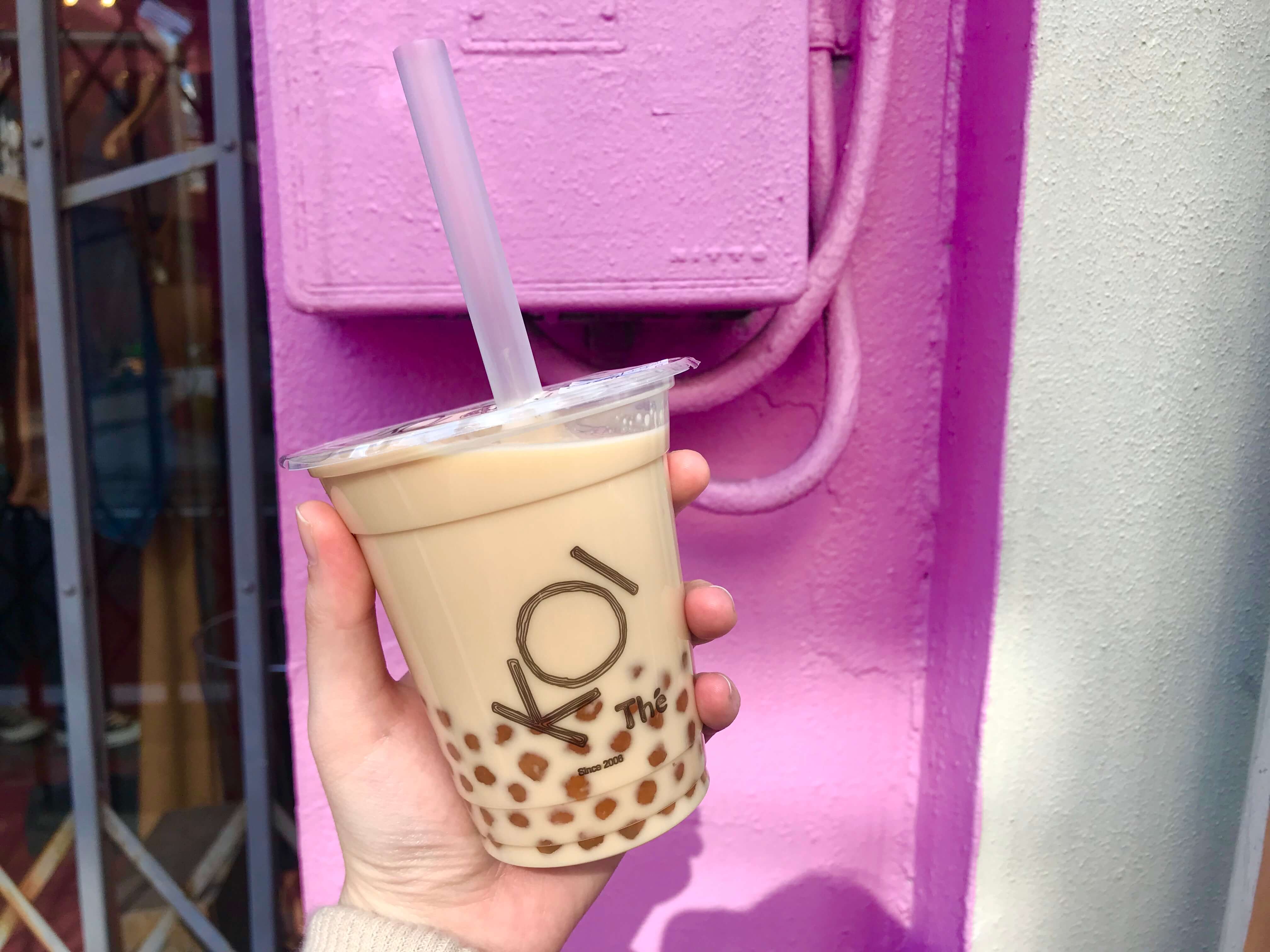 Tapioca that is transparent like this is cute too. The balls are comparatively smaller and are chewy and taste delicious!
I ordered the drink with the normal amount of sweetness and it tastes even more refreshing than at other stores. It's a simple tapioca drink made for adults.
If you're a little embarrassed at lining up at a tapioca shop then I recommend getting it from one for grown-ups in Omotesando!
Information
KOI Thé
Address: 4-27-1 Jingumae, Shibuya, Tokyo
Opening Hours: 10:00-21:00
No Fixed Holidays.
TEL: 03-6434-5753
Website: https://koithe.jp/
RECOMMENDED ENTRIES
Drink Tea in Style With FORTUNER tea-box's Cheese Tea Tapioca in Harajuku

Hi, everyone.  It's Midori from the MOSHI MOSHI BOX Harajuku Tourist Information Center.

It's been a trend for a while now, but tapioca shops have started popping up recently in Harajuku, and they've become so popular that most girls you see walking around there are drinking tapioca. Harajuku's going through a real tapioca boom!

They're all holding cups from a number of different shops, but the one getting much attention for their cute cups is FORTUNER tea-box, so I went to take a look!

FORTUNER tea-box is located behind the MOSHI MOSHI BOX along Tonchan Street (とんちゃん通り) on the first floor of a building called FLAG.

If you walk from Murasaki Sports along Tonchan Street you'll spot a 7-Eleven. Go past there and it's inside Anywhere Door opposite BEAMS RECORDS.

You'll know it once you've passed the offices and open conference rooms and see girls holding cups.

For those who aren't good with tapioca, have no fear. They also serve drinks without tapioca, as well as unsweetened teas amongst other things.

I ordered the "Cheese Tapioca Milk Tea"!

At first glance you can tell it's no ordinary tapioca milk tea, right? It has two layers with the top part being a whipped cream cheese.

I wondered to myself how cream cheese could work with sweet milk tea but when I took a sip the sourness of the cream cheese and sweetness of the milk tea came together to create a deliciousl salty-sweet taste! It contains big and small chewy tapioca. You can treat it like a dessert.

There are two mouthpieces on the lid and the straw is a super cute heart shape! It's cute as well when you knock it back and get a cream cheese moustache.

The inside of the shop too is cute and Instagram-worthy. There were lots of people taking photos when I went.

I recommend taking a photo with the BEAMS RECORD sign behind you which is close to the shop.

Buy a stylish drink with your friend and snap some photos with a snazzy background!

■Information

FORTUNE tea-box

Address: 3-27-15 Jingumae, Shibuya, Tokyo

Opening Hours: 11:30am-11:00pm (No Fixed Holidays)

TEL: 03-5755-5708

Website: http://fortuner.co.jp/index.html

A visit to ROLL ICE CREAM FACTORY in Harajuku

Hi everyone, Midori Blackmore here. I'm a staff person at MOSHI MOSHI BOX.

It's just too hot these days, isn't it? This is summer in Japan for you.

Have you ever had the experience where you don't want to eat anything other than ice cream during summer? All I want to eat is ice cream in summer but the problem is, it makes me fat.

But waistline aside, I went to the new ice cream shop, ROLL ICE CREAM FACTORY and I want to report about this.

Here is some information concerning the location of this ice cream shop. It takes 5 minutes by foot from Tokyo Metro, Meijiingumae Station. It takes 10 minutes by foot from Harajuku Station, Omotesando exit.

This "factory" is located near the No.1 elevator of Meijijingumae Station. After you get off the elevator go straight and then turn at Lawson. It is very near the pancake shop, "Eggs'n Things."

The outside looks like as you can see in this photo. It looks like a building out of Disneyland, don't you think.

First, I ordered at the cash register. You can order both from the basic menu or you can order a "custom item" yourself.

I ordered the recommended item on the menu, "Cookie Monster" because I don't have such a challenging spirit. Sorry about that.

When I ordered, a young lady made a "Cookie Monster" in front of me. Many people took photos or movies while she was making it. How photogenic this item is, don't you think!

They mixed together both the liquid ice cream and some ingredients on a cool plate and stretched it out thinly.

The young lady then rolled it up.

This was very interesting to look at. I was so impressed, I tried to do this when I made Okonomiyaki that evening but I failed. It was very difficult. Maybe these young ladies have had vigorous training.

It is complete after cute decorations are put in place!

Yes, it's very photogenic. I could even make an Instagram account only for this item. It makes for a wonderful photo.

The taste is very rich and it was very filling.It doesn't melt as easily as other ice creams,So it doesn't make your fingers sticky. Accordingly, it makes for a great take out item.

What a face I made.

The next time you visit Harajuku, you should try this!

Thank you for your kind attention, from Midori Blackmore.

■information

ROLL ICE CREAM FACTORY

Address:Just harajuku 1st floor 4-28-12 Jingumae Shibuya-ku Tokyo

Phone number:03-3470-0227

Closing dates: No scheduled holidays

Open time:10:00~21:00

Related Article:"Eddy's Ice Cream"—A Booming Ice Cream Shop With a Colourful Selection in Harajuku

Related Article:Popular Giant Cotton Candy Store "Totti Candy Factory" in Harajuku Releases New Summer Rainbow Menu

Visiting World Breakfast Allday in Harajuku, Breakfasts From 6 Countries Served

Hi, everyone. I'm Minimaru, and I work at the MOSHI MOSHI BOX Harajuku Tourist Information Center.

What do you eat for breakfast? Toast? Onigiri? It's easy to end up eating the same thing every morning, isn't it? Have you tried eating breakfast from another country?

That's what this article is about. Today I would like to introduce to you all World Breakfast Allday.

There are in fact two branches of World Breakfast Allday. I visited the new one which opened between Harajuku and Shibuya earlier this year.

To get there, make a right at Flamingo, the second-hand clothing store in Omotesando that faces KIDDY LAND. Head straight down there and you'll see a tapioca shop called Gong Cha. Head past there and make a left at the Family Mart convenience store.

You'll come to see a post office. Continue heading in the direction of the post office.

Then you'll see a cafe. Make a right and head straight down.

You'll eventually come to a pale yellow coloured building on the left hand side of the path. That's World Breakfast Allday!

It can be a difficult place to find for first-timers, so if you get lost or need help getting there than come and find us at the MOSHI MOSHI BOX. We'll be happy to help!

The yellow exterior of the cafe gives it a relaxing first impression. Music plays inside from different countries so it felt like stepping into another world. The cafe also has window seats so you can see outside.

I wanted to chill and enjoy my breakfast while looking at the scenery outdoors so I sat at one of the window seats.

There's also wide table seats inside.

This is the menu. They also serve a range of limited edition items that change every two months. There's so much food to choose from!

Once you've decided on what you want you can order at the counter.

The counter is super cute and there's also an open kitchen in the back where you can see food being made.

I ordered the American breakfast which came with pancakes, bacon, sunny side up eggs and potatoes. It also comes with honey to drizzle over your pancakes. The food was so delicious it made me feel happy in the morning.

World Breakfast Allday is a place that lets you feel like you're somewhere outside Japan. If you're in Harajuku in the morning or doing a bit of shopping then be sure to give it a visit.

Writer/minimaru

Information

World Breakfast Allday

Address: 6-15-14 Jingumae, Shibuya, Tokyo

Opening Hours: 7:30am-8:00pm (Last Orders 7:30pm)

No Fixed Holidays.

TEL: 03-3406-7008
RELATED ENTRIES
PEANUTS Cafes and DINERs Are Holding a Joe Cool Fair For a Limited Time Only

PEANUTS Cafes and PEANUTS DINERs in Nakameguro, Minami-machida, Yokohama and Kobe are holding a Joe Cool fair from January 15, 2020.

PEANUTS Cafes and DINERs across Japan have held quite a few Snoopy-themed events based on a number of his disguises. In the past, the master of disguise has made an appearance in PEANUTS Cafes and DINERs as Astronaut Snoopy, Flying Ace Snoopy and Beagle Scout Snoopy. For the fourth and final theme of the series, Snoopy will be taking to the scene as his alter-ego Joe Cool. 

Joe Cool is the guy that everyone yearns for. The cool dude who is always hidden behind his signature jet black sunglasses. Although he's got the cool looks, he doesn't seem to have a knack for attracting girls. 

During the fair, there will be hot drinks decorated with illustrations of Joe Cool and a lineup of fair-limited merchandise.

Joe Cool Black Caramel Au Lait
Eat-In: ¥800 *Comes with an original drink coaster/ Take Away: ¥600 (Prices Before Tax)

The jet black caramel café au lait is topped with creamy milk foam and a dusting of black cocoa in the silhouette of Joe Cool. Enjoy the changing appearance of your drink as you take a sip. Even the label on the take out cup is decorated with a Joe Cool fair logo that you won't be able to resist taking a photo of.

Sold At:

PEANUTS Cafe Nakameguro: Eat-In/Take Away

PEANUTS DINER Yokohama: Eat-In/Take Away

PEANUTS DINER Kobe: Eat-In Only

PEANUTS Cafe Kobe: Take Away Only

*Not available at PEANUTS Cafe Snoopy Museum

Original Joe Cool Eco Tote Bag: ¥1,600 (Before Tax)

The popular Snoopy Eco Tote Bag has had a Joe Cool makeover. It has a simple design and is easy to use. The jet black colour makes it appropriate for anyone and it is large enough to fit an A4-size item inside. You can use it as your main bag or fold it up to store in your main bag so you're always ready for that unplanned shopping trip. The merchandise lineup also includes original-design stickers, keyrings bearing a Joe Cool Snoopy design and a stainless steel mug. 

All fair merchandise is available to purchase from the merchandise area of PEANUTS Cafes and PEANUTS DINERs or the online shop. 

The special Joe Cool menu and merchandise is available for a limited time only – perfect for a special trip!

© 2020 Peanuts Worldwide LLC

Information

Joe Cool Fiar – HI SWEETIE!

Running: January 15, – March 15, 2020

PEANUTS Cafe Nakameguro
Address: 2 Chome-16-7 Aobadai, Meguro City, Tokyo
Official Website:  http://www.peanutscafe.jp/

PEANUTS DINER Yokohama  

Address: MARINE & WALK YOKOHAMA Floor 2, 1 Chome−3−1, Shinko, Naka Ward, Yokohama, Kanagawa

Official Website: http://www.peanutsdiner.jp/

PEANUTS Cafe Kobe

Address: PEANUTS HOTEL Floor 1, 1 Chome-22-26 Nakayamatedori, Chuo Ward, Kobe

Official Website: https://www.peanutshotel.jp/

PEANUTS DINER Kobe
Address: PEANUTS HOTEL Floor 3, 1 Chome-22-26 Nakayamatedori, Chuo Ward, Kobe
Official Website: http://www.peanutsdiner.jp/kobe/

PEANUTS Cafe Snoopy Museum
Address: Minami-machida Grandberry Park Park Life Building, 3 Chome-1-1 Tsuruma, Machida, Tokyo

Official Website: http://www.peanutscafe.jp/snoopymuseum-tokyo/

PEANUTS Cafe Online Shop: https://www.peanutscafe.jp/online/

CHAYA 1899 TOKYO To Open in February Serving Specially Made Tea

With a history of 120 years in managing a number of old hotels and restaurants, the Ryumeikan Group will open a new café that sells Japanese desserts, pastries, tea and coffee called CHAYA 1899 TOKYO. The new café is set to open on February 21, 2020 and will embrace the delicious flavours of matcha, hōjicha and Japanese black tea. 

The café will open on floor 1 of the boutique hotel Hotel 1899 Tokyo. The café interior is wood-themed with touches of black for a casual fusion of tradition and modernity. With a space of 120 square metres, the relaxing environment is spacious enough to seat 38.

The original restaurant opened for business in December 2018. Now, CHAYA 1899 TOKYO specialises in Japanese beverages and intends to live its days as the tea shop that customers can visit as they please for a break from everyday life.

One of the most appealing aspects of the new restaurant has to be the menu. There are 10 different drinks available. Each drink is carefully made with high-quality tea leaves that were carefully selected from all over Japan. The tea varieties include matcha, hōjicha, Japanese black tea made from Japanese tea leaves. 

Rich Matcha Latte: ¥600 (After Tax)

Each cup of tea is carefully made, one by one, by the café's Japanese tea specialist. The rich matcha tea is made using traditional tools such as a bamboo whisk. From this, soy milk or milk is added to make the rich matcha latte. From three to six grams, you can choose the strength of your tea by the gram to create a more personalised matcha latte. 

 Other drinks on the menu include the Hōjicha Latte and the brand new inventions the 'Matcha Soda and 'Japanese Black Tea Soda', which will tempt you their exquisite aromas. 

The café even has a counter especially for the tea making and pouring procedures. The water for each drink is boiled in a traditional kettle by the tea specialist, who carefully regulates the water temperature and controls the brewing time according to the tea leaf. 

Matcha Pan:  ¥600 (After Tax)

As expected, the café also sells delicious sweet treats full of matcha goodness to go with your tea. The fresh green Matcha Pan are full of matcha goodness. They are made from 100% Japanese wheat, Hokkaido butter and milk. The mixture is left to rise at a low temperature over a long period of time. Afterwards, matcha from Shizuoka is added to the mix and then baked into muffins. This original and rare bread was developed with Baba FLAT – a café which sells very popular pastries and coffee in Takadanobaba, Tokyo. 

Craving more matcha? Enjoy both matcha and hōjicha at the same time in the form of a healthy snack: the Omatcha Brownie. The brownies are made from gluten-free rice flour and enjoy a moist texture and rich flavour.

Uji matcha, a high-quality and rich matcha used in tea ceremonies, is also used to make rich matcha ice cream (Koicha Gelato) and matcha cakes called "Sakecha Cakes" which combine tea and Japanese sake or brandy with cakes. The varieties of cake include matcha and Japanese sake, hōjicha and Japanese sake and black tea and brandy.

If you're looking for a unique tea experience, look no further than CHAYA 1899 TOKYO.

Information

CHAYA 1899 TOKYO

Address: 6-4-1 Shinbashi, Minato City, Tokyo

Opening Hours: 11:30 – 21:00 (Last Orders: 20:30)

Opens: February 21, 2020

Official Website: https://1899.jp/hotels/tokyo/

Relaxing Café by Day, Neon-Lit Bar by Night: Enjoy a Drink at Jinbōchō CAMPUS in Tokyo

Hello everyone, this is MOSHI MOSHI friend Banako.

Today I'll be introducing you to an interesting place in Jinbōchō, Tokyo that is a café by day and a café & bar at night.

From 9:00 to 17:00 it's known as COFFEE CAMPUS  and from 18:15 to 22:00 it runs as CAMPUS TOY cafe&bar. It first opened its doors approximately 48 years ago, solely operating as a café. Its current owner is an avid American toy and pop culture-lover who started running the café & bar seven years ago.

To get here, it's just a five-minute walk from exit A2 of Jinbōchō Station. The café is located in a quiet place just one turn off Odori Street.

Check out the menu:

The toast here is really good, so I ordered the Egg on Toast. (¥500)

To my surprise, an exceptionally large and thick slice of toast arrived at my table. The egg was evenly cooked and spread on top. I curiously sunk my knife into the toast to reveal the inside.

The egg dripped beautifully like melted cheese. It tasted wonderful with the freshly toasted slice of bread and was very filling. I was in a good mood after my very first bite.

Once the clock strikes 18:15, the café completely transforms into CAMPUS TOY cafe&bar which has a completely different atmosphere. 

One step into the newly-transformed café & bar and…

The calm undertones of the café were replaced with a cute pop-themed atmosphere illuminated by colourful neon lights. Rather than preparing a drinks menu, owner matz takes orders directly from customers, creating drinks catered to each individual customer based on what flavours and colours they like. 

Waiting to see what kind of drink is going to be brought to you is very exciting. Ordering drinks with friends and taking photos of the outcome is the best way to enjoy your time here. 

There are also lots of good spots to take photos for your Instagram so don't hold back! From time to time, there is a small market here where the owner sells small fantasy-themed items.

 Make sure to check out CAMPUSTOY cafe&bar on Instagram for their latest updates and information on opening hours. Whether you want to enjoy a pop-themed American atmosphere or are simply looking for a relaxing spot to chat, this café is for you. Matz the owner is very friendly and is full of interesting stories that you just got to hear.

Information

COFFEE CAMPUS /CAMPUS TOY cafe&bar

Address: Jinbōchō Mansion Floor 1, 2-10, Jinbōchō, Kanda Ward, Chiyoda, Tokyo

Opening Hours

COFFEE CAMPUS: 9:00 ー 17:00

CAMPUSTOY cafe&bar: 18:15 ー 22:00

* Please be careful to not mix up the opening hours of the café and café and bar.

Closed: Saturdays, Sundays and National Holidays

Access: Approx. 5-minute walk from Jimbocho Subway Station exit A2

CAMPUS TOY cafe&bar Instagram:https://instagram.com/campustoy_matz?igshid=2nblcij8r4b7

Enjoy a Luxurious Teatime Treat in The Characteristic Ginza Café 'Tricolore'

Hello!

This is MOSHI MOSHI Friend Banako. 

Today I'll be introducing you to an old café in Ginza called Tricolore, where you can really feel the culture of Ginza. Tricolore has a rich history dating back to 1936. It is just a three-minute walk from exit A3 of Ginza station just off the main street. 

From the outside, it looks like a gorgeous and luxurious hotel. 

Considering its old, historic background, entering the café through a set of revolving doors was not expected. Once you enter, you will notice the grand showcase full of cakes beautifully arranged before your eyes. The neat pattern of brick walls filled the interior with character. Velvet chairs, sofas and trees created a beautiful atmosphere. 

The smoking seats are located on floor one and floor two, which opens from 11:30, is for non-smoking. The entire interior was beautiful.

I settled at a table and soon ordered the Cake Set for ¥1,520.

From the selection of cakes, I chose the apple pie and for my drink, I ordered an iced cafe au lait. The drink prices are slightly cheaper before 11:30, making it more cost-effective to order a drink separately and not as part of a set. After 11:30, you can pay a little extra to order a different drink. 

The thin and crispy pie pastry was stuffed with apples. Each delicious bite was filled with warmth. The cream was moderately sweet and perfectly balanced out sweet and tangy apple filling.

When you order a cafe au lait, you can choose your ratio of coffee to milk and have it poured for you at your table. Being able to choose the strength of your coffee to this extent is very important to all coffee-lovers. Watching the drink being beautifully poured before your eyes fills you with a sense of luxury.

The waiters and waitresses are always smiling and are very polite when serving customers. This is a very comfy place to enjoy breakfast or lunch. If you are looking for a spot to relax, this is definitely a good shout!

Information

Tricolore Main Shop

Address: 5-9-17 Ginza, Chuo City, Tokyo

Opening Hours: Monday – Friday: 08:00 – 20:30 (Last Orders: 20:00)

Weekends and National Holidays: 08:00 – 21:30 (Last Orders:21:00)

No regular holidays

Phone Number: 03- 3571-1811

Access: 3-minute walk from exit A3 of Toei Subway Ginza Station

Official Website: http://www.tricolore.co.jp/ginza_trico/info/info.html

5 Must-Eat Succulent Strawberry Desserts in Kyoto That Are Simply Kawaii

Winter is here, which means that the season of strawberries has finally fallen upon Japan. Today we are joined by Instagrammer Tiara, who enjoys posting their adventures around Japan's Kansai region to try out all of the sweets and desserts. We are taking a look at must-visit locations in Kyoto for a taste of their tempting strawberry delights.

LITT UP.KYOTO in Gion-Shijō

At LITT UP.KYOTO, their "ichigoame" lets you enjoy strawberries in their original cute form.

They are coated in sweet strawberry candy and served on sticks in cups reminiscent of something from a Japanese festival. Part of their allure is how perfect they are as a tasty treat for walking around with. There's even popping candy attached to the strawberries for an even sweeter textural treat.

▼LITT UP.KYOTO Gion

Address: 533 Gionmachi Minamigawa, Higashiyama Ward, Kyoto

Opening Hours: 10:00-18:00

Official Instagram: https://www.instagram.com/litt_up_kyoto/

Kissa Zou in Imadegawa

The "Kisetsu no Babaroa" (Seasonal Baravois) at Kissa Zou has an springy texture and sits in a sweet and sour strawberry sauce.

I recommend ordering one of the separate elephant cookies to place on top too to make this an even cuter dessert.

▼Kissa Zou

Address: 440-3 Santeicho, Kamigyo, Kyoto

Opening Hours: 9:00-18:00 (Last Orders 17:00)

No Fixed Holidays

Official Instagram: https://www.instagram.com/kissa_zou/

Chounohane in Fushimi

At Chounohane they are serving strawberry barquettes as well as mini versions of them. The dessert itself is of course beautiful, but is made even more so by the antique plate♡

▼Chounohane

Address: 791 Nishishujakucho, Fushimi Ward, Kyoto, Kyoto Prefecture

Opening Hours: [Tues/Sat/Sun] Shop & Cafe 11:00-17:00 / [Fri] Shop Only 11:00-17:00

Official Instagram: https://www.instagram.com/chounohane/

Utanekodo in Kyoto Shiyakusho-mae

Utanekodo was renovated from a 100+ year old building and has its own cat cafe. The cafe space is located on the first floor.

Their "Nyanko Strawberry Milk" speaks for itself, topped with adorable kitty ice cream and delicious with its subtly sweet taste.

▼Utanekodo

Address: 155-4 Tachibanayanagicho, Nakagyo Ward, Kyoto, Kyoto Prefecture

Opening Hours: 13:00-20:00 (Last Orders 19:00)

No Fixed Holidays

Official Website: http://utanekodo.com/

MASHOLA in Kyoto Shiyakusho-mae

Finally we have the "Strawberry Tiramisu Cube Cake" served at MASHOLA, a Korean-style cafe. This cake is made with refreshing homemade tiramisu cream, delightful sponge, and is packed full of sweet and sour strawberries which complement the entire thing.

▼MASHOLA

Address: 1-A MOVIX, 406 Sakuranocho, Nakagyo Ward, Kyoto, Kyoto Prefecture

Opening Hours: 10:00-20:00

Official Website: https://mashola.business.site/

All of these cafes are wonderful, so if you're in Kyoto for the strawberry season, be sure to visit as many as you can.

Tiara has plenty of other recommendations over on their Instagram page, so if you're a sweet tooth looking for something sweet to indulge in around the Kansai area, be sure to give them a follow.

Text & Photos: @happy_pinkrose_tiara

Translation: Joshua Kitosi-Isanga

Irresistible Fruit Sandwich Shop "Futsu ni Fruits" Opens in Osaka

Popular Tokyo fruit sandwich shop "Futsu ni Fruits" has opened a branch in Osaka called "Futsu ni Fruits Tosabori Parlor". With the help of Kansai's expert dessert Instagrammer Tiara, we'll be taking a closer look at the shop's irresistible menu.

Futsu ni Fruits is a sister branch of Omotesando's popular café & bakery "Bread, Espresso &,". Futsu ni Fruits at Tosabori Parlor in Osaka sells takeout sandwiches on floor 1 and has an eat-in café space on floor 2. 

Fruit Sandwich

 The café menu varies according to the time of day. There's a toast menu in the morning which sells toast with various fruit toppings. Futsu ni Fruits' classic Fruit Sandwiches are available from lunchtime and onwards. The rich whipped cream embraces the flavour of the fruit filling perfectly, leaving a refreshing aftertaste. 

The teatime menu is served from 3 pm which is your chance to try the Tosabori Parlor-limited Purin à la mode, parfaits and much more. 

Seasonal Fruits Drink


Purin à la Mode, Strawberry Milk and Coffee Milk

The Tosabori Parlor-limited purin à la mode is a luxurious mountain of delicious fruit and purin. 

If you're curious to try a Japanese fruit sandwich then Futsu ni Fruits is guaranteed to give you an enjoyable experience. 

If you're a dessert-lover in Japan then you just have to check out Tiara's Instagram which is a library of the most delicious desserts in the Kansai region. 

Article Contents and Photos by: @happy_pinkrose_tiara

*The information on the desserts mentioned in this article are subject to change at any time. For the latest updates, please refer to the links provided in this article.

Information

Futsu ni Fruits Tosabori Parlor

Opening Hours: 10:00 – 19:00
(Floor 1 Takeout: 10:00 – 16:00)
(Morning Menu: From 10:00/Lunch Menu: From 12:00/ Teatime Menu From 15:00)

Address:  1 Chome-1-30 Tosabori, Nishi Ward, Osaka

Official Website: https://bread-espresso.jp/

Harajuku's Korilakkuma Cafe: another me in the mirror | Food Review

"Korilakkuma Cafe: another me in the mirror" is set to open in Japan's hub of kawaii culture Harajuku on December 21 where it will run until March 22 next year.

MOSHI MOSHI NIPPON received early access to the cafe, so we went together with Ruki from Spain.

The cafe incorporates "interactive tabletop projection mapping" technology developed by Sony, which allows customers to enjoy their meals while playing together with the characters as they walk around their plates and tables.

So what exactly does this look like…?

Korilakkuma Cafe: another me in the mirror is located along Takeshita Street in Harajuku. Enter Takeshita Street and walk just a little bit to find HARAJUKU AR BOX. The entrance is pictured above.

The cafe operates on a "pair seating" system, making it the perfect spot to go with your best friend or special someone♡

The theme of the cafe is "another me in the mirror," which sees Korilakkuma meeting another Korilakkuma inside of a mirror. When seated at your pair table, you'll notice all of the Korilakkuma artwork adorning the cafe.

When we sat down, the staff came and gave us a dolomite coasterーa gift for all customers who visit the cafe.

When you place the coasters down on the table, that's when the fun begins. Trace your finger around the table to play with Korilakkuma and company.

Here is Ruki having Korilakkuma move around.

When we had finished playing, the appetisers from our course menu arrived. It costs ¥2,500 per person, and you both have to order when ordering this course menu. You can pick from clam chowder or minestrone.

If you thought that was it for the projection mapping, think again! The fun was only just beginning, as a new display came on the table when the plates went down.

Ruki was completely enchanted by the sparkling food. It makes you feel like you're inside of a picture book♡

The salad was Caesar, and the minestrone was packed full of veg and ingredients, making it nice and filling.

The next dish that was brought was the main. You pick one each of a main dish and dessert and share between two people.

We ordered the "Omurice – Let's Draw Together" (in Japanese: 一緒におえかきオムライス). Korilakkuma was wrapped up completely in an omelette blanket. The projection mapping comes on when you set this plate down too.

Korilakkuma draws around the plate, and we got to join in too by decorating Korilakkuma's blanket with drawings of Rilakkuma and Kiiroitori in ketchup.

The mapping helps you with drawing by projecting an outline you can trace. Ruki did hers really well!

As we forked into the omurice we found a cheeseburger underneath! The combination of the juicy cheese hamburger with the soft egg was to die for, and it becomes even more delicious and smooth when you pour over the cream sauce.

Last up was dessert. We got the "Spell-Cast Pancakes" (in Japanese: パンケーキに魔法をかけて). The projection mapping cast a mirror onto the pancakes. Even more animations happen when you wave the brush you're given on the table.

The fluffy pancakes are topped with a hearty serving of cream. You can enjoy them as they are, but they're delicious if you top them with the fruits, iced cream and nuts scattered around the plate too!

Twin Korilakkuma Strawberry Milk – ¥990

Korilakkuma Cafe au Lait – ¥890 (Served Hot Only)

As well as the course menu, there are also special drinks you can order separately which come with another free and exclusive coaster.

Sliding Mirror (Pink or Purple) – ¥1,200 Each

Acrylic Key Ring (4 Designs/Chosen Randomly) – ¥500 Each

Korilakkuma fans can expect to sift through a whole range of cafe-exclusive merchandise too, so be sure to check out what they've got in stock when you visit.

Korilakkuma Cafe: another me in the mirror is Harajuku's hottest new spot where you can enter the kawaii world of Korilakkuma. Pull up a seat and enjoy and interactive meal experience.

©2019 San-X Co., Ltd. All Rights Reserved.

Information

Korilakkuma Cafe: another me in the mirror

Running: December 21, 2019 – March 22, 2020 (Not running December 30, 2019 to January 3, 2020)

Location: HARAJUKU AR BOX -table projection mapping cafe- (4-28-28 Jingumae, Shibuya, Tokyo)

Grand Opening: December 9, 2019 at 16:00

Reservations: Now Open

*This cafe serves course menus for two people to share only

*Drinks ordered separately

Table Projection Mapping Seats: ¥2,500 per person (Before Tax)

*Reservations for two people only
*Course menu charged separately

Official Website: https://korilakkumacafe.jp/

Laforet Harajuku's 2020 Fukubukuro Lucky Bags Are Not to be Missed

Laforet Harajuku has finally dropped details on its 2020 fukubukuro. Fukubukuro is a New Year custom in Japan where stores make up grab bags full of random items for people to purchase at a discounted price. Around 50 stores in Laforet are set to participate, with pre-orders now running until December 31, 2019.

As always, the line-up this year is diverse, from the unique fukubukuro you can actually look inside to see what they have—which is a popular one every year—to the Laforet Gentei Fukubukuro which contains items exclusive to Laforet Harajuku, and more.

Those who pre-order a lucky bag will receive one of two things: either a coupon to get a random free item at one of the eateries at the GOOD MEAL MARKET on the second floor, or a ¥200 discount voucher to spend at Laforet Harajuku.

On New Year's Day and January 2, a taiko performance by Yushima Tenjin Shiraume Taiko will take place at the first floor entrance to drum in the New Year.

Around 70 stores in the shopping complex will also sell items at a special price between January 1 and 7 to celebrate 2020. Select stores will be handing out bag hooks in collaboration with the popular South Korean boy band SEVENTEEN.

The "Look and Choose" Fukubukuro

OLIVE des OLIVE (Floor 5F) – Set of up to 6 items priced at ¥7,700 (Tax Included) (Original Price: ¥25,000)

Cosme Kitchen (Floor 1.5F) – Set of 7 items priced at ¥5,500 (Tax Included) (Original Price: ¥14,000)

Laforet Harajuku Exclusives-Filled Fukubukuro

POU DOU DOU (Floor 4F) – Set of 7 items priced at ¥13,200 (Tax Included) (Original Price: ¥56,000)

la belle Etude (Floor B0.5F) – Set of 6 items priced at ¥11,000 (Tax Included) (Original Price: ¥70,000~¥80,000)

Other Fukubukuro

Ank Rouge (Floor 4F) – Set of 6 items priced at ¥16,500 (Tax Included) (Original Price: ¥50,000)

jouetie (Floor 4F) – Set of 5 items priced at ¥11,000 (Tax Included) (Original Price: ¥39,600)

This is just a small look at just some of the fukubukuro set to be sold, there are so many more to get your hands on. Start your 2020 year with some delicious discounts from Laforet Harajuku.

*Contents subject to change without notice

*Listed photos are select look only – more fukubukuro to be sold

A.T.A.D: Harajuku's New adidas Store to Open in Collaboration With atmos

adidas Japan is collaborating with atmos—Tokyo's streetwear and sneaker focused boutique—to open a new shop called A.T.A.D in Harajuku on December 20, 2019.

adidas Japan has collaborated with countless artists to date, and this will be its first with atmos, together with whom it will showcase streetwear sneakers the likes of which people have never seen.

A carefully selected line-up of adidas' newest shoes will be displayed at the counter where customers order their shoes like they would a drink at a bar. They can pick the model, colour, and size, and can try them on before making a purchase. The current designs, logos and other items in the store were created by YAR, a creative studio spearheaded by Japanese graphic artist YOSHIROTTEN.

The store also plans to sell items exclusive to A.T.A.D in collaboration with Japanese artists. More information will be posted on the store's official Instagram page.

Information

A.T.A.D

Grand Opening: December 20, 2019

Address: Majima Bldg. 1F, 4-29-1 Jingumae, Shibuya, Tokyo
Opening Hours: 11:00-20:00

Official Instagram: @a.t.a.d_tokyo

PLAYFUL KIRBY: Laforet Harajuku's Newest Pop-Up Shop Offers Exclusives For Fans of Nintendo's Popular Character

Fans of Kirby who are in Japan for the holiday season will be delighted to hear that the Kirby-themed pop-up shop "PLAYFUL KIRBY" finally opened at Laforet Harajuku today and will run until Boxing Day.

When playing Super Smash Bros. there's no other character I'll pick but Kirby. If you love Kirby as much as I do, then you'll be waiting no time at all to head to PLAYFUL KIRBY like I did after hearing that they're selling a whole range of original and exclusive merchandise the likes of which Nintendo players have never seen before.

The store itself is located on the second floor of Laforet Harajuku in Harajuku, Tokyo. You'll spot it instantly with the Kirby-pink text wrapped around the walls of the entrance.

Kirby's pink colour fills the entire shop floor. Upon entering you'll spot all the different items on offer, including fashion items, as well as various photo spots featuring Kirby's cute face.

There's even a tiny Kirby door so that he can get into the shop! Be sure to find it if you visit.

The original version of this pop-up shop first appeared two years ago, and enjoyed visits not only from game fans, both kids and adults who had never heard of Kirby before, or who had heard of him but never played the games. The fashion line-up was a result of fan demand to enjoy Kirby in a variety of different ways. A visit to PLAYFUL KIRBY is like being inhaled into his Dream Land.

PLAYFUL KIRBY is centred on two collaborations. This includes a teaming-up with popular illustrator Shogo Sekine. When this pop-up shop was conceived, Shogo Sekine was at the top of the list for collaborations with the staff in charge. The staff agreed that mixing the worlds of Kirby and Sekine together would give rise to some seriously wonderful results. After much internal discussion and talks with Sekine, a whole line of merchandise was created.

The items feature Sekine's stylised typography, symbols, shapes and so on. Their subtle design means they can be used as both everyday items and nerdy fan items. They're stylish while retaining the cute aspects of Kirby.

The following items are the number one most recommended pieces of merchandise to pick up as chosen by the PLAYFUL KIRBY staff.

Tote Bags Ver. 2 PINK STRIPE – ¥2,800

These tote bags feature gradations of Kirby pinks. This design is also featured on a t-shirt you can pick up too. They're both made with high quality fabrics.

Sacoche Pouches (2 Designs) – ¥2,300 Each

The "Copy" written on the sacoche pouches refers to Kirby's ability to copy his opponents' abilities and appearance. This design is also included on a variety of other merchandise pieces like a smartphone case and more.

Blanket – ¥3,800

At first glance, this blanket just looks like a stylish blanket with a floral print, but if you look closely you'll spot Kirby blended in with the design. A perfect choice for the coming winter season.

Plush Toy – ¥2,300

Kirby had intended to put on his stylish t-shirt ready to go out, but he ended up looking just adorable.

The store's second collaboration is with Converse Stars, also showcasing an assortment of cute and fun items.

Cap – ¥5,800 / Long T-Shirt (Medium/Large) – ¥7,800 Each

Show off your love of Kirby with some simple but stylish unisex Kirby attire.

Hand Towel – ¥1,200

Another must-get item is this hand towel which keeps the roundness of Kirby's head. Use at home or take it out with you!

Stickers (3 Designs) – ¥500 Each

Get your hands on these Laforet Harajuku-exclusive stickers with designs so cute you'll want to collect them all!

I spoke with the person in charge of the pop-up shop about the future of Kirby outside of the video game, and they told me that they plan to have more pop-up shops like this and open the opportunity for people to enjoy Kirby in a range of different ways while playing his games. For someone like me, who likes Kirby more than anything, I can't wait to enjoy even more Kirby in the future.

PLAYFUL KIRBY is open until December 26, 2019, so if you're in Tokyo until then, make sure to pop on over to Laforet Harajuku.

▶︎Win Limited Edition Stickers

MOSHI MOSHI NIPPON is holding a competition on our official Instagram, Twitter and Weibo pages for a chance to win limited edition stickers from PLAYFUL KIRBY.

How to Apply: Follow us on social media and share/retweet our post about the competition for a chance to win 1 special sticker from PLAYFUL KIRBY. (Designs are chosen randomly.)

These are limited edition stickers exclusive to PLAYFUL KIRBY, so don't miss your chance to get one!

© Nintendo / HAL Laboratory, Inc.

Information

PLAYFUL KIRBY

Running: December 16, 2019 – December 26, 2019

Location: Laforet Harajuku's 2nd Floor CONTAINER (1-11-6 Jingumae, Shibuya, Tokyo)

Opening Hours: 11:00-21:00 (Until 19:00 on December 26, 2019)

PLAYFUL KIRBY Official Website: http://playfulkirby.jp

Laforet Harajuku Official Website: https://www.laforet.ne.jp/

Kimono IN LAFORET 2020: Kimono Brands Galore to Gather at Event in Harajuku

Laforet Harajuku has announced that its next "Kimono IN LAFORET" kimono and furisode pop-up shop will run from January 4 to 22 next year.

Iroca Kimono "Leopard Gecko" – ¥63,800 (Tax Included) / Half-Width Obi – ¥26,400 (Tax Included)

Pure Silk Butterfly Black Cloth Furisode – ¥132,000 (Tax Included)

Light Blue Dove Print Polyester Furisode – ¥128,150 (Tax Included)

Eight brands will line the shelves of the annual pop-up shop, with kimono, furisode, accessories and more available for purchase, including new items.

Model and actress Shen Tanaka features as the star of the main visual for Kimono IN LAFORET 2020, mixing colourful kimono with western clothing to create a unique look. Marie Higuchi, who was the stylist for the visual, has also released some dress advice for those who love kimono or those who are beginners and newcomers to the scene.

Mixing kimono with the kind of regular clothing that screams you

Marie Higuchi is a stylist who also writes columns in Nylon Japan and Sozen. Her advice can be used by both beginners and experts alike: by mixing kimono with some of your own clothing, you can simply and easily create a stylish look that's you. This makes for a perfect outfit for a special occasion.

Styling Point

This outfit combines fishnet tights with sandals that have thick metallic soles to create an edgy kimono style. Using thick sandals makes them really stand out when wearing kimono, so you can easily incorporate them with any kimono you wear.

Items Used

Kimono/Obi/Other: iroca

Haneri: C.H.O.K.O

Obi Clip: conoco

Styling Point

The gorgeous flower head dress brings a strikingly elegant touch to the overall look of this outfit. Whether used with kimono or in your regular day-to-day outfits, it's sure to bloom beauty with whatever style you go with.

Items Used

Kimono: MIKI SAKURA

Head Dress: Atelier Senka

One Piece Shirt: Ank Rouge (Laforet Harajuku Floor 4F)

Styling Point

Coloured turtlenecks are in right now for the current season in Japan, and this kimono look incorporates one underneath the kimono. The mix of loose socks and thick-sole sneakers really adds to the flavour of this style, even more so with the addition of personal items like the vinyl record headband and lip clutch bag which make it unique.

Items Used

Kimono/Obi: Tamao Shigemune

Headband/Clutch Bag: SINZ (Laforet Harajuku Floor B0.5F)

Other: Personal items

If you're looking for kimono and furisode when visiting Japan in January, be sure to hit up Kimono IN LAFORET at Laforet Harajuku, located in Tokyo's fashion central: Harajuku.

WITH HARAJUKU: Shiseido to Open Beauty Parlour, Hair & Makeup Academy and More in Harajuku's New Shopping Complex

Shiseido has announced that it will open three new facilities in WITH HARAJUKU—a shopping complex currently in development by NTT URBAN DEVELOPMENT CORPORATION in front of Harajuku Stationーin April 2020. This includes the new beauty parlour Beauty Square, the hair & makeup academy and studio SABFA*, and the restaurant and lounge SHISEIDO PARLOUR THE HARAJUKU managed by Shiseido Parlour.

*SABFA is a school managed by Shiseido for training professional hair and makeup artists

Beauty Square will be located in the first floor as a place to discover beauty, have fun, and share experiences. As well as selling cosmetics, the facility will offer various beauty experiences using digital technology, and there will be a hair and makeup salon where customers can receive high quality service for a short period of time. By combining real experience with digital tech, Beauty Square hopes to bring in people of all ages and backgrounds from inside and outside Japan so that they can discover the fun of beauty and unlock their inner charm.

SABFA on the second floor will be home to an all-new lecture and training facility as well as a photo studio. It will train educate and support the next generation of hair and makeup artists who will challenge the ideas of beauty and revolutionise the industry.

SHISEIDO PARLOUR THE HARAJUKU is on the eighth floor where customers will be able to dine on French cuisine and indulge in line-up of wines carefully chosen by sommeliers. The restaurant overlooks Meiji Jingu, and its interior was designed by Kazuya Ura who designed the Twilight Express Mizukaze, a multiple unit sleeping-car excursion train operated by West Japan Railway Company.

Be sure to visit WITH HARAJUKU when it opens in April next year.

Information

WITH HARAJUKU

Grand Opening: April 2020

Address: 1-14-30 Jingumae, Shibuya, Tokyo