These co-ords are for the everyday working girl who can also dress up nice and easily into a post-work, after-five outfit. Complete a look from your casual office-wear by adding some small accessories and head out to enjoy your date or girls get-together.
ONTIME
A mannish look with a clean white one piece and pants
A clean casual office outfit is life.
Opening the front button of the white one piece creates style like a long shirt.
When combined with coloured pants, everything comes together, and you look handsome.
1. Hair back, manful
Looking natural from all angles
2. Pin heels, a girl's icon
3. A leather bag brings to bring it all together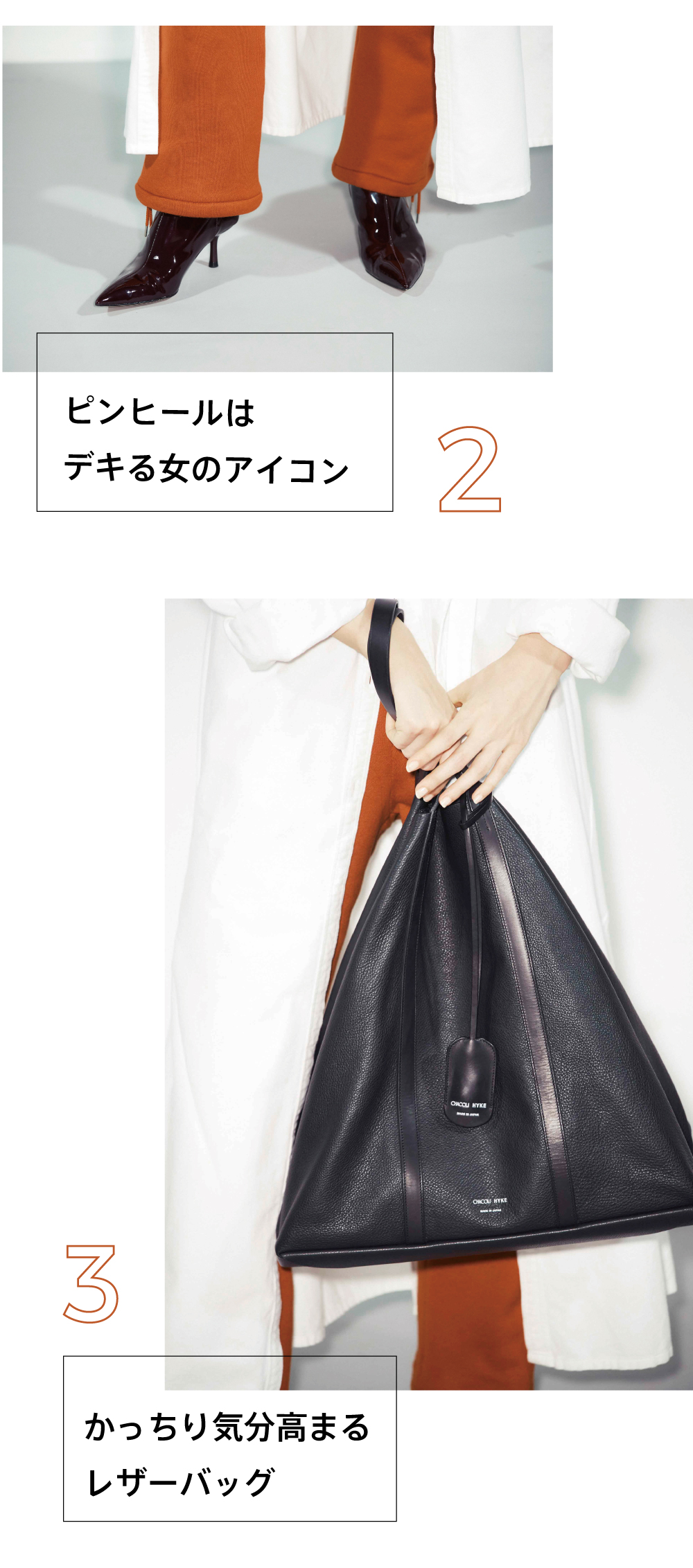 Always have yourself braced during ON TIME. Back straight, face dignified. Roll up the sleeves of your one piece just a little. Have your hair simple through and through with just one knot so it maintains the freshness of your white one piece look.
OFFTIME
Readying the concealed accessories in your bag for one's best outfit
Preparing those after-five accessories,
those that don't make even your work bag bulky.
Clock out of work and head to the powder room!
Transform entirely with these 3 stylish accessories while still in your ON TIME clothes
1: Hypnotize with swaying hooped earrings
2:Add class with a checkered scarf
Scarves are an upcoming fashion accessory gaining more and more attention. The milk tea-coloured checkered design is elegant and refined and reflects well with the ON TIME one piece. Choosing larger earrings naturally makes your face look smaller too.
Earring ¥4,500 (LATIA) / Scarf (stylist's own belonging)
Other Styling: Tying a scarf around one knot is good!
Scarves have many different uses. Highlight your face by tying one in your hair and around a single hair knot. Show just a little of the design, like a floral pattern, and make a point to combine with a simple outfit for perfect results.
Scarf ¥3,200 (Santa Monica Harajuku)
3:A barrette perfect for the bustling streets
A large barrette is after-five's best friend. Using a marble type plastic barrette will make your hairstyle look mature. If you braid your hair almost to the end and add the barrette and decorative pins your hair will look on-point and stylish all the way around.
Barrette (stylist's own belonging)
Source:https://asbs.jp/archives/33685