Babyraids Japan Member Rikako Ōya's #OOTD (August 2018)
Rikako "Ricopin" Oya is the leader of style in Babyraids Japan, a five-member idol unit. This is her featured article series in which she delivers the latest fashion from Japan.
The theme for the 7th entry to this series is 'Vintage Style,' where Ricopin is combining second hand clothing, classic items and more to give us a more mature version of herself than usual. She's also joined by Yuri Suganuma this month in her personal co-ord section.
Layered one piece heightens gorgeousness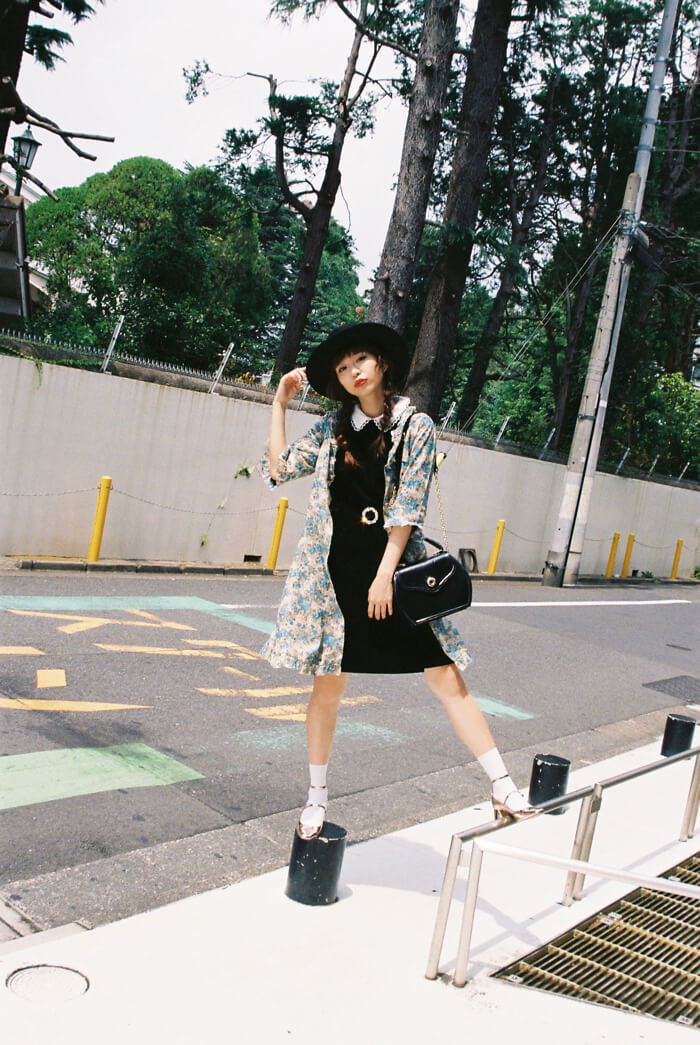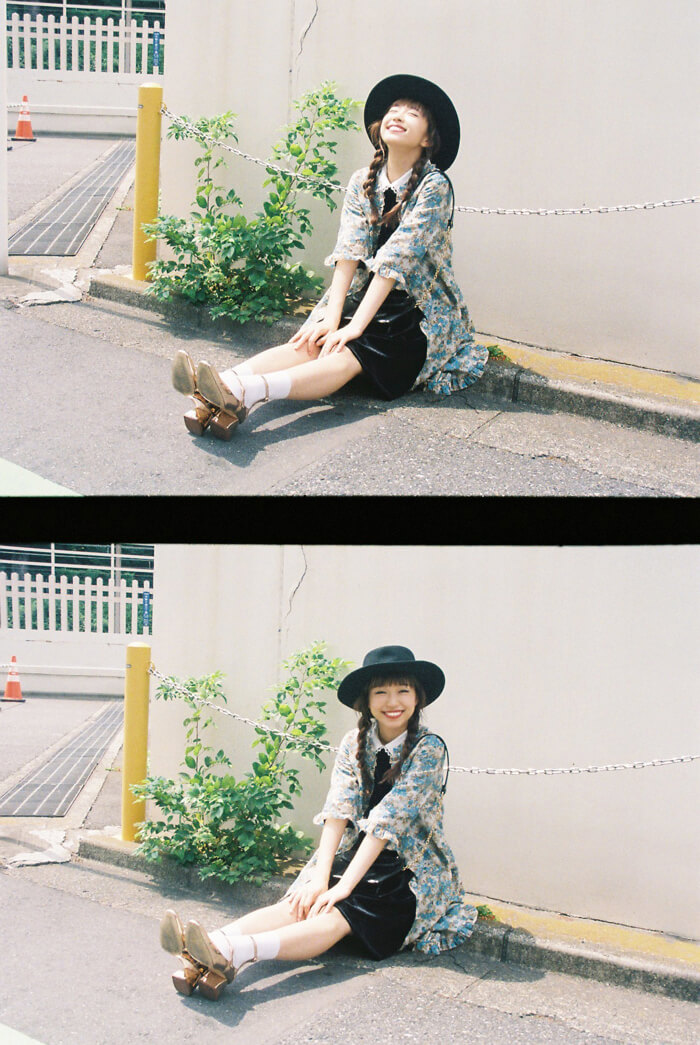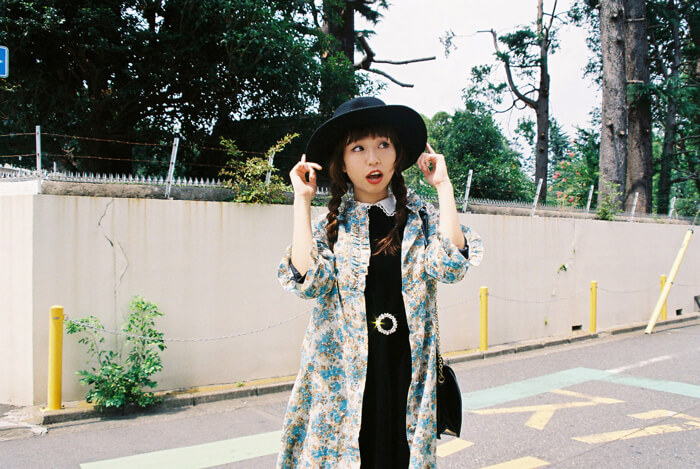 Ricopin has layered a vintage floral one piece with a chic velour one piece. Adding a floral design brings out the true colour of the main single tone one piece.
Aymmy in the batty girls: Velour One Piece ¥25,000 / MARTE: Vintage Floral One Piece ¥12,000
*Everything else are personal items.
A vintage dress for a special occasion
This bold and confident one piece screams vintage design. Adding the low tone bag and pumps together with the belt eliminates any sense of childlikeness to bring out the inner lady.
MARTE: One Piece ¥13,000, Pumps ¥12,000, Original Earrings ¥6,800 / Fi.n.t Laforet Harajuku: Bag ¥9,200 (an another angelus)
*Everything else are personal items.
Matching Set + Scarf = Best Combo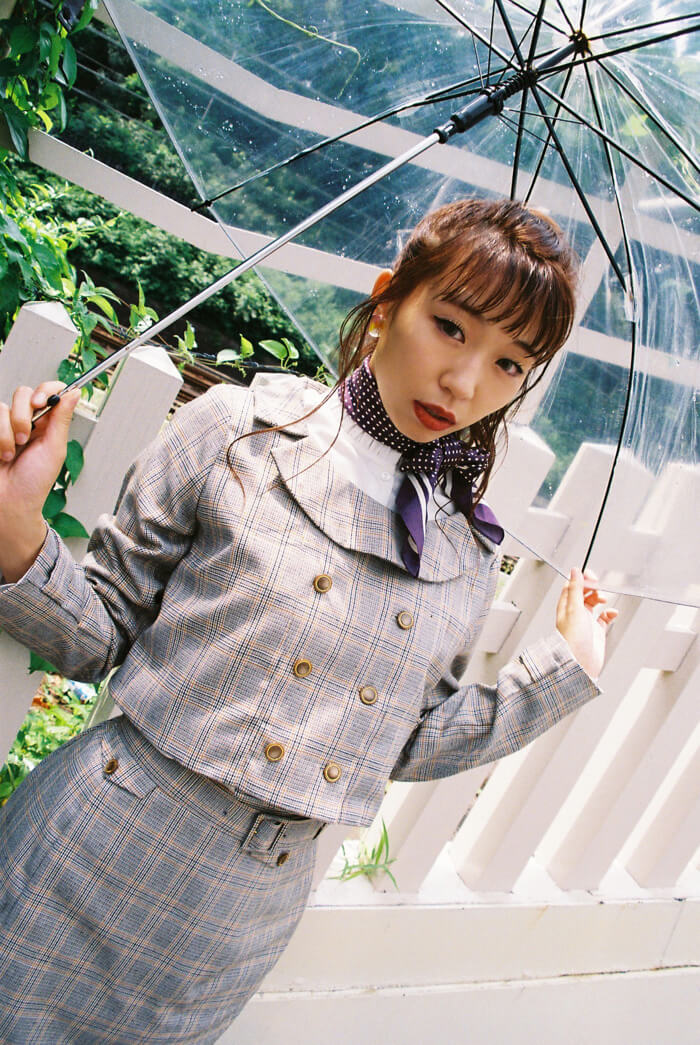 This sophisticated Glen checkered matching outfit is the kind of thing you imagine being worn at the cinema in the olden days. The vintage scarf around her neck serves that classic mood. The red socks and black shoes also add a freshness.
Fi.n.t Laforet Harajuku (an another angelus): Checkered Jacket ¥9,400, Glen Checkered Skirt ¥7,800
Ricopin's Thoughts
I normally wear colourful and casual outfits, so challenging myself to a classical and mature style felt really fresh! It felt like an adventure for me, but even the staff said "It suits you!" so clothes like this will be nice for autumn too♡ Out of them all I really liked the checkered set, so much that I want to add them to my wardrobe. You can co-ordinate them separately too. They seem easy to pull off. The theme was vintage so I wore second hand clothes too, but I felt a bit of contrivance even with the one piece. Combining the pink one piece with green pumps really suited my tastes! I often go to second hand stores in my own time, so I want to try looking for some more beautiful vintage items. This was a really fun photo shoot, I felt like I became the star of a movie.
Cooperating Stores
MARTE  (03-3797-3123), Fi.n.t Laforet Harajuku (03-5843-0395), Aymmy in the batty girls (03-3470-0140)
Check out Ricopin's own personal style!
In this section, Style Leader Ricopin shows us what clothes she's into right now. This month she's joined by model Yuri Suganuma in a dream collaboration. Their theme is 'Vivid Colour.' They did all the styling themselves.
Going on a date with Yuri Suganuma in vivid coloured co-ords♡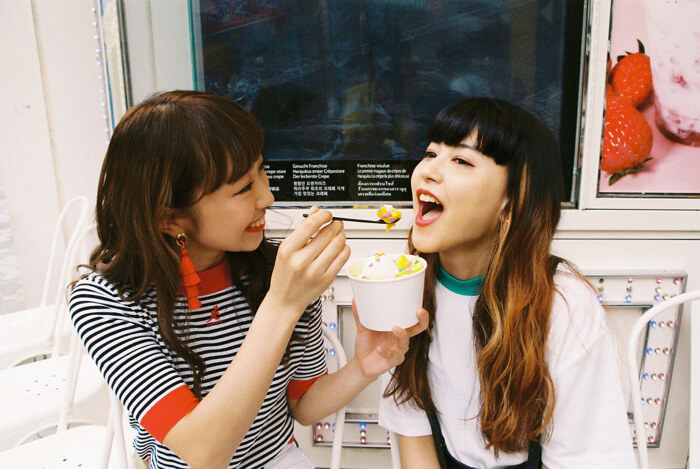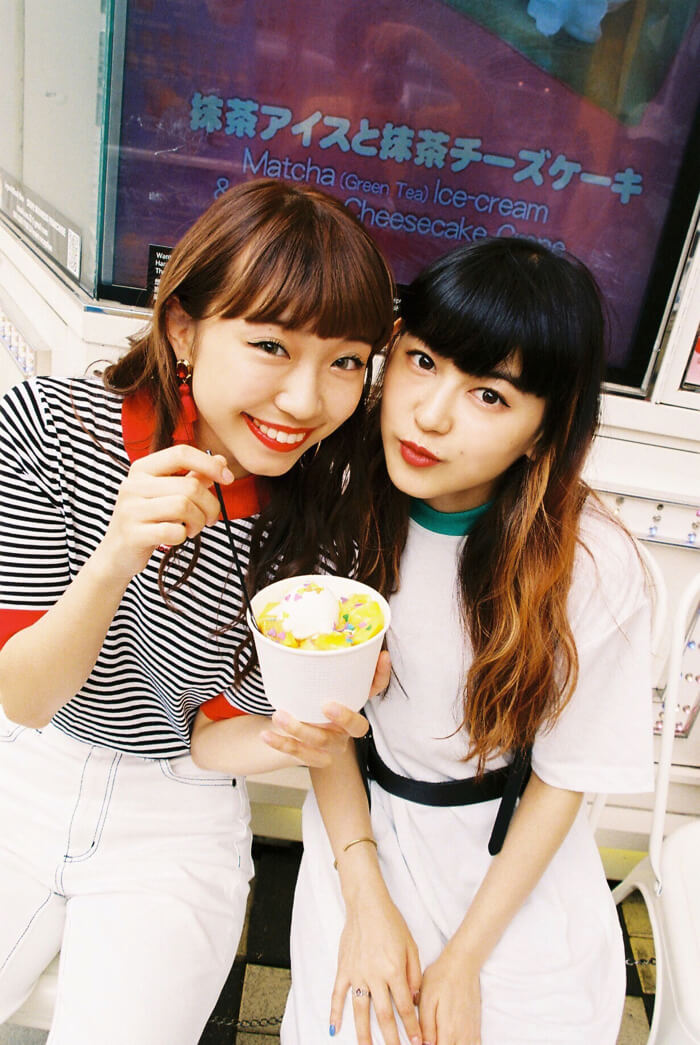 Rikako Ōya Interview
"It was a dream photoshoot to have Yurippa as a guest. I've loved her for a long time and have always sent her love calls♡ I see Yurippa as someone who wears vivid colours, so I decided to make that the theme. After being lost on what colours to pick for the outfit I set my eyes on getting entire outfit that was vivid and under ¥10,000! The white denim was from GU so it was around ¥2,400, the top was jouetie so around ¥3,000, and the shoes were given to me, so this was a super cheap co-ord. The colours aren't too in-your-face. I also added red, my favourite colour. Yurippa uses white as a base colour from time to time too, so I'm glad we were able to link together nicely."
Yuri Suganuma Interview
"When you say 'vivid co-ord' it has the impression that it's flashy and difficult to get the colours right, but this time I was particiular with layering a long t-shirt with colourful bottoms that peek out. By doing that the colours aren't over-emphasised. It adds an accent that looks cute! This long t-shirt is also a collaboration with STRIPE CLUB. It's something I designed, but one thing to point out is the neck colour from the ringer t-shirt which is the base. And so that it doesn't look plain I balanced the outfit with straps. This is the second time I have met with Ricopin, but I'm so happy that she called me for this shoot! We got excited about a show we're watching, so I want more time to talk with her again."
■Information
Rikako Ōya (Babyraids Japan)
Won the grand prix in the 2009 LOVE Berry auditions. Currently signed to LesPros Entertainment. Active as a member of idol group "Babyraids Japan." Known as "Ricopin" by her fans, she is in charge of talking for the group. Her trademark is her twin-tail hairstyle. She has an interest in playing the guitar, DJing, Harajuku Fashion and film cameras. She appears on the radio show "Babyraids Japan Oya & Takami no Shaberi Suta!".
Babyraids Japan Official Fan Club Website:http://babyraids.lespros.co.jp/
Twitter:@lespros_ricopin
Instagram:@rikako_ooya
Writer/Stylist: Manami Ishii
Photographer: Asami Nobuoka
Translator: Joshua Kitosi-Isanga
TALENT PROFILE
Yuri Suganuma
Yuri Suganuma is a model with a high fashion sense that has been picked up by various magazines. She receives much love and support from girls of the same generation as her to whom she is known by her nickname "Yurippa." She has a huge influence across her social media. Recently, she has stepped into other fields outside of modelling, such as appearing in TV shoots and in music videos. She is skilled in make-up and involved in the development of cosmetics.