Whether it's adding a white shirt to denim or something else as simple, basic styles are my weapon of choice. And certain impacting accessories can sometimes perk up a lonely-looking co-ord. Common items are fine with the clothes you choose. So which accessories will give that change of vibe?
Wear piercings and earrings big
Mild colours evoke that girly essence
Larger accessories are the trend right now. I recommend those with an antique feel to them too. Piercings that sway make their colours stand out more and are perfect for that after-five date. Classic pearls are surefire so be sure to check some out.
Left: Earring ¥3,600 (YURI SUGANUMA×Liquem) / Bottom Left: Earring ¥2,300 (Liquem) / Top Middle: Piercing ¥1,600 (SMELLY) / Middle: Piercing ¥1,600 (SMELLY) / Lower Middle: Piercing ¥3,500 (Santa Monica Harajuku) / Right: Earring ¥3,000 (Liquem)
Flashy & edgy coloured scarves? Absolutely!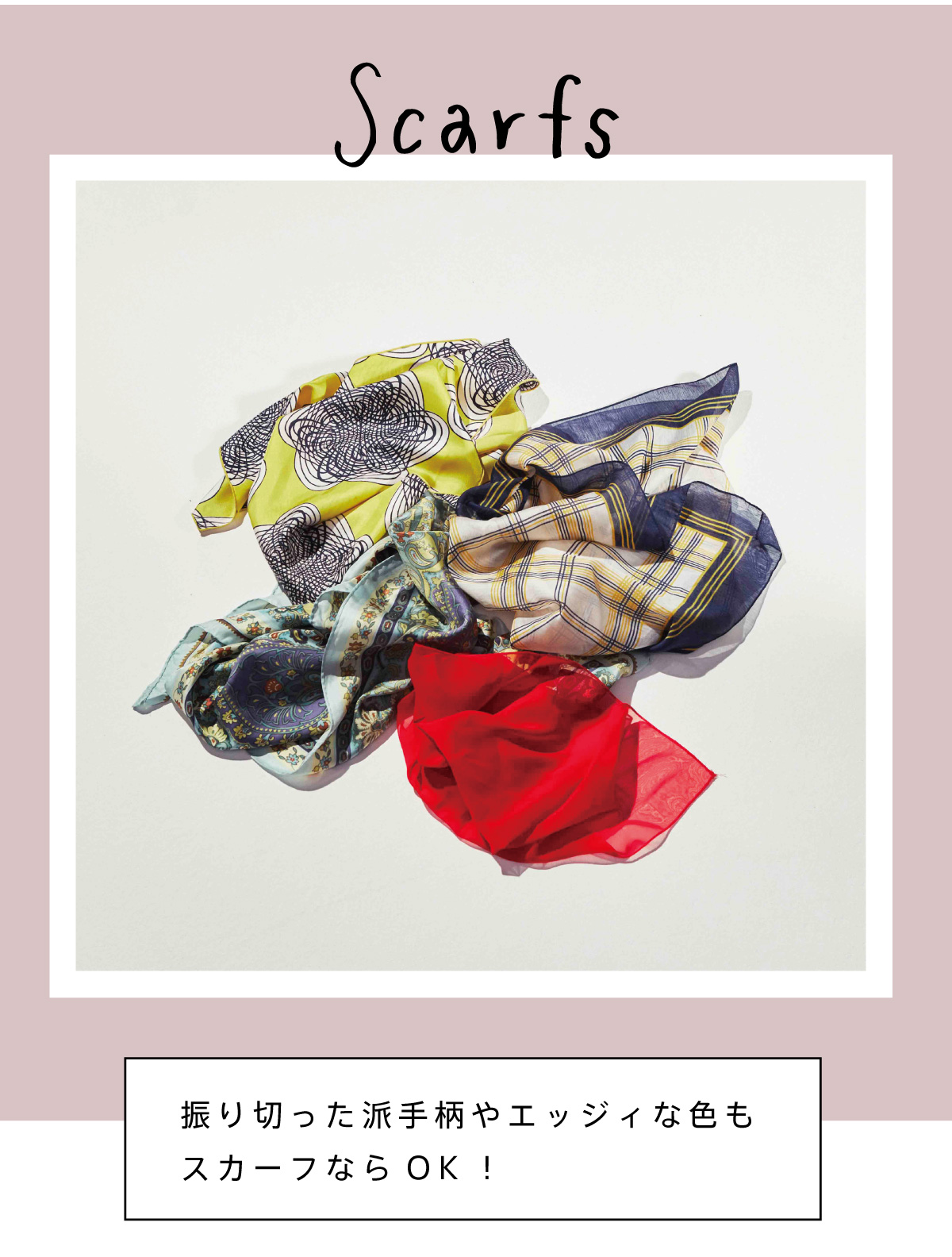 Vivid coloured scarves go well with an outfit. Popular choices are geometric, oriental and checkered designs. If you're looking in the used clothing section you're sure to find some unique options – and for a good price.
Top: ¥3,900 (Santa Monica Harajuku) / Bottom: ¥700 (Santa Monica Harajuku) / Left & Right: Stylist's own belonging
If you're not good at hairstyling, don't worry!
Make them look twice with a barrette
Barrettes will add a little sweetness to your hair. One barrette can make a big difference in those busy mornings so you look gorgeous. Even if you have a simple one, gold leaves a deep impression, and things like primary colours and retro, girly items fit grown-up women perfectly.
Top Left: Barrette ¥2,900 (Santa Monica Harajuku / Rest: Stylist's own belongings
Source:https://asbs.jp/archives/33712(Japanese)