Snowy White Sweet Sake Soy Milk Smoothie Release at Tea Cafe Stand Hachiya
Hachiya is a tea stand and cafe whose concept aims to reconstruct the culture of Japanese tea for the modern world. It has just released two new beverages inspired by the New Year and winter snow: the Sweet Sake Soy Milk Smoothie and Sweet Sake Smoothie. Available until January 31, these new drinks are served with gold leaf to capture the spirit of the New Year season. The gold leaf will stop being served once the stock has run out.
These smoothies have a Japanese essence to them from the smooth and full-bodied sweet sake which contains sake lees and rice malt combined with the sweetness of white bean jam. Since the sake contains sake lees the drink does contain alcohol (less than 1%).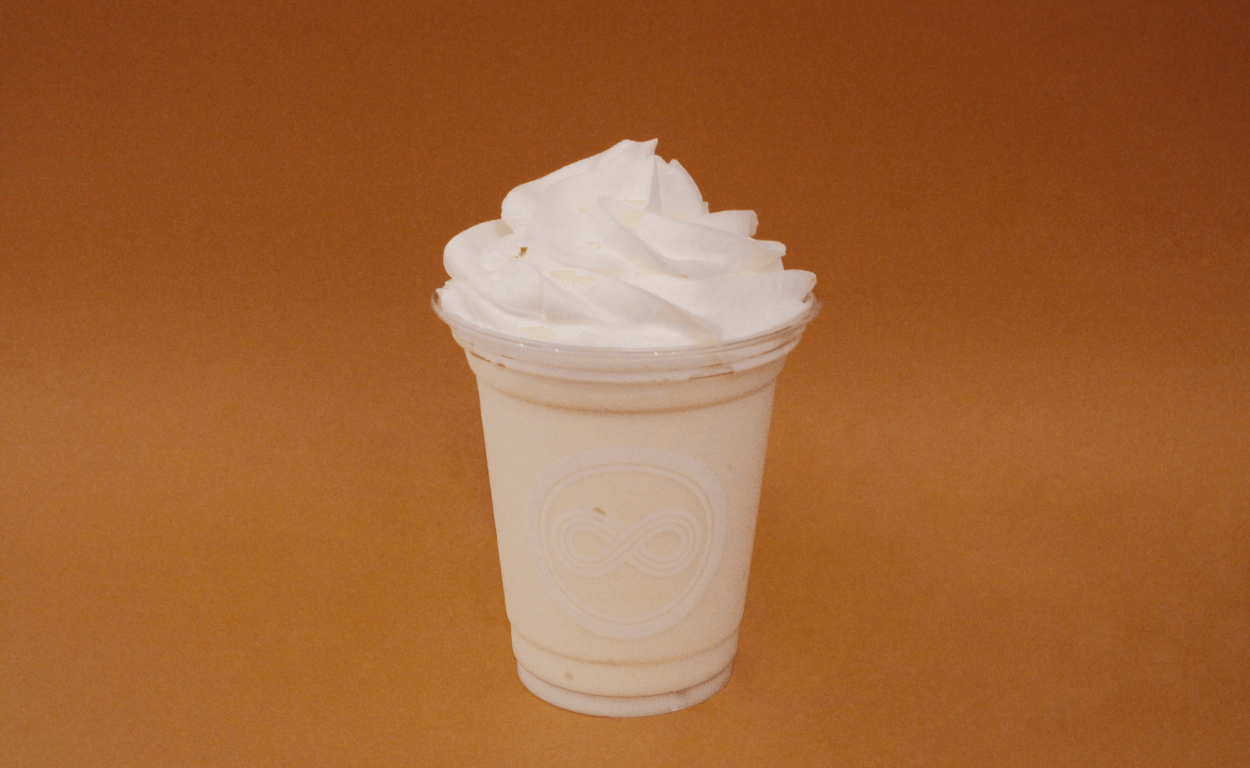 Sweet Sake Soy Milk Smoothie: Small Size – ¥650 (Tax Included)
The fusion of sweet sake and soy milk gives this drink a creamy finish every sip.
Sweet Sake Smoothie: Small Size – ¥600 (Tax Included)
There is a rich taste of sweet sake that melts through the sweetness of the mellow milk in this drink.
Welcome the New Year with Hachiya's new drink options inspired by piled up white snow.
Information
Hachiya – Sendagaya Branch
Address: 4-1-8 Sendagaya, Shibuya, Tokyo
TEL: 03-6368-6647
Opening Hours: 9:00-19:00
Closed: Weekends, National Holidays, New Year's Holidays
Hachiya – Daikanyama Branch
Address: 1-16-9 Ebisunishi, Shibuya, Tokyo
TEL: 03-6368-4423
Opening Hours: 9:00-19:00
Closed: New Year's Holidays only
Hachiya Official Website: http://8ya.jp/
RELATED ENTRIES
Evangelion's Unit 1 Featured on Limited Edition Edo Faceted Glass at Tsutaya Books Daikanyama

The first Evangelion-themed Edo faceted glasses were released in November 2021, and Tsutaya Books Daikanyama will soon be selling limited quantities online! These items were previously only available to purchase locally.

Evangelion Unit 1 Edo Faceted Glass: ¥64,900 (Tax Included)


The Evangelion Unit 1 Edo Faceted Glass was designed along with a traditional pattern inspired by chrysanthemums, which symbolize longevity in Japanese culture. While the standard colors of faceted glass are red and blue, the gold and purple colors used in this unique item are extremely difficult to create, with only a few factories capable of producing them.

The glassware is designed and cut by Kosho Nemoto at Nemoto Glass, which has produced the finest Edo faceted glass in Tokyo for three generations. The webpage below also explains how these glasses are produced.

The product is scheduled to be released in late June 2022 and is currently available for pre-order. The amount available is extremely limited, so be sure to order as soon as possible if you'd like to add one of these valuable glasses to your collection.

McDonald's 'McCafe by Barista' to Offer Uji Matcha Sweets for Spring

McDonald's Japan locations with 'McCafe by Barista' areas will begin selling special spring treats for a limited time starting April 6, 2022. Customers will be able to grab the 'Strawberry Uji Matcha Frappe' and the 'Uji Matcha Mont Blanc Tart.'

McCafe by Barista invites guests to enjoy high-quality frappes and smoothies. The Uji Matcha Frappe was added to the regular product lineup in June 2021, and features a mellow matcha flavor. The Strawberry variant is coming back for the first time in three years. The Mont Blanc Tart is a new addition, and is a perfect treat to enjoy with this popular frappe! 

Strawberry Uji Matcha Frappe: ¥490

The Strawberry Matcha Frappe mixes together the full-bodied flavor of matcha together with sweet and sour strawberries. It includes both a strawberry paste made from whole strawberries and a strawberry whipped cream at the bottom. The drink is topped with more strawberry whipped cream and a sprinkling of matcha powder. The refreshing taste of the strawberry sauce coupled with the whipped cream serves to elevate the great flavor of the Uji Matcha even more.

Uji Matcha Mont Blanc Tart: ¥390


The Uji Matcha Mont Blanc Tart is made with Uji Matcha batter, Uji Matcha whipped cream, white bean paste, and green tea cream. The refined sweetness is complemented by the mellow aroma and slight bitterness of Uji Matcha.

How would you like to enjoy these treats beneath the cherry trees?

Information

Strawberry Uji Matcha Frappe

Uji Matcha Mont Blanc Tart

Available: April 6 – Mid-May, 2022

Available at Participating McDonald's Japan Locations with 'McCafe by Barista'

Official Site: https://www.mcdonalds.co.jp/

Sneakers and Art Come Together at artrA Season 2 in Tokyo, Nagoya, Kyoto

Street culture is ever-evolving, and sneakers play a big part in street fashion. Combining sneakers and art, the artrA project finished up its first 7-city tour last year, and is now ready to start Season 2!

 

Season 2 will also be sponsored by ASOBISYSTEM. The shoe store atmos, on a mission to promote Tokyo's sneaker scene to the world, and the news app SmartNews are also contributing to the project as content partners to bring the event to Tokyo, Nagoya and Kyoto.

A total of 16 up-and-coming creators are participating in the exhibition. Illustrators, graphic designers, and painters will display their unique artwork based on the simple theme of one famous pair of sneakers. The original art will be sold and also transformed into artrA original merchandise. A sneaker lottery will be held, and 10 pairs of sneakers (100 pairs in total during the event) will be given away at the venues each day.

Participating Creators

an / Illustrator 
https://www.instagram.com/aooooo1995/ 

BEY / Illustrator 
https://www.instagram.com/beytaro_0912/ 

BANBU / Artist 
https://www.instagram.com/banbu.daishi/ 

hitotsume / Illustrator 
https://www.instagram.com/hitotsume/ 

Jeremy Yamamura / Artist 
https://www.instagram.com/jeremy_yamamura/ 

KENTOO / Artist 
https://www.instagram.com/k2rocker/ 

kousuke Shimizu / Artist, Art Director
https://www.instagram.com/kousuke_kou/ 

KRAP / Artist 
https://www.instagram.com/krap_sae/ 

Morita Manabu by WOOD / Artist 
https://www.instagram.com/wood_dw/ 

MOYA / Painter 
https://www.instagram.com/moya_mk16/ 

SHIOTSU (Cartoon Mafia) / DJ, Illustrator 
https://www.instagram.com/djshiotsu/ 

tarou2 / Animator, Illustrator 
https://www.instagram.com/tarou2/ 

T.D BRUDER / Artist
https://www.instagram.com/t.d.bruder/

TM paint / Artist 
https://www.instagram.com/tmpaint/ 

itui / Illustrator 
https://twitter.com/it_ui 

Shouko Nagamine / Illustrator
https://www.instagram.com/sn___illust/

Information

artrA -SEASON 2-

atmos KYOTO
Running: March 18 – March 21, 2022
Address: 420 Sakuranocho, Nakagyo-ku, Kyoto


atmos Sendagaya
Running: March 25 – March 27, 2022
Address: 3-16-9 Sendagaya, Shibuya-ku, Tokyo

atmos Nagoya
Running: April 1 – April 3, 2022
Address: Nagoya PARCO West Building 1F (3-29-1 Sakae, Naka-ku, Nagoya)

Official Site: https://www.atmos-tokyo.com

Canada Goose×CONCEPTS×BAPE® Release Collaboration Collection

Long-time partners CONCEPTS and BAPE® have launched collaboration collection which is now available at Canada Goose Sendagaya branch and Ron Herman Kyoto 'Canada Goose' shop in shop.

Line-up

CROFTON HOODY 

CHILLIWACK BOMBER 

EXPEDITION PARKA 

KNIT TOQUE 

DOWN SCARF 

DOWN BLANKET

The collection includes 6 pieces inspired by the heritage of Canada Goose featuring the iconic BAPE® ABE Camo and Snow Camo to take streetwear to the next level.

Daikanyama T-SITE Holds Exhibition to Celebrate Marimekko Art Book Release

Marimekko, a Finnish textile and fashion company, has been a major inspiration in the art world for 70 years. The Japanese edition of Marimekko: The Art of Printmaking, published by Thames & Hudson to commemorate the brand's 70th anniversary, will be released on October 1, 2021. To commemorate the release of this highly-anticipated art book, a special Marimekko exhibition and pop-up store are coming to Daikanyama T-SITE starting on September 21, feating an outdoor installation featuring Marimekko printed fabrics. A bookstore display of photos taken by Osma Harvalahti, along with other Marimekko art books, will be waiting for interested guests. 

The four chapters of Marimekko: The Art of Printmaking highlight the collaborations and colorful print designs that the Finnish brand has released over the years through vintage archival photos and advertisements. The tome contains the philosophy of the Marimekko brand, and introduces the Herttoniemi print factory, working with the inspirational brand since its inception. In the future, Marimekko aims to be more sustainable while also finding new sources of boundless creativity. 

Fans of art and history shouldn't miss out on this limited-time event, running until October 15, 2021! 

Information

Marimekko: The Art of Printmaking Exhibition & Pop-Up Store

Running: September 21 – October 15, 2021

Address: Daikanyama T-SITE (16-15 Sarugaku-cho, Shibuya-ku, Tokyo)

Official Site: https://store.tsite.jp/daikanyama/

Long-Standing Kyoto Tea Wholesaler Yamamasa Koyamaen Opens Cafe in Tokyo

TZEN, a company dedicated to promoting traditional Japanese culture around the world, has teamed up with Yamamasa Koyamaen, a tea wholesaler in business since the Edo period, to open a new matcha cafe in Tokyo!

ATELIER MATCHA, a quick walk from Ningyocho station, is harnessing the concept of 'the third wave of matcha,' serving up premium matcha in a cozy atmosphere. 

MATCHA Cookies & Cream Shake: ¥748 (Tax Included) 

MATCHA with Warabimochi and Red Bean Topping: ¥748 (Tax Included)

MATCHA Jelly Cider: ¥660 (Tax Included)

MATCHA Granola and Yogurt Latte: ¥715 (Tax Included)

MATCHA Cotton Candy Milkshake: ¥748 (Tax Included)

MATCHA Affogato: ¥660 (Tax Included)

MATCHA Shot (Espresso Style): ¥220 (Tax Included) / MATCHA Water: ¥275 (Tax Included) / MATCHA Green Tea: ¥330 (Tax Included)

Supreme MATCHA Terrine: ¥660 (Tax Included)

(This is a partial menu, all prices are for those dining in.)

Matcha is becoming popular around the world. ATELIER MATCHA was created to offer customers a unique experience which showcases the true taste and culture of this beloved tea grown in Japan. 

Yamamasa Koyamaen is a Kyoto institution, cultivating and grinding matcha tea leaves for 160 years. Over 1,000 tea retailers, department stores, domestic and international trading companies and hotels stock their high-grade matcha, gyokuro, sencha, and other specialty teas, making them one of the most recognized and respected names in this traditional Japanese art. The company even prefers to call themselves a 'studio' rather than a 'factory', using the 800-year history of tea cultivation in Uji, Kyoto as a starting point to create their masterpieces. 

ATELIER MATCHA is Yamamasa Koyamaen's first cafe, and also the company's first experience selling directly to consumers. 

Blending the highest-grade matcha with locally made sweets, the cafe hopes customers will enjoy these original creations while surrounded by the relaxing aroma of tea. 

The matcha used in the cafe includes signature Yamamasa Koyamaen blends, including Ogurayama and Tennozan, both varieties often used in tea ceremonies. For a limited time, the cafe is offering a single-origin blend with one rare variety of matcha, as well as a beverage made with tencha, which are the leaves used to make matcha before being ground down in a stone mortar. Visitors can also enjoy gyokuro and hojicha teas, made from carefully selected leaves. 

Pulling recipes from Yamamasa Koyamaen's book 'Kyoto Uji-Koyamaen: Simple Matcha Drinks to Enjoy at Home,' the menu features refreshing drinks blending the traditional with the modern, with unexpected combinations of soda, fruit and yogurt. Seasonal drinks will also be making an appearance, including shaved ice in summer and chocolate drinks in winter. 

The name MATCHA SHOT packs a punch, using matcha instead of espresso for a needed pick-me-up. MATCHA WATER, a refreshing cup of watered-down tea, offers a way to fully enjoy the fullness and more hidden flavors of this popular Japanese tea. 

As expected, ATELIER MATCHA also has a sweets menu set to impress: these sweet treats feature only the best, created with the top 0.03% of total national matcha production. This insanely high-quality matcha is a part of Yamamasa Koyamaen's ultimate matcha experience project, titled "ALL FOR ONE," which provides these rare leaves to some of the country's top professionals in various fields. 

At opening, only limited qualities of the Supreme MATCHA Terrine, made by well-known pâtissier Toshi Yoroizuka, will be available. 

These authentic matcha creations are perfect for a hot summer's day, or as a gift for a friend. When in Tokyo, don't miss it!

Information

ATELIER MATCHA 

Address: 1-5-8 Nihonbashi Ningyocho, Chuo Ward, Tokyo 103-0013, Japan

Access: 30-second walk from Ningyocho Station/5-minute walk from Suitengumae Station

Open Date: August 2, 8:00

Hours of Operation: 8:00-19:00 (Last order 18:30)

Closed on Tuesdays (Open daily throughout August) 

Phone Number: 03-3667-7277

Official Site: https://ateliermatcha.com/

Starbucks Japan Reveals Peach and Pineapple Frappuccinos

Starbucks Coffee Japan is releasing its new summery GO Pineapple Frappuccino® and GO Peach Frappuccino® at all branches on August 4.

Starbucks Japan's first pineapple beverage, plump and sweet

Left: GO Pineapple Frappuccino® | Right: GO Peach Frappuccino® | Tall ¥680 (Takeaway), Tall ¥693 (Have-In)

The two fruity drinks arrive in time for the height of Japanese summer this August. This also marks the first time Starbucks Japan is serving up a pineapple Frappuccino®. The GO Pineapple Frappuccino® is loaded with ripe and fresh pineapple pieces along with a pineapple puree and pineapple sauce. When you've sipped about half the cup, mix in the whipped cream to transform the drink into smooth and milky heaven.

The GO Peach Frappuccino® is also loaded with its titular fruit, making it so refreshing it's like eating a whole juicy peach. Enjoy a combination of fresh peach pieces, puree, and sauce, one which maintains the rich original flavour of this summer-classic fruit.

Reusable Coffee Cup With Changeable Coloured Lids (437ml) | ¥385 (Tax Included)

August 2nd will mark 25 years since Starbucks arrived in Japan, bringing to the country a culture of walking around with your coffee in hand. This summer, the coffee chain is also releasing a new collection of seasonal tumblers, as well a new reusable coffee cup which you can swap out with different coloured lids. While the new beverages are on sale, if you buy one of them together with a reusable cup, you can get a free size upgrade on your Frappuccino®.

Information

GO Pineapple Frappuccino®

GO Peach Frappuccino®

Running: August 4, 2021 – September 21, 2021

Official Website: https://www.starbucks.co.jp/

Sumikko Gurashi Bubble Tea Released by XIE XIE PEARL

Bubble tea shop XIE XIE PEARL is collaborating with San-X and their popular corner-dwelling characters Sumikko Gurashi with a line-up of drinks and merch until August 23.

Fruit is the theme of the collaboration which arrives in a line-up of colourful beverages served in limited-time cups. Each character's drink is loaded with toppings.

Shirokuma's Peach Milk | ¥756 (Tax Included)

Neko's Jewel Berry Lemonade | ¥756 (Tax Included)

Tonkatsu's Caramel Banana Milk | ¥756 (Tax Included)

Penguin's Jewel Mint Lemonade | ¥756 (Tax Included)

Original collab goods

Large Stickers | 4 Designs | ¥330 (Tax Included)

Mini Tote Bag | ¥990(Tax Included)

Mirrors | 5 Designs | ¥550 (Tax Included)

Re-release of previous collab merch

Free novelty stickers and pouch

If you order one of the collab drinks you'll receive a free sticker, and if you order all four drinks, you get an original Sumikko Gurashi pouch. All you need is your receipt to show at the register.

©︎2021 San-X Co., Ltd. All Rights Reserved.

Information

XIE XIE PEARL x Sumikko Gurashi

Running: July 22, 2021 – August 23, 2021

Official Website: https://www.krg-inc.com


New Cocktail Menu Gets Served at KYOTO YURA HOTEL MGallery

KYOTO YURA HOTEL MGallery is now serving a new cocktail and afternoon tea menu in collaboration with Perrier Promotion.

KYOTO YURA HOTEL MGallery is a hotel group based in Paris, France which operates over 5,000 hotels and resorts in 110 countries worldwide. Together with the mineral water brand Perrier, the two companies launched the 'Perrier Promotion with KYOTO YURA HOTEL MGallery' on July 21 which includes a special cocktail and afternoon tea line-up being served up at Lounge & Bar 1867.

Perrier x MURAKAMI Tote Bag

Perrier Cacao & Orange Asian Fizz Mocktail | ¥1,300 (Tax Included)

Perrier Umami & Ryokucha Green Tea Sour Mocktail | ¥1,300 (Tax Included)

Perrier Citrus Iced Tea Mocktail | ¥1,300 (Tax Included)

Perrier Evening Iced Coffee Cocktail | ¥1,700 (Tax Included)

Perrier Flower & Fruit Afternoon Cocktail | ¥1,700 (Tax Included)

Perrier Promotion with KYOTO YURA HOTEL MGallery is an all-day special event taking place at the hotel. At both the hotel entrance, as well as Lounge & Bar 1867, an artwork collaboration by Takashi Murakami and Perrier is being displayed for the duration of the event, adding a colourful vibe to the spaces.

The drinks line-up includes three mocktails which are available on the free flow drinks menu when ordering the hotel's popular afternoon tea. The afternoon tea set was conceived by pastry chef Jennie Chiu and is packed full of summer fruits like passion fruit and mango.

During the collaboration, the first 200 people to order either the afternoon tea set or high tea set will also receive a free novelty tote bag featuring the Takashi Murakami's characters Kaikai and Kiki.

In the evenings, the Perrier Pop-Up Bar are serving two alcoholic cocktails alongside the mocktails.

Showa Summer Dessert Drinks Get Served Up at AWESOME STORE & CAFE IKEBUKURO in Tokyo

AWESOME STORE & CAFE IKEBUKURO is now serving up two new summer-exclusive dessert drinks inspired by the Japanese Showa era. The 'Imitation Gold' and 'Blue Light Awesome' are both available now until September 26.


Imitation Gold: ¥467 (Tax Included) / Blue Light Awesome: ¥467 (Tax Included) *both served in plastic cups (see below)

The Imitation Gold's flavour is reminiscent of an energy drink. It's topped with vanilla ice cream and colourful gummies. The Blue Light Awesome is a Blue Hawaiian syrup-infused pineapple juice topped with vanilla ice cream and a cherry. Both of these cute dessert drinks are the perfect refreshments for the summer.

Those who buy both drinks will also receive an original black straw to make the drinks even more Instagrammable. These are available while supplies last.

Some other popular must-tries

Other classics on the menu to try include soft and chewy bagels, coffees, and more.

Chocolate High | ¥396 (Tax Included)


Ebi Avocado | ¥396 (Tax Included)


Fuwa Toro Bacon Omelette | ¥396 (Tax Included)


AWESOME Organic Coffee (Hot/Iced) | From ¥217 (Tax Included)

Information

AWESOME STORE & CAFE IKEBUKURO
Opening Hours: 10:00-21:00 (Currently operating on reduced hours – closes at 20:00)
TEL: 03-5944-9754
Address: Q Plaza IKEBUKURO 1F, 1-30-3 Higashi-Ikebukuro, Toshima-ku, Tokyo
Official Website: https://www.awesomestore.jp/store/pages/cafe.aspx

McDonald's Japan Releases Strawberry and Banana Frappes at McCafe by Barista®

McDonald's Japan released its new Strawberry & Condensed Milk Frappe and Banana Caramel Frappe beverages at McCafe by Barista® branches up and down the country on July 14. The fruity frappes and the perfect choice for the hot summer season.

Strawberry & Condensed Milk Frappe | Regular: ¥490


The strawberry frappe is made with a sweet and tangy strawberry sauce that has fresh strawberry pieces in it as well as juice taken from amaou strawberries grown in Fukuoka which are known for their fresh and sweet taste. Added to the cup is rich condensed milk along with a squirt of whipped cream for a milky and velvety finish.

Banana Caramel Frappe | Regular: ¥490


The banana frappe is filled with a banana puree sauce, banana syrup, and a crème brûlée syrup. It's topped with smooth whipped cream and a drizzle of caramel sauce. The banana and caramel make for a delicious combination.

Tendo Mokko Rethinks Japanese Modernity With 'Japanese Modern / 80 Project' to Celebrate 80th Anniversary

In commemoration of Tendo Mokko's 80th anniversary, DAIKANYAMA TSUTAYA BOOKS is hosting the "Tendo Mokko & Japanese Modern" fair from July 7 to August 6 where the new products from the interior design brand is being sold. This includes a new book titled the same as the fair which details the brand's most famous furniture works. New furniture by Hiroshi Nakamura, Koichi Futatsumata, and Wataru Kumano is also being exclusively sold there.

Each participating artist's signed nameplate

Tendo Mokko is a Japanese furniture maker. After the Second World War, they made huge developments the country's architect and design culture in collaboration with architects and designers by creating products rooted in the climate and natural features of Japan. One of the spearheads of this movement was Kenmochi Isamu, a modernist designer who played a pivotal role in the development of Japanese industrial design after World War II. Through the history of Japanese architecture, Tendo Mokko has joined hands with countless famous designers to manufacture furniture.

Last year, the company turned 80 years old. As part of the commemoration, it is looking to dive deep into and rethink Japanese modernity at the Tendo Mokko & Japanese Modern fair where visitors can see their latest wares as well as learn about the process of developing new furniture and more. All of this, along with interviews, is also detailed in the book. Those who pre-order products at the fair will also receive one of the above-pictured nameplates depending on who designed it.