Evangelion's Unit 1 Featured on Limited Edition Edo Faceted Glass at Tsutaya Books Daikanyama
The first Evangelion-themed Edo faceted glasses were released in November 2021, and Tsutaya Books Daikanyama will soon be selling limited quantities online! These items were previously only available to purchase locally.
Evangelion Unit 1 Edo Faceted Glass: ¥64,900 (Tax Included)

The Evangelion Unit 1 Edo Faceted Glass was designed along with a traditional pattern inspired by chrysanthemums, which symbolize longevity in Japanese culture. While the standard colors of faceted glass are red and blue, the gold and purple colors used in this unique item are extremely difficult to create, with only a few factories capable of producing them.

The glassware is designed and cut by Kosho Nemoto at Nemoto Glass, which has produced the finest Edo faceted glass in Tokyo for three generations. The webpage below also explains how these glasses are produced.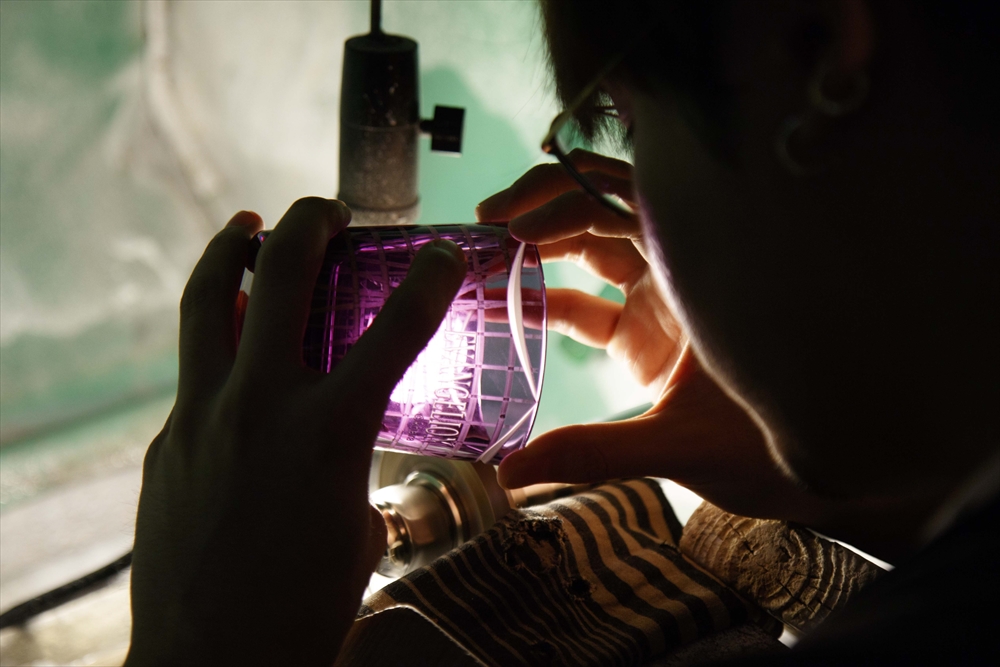 The product is scheduled to be released in late June 2022 and is currently available for pre-order. The amount available is extremely limited, so be sure to order as soon as possible if you'd like to add one of these valuable glasses to your collection.
RELATED ENTRIES
Animal and Character Glassware Brand Goodglas Reappears at Keisei Department Store in Mito, Ibaraki

If you love adorable animal-inspired glassware, head to Keisei Department Store in Mito, Ibaraki from June 8 until June 14, 2022! Goodglas Japan will be selling a selection of over 30 unique pieces during this brief period.

The MyStraws collection has been incredibly popular to those more environmentally concious. Rather than use plastic straws, why not grab one of these glass straws decorated with an adorable penguin, sea otter, or polar bear? These straws come with a carrying case and a special cleaning brush.

Goodglas / MyStraw Glass – Penguin

Goodglas / MyStraw Glass – Penguin, Sea Otter, Polar Bear

Straw, Case, Brush (3-piece set)

Goodglas – Shiba

Goodglas – Rabbit Mug

These glasses are handmade by skilled artisans and are sure to make anyone smile!

Information

Goodglas @ Keisei Department Store in Mito, Ibaraki

Address: 1-6-1 Izumicho, Mito, Ibaraki

Available: June 8 – June 14, 2022
Location: 1F Special Venue
Official Site: https://www.r-kj.com/

Watch out for counterfeit products!

Goodglas items are not available on Amazon, Yahoo! Shopping, or Rakuten.
Similar products are being sold using stolen images of Goodglas products. Please be aware that these products are fake.
Find authorized Goodglas dealers on the official Goodglas Japan website. 


Evangelion to Collaborate with Sports Brand Mizuno for the First Time

The sports brand Mizuno is collaborating with the popular anime series Neon Genesis Evangelion for the first time! The new collection will introduce nine pieces of apparel, along with some very trendy masks. All items are available for preorder through April 12 at the Mizuno online store and the Evangelion online store.

Evangelion has been globally popular for decades, and the new collection will allow fans to show their love while not sacrificing their comfort. Original logos have been created with each Eva unit in mind, and certain items feature patterns inspired by the A.T. Field seen in the series. 

Stationery Fair Opens at Tsutaya Books Nara

A popular stationery event held last year is back! The pop-up space on the first floor of Tsutaya Books Nara has been filled to the brim with unique stationery items from a number of creators. Guests can grab these inspiring items from March 15 until April 17, 2022.

echos

Visitors can use a variety of printing techniques like letterpress and foil stamping at echos. Connect with your loved ones through printing and design, and show your creativity!

These nostalgic yet new paper products pull from Showa-era illustrators to give an authentic antique feel. 

Osoblanco

This general store and gallery is located in Nanba, Osaka. The shop mainly deals in original handmade goods, antique European tools, and merchandise by illustrator makomo. Both store owners are stationary lovers, and they have recently begun offering a wide selection of paper products of all genres and styles.

Otome Printing

Otome Printing makes paper goods by printing each sheet of paper one color at a time on a letterpress! The handmade printing gives each sheet a one-of-a-kind feel by virtue of the indentation of the printing plate, ink blurring, and crooked prints. The lineup includes postcards, letterheads, pouch bags, and gift bags decorated with these unique prints.

Printing Studio Tan

Printing Studio Tan has been making Nara-inspired letterpressed pieces since it opened its doors. The symbol for 'tan' refers to the color of red earth, symbolizing the values of ancient Nara, once the central city of Japan. The company's products feature ancient patterns associated with classic Japanese culture. 

Kei Printing

Kei Printing, with a factory in Kobe, offers delicate items with incredible attention to detail. With the goal of designing 'memorable printed materials,' customers are sure to find items that will help them to express themselves. 

Yonagadou

With a storefront located in Tenmabashi, Osaka, Yonagadou also has a small gallery in the back featuring items from both Japan and abroad. The shop offers a wide variety of small items, from Taisho and Showa-inspired paper goods, handkerchiefs, and more. 

This year, paper lovers will find an array of products using letterpress printing. Many items were also inspired by Nara, so travel lovers will also be thrilled!

Ginza Tsutaya to Opens Spring Ceramics Fair

Ginza Tsutaya, located on the 6th floor of the GINZA SIX department store, is now holding a Spring Ceramic Fair until March 7, 2022.

Many popular ceramic artists are coming together for the event. This year's lineup includes dishes and mugs with botanical patterns and animal motifs in spring-like colors to add color to tables and living spaces. A large number of works, from vases to tableware and even ceramic brooches, will be on display, including works by Wato Maekawa and Oda Pottery. 

Participating Ceramic Artists

Ritsuko Imai

After studying pottery in England, Imai currently lives and works in Mashiko, Tochigi Prefecture. This year's exhibition will show off her dyed works, including Zougan works, a technique in which different materials are inlaid into one material. Enjoy her small plates and teapots with soft colors.

Miki Furuhata

Miki Furuhata is a pottery artist in Nagano. Using gentle colors and unique self-made glaze, her colorful pieces are a lovely addition to one's daily life.

Hanako Sakashita

Hanako Sakashita uses a 'kneading' technique, in which colorful clays are kneaded together to create patterns, marbles, stripes, checks, and countless other patterns. Enjoy the many textures, shades, and patterns found in her works!

Wato Maekawa

A ceramic artist living in Toyama Prefecture, Wato Maegawa creates works inspired by the four seasons. Her flower-shaped plates are reminiscent of Japanese sweets.


Toutousya

Using candle wax to make prototypes, these ceramic brooches and boxes are made with a technique adapted from candle making. These hand-painted pieces are very popular, and those on sale in this year's exhibition are covered with flowers, birds, and animals in spring colors.

Oda Pottery

Oda Pottery was founded in 1921 in Mizunami City, Gifu Prefecture. Their lineup features vases that are easy to incorporate into any interior. 

Naoki Nomura Exhibition "The Story of the Earth" to Open at Tsutaya Ginza

From January 15 until February 4, 2022, an exhibition of Naoki Nomura's works will be on display at the Tsutaya location in Ginza, Tokyo. The art show will feature ten ceramic works created between 2015 and 2021, tracing Nomura's history and growth as an artist. 

Rain. 2020

Strawberry Girl. 2020

Naoki Nomura was familiar with clay before he became an artist. Fascinated by the firing of clay and the beautiful colors of finished ceramics, Nomura's works are inspired by daily life. Fans of the artist's work have fallen in love with his strangely adorable 'creatures,' each featuring a strange appearance. Some are wearing seasonal fruits, others have distinctive hairstyles, and all of them have ambiguous and unreadable expressions. 

Visitors are invited to imagine their own stories as they wander the exhibition.

Comment from the Artist

There are so many little discoveries to be made in our daily lives.

Through our encounters with various objects and people, through our casual conversations, our imagination expands and we invent our own stories. 

The characters from my own stories take up residence in my mind and using my hands, I have brought them into the real world.


Naoki Nomura


TSUTAYA Nara Location Opens HAPPA STAND Fair to Highlight Traditional Japanese Tea Culture

From December 21, 2021 until February 13, 2022, TSUTAYA Nara will hold the HAPPA STAND Fair to coincide with the traditional holiday season. This special location will highlight traditional Japanese teacups under the concept of 'Be Classic, Not Old.' Enjoying traditional tea doesn't have to be old school–it can be chic and fit into a modern lifestyle as well.

HAPPA STAND is located on a corner in Mino, Gifu Prefecture, surrounded by classic Japanese homes. This area is an important traditional building preservation district and aims to blend the chic with the classic to attract visitors and show off local artisans and food.

The creator of this event previously lived abroad, and after experiencing 'fake Japanese food culture,' he decided to return to Japan to find a way to highlight the reality of Japanese cuisine. HAPPA STAND was initially begun in 2018.

The stylish store was renovated from an old house built over 150 years ago, and is filled with delicious tea grown in Uji, Kyoto, and local Mino ware ceramics. For those thinking of enjoying a taste of authentic Japan, this won't be a place to miss.

Evangelion Smartphone Cases Coming Soon from RADIO EVA

The RADIO EVA project is about to release a collection of stylish new Android phone cases in collaboration with Casely. Preorders are open until November 30, and the cases will be released on December 13, 2021. 

In 2008, the RADIO EVA project was launched as a way to blend the Evangelion series into everyday life. Rather than sell flashy items more suited for a stroll down the main street in Akihabara, the series features more subtle items perfect for everyday use. Main characters from the Evangelion anime series serve as models for every clothing release, and the images always make a massive splash on social media. 

Which one will you be ordering? 

Boy Band BE:FIRST Celebrates Debut by Becoming the Managers of Shibuya's Tsutaya

BE:FIRST, scheduled to make their debut on November 3, will serve as the managers of Shibuya's Tsutaya location for a limited time. Visitors can enjoy some exclusive privileges and see special videos only at this location during the event. 

The group was assembled during BMSG's 'THE FIRST' audition and will release their first single Gifted next month. The sales floor of Shibuya's Tsutaya location will be decorated to celebrate, with huge panels of each member lining the aisles and a huge monitor showing videos of the band. 





Those who purchase the Gifted single at this location will be given a special Store Manager member card (7 varieties) at random. Those who purchase the CD from the Shibuya Tsutaya official online store will also receive this special gift!

Baccarat Crystal Commissions YOSHIKI to Design Piece for 180th Anniversary

X JAPAN leader YOSHIKI was one of eleven designers chosen to submit an original design for Baccarat, commemorating the 180th anniversary of the crystal manufacturer's Harcourt glass. The work was unveiled at Paris Fashion Week in Fall 2021. 

Baccarat is a manufacturer of fine crystal founded in 1764 in the Lorraine region of France. The company's iconic Harcourt glass features a hexagonal base with three-button feet and is known as a timeless and iconic symbol of the brand.

This year marks the 180th anniversary of the glass, which was first created during the time of Louis Philippe I. It's hard to believe that these pieces have been on the tables of royalty for almost two centuries!

YOSHIKIMONO, the kimono brand created by YOSHIKI, has been featured at Tokyo Fashion Week multiple times. In 2020, his works were shown at the Victoria and Albert Museum in the UK, along with the Tokyo National Museum.

Known for his blend of rock and classical music, YOSHIKI continues to express his individuality in both his sound and fashion taste. From the front, the glass looks to be on fire, while from the top, there is a sense that a poisonous flower is taking bloom. The work is a one-of-a-kind blend of east and west and was a new challenge for the performer.

Comment from YOSHIKI

"I am honored to have been chosen as a designer for the 180th anniversary of Baccarat's Harcourt glass. I'd like everyone to also keep an eye out for some new music coming soon. Thank you to all of the fans who continue supporting me in everything I do."

Daikanyama T-SITE Holds Exhibition to Celebrate Marimekko Art Book Release

Marimekko, a Finnish textile and fashion company, has been a major inspiration in the art world for 70 years. The Japanese edition of Marimekko: The Art of Printmaking, published by Thames & Hudson to commemorate the brand's 70th anniversary, will be released on October 1, 2021. To commemorate the release of this highly-anticipated art book, a special Marimekko exhibition and pop-up store are coming to Daikanyama T-SITE starting on September 21, feating an outdoor installation featuring Marimekko printed fabrics. A bookstore display of photos taken by Osma Harvalahti, along with other Marimekko art books, will be waiting for interested guests. 

The four chapters of Marimekko: The Art of Printmaking highlight the collaborations and colorful print designs that the Finnish brand has released over the years through vintage archival photos and advertisements. The tome contains the philosophy of the Marimekko brand, and introduces the Herttoniemi print factory, working with the inspirational brand since its inception. In the future, Marimekko aims to be more sustainable while also finding new sources of boundless creativity. 

Fans of art and history shouldn't miss out on this limited-time event, running until October 15, 2021! 

Information

Marimekko: The Art of Printmaking Exhibition & Pop-Up Store

Running: September 21 – October 15, 2021

Address: Daikanyama T-SITE (16-15 Sarugaku-cho, Shibuya-ku, Tokyo)

Official Site: https://store.tsite.jp/daikanyama/

Edo-Tokyo Museum to Hold Exhibition Highlighting the 30,000 Year History of Tokyo

Tokyo as we know it today is built upon tens of thousands of years of history. The Paleolithic era, during which traces of human life have been found in the Tokyo area, dates back more than 30,000 years. It might be difficult to imagine what life was like so long ago, but ruins discovered during urban development offer a glimpse into the ancient past. 

The Edo-Tokyo Museum opened in 1993, and is set to begin a large-scale renovation in April 2022. Prior to the museum's temporary closure, a special exhibition titled 'Memories of the City: A Thirty Thousand Year History of Tokyo' will open from September 18 until December 5, 2021. The installation will look back on the history of Japan's capital, from the Paleolithic era to the present day.

Tokyo Takanawa Coast Steam Railway – Hiroshige Utagawa III. 1871. 

Sword-shaped Haniwa. Excavated from Kannonzuka Burial Mound. From the Kofun Period (250-538 CE)

Roof tiles. Excavated from the Site of Musashi Kokubunji Temple. From the Nara Period (710-794 CE)

Scene from Yamabuki no Sato by Ota Dokan. Saitou Yukio, Saitou Yukitaka, Saitou Gesshin, Hasegawa Settan. 1836. 

Excavated Materials from Hachioji Castle Ruins. From the Azuchi-Momoyama Period (1558-1600 CE)

Map of Edo. 1666. 

Procession of the Lords of Edo. Adachi Ginko. 1889. 

Washington Heights (Tokyo Aerial Photograph). Satou Suiyou. 1957.

Blazer worn by the Japanese Delegation at Tokyo Olympic Games. 1964. 

Nipponbashi at Dawn. Kawase Hasui. 1940. 

As urban development continues to progress, it's incredible to look back at the many people who have lived in the Tokyo area, and the many events that have taken place over time. Recently, a new train stop was added to the busy Yamanote Line in the capital, and the remains of an old railroad track were discovered during construction! What else might be hiding beneath the metropolis? 

Tokyo has undergone constant change due to natural disasters, war, and urban development, but historical buildings and important spots that tell the story of the city are being carefully preserved for future generations. Visitors to Japan often comment on this, claiming that so much of Tokyo's beauty comes from it's blend of old and new. 

Information

Memories of the City: A Thirty Thousand Year History of Tokyo

Running: September 18 – December 5, 2021

Hours: 9:30AM-5:30PM (Closed Mondays, with exception of September 20. Closed September 21.)

Address: Edo-Tokyo Museum, Permanent Exhibition, 5th Floor Feature Exhibition Room (1-4-1 Yokoami, Sumida-ku, Tokyo)

Official Site: http://www.edo-tokyo-museum.or.jp/

Amazon Prime Video Releases Hideaki Anno + Hitoshi Matsumoto Interview Special

A special interview between Evangelion creator Hideaki Anno and popular Japanese comedian Hitoshi Matsumoto is coming to Amazon Prime Video on August 20. A trailer and teaser visual were also released with the exciting announcement.

The release of sci-fi mecha series Neon Genesis Evangelion in 1995 cemented Anno's legacy in the anime industry. As a director, he also worked on series like Gunbuster, Nadia: The Secret of Blue Water, Kare Kano, and 2004's Cutie Honey.

Evangelion 3.0+1.0: Thrice Upon a Time was released in theaters on March 8 and quickly became a phenomenon, making $92.7 million at the Japanese box office. Currently, all Evangelion films are available on Amazon Prime Video.

Hitoshi Matsumoto has been at the forefront of the Japanese entertainment industry for decades, working as a comedian, film director, writer, and producer. He makes up one half of comedy duo Downtown, along with fellow comedian Masatoshi Hamada.

Matsumoto currently hosts and produces the show Documental, available to stream on Amazon Prime Video. Currently on its ninth season, the show is the longest-running Amazon Original Series in Japan. It revolves around ten comedians trapped in a room with each other, with the last to laugh dubbed the winner. Each comedian is hand-picked by Matsumoto, and the show has become popular in the US, Mexico, Australia, Germany, France, Italy, Spain, India, and other countries around the world.

Matsumoto's other Amazon Prime series, FREEZE, features numerous celebrities, models, athletes, and comedians forced to remain perfectly still as a number of crazy things happen around them. The second season won the top prize at the Asia Television Awards for Original Digital Entertainment Program.

The trailer shows the moment in which Anno and Matsumoto meet for the first time, and viewers can sense the nervous energy in the air.

Hideaki Anno + Matsumoto Hitoshi Interview Special Trailer


What kind of conversation will these two have, considering how different they are? Watch and find out!

Information

Hideaki Anno + Hitoshi Matsumoto Interview Special

Release Date: August 20 on Amazon Prime Video

© 2021 YD Creation