Keio Mogusaen's Annual Plum Blossom Festival Begins in February
The enchanting flower garden Keio Mogusaen is set to hold its annual plum blossom festival from February 2 to March 10.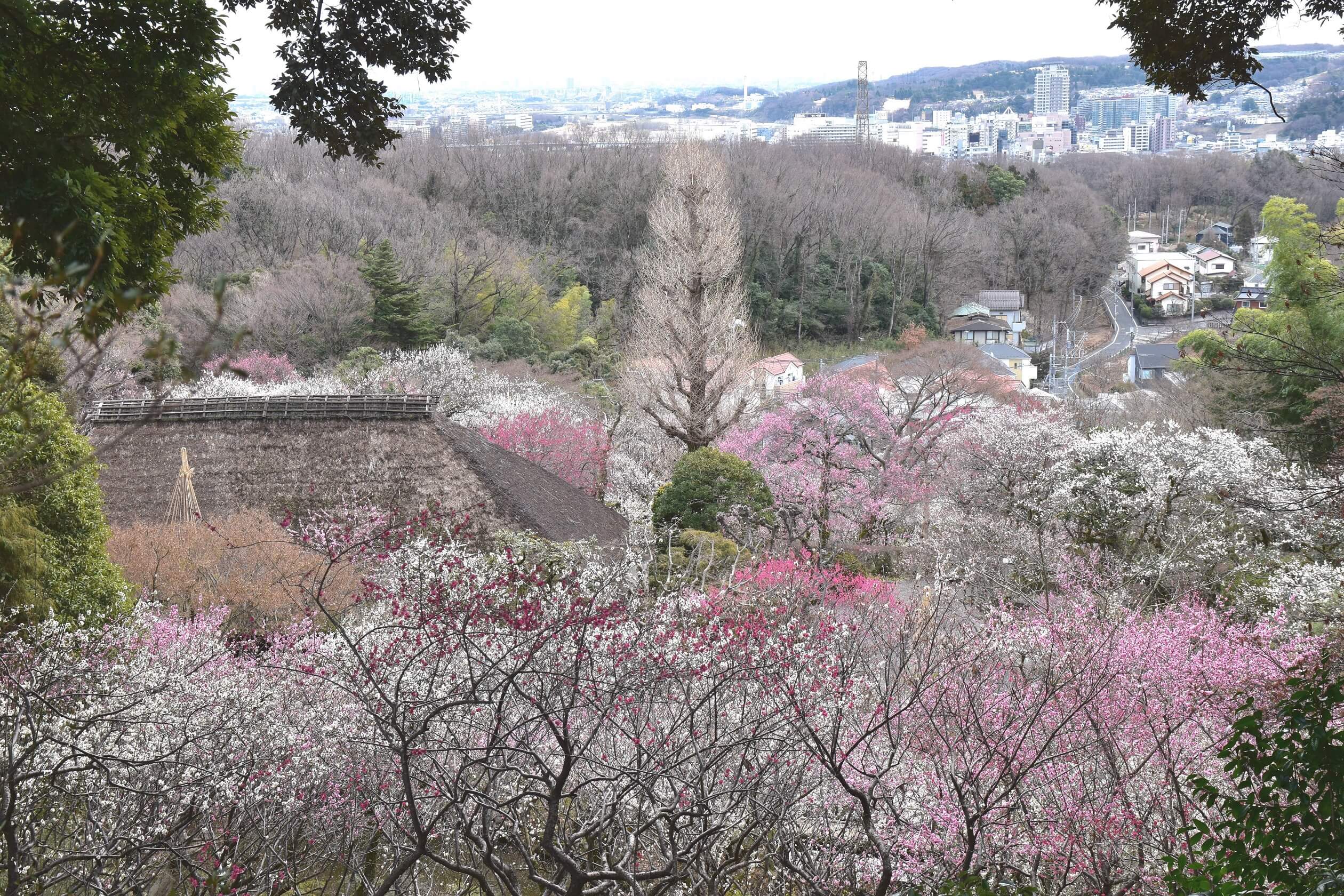 Despite being in the metropolis that is Tokyo the garden is one of the city's leading locations for plum blossoms. It is revered in the literary world for its abundant foliage with writers including Bokusui Wakayama and Kenjirō Tokutomi. Blooming across an area of approximately 26,000m2, the garden is home to 500 plum blossom trees which consists of around 50 different types. This includes the famous 300-year-old jushoubai tree.
Some species of the plum trees are already in early bloom with the full bloom of the garden estimated for mid February until early March.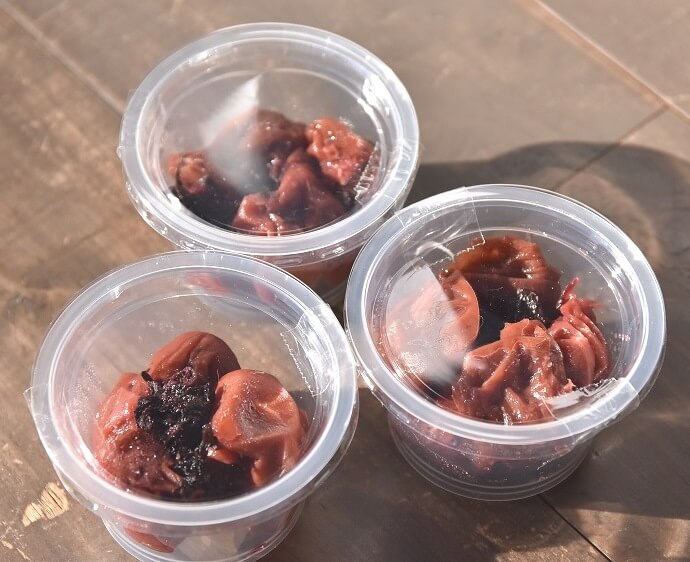 During the festival guests can once again look forward to enjoying artwork inside the studio this year with an exhibition by Kojima Zentarou―who visits the garden often to draw the plum blossom trees―which will be held from February 14 to 24. There will also be shamisen and shakuhachi musical performances and more.
Enjoy the beautiful plum blossoms of Japan while in Tokyo at Keio Mogusaen.
Information
Keio Mogusaen Plum Blossom Festival
Location: Keio Mogusaen (560 Mogusa, Hino, Tokyo)
Running: February 2, 2019 – March 10, 2019
Opening Hours: 9:00-17:00
Entry Fee: Adults – ¥300 / Children – ¥100
Access: 10-minutes on foot from Mogusaen Station / 10-minutes by taxi from Seiseki-Sakuragaoka Station or Takahatafudo Station
*Those who visit the garden using a Keio taxi service will receive a handmade dried plum present. Show your taxi receipt at the Shourenan (松連庵) cafe.
*35 minutes from Shinjuku Station via the Keio Line (Use the Limited Express or Semi Special Express train and change at Fuchu Station)
*There is no car park at the gardens so please arrive via train.
*Pets not allowed in the garden.
TEL: 042-591-3478 (10:00-17:00)
RELATED ENTRIES
Hello Kitty Summer Event Themed On the Undersea Palace Princess Oto-hime Kicks Off in Hyogo

The Hello Kitty media art facility and restaurant HELLO KITTY SMILE on Awaji Island kicked off a summer event on July 1. Titled "HELLO KITTY SMILE Oto-hime Ryugu-jo Beach Summer Festival," the event is set to run until the end of August.

Digital fireworks set the summer vibe

Catch your own Sanrio figure

Decorate your own Sanrio character ceramic

Children's meal at the Party Terrace


Hello Kitty afternoon tea at the Party Balcony

Spicy tortilla at the Garden Terrace

The event is themed on Oto-hime, the princess of the underwater palace Ryugu-jo which features in the Japanese folktake of Urashima Taro. It focuses on Hello Kitty and is a celebration of Bon odori, a type of dance that takes place during the Japanese summertime Bon Festival. Hello Kitty performs the dance on stage, and the audience can join in with handclapping, dancing, and waving the free fan they receive upon entering the venue. Visitors can also buy a ticket to meet Hello Kitty, and those who do receive a free plush toy along with a photo with the Sanrio queen herself.

At the event, visitors can enjoy Sanrio versions of all the fun things Japanese summer festivals, or natsumarui, have to offer like catching a Sanrio figure instead of a goldfish, painting ceramics, making vinyl prints, squirting water pistols, jumping on a giant trampoline, and so much more.

Other things to look out for include special screenings at the HELLO KITTY SMILE theatre and the firework projection mapping show. The event also has four different restaurants which are serving limited-time, seasonal summer treats: the Party Terrace, Party Balcony, Restaurant Tamatebako, and Garden Terrace.

Ⓒ2021 SANRIO CO., LTD. APPROVAL NO. L627610

Information

HELLO KITTY SMILE Oto-hime Ryugu-jo Beach Summer Festival

Japanese Event Title: HELLO KITTY SMILE 乙姫竜宮城 海辺の夏祭り

Running: July 1, 2021 – August 31, 2021
Opening Hours:10:00-19:00 (Last Entries 18:00)
*Brunch served exclusively on weekends and public holidays at the Party Terrace at 9:00-10:00 (last orders 10:30)

Closed: Tuesdays

Address: 985-1 Nojimahikinoura, Awaji, Hyogo 656-1721, Japan

Official Website: https://awaji-resort.com/hellokittysmile/

Rilakkuma & Sumikko Gurashi Festival Announced For Fall in Sapporo

Rilakkuma and Sumikko Gurashi are set to collaborate at a special festival centred entirely around the characters which will run at Sapporo Factory from September 17 to November 28.

Rilakkuma, Sumikko Gurashi, and you are invited to the festival which will be split into two areas: the Rilakkuma Pavilion and Sumikko Gurashi Pavilion where the characters will be present to greet guests. The event is taking on a magical theme which imagines the spirits of San-X, the company who created Rilakkuma and Sumikko Gurashi, casting a mysterious magic on the festival to bring happiness to all.

There's plenty for fans of the characters to enjoy including fun photo spots, exclusive merchandise, and much more.

If you're in Sapporo this autumn, don't miss the Rilakkuma & Sumikko Gurashi Festival.

Information

Rilakkuma & Sumikko Gurashi Festival

Running: September 17, 2021 – November 38, 2021

Venue: Sapporo Factory 3 (Floor 3F)

Address: 4 Chome-1-2 Kita 2 Johigashi, Chuo Ward, Sapporo, Hokkaido 060-0032, Japan

Opening Hours: [Weekdays] 13:00-17:00 (From 10:00 on September 17) / [Weekends] 10:00-17:00 (Last Entries 16:30)

Closed: Thursdays (Except September 23, 2021)

TEL: 011-272-9302 (10:00-17:00 except weekends and holidays)

Official Website: https://ntv.co.jp/rilakkuma-and-sumikko-fest/

Sakura Miku Blossoms On Merchandise at Hirosaki Sakura Matsuri 2021 in Aomori

Japanese anime, game, and hobby merch site CharaAni released a new collection of Sakura Miku merchandise on Monday in collaboration with the Hirosaki Sakura Matsuri 2021 festival.

Hirosaki Sakura Matsuri 2021 x Sakura Miku Line-Up

Folders | ¥450 Each (Tax Included)

Tapestries | ¥3,500 Each (Tax Included)

Acrylic Stands | ¥1,500 Each (Tax Included)

Holographic Pins | ¥550 Each (Tax Included) *Blind box, designs are random

Reversible Blankets | ¥5,500 Each (Tax Included)

Scarf Towel (Art by iXima) | ¥2,000 (Tax Included)

Happi (Art by iXima) | ¥6,000 (Tax Included)

Hand Towel (Art by Mamo) | ¥1,000 (Tax Included)

Motel Key Ring (Art by iXima) | ¥1,500 (Tax Included)

Teacups | ¥1,700 Each (Tax Included)

Flat Pouch (Art by iXima & Mamo) | ¥2,500 (Tax Included)

Drum Bag (Art by iXima) | ¥6,500 (Tax Included)

Full Graphic T-Shirt (Art by Morichika) | ¥5,500 (Tax Included)

Full Graphic Zipper Hoodie (Art by Hechima) | ¥9,900 (Tax Included)

Fashion Mask (Art by iXima) | ¥2,200 (Tax Included)

Desk Mat (Art by iXima) | ¥3,300 (Tax Included)

Shitakawa Rayaki Dove Whistle | ¥2,200 (Tax Included)

Music Box: "Haru o Matsu Hito" – PolyphonicBranch feat. Hatsune Miku

The Sakura Miku x Hirosaki Sakura Matsuri 2021 collection invites on board four artists: iXima, Mamo, Hechima, and Morichika who have created original artwork for the line-up. The items can be bought both at the festival and online.

The collection also includes Sakura Miku-inspired dove whistles made by Shitakawa Rayaki Tsuchi Ningyo, a clay doll company that has been around for over 200 years. The company began in the latter half of the Edo Period when Takaya Kanegura, who had learned how to make ceramics in the town of Chikuzen in Fukuoka, was employed by the Hirosaki Domain to build a furnace.

Miku fans can also get their hands on a music box which features an original song created for the festival called Haru o Matsu Hito ("Person Waiting For Spring"). It features artwork by iXima.

Art by iXima / Mamo / へちま / もりちか © Crypton Future Media, INC. www.piapro.net

Earth Day Tokyo 2021 to Promote Sustainability, Eco-Friendliness, and an Organic Lifestyle at Yoyogi Park

This year's Earth Day Tokyo will take place at Yoyogi Park from April 17-18 where messages of eco-friendliness, organic products, sustainability, ethics, and inclusiveness will be at the core of various events held as part of the festival.

This year marks Earth Day Tokyo's 20th run as part of the global Earth Day initiative and brings together environmental NPOs, charities, and locals. Due to COVID-19, in-person events will only take place on April 17 and 18 but the festival will run online from April 17 to 25.

Earth Day Tokyo 2021 Concert

Concerts will take place across the two-day Yoyogi Park festival. Many musicians and guests have committed themselves to the future of the planet at the Earth Day Tokyo's concerts, with past line-ups including Japan's King of Rock Kiyoshiro Imawano, UA, BONNIE PINK, and more.

This year will see performances from Itou Seikou ITP, Kenichi Nagira, yae, scoobie do, Taiji Sato, Nozomi Nobody, hachi_Aigoz, tico moon, Rokuta Yanagiya, and Ichido Ryutei.

Market area

Every single product at the market booths has a story, and visitors will be able to hear about them from the makers in-person as they shop. And the items sold at the market will be different each day, stocking something to add a little environmental consideration into our lives.

C. W. Nicol's "Nicol's Forest Kitchen" sausages help plant forests

The late Welsh-born Japanese writer, actor, and singer-songwriter C. W. Nicol was the Executive Committee Chairman for Earth Day Tokyo from 2000 until his passing last year. He also launched Nicol's Forest Kitchen in 2011 which has been a regular at Earth Day Tokyo to help protect Japan's forests. The food stall will make an appearance this year too.

C. W. Nicol began to wonder how he could help raise people's interest in forests as well as help revitalise forests that had been destroyed. Nicol's Forest Kitchen project was his answer: to spread awareness through food, and in doing so, the project could help build up forests.

Visitors separate garbage themselves with the help of volunteers

At the Eco Station, volunteer staff will help direct visitors in separating garbage properly, raising awareness on the proper procedures which they can take away home with them.

Information

Earth Day Tokyo 2021 @ Yoyogi Park

Running: April 17, 2021 – April 18, 2021

Time: 10:00-17:30

Where: Yoyogi Park

Entry: Free

Earth Day Tokyo Official Website: https://www.earthday-tokyo.org

Little Glee Monster and Other Japanese Artists Announced For Tokyu Musix Challenge

Tokyu Musix Challenge is set to take place at Bunkamura Orchard Hall this year on March 7 at 18:00.

2020 saw the cancellation of music events across the world, with Japan being no exception. Shibuya, Tokyo's hub of countless live music venues and halls, was particularly affected by the effects of the pandemic. But the energy and power that music artists hold is one they can offer to brighten up peoples' time during today's times. That's where Tokyu Musix Challenge comes in, a new kind of music festival that will bring together a multitude of genres, and where better for it to be held than the cultural melting pot that is Shibuya.

This year will be the first run of the festival, where a collaboration between classical music and contemporary pop music will clash at Bunkamura Orchard Hall. The Tokyo Philharmonic Orchestra, which is recognised as Japan's oldest symphony orchestra, will play alongside acts such as Little Glee Monster, Ai Higuchi, Win Morisaki, Meimi Tamura, Kayoko Yoshizawa, ROTH BART BARON, and more. And the line-up is set to grow as more performers will be announced in the lead up to the event.

Comments from the Artists

Little Glee Monster

"We are really looking forward to feeling the fresh breeze of our music colliding with the grand scale of an orchestra. We'll be sure to play our part so that we don't lose to the overwhelming performance of everyone in the Tokyo Philharmonic Orchestra, but also so that our music complements theirs. We hope that everyone can have a good time and feel good from the strength that music has."

Ai Higuchi

"In 2020, we may have all lived kind of complicit with so many options in front of us leading down different paths. A certain friend might have gone to a drinking party, another might not have seen their lover for a long time. What choices do we make? We become darker depending on our choices. In Shibuya, a city that continues to change, I will sing my unchanged songs."

Win Morisaki

"Over this past year, the respect I have for the position I'm in where I can express myself has really sunk in. I'm so happy I've been able to get involved with this challenge. And getting to sing with an orchestra, it's magnificent. I'm so excited about what's to come."

Meimi Tamura

"I can't contain my excitement at a genre collaboration between classic, which is the foundation of music, and pop which is strongly tied to Shibuya. I think I'm going to start feeling tense at getting to perform alongside everyone in the Tokyo Philharmonic Orchestra and singers of all different kinds of music. We don't have a lot of freedom today during the pandemic, but I will work my hardest so that I can deliver love through music from the city of Shibuya."

Kayoko Yoshizawa

"My chest roars and having the opportunity to perform along side Japan's oldest and longest-running Tokyo Philharmonic Orchestra at the legendary Orchard Hall. It's my first time experiencing singing with an orchestra, so I'm looking forward to seeing how the songs will be structured, and how my voice will sound, when we do it."

Hoshino Resorts BANTA CAFE Announces Art Festival by the Beachside

The incredible Hoshino Resorts BANTA CAFE, a beachside cafe which offers guests a breathtaking ocean view along the Okinawan coast, has announced the upcoming Beachside Art Festival which will take place from April 10 to May 9. The festival will bring together artwork from a range of artists born and raised in Okinawa and leading the island's youth culture. There will be a range of events from live painting to workshops, exhibits, and more.

The participating artists have all taken part in personal art exhibits, art events, showcased their work at concerts, and more both inside and outside Japan, but due to COVID-19, many events have of course been cancelled. Beachside Art Festival will serve as a way to display their wonderful works while supporting them at the same time.

The Artist Line-Up

DENPA

nami

HAYATO MACHIDA

Chibana Yukinaga

MACHIDA visiting BANTA CAFE to check the feel of the ocean and their artwork

Vibrant artwork with the ocean as the backdrop

Visitors will be greeted by artwork dotted across various locations around BANTA CAFE. If they follow the top of the cliff down to the beach they will find sofas to sit on which have also been decorated with the artists' artwork. Then there's the Goro Goro Lounge with its enormous window that stretches an entire wall and offers a panoramic view of the sea. Here, visitors can look out at the artwork which will look like it's floating above the horizon. All drinks ordered also come with a free sticker featuring artwork by the four participating artists.

Experience art-in-the-making with live painting

DENPA and MACHIDA will host their own live painting sessions where they will take inspiration from the surrounding environment.


HAYATO MACHIDA @ April 10, 2021 / April 11, 2021

DENPA @ April 18, 2021

Times: 11:00-13:00 / 14:00-17:00

Where: In front of BANTA CAFE on the beach

Price: Free

Have a go at traditional Okinawan bingata dyeing

Visitors can have a go at making their very own coasters from nine different colours using a traditional Okinawan stencilled dyeing technique known as bingata.


Running: April 24, 2021 / May 1, 2021 / May 2, 2021 / May 5, 2021

Times: 10:00 / 12:00 / 14:00 / 16:00 (Each slot lasts approx. one hour)

Capacity: 4

Where: Iwaba Terrace

Price: ¥2,000 (Tax Included)

Note: Online booking required

Take home a souvenir at the beachside museum shop

A museum shop will be open for the event on weekends and holidays where you can pick up art prints, stickers, postcards, and other mementos.


Opening Days: Weekends & Public Holidays

Opening Hours: 10:00-18:00

Where: Beachside Terrace

Information

Hoshino Resorts BANTA CAFE – Beachside Art Festival

Running: April 10, 2021 – May 9, 2021

Where: Hoshino Resorts BANTA CAFE, Okinawa

Official Website: https://banta-cafe.com/en/

elrow Launches Worldwide Up & Coming Talent DJ Contest

International club event organiser elrow opened global applications for its "Up & Coming Talent" DJ contest on Thursday which is set to run until March 14. Anyone around the world who is aged 18+ can submit their applications via elrow's official website.

Up&Coming Talent | elrow


Application Period: March 18, 2021 – April 14, 2021

Conditions: Aged 18+

Apply Here: https://www.elrowupncoming.com/

The contest's mission is to find and co-create up and coming talent and help them build their careers so that they can find independent success in the music industry. They are looking to "discover and promote the new headliners of tomorrow."

Several panels of judges will take part in selecting applicants. elrow is looking for two artists from around the world who have both DJ and production knowledge. Successful applicants will be added to elrow's roster of artists for a minimum for one year. It's a must for bedroom artists and dance music-lovers looking to make it in the industry.

Goldfish Festival to Take Place This Summer at Hoshino Resorts Aomoriya

If you're looking to experience Aomori's culture, then Hoshino Resorts Aomoriya is the hotel to stay at. Every year throughout the year the accommodation hosts many festivals. This summer, guests can look forward to the Goldfish Festival which will run from June 1 to August 31. Inspired by local tradition, the hotel will be decorated with paper goldfish floats—including one towering 3-meters tall—known as kingyo nebuta or kingyo neputa in Japanese. Shaved ice will also be served to help guests cool off.

Kingyo Nebuta goldfish floats, a summer tradition of Aomori

Aomori is synonymous with its myriad of goldfish festivals. The must-have decoration at these festivals are their goldfish floats which are lit up in the evenings. Their origin lies in the tsugaru-nishiki, a species of goldfish found only in Aomori's city of Tsugaru. People revered them back in the day and so created the floats to showcase that. They are a symbol of summertime Aomori and adored by locals and tourists alike.

Kingyo Sukui Yatai: Challenge yourself to Japanese festival goldfish scooping

A new stall arrives at Hoshino Resorts' Goldfish Festival this year: the classic Japanese goldfish scooping experience, a common sight at summer festivals. The goldfish you catch can be 'rented' and taken to your hotel room. Guests have to meet certain requirements if they want to be able to take the fish home with them. The staff look after the fish every day so guests can rest assured they are treated well. Goldfish scooping will be held with social distancing measures in place, with only one group allowed in the stall per turn.

4 Exciting Things to Look Forward to

Surrounded by over 450 ningyo neputa goldfish floats

Goldfish ice cream made in the form of traditional Japanese amezaiku candy art

Time: 19:00-22:00

Where: Yottemare Sake Bar

Price: ¥900 (Before Tax)

Take your scooped fish to your hotel room

Time: 16:00-21:00

Where: Jawamegu Plaza

Price: ¥500 (Before Tax)

Includes: 2-3 fish, fishbowl, air pump

Over 30 summer yukata to pick from with goldfish designs

Time: 15:00-20:00

Where: Jawamegu Plaza

Price: Adults ¥500 / Kids ¥300 (Before Tax)

Information

Shigakko Kingyo Matsuri Festival

Running: June 1, 2021 – August 31, 2021

Where: Hoshino Resorts Aomoriya

Conditions: Must be a guest staying at the hotel

Entry: Free

Event Details: https://hoshinoresorts.com/ja/hotels/aomoriya/

Iconic Japanese Mascot Kumamon Takes Annual Festival Online to Thank Fans

Kumamon is a Japanese mascot many are sure to have seen. It was created in 2010 as a way to promote Kumamoto Prefecture in Kyushu, Japan.

Each year, Kumamon brings fans together at an event called "Kumamon Fan Gratitude Festival in TOKYO." This year, for the safety of fans, it will be held digitally—from Tokyo rather than in Tokyo—with an online stream via Kumamon's official YouTube channel Kumamon TV on February 12 at 20:00 (JST). Kumamon is currently in the last stages of preparing what is sure to be an equally fun event for fans.

You can follow Kumamon on social media at the links below. Be sure to tune in for the stream this Friday.

Rapeseed Flower Festival Offers a View of 100,000 Plants With Mount Fuji in the Background

The Rapeseed Flower Festival is set to bloom on Soleil Hill, a park in Yokosuka, Kanagawa, from December 18 when around 100,000 bright yellow rapeseed flowers will shine across the flower beds.

Turnip Rape (Photo taken December 1, 2020)

Soleil Hill is a 5,000㎡ rolling expanse in the Miura Peninsula in Yokosuka, Kanagawa. The turnip rape is an early springtime flower that is blooming around a month earlier this December due to there not having been many typhoon disasters in the area this year, which will welcome the flower's peak blossom.


Photo taken last year with 100,000 turnip rapes, Sagami Bay, and Mount Fuji in the shot

The flowers bloom for a long period from December to March, around 100 days, and the incredible view can be enjoyed with Sagami Bay and Mount Fuji in the background.

Rapeseed Flower Festival

Photo taken last year at the of December with the rapeseeds in full bloom

The Rapeseed Flower Festival will run from December 18, 2020 to March 31, 2020 in line with the turnip rape's peak blossom. Visitors can enjoy a selection of food inspired by the flower beds and view as well as take part in a variety of programs.

Mount Fuji & Rapeseed Curry | ¥1,000 (Before Tax)

The Mount Fuji & Rapeseed Curry is inspired by the view of Mount Fuji and the flower beds during a sunset as represented by the red curry.


Rapeseed Herbarium Workshop | ¥1,600 (Tax Included)

Visitors can try making their own rapeseed herbarium in a bottle at the crafts workshop too.

Information

Rapeseed Flower Festival
Running: December 18, 2020 – March 31, 2021
Location: Yokosuka Soleil Hill
Address: 4 Chome Nagai, Yokosuka, Kanagawa
Opening Hours: [March-November] 9:00-18:00 / [December-February] 9:30-17:00
Official Website: https://www.seibu-la.co.jp/soleil/
*Event is subject to postponement or cancellation depending on the pandemic

Online Shonen Jump Festival 'Jump Festa 2021' Opens App Download and Announces Schedule

Shueisha announced last month that JUMP magazine's annual festival JUMP Festa is heading online for 'Jump Festa 2021 ONLINE' which will run from December 19, 2020 to December 20, 2020. The application needed to access the festival was finally made available on Wednesday (December 9), as was the timetable.

Concept Movie

Jump Festa 2021 ONLINE App

The festival can be attended either by download the Jump Festa 2021 ONLINE app (ジャンプフェスタ2021 ONLINE) or by going on the event's official website. However, certain content is restricted on the website. The festival takes place on Jump Festa Island, a virtual space where visitors can access content related to Jump-related media from the free-to-access library to the theatre, an online shop, and more. There's also a zoo area, photo spots, and mini games. If visitors use the 'attend with a friend' function or chat function, they can also take a special commemorative photo as well as watch the stage performances.

22 Original Art Pieces

Jump Festa is a celebration of five manga magazine publications by Shueisha: Weekly Shonen Jump, Shonen Jump+, V Jump, Jump SQ., and Saikyo Jump. Each of the five publications have had 22 of their own original characters drawn with original artwork for this online event which people can use as their avatar to roam around Jump Festa Island.

2-Day Stage Events

42 stage performances will take place on December 19 and 20. Content will include live streams from special guests at Makuhari Messe, videos, and more. There are three virtual stages to watch: the Jump Super Stage, Jump Studio, and Jump Amusement Tower.

Jump Super Stage

The Jump Super Stage is centred on anime and media adaptations of Jump manga. Performances will be streamed like from Makuhari Messe.

December 19, 2020

10:00-10:30 / Dr.STONE
11:30-12:00 / World Trigger
13:00-13:30 / Jujutsu Kaisen
14:30-15:00 / Boruto: Naruto Next Generations
16:20-16:50 / My Hero Academia

December 20, 2020

10:00-10:30 / World's End Harem
11:30-12:00 / Black Clover
13:00-13:30 / The New Prince of Tennis
14:30-15:00 / Dragon Quest: The Adventure of Dai
16:10-16:50 / One Piece

Jump Amusement Tower

This stage is centred on V Jump and Saikyo Jump. It will give the latest information on Jump games live from Makuhari Messe.

December 19, 2020

9:30~ / Jump Festa 2021 ONLINE Introduction Stage – Presented by V Jump Play
11:00~ / One Piece Bounty Rush Jump Festa 2021 Battle Stage ONE PIECE
12:20~ / Naruto & Boruto Game New Information
14:00~ / Yu-Gi-Oh! New Information JF 2021 Stage
15:50~ / JUMP FORCE Special Stage

December 20, 2020

9:30~ / Jump Festa 2021 ONLINE Introduction Stage – Presented by V Jump Play
11:00~ / Dragon Ball App Stage
12:30~ / Dragon Quest: The Adventure of Dai Cross Blade Special Stage
14:00~ / Yu-Gi-Oh! New Information JF 2021 Stage
15:00~ / Super Dragon Ball Heroes Ultimate Stage

Jump Stage

This stage is centred on Weekly Shonen Jump, Shonen Jump+, and ,Jump SQ. It will feature video footage.

December 19, 2020

9:10~ / Digital DJ Special Program
9:45~ / Kemono Jihen
10:30~ / Hell's Paradise: Jigokuraku
11:05~ / Haikyu!!
12:00~ / Super HxEros
12:35~ / Bōkyaku Battery
13:30~ / Blue Exorcist
14:05~ / Chainsaw Man
14:40~ / "Platinum End" Special
15:05~ / Demon Slayer: Kimetsu no Yaiba
15:50 / Gintama

December 20, 2020

9:10~ / Weekly Shonen Jump New Hero Stage
9:45~ / Hetalia World☆Stars
10:30~ / Rurouni Kenshin: The Hokkaido Arc
11:10~ / Moriarty the Patriot
12:00~ / 2.5D no Yuuwaku
12:35~ / Blood Blockade Battlefront Back 2 back
13:10~ /  SPY x FAMILY
13:45~ / Showa Otome Otogibanashi
14:30~ / 2nd Nationwide One Piece Knowledge King Battle Final Stage
15:05~ /  BLEACH/BURN THE WITCH
15:50~ / The Promised Neverland

JF Coins From 24 Jump Series

On Jump Festa Island, visitors can collect JF Coins from 24 different Jump series from across the five magazines which they can spend on mini games to earn limited-edition items, enjoy the Capsule Character Tower, and more. Some spots also give Rare Coins.

There and three original mini games to play. Gain a high score and earn one of twelve stamps.

Jump Photo Spots From 24 Series

Take a photo at one of the many photo spots that recreate famous scenes from 24 different Jump series. Have your character avatar look like they're part of the scene.

TikTok x Jump Festa Special Collaboration

This year, Jump Festa is collaborating with TikTok with its own official account as well as original video effects. There will also be a special TikTok LIVE stream in collaboration with the festival before the start date on December 18 at 19:00 (JST).

© SHUEISHA Inc. All rights reserved.

JUMP Magazine Announces Online Festival For 2021

Shueisha has announced that JUMP magazine's annual festival JUMP Festa is heading online for 'JUMP Festa 2021 ONLINE' which will run from December 19, 2020 to December 20, 2020.

JUMP Festa is a celebration of five manga publications by Shueisha: Weekly Shonen Jump, Shonen Jump+, V Jump, Jump SQ., and Saikyo Jump. This year marks its 22nd run, but due to the COVID-19 pandemic, the event is unable to be held in real life and so will be held online for the first time. To enter, you can download the JUMP Festa app or head on over to the event's official website.

JUMP Festa Island – A Virtual Venue

JUMP Festa Island is where JUMP Festa 2021 ONLINE will take place, a virtual space where visitors can access content related to JUMP-related media from the free-to-access library to the theatre, an online shop, and more. There's also a zoo area, photo spots, and mini games.

Original characters created for JUMP Festa Island

Each of the five magazine publications have had their own original characters drawn for this online event. More details will be revealed about these characters in the coming weeks, but they can run around, pose, and more.

© SHUEISHA Inc. All rights reserved.

Information

JUMP Festa 2021 ONLINE
Running: December 19, 2020 – December 20, 2020

Time: 9:00-17:00
JUMP Festa Official Website: https://www.jumpfesta.com/