The Lake Suite Ko No Sumika: Toya Sun Palace Resort's New Building
Toya Sun Palace Resort and Spa has announced that it will open an annex of the main site called The Lake Suite Ko No Sumika on August 1, 2019.
This hotel offers the closest view of Lake Tōya without anything to get in the way of the breathtaking scenery. It offers a luxurious resort experience for adults that resonates with nature by taking full advantage of the vast and open surrounding environment and making it one with the facility.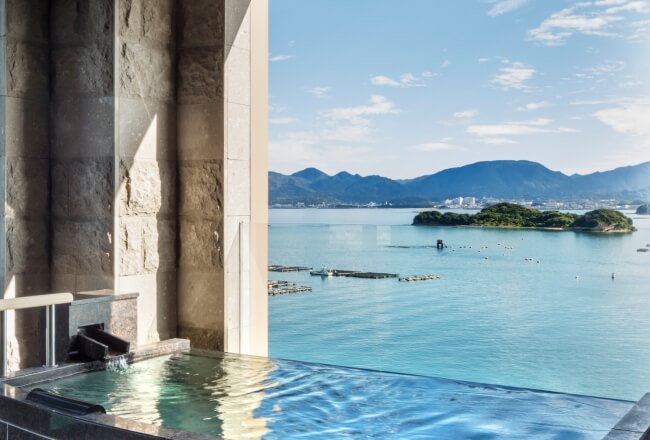 Enjoy the morning calm over the quiet lake as if time has stopped, basking in the sunlight and breathing in the fresh, crisp air. Feel at peace with the changing seasons as cherry blossoms decorate the spring, lush greenery spreads through summer, the red leaves reveal themselves in autumn and the snow falls in winter all while absorbing the tranquil sound of the brisk breeze.
The Lake Suite is a top class hotel that offers the closest view of Lake Tōya than any other hotel site. Sitting right next to the lake and being at peace and one with nature will make you want to stay there forever. The "Sumika" in the facility's name means "to live" while to live somewhere means that you must like that place. That's the kind of experience The Lake Suite wants to offer: a place that you will always love and always want to be.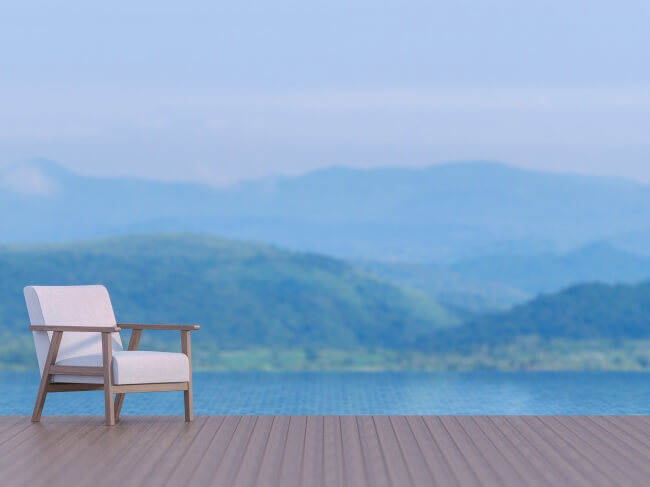 Upon arriving, you are transported into another world as you pass through a hallway surrounded by water where you can hear the trickling of the flowing lake. You are then met with the hotel entrance where the visual effect of a flower basin fuses the hotel Lake Tōya as one.
The hotel lobby incorporates the colour brown giving it a chic and stylish appearance that goes well with the outdoor scenery. The lobby interior has a soft "Japanese" aesthetic with warm lighting. The lounge is stocked with various drinks to enjoy while gazing across the lake.
On the top floor of the hotel (floor 8) there is a large open-air bath that offers an unbroken, panoramic view of the lake. This bath is built like an infinity pool that makes it look like the bath connects directly to the lake. Guests can enjoy the sky reflecting from the water surface. At night in spring, you'll also be able to soak in the stars with star gazing. There's also a sauna and the bath has a jet function too.
The hotel's restaurant also boasts the closest view of Lake Tōya.
If you're looking for a premium and unforgettable stay in Japan then look no further.
Information
The Lake Suite Ko No Sumika
Address: 7-1 Tōyakoonsen, Sōbetsu-cho, Usu District, Hokkaido
Grand Opening: August 1, 2019
TEL: 0142-82-4121 / FAX: 0142-82-4126
Official Website: https://www.konosumika.com
RELATED ENTRIES
Tokyo Tokyo Official Souvenir Shop Opens in Haneda Airport

Tokyo Toyko, a website that provides information on things to do in Japan's capital, opened its own souvenir shop, called Tokyo Tokyo Official Souvenir Shop, in EDO KOJI on February 22, 2020, which is located on the fourth floor of Haneda Airport International Passenger Terminal.

As part of an effort to promote the appeals of Tokyo to the world, Tokyo Metropolis is carrying our PR work and branding with the catchphrase "Tokyo Tokyo Old meets New."

Happy Daruma / Mamehapi

Edo Kimekomi Waving Cat

The "Tokyo Omiyage Seisaku Project" aims to develop products in collaboration with Tokyo Metropolis and local businesses with the "Tokyo Tokyo" brand. To date, 50 products (excluding colour variations) have been produced, from traditional crafts to stationery, food, and moreーall embodying the spirit of Tokyo.

The shop design features illustrations of Asakusa and Shibuya, two a symbols of Tokyo that have been around since the Edo Period and are and hub of traditional and contemporary Japanese culture respectively. The shop is also planning to hold workshops, where you can learn to make your own daruma and origami.

If you're travelling to or from Haneda Airport, then be sure to pay a visit to Tokyo Tokyo Official Souvenir Shop where you can pick up souvenirs that combine traditional and contemporary culture.

Information

Tokyo Tokyo Official Souvenir Shop

Location: EDO KOJI – Haneda Airport International Passenger Terminal (Floor 4F)

Address: 2-6-5 Hanedakuko, Ota Ward, Tokyo

Opening Hours: 8:00-21:00 (Open all year round)

Raise Your Own Sky Lantern at New Greenpia Tsunan in Niigata

New Greenpia Tsunan, a resort facility in Tsunan, Niigata, is holding an exciting sky lantern event every day until March 31, 2020.

 

The sky lantern event is held every winter at New Greenpia Tsunan, and has returned again for 2020. It began in 2012 as a means of showing respect for and praying for the revival of disaster-stricken areas, such as the areas affected by the 2011 Tohoku earthquake, the Nagano and Niigata earthquake, and so on. Every year, couples and families come together to put their prayers and wishes into the lanterns before letting them go into the night sky. The countless lanterns raised at once soar up high and light up the black cloak of the night like burning stars.

For 2020, the event will also sell lantern t-shirts, handkerchiefs, hand towels, cookies, and other themed items.

 

If you're travelling in or around Niigata in Japan this year, then don't miss New Greenpia Tsunan's very special winter event.

Information

Sky Lantern Event

Running: Everyday until March 31, 2020 (Except select days where the site is closed or booked)

Location: New Greenpia Tsunan (12300 Akinari, Tsunan, Nakauonuma-gun, Niigata)

Time: Weekdays – From 18:00 / Saturdays & Days Before Public Holiday – From 18:00 & 20:00 / March Onward – From 18:30

Booking: Bookings available until 17:00 on the day at New Greenpia Tsunan

Price: ¥1,500 (1 lantern)

Official Website: https://new-greenpia.com/

*In the case of stormy weather, the event will not proceed on that day

URBAN SENTO: The New Brand Making Japanese Bath House Clothing Stylish

"JAPAN MADE PROJECT" is a project launched by Japanese apparel shop URBAN RESEARCH which aims to revitalise regions around Japan by building local communities with businesses and creators around the country while also looking to take a step back to reconsider what is appealing about each of those regions.

As part of this new project, URBAN RESEARCH has announced its plans to establish "JAPAN MADE PROJECT TOKYO" on March 20, 2020. Focusing on Tokyo, this branch of the project will see the launch of "URBAN SENTO." This will focus on the potential of sento, or "bath houses," in the city, which will also include a new line of bath house clothing made in collaboration with Kosugi-yu a sento located in the Tokyo district of Koenji.

Public bath houses play an important part in Japanese culture by contributing to people's mental health and creating communities. This is especially so in a city as busy as Tokyo. That's where URBAN SENTO comes in, which will encourage the rediscovery of the city's appealing culture through sento.

Pre-sales for the new clothing line opened on the URBAN RESEARCH online store on February 14, 2020. It features a collection of must-have items for the bath house, whose message is to spread the bath house lifestyle.

Apparel

To ensure the clothing is comfortable as bath-wear, the collection is made from high quality cotton provided in collaboration with HAAG, a brand managed by Smile Cotton. This cotton is nice and soft and does not rub against the skin. Smile Cotton's materials are even endorsed by the Japan Atopic Dermatitis Patients Association.

Crew Neck T-Shirt – ¥7,700 (Tax Included) | Sizes: Small/Medium/Large | Colours: White/Light Grey/Black

One Piece – ¥13,200 (Tax Included) | Sizes: Small/Medium | Colours: White/Light Grey/Black

Short Pants – ¥12,100 (Tax Included) | Sizes: Small/Medium/Large | Colours: White/Light Grey/Black

ZIP Parker Hoodie – ¥16,500 (Tax Included) | Sizes: Small/Medium/Large | Colours: White/Light Grey/Black

Pouch (Medium Size) – ¥3,080 (Tax Included) | Colours: White/Navy/Orange

The mesh pouch can be taken into the bath with you. Put your shampoo or other bath products in with you and take a dip.

Miscellaneous Items: IKEUCHI ORGANIC x URBAN SENTO
The bath towels you can use at Kosugi-yu are made by IKEUCHI ORGANIC. They come in two sizes and are incredibly soft on the skin.

Oragnic 120 Bath Towel – ¥5,060 (Tax Included) | Colours: White/Grey

Oragnic 120 Face Towel – ¥1,980 (Tax Included) | Colours: White/Grey

Kimura Soap x URBAN SENTO
The products used for cleaning yourself at Kosugi-yu, as well as what's used for washing the towels, is soap provided by Kimura Soap. This pure soap, crafted by artisans by cooking in kettles, is friendly to the environment and the skin. It can be used at the bath house, in the bath at home, or even for your laundry.

Body Soap (Hinoki Cypress/Lavender) – ¥1,980 (Tax Included)

This body soap gently lathers your skin in bubbles and leaves your skin filling refreshed. Both the hand soap and body soap feel good to use.

The a video and main visual were released for URBAN SENTO, which feature Japanese music artists Yusuke Emoto and Aoi Nogi as the models.

Information

JAPAN MADE PROJECT TOKYO "URBAN SENTO"
Pre-sales: Opened February 14, 2020
Available: URBAN RESEARCH online store
*Only a select number of items are available in the pre-sale

General Sale: March 20, 2020

Available: URBAN RESEARCH online store / URBAN RESEARCH Jinnan / URBAN RESEARCH Namba CITY / URBAN Famima!! Toranomon Hills Business Tower
*Store list subject to change

Official Website: https://media.urban-research.jp/news/61847/

ART LAB KYOTO: The New Shop Opening at Kyoto City Kyocera Museum of Art

ART LAB KYOTO is the new museum shop set to open at Kyocera Museum of Art on March 21, 2020 in line with the revamp currently undergoing at the museum, with design work being co-created by Japanese architects Jun Aoki and Tezzo Nishizawa.

Kyoto is known as a hub of Japanese culture, managing to maintain traditions while constantly evolving. ART LAB KYOTO will embody everything about this idea when it opens after the museum's revamp. The spacious shop will not only sell merchandise related to the exhibitions, but books and goods related to art from Kyoto both traditional and contemporary, items in collaboration with external artists, original and exclusive sweets, and more. ART LAB KYOTO will also host events promoting the diversity of art and culture in Kyoto.

Information

ART LAB KYOTO

Address: Kyoto City Kyocera Museum of Art Floor B1F (124 Okazaki Enshojicho, Sakyo Ward, Kyoto)

Grand Opening: March 21, 2020

Closures: Open every day until April 30, 2020 except March 23. The schedule commencing May will be posted at a later date on the official website.
Opening  Hours: 10:00-19:00

Official Website (English): https://kyotocity-kyocera.museum/en/

6 Must Try Soft Serve Ice Creams in Hokkaido – MOSHI MOSHI NIPPON

Hokkaido is home to some seriously sumptuous

desserts

, not to mention their

matcha range

. Today we're looking at 6 unmissable ice creams you can try around Sapporo, because if Hokkaido is known for anything, its the soft serve ice cream.

We are joined once again by

Kei

, a Japanese Instagrammer who posts enticing pictures of the delicious desserts and drinks he has tried at cafes around Hokkaido. He has kindly provided us with his incredible pictures along with a descriptions, which we have translated into English.

UMIERE 2nd in Tanukikoji

UMIERE is credited with lighting the fire on the popularity of mokomoko, or 'fluffy,' soft serve ice cream. Their second branch, UMIERE 2nd, recently reopened after a revamp. As part of their renewal, they have introduced a number of new menu items like shiratama white flour dumplings.

Macaron Soft Parfait – ¥718

I ordered the Macaron Soft Parfait, which is a tower of organic soft serve ice cream, macarons, chocolate sauce, and sponge cake filled with sliced strawberries. The ice cream itself is both refreshing yet rich. As you continue to scoop up mouthfuls from the ice cream cup, the other ingredients gradually reveal themselves: the fresh cream, the strawberries, and the sponge, just like a parfait.

The cafe enjoys a relaxed atmosphere and is a great place to pop into if you're looking for a hideaway.

▼Umiere 2nd (ウミエール)

Address: Marufuku Bldg. Floor 2F, 4-Chome-9, Minami 2 Jonishi, Chuo Ward, Sapporo, Hokkaido

Opening Hours: 11:00-18:30

No Fixed Holidays

Enquiries: 011-211-4738

JB ESPRESSO MORIHICO in Shindohigashi

When talking about coffee in Hokkaido, the name that's likely to pop up is Morihico. And when talking about their most popular menu item sold at their chain cafe JB ESPRESSO, it's their variety of cute ice creams.

JB Soft Cream Pudding à la Mode – ¥450

Based on the Japanese "purin à la mode," a type of Japanese custard pudding served with an assortment of other desserts, this ice cream is custard pudding flavoured and is drizzled in caramel, topped with whipped cream, and crowned with a cherry. And the caramel isn't just sauceーit's crunchy like caramel chocolate, giving the ice cream a variety of scrumptious textures.

The mixed ice cream is one of the specialities of JB, combining milk and chocolate flavours. The milk ice cream is made with milk from Jersey cattle, so is rich in flavour while still being smooth and refreshing. The chocolate is also rich, made from three types of Spanish chocolate.

▼JB ESPRESSO MORIHICO (ジェービー エスプレッソ モリヒコ)

Address: 16-1-1 Kita 34 Johigashi, Higashi Ward, Sapporo, Hokkaido

Opening Hours: 9:00-22:00

No Fixed Holidays

Enquiries: 011-788-2133

Kinotoya Bake (Pole Town Branch) in Odori Park

Kinotoya Bake is located in Pole Town, accessed by walking towards Tanukikoji from Odori Park. They don't sell cooked confections or take like the Kinotoya brand is known for, but rather tarts, apple pies, and ice creams.

The name of this ice cream alone screams Hokkaido, as the prefecture is known for its Gokujo, or "first-rate" milk. It's pretty big as you can probably tell from the photo! This full-bodied milky cream, which is smooth like fresh cream, is the one I'd recommend from the various different ice creams made with Hokkaido milk. And because of its size, your belly is sure to be satisfied afterwards!

▼Kinotoya Bake

Address: Pole Town, 3-Chome, 2 Minami Jonishi, Chuo Ward, Sapporo, Hokkaido

Opening Hours: 10:00-20:00

No Fixed Holidays

Enquiries: 0120-24-6161

TEA SIGN in PARCO Odori Park

TEA SIGN is famous in Sapporo for its tapioca, and at the PARCO branch, they sell it with milk tea flavoured ice cream.

Tapioca Milk Tea Soft Cream – ¥520

You can really taste the flavour of the tea leaves. The ice cream is moderately sweet with a strong black tea taste. The ice cream means it offers a different kind of tapioca experience from your usual tapioca milk tea.

▼TEA SIGN (ティーサイン)

Address: PARCO (Floor B2F), 3-Chome-3, Minami 1 Jonishi, Chuo Ward, Sapporo, Hokkaido

Opening Hours: 10:00-20:00

No Fixed Holidays

TSURU CAFE in Miyanomori

TSURU CAFE is a stylish little cafe in Miyanomori where they serve cooked confections, cakes, and many popular ice cream flavours. As well as the cafe side of TSURU, they also sell artwork and other things by creators.

Flavour Soft Strawberry – ¥830

The "Flavour Soft Strawberry" is a speciality of TSURU CAFE. This towering dessert is layered with ice cream, fresh strawberries, meringue, and strawberry sauce. The milky ice cream is refreshing, and the sweet taste of the strawberries is divine. The flavours are simple, but every thing in the dessert is delicious. The strawberry sauce is served on the side so you can pour over the amount that suites your taste.

▼TSURU CAFE (ツルカフェ)

Address: 5-2-8 Miyanomori 2 Jo, Chuo Ward, Sapporo, Hokkaido

Opening Hours: [Mon-Sat] 10:00-20:00 / [Sun & Holidays] 10:00-19:00

Closed: Wednesdays

COCOBON in Shin-Sapporo

COCOBON is a super popular fruit and ice cream shop that opened in Shin-Sapporo just last year. The ice cream and fruits are mixed together as soon as you put your order in.

I ordered the Belgian chocolate ice cream with walnuts and chocolate cereal. The Belgian chocolate is sweet and its texture is amazing together with the walnuts. If you love chocolate, you'll love the rich flavour of this ice cream.

The shop actually closes when all the stock is sold out, so if you're planning a trip here, be sure to arrive nice and early so as to not miss out.

▼COCOBON (ココボン)

Address: 8-7-30 Aobacho, Atsubetsu Ward, Sapporo, Hokkaido

Opening Hours: 11:00-17:00

Closed: Mondays & Tuesdays

Enquiries: 011-887-8984

Did you enjoy these ice cream scoops? We hope you get to try some of them, and if you want even more dessert recommendations from Hokkaido, be sure to follow 

Kei

 on Instagram.

Photos & Original Text: Kei / 敬 (@607keih)

Translation: Joshua Kitosi-Isanga

*Information written in this article is correct at the time of publishing. For more details on each shop, please visit their official websites and social media pages.

*Food names are translated from Japanese into English where appropriate.

9 Must Try Desserts and Sweets in Hokkaido & at New Chitose Airport – MOSHI MOSHI NIPPON

We at MOSHI MOSHI NIPPON know our readers love desserts and sweets as much as we do, and that's why we make sure to never go too long without writing about the latest must-try treats in Japan, like our recent article on

matcha desserts in Sapporo

.

We return to you once more with the 9 must-try delectable delights at New Chitose Airport in Hokkaido, and at various locations across Hokkaido. If you're heading to Japan's northernmost prefecture, and are using this airport, or are travelling throughout Hokkaido, then you can't miss out on these irresistible picks.

Today, we are joined by Kei, a Japanese Instagrammer who posts enticing pictures of the delicious desserts and drinks he has tried at cafes around Hokkaido. He has kindly provided us with his incredible pictures along with a descriptions, which we have translated into English. Enjoy!

GINRYU・BonBon BERRY | New Chitose Airport

GINRYU・BonBon BERRY is a revamp of the original shop, GINRYU. Located on the second floor of New Chitose Airport Terminal, the new shop has teamed up with BonBonBERRY, another store right next to Atami Station in Shizuoka Prefecture.

The shop specialises in Tokachi Ginryu strawberries, a variety of strawberry produced in the town of Otofuke. They have a distinct appearance and taste, with their beautiful white inside, low acidity, and high sugar content.

Omocchiizu Strawberry Skewer – ¥432

This skewered dessert is made up of strawberries, cheese-filled sticky rice cake, and strawberry baumkuchen. This is the ultimate strawberry indulgence!

Strawberry Bavarois – ¥740

The Strawberry Bavarois and soft serve ice cream look super cute too. The high sugar content of the Ginryu strawberry makes them perfect for any kind of dessert.

The shop is stocked full of other great sweet treats too, so be sure to check out their strawberry range.

▼GINRYU・BonBon BERRY

Address: New Chitose Airport Terminal – Floor 2F

Opening Hours: 8:00-20:00

No Fixed Holidays

Enquiries: 0123-29-4480

Chocolatier Masale | New Chitose Airport

Chocolatier Masale is a standout name in Hokkaido. This leading chocolate company have multiple branches – in addition to the Sapporo shops, they have sites in both the lobby and gate lounge of New Chitose Airport.

Mousse Glacee White Chocolate & Hokkaido Milk – ¥410

Exclusive to the departure lobby branch of Chocolatier Malase, this chocolatey dessert is an ensemble of ice cream made from mousse-packed Hokkaido milk and covered in chocolate. It's finished with cracked freeze-dried strawberries which give a fruity kick to the smooth taste of the ice cream and delightful chocolate.

▼Chocolatier Masale – New Chitose Airport Departure Lobby (ショコラティエマサール 新千歳空港出発ロビー店)


Address: New Chitose Airport Terminal – Floor 2F

Opening Hours: 8:00-20:00

No Fixed Holidays

Enquiries: 0123-29-4115

siretoco sky sweets | New Chitose Airport

siretoco doughnuts were created in the town of Nakashibetsu in Hokkaido. The New Chitose Airport Terminal branch is immensely popular for its cute mini animal doughnuts which are steamed instead of being dropped into hot oil, making them a healthier doughnut option.

Happy New Year Lucky Rat – ¥420 / Rich★Cream Cheese – ¥390

The doughnut on the left celebrates 2020 and the Year of the Rat in the Chinese Zodiac. It's white chocolate and strawberry chocolate flavoured. It's also not too sweet and has a soft and fluffy texture. The cheese doughnut has a very cheesy flavour indeed. All the animal faces are also made by hand, so each and every one is unique. Both are really cute looking.

▼siretoco sky sweets (シレトコ スカイ スイーツ)

Address: New Chitose Airport Terminal – Floor 2F

Opening Hours: 8:00-20:00

No Fixed Holidays

Enquiries: 0123-46-2109

Cafe Owl | Lake Shikotsu

Handmade Baked Purin – ¥500

Cafe Owl is situated in Shikotsuko Onsen, a popular tourist spot about a 55-minute transit bus ride from New Chitose Airport. It has a warm atmosphere to it with its log house-like appearance. Their food menu has just two things on it: pizza and purin (Japanese custard pudding). I ordered a purin and cup of coffee as a set.

The photo doesn't show how big the purin actually is – it's like a cake slice. It has a refreshing taste and isn't overly-sweet so can be chowed down easily.

▼Cafe Owl (カフェアウル)

Address: Shikotsuko Onsen, Chitose, Hokkaido

Opening Hours: 9:00-17:00

Closed: Wednesdays

Enquiries: 0123-25-2590

Pennennolde | Lake Shikotsu

Atsuma Honeysuckle Rare Cheese & Cocoa – ¥380 / Walnut Chocolate Ganache – ¥380

This cafe is also located in Shikotsuko Onsen. Their main meal is muffins, which are served warm inside their very relaxed space. The honeysuckle cheese muffin is thick and sticky, and doesn't have an unpleasant smell from the cheese. It's simply delicious. The chocolate ganache too is melted which only adds to the nice texture of the walnuts.

The muffins can be ordered for takeout too, so you can take them with you to enjoy the local sights.

▼Pennennolde (ペンネンノルデ)

Address: Bangaichi, Shikotsuko Onsen, Chitose, Hokkaido

Opening Hours: 10:00-17:00

No Fixed Holidays

Enquiries: 0123-25-4115

Kita no Umaimonten Hekisui | Lake Shikotsu

Raspberry Chocolate Soft Cream – ¥500

This cafe is close to Lake Shikotsu. They sell soft serve ice cream from the famous Iwase Farm located in the city of Sunagawa. This flavour is made with rich chocolate ice cream and is topped with freeze-dried raspberries, creating a great balance between the two.

This small place has its own eat-in area too, so you can kick back and relax while you enjoy the taste of some Hokkaido soft serve ice cream.

▼Kita no Umaimonten Hekisui (北のうまいもん店碧水)

Address: Shikotsuko Onsen, Chitose, Hokkaido

Opening Hours: Not known

Closed Days: Not known

Enquiries: 0123-25-4115

Official Website: Not known

Doremo LeTAO | Chitose

Chocolate Noisette Berry – ¥1,540

Doremo LeTAO is just a 15-minute walk from Chitose Station. Their "Chocolate Noisette Berry" is packed fully of rich chocolate, nuts, and berries.

Berry Mascarpone – ¥1,650

The "Berry Mascarpone" comes with four pancakes drizzled in berry sauce, mascarpone, custard, strawberries, and vanilla ice cream. The pancakes have soft meringue inside them, but are still light to eat, so you can rest assured you won't have a heavy stomach afterwards.

▼Doremo LeTAO (ドレモルタオ)

Address: 6-1-1 Asahinochi, Chitose, Hokkaido

Opening Hours: 11:00-18:00

No Fixed Holidays

Enquiries: 050-5570-2975

Mirtillo | Osatsu

Mirtillo is a gelato shop on the outskirts of Osatsu in Chitose. It's a tricky place to reach without a car, but it still stands as an incredibly popular gelato store. They have 16 flavours of gelato including several limited-time options.

I tried their "Waffle Parfait," which lets you pick from two gelato of your choice along with toppings. The combination of the crunchy waffles with the gelato is delicious. Added together with the blueberry sauce and fruits, you get a variety of tastes and textures.

The blueberries are actually all grown on site.

▼Mirtillo (ミルティーロ)

Address: 2 Osatsu, Chitose, Hokkaido

Opening Hours: 11:00-18:00

No Fixed Holidays

Enquiries: 0123-23-5323

Donut Chaya Honwaka | Eniwa

Honwaka Cocoa – ¥140 / Autumn Chestnut – ¥220

Honwaka is a doughnut shop about 1.5km from Eniwa Station. I got to try some of their seasonal autumn flavours: the fluffy and flavourful "Honwaka Cocoa," and the chestnut and chestnut cream-loaded "Autumn Chestnut." The chestnut cream is just the right amount of sweetness and has a really delightful chestnut flavour.

The store offers limited-time seasonal flavours with each passing season, so be sure to check out my Instagram to see more.

▼Donut Chaya Honwaka (ドーナツ茶屋 ほんわか)

Address: 7-18-4 Koganeminami, Eniwa, Hokkaido

Opening Hours: 11:00-17:00

No Fixed Holidays

Enquiries: 0123-25-5346

Did you enjoy these dessert picks? We hope you get to try some of them, and if you want even more dessert recommendations from Hokkaido, be sure to follow

Kei

on Instagram.

Photos & Original Text: Kei / 敬 (@607keih)

Translation: Joshua Kitosi-Isanga

*Information written in this article is correct at the time of publishing. For more details on each shop, please visit their official websites and social media pages.

*Food names are translated from Japanese into English where appropriate.

Star Wars Theme Cafe Opens in Tokyo, Osaka, Nagoya, Hokkaido & Fukuoka

With The Rise of Skywalker concluding the Skywalker saga of the Star Wars film franchise, fans are left craving more from the galaxy far far away.

If you're one of those people, and need a fix before season two of The Mandalorian, which is coming in late 2020, then you'll want to hit up the all-new Star Wars-themed cafes now open for a limited time at branches of OH MY CAFE across Japan in Tokyo, Osaka, Nagoya, Hokkaido, and Fukuoka.

We visited the Tokyo branch of the cafe which is located inside Tokyu Plaza Omotesando Harajuku. Here's our report of this must-see cafe for Star Wars fans, a museum-like space chock-full of concept art.

Ready to greet you as you walk into the cafe is none other than Darth Vader. This life-size recreation of the Sith Lord is really striking, but don't worryーthough he is realistic, he won't use his Force choke on you, he only wishes for you to have a nice meal.

Plastered across the cafe walls are pieces of concept art used during the production of the Star Wars film series.

Here's a galactic showcasing of the cafe's menu. There are 7 food items and 5 drinks to choose from, all inspired by the franchise and its characters.

<STAR WARS> Far Far Away Galaxy Black Curry – ¥1,590

A signature dish of the cafe, this black curry features the Star Wars logo which is actually an edible wafer. The space design is bamboo charcoal-cooked rice which is mixed with spicy sauce and topped with peanuts for stars.

<BB-8> Seafood BB-8 Gratin – ¥1,690

Fans of BB-8 won't be able to resist this delicious gratin, served with salad and French bread for a full belly.

<Yoda> Root Leaf Stew – ¥1,590

This stew is inspired by Yoda living his final years in his little shack in Dagobah during Star Wars: Episode V – The Empire Strikes Back. It's packed full of vegetables and will no doubt be enjoyed by both kids and adults alike.

<R2-D2 & C-3PO> Buddy Burger Plate – ¥1,990

This set of two chicken burgers comes with an R2-D2 seasoned with béchamel sauce and a C-3PO burger seasoned with meat sauce. You can take the flags home with you too. We recommend sharing this between two people.

Portion Bread – ¥500

This is the one I was most interested in personally, because I was curious to know from its appearance how it would taste. It's the portion bread that Rey tries eating in the film. At first glance it looks crunchy, but to my surprise it was soft with a subtle sweet flavour.

Lightsaber Drinks – ¥600 Each (w/ Coaster ¥1,300)

From the left, the flavours are Darth Vader blood orange, Luke Skywalker ramune, and Yoda melon. When you draw your straw from the paper wrapping, it turns into a lightsaber!

<STAR WARS > Jet Black Coffee – ¥600 (w/Bottle ¥1,750)

These limited edition bottles of black coffee feature the famous Star Wars opening crawl credits. Which one you get is randomーa must-have for all fans!

After enjoying some Star Wars food and drink, it's time to check out the cafe's exclusive merchandise. There are 13 types of merch in total all bearing artwork from across the film series.

Folder – ¥350

I recommend picking up one of these folders made in collaboration with the cafe. It has illustrations of the food and drinks being sold there.

Tote Bag – ¥3,500

This tote bag has illustrations of characters from Star Wars and how they are all connected.

There's plenty of other must-grab merch too, from music to stationery and more.

Customers who spend over ¥1,000 (excluding tax) on any of these exclusive items will receive the above-pictured limited edition bag. These are limited in stock so are available while supplies last.

There's plenty of places inside for fans to take great photos, so make sure you snap lots.

Also, if you book a table in advance and order something from the menu, you'll receive one of these 25 possible A5 folders, so be sure to book before you go!

© & TM Lucasfilm Ltd.

*All listed prices are pre-tax. Photos are for illustrative purposes only.

Information

"Star Wars" at OH MY CAFE

Locations/Dates:

■Tokyo: OH MY CAFE TOKYO (Tokyu Plaza Omotesando Harajuku) / January 18, 2020 – February 23, 2020

■Osaka: kawara CAFE&DINING Shinsaibashi / January 17, 2020 – February 23, 2020
■Nagoya: kawara CAFE&KITCHEN Nagoya PARCO / January 23, 2020 – February 25, 2020

■Hokkaido: Cafe Interlude, Coach & Four Shinkawa-dori / January 24, 2020 – February 24, 2020

■Fukuoka: kawara CAFE & DINING KITTE Hakata / January 24, 2020 – February 26, 2020

"Star Wars" OH MY CAFE Official Website: https://sw.ohmycafe.jp/

3 Breathtaking New Rooms to Open at Hoshino Resorts OMO7 Asahikawa

Hoshino Resorts OMO7 Asahikawa, a branch of Hoshino Resorts' hotels for tourists and travellers, has announced that it is opening three new room types to guests from April 1 to make their stay and travels that much better. They are the "Double Room," "Superior Room," and "Family Room."

OMO7 Asahikawa opened in Hokkaido April 2018 as the first branch of Hoshino Resorts's "OMO" brand of city tourism hotels. The hotel offers not only a great sleep, but enjoys the benefit of its location with must-see sights surrounding it, and all of this to make guests' stay the best it can be.


The hotel's Studio Rooms, formerly named the DANRAN Room before the renovation, have received praise from guests that have stayed there for offering everything they needed while being compact, as well as it being easy to kick back and relax in them. It was revealed that in 2019, the average number of people staying in a single room at Hoshino Resorts OMO7 Asahikawa was higher than the average of that in other city hotels in Asahikawa, as well as the hotel being popular for catering to tourist and sightseers' needs.

The hotel has now renovated 111 of its rooms in response to it being used by a lot of people because of its catering towards tourists' needs. It has also added the three new types of roomsーDouble, Superior, and Familyーwhich incorporate the well-received functionality of the Studio Rooms. That's 226 room renovations out of the hotel's 237 rooms.

All beds have storage space underneath them. Those travelling in big groups like families will especially benefit from this if they have a lot of luggage as they can save on plenty of space in rooms.

New rooms are furnished with new sofas and tables for maximum comfort amongst friends and family where they can talk about their trip while enjoying local drinks and snacks.

Also, in the Superior Rooms and Family Rooms, where there is a small amount of guests, beds can be folded and turned into spacious sofas.

The OMO brand promises "a reasonable price for your travels," and this rings true: the new Family Rooms start at ¥5,500, allowing an affordable stay so you can spend more on the local sights.

Room bookings will open on February 3, 2020, so if you're visiting Hokkaido, be sure to check out Hoshino Resorts OMO7 Asahikawa.

You Can Take Your Pets to These Hotels and Accommodations in Japan

Online travel booking website Rakuten Travel has released this year's list for the most popular hotels and accommodations you can stay at with pets in Japan. The list is based off travellers' reviews taken from the website. This list has been updated and published every year since 2014, making this its 6th run.

Placing number one on the list for the first time is Yutsura, a ryokan Japanese-style inn which opened in Shizuoka in April 2018 and can be rented by one person or group for one night. Up to six people in a single group can stay there along with up to 5 small dogs weighing 5kg or less. It's highly favoured amongst travellers who want to take their dogs on the road due to the extent the inn caters for pets. Guests can enjoy having the dogs in their rooms as well as feed their pets there, all without being a bother to other guests.

Nipponia Sawara Merchant Town Hotel in Chiba Prefecture came in second place. You can feel the history of this hotel accommodation which is renovated from a traditional storehouse and townhouse. It allows up to three pets in a room which collectively weigh 25kg. There are three types of rooms to choose from, including one with a dog park. It also offers various services, including a free night for one dog, snacks and amenities for dogs, and more.

In third place is Dog Pension R65 in Shizuoka Prefecture which allows not only big and small dogs, but cats and other pets too. It offers large footbaths for dogs to use, dog parks, and many other services that cater to pets. The hotel also offers cottage-type accommodation rooms separate from the main building too if you're looking to spend some peaceful time away with your beloved companion.

If you're looking to travel around Japan with your pet, be sure to check if a hotel allows animals. Check the link below for the full Top 10 list.

Matcha Desserts in Sapporo You Just Have To Try

We've previously covered the best spots to try delicious matcha desserts in Kyoto. Now, with the help of expert dessert Instagrammer Kei, we are going to introduce you to some of the most delicious spots to try matcha desserts in Sapporo, Hokkaido.

If you want to discover more delicious cafés, desserts and drinks in Hokkaido, make sure to check out Kei's Instagram (@607keih).

 

KotoniSand, Nishi Ward

Macchan French Toast: ¥1200

 From dinners to desserts, this café serves up lots of meals based on their delicious thick-sliced bread. Bread flavours include plain, matcha and even coffee. You can order to go or enjoy the eat-in-limited menu. This fluffy french toast is soaked in matcha liqueur and is full of flavour even before trying it with the toppings. Take a bite of it with the red bean paste for a flavour adventure. A limited number of these are sold per day so if you want to try it, make sure to get there early. 

▼KotoniSand

Address: 1-1-1 Yamanote 5 Jō, Nishi-ku, Sapporo, Hokkaido

Opening Hours: 11:00-18:00
Closed: Tuesdays
Official Website: https://kotonisand.business.site

Ame no hi to yuki no hi, Minami Ward

Gelato Futatsu: ¥450

Located before Jozankei's onsen hotspot is a café called Ame no hi yuki no hi. It serves delicious pizzas and a variety of gelato flavours depending on the season. Their matcha ice cream is delicious. They even allow you to order two or three flavours at once so you can enjoy a mix and match of combinations. 

▼Ame no hi to yuki no hi

Address: 2-4-1, Jozankeionsennishi, Minami Ward, Sapporo, Hokkaido 

Opening Hours: 10:00-17:30
Closed: Thursdays
Official Website: https://www.amenohitoyukinohi.com

KANON pancakes, Shiroishi Ward

Matcha Tiramisu Pancake: ¥1500

This is a famous pancake shop in Kikusui. Tuck into a stack of fluffy pancakes inside the relaxing and soothing restaurant. The Matcha Tiramisu Pancakes are soaked with liqueur, creating a texture that is softer and moister than their standard pancakes. In addition to the matcha liqueur, the pancake is also dusted with matcha powder for a richer matcha flavour. Finally, they are drizzled with delicious brown sugar syrup and topped with walnuts.

▼KANON pancakes

Address: 5-5-18 Kikusui 3 Jo, Shiroishi Ward, Sapporo,

Opening Hours: 10:00-17:00 (Last Orders: 16:00)
No Regular Holidays
Official Website: https://kanon-pancakes.com

Any cafe, Kita Ward

Matcha Kintoki: ¥1350

This shop uses gluten-free ingredients in their food. This pancake dish is made using unpolished rice powder, three pieces of Turkish delight, red bean paste, rice flour dumplings, and cream made from Hokkaido-produced mascarpone and fresh cream. The cream is full of the bitter and delicious flavour of matcha, making the pancake sweet and very delicious. 

▼Any cafe

Address: 3-2-24 Kita 18 Jonishi, Kita Ward

Opening Hours: 11:00-18:30 (Last Orders: 18:00)
Closed: Tuesdays

Official Instagram: https://www.instagram.com/any_cafe_sapporo/

If you are looking for delicious matcha desserts in Sapporo, let this article help you decide where to go. When your food cravings kick in, make sure to visit Kei's Instagram which is full of the most delicious meals, drinks and desserts in Hokkaido. 

Original Article Contents and Photos by: Kei (@607keih )

Tour Tokyo, Pick Strawberries and Enjoy Afternoon Tea On The ichigosan bus

From their popular AWAPA Foam Party event where you can dance in a club filled with foam to their BATHTUB CINEMA event where you can watch a movie with your friends in a bathtub, Afro&Co. never fails to bring us new and creative ways to have fun. They are now collaborating with Saga prefecture to run the 'ichigosan bus': a sightseeing bus which will introduce you to wonderful spots in Tokyo with an unexpected strawberry twist to celebrate the first anniversary of Saga prefecture's strawberry farm 'ichigosan'. Enjoy strawberry picking inside the bus and then tuck into a strawberry-tastic afternoon tea set and much more. The bus will be running for a five day period from January 1 to 19, 2020.

ichigosan Afternoon Tea

ichigosan Panna Cotta

The ichigosan bus commemorates one-year since Saga Prefecture launched their new brand of delicious succulent strawberries called 'ichigosan'. The collaboration hopes to spread the delicious flavour of ichigosan strawberries to as many people as possible with the five-day-limited strawberry-tastic bus tour. Hop on the red double-decker bus, which looks just like a London tour bus, to enjoy strawberry picking on floor one and an original strawberry afternoon tea set prepared by a chef from Royal Garden Cafe Aoyama on floor two.

ichigosan Crêpe

ichigosan Tart

This three-experience-in-one tour bus introduces you to the newest famous spots in the city, offers you a fun strawberry picking experience and even comes with a delicious strawberry afternoon tea set. You can book tickets in advance online and there are two kinds of tickets available for on-the-day purchases. As this is the best season to enjoy ichigosan strawberries in Japan, make the most of it on this tour and you will be berry pleased.

Information

ichigosan bus

Running: January 15 – 19, 2020

Operating Times: 11:00 – 18:30

Arrival and Departure Point: Royal Garden Cafe Aoyama

(2 Chome-1-19 Kitaaoyama, Minato City, Tokyo)

Bus Tour Time: 55 Minutes

5 Tours per Day

Price: Tickets are sold in pairs, ¥3,800 Per Person

Tickets: Reserve online or purchase on the day. There are two kinds of same-day tickets. (Subject to change)

Official Website: https://www.saga-ichigosan.jp/ichigosanbus2020/

Beautiful and Delicious Lunches You Have to Try in Fukuoka

With the help of moe, we've covered the best food spots in Fukuoka to enjoy a beautiful scenery, for desserts and much more. Today, we're joined by food Instagrammer moe again to introduce you to the top lunch spots in Fukuoka. 

cafe mii, Asakura

Curry Plate

cafe mii is one of those places that very few people know but is very delicious. The curry plate is full of spices and is accompanied by fried vegetables and many other side dishes. As Asakura is known for its delicious vegetables, this is the perfect opportunity to get your fill. The café is relaxing and the perfect spot to enjoy a quiet lunch.

▼cafe mii

Opening Hours: 11:00-17:00 (Last Orders: 14:30)

Closed: Wednesdays
Address: Floor 2, 531-2 Tonta, Asakura, Fukuoka
Website: https://www.instagram.com/cafe_mii/

Cosses, Chihaya

Plate Lunch

Cosses is a bakery shop full of pastries and desserts. The Plate Lunch includes a hamburger steak, soup, salad, yoghurt and much more. The thick bread that comes with the set perfectly completes it. The wide shop is full of delicious bread and pastries that would be perfect to bring back to your family.

▼Cosses

Opening Hours: 10:00-21:00 (Last Orders: 19:30)
No Regular Holidays

Address: Namiki Square Floor 1, 4-21-45, Chihaya, Higashi-ku, Fukuoka

Official Website:http://cosses.orto-cafe.com/

Chocolate Bar, Hirao

Chicken Curry Risotto

Whether you're looking for lunch, dinner or a casual snack, this is the place to go. When you order the Chicken Curry Risotto, you can choose how spicy you want it. Risotto and curry is quite a rare combination, but it is very tasty. After your lunch, you can choose to have a gâteau au chocolat from the main menu. 

 

▼Chocolate Bar

Opening Hours: 

Lunch Menu:  11:30-15:00 (Last Orders: 15:00)

Café Menu: 14:00-17:00 (Closed from 17:00 to 18:00)

Dinner Menu: 18:00-22:00 (Closed from 22:00)
Closed: Sundays
Address: 1-11-22 Takamiya, Minami-ku, Fukuoka

Official Website: https://www.facebook.com/CHOCOLATE-BAR-726314500885075/

Filipepe, Kego

Dry-Cured Ham and Creamy Lemon Spaghetti

Filipepe is a hidden Italian restaurant. The Dry-Cured Ham and Creamy Lemon Spaghetti is covered in a refreshing lemon cream sauce. The thinly-sliced cured ham and creamy pasta make the perfect combination. The tongue-tantalizing menu also includes fish, meat and much more.

▼Filipepe

Opening Hours:

Lunch: 11:30-14:00 (Last Orders: 14:00)

Dinner: 18:00-21:00 (Last Orders: 21:00)
No Regular Holidays
Address: Floor 3, 3-1-28 Kego, Chuo Ward, Fukuoka,
Website: https://www.facebook.com/Filipepe-フィリペペ-699810910145678/

Good up coffee, Hairo

Homemade Red Bean Paste on Toast

Good up coffee's homemade red bean paste on toast is often greeted by a long queue of customers. The fluffy bread is like a giant cushion and is filled with a generous serving of red bean paste. The butter melts, creating a moderate salty touch to the meal. This is a very popular shop and often sells out so if you want to try it, make sure to get there early.

▼Good up coffee

Opening Hours:

Monday, Tuesday, Friday, Saturday: 12:00-20:00

Wednesday and Sunday: 12:00-18:30
Closed: Thursdays
Address: 1-chōme-15-18 Takasago, Chuo-ku, Fukuoka
Official Website: https://www.instagram.com/good_up_coffee/

KURASUKOTO, Hairo

Lunch Plate

Fukuoka's famous and popular café KURASUKOTO serves parfaits, doughnuts, puddings and other famous desserts as well as delicious lunches. Choose to have meat or fish for your lunch plate and it will be served with lots of healthy vegetables. The café also sells small miscellaneous goods too.

▼KURASUKOTO

Opening Hours:11:30-18:00
Closed: Mondays and Sundays
Address: Floor 2, 1-11-21 Hirao, Chuo Ward, Fukuoka
Official Website: https://www.kurasukoto.com/shop-hirao/

Eureka, Sakurazaka

Duck and Lotus Root Ragout Pasta

Bistro and café Eureka is an isolated restaurant located out of the way in a residential area. The Duck and Lotus Root Ragout Pasta is available in the lunchtime menu and is served with tasty relishes made from pomegranate and Japanese persimmon. Duck and lotus root is cooked in a delicious ragout sauce with tagliatelle. The meal comes with relishes so your stomach will be left completely satisfied.

▼Eureka

Opening Hours:Monday-Thursday: 12:00-20:00 (Last Orders: 19:00)

Friday and Saturday: 12:00-22:00(Last Orders: 21:00)
Closed: Sundays
Address: 1-4-19 Sakurazaka, Chuo-ku, Fukuoka

Official Website:https://www.instagram.com/eureka.sakurazaka

Yamamoto no Hamburg, Ropponmatsu

Hamburger

The Kanto region's popular hamburger restaurant Yamamoto no Hamburg has opened in Fukuoka. Here, you can enjoy a burger served in a large curry bowl fit for a curry soup. The hamburger is surrounded by a hearty serving of sauce and is even topped with a mince cutlet. There is a bottle of Chinese red chile oil on the table for a satisfying meal. 

▼Yamamoto no Hamburg

Opening Hours:

Lunch: 11:30-15:30 (Last Orders: 14:30)

Dinner: 17:30-22:30 (Last Orders: 21:30)
No Regular Holidays
Address: Ropponmatsu Kobo Floor 1, Chuo Ward, Fukuoka

Official Website:  http://www.yamahan.tokyo/news/

 If you're stuck on where to get lunch in Fukuoka, or love looking at gorgeous food, let moe's Instagram be your guide. 

Original article contents and photos by: moe