Actors Masaki Suda and Nana Komatsu to continue as ambassadors for Japanese fashion brand "niko and …" 
Japanese fashion brand "niko and …" have announced that singer and actor Masaki Suda, and actress and model Nana Komatsu will continue to be their fashion brand ambassadors throughout 2019.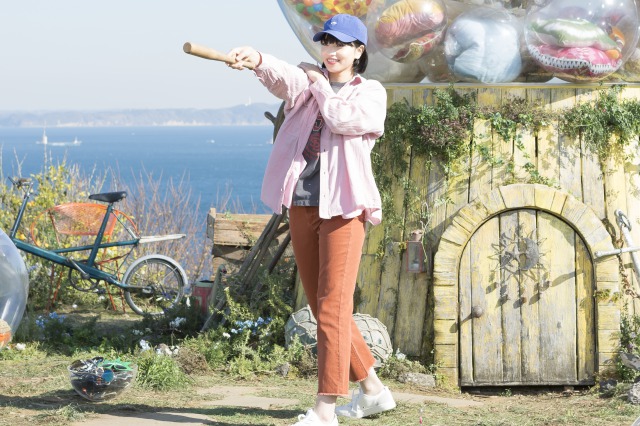 To kick off 2019 promotions, "niko and…" are releasing a movie clip created around their concept "Deau Niau", which aims to commemorate the first time we meet new people (deau), and how that first meeting turns into something special (niau). The movie clip, which will be entitled "Ah, Haru" (Spring is coming soon) features Suda and Komatsu and will be released on Friday 8th March. However, a teaser illustration and website will be released in advance on Friday 8th February.
Art director Chie Morimoto directed the movie and designed the teaser illustration.
■ An interview with Art Director Chie Morimoto
Q. What is the concept of this web movie? What did you focus on in particular? 
Chie Morimoto: The concept is that nature does not bring us spring, but rather, spring arrives when we feel it arrive in us. This web movie aims to encourage viewers to open up to their feelings and enjoy the coming of a new season.
Q. What feelings did you put into designing the teaser illustration? 
Chie Morimoto: The opening up of a heart to its playful side in a "come on spring! Hurry up!" kind of way. Just like the concept of "Deau Niau" I felt my heart open up once again to allow it to be shaken by emotions as spring occurs again when I was creating the illustration.
Q. What is your impression of "niko and…" brand ambassadors Suda and Komatsu who will be starring in the web movie?
Chie Morimoto: Both Suda and Komatsu are splendid. Just watching their previous works is enough to give anyone goosebumps. Those two are capable of pulling off anything in a perfectly natural way. Just like everyone else, I am also a fan of "niko and…". When the movie is released, I am looking forward to seeing their expressions portray the feeling of "discovering something new".
Please keep an eye out for "niko and …" and their new spring creations!
RELATED ENTRIES
Kumagaya City, Saitama Bath Cafe Hareniwa no Yu Opens After Rebranding

Cafe BIVOUAC, located in Kumagaya, Saitama Prefecture, will reopen Bath Cafe Hareniwa no Yu on September 18, 21, after a full rebranding.

The space aims to be 'a garden that clears a guest's body and mind.' Visitors can enjoy a full bath and sauna, freshly-picked vegetables at the Haruniwa Dining Room, and a lush green lounge in which to relax and unwind.

The Haruniwa Dining Room, run by The Farm, a resort in Chiba Prefecture, offers healthy dishes filled with fresh local vegetables from Kumagaya with carefully-selected main ingredients.

In addition, a collaboration with fashion brand 'niko and…' will also begin upon reopening, offering the perfect comfy clothes to wear while enjoying the property.  The lineup  includes an original bath bag and sauna hat, each sold exclusively at Hareniwa no Yu.

Information

Bath Cafe Hareniwa no Yu (Cafe BIVOUAC)

Open: September 18, 2021

Address: 939 Kubojima, Kumagaya-shi, Saitama

Phone: 048-533-2614

Official Site: https://ofurocafe-bivouac.com/

niko and…Celebrates 80th Anniversary of Curious George with New Collab Items

Japanese fashion brand "niko and…" will release a collection of Curious George-inspired items to celebrate the character's 80th anniversary. These items are now on sale at the brand's stores nationwide, and on the official web shop, as well as on ZOZOTOWN and Rakuten Fashion.

Collaboration Items at a Glance

Remote Control Box: ¥1,540 (Tax Included) / Slippers: ¥2,090 (Tax Included) / Tissue Case: ¥4,180 (Tax Included)

Large Plushie: ¥4,840 (Tax Included) / Medium Plushie: ¥3,520 (Tax Included) / Vinyl Umbrella: ¥1,320 (Tax Included) / AC Adapter: ¥2,860 (Tax Included) / Charging Cable: ¥1,760 (Tax Included)

Masking Tape: ¥440 each (Tax Included) / Bath Chair: ¥2,970 (Tax Included) / Bath Bucket: ¥1,430 (Tax Included) / Alarm Clock: ¥1,540 (Tax Included)

Curious George is celebrating his 80th anniversary in 2021. In Japan, the monkey character was first introduced in 1954, and has been loved by countless people ever since. This collection combines the humorous and retro feel of Curious George with the sensibilities of "niko and…," creating a unique mash-up of products.

Are you a fan of Curious George? Which of these products are you most likely to grab?


※Curious George and related characters, created by Margret and H.A. Rey, are copyrighted and registered by Houghton Mifflin Harcourt Publishing Company and used under license.All Rights Reserved.

※Universal Studios Licensing LLC(ユニバーサル・スタジオ・ライセンシング LLC)との商品化契約に基づき、株式会社アダストリアが企画・制作した商品です。

Utakata-Uta by RADWIMPS feat.Suda Masaki Music Video to Premier on Youtube

The music video for Utakata-Uta (RADWIMPS feat. Suda Masaki),theme song for the blockbuster movie It's a Flickering Life, will be released on YouTube at 22:00 on August 13, 2021.

The video was directed by Suda Masaki and produced by Yamada Kento, who has worked with RADWIMPS multiple times in the past.

You can set a reminder to watch the video as it premiers on the RADWIMPS official YouTube channel.

Utakata-Uta / Official Music Video on YouTube Premier


The Utakata-Uta is the first RADWIMPS feat. Suda Masaki tag-team production, garnering widespread attention from fans and media. The video features Suda Masaki and Noda Yojiro, who play Gou and Terashin in It's A Flickering Life. Their characters work in the same movie studio and discuss their dreams for the future. 

The project started upon the completion of filming, when Noda Yojiro gave the demo to film producer Yamada Yōji as a heartfelt gift.

While it wasn't written as a theme song, the producer was so impressed by the demo that he designated the song as the movie's official theme song, saying "The song connects the past and present, reality and fiction, even reaching heaven. I was convinced that having Suda and Noda, who played Gou and Terashin, singing it would complete the film."

Noda was full of love and respect for the movie, commenting that "When Mr. Shimura died, I wanted to leave something like a lingering scent and weave things such as the emotions that we had felt throughout the lyrics. Even if the world we build is purely a sound, that sound is something that will last forever." 

The song is full of nostalgic melodies and impressive singing from both Noda Yojiro and Suda Masaki, while the lyrics overlap with the feelings and situations of their characters, Gou and Terashin.

 

First Collaboration Merch Now on Sale from KEITA MARUYAMA x niko and…

In an Instagram Live on August 4, 2021, editorial fashion brand "niko and…" announced the release of the first collaborative collection with designer KEITA MARUYAMA, also present on stream. Viewers could also catch a glimpse of model Harumi Sato, who modeled for the much-anticipated merchandise. 

Keita Maruyama has designed stage costumes for countless musicians and celebrities, including Japanese pop band DREAMS COME TRUE. In an interview held before the stream, he had plenty to say about what to expect. 

Maruyama Interview

──What brought this collaboration about? 

Actually, "niko and…" reached out to me, and we decided to make this dream collab a reality. After tossing some ideas back and forth, we decided to go with a theme of 'GARDEN CAMP.' Even though my brand, KEITA MARUYAMA, and the "niko and…" brand have very different marketing styles, we're both creators at heart. We both want to use fashion to uplift and energize people. 

 

──In this new collection, what would you consider the main focus to be? 

Luckily, we were both able to make use of our respective strengths. By combining my designs with the incredible marketing behind "niko and…," we were able to create pieces at a more affordable price point, and could design things together I couldn't have done alone. 

──We're very curious about the textile redesign…

"niko and…" picked some textiles from the KEITA MARUYAMA archives to match the theme. Even though the ones they picked were from different eras, they all came together to fit the current times. Some of them are from the 1990s, but something about them seems so modern. 

──How do you feel when you look at your older work? 

Until a couple years ago, seeing my older pieces was so embarrassing. It felt like I was looking at something that a kid made, it all just felt so unpolished. But now, I feel a kind of pride that I was the one to create those things. Even if they aren't perfect, that youthfulness and freshness was something that I made by myself. 

──Throughout the Coronavirus pandemic, people have been spending more time at home and less of an opportunity to buy clothes. What has your experience been like? 

I feel like we've all had to put up with a lot during the pandemic, but on the other hand, it's made me think more about what's really necessary in my life. I'm starting to see what clothes I need, what things I need, even what people I need in my life. 

Be sure to check out this cheerful collection! Which pattern do you prefer? 

New RADWIMPS feat. Suda Masaki Track 'Utakata Uta' Coming to Streaming Services

'Utakata Uta,' the theme song for the new movie God of Cinema, will be available on various streaming services at midnight on August 6, 2021, including iTunes and RecoChoku! Performed by rock band RADWIMPS and featuring Suda Masaki of Kamen Rider fame, it's a mellow track which is sure to stir up plenty of emotion. 

The evocative CD jacket was shot by Miko Okada, an award-winning photographer from Iwate Prefecture. Art Director Ryosuke Miyashita was inspired to collaborate with her after seeing a series of her photographs titled 'CELL,' inspired by the lights she saw coming from apartments and homes from a train window. In the same vein, the cover art was based on the abstract concept of how people spend their evenings in different ways, giving a nostalgic and warm feel. The song does the same, making the listener ponder how many different lives intersect and come together. 

As announced by RADWIMPS front man Yojiro Noda on August 2, Suda Masaki will also be performing with RADWIMPS at the upcoming FUJI ROCK FESTIVAL '21 on August 20, 2021. This will mark the first time 'Utakata Uta' will be performed in front of a live audience, so look forward to it!

niko and … Releases Items in Collaboration With Popular LINE Emoji Designer

Style editorial brand "niko and …" has teamed up with London-based illustrator and animator Dan Woodger to release a collection of items at the online store ".st" and "niko and …" stores in Japan.

Print Towels ¥1,980 (Tax Included) / Handkerchiefs ¥880 (Tax Included)

Can Sleeves ¥1,540 (Tax Included) / Embroidered Patch Keyrings ¥550 (Tax Included)

Lunchboxes ¥1,980 (Tax Included) / Chopstick Set ¥1,100 (Tax Included)

Glass Plates – Small ¥418, Medium ¥528 (Tax Included) / Trays ¥1,540 (Tax Included)

Dan Woodger is known for his colourful and humour-filled illustrations which have garnered him fans worldwide. His designs have also been turned into emoji for the Japanese messaging app LINE. His merch collection releasing from niko and … includes towels, kitchenware, and other summery items. The illustrations are new and were drawn for this collaboration.

niko and … Collaborates With Kumamoto Painter to Promote New Store Opening

Style editorial brand "niko and …" opened pre-orders for a new collection with Kumamoto resident oil painter Takeshi Matsunaga at its new AMU PLAZA KUMAMOTO branch on April 23. The line-up is set to be subsequently released via the online webstore "st." as well as five branches of niko and … on April 29, including their Tokyo store.

MATSUNAGA TAKESHI MEETS niko and … KUMAMOTO

The line-up is a collection of everyday items from tote bags and mugs to key rings, pencil cases, iPhone cases, t-shirts, caps, and more. Each item features a design inspired by Rakunou Gyunyu, a brand of milk that's hugely popular in Kumamoto. Matsunaga adds his delicate touch to the oil-painted series. Part of the proceeds generated from the sales of these items will be donated to the city of Kumamoto in support of restoration efforts from the 2016 Kumamoto earthquakes.

niko and's new Kumamoto store also has a cafe attached to it, "niko and … COFFEE," where a milk smoothie will be sold for a limited time until September 30. Each will come with a milk-flavoured wafer featuring Matsunaga Takeshi's art on it.

Information

niko and … x Matsunaga Takeshi

Pre-Sales: April 23, 2021

Where: niko and … AMU PLAZA KUMAMOTO

General Sales: April 29, 2021

Where: .st / niko and … TOKYO/ Five branches of AMU PLAZA in Kyushu (Oita, Kokura, Hakata, Kagoshima, Nagasaki)

Buy on .st: http://www.dot-st.com/nikoand
Buy on niko and…: https://www.nikoand.jp

Masaki Suda Appears in New Mister Donut Japan Commercial

Japanese actor and singer Masaki Suda appeared in a new commercial for Mister Donut which hit Japan last week. The name of the commercial translates to "there's always something good inside the box."

On January 27, 2020, Mister Donut celebrated its 50th anniversary. The doughnut chain boasts around 960 stores in Japan. In their latest commercial, they promote the joy of opening a box of their doughnuts when ordering takeout.

Information

Mister Donuts Commercial
Initial Broadcast: March 25, 2021 (Japan)

niko and … Launches New Cosmetic Brand tiny tiny

Japanese lifestyle editorial brand 'niko and …' launches its first-ever cosmetic line 'tiny tiny' on November 27, 2020, with only pre-sales now available. Products will hit select niko and … stores in Japan from December 12, 2020.

tiny tiny is looking to get people enjoying makeup everyday in line with the seasons which in turn they hope will have people changing their clothes.

MISSHA Cushion Foundation (PRO-COVER) ¥1,650 | Pouch Highlight ¥638 | Pouch Concealer ¥638


Pouch Eyeshadow ¥638 | Pouch Eyebrow Mascara ¥638

The line-up includes everything from base makeup like foundation and concealer to point makeup like eyeshadow, blush, and lip tint, skincare products such as face masks and hand cream, and more.

Pouch Blush | ¥638


Pouch Lip Gloss ¥638 | Pouch Lip Tint ¥638

The products come in part of a pouch series which is lightweight and stylish. The pouch lids also act conveniently as brushes.

Be sure to check out tiny tiny's minimalist cosmetic line.

Information

tiny tiny
Pre-Sale: November 27, 2020 (Online Only)

Select Stores: December 12, 2020
一部対象店舗発売:2020年12月12日(土)
Buy: niko and … / ZOZOTOWN / .st

Stand by Me Doraemon 2's Main Theme Artists Masaki Suda and Huwie Ishizaki Feature in Oggi Magazine

Shogakukan released the January 2021 issue of the women's fashion magazine Oggi on November 27, 2020.

Vocals: Masaki Suda / Lyrics & Composition: Huwie Ishizaki


The 3D CG anime film Stand by Me Doraemon 2 was released in Japan on November 20, 2020. Japanese actor and singer Masaki Suda who sings the film's main theme features in the January 2021 issue of the women's fashion magazine Oggi in a talk with Huwie Ishizaki who wrote and composed the song.

Ishizaki has worked with Suda on numerous occasions, including writing songs for him, which is what led to him calling Suda on board once more.

"Once again, Nobita shows in this film just how hopeless he really is," Suda explains. "But seeing him try his hardest like that, desperate and trying to protect someone really just gives you courage. Of course, Huwie was the first person I thought of when going to sing about something like that."

About a year has passed since Suda made the request to Ishizaki who had been sending him lyrics and melodies during that time. This is a film centred on the marriage between Nobita and Shizuka, and so the main theme was written as a wedding song with frank and honest lyrics.

Their facial expressions and poses are a must-see


"I worked on a song with Suda on his album 'LOVE,' and he also let me cover his song 'Ito' before. With this song, I wanted to create something that expresses bonds. A story of two people. A word that made sense to me was 'rainbow,' something that suspends these feelings between people. Rainbow was the only choice."

The full talk goes into detail about how Suda and Ishizaki met, their mutual respect for each other, and more. There's also a series of photos the two of them took together while having fun with an instant camera.

Stand by Me Doraemon 2 is being shown at Toho theatres across Japan.

To see more of Suda and Ishizaki, you'll need to pick up a copy of Oggi's January 2021 edition, now on sale in Japan.

Information

Oggi – January 2021 Issue
Released: November 27, 2020
Oggi Official Website: https://oggi.jp/

Masaki Suda Releases Video Teaser of Exclusive Tour Performance and More

Following the release of his album LOVE on July 10, 2019, Masaki Suda toured from city to city with the final stop being Zepp DiverCity in Tokyo on September 6, 2019, for a premium live performance for a limited audience. 

 

If you're a fan who missed out on tickets then you're in luck: On Christmas Day this year, Masaki Suda will release a DVD and blu-ray of his premium live performance and more exclusive footage. Suda recently unveiled a teaser of the DVD and blu-ray on YouTube:

Masaki Suda LIVE TOUR 2019 "LOVE" @Zepp DiverCity TOKYO 2019.09.06 Teaser


The DVD is packed with all 19 songs performed that day including Suda's top hits Machigai Sagashi and Sayonara Elegy and even the jaw-dropping moment where Kento Yamazaki, the actor for L from the Death Note live-action series, stepped on stage to commemorate 10 years of Masaki Suda's acting career. The Zepp live performance was the last of five concerts that were held in four cities in Japan. Out of the approximate 200,000 fans who scrabbled for tickets for the premium live performance which marked the end of the tour, a mere 10,000 fans were chosen.


 

The Limited Pressing Edition includes not only a DVD and blu-ray of of the performances, but even comes with a large photo book packed with photos that have never been seen before. The Limited Pressing Edition is currently available to purchase from numerous websites but be quick if you want one because they are in limited supply. 


There is also a number of bonus goods you can get your hands on and some special designs that you don't want to miss out on.

Information

Masaki Suda LIVE TOUR 2019 "LOVE"@Zepp DiverCity TOKYO 2019.09.06 DVD and Blu-Ray

Release: December 25, 2019

Reservations:  https://erj.lnk.to/WZJi5

 

◆ Limited Pressing Edition (DVD+BD)

Contains: Large Photo Book + DVD + BD

Price: ¥9,000 (Before Tax) 

Catalog No.: ESBL-2585~7

≪Photo Book Contents≫

A luxurious collection of unreleased photos taken from rehearsals and main performances 

Reservations: https://erj.lnk.to/kGI1vWN

 

◆DVD Regular Edition

Contains: Tall Case, 3-Sided Case and DVD

*The three-sided case comes in First-Press finish only.

Price: ¥5,000 (Before Tax) 

Catalog No.: ESBL-2588

Reservations: https://erj.lnk.to/LobdKWN

 

◆Blu-Ray

Contains:3-Sided Case and Blu-Ray Disc

*The three-sided case comes in First-Press finish only.

Price: ¥6,000 (Before Tax)

Catalog No.: ESXL-169

Reservations: https://erj.lnk.to/6r2BdWN

Special Bonuses

Here is a list of free bonus merchandise that is included if you purchase LIVE TOUR 2019 "LOVE"@Zepp DiverCity TOKYO 2019.09.06. from certain websites and shops:

■ Sony Music Shop: Original Sticker

■ HMV (Includes HMV & BOOKS Online, some branches not included): Original Poster Calendar (B2)

■TSUTAYA RECORDS* and TSUTAYA Online Shop**: Original A5 Clear File

*Some branches not included

** Clear file only available when reserved on the online shop in advance.

■WonderGOO/ Shinseido* and Shinseido WonderGOO Online: Original Postcard

*Some branches not included

■Amazon.co.jp: Original Tote Bag (Bag Size Excluding Strap: Approximately 260mm X 330mm, Strap Size: Approximately 25mm × 280mm)

■ Rakuten Books: Original Pouch

■ List of shops and online stores which offer an Original B2 Poster: https://sudamasaki-music.com/shoplist/191225/

Masaki Suda Music Official Website: Fhttps://sudamasaki-music.com/

Visuals Release For Tatsushi Ōmori-Directed Film 'Tarō no Baka no Baka'

Tarō no Baka ("Taro the Fool") is an upcoming film directed by Tatsushi Ōmori (Everyday A Good Day; Setoutsumi; The Ravine of Goodbye) set for release in Japan on September 6, 2019. The film stars YOSHI, Masaki Suda and Taiga who play Taro, Eji and Sugio respectively. New scenes from the film have just been released to the public.

Taro (YOSHI) is a nameless individual who is at the height of youth and puberty. He claims that people with no name go by the name Taro. He isn't in the family register and hasn't been to school even once.

Taro meets high school students Eji (Masaki Suda) and Sugio (Taiga), two more nobodies, with whom he lives out his days wild and uninhibited. But after the three of them get their hands on a single pistol, they are forced to the reality of their individual lives which they have until then averted their eyes from.

Six shots of six different scenes were released, including one with Taro messing around with the gun with Eji, another where the three characters get revenge on their enemy Yoshioka (Eita Okuno) with violence, and another where we see Yoko (Sasha Ueda) playing the piano after school, someone who Sugio has a secret affection for.

Taro does not care for societal rules or morals – he lives and moves on impulse and instinct. While he may have his troubles and worries, when he is together with Eji and Sugio, his heart is freed from those things.

Tarō no Baka is told like an allegory and is laced with a realism and thrill that will make viewers forget they are watching something fictional. Tatsushi Ōmori has been writing original scripts for 20 years, so excitement continues to grow for his latest release.

©️2019 "Tarō no Baka" Production Committee

Information

Tarō no Baka

Release Date: September 6, 2019

Director/Writer/Editor: Tatsushi Ōmori

Cast: YOSHI, Masaki Suda, Taiga, Eita Okuno, Sasha Ueda, Ellie Toyota, Jun Kunimura

Official Website: http://www.taro-baka.jp/