Makoto Shinkai Exhibition Moves to JR Tokai Takashimaya
Since 2017 an exhibition has been taking place across Japan centred on Japanese animator, director and producer Makoto Shinkai and all of his filmography from Voices of a Distant Star (2002) to Your Name. (2016).
The exhibition is a must-see for fans of Shinkai's work as it showcases displays, music, footage and more from 15 years of the director's work including Your Name. whose popularity took the world by storm.
The final location the exhibition will take place is JR Tokai Takashimaya from February 16 to March 3.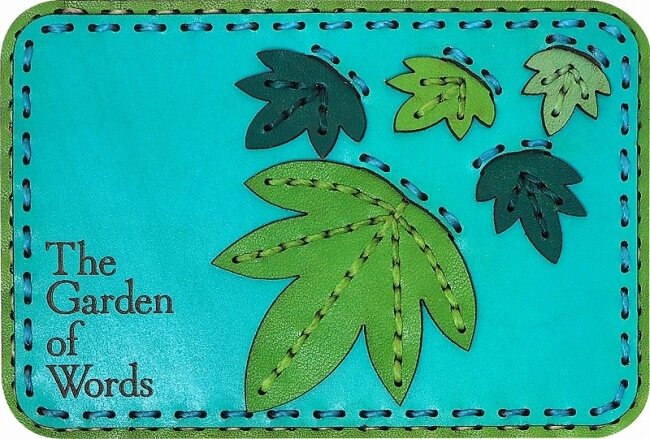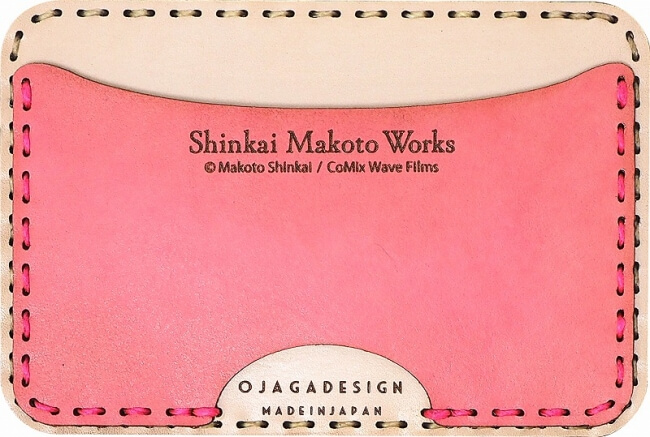 "The Garden of Words" Pass Case: ¥14,000 (Before Tax)
Fans who attend can also look forward to getting their hands on a brand new pass case made exclusively for the Nagoya event. Made in Japan by OJAGA DESIGN, the case takes inspiration from Shinkai's 2013 hit anime drama film The Garden of Words.
Plenty of other original items will be sold at the exhibition too, so don't miss this last opportunity.
Information
Shinkai Makoto Exhibition: From "Voices of a Distant Star" to "Your Name."
Running: February 16, 2019 – March 3, 2019
Location: JR Tokai Takashimaya 10th Floor (Aichi Prefecture)
Address: 1-1-4 Meieki, Nakamura Ward, Nagoya, Aichi Prefecture
Time: 10:00-19:30
Event Page: http://shinkaimakoto-ten.com/
©Makoto Shinkai / CoMix Wave Films
RELATED ENTRIES
Andy Warhol Exhibition in Kyoto: Select Major Artworks Revealed

An exhibition centred around Andy Warhol, the American artist who was at the forefront of the pop art movement, is set to roll up to the Kyocera Museum of Art in Kyoto from September 19, 2020. Around 200 pieces of art will be showcasedーover 100 of which have never been displayed in Japan beforeーas well as 15 video art pieces.

Three Marilyns (1962), Andy Warhol. The Andy Warhol Museum. *First showcasing in Japan

All of the pieces to be shown at the exhibition are the property of The Andy Warhol Museum, which is located in Pittsburgh, Pennsylvania in the US, where Warhol was born.

The Last Supper (1986), Andy Warhol. *First showcasing in Japan

Tunafish Disaster (1963), Andy Warhol. *First showcasing in Japan

Peacock (1957), Andy Warhol. *First showcasing in Japan

The line-up displays Warhol's diverse works, including his highly treasured Three Marilyns, as well as Tunafish Disaster from his Death and Disaster series, the enormous The Last Supper piece, Peacock which makes use of the Japanese style of gold leaf art, and more.

Kyoto (Kiyomizu-dera) (1956), Andy Warhol.

The exhibition will also turn its attention to Warhol's connections to Kyoto which haven't been discussed before. It will feature Warhol's sketch of Kiyomizu-dera in Kyoto which he drew during his trip around the world.

*All pieces are property of The Andy Warhol Museum

© The Andy Warhol Foundation for the Visual Arts, Inc. / Artists Rights Society (ARS), New York

Official Touken Ranbu Event to be Held Across Japan to Celebrate Game's 5th Anniversary

The key visual for the upcoming "Touken Ranbu Honmaru Haku 2020" event has been released. The event will take place across Japan, including Sunshine City in Ikebukuro, Tokyo from January 5 to 19 next year in celebration of the online browser and mobile game's 5th anniversary.

The event was first held in 2017 to celebrate two years since the game's release where it was taken to 5 cities around Japan. This new event promises to be even bigger and better than before, with each room having its own theme. It will be a coming together of everything encompassing the franchise, including the anime, stage play, musical, film and more. After Ikebukuro, it will head to Osaka, Aichi, Fukuoka, Hiroshima, Niigawa, Ishikawa, and elsewhere. More dates and details are to be announced.

All tickets are designated to specific time slots for each day. Pre-sale tickets for Ikebukuro opened on October 25 will close on October 31, so don't miss out.

Information

Touken Ranbu Honmaru Haku 2020

Running: January 5, 2020 – January 19, 2020

Time: 10:00-19:00

Venue: Ikebukuro Sunshine City Exhibition Halls A & B (3-1 Higashi-Ikebukuro, Toshima Ward, Tokyo)

Entry Price: ¥2,000 (Tax Included) / With Folder ¥2,600 (Tax Included)

*Same-day and advance ticket prices are the same

Event Website: http://honmaruhaku2020.jp

Shibuya PARCO Refurbishments Reveal Collaboration Exhibitions With AKIRA, AUTO MOAI, JUN INAGAWA And More

The new fully refurbished Shibuya PARCO shopping complex is set to reopen on November 22, 2019. When Shibuya PARCO closed for renovations in 2016, GALLERYX BYPARCO was moved to Spain-zaka in the centre of Shibuya. This November, GALLERY X will return to its home on the basement floor 1 of the shopping complex. 

The first opening exhibition of GALLERY X is titled "AKIRA ART OF WALL Katsuhiro Otomo × Kosuke Kawamura AKIRA ART EXHIBITION" which will see an entire wall decorated in a collage of art by manga author and film director Katsuhiro Otomo and his legendary series AKIRA until May 2020. 

The art wall is in fact a relocation of the AKIRA art wall that has existed at the infrastructure building site in Shibuya for almost two years. Parts of it was damaged over time, and so it will resurface at PARCO MUSEUM TOKYO on the 4th floor of the new Shibuya PARCO. That's not all: there will also be valuable original works displayed as well as posters, 3D model recreations of things seen in AKIRA, the series soundtrack by Geinoh Yamashirogumi playing, 3D attractions where you can interact with a futuristic "Neo Tokyo" and much more. 

AUTO MOAI (December 2019)

Kazuki Iio (Zun) (December 2019)

Misaki Tanaka (February ー March 2020)

JUN INAGAWA (April 2020)

The first exhibition will be followed by a strong lineup of exhibitions. The exhibition areas will be filled with a wide range of attractions, making it appealing for a wide range of people with different tastes. 

* The above information and dates are subject to change at any moment without prior notification.

GALLERY X is full of originality and is a source of the latest entertainment culture so please check it out. 

Information

GALLERY X

Address: Shibuya PARCO floor B1, 15-1 Udagawacho, Shibuya, Tokyo

Opening Hours: 11:00 ー 21:00

Official Website: art.parco.jp/

Poop-Themed Exhibition to Teach People All About Poop in Fukuoka

Fukuoka PARCO and Higashiyama Zoo and Botanical Gardens are collaborating to hold a poop-themed exhibition entitled "Poop Exhibition: Poop Academy Cultural Festival in Fukuoka" on floor B1F of the south building of Fukuoka PARCO from September 27 to October 27.

There will be many elements to the exhibition. The first of these is the language section where sentences written in Japanese will be draped all across one room, each with references to poop.

Above photo taken from the Ikebukuro exhibition

In the "Outdoor Lesson" corner, there will be cased displays of different animal droppings with descriptions, enabling people to see the different shapes and sizes poop comes in.

In the "Poop Arithmetic 3rd Year Students" corner is a photo spot where you can pose like the Poop Maths Teacher as shown on the right.

At the end of the exhibition there's an exam room where you can take a test based on what you have learned from the exhibition.

There'll even be a range of original and exclusive merchandise.

Postcard Set (5 Designs) – ¥400

Folders – ¥300

Toilet Roll – ¥348 / Character Tape Cutter – ¥700 / Leather Futon Books (2 Designs) – ¥500 Each

Japan is having a poop craze right now, with the opening of the Unko Museum in Yokohama which is also set to arrive in Shanghai next month.

*Photos are for illustrative purposes only. Listed prices are pre-tax. Event content subject to change.

Information

Poop Exhibition: Poop Academy Cultural Festival in Fukuoka

Running: September 27, 2019 – October 27, 2019

Opening Hours: 10:00-20:30 (Until 18:00 on October 27; last entries 30 minutes before closing times)

Location: Fukuoka PARCO South Building Floor B1F

Entry Price: ¥600 (Free entry for preschoolers)

*POCKET PARCO members get ¥100 off

Event Page: https://art.parco.jp/fukuoka/detail/?id=297

Japan's Poop Museum Dumps Its Load in Shanghai

The poop-themed exhibition Unko Museum is set to roll into Shanghai on October 19 where it will run until January 3 next year.

The museum first appeared at the entertainment facility ASOBUILD, which is connected to Yokohama Station, where it is still running as Unko Museum YOKOHAMA. It was then followed by Unko Museum TOKYO where it is still open at DiverCity Tokyo Plaza. This will mark the museum's first trip overseas.

Just 4 months after opening in in Yokohama, the museum had amassed over 200,000 visitors. The subsequent Tokyo museum served to promote the new Japanese concept of "kawaii poop" to tourists both Japanese and foreign. It was a huge success and enjoyed substantially more visitors than predicted.

With the museum receiving huge attention from both Japan and overseas, Shanghai was chosen as the next destination as a means to develop the concept outside Japan since Shanghai is one of the main global cities of the Asian region. There is also the fact that mainland China has a population of over 1.4 billion. The Unko Museum aims to promote and establish itself as a new entertainment experience.

The museum will be set up at Joy City Shopping Mall, which is home to a whole host of experience entertainment, as well as restaurants, shops, and even a Ferris wheel. It will have the same content as the museum in Japan, including giant poop statues, the "Unstagenic Area," a combination of the Japanese word for "poop" (unko) and the words "Instagram" and "photogenic" with cute and stylish poops, and more.

Information

Unko Museum SHANGHAI
Address: Joy City Shopping Mall Floor 4F, 166 Xizang N Rd, Zhabei Qu, Shanghai Shi, China
Running: October 19, 2019 – January 3, 2019
Opening Hours: 10:00-22:00 (Last Entries 21:00)

Official Website: https://unkomuseum.com/

Andy Warhol Exhibition to Grace Kyoto's Kyocera Museum of Art in 2020

An exhibition centred around Andy Warhol, the American artist who was at the forefront of the pop art movement, is set to roll up to the Kyocera Museum of Art in Kyoto on September 19, 2020.

The exhibition will showcase pieces available only at the The Andy Warhol Museum in Pennsylvania, US. It will be the first Andy Warhol exhibition of its kind to hit Japan and will also touch on his deep knowledge of Kyoto.

The exhibition will be the first to take place in the museum's new Toyama Cube building which is currently under construction.

More details will be announced on the exhibition's website and social media accounts below.

Gundam Artist Yuji Kaida Exhibition Announced For Osaka Umeda LOFT

To celebrate 40 years of Yuji Kaida's illustration artwork for the Gundam series, an exhibition entitled Yuji Kaida Gundam Gallery will take place on the fifth floor LOFT Forum of Umeda LOFT in Osaka from August 23 to September 8.

Yuji Kaida is known for his longtime work on box art for Gunpla model kits. The exhibition will feature a gorgeous collection of his iconic Gundam artwork, covering traditional art from Mobile Suit Gundam to Mobile Suit Gundam Wing to digital art in Mobile Suit Gundam: Iron-Blooded Orphans.

Over 70 pieces illustrated by Kaida will be displayed, each categorised into one of four themes. Many of these will include artworks being shown to the public for the first time such as the Gwazine-class battleship.

There will also be enormous towers of piled-up Gunpla boxes, a showcasing titled "Maiking of Hi-νGUNDAM" the process of digital art, and more.

The exhibition is an absolute must-visit for all fans of the Gundam franchise.

©Sotsu Co., Ltd.・Sunrise Inc.

Information

Yuji Kaida Gundam Gallery
Running: August 23, 2019 – September 8, 2019

Time: 11:00-21:00 (Until 18:00 on September 8) *Last entries 30-minutes before closing time
Location: LOFT Forum, Umeda LOFT Floor 5F, 16-7-5 Chayamachi, Kita Ward, Osaka
Entry Price: Adult ¥500 (Includes novelty gift) / High School Children & Below ¥400 (Includes novelty gift) / Elementary School Children & Below – Free
Official Website: https://art.parco.jp/

Celebrate Hello Kitty's 45th Anniversary at the Hello Kitty Collection Exhibition in Chiba

Lovers of Sanrio and all things Hello Kitty won't want to miss the 45th Anniversary Hello Kitty Collection Exhibition currently being held at Sogo Chiba until August 15.

The event look backs at the kawaii history of Hello Kitty with a huge range of old and new merchandise. There's also photo spots for taking cute photos, a wall of Hello Kitty plush toys, touch interactive digital videos, and much more.

If you're looking to stock up on your collection of Hello Kitty merch then you have around 850 items to choose from including goodies exclusive to the event, pre-sales of items to be released at a later date, and more. There's even a pottery workshop as well as a chance to take your photo with the real Hello Kitty.

Kawaii Chronicles: Hello Kitty Design Museum

Get ready to witness a wide selection of Hello Kitty goods from across generations, including rare and vintage items no longer manufactured. Witness the history of Hello Kitty's kawaii world and how things changed through the years to fit each generation.

Digital Content & Plush Toy Wall

Get interactive with Hello Kitty with the wall mapping – touch the wall and see the visuals change. There's also another wall completely full of Hello Kitty toys which makes for a really cute photo opportunity.

Photo With Hello Kitty

Hello Kitty will be present on August 12 in a beautiful kimono ready to have her picture taken with you! Tickets will be handed out 30 minutes before each session. Spaces are limited so make sure you're on time!

Date: August 12, 2019 at 11:00/13:00/15:00

Location: Floor 6F Event Hall

No. of People: 20 per shoot

Workshop

Paint your very own ceramic Hello Kitty ornament. You colouring it means that yours will be unique and the only one in the world♡

Running: August 7, 2019 – August 15, 2019

Time: 11:00-16:00

No. of People: 30 per day

Price: ¥1,296

Hello Kitty Kawaii Market
Get your hands one one of 850 pieces of Hello Kitty merchandise from plush toys to stationery, interior items and more. Many of these items are exclusive to the exhibition.

Mascot Holder – ¥1,728 (400 Available – 1 Per Person) / Acrylic Key Ring – ¥648 / Mug – ¥1,080 / Hand Towel – ¥756

Replica Classical doll – ¥17,280 / Mini Mascot Brooch (20 Designs) – ¥1,080 Each (1 Per Person) / A4 Folders (Includes 2) – ¥486

Enter the adorable world of Hello Kitty this summer and help her celebrate her 45th anniversary.

Information

45th Anniversary Hello Kitty Collection Exhibition

Running: August 7, 2019 – August 15, 2019

Time: 10:00-20:00 (Until 17:00 on August 15) *Last entries are 30-minutes before closing time

Location: Sogo Chiba Floor 6F Event Hall (1000 Shinmachi, Chuo Ward, Chiba, Chiba Prefecture)

Price: Adults & University Students ¥500 (High School Students & Younger – Free)

*Those with a disability certificate can enter the exhibition for free (including one guardian)

Sogo Chiba Official Website: https://www.sogo-seibu.jp/chiba/

Become Poop and Travel Through the Body in Kyoto's Bizarre Exhibition

The Toei Kyoto Studio Park―a theme park in Kyoto modelled after the Edo period of Japan―is set to hold an exhibition from next month titled "A Bizarrely Great Adventure Through the Body" in which you can travel through a giant model of a body to learn all about faeces.

The event is themed on the best-selling children's book series Grossology by Sylvia Branzei which gives humorous but straightforward descriptions of bodily functions and various medical conditions.

Stinky Poop (Unchi Kusai), the ninja mascot of the event, will join visitors on their adventure as they experience the gross potential of the human body: burps, farts, bodily odours, and more.

A total of fifteen attractions will make up the event where kids and adults can discover the "secrets" of the human body.

Sneeze Shutter

At the Sneeze Shutter you will learn why we sneeze by firing balls―the "foreign substance" entering the nose―into the giant nostrils which will cause it to become itchy. If you can get five balls into the nose it will let out a sneeze and blown out the balls.

The Kidney Game

At the Kidney Game you will help deliver urea, sugar, and other materials necessary for the kidney to the blood vessels to understand how the kidney functions.

Poop Fortune Telling

Sit on a real toilet and a poo character will appear on the monitor to tell you your fortune that day.

Poo Exhibition

Learn all about poo at the display board which features lots of interesting information.

Burp Kid

Why do we burp when we drink fizzy beverages? Burp Kid will explain it to you.

Take a photo with the giant poo

At the end of your trip to the event, take a commemorative photo next to the giant poo pile and butthole.

This is just a snippet of what there is to see at Kyoto's bizarre poo exhibition. Visit to learn all about something we all do but don't talk about!

Information

A Bizarrely Great Adventure Through the Body (Japanese: からだのふしぎ大冒険)

Running: September 14, 2019 – December 15, 2019

Price: General (13+ Years) ¥800 / Children (3-12 Years) ¥600

*A separate fee will be charged for entry to Toei Kyoto Studio Park

*Children aged 2-years and below are permitted free entry

Event Page (Japanese): http://www.toei-eigamura.com/event/detail/240

Tickets

Set tickets for the event and entry to Toei Kyoto Studio Park are now on sale at FamilyMart.

Adults: Park Entry ¥2,100 + Event Entry ¥800

Junior High School Students: Park Entry ¥2,000 + Event Entry ¥800

Children (3-12 Years): Park Entry ¥1,600 + Event Entry ¥600

*By buying this set you get ¥100 off what you would pay for purchasing them separately. The first 2,000 people to buy a children's ticket set will receive a plush toy

Buy: https://www.funity.jp/eigamura-event/

Toei Kyoto Studio Park

Address: 10 Uzumasa Higashihachiokachō, Ukyo Ward, Kyoto

Homepage: http://www.toei-eigamura.com

Sebastian Masuda And Other Phenomenal Artists Create Outstanding Doraemon Exhibition

28 artist groups and individuals have created artistic pieces to represent Japan's favourite animated character Doraemon. From July 12 to September 23, 2019, you can see these magnificent creations at the Doraemon Exhibition Osaka 2019 which will take place at Osaka Culturarium at Tempozan.

The Doraemon Exhibition Osaka 2019 features a range of artists who exhibit their works in Japan and even in foreign countries. This is a fantastic chance to meet a range of new Doraemon that the world has never seen. This event covers a range of genres through modern art that is overflowing with creativity and dedication for the anime character that has grasped the nation. 

On July 11, the day before the opening of the exhibition, there was a special opening ceremony and private viewing event held exclusively for staff and the press, which was a massive success. 

Press releases of the event reveal that artists Yasumasa Morimura and Sebastian Masuda were present at the ceremony for photos and greetings. 

Yasumasa Morimura commented with deep emotion: "I am so happy to have finally taken part in the Doraemon Exhibition. For this creation, I used lots of paper to make the costumes. I collaborated with Junko Koike, collecting lots of Doraemon manga as raw materials for the dress. As Doraemon has the power to manipulate time and space, and has the ability to create a door that leads to anywhere he desires, I thought a grey dress would be appropriate. In fact, the entire exhibition venue is just like the inside of Doraemon's pocket ー it is packed with the work of 28 solo artists and groups. What a fun experience it is. I hope that many people in the Kansai region come see this," he explained.

Sebastian Masuda commented: "I'm actually the same age as Doraemon and I share the same birthday as Noby; the main character from the series. I was born with a love for Doraemon."

He then commented on his art piece: "I actually wanted to make it as big as the Budha statue at Todaiji Temple in Nara, but we wouldn't be able to fit it in the venue so I made it two metres tall instead", he laughed. "I collected materials from markets from all around the world, so the final piece is literally made up of the colours of the world," he continued. 

His message to the people of Osaka is: "I would love it if lots of children came to see this. It would really make my day to hear reactions from them like "whoa, it's huge" or "that's so cool!""

Please come stop by to visit your favourite Doraemon!

Information

The Doraemon Exhibition Osaka 2019

Running: July 12, 2019  ー September 23, 2019 (74 days) 

※ No closed days.

Venue:  Osaka Culturarium at Tempozan (next to the Osaka Aquarium Kaiyukan) 

Address: 1-5-10, Kaigandori, Minato Ward, Osaka

Open: 10:00 ー 17:00 ※ Last entries: 30 mins before closing time 

Entry prices

General:¥1,500

Middle/High School: ¥1,200

4 y/o ー Elementary School: ¥800

Enquiries: (Hello Dial)  TEL: 050-5542-8600 (8:00 ー 22:00, no holidays)

Osamu Watanabe's Mouthwatering Museum of Sweets Showcases Giant Candy Unicorn & More

Have you heard of Osamu Watanabe? You won't forget his name by the end of this article. He is an installation and contemporary artist that draws his inspiration from the world of sweets and confections. He has drawn much attention not just in Japan but overseas too in countries like the US, Italy, Turkey, Indonesia and China with his various exhibitions.

Watanabe is set to take his "Museum of Sweets" exhibition to Shinjuku where it will open at the Odakyu Department Store on July 31.

The candy creations will be split throughout 9 different areas such as the titular room Museum of Sweets as well as the Forest of Sweets, Banquet of Sweets, Sweets Aquarium and more, all of which are sure to tickle the taste buds of sweet tooth visitors.

What's more is that you are permitted to take photos, opening the door for countless photo opportunities for Instagram.

Osamu Watanabe will also be present to host a workshop on 4 separate days so you can craft your own cookie charm using materials Watanabe actually uses in his creations.

Enter a fantastic candy land cooked up by the one and only Osamu Watanabe.

Information

Museum of Sweets

Running: July 31, 2019 – August 14, 2019

Time: 10:00-20:00 (Until 20:30 from August 7-13 / Until 17:00 on August 14)

*Last entries 30 minutes before closing times

Location: Odakyu Department Store Shinjuku Floor 11F

Entry: General ¥600 / High School & Junior High School Students ¥400 / Elementary School Students & Younger – Free

*If you are disabled you and a guardian can get in for free if you take a physical disability certificate

*Those who hold an Odakyu Points Card or Odakyu Ladies Club Card can get ¥100 off entry (applicable only to those who have a card)

Odakyu Department Store Official Website: http://www.odakyu-dept.co.jp/

Workshop: Make a Cookie Charm With Osamu Watanabe!

Running: August 3, 2019 / August 4, 2019 / August 11, 2019 / August 12, 2019

Slots: 13:00 / 13:30 / 14:00 / 14:30 / 15:00 / 15:30 (Each Day)

Participants: 10 per slot

Price: ¥500

Applying: Please apply at the department store from 10:00 on the day

Osamu Watanabe Official Website:  http://watanabeosamu.tokyo/profile_en.html

Toshio Suzuki & Studio Ghibli Exhibition Bound For Nagasaki This Summer

The second run of the Toshio Suzuki & Studio Ghibli Exhibition is set to take place at Huis Ten Bosch in Nagasaki from July 13 to September 23. The event is focused on longtime Studio Ghibli producer Toshio Suzuki and centres on specific "words" he wishes to convey through this work.

The exhibition had its first run in Tokyo back in April this year. We covered that event in detail so be sure to give it a read.

The enormous 3-meter tall Yubaba & Zeniba centrepiece will return at the Nagasaki exhibition. Visitors can draw omikuji fortunes from the display which have Suzuki's keywords written on them along with his explanation of them. You can take these home with you―a perfect addition for your Studio Ghibli collection!

An extremely special merchandise shop will also open at the site with exclusive items and products on sale and decor and decorations that will have you feeling you have stepped right into an enchanting world woven by Studio Ghibli.

Fan: ¥702 (Tax Included)

Get your hands on an official Spirited Away fan to cool yourself down at the event this summer. On one side is an illustration of Yubaba and on the other some powerful words from Suzuki.

Tote Bag: ¥1,620 (Tax Included)

Express your love for Studio Ghibli everyday with this tote bag featuring the same illustration of Yubaba―which is the main visual for the exhibition―on the side. It's big enough to be worn on your shoulder making it a convenient day-to-day item.

Tea-Towel: ¥1,296 (Tax Included)

This beautiful tea towel is made in collaboration with dyed goods company Chikusen who have been around since the Edo period. It has a traditional indigo blue colour and is made from high quality material. A perfect gift and souvenir for any fan of Studio Ghibli.

We can't forget the themed food menu either. You'll find it on the first floor of Huis Ten Bosch at the Tea Salon.

Bath House Dessert: ¥850 (Tax Included)

A fitting dessert for any guest of the Spirited Away bath house, look forward to a bamboo charcoal-black chocolate-sprayed vanilla ice cream, colourful sugar candy and a cookie. It's also served with iced corn tea.

Toast For Adventure Lovers: ¥650 (Tax Included)

Served with a glass of iced corn tea is a delicious egg-topped slice of toasted baked in the hotel bakery. Like you see in anime series, it makes you want to grab it, shove it between your teeth and run outside on an adventure.

Any fans of Studio Ghibli's work aren't going to want to miss out on this very special event. If you're in Japan this summer be sure you get to go.

©️TS ©️Studio Ghibli

Information

Toshio Suzuki & Studio Ghibli Exhibition

Running: July 13, 2019 – September 23, 2019

Location: Huis Ten Bosch Art Museum, Huis Ten Bosch (1-1 Huis Ten Bosch Machi, Sasebo, Nagasaki Prefecture)

Time: 9:00-21:00 *Depending on day – check official website for details

Prices

*Free for those who hold any of Huis Ten Bosch's passport tickets including the 1-Day Passport, Moonlight 4 Passport, After 5 Passport, VIP Premiere Passport, and Yearly Passport

*For those who hold a Sansaku (Walking) ticket: Adults ¥800, Children ¥700, Toddlers & Preschoolers ¥500

*For those who hold a Harbour Zone-only ticket: Adults ¥1,600, Children ¥1,400, Toddlers & Preschoolers ¥1,000

(Harbour Zone Entry Price: Adults & Children ¥1,000, Children & Preschoolers ¥500)

Huis Ten Bosch Official Website: https://www.huistenbosch.co.jp/