Traditional Setta Sandals Merged With Contemporary Sneakers by goyemon
Design unit goyemon has developed the Unda, a mashup of traditional Japanese setta sandals and contemporary sneakers. They are available for pre-sale on the crowdfunding website Makuake.
By combining the design work of setta and sneakers, goyemon has created airy footwear that can be coordinated with everything from casual outfits with jeans to the latest mode fashion. They are simultaneously comfortable to wear, fashionable, and good for your feet.
The shoes were completed through a crowdfunding campaign as a way of protecting Japanese tradition through an entirely new design.
The footwear is comfortable and cushion-y. The mid soles of the sneaker parts is soft but solid, and by making them air soles it adds to their durability, ensuring they can take plenty of pressure. Their soft texture makes it feel as if you are walking on snow.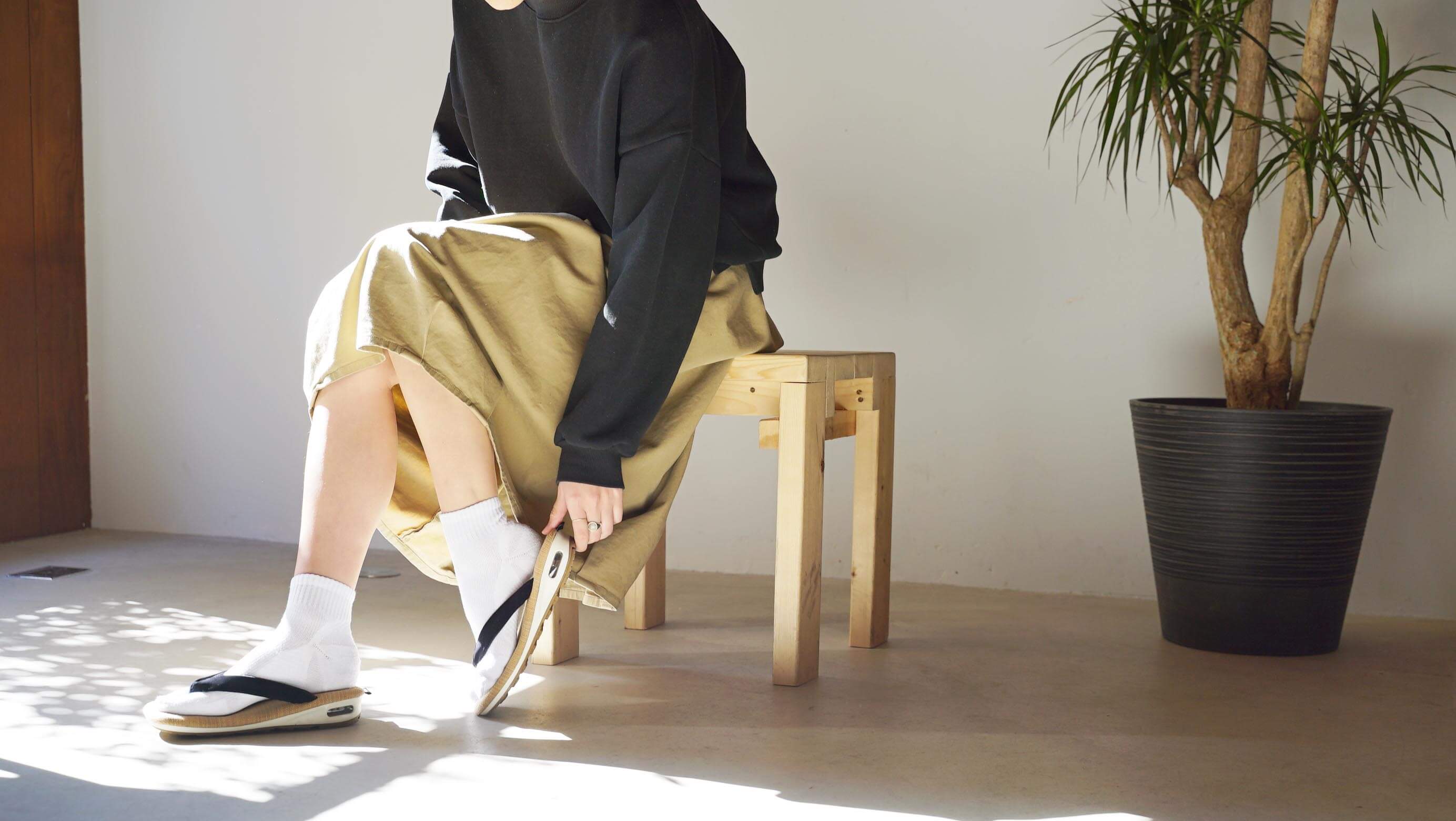 The shoes are manufactured in Kyoto with support from setta makers in Nara Prefecture. Setta are usually made from bamboo, but a special material was crafted for these shoes that maintains the gradients you get with bamboo.
Throw out your old sandals and replace them with these stylish new setta!
Information
Unda
Available: February 18, 2019 – April 26, 2019
Price: ¥16,200 (Tax Included)
RELATED ENTRIES
Onitsuka Tiger Releases Revamped Basketball Shoes

Japanese shoe company Onitsuka Tiger will begin rolling out its new OK BASKETBALL MT and OK BASKETBALL LO shoes at branches across Japan from January 12.

Onitsuka Tiger established in 1949 from its predecessor organisation ASICS. The following year the company released its mid-cut basketball shoes. The new OK BASKETBALL MT's use those shoes as its base design while the LO's are a low-cut arrangement of those.

The form, material of the uppers, stitching, iconic metal eyelets, and rubber patches on the side of the uppers are close to the original design from 1950. The inside is also branded with Tiger's official logo.

The designs use the original model as their bases but have bee updated to fit a modern style and level of comfort. The inner soles are fitted with cushioned material for better comfort. Tiger's OK BASKETBALL models have a classic look to them while also having modern wearability – you can feel their history by wearing them.

Get your feet on a pair of Tiger's 'new' shoes to call back their classic range.

Information

OK BASKETBALL MT

Price: ¥9,000 +Tax / ¥13,000 + Tax (Leather)

Colours: Black x Black / Cream x Cream / Midnight Blue x Midnight Blue / Black x Black (Leather)

Sizes: 22.5-29.0cm, 30.0cm, 31.0cm

OK BASKETBALL LO

Price: ¥8,000 +Tax / ¥12,000 + Tax (Leather)

Colours: Black x Black / Cream x Cream / Classic Red x Classic Red / Aloe x Aloe / Citrus x Citrus / White x White (Leather)

Sizes: 22.5-29.0cm, 30.0cm, 31.0cm

Official Website: https://www.onitsukatigermagazine.com/

Onitsuka Tiger Announces Second Mickey & Minnie Mouse Collaborative Shoe Line

ASICS Japan have announced their second line of sneakers in a series of collaborations with Mickey Mouse and Minnie Mouse. They will be released under their Onitsuka Tiger brand.

Check out the first line here.

Two separate pairs for adults and children will be sold directly from Onitsuka Tiger stores in Japan and their online store from May 12.

The manufacturer's suggested retail price is ¥15,000 (+tax) for the adult pair and ¥11,000 (+tax) for the children's pair.

The base for the shoes uses the brands' representative MEXICO66 model which is decorated with iconic Mickey & Minnie designs and marks. Parents and children can enjoy wearing their own pairs together to match.

For the Mickey Mouse type the upper incorporates a grid pattern. The heel flaps have a silhouette of Mickey drawn on while the heel has a sketch of him. This pair comes in black and white.

The Minne Mouse type has Minnie Mouse's ribbon and hat on the entire upper in a polka dot design. The heel flap also features a ribbon. This pair comes in red and black.

Disney and sneaker lovers won't want to miss this special collaboration. Grab yourself a pair and look the part!

■Information

MEXICO 66 (Adults)

On Sale May 12, 2018

Price: ¥15,000 (+tax)

MEXICO 66 PS

On Sale May 12, 2018

Price: ¥11,000 (+tax)

Onitsuka Tiger Official Website

"ANIPPON," slip-on shoes using the motifs of SEGAs famous games to be sold

The slip-on shoes brand, "ANIPPON" has started selling slip-on shoes using the motifs of SEGA'S famous games "Space Harrier" and "FANTAZY ZONE" from the 20th of April (Fri.).

 "Space Harrier" is an arcade game which SEGA released in 1985 and ANIPPON used the motif of this game which was sold as the second version of SEGA's arcade game series named, "Taikan (experience-based) Game." The design of the slip-on shoes replicating the stages of the game is a must-see!

 "FANTAZY ZONE" is an institutional use scroll shooting game released by SEGA in 1986. The illustration of OPA OPA is printed on the left shoe. The unsymmetrical design of the slip-on shoes is so cute and they are suitable for both men women. Why not buy this item as a present?

The box of the slip-on shoes replicates the package of the game, so it is suitable to be used as a decoration inside you room.

Let's get these precisely-designed slip-on shoes!

■Information

Space Harrier MODEL

Release date: 2018/04/20 (Fri.)

Price: 6,500 yen (tax not included)

Size: 25cm, 27cm, 28cm

Material: polyester / sole – synthetic rubber

Available store: INDOR STORE
Website: https://anippon.jp/

FANTASY ZONE MODEL

Release date: 2018/04/20 (Fri.)

Price: 6,500 yen (tax not included)

Size: 24cm, 25cm, 27cm

Material: polyester / sole – synthetic rubber

Available store: INDOR STORE
Website: https://anippon.jp/

"atmos pink," a shop that introduces women's "sports-mix styles" will be opened at Harajuku

A new concept shop for women "atmos pink" directed by "atmos," a brand that introduces the sneaker culture of Tokyo, was opened in Harajuku on the 17th of February (Sat.).

atmos pink is a select shop targeting women who love fashion. The shop sells sporty items like sneakers made in Japan and introduces "sports-mix styles" by offering vintage items and original apparel brands so that their customers can wear sporty items on a daily-basis.

atmos pink is a select shop which adds comfortableness to customers' daily lives and introduces new kinds of styles.

Why not visit this shop the next time you are in Harajuku.

■Information

atmos pink

Address: 3-22-6, Jingumae, Shibuyaku, Tokyo

Business hours: 11:00 to 20:00

Fixed holiday: undecided

Brands that are available:NIKE、adidas Originals、Reebok Classic、NewBalance、le coq sportif、PUMA、Onitsuka Tigar CONVERSE、Teva、Dr.Martens、THE NORTH FACE、ATMOS LAB、GUACAMOLE、ROXY、Champion、ellesse etc…

TEL:03-6434-5485

ASICS Tiger collaborates with Disney to release "Snow White" shoes

ASICS Tiger Japan have collaborated with the Disney franchise "Snow White" to release 3 new pairs of limited edition trainers: two pairs of "GEL-LYTE" and one pair of "GEL-LYTE GS."

To commemorate the 80th anniversary of Disney's first full-length animated movie, ASICS have created special model shoes that capture the image of the titular princess.

There are two "GEL-LYTE" designs. One model features Snow White's cape on the shoe's upper in a burgundy colour. The big ribbon is made of velvet and is removable. The insole has an apple print to complete this pair of Snow White-esque trainers.
 
The other model uses black as the main colour on its upper and a huge golden crown on the tongue. The inside of the shoe is purple, only adding to the regal and queenly design of this model.

 
Finally, the "GEL-LYTE GS" model is aimed at kids. They are themed around the seven dwarfs: Doc, Grumpy, Happy, Sleepy, Bashful, Sneezy and Dopey. The uppers of each pair correspond to the colours worn by each dwarf. The insoles are also fitted with the character designs.

ASICS has an established reputation for its easy-to-wear footwear. Now you can get your hands on their "Snow White" designs. Feel like a princess with these big red ribbon-fitted trainers.

■Information

GEL-LYTE Snow White Collaboration

On Sale: December 2nd, 2017

Available at ASICS Tiger in Harajuku & Shinsaibashi.

ASICS Tiger Harajuku

Address: ASICS Tiger Harajuku 1F, 1-5-10 Jingumae, Shibuya, Tokyo
Open: Weekdays – 11am-8pm / Weekends & Holidays – 9am-8pm
No fixed holidays.

ASICS Tiger Osaka Shinsaibashi

Address: Shinsaibashi OPA (Kirei-kan), 1-9-2 Nishishinsaibashi, Chuo, Osaka-shi, Osaka
Open: 11am-9pm

Website: http://www.asicstiger.com/jp/ja-jp/

Check your foot odor with this new app and pair of "SENSING SHOES"

Shinseido deodorant brand AG Deo 24 have developed the "SENSING SHOES" together with a smartphone app. The shoes have the ability to sense the "scent level" of your feet and let you know how they smell, whenever and wherever, 24 hours a day. Not only are they high-tech, they are also extremely fashionable, forged with natural leather made in Japan by shoe brand "blueover."

AG Deo 24 highlighted the fact that it's difficult to notice your own smell. So they took it upon themselves to rectify people's worries about how they smell by creating a new odor care item – the "AG Deo 24 Deodorant Foot Cream." The cream was released alongside the SENSING SHOES, which come with an odor sensor, and and a smartphone app.

The sensors pick up on any foot odor while wearing the SENSING SHOES by measuring smell and humidity inside the shoe. The "smell level" is then displayed on your phone app.

"blueover" are responsible for the design of this groundbreaking pair of shoes, a brand who take both the fashion side of things as well as comfort very seriously. For the ladies pair, blueover used their most recognised shoe model for the design: "mikey." For the men's shoes, it's the hi-tech "marty" sneakers, designed specially for running.

As of now there is no scheduled release date for the SENSING SHOES and the app, but they will on display at the Osaka branch of "blueover" from December 1st to December 7th later this year.

Are you one of these people worried about the smell of your feet? Then look no further – get yourself sorted while also looking fashionable with the SENSING SHOES.

■Information

Exhibition Store: struct by blueover

Address: Takagi Building 3F, 1-13-21 Kyomachibori, Nishi-ku, Osaka-shi, Osaka, 550-0003 (〒550-0003大阪府大阪市西区京町堀1-13-21 高木ビル3F)

Open: 13:00-20:00 (closed Tuesdays and Wednesdays)

TEL: 06-6447-6030

Website: http://blueover.jp/

AG Deo 24

Deodorant Foot Cream (quasi-drugs)

Content: 30g

Name: Shinseido Deodorant Foot Cream

Benefits: Antiperspirant

A pair of sneakers using "gold leaf" will be released from the membership brand in Kanazawa Prefecture, "SIX ELEVEN ONE"

The POP UP STORE of the membership brand from Kanazawa "SIX ELEVEN ONE" will be opened at SIXIÈME GINZA for a limited time offer (2017,10,18 (Wed.) to 10,31 (Tue.).

The designer of "SIX ELEVEN ONE" is Kohei Nishino who works as a stylist and architectural designer.

He designs, develops and studies materials which are not used to make clothes.

The brand has gathering much attention from fashionistas of Kanazawa and many musicians. Many people say that the brand is a "one-and-only" membership brand.

The pop up products which will be sold in Ginza include the sneakers using the "gold leaf" (the same that which is used in Kinkakuji) (1,200,000 yen) and leather products (deer leather) colored with "kyojiborizome" (dying method of Kyoto) (260,000 yen). You can buy these rare items that are not sold to people who are not the members

 of the brand.

Let's check out these cool sneakers using "gold leaf."

■Information 

SIX ELEVEN ONE POP UP STORE

Venue: SIXIÈME GINZA

Address: 6-10-1, Ginza, Chuoku, Tokyo

Date: 2017,10,18 (Wed.) to 10,31 (Tue.)

Business hours: 10:30 to 20:30

TEL: 03-6263-9866

URL:http://6111.jp/