Cat Idol Exhibition Purrs its Way to Hotel Gajoen Tokyo's Hyakudan Kaidan
Hotel Gajoen Tokyo, which celebrated its 90th anniversary in December last year, has announced that it will hold a cat idol exhibition from April 26 to May 19 at its Hyakudan Kaidan, or '100 Steps Staircase,' an officially registered Tangible Cultural Property of Tokyo.
29 artists are involved with the event where over 3,000 pieces of cat art will be exhibited.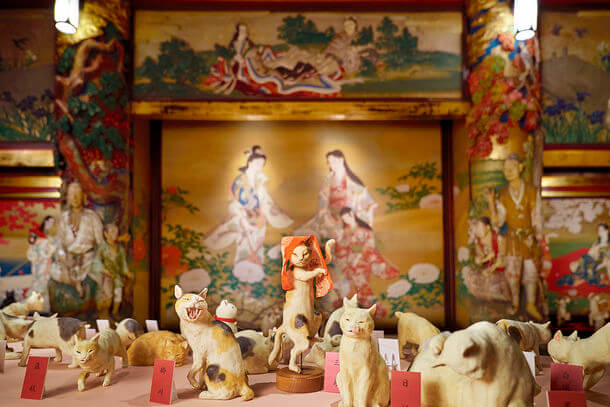 Photo From Past Event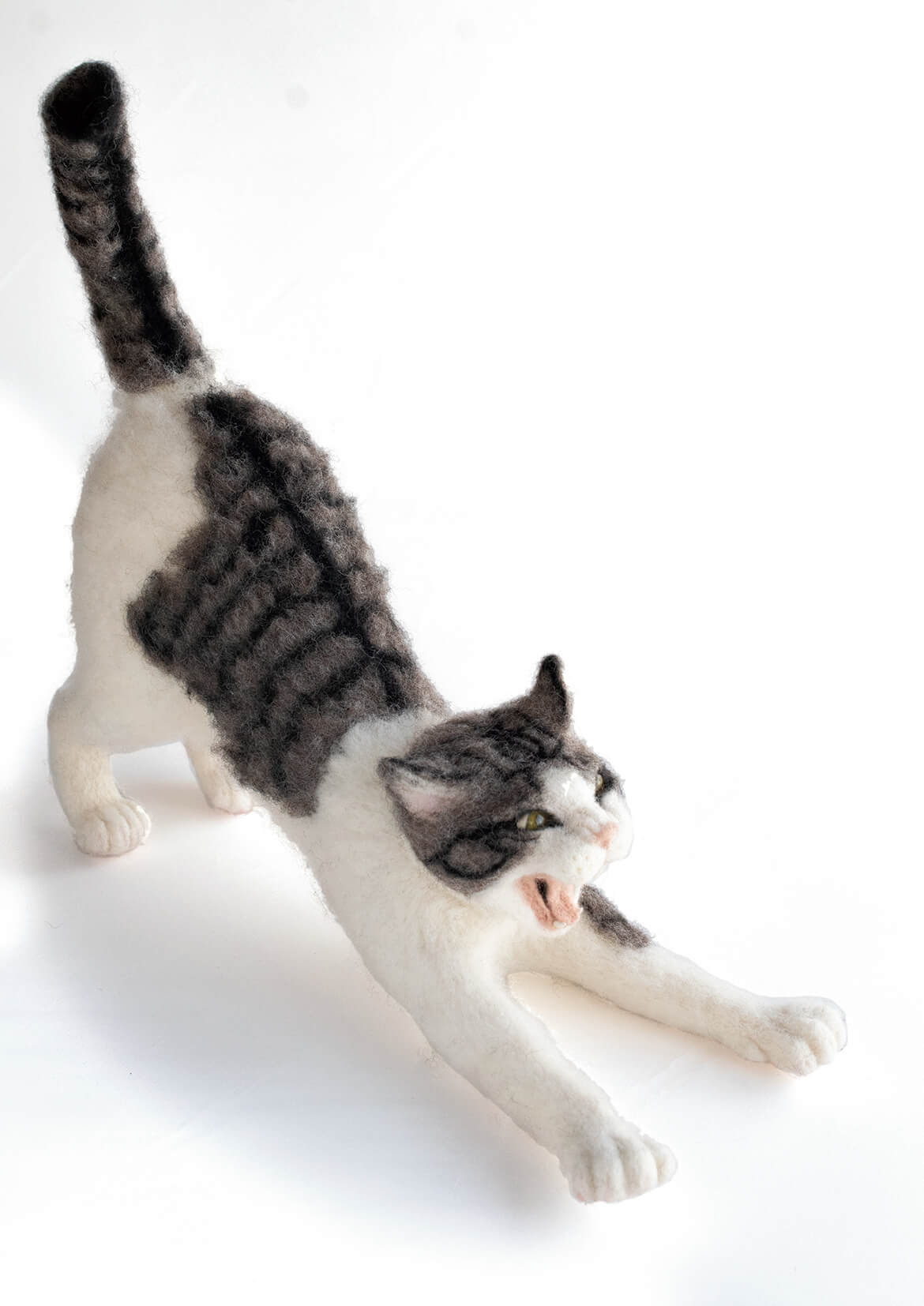 [The Jippo Room] Showa Cat Idol vs. Heisei Cat Idol – Banzai Neko Kikuchiyo vs. Tama Station Master
Kikuchiyo was the beloved pet cat of manga artist Fujio Akatsuka who was famous for his 'banzai' pose where he would stretch his arms out. Tama was the first cat to be appointed station master where she operated at Kishi Station. These two cats, one from the Showa period and the other the Heisei Period, have been brought back to life in giant form by the handiwork of wool sculptor Sato Housetsu.
[The Gyosho Room] Choju Jinbutsu Giga / Ukiyo-e Cats / Oiran Oinyan
A big line-up of works will be exhibited in the Gyosho Room including a 3D version of the famous Choju Jinbutsu Giga ("Scrolls of Frolicking Animals"), gorgeous jewellery by jewellery designer SEKIKAZU, and around 20 new ukiyo-e pictures brought to life as statues.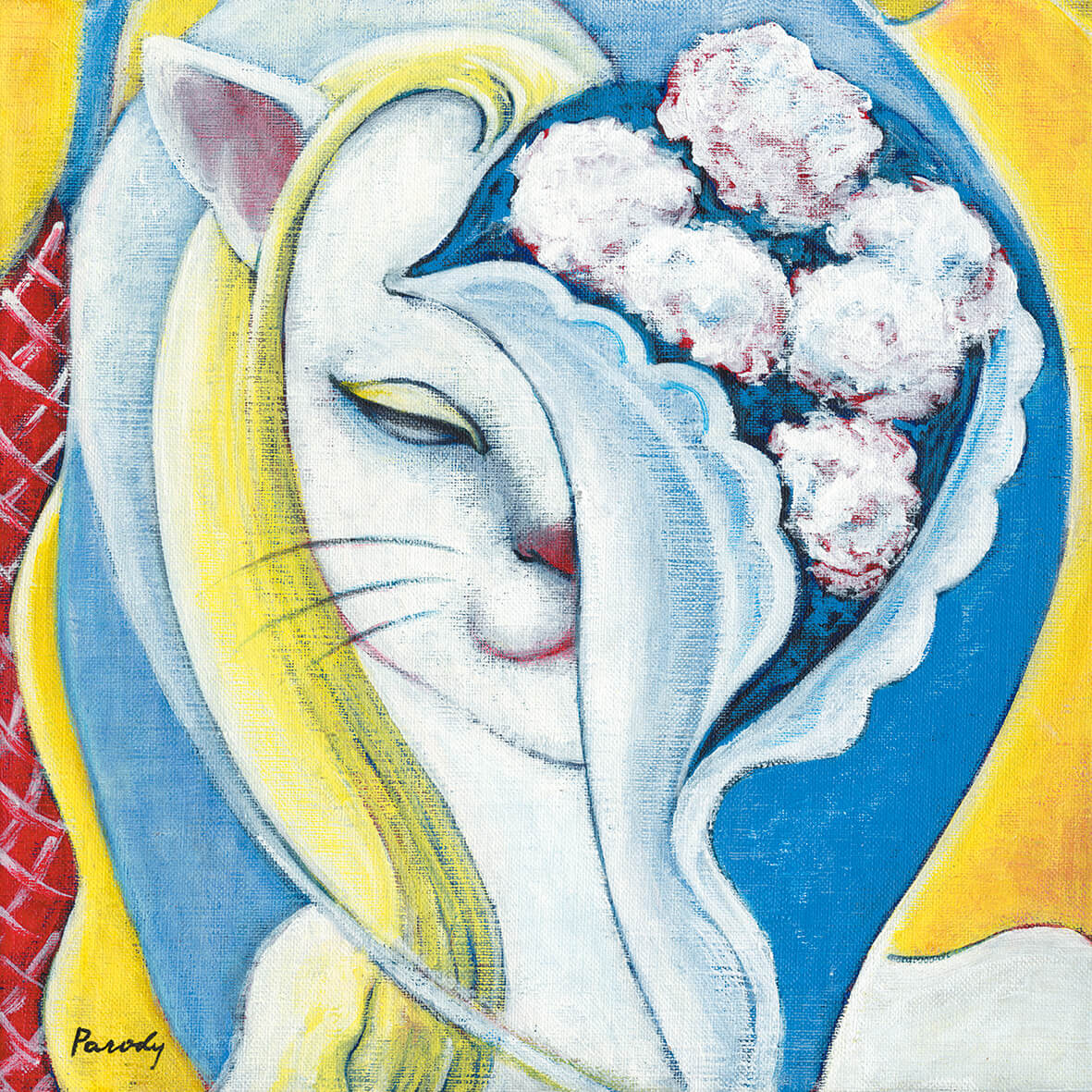 [The Seisui Room] Cat Ear Artist / The World of Cat Record Covers / Cat Match Label Collection
A collection of match boxes with retro designs of cats from Japan's biggest match collector will be showcased as well as record jackets with cat designs on them, cat dolls by ABENATSU famous for their ears, and more.
[The Soukyu Room] Cat Idol Display – Works From 22 Artists
A display of various artwork from 22 artists will be shown with the theme "cats and idols." Pieces will include ceramics, porcelain kutani-ware, cloisonne ware, dolls, paper cutouts, statues, paintings, clothing, plush toys, wood and more. Everything shown can also be purchased.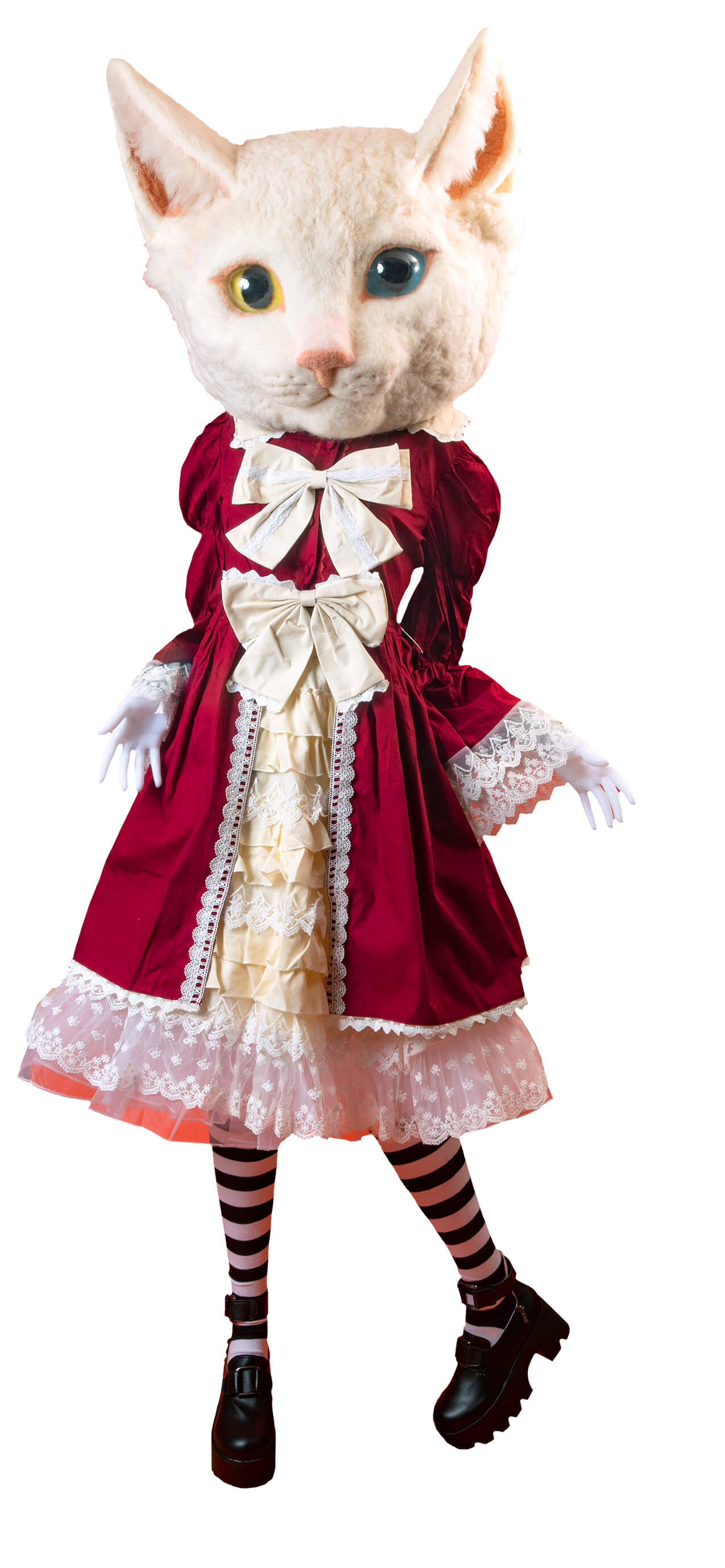 Take Photos at the Photo Spot
Have your photo taken with a cat idol wearing cat fashion. The photo spot is located in front of the elevator at the entrance.
The museum shop will also be selling a wide selection of cat themed items as well as Hyakudan Kaidan souvenirs. If you're a cat lover then don't miss out on this wonderful exhibition.
Information
Cat Idol Exhibition at Hyakudan Kaidan
Location: Hotel Gajoen Tokyo
Running: April 26, 2019 – May 19, 2019 (No Holidays)
TEL: 03-5434-3140
Event Times
[Monday-Thursday] 10:00-17:00 (Last Entries 16:30)
[Friday-Sunday & National Holidays] 10:00-20:00 (Last Entries 19:30) *Closure at 17:00 on May 19
Entry Price
Same Day – ¥1,600 / With Original Juice Bag ¥1,800
Advance – ¥1,300
Advance Bought at Hotel – ¥1,100
University & High School Students – ¥1,200
Junior High School & Elementary School Students – ¥600
Preschoolers – Free
Event Details (Japanese): https://www.hotelgajoen-tokyo.com/event/nyanto2019
Hotel Gajoen Tokyo Official Website (Japanese): https://www.hotelgajoen-tokyo.com/
Hotel Gajoen Tokyo Official Website (Japanese): https://www.hotelgajoen-tokyo.com/en/
RELATED ENTRIES
Japan's Pingu Exhibition to Take Place in Ginza Showcasing Lots of Noot Noot Treasures

This year marks the 40th anniversary of the Swiss claymation children's television series Pingu. Japan is celebrating the milestone with the "Pingu Exhibition" which will take place on the 8th floor of Matsuya Ginza in Tokyo from August 12 to 24.

Original material for Pingu by the show's creator Otmar Gutmann will be exhibited, as well as the actual clay figures, dioramas, storyboards, and more that were used during the filming in Switzerland. Many of the 400 or so items on display have never been shown in Japan before.

There will also be a recorded interview with Seishi Kattou, the only Japanese animator that was working in the Pingu studio at the time. But the fun doesn't end there, as there will even be an AR attraction made using CG and original animations from the Pingu in the City 3D CG film.

A peek into the exhibition

The secret story behind Pingu's creation

Visitors will be able to learn about the author Otmar Gutmann as well as see production materials, storyboards, and other treasured items that give insight into how the creator and studio gave rise to Pingu.

Exhibits: Notes from Otmar Gutmaan, storyboards, clay figures, dioramas, pilot episode screening, and more

The Clay Room

Pingu's iconic exaggerated elastic movements are made possible through the use of clay. These movements play an important part in conveying characters' emotions and are one element of the show's storytelling. These movements will be exhibited in the event's Clay Room where you'll get to see different models morphing into different shapes. These clay figures are all handmade by the Pingu studio staff themselves.

Exhibits: Clay figures, tools, Pingu studio videos, and more

3DCG Animation and Pingu in the future

Pingu in the City is a Japanese 3D CG animated series which used the same style of the original series but instead opted for computer animation, adding a different layer of charm to the internationally adored series. Visitors will be able to enjoy this digital Pingu in a variety of ways.

Exhibits: Digital videos, AR, and more.

There will also be exclusive Pingu exhibition merchandise on sale, as well as pre-sales of Pingu merchandise yet to go on sale.

Shin Sobue (Pingu Exhibition Art Director) | Comment

"This will be the first all-out exhibition for Pingu, a series which has transcended borders from Switzerland and the UK to Japan. This will be a happy exhibition that neatly divides everything for people to enjoy, from its mysterious language to its comical movements, story, and laid-back humour." (Translated from Japanese by MMN)

©2020 JOKER

Information

Pingu 40th Anniversary Exhibition
Running: August 12, 2020 – August 24, 2020
会場: 松屋銀座 8階 イベントスクエア 東京都中央区銀座3-6-1
時間:営業日、開場時間は松屋ウェブサイトをご覧ください。
*最終日は17:00閉場 *入場は閉場の30分前まで
電話番号:03-3567-1211(松屋銀座 大代表)

Official site:http://www.pingu.jp/40th
*展示内容等は変更となる可能性があります。

ピングーアニメ公式サイト:http://www.nhk.or.jp/anime/pingu/

DIOR FROM PARIS TO JAPAN Exhibition Shows Off Dress Line-Up Inspired by Japanese Culture

The DIOR FROM PARIS TO JAPAN exhibition at HANKYU Umeda Store in Osaka began on March 1 where it is set to run until March 22.

The collection features a complete line-up inspired by Japan's rich culture, from dresses serving haute couture to exquisite Lady Dior bags re-interpreted by various artists. This exhibition is a coming-together of DIOR and Japan and expresses savoir faire the way a maison should.

The exhibition is also home to a gift shop selling a range of different items. It also has an audio guide presented by Japanese actress and fashion model Yuko Araki and actor and model Ryusei Yokohama, both of whom were selected as Japan Fashion Ambassadors for this exhibition.

See the worlds of DIOR and Japan collide at DIOR FROM PARIS TO JAPAN.

Information

DIOR FROM PARIS TO JAPAN
Running: March 1, 2020 – March 22, 2020
Location: HANKYU Umeda Gallery (HANKYU Umeda Store Floor 9F)
Address: 8-7 Kakudacho, Kita, Osaka
Entry: Free

Official Website: http://bit.ly/DiorFromParisToJapan

Studio Ghibli Museum Photo Exhibition to be Held at HMV&BOOKS SHIBUYA in Tokyo

A photo exhibition will be held at the HMV Museum in Shibuya from March 6, 2020 for a limited time in promotion of the release of Studio Ghibli Museum's first official photo book, Ghibli Bijutsukan Monogatari ("The Story of the Ghibli Museum").

"Ghibli Bijutsukan Monogatari" Photo Book – ¥3,800 (Exhibition Pre-Sale: March 6, 2020 / General Release: March 20, 2020)

Photography is strictly forbidden at the Studio Ghibli Museum, but this exhibition gives a rare look inside without having to go inside. There will be panels of photos of both inside and outside the museum, a display of miniature figures of characters like the Robot from Laputa: Castle in the Sky, writings from Studio Ghibli film producer Toshio Suzuki, and more. The museum's popular photo spots will also make an appearance at the exhibition for taking a photo next to.

Exclusive Desk Calendar (*Limited to 500 people per day, first-come first-served)

Desk calendars will also be available, featuring the photos used at the exhibition.

Exclusive Exhibition Merchandise

Tote Bag – ¥2,000 / T-Shirt – ¥2,800 / Hanging Scroll – ¥30,000 / Photos (3 Designs) – ¥8,000 Each

Visitors will be able to get their hands on the photo book early at the exhibition, and those who buy it at HMV&BOOKS SHIBUYA will be invited to a signing and talk session on March 7, 2020 on a first-come, first-served basis. The signing will be attended by Kanyada and Toshio Suzuki, who will also be present at the talk event in addition to film director Ryutaro Nakagawa.

Exclusive merchandise will be sold at the exhibition. The exhibition itself encourages people to feel like a lost child, and its layout will reflect that without any set paths or routes.

Dive into the wonderful world of Studio Ghibli at the Ghibli Bijutsukan Monogatari Photo Exhibition.

*Please note that the number of people allowed to enter the exhibition will be restricted due to the ongoing situation surrounding the new coronavirus. This will widen the space between visitors and allow them to enjoy the exhibition in an uncrowded space. More details can be found on the official HMV Museum website.

Information

Ghibli Bijutsukan Monogatari Photo Exhibition

Location: HMV Museum (HMV&BOOKS SHIBUYA Floor 6F)

Running: March 6, 2020 – March 19, 2020

Opening Hours: 10:00-21:00 (Open from 17:00 on March 6, 2020)

Last Entries: 20:30

Entry Price: ¥500 (Tax Included) *Free for preschool children

Event Page (Japanese): https://www.hmv.co.jp/news/article/2002141000/

*Opening hours subject to alteration

*For more details, please check the event page above or HMV&BOOKS SHIBUYA's official Twitter page

Tokyo Cherry Blossoms 2020: Hotel Gajoen Tokyo Reveals Cherry Blossom Food Menu

Hotel Gajoen Tokyoーwhich is both a museum and hotelーhas announced its plans to serve up cherry blossom themed food at its numerous restaurants this spring beginning in March.

Hotel Gajoen Tokyo is situated along Meguro River, which is one of the most famous cherry blossom spots in Tokyo during springtime and Hanami season. To chime in this year's sakura season, the hotel's restaurants are preparing a selection of gourmet cherry blossom food and desserts.

Sakura Dining – From ¥7,000 (Before Tax/Service Charge) @ RISTORANTE "CANOVIANO" / Serving: March 20, 2020 – April 5, 2020


Dine in style at RISTORANTE "CANOVIANO" where they're serving up their 'Sakura Dining' course. Based on the idea of a cherry blossom bento meal, the heapfuls of veggies conjure up the image of the budding flowers of springtime.

Sakura Lunch – ¥5,000 (Before Tax/Service Charge) @ RISTORANTE "CANOVIANO" / Serving: March 16, 2020 – April 10, 2020


An assortment of hors d'oeuvres such as the "Cherry Blossom Carpaccio," "Sakura Ebi Pasta," and other spring-inspired delights.

Sakura Afternoon Tea – ¥4,000 (Before Tax/Service Charge) @ New American Grill "KANADE TERRACE" / Serving: March 14, 2020 – April 12, 2020


Treat yourself to a luxurious afternoon tea with cherry blossom bon bon chocolates, panna cotta, and moreーand wash it all down with a cup of floral cherry blossom tea. Available this spring only.

SAKURA LADY – ¥1,200/ Shizuku Sakura drops – ¥1,000

KANADE TERRACE also has two cherry blossom cocktails: the "SAKURA LADY" (¥1,200) and "Sakura Drops" (¥1,000). These drinks are inspired by blooming cherry blossoms and dancing cherry blossom petals. The "SAKURA LADY" is a gin-based White Lady cocktail.

Sakura – ¥600 (Tax Included) @ PATISSERIE Lien 1928 / Serving: From March 1, 2020

This luxurious dessert is surrounded by white chocolate and is made up of strawberry biscuit topped with strawberry jam and cherry blossom cream, creating a tempting and extravagant fragrance of strawberries and cherry blossom flowers. It also contains a bit of jelly with Japanese sake in it which adds a full-bodied flavour to the overall dessert.

Experience Japanese spring in luxury this year at Hotel Gajoen Tokyo.

Interview: Internationally Popular Japanese Artist Chocomoo Talks About Upcoming Harajuku Exhibition

A huge exhibition of Chocomoo's artwork is set to adorn WITH HARAJUKU HALL from August 20 to September 28 this year for "Chocomoo EXHIBITION -OUR SECRET PARTY- Supported by WITH HARAJUKU."

Chocomoo is a Japanese artist born and bred in Kyoto. Her work is known for its originality and pop style which she draws in black and white. Her work has been used for clothing and apparel brands, for music artists, and for many other special collaborations with other companies. She is active internationally and draws huge popularity with Japanese women between the ages of 10-20. We have translated an interview with her which was just released.

Chocomoo Interview

"I've loved drawing ever since I was a kid. I'd draw in notebooks, sketchbooks. When I went to New York for the first time, too, I kept a sketch diary and would draw in the park. I was later asked by a guy who managed a gallery if I'd put my work on at his site."

It was there at that gallery exhibiting several of her works that the first buyer came by.

"I sold my first piece of art. A piece of art drawn by an 'ordinary person,' not someone who was an active artist. It was about 30 dollars, if I recall, but I was super happy."

 

New York helped pave the way for Chocomoo to begin her first steps towards becoming an illustrator.

She would post her art on her blog and social media, which was seen by singers and songwriters who got in touch with her. She penned artwork for their tour merchandise, album covers, and more. Recently, she collaborated with Italian car brand FIAT. They released 100 limited edition cars with her art on it. Japanese convenience store FamilyMart even sold umbrellas with Chocomoo's illustrations on them. The reach of her work has no limits.

"When I create a piece, I incorporate a lot of positive words into it in the hopes that it lifts people up."

One distinct aspect of Chocomoo's art is the black and white monotone colouring. When asked why she draws in this way, she said: "I did calligraphy from elementary school to high school and was captivated by how we would write in black. When using black ink, it has a matte look to it, and when using black paint, it's got a glossiness. I think that's part of the reason why I do it."

This will be Chocomoo's biggest exhibition. She is currently working on new material and looking into the details of the exhibition. Speaking about it, she said: "I want to try evolving in a way that's me. I'm aiming to stimulate the people who come to see my work in a different kind of way."

She also commented on the 'OUR SECRET PARTY' part of the exhibition title. "It's an exhibition of my work, but I want everyone to enjoy it like they would a party. There's also new things to be discovered which you won't no about unless you visit, so I put 'secret' in there."

 

Chocomoo was asked to give a comment on her future plans and goals. She said, with a smile: "I want to steadily keep doing what I'm best at without changing what I already have, but I also want my work to reach lots of children too. I'd be happy for them to colour in my work, and I want to challenge myself to making some kind of video format aimed at kids. After that, since I've already painted a car, I want to go bigger and paint an aeroplane!"

Interview/Original Text: Naho Sotome (五月女菜穂)

Photos: 大黒屋 Ryan 尚保

English Translation: Joshua Kitosi-Isanga

As Chocomoo looks to expand her portfolio and reach, we look forward to seeing what she has in store for her exhibition in Harajuku.

©2020 Chocomoo

Information

Chocomoo EXHIBITION -OUR SECRET PARTY- Supported by WITH HARAJUKU
Running: August 20, 2020 – September 28, 2020
Location: WITH HARAJUKU HALL (1-14-30, Jingumae, Shibuya, Tokyo) *Building under construction at the time of posting this article
Exhibition Website: http://chocomoo-exihibition.com/

Hyakudan Hinamatsuri 2020: Hotel Gajoen Tokyo Announces Hina Doll Festival at 100 Step Staircase

Hotel Gajoen Tokyo, a historical museum and hotel in Japan, has announced that it will host the Hyakudan Hinamatsuri 2020 doll festival from January 24 to March 15 next year. It will take place at the hotel's Hyakudan Kaidan, or '100 Steps Staircase'―which was registered by Tokyo Prefecture as a Tangible Cultural Property in 2009 for its exceptional architecture and artistic beauty.

Hinamatsuri is an annual festival in Japan celebrated on March 3 every year where ornamental dolls are displayed. Hotel Gajoen Tokyo boasts the biggest Hinamatsuri festival in Tokyo, with over 600,000 visitors having attended across the 10 years it has been held.

A First For The Festival: Photography Permitted

Up to now, photography at the hotel's Hinamatsuri has been restricted to protect the displays. However, for the first time ever, next year's event will allow photography in all of the rooms, which will house dolls symbolising each period of Japanese period: Edo, Meiji, Taisho, Showa, Heisei, and the current Reiwa, not to mention the 500+ zashikibina dolls. There will also be hanging decorations with rabbit designs in the elevator hall created by Nippon Tsurushibina Kyoukai, a non-profit organisation. Also for the first time this year, visitors will be able to dress up in a beautiful uchikake wedding coat and take a photo at the designated photo spot. This is so they can further fill a part of the hina doll world.

Tottori, Shimane & Yamaguchi Get Involved For The First Time

Visitors will be able to enjoy dolls in a variety of ways from different places across  Japan, including a giant 2-meter long wall decoration and old hina dolls handed down from families past from the city of Yonago in Tottori, tiny tsuchi dolls from Hokuei in Tottori which can fit in the pal of your hand, renbei dolls, and more. The spectacular collection will have visitors feeling like they are inside a hina doll palace.

The Hina Doll of the Ishitani Residence (Chizu, Tottori)

The town of Chizu is located in the southeast portion of Tottori Prefecture and is surrounded by mountains. It flourished during the Edo period as a post town and place of rest for the Tottori Domain as part of sankin-kōtai, a policy which had feudal lords alternate living for a year in their domain, as it headed towards Edo. The Ishitani Residence, which is built facing the Inaba Kaidō―a type of route built during the Edo period for transportation―has almost 40 rooms and spans 4,000 square meters. It is listed as an Important Cultural Property of Japan for its modern Japanese-style architecture. The enormous mansion, which is home to a doma dirt floor supported by great beams as well as a Japanese-style garden which can be seen from all the tatami rooms, is decorated with ancient handed-down hina dolls when early spring settles in. This includes dolls from the Meiji periodo with vibrantly embroidered outfits, gorgeous decorations for the hina doll steps, special hina bowls used when celebrating Hinamatsuri at the Ishitani Residence, and more.

Hyakudan Hinamatsuri Memorial: Display Of Over 500 Zashikibina Hina Dolls (Iizuka, Fukuoka)

Iizuka in Fukuoka formerly thrived for its coal mines and bustled as a business dealing in coal. The Former Den'emon Ito Residence spans 2,300 square meters and speaks volumes of the cultural significance of the city's ties to coal as it belonged to Den'emon Ito who was known as the "King of Coal Mining." Every year during the Hinamatsuri season, the Itsuzuka Hina no Matsuri festival is held at the residence where hina dolls from 16 areas throughout the town are displayed. The Former Den'emon Ito Residence is the main venue for Itsuzuka Hina no Matsuri, which sees a huge number of zashikibina hina dolls put out. The Residence has been involved with Hyakudan Hinamatsuri twice in the past, and this time, their overwhelming showcasing of 500+ dolls, which has garnered popularity every time, will be put on as a special display. The display will keep with the festival's theme of tales of Izumo as well as the myth of the Hare of Inaba.

Hina no Shitsurai: Table Laying

Another special display will also be put on for the festival with the theme "Hina no Shitsurai," meaning "setting up a hina living space." There will be gorgeous table laying by Tomiko Ishibashi, who is an interior decorator working internationally, as well as displays of hina decorations in home living rooms and genkan. Select parts of this exhibition will be available to purchase in the museum shop, so people can take away a memory and try setting up their own hina decorations. And for the first time ever, the festival is opening the Hina Cafe for a limited time between January 24 to February 14 where visitors can sip on Japanese tea and eat Japanese snacks. Hina decorations will serve as the theme for the cafe.

Discover the beauty of the Hinamatsuri, a festival unique to Japan, at the 11th Hyakudan Hinamatsuri.

Information

Hyakudan Hinamatsuri 2020

Running: January 24, 2020 – March 15, 2020

Time: 10:00-17:00 (Last Entries 16:30)

*Photography allowed (However please refrain from using tripods and flash and from taking photos for commercial or business purposes. Photography prohibited for select displays.)

*The venue will not use heating in order to protect the displays

Entry Prices

Same-Day: ¥1,600 / Official Online Ticket: ¥1,600 (Special ¥1,100 price available on January 23)

External Ticket Sellers: Adults ¥1,500 / University and High School Students ¥1,000 / Elementary and Junior High Students ¥600

*School ID required. Entry free for preschoolers.

Special Tickets

Pair Ticket (For the first half of the festival period): ¥2,000

Ticket With Postcard (Limited Quantity): Advance ¥1,200 / Same-Day ¥1,500

Ticket With Designated Date and Time, Gallery Talk & Guidebook: ¥1,800

Location: Hotel Gajoen Tokyo

Event Page: https://www.hotelgajoen-tokyo.com/event/hinamatsuri2019

Andy Warhol Exhibition in Kyoto: Select Major Artworks Revealed

An exhibition centred around Andy Warhol, the American artist who was at the forefront of the pop art movement, is set to roll up to the Kyocera Museum of Art in Kyoto from September 19, 2020. Around 200 pieces of art will be showcasedーover 100 of which have never been displayed in Japan beforeーas well as 15 video art pieces.

Three Marilyns (1962), Andy Warhol. The Andy Warhol Museum. *First showcasing in Japan

All of the pieces to be shown at the exhibition are the property of The Andy Warhol Museum, which is located in Pittsburgh, Pennsylvania in the US, where Warhol was born.

The Last Supper (1986), Andy Warhol. *First showcasing in Japan

Tunafish Disaster (1963), Andy Warhol. *First showcasing in Japan

Peacock (1957), Andy Warhol. *First showcasing in Japan

The line-up displays Warhol's diverse works, including his highly treasured Three Marilyns, as well as Tunafish Disaster from his Death and Disaster series, the enormous The Last Supper piece, Peacock which makes use of the Japanese style of gold leaf art, and more.

Kyoto (Kiyomizu-dera) (1956), Andy Warhol.

The exhibition will also turn its attention to Warhol's connections to Kyoto which haven't been discussed before. It will feature Warhol's sketch of Kiyomizu-dera in Kyoto which he drew during his trip around the world.

*All pieces are property of The Andy Warhol Museum

© The Andy Warhol Foundation for the Visual Arts, Inc. / Artists Rights Society (ARS), New York

Official Touken Ranbu Event to be Held Across Japan to Celebrate Game's 5th Anniversary

The key visual for the upcoming "Touken Ranbu Honmaru Haku 2020" event has been released. The event will take place across Japan, including Sunshine City in Ikebukuro, Tokyo from January 5 to 19 next year in celebration of the online browser and mobile game's 5th anniversary.

The event was first held in 2017 to celebrate two years since the game's release where it was taken to 5 cities around Japan. This new event promises to be even bigger and better than before, with each room having its own theme. It will be a coming together of everything encompassing the franchise, including the anime, stage play, musical, film and more. After Ikebukuro, it will head to Osaka, Aichi, Fukuoka, Hiroshima, Niigawa, Ishikawa, and elsewhere. More dates and details are to be announced.

All tickets are designated to specific time slots for each day. Pre-sale tickets for Ikebukuro opened on October 25 will close on October 31, so don't miss out.

Information

Touken Ranbu Honmaru Haku 2020

Running: January 5, 2020 – January 19, 2020

Time: 10:00-19:00

Venue: Ikebukuro Sunshine City Exhibition Halls A & B (3-1 Higashi-Ikebukuro, Toshima Ward, Tokyo)

Entry Price: ¥2,000 (Tax Included) / With Folder ¥2,600 (Tax Included)

*Same-day and advance ticket prices are the same

Event Website: http://honmaruhaku2020.jp

Shibuya PARCO Refurbishments Reveal Collaboration Exhibitions With AKIRA, AUTO MOAI, JUN INAGAWA And More

The new fully refurbished Shibuya PARCO shopping complex is set to reopen on November 22, 2019. When Shibuya PARCO closed for renovations in 2016, GALLERYX BYPARCO was moved to Spain-zaka in the centre of Shibuya. This November, GALLERY X will return to its home on the basement floor 1 of the shopping complex. 

The first opening exhibition of GALLERY X is titled "AKIRA ART OF WALL Katsuhiro Otomo × Kosuke Kawamura AKIRA ART EXHIBITION" which will see an entire wall decorated in a collage of art by manga author and film director Katsuhiro Otomo and his legendary series AKIRA until May 2020. 

The art wall is in fact a relocation of the AKIRA art wall that has existed at the infrastructure building site in Shibuya for almost two years. Parts of it was damaged over time, and so it will resurface at PARCO MUSEUM TOKYO on the 4th floor of the new Shibuya PARCO. That's not all: there will also be valuable original works displayed as well as posters, 3D model recreations of things seen in AKIRA, the series soundtrack by Geinoh Yamashirogumi playing, 3D attractions where you can interact with a futuristic "Neo Tokyo" and much more. 

AUTO MOAI (December 2019)

Kazuki Iio (Zun) (December 2019)

Misaki Tanaka (February ー March 2020)

JUN INAGAWA (April 2020)

The first exhibition will be followed by a strong lineup of exhibitions. The exhibition areas will be filled with a wide range of attractions, making it appealing for a wide range of people with different tastes. 

* The above information and dates are subject to change at any moment without prior notification.

GALLERY X is full of originality and is a source of the latest entertainment culture so please check it out. 

Information

GALLERY X

Address: Shibuya PARCO floor B1, 15-1 Udagawacho, Shibuya, Tokyo

Opening Hours: 11:00 ー 21:00

Official Website: art.parco.jp/

Poop-Themed Exhibition to Teach People All About Poop in Fukuoka

Fukuoka PARCO and Higashiyama Zoo and Botanical Gardens are collaborating to hold a poop-themed exhibition entitled "Poop Exhibition: Poop Academy Cultural Festival in Fukuoka" on floor B1F of the south building of Fukuoka PARCO from September 27 to October 27.

There will be many elements to the exhibition. The first of these is the language section where sentences written in Japanese will be draped all across one room, each with references to poop.

Above photo taken from the Ikebukuro exhibition

In the "Outdoor Lesson" corner, there will be cased displays of different animal droppings with descriptions, enabling people to see the different shapes and sizes poop comes in.

In the "Poop Arithmetic 3rd Year Students" corner is a photo spot where you can pose like the Poop Maths Teacher as shown on the right.

At the end of the exhibition there's an exam room where you can take a test based on what you have learned from the exhibition.

There'll even be a range of original and exclusive merchandise.

Postcard Set (5 Designs) – ¥400

Folders – ¥300

Toilet Roll – ¥348 / Character Tape Cutter – ¥700 / Leather Futon Books (2 Designs) – ¥500 Each

Japan is having a poop craze right now, with the opening of the Unko Museum in Yokohama which is also set to arrive in Shanghai next month.

*Photos are for illustrative purposes only. Listed prices are pre-tax. Event content subject to change.

Information

Poop Exhibition: Poop Academy Cultural Festival in Fukuoka

Running: September 27, 2019 – October 27, 2019

Opening Hours: 10:00-20:30 (Until 18:00 on October 27; last entries 30 minutes before closing times)

Location: Fukuoka PARCO South Building Floor B1F

Entry Price: ¥600 (Free entry for preschoolers)

*POCKET PARCO members get ¥100 off

Event Page: https://art.parco.jp/fukuoka/detail/?id=297

Japan's Poop Museum Dumps Its Load in Shanghai

The poop-themed exhibition Unko Museum is set to roll into Shanghai on October 19 where it will run until January 3 next year.

The museum first appeared at the entertainment facility ASOBUILD, which is connected to Yokohama Station, where it is still running as Unko Museum YOKOHAMA. It was then followed by Unko Museum TOKYO where it is still open at DiverCity Tokyo Plaza. This will mark the museum's first trip overseas.

Just 4 months after opening in in Yokohama, the museum had amassed over 200,000 visitors. The subsequent Tokyo museum served to promote the new Japanese concept of "kawaii poop" to tourists both Japanese and foreign. It was a huge success and enjoyed substantially more visitors than predicted.

With the museum receiving huge attention from both Japan and overseas, Shanghai was chosen as the next destination as a means to develop the concept outside Japan since Shanghai is one of the main global cities of the Asian region. There is also the fact that mainland China has a population of over 1.4 billion. The Unko Museum aims to promote and establish itself as a new entertainment experience.

The museum will be set up at Joy City Shopping Mall, which is home to a whole host of experience entertainment, as well as restaurants, shops, and even a Ferris wheel. It will have the same content as the museum in Japan, including giant poop statues, the "Unstagenic Area," a combination of the Japanese word for "poop" (unko) and the words "Instagram" and "photogenic" with cute and stylish poops, and more.

Information

Unko Museum SHANGHAI
Address: Joy City Shopping Mall Floor 4F, 166 Xizang N Rd, Zhabei Qu, Shanghai Shi, China
Running: October 19, 2019 – January 3, 2019
Opening Hours: 10:00-22:00 (Last Entries 21:00)

Official Website: https://unkomuseum.com/

Andy Warhol Exhibition to Grace Kyoto's Kyocera Museum of Art in 2020

An exhibition centred around Andy Warhol, the American artist who was at the forefront of the pop art movement, is set to roll up to the Kyocera Museum of Art in Kyoto on September 19, 2020.

The exhibition will showcase pieces available only at the The Andy Warhol Museum in Pennsylvania, US. It will be the first Andy Warhol exhibition of its kind to hit Japan and will also touch on his deep knowledge of Kyoto.

The exhibition will be the first to take place in the museum's new Toyama Cube building which is currently under construction.

More details will be announced on the exhibition's website and social media accounts below.