STREAMER COFFEE COMPANY releases new cherry blossom tapioca drink!
From Friday 1st March 2019 until the end of April, all STREAMER COFFEE COMPANY shops will be adding two limited edition items to their menu including; "SAKURA BUBBLE LATTE" and "CHEESECAKE BART".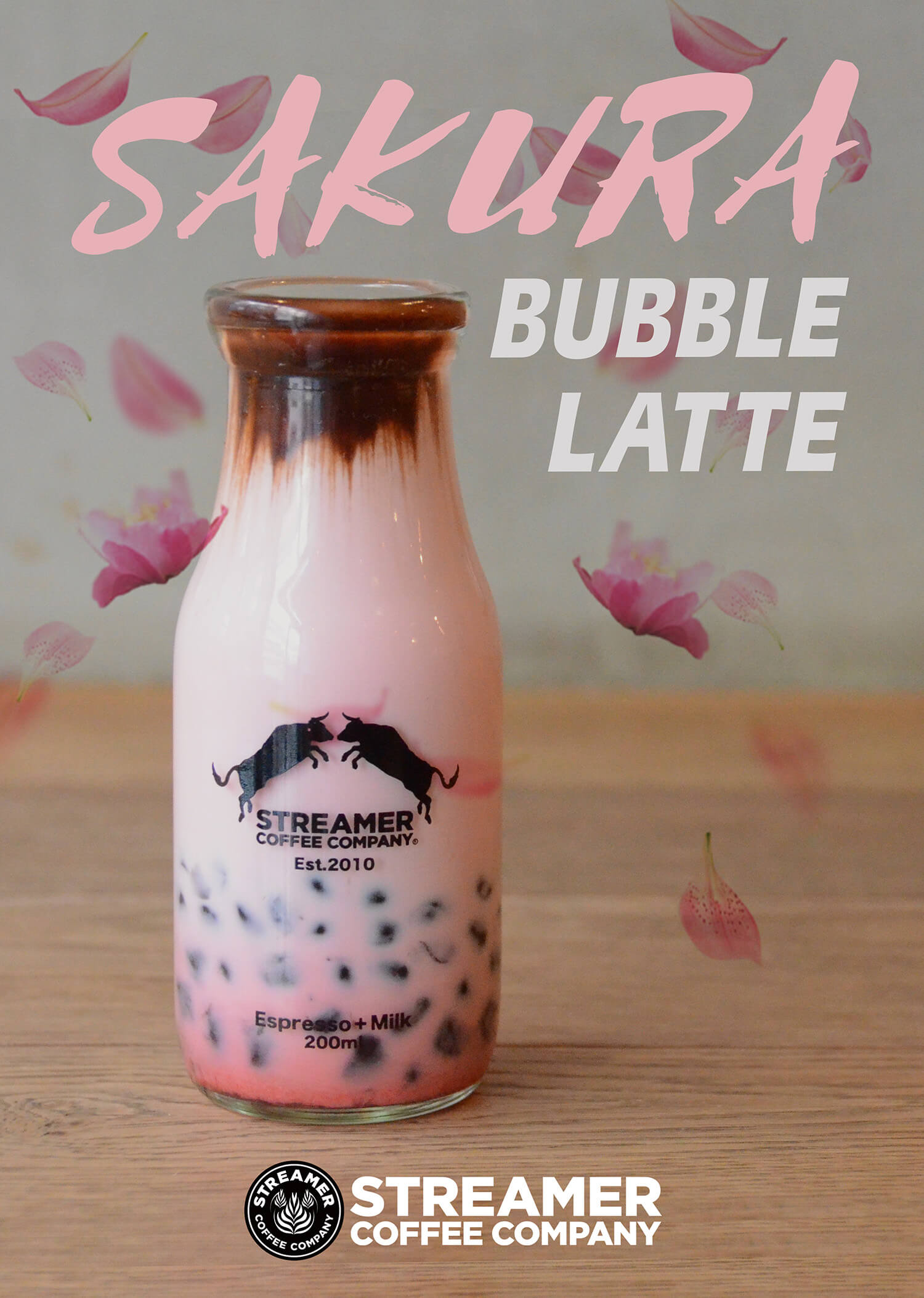 SAKURA BUBBLE LATTE (サクラバブルラテ) ¥720 (tax included in price)
This will be STREAMER COFFEE COMPANY'S first ever drink that uses tapioca balls. The latte is flavoured using a lightly fragranced cherry blossom syrup combined with a strong tasting strawberry syrup. The tapioca balls add texture. This cafe latte-based tapioca drink is overflowing with speciality. The drink will be available for a two month period from Friday 1st March to Tuesday 30th April.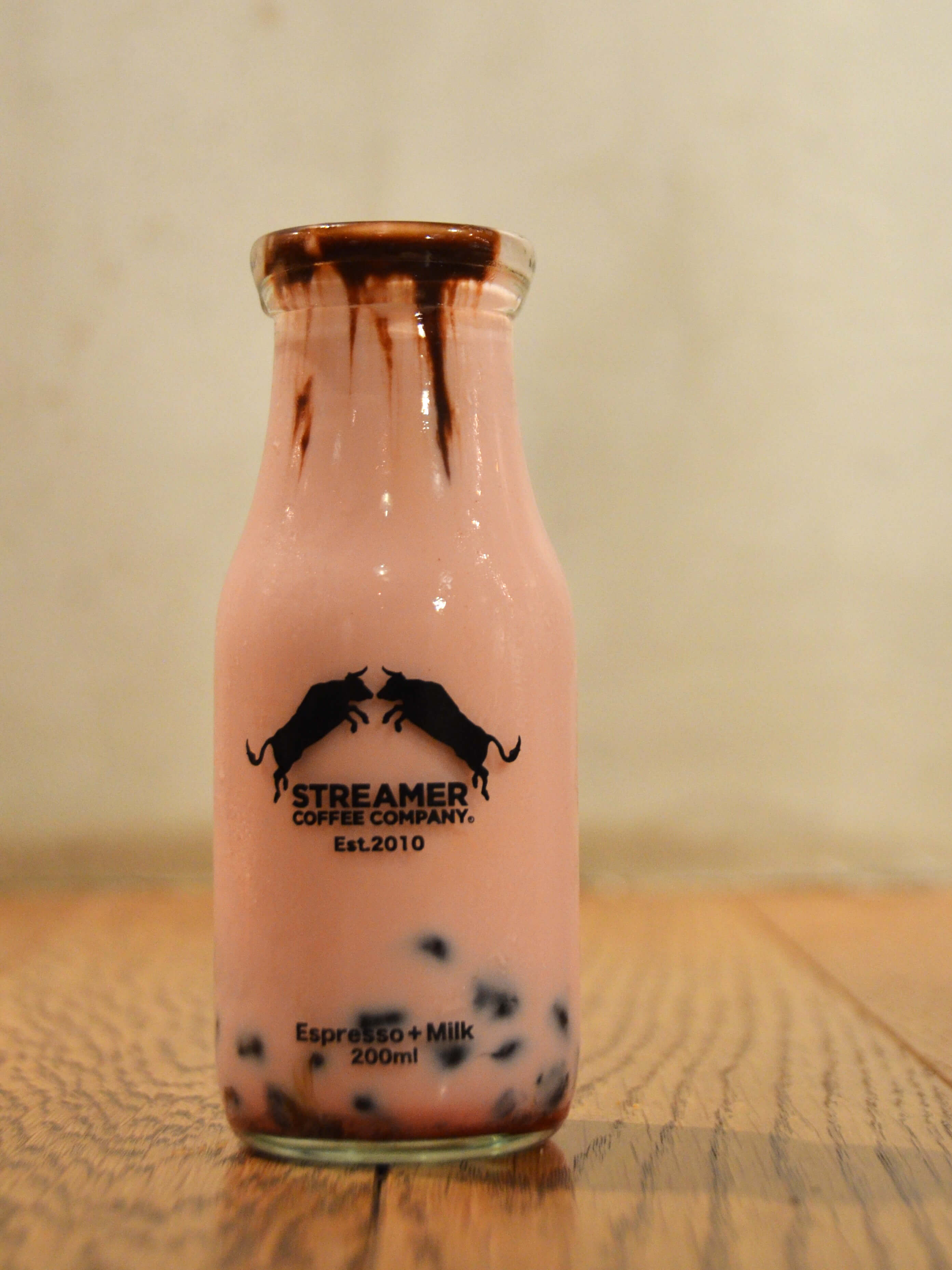 The SAKURA BUBBLE LATTE can be served in two ways; in a glass to drink in, or in a plastic cup to take out.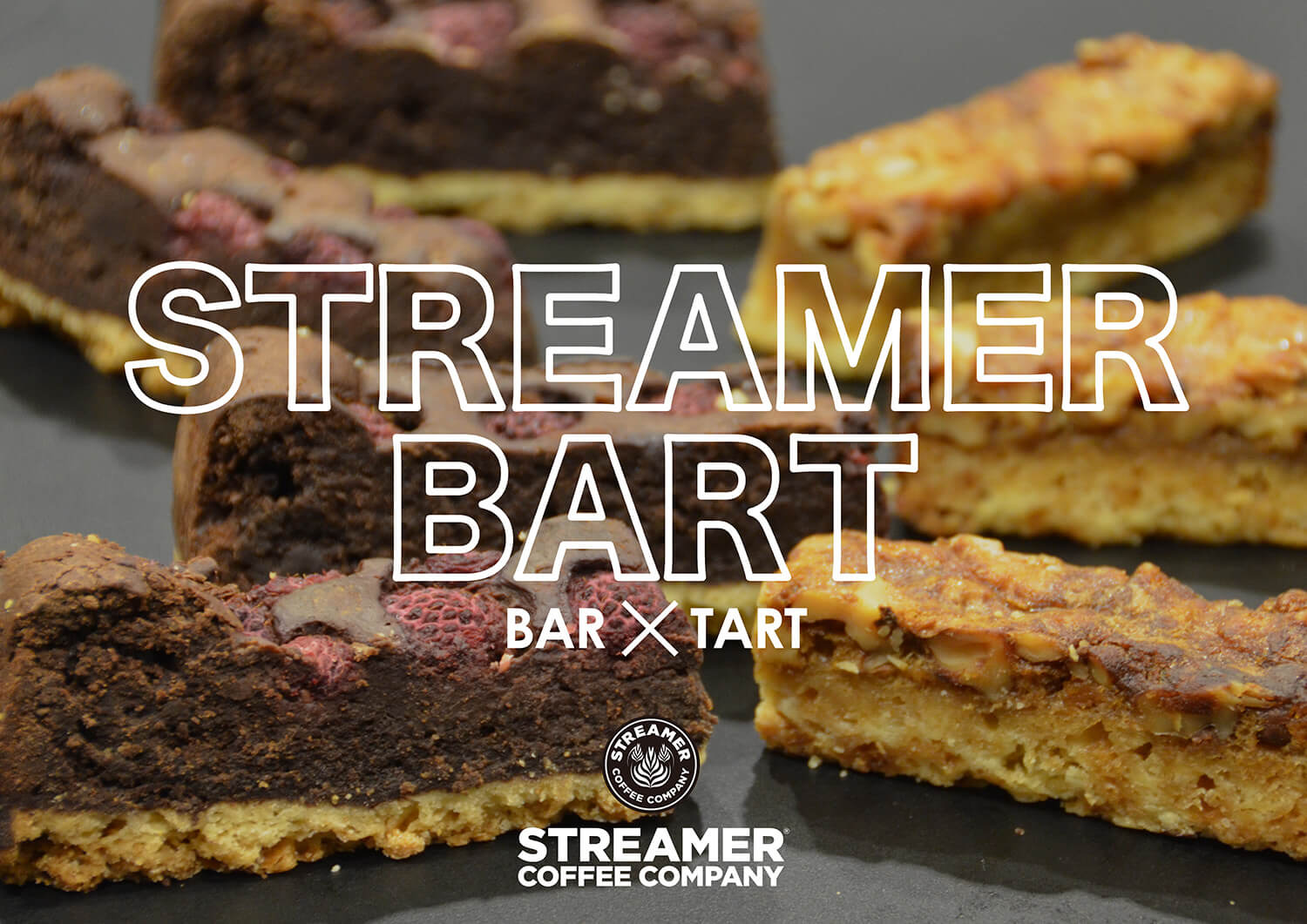 CHEESECAKE BART (チーズ ケーキバルト)  ¥380  (tax included in price)
"BART" is a new form of finger food you can enjoy. This month, the bar X tart comes in the form of a cheesecake that is made using "STREAMER COFFEE COMPANY's original, rich-flavoured cheese. What's impressive is that you can enjoy this light treat with just one hand!
If you love tapioca, you must try the drink! You should also try this luxurious cheesecake!
Information
SAKURA BUBBLE LATTE/サクラバブルラテ
Release date: Friday 1st March 2019
STREAMER COFFEE COMPANY/ Shibuya, Harajuku, Kayabacho, Nakameguro, Sapporo, Nagoya (Sakae), Setagaya-Daita, Higashi-Kitazawa
STREAMER ESPRESSO/MODI Shibuya, Tokyo Garden Terrace, Gaiemmae, Roppongi, Takayama
CHEESE CAKE BART/チーズケーキバルト
Release date: Friday 1st March 2019
STREAMER COFFEE COMPANY/ Shibuya, Harajuku, Kayabacho, Nakameguro, Sapporo, Nagoya (Sakae), Setagaya-Daita, Higashi-Kitazawa
STREAMER ESPRESSO/MODI Shibuya, Tokyo Garden Terrace, Gaiemmae, Roppongi
STREAMER COFFEE COMPANY official website:
RELATED ENTRIES
Make Your Own Chocolate Pokémon Pies With Lotte's Confectionery DIY Kit

Japanese confectionery company Lotte is launching a new version of its popular Choco Pie dessert in collaboration with Pokémon.

Pokémon Trainers out there with sweet tooths are given an ordinary blank Choco Pie which they can decorate with the accompanying assorted chocolates, nuts, and sweets to create their favourite Pokémon. They can create their own from their mind or follow the recipe provided.

Choco Pie Art with Pokémon will be released by Lotte in Japan on November 24, 2020.

©Nintendo・Creatures・GAME FREAK・TV Tokyo・ShoPro・JR Kikaku ©Pokémon

Luxurious Christmas Desserts Whipped Up at Ginza's SHISEIDO PARLOUR SALON DE CAFE

SHISEIDO PARLOUR SALON DE CAFE in Ginza, Tokyo, is serving up Christmas cheer this year in the form of a delightful selection of desserts from December 1 to 29.

Christmas Angel Parfait | ¥2,300 (Tax Included)

Made with super sweet Le Lectier pears and combined with assorted berries, this parfait is like a gift from the heavens.

Present From The Heavens w/ Drink | ¥2,500 (Tax Included)

A super cute Christmas assortment with a Christmas present made from white chocolate and berry yam, a snowman made from yuzu citrus-laced milk ice cream, and more.

Shiseido Parlour Story w/ Drink | ¥2,600 (Tax Included) *Served weekdays only

Ensemble Chocolate w/ Drink | ¥2,200 (tax Included)

A brownie made from a combination of Belgian, French, and Swiss chocolate surrounded by ganache, ice cream, and more, served with a spread of berry sauce.

Strawberry Parfait | ¥2,000 (Tax Included)

A simple but deliciously sweet parfait made with koiminori strawberries from Nagasaki. It's served with ice cream and sauce but only contains 10g sugar content.

Information

SHISEIDO PARLOUR SALON DE CAFÉ
Address: Tokyo Ginza Shiseido Building 3F, 8-8-3 Ginza, Chuo-ku, Tokyo

TEL: 03-5537-6231 (Reservations Not Required)

Opening Hours:

[Mon-Sat] 11:00-21:00 (Last Orders 20:30)

[Sun & Public Holidays] 11:00-20:00 (Last Orders 19:30)

Closed: Mondays (Except Public Holidays) / New Year Holidays

Official Website: https://parlour.shiseido.co.jp/

Pikachu Caramel Frappes Zap Their Way to Pikachu Sweets by Pokémon Cafe This Holiday Season

Pikachu Sweets by Pokémon Cafe in Ikebukuro, Tokyo, is adding the new "Caramel Pika Pika Frappe" to its menu this holiday season from December 5, 2020 to January 15, 2021.

Caramel Pika Pika Frappe | ¥700 (Before Tax)

The adorable beverage is based on the Japanese custard pudding known as purin. It's laced with caramel sauce, closed off with a squirt of whipped cream, and finished with a sprinkling of chocolate chips for accent.

Pikachu Sleeves

The drink also comes with one of four possible Pikachu sleeves which feature designs in promotion of the upcoming animated film Pokémon the Movie: Secrets of the Jungle (also known as Pokémon the Movie: Coco) which will be released in Japan on December 25, 2020 and in the US in 2021.

© 2020 Pokémon.©1995-2020 Nintendo/Creatures Inc./GAME FREAK inc.
Pokémon, ポケットモンスター, and ポケモン are registered trademarks of Nintendo, Creatures Inc., and GAME FREAK inc.
© Nintendo・Creatures・GAME FREAK・TV Tokyo・ShoPro・JR Kikaku
© Pokémon © 2020 Pikachu Project

McDonald's Luxurious Chocolate Frappes in Collaboration With GODIVA Are Mouth-Watering

McDonald's Japan has revealed two new beverages which will be sold at McCafé by Barista branches of McDonald's from November 25: the "GODIVA Chocolate Espresso Frappe & Macaron" and the "GODIVA Chocolate Espresso Frappe."

This is McCafé by Barista's first collaboration with the Turkish chocolate company GODIVA. The drinks were made under the supervision of Yannick Chevolleau, an executive chef and chocolatier pâtissier at GODIVA, bringing together a match made in heaven of rich chocolate and espresso.

GODIVA Chocolate Espresso Frappe – Regular Size (¥540)

The beverage contains a dark chocolate sauce which combines cacao powder and roasted cacao beans which is mixed together with fragrant espresso and milk before being topped with whipped cream drizzled in a couverture chocolate sauce made from 54% Belgian chocolate.

GODIVA Chocolate Espresso Frappe & Macaron – Regular Size (¥540)

You can also get it topped with a vanilla-flavoured macaron which adds sweetness to the rich beverage and looks even more Instagram-worthy.

Information

GODIVA Chocolate Espresso Frappe & Macaron
GODIVA Chocolate Espresso Frappe
Serving: November 25, 2020 – Mid January 2021 (subject to change)
Available: At McCafé by Barista branches of McDonald's in Japan

Mickey & Friends Disney Christmas Cupcakes to be Released at Ginza Cozy Corner

Japanese confectionery company Ginza Cozy Corner is teaming up with Disney once again to release a new Christmas collection of cupcakes on December 1.

Colourful Disney treats for the holiday season

This sweet seasonal collection is inspired by Mickey & Friends and contains nine unique cupcakes which depict the characters getting ready for their Christmas party.

Disney Christmas Collection (Contains 9) | ¥2,500 (Before Tax)

Cupcakes include a Santa-hat wearing, chocolate ganache-filled Mickey cream cheese cake, a strawberry jam-filled Minnie mousse cake, a lemon and mint cream-packed, Christmas decoration-adorned Donald tart, a banana and mint cream Pluto tart, an orange cream Goofy chocolate cake, and more.

The cakes are packed in a special Disney Christmas box which is sure to catch the attention of sweet tooths this holiday season, perfect for stay-at-home Christmas parties.

Information

Disney Christmas Collection
Running: December 1, 2020 – December 25, 2020

Ginza Cozy Corner Official Website: https://www.cozycorner.co.jp/

Starbucks Japan Reveals Matcha x Matcha White Chocolate Frappuccino®

Starbucks Coffee Japan has revealed that its second instalment of its limited-edition holiday season 2020 beverages will be the "Matcha x Matcha White Chocolate" and "Matcha x Matcha White Chocolate Frappuccino®" which customers can order from November 24. A new batch of festive Starbucks merch will also hit Japanese branches on November 30.

A harmonious fusion of matcha and sweet white chocolate

Matcha x Matcha White Chocolate Frappuccino® Tall ¥590 (Tall-size only)

Matcha x Matcha White Chocolate: Short ¥450 / Tall ¥490 / Grande ¥530 / Venti® ¥570 (Hot option only)

Matcha is one of Starbucks Japan's signature flavours and just to happens to have been in the spotlight in last year's holiday season drinks. This year sees marbling mixture of of rich matcha sauce and sweet white chocolate syrup with the Frappuccino®, finished with a squirt of whipped cream, brownie bits, and snowy powdered sugar. The hot version comes as a marriage of matcha and white mocha mixed together with steamed milk to warm the cockles of hearts during the cold months.

New holiday season merchandise

The theme of the second batch of merchandise is "Brilliant Season" which capture the bright and sparkly vibe of winter like with the snowflake-covered stainless steel bottle, a glass mug with beads in it that move around when shaken, a snow globe, and more. The perfect line-up for capturing the holiday season mood during your coffee break.

Starbucks Japan is currently serving the Berry x Berry No-Bake Cheesecake Frappuccino® and Berry x Berry White Mocha holiday season drinks for the holiday season until November 24 when they will be replaced by the Matcha x Matcha White Chocolate and Matcha x Matcha White Chocolate Frappuccino®. It is also serving the Starbucks® Christmas Blend, Gingerbread Latte, and Macadamia Toffee Latte until Christmas Day.

Information

Matcha x Matcha White Chocolate and Matcha

Matcha White Chocolate Frappuccino®

Running: November 1, 2020 – December 25, 2020

Available: Starbucks in Japan
Starbucks Japan Official Website: https://www.starbucks.co.jp/

Toy Story's Little Green Men and Lots-o' Get Turned Into Confections at Japanese Convenience Stores

Bandai's character-inspired Japanese confectionery series Tabemas has revealed that its next batch of sweet treats will be inspired by the Little Green Men and Lots-o'-Huggin' Bear from the popular Pixar movie franchise Toy Story. The confections will hit 7-Eleven convenience stores in Japan on November 21, 2020.


Tabemas Toy Story | ¥258 Each (Before Tax)

The lovable Little Green Men and Toy Story 3's main antagonist Lots-o have been fully recreated, down to the finest details, into delicious confections. The details are well crafted you can almost hear the aliens chanting "OOOOOH" in unison! The sweets are also made with a dough called "nerikiri" which is used in making traditional Japanese wagashi sweets.

The Little Green Men are matcha flavoured while Lots-o is strawberry flavoured. Both contain Japanese bean paste, and neither use artificial colourings. Their colours comes from the original ingredients. Each sweet is also only 100kcal making is a perfect quick treat.

'Tabemas' is an abbreviation of the Japanese words taberareru masukotto, meaning 'mascots that you can eat.' It is a Japanese confectionery series that combines well-known characters and Japanese sweets made from ingredients like red bean paste, sugar and rice flour.

©Disney/Pixar

Information

Tabemas Toy Story 25th Anniversary – Little Green Man & Lots-o'-Huggin' Bear
Release Date: November 21, 2020
Available: At the chilled sweets section of 7-Eleven convenience stores in Japan

*Available while supplies last

*Stock date may differ from branch to branch

*Select stores not participating

Official Website: https://www.bandai.co.jp/candy/tabemas/toystory/  

Christmas-Themed Afternoon Tea Set to Arrive at Hyatt Regency Tokyo

Hyatt Regency Tokyo's brasserie Vicky's is reopening on November 20, 2020. To celebrate Christmas, Vicky's is serving up an adorable afternoon tea set which contains Christmassy desserts and savoury snacks. The afternoon tea set will be available on weekends and national holidays from November 21 to December 27, 2020.

Christmas Afternoon Tea Set: ¥4,400 (After Tax)

Enjoy a festive afternoon tea set in Vicky's comforting brasserie. For the occasion, head dessert maker Hirokazu Satō has created a selection of delicious pastries which take the forms of adorable Christmas characters. Enjoy the creamy layers of the strawberry mousse snowman, indulge in the aromatic pistachio cream tart which looks like a Christmas tree, and sink your teeth into a strawberry and pistachio macaron which looks like Santa Claus. Tuck into the strawberry shortcake which looks just like a Christmas present to finish off your dessert plate.

Minoru Ōtaki is in charge of the savory treats of the Christmas afternoon tea. The menu includes pulled pork sandwiches, quiche lorraine, fried shrimp and more. The savoury snacks balance out the sweet desserts and add a moderately savoury touch to your experience. Customers are also invited to indulge in the wide variety of delightful drinks.

To celebrate the reopening of Vicky's, Ōtaki has created a special dinnertime tapas selection where you can indulge in the natural flavours of fresh ingredients.

This Christmas afternoon tea is a wonderful way to relax after work or even with your friends.

Information

Christmas Afternoon Tea Set
Running: November 21 ー December 27, 2020
Location: Vicky's Brasserie, Hyatt Regency Tokyo Floor 1
2 Chome-7-2 Nishishinjuku, Shinjuku City, Tokyo
Teatime: 13:00 – 17:00 (Last Orders: 16:00)
*Available on weekends and national holidays only

Phone Number: 03-3348-1234

Vicky's Brasserie Official Website: https://www.hyattregencytokyo.com/portals/0/vickys/

A Cheesecake You Can Drink Releases at CheeseTable in Shinjuku

Shinjuku and Ikebukuro's popular cheese cafes CheeseTable released added a new hot version of their drinkable cheesecake to the menu on Tuesday (November 10), the perfect way to warm up as the season gets colder.

The cheesecake-in-a-mug is a popular menu item at CheeseTable and has continued to be changed and adapted to the seasons over the years. Until now it has only been available to drink cold, but for the first time they've introduced a hot option.

Strawberry Cream Drinkable Hot Cheesecake | ¥780 (Before Tax)


Chocolate Espresso Drinkable Hot Cheesecake | ¥780 (Before Tax)

There are two flavours to pick from, both of which offer the sensation that you're eating a real cheesecake. There's the creamy strawberry jam "Strawberry Cream" which is best enjoyed after stirring and the "Chocolate Espresso" which is a rich and sweet mix.

Honey Mascarpone Drinkable Cheesecake | ¥600 (Before Tax)


Brown Sugar Syrup & Soy Flour Drinkable Cheesecake | ¥600 (Before Tax)

The signature iced Honey Mascarpone and Brown Sugar Syrup & Soy Flour flavours are also must-tries. Honey Mascarpone has been popular since it was first release for its subtly sweet taste. The Brown Sugar Syrup & Soy Flour dessert drink is topped with soy flour warabimochi and rice flour dumplings. This latter flavour is very Japanese, combining the sweetness of the syrup with cream cheese.

If you're in Tokyo this winter then stay warm with a cup of cheesecake!

Information

Drinkable Hot Cheesecake
Shop Name: CheeseTable Shinjuku
Address: Pandora Bldg. 7F, 3-23-12 Shinjuku, Shinjuku-ku, Tokyo

TEL: 03-3226-8730

Access: 3-minutes on foot from JR Shinjuku's East Exit

Opening Hours
[Weekdays] Lunch 11:45-15:30 / Dinner 17:30-23:00
[Weekends & Holidays] Lunch 11:45-16:00 / Dinner 16:00-23:30

CheeseTable Official Website: http://www.sld-inc.com/cheesetable_shinjyuku.html

Tokyo Banana Launches Pokémon Confection Series With Pikachu as First Catch

Tokyo's official souvenir sweets brand Tokyo Banana has launched its new Pokémon Tokyo Banana series of confections.

The first tasty entry to the series is the Pikachu Tokyo Banana which will begin rolling out in limited quantities at 7-ELEVEN convenience stores across Japan from November 21, 2020. It will subsequently arrive as a permanent product at the Tokyo Station branch of Tokyo Banana on December 10, 2020.

Pokémon turn into adorable Tokyo Banana confections

Pikachu Tokyo Banana | Banana Flavour (Contains 2) | ¥291 (Tax Included)

Tokyo Banana are popular cream-filled cakes and are the official souvenir sweet of Tokyo. The Pokémon series turns these fluffy treats into cute confections for you to enjoy with your favourite Pokémon during snack time.

Pikachu: The first in the delicious line

Pikachu is first up in the Pokémon Tokyo Banana series. The adorable Pokémon has been turned into a banana custard cream-filled sponge cake.


There are six Pikachu designs in total which include Pikachu making a variety of cute faces as well as its tail.

Each of the Pikachu Tokyo Banana confections are individually packaged in bags which have a Poké Ball design.

Special packaging designs

The individual treats are then packaged in one of six possible Pikachu packets.

Pikachu Tokyo Banana will first roll out at 7-ELEVEN convenience stores in the locations listed below on the respective dates before heading to Tokyo Banana at Tokyo Station on December 10.

Scheduled

November 21 Release
Tokyo / Kanagawa / Chiba / Saitama

November 28 Release
Hokkaido / Aomori / Iwate / Akita / Miyagi / Yamagata / Fukushima / Ibaraki / Tochigi / Gunma / Niigata / Toyama / Ishikawa / Fukui

December 5 Release
Yamanashi / Nagano / Shizuoka / Aichi / Gify / Mie / Okayama / Hiroshima / Tottori / Shimane / Yamaguchi / Tokushima / Kagawa / Ehime / Kochi

December 12 Release
Osaka / Kyoto / Hyogo / Shiga / Nara / Wakayama / Fukuoka / Saga / Nagasaki / Oita / Kumamoto / Miyazaki / Kagoshima

*Not available in Okinawa

*7-ELEVEN sales are available while supplies last

Tokyo Banana – JR Tokyo Station

Pikachu Tokyo Banana will arrive at the JR Tokyo Station branch of Tokyo Banana inside HANAGATAYA on December 10. The second Pokémon is scheduled to be released in January 2021.

©2020 Pokémon. ©1995-2020 Nintendo/Creatures Inc. /GAME FREAK inc.
Pokémon, ポケットモンスター, and ポケモン are registered trademarks of Nintendo, Creatures Inc., and GAME FREAK inc..

Information

Pikachu Tokyo Banana

Pre-Sales: November 21, 2020
*Available at select 7-ELEVEN branches in Japan while supplies last

Pokémon Tokyo Banana @ Tokyo Station
Release Date: December 10, 2020
Location: HANAGATAYA at JR Tokyo Station
Tokyo Banana World: https://www.tokyobanana.jp/

Japan's PEANUTS Cafe Reveals Snoopy Birthday Cake Orders For Online Shop

The PEANUTS CAFE Online Shop is opening orders for a cute Snoopy birthday cake on November 12, 2020.


Snoopy Birthday Cake: ¥5,000 (Before Tax) *Comes with 2 cake ornaments and 5 candles


These PEANUTS Cafe-original cakes are handmade individually a layer of raspberry compote and a layer of white chocolate mousse. They're topped with a cute Snoopy and Charlie Brown decoration and a speech bubble that reads "Happy Birthday!"

The cake is packed in a box with prints from the Peanuts comics on it. It's delivered in a cooler bag so it stays fresh.

Who better to celebrate your birthday with that the Peanuts gang?

© 2020 Peanuts Worldwide LLC

Information

Snoopy Birthday Cake

Release Date: November 12, 2020

PEANUTS Cafe Online Shop: https://www.peanutscafe.jp/online/

*Delivered within 7-10 days of ordering

*Arrives in a cooler bag and so cannot be delivered together with other items so please order separately

Garrett Popcorn Releases Snow White Pistachio Flavour For Christmas 2020

Garrett Popcorn Shops® released its new limited-edition "Snow White Pistachio" popcorn flavour in Japan on Monday (November 2) which is a sweet combination of pistachio, white chocolate, and cranberries. The gourmet popcorn company also released three new Christmas tins.

A rich fusion of pistachio and white chocolate

Snow White Pistachio: Small ¥620 | Medium ¥1,100 | Large ¥1,720 | Jumbo ¥3,450 | Quarter Tin ¥1,750 | 1 Gallon Tin ¥4,400 | 2 Gallon Tin ¥8,400

Snow White Pistachio was a huge hit in Japan last year, and it returns once more for the 2020 holiday season. It takes Garrett Popcorn's "Pistachio Caramel Crisp™," which is caramel-coated popcorn mixed with crushed pistachios, and adds white chocolate and dried cranberries to them for an intently rich and sweet popcorn. The ingredients use create red, green, and white Christmas colours.

 

Limited-edition Christmas tins

Gingerbread Tin (Quarter) | From ¥1,130

The Gingerbread Tin features an adorable gingerbread man and gingerbread house design with presents, snow, and a snowman for a truly heart-warming Christmas scene.

Holiday Blue: Quarter – From ¥1,130 | 1 Gallon – From ¥2,800 | 2 Gallons – From ¥4,950 (*2 Gallon option available online only)

The Holiday Blue Tin captures a deep blue wintery night sky with beautiful mountains.

Red & Green: 1 Gallon – From ¥2,800

The Red & Green Tin features the classic Christmas colour combination with Garrett Popcorn's signature stripes.

Information

Snow White Pistachio

Running: November 2, 2020 – December 25, 2020 (Available while supplies last)

Available: Garret Popcorn Shops® branches in Japan

*Jumbo and 2 Gallon Tin sizes exclusive to the Shisui Premium Outlets and LaLaport Expo City branches of Garret Popcorn Shops®.

Japan-Exclusive Tin: Gingerbread Tin

Global Tins: Holiday Blue Tin / Red & Green Tin

Running: November 2, 2020 – December 25, 2020 (Available while supplies last)

Available: Garret Popcorn Shops® branches in Japan

Official Online Shop: https://garrettjapan.official.ec/

Official site:http://jpgarrettpopcorn.com/