Get ready for the first ever Minion-themed Kamaboko ー so delicious and healthy!
An adult's favourite movie character – the minion. Now, you can enjoy this face on Kamaboko, which is a kind of Japanese cured seafood product. It is often served on top of Japanese dishes such as ramen!  The Kamaboko Minion will be released for sale on Friday 1st March 2019.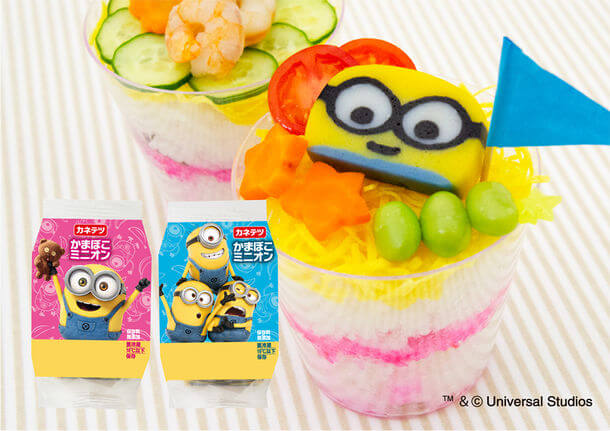 The Minions' distinctive large eyes and blue and yellow colour themes have been accurately recreated. With this kamaboko, you can add a splash of fun, colour and flavour to your dishes.
Kamaboko is popular because it is a good source of protein, easy and quick to prepare, and is often a good alternative for people who don't like fish. It is also the perfect source of nutrition for kids too!
The best feature of the Minion Kamaboko is that it is designed to look like Minion Bob; the most popular Minion.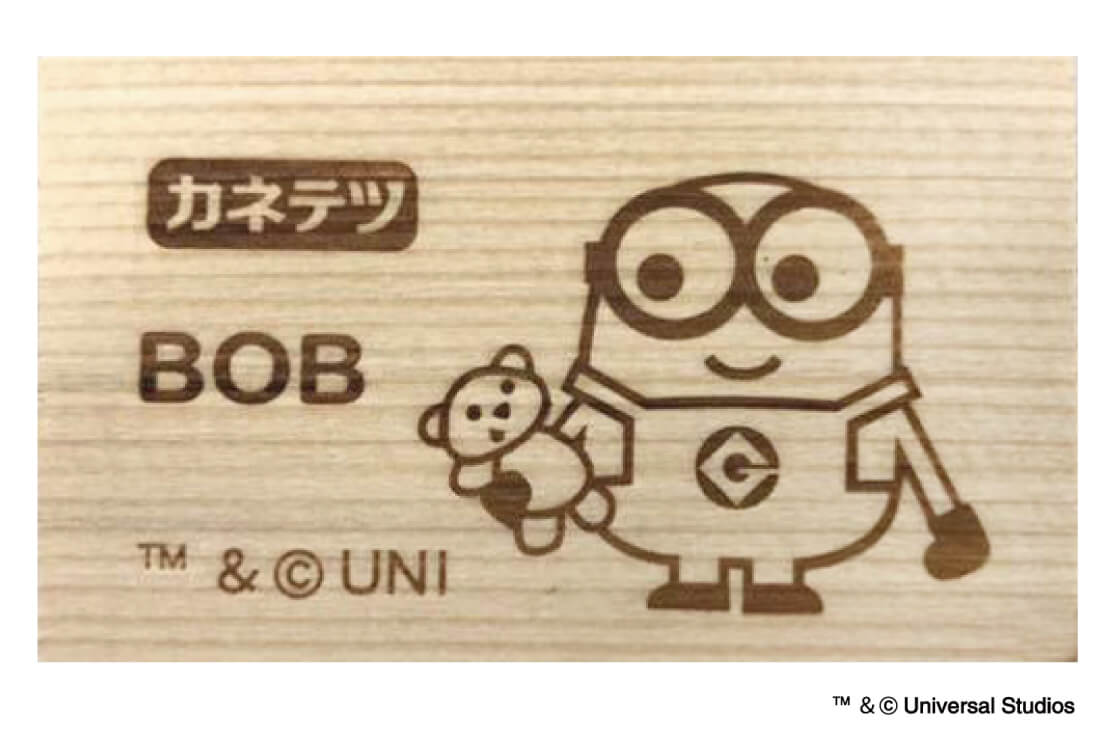 The Kamaboko comes in two different packaging designs that are colourful and lively ー as if the Minions have jumped right out of the film! It also comes with a Kamaboko board which is decorated with Minion Bob's face on the back!
※ There is only one design for the Kamaboko Minion board.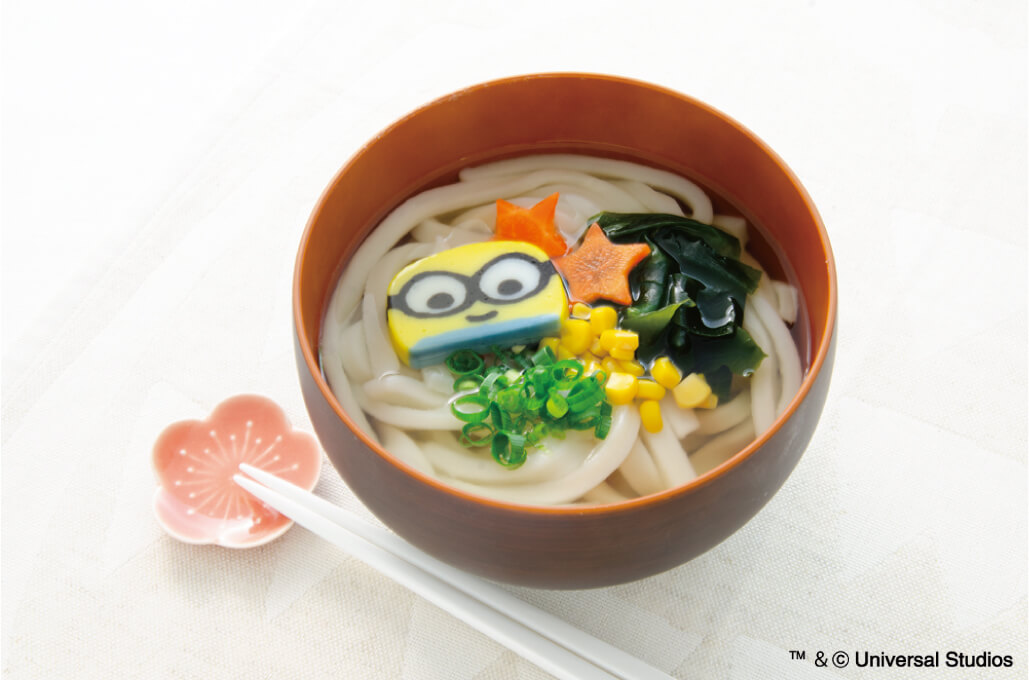 Whether you're making a bento rice box, udon, or chawanmushi egg custard, just put a slice of Kamaboko Minion on the top and your food will be magically transformed into a cute and fun dish!
Just looking at it will make your heart pound with excitement! Get your hands on some as soon as they're out!
Information
Kamaboko Minion
Price: Open price
Release date: 1st March 2019
Available: in Japan
Product website: https://www.kanetetsu.com/minion/
※ Website will open on 1st March 2019 (Subject to change)
TM & © Universal Studios
RELATED ENTRIES
Japanese Artist VERDY Releases Minions Collaboration Collection

To commemorate the upcoming film Minions: The Rise of Gru, a new apparel collection has been unveiled! The new items were made by VERDY, the artist behind popular projects like Girls Don't Cry and Wasted Youth, both of which have been noticed by celebrities overseas. Prior to the collection's launch online on July 1, fans can buy items from the limited-edition collection at Universal Studios in Los Angeles starting June 17 and at Universal Studios Japan starting June 24. 

VERDY is an incredibly popular artist who has garnered attention around the world, and his products are often seen with celebrities and big names in Japan and abroad. He has collaborated with a number of top brands in the past.

Collection

The first collaboration between the two, Minions x Vick, was released in 2020 to huge popularity, selling out within one minute of release. This second collaboration was created to satisfy huge fan demand, offering up tons of items featuring Otto, a Minion who will appear in the new film, and VERDY's signature character Vick. Fans can purchase T-shirts, hoodies, long sleeve shirts, hats, keychains, skateboards, and more. 

This is the only time you'll be able to snag these unique items, so don't miss out!

WIZARDING WORLD and all related trademarks, characters, names, and indicia are © & ™ WBEI. Publishing Rights © JKR. (s22)
Minions and all related elements and indicia TM & © 2022 Universal Studios. All rights reserved.TM & © Universal Studios & Amblin Entertainment
Universal Studios Japan TM & © Universal Studios. All rights reserved.
© Nintendo

Information

Minions x VERDY

Where to Buy: Universal Studios Japan, Studio Style

Available: June 24 – June 30, 2022
*Items only available while supplies last.
Available Online starting July 1

Available at Universal Studios Hollywood starting June 17

Minion-themed Sweets Return to Lawson Convenience Stores Across Japan

Bandai Candy's Tabemas series of Japanese sweets are releasing a fan favorite yet again! Minion-themed wagashi are making a triumphant return to Lawson convenience stores in Japan (excluding Natural Lawson and Lawson Store 100) on August 10, 2021. 

The line-up includes popular characters from the Despicable Me and Minions film series: the childish Bob, prank-loving Stuart, and the leader of the group, Kevin. After a popular release in 2020, it's no wonder they're back!

Tabemas, a portmanteau of 'edible' and 'mascot,' is a series of traditional confections made to look like well-known characters, crafting them out of ingredients such as red bean paste, rice flour, and sugar. Each Minion is faithfully crafted in edible fashion, from the goggles to the hairstyles. 

While the sweets are filled with red bean paste, a traditional flavor in Japanese sweets, each character has a different flavor: Bob is banana (his favorite), Stuart is strawberry, and Kevin is chocolate. As delicious as these treats may be, they're almost too cute to eat! We'd recommend taking a few snaps for Instagram before digging in. 

The Minions aren't the only characters the Tabemas series has made into edible creations: other popular releases include familiar faces from Rilakkuma, Sumikko Gurashi, One Piece, Snoopy, Kirby, Doraemon, Yo-kai Watch, Sailor Moon, Detective Conan, and a collection of beloved Sanrio and Disney characters!

Which Minion is your favorite flavor? 

Minions Franchise (C) Universal City Studios LLC. All Rights Reserved.

Information

Tabemas Minion 2021 Bob/Stuart/Kevin

Release Date: August 10, 2021

Where to Buy: At the chilled desserts section of Lawson convenience stores across Japan

Details: https://www.bandai.co.jp/candy/tabemas/minion02/ 

Product Lineup: https://www.bandai.co.jp/candy/tabemas/

*Not available at Natural Lawson or Lawson Store 100

*Available while supplies last
*Stock date may differ from branch to branch
*Select stores not participating
*Tabemas is a registered trademark of Bandai Co. Ltd

LINE FRIENDS Collaborates With Minions For 10th Anniversary

As part of the LINE FRIENDS 10th anniversary celebrations, Illumination Entertainment and Universal Brand Development released the MINIONS X BROWN & FRIENDS collection at the LINE FRIENDS Harajuku store and the online store on July 22. A collection of digital accessories, camping items, and golf goods will also roll out in August. This includes a release at 17 branches of KIDDYLAND on August 7 as part of PLAY LINE FRIENDS.



BROWN & FRIENDS began as a stamp series on the Japanese messaging app LINE. The characters are now featured just about everywhere including as merchandise. See Brown and Sally meet Kevin, Bob, and Stuart from the hit animated films Despicable Me and Minions in the form of digital accessories aimed at tech lovers such as AirPods cases and smartphone clips as well as eco bags, golfing equipment, camping necessities, and more.

As part of the collaboration, Brown & Friends and Minions LINE stickers and Instagram filters will also be released in August. Check out the official LINE FRIENDS social media pages for related promotional videos too.

And for Japanese fans of both franchises, they get some Japan-exclusive merchandise too including a mini towel, hand towel, face towel, bath towel, denim tote bag, denim pouch, eco bag, hat, stationery, bottle, mug, neck pillow, and more.



©LINE/©UCS LLC

Minions Confections Sneak Their Way Into Lawson Convenience Stores in Japan

Bandai Candy's character-inspired Japanese confectionery series Tabemas released a new batch of Minion-themed Japanese wagashi confections at Lawson convenience stores in Japan (excluding Lawson Store 100 branches) on August 4, 2020.

'Tabemas' is an abbreviation of the Japanese words taberareru masukotto, meaning 'mascots that you can eat.' It is a Japanese confectionery series that combines well-known characters and Japanese sweets made from ingredients like red bean paste, sugar and rice flour.

Tabemas Minions | ¥264 (Before Tax)

The line-up includes familiar faces from the Despicable Me and Minions films, namely the childish Bob, Stuart—who loves a prank—and Kevin who has a leader presence about him. The confections feature all the little details for each character, from the goggles and hair to the colouring.

Each character has its own delicious bean paste flavouring too: Bob is banana flavoured (his favourote), Stuart is strawberry, and Kevin is chocolate. Which do you want to try the most?

© Universal City Studios LLC. All Rights Reserved.

Information

Tabemas Minion
Release Date: August 4, 2020

Available: At the chilled desserts section of Lawson convenience stores in Japan

*Not available at Lawson Store 100

*Available while supplies last

*Stock date may differ from branch to branch

*Select stores not participating

Minions Plan To Take Over McDonald's Japan This Summer

Just when you thought McDonald's couldn't get more yellow, the world-famous fast food restaurant is now teaming up with Illumination Entertainment's lovable yellow minions, creating a new line of tasty treats,  fun toys and more. The new line includes the Banana McShake®, Waffle Cone Chocolate Banana Ice Cream, a Minions Happy Meal® and much more. The minions will be taking over the menu from July 17, 2020 for a limited time only.
*Unavailable at certain branches


The minions are celebrating their 10th anniversary this year. From the packaging of the food to McShakes and toys, there's just so much going on this summer.

Banana McShake® Small: ¥120円/ Medium: ¥200
*Image for illustration purposes only


Enjoy the mild flavour of banana embraced in sweet cream. As the flavours melt on your tongue, you will feel refreshed. The small-size cups are decorated with original illustrations of the main minions Bob, Kevin and Stuart and are in limited supply. Enjoy the sight of mischievous minions joke around on your drink as you get refreshed.

Waffle Cone Chocolate Banana Ice Cream: ¥250 (Price may vary)

*Image for illustration purposes only


A crispy waffle cone filled with milky, rich soft serve ice cream and drizzled with a rich chocolate sauce and sweet banana sauce – a minion's favourite flavour. Your ice cream will be served wrapped in collaboration-limited packaging. During the collaboration period, all waffle ice cream cones (plain, strawberry, chocolate and almond) will be served in special minion-themed wrapping.

Minions Happy Meal®

Selling: July 17, 2020 ( approximately four weeks)
Bonus Toys: A total of 30 minions toys and 30 golden versions.
*All minion toys are in limited supply
*You cannot choose which toy you will get with your meal

The Minions Happy Meal® comes with a toy. There are a total of 30 different minion toys and each one is pulling a hilarious and mischievous pose. Which one will you receive? From dancers and sporty minions to firefighters, the toy collection represents the large variety of minions that we've seen over the ten years. There's even a Bob holding a teddy bear and a King Bob. There are also gold versions of the toys too, however, these are very rare to come across. Each toy will be sealed in an exciting minion capsule, adding to the excitement.

If you purchase the set on July 18 or July 19, 2020, you will be given a holographic minion stickers so you can enjoy the mischievous minions even more. There is also a campaign on twitter where 32 winners will be rewarded with the complete minions set!

Campaign Running: July 13 (13:00) ー July 15, 2020 (23:59)
How To Apply:
1. Follow the official McDonald's Japan account (@McDonaldsJapan)
2. Reply to the post with the tweet that contains the hashtag #わたしのミニオン愛はミリオン級 by copy and pasting the hashtag and writing a message to declare that you are a minions fan.
Prizes: 32 winners will be chosen to receive a Complete Minions Happy Meal®


From July 10, 2020, McDonald's will be sharing eight different minion-themed backgrounds on their website. These collaboration-limited backgrounds are perfect for spicing up your online video calls and web meetings.

McDonald's Minions Virtual Background Download: https://www.mcdonalds.co.jp/campaign/minions/cmp01/
Accessible From: July 10, 2020 (Available for approximately 5 weeks)

*8 different backgrounds available

Join in the minions fun at McDonald's this summer!

*Food and item names have been translated from Japanese
© Universal City Studios LLC. All Rights Reserved. 

Prepare for New Year by Ordering a Minion or Hello Kitty-Themed New Year Osechi Food Bento in Advance

 To properly celebrate a Japanese New Year, Osechi cannot be overlooked. Osechi is a Japanese term referring to special food traditionally served during the New Year holidays. The food is filled with the hopes, wishes and happiness of people. This year, Belle Maison has released Minion-themed and Hello Kitty-themed osechi bento boxes.

Belle Maison opened their reservation website for these Osechi Bento boxes on August 23rd. 

2-Tier Minion Osechi Bento Box: ¥22,000 (after tax)

Underneath the dazzling smiling face of the minion is a bento box packed with delicious New Year's goodness. The box contains a mix of traditional flavours as well as small appetizer-style bites. This is something that children as well as adults would love. The box even includes a delicious soup and a cured and steamed white fish kamaboko, which bears the image of a minion.

3-Tier Hello Kitty Osechi Bento Box: ¥19,900 (after tax)

The Hello Kitty Osechi comes in a Hello Kitty 45-year anniversary box. From the Hello Kitty ribbon-shaped mochi to the pink lilies made from yokan jellied red bean paste, this bento box is packed with cute and beautiful Hello Kitty goodness. There is also Hello Kitty mousse made from whipped cream and a Hello Kitty steamed bun with a sweet potato and chunky adzuki bean paste filling. This box is packed tightly with so many delicious desserts. 

Order online during one of the following advanced sale periods for a discount:

Period 1 (10% off): August 23 ー September 30, 2019

Period 2 (7% off): October 1 ー 28, 2019

Period 3 (3% off): October 29 ー November 25, 2019 

 The earlier you order, the larger the discount so if you are interested, you should order earlier rather than later. 

There is no better way to experience a Japanese New Year than with a Minion or Hello Kitty-themed Osechi Bento Box. 

ⒸUniversal City Studios LLC. All Rights Reserved ©1976,2019 SANRIO CO.,LTD. APPROVAL NO.G600783

Information

2-Tier Minion Osechi Bento Box

List Price: ¥22,000 (after tax)

Best Before:  Store in the freezer and consume before January 31, 2020 

* Deliveries to Okinawa or the outer islands of Japan are not accepted. Delivery available to majority of locations in Japan.

*Sales will end once stock has completely sold out. 

 

3-Tier Hello Kitty Osechi Bento Box

List Price: ¥19,900 (after tax)

Best Before:  Store in the freezer and consume before January 31, 2020 

*Sales will end once stock has completely sold out. 

Websites

2-Tier Minion Osechi Bento Box: https://www.bellemaison.jp/minion

3-Tier Hello Kitty Osechi Bento Box: https://www.bellemaison.jp/kosechi

 

Deadlines to Order

Online: December 19, 2019 (17:00)

Catalog: December 18, 2019 (Wednesday)  

 

Delivery Dates

December 29 ー 30, 2019

* Requests for specific delivery times and dates are not accepted. 

The reign of the Minions continues as Japanese glasses brand Zoff has revealed a new collection based on the popular characters from the Despicable Me series. The glasses line will be released at Zoff stores and the company website on April 26.

DAILY LINE

Opal Frame

Banana

The banana design features―you guessed it, a banana design, every Minions' favourite fruit. The inner part of the frame also has Gru's "G" logo on it.

Denim

This design is inspired by the denim dungarees that Minions are known for wearing. This design makes it easy for incorporating with casual fashion.

Leather

The leather quality is brought about using a special manufacturing technique. Its chic design is perfect for wearing to school or the workplace.

This "Daily Line" of glasses is perfect for both Minions fans and people wanting to just have fun with fashion in a nonchalant way. They are made using lightweight materials too and so are comfortable to wear. Zoff also stocks children's sizes of these glasses too making it perfect for parents and kids to have fun matching.

CLASSIC LINE

Round

Boston

The "Classic Line" uses metal frames―something which is popular right now―and is a golden colour, the Minions' favourite. The rims look thick when viewed from the side and so give them both a goggle-type and trendy look.

The classic spectacles too are lightweight and so are comfortable sat on the face. They are recommended for more mature fans of the Minions as well as people simply looking for classic-looking frames.

All of these glasses some with the above-pictured glasses case and wipe with the three most popular Minions illustrated on them: Kevin, Stuart and Bob.

TM &©Universal Studios

Information

Zoff x MINION

DAILY LINE: Releasing April 26, 2019

CLASSIC LINE: Releasing Mid-May 2019

Price: ¥7,000-¥9,000 (Before Tax)

Available: At Zoff branches (except at outelts), Zoff's online store, Zoff Rakuten and Zoff ZOZOTOWN

Zoff Online Store: https://www.zoff.co.jp/shop/default.aspx

Minions Set to Bring a Yellow Christmas to Universal Studios Japan

Universal Studios Japan have added a new daytime program titled Yellow Christmas to its upcoming winter event Universal Wonder Christmas.

The main event of Yellow Christmas will see the cheeky minions come together for the Minion Hacha Mecha Christmas Party which anybody can have fun joining in with.

This party promises to be bigger, better and crazier than last year's hugely successful run. Expect to see Minions donning Christmas attire as well as appearances from Gru and Santa Claus. Yellow balloons will float across the event and many bubbles will be blown as everyone comes together for festive merry making. For the event finale Minion-yellow confetti will fly across the whole area.

Christmas decorations will also line the Minion Park for the first time since its opening. You can expect to see the yellow mischief makers helping put up decorations and enjoying the Christmas of their lives. The decorations will give rise to a completely new kind of Christmas aesthetic from the usual red and green combination.

Wave to Gru and the Minions as they come to greet guests for the Minion Christmas Greeting with Gru.

Get involved in the festivity with the Minions at USJ!

Minion Themed Banana Chocolate Halloween Tarts Released at Ministop Convenience Stores

Halloween is almost here, which means it time to start getting in the spooky mood. The new Halloween Minion Banana Chocolate Tarts just dropped pre-sales at Ministop branches across Japan on October 2, with general sales beginning on October 17 at AEON Retail.

These tarts are the perfect treat for the Halloween season, featuring designs of Minions from the popular Despicable Me film franchise together with other Halloween motifs like pumpkins and monsters. They are yellow like the Minions and banana flavoured – Minions' favourite flavour.

The tarts are crunchy and are covered with a white chocolate coating. Inside is a banana flavoured mousse layered like a cheesecake as well as chocolate mousse. The banana and chocolate make for a deliciously rich combination.

Part of the fun of buying these tarts is choosing which one to go for. There are 6 designs to choose from that include Bob, Jerry and Stuart. The packaging too has Minion decorations with Halloween colours.

A special campaign is also being held from October 2. Three lucky people have the chance to win the above Minions Christmas cake by posting their photos of their tarts with the hashtag #トリックオアミニオンタルト on Twitter and Instagram.

Get your hands on a cute Minions tart in Japan this Halloween!

Information

Halloween Minion Banana Chocolate Tart

Released:

[Ministop] October 2, 2018 (*Select branches not stocking)

[AEON Retail] October 17, 2018

Price: Open Price

Designs: 6

*Select branches not stocking.

*Limited stock. Sales will discontinue once all are sold.

*Sales subject to closure depending on the season.

*Initial sale dates differ depending on the branch.

Minion Tart Halloween Special Campaign

Present: Decorative Minion Christmas Cake

Application Period: October 2, 2018 – October 31, 2018

How to Apply

①Purchase any Halloween Minion Banana Chocolate Tart

②Follow Bandai Candy's official social media accounts: Instagram (@bandaicandy) and Twitter (@candytoy_c)

③Post a photo of your tart on Instagram and/or Twitter with the hashtag #トリックオアミニオンタルト

*Full details available on the official homepage.

Winners will receive a direct message from the official accounts. Bandai Candy will not reply to queries regarding the election results.

*Pre-orders for the decorative Christmas cake are now open on Bandai's official shopping site Premium Bandai.

*The Christmas cake is not limited to the campaign and can be purchased normally.

*Winners will receive their cakes in December 2018.

*Photos are for illustrative purposes only.

*The figures in the first photograph are not included with the tarts and are a separate product.

*The photos show a product still in development. Actual product may differ slightly.

*The latest information can be found on Bandai Candy's official homepage.

*The information written is subject to change without notice.

Product Page: http://www.bandai.co.jp/candy/minion_tart/

TM & ©Universal Studios

LINE have released two new Minion models in their Clova Friends smart speaker range on August 21: "Clova Friends (MINIONS Kevin" and "Clova Friends mini (MINIONS Bob). They also released the Clova Friends Dock which comes with a remote control and is compatible with both Clova Friends and Clova Friends mini.

Clova Friends is a series of cute smart speakers modelled on popular characters such as those in the LINE FRIENDS gang like Brown the bear and Sally the chick.

The speakers are equipped with the AI assistant Clova which, similar to the Amazon Echo, is voice controlled and can update you not only on the news and weather but can play music and tell you fortunes too.

They have been on sale since December last year and make it feel as if you're really talking to the characters. They can be enjoyed together with friends and family too.

The newest entry to the character range include the popular Minions from the hit animated movie franchise Despicable Me.

The two types include the taller Clova Friends Kevin and the shorter Clova Friends mini Bob who has two different eye colours.

You can converse with the Minions using their language with words like "Banana" and "Bello." You can also say things to them in Japanese like kawaii ne ("Aren't you cute?"), suki da yo ("I like you") and tsukareta ("I'm tired") and they will give a wide range of different reactions. You can also make requests like asking them to do a sum or sing a song.

The models are also customizable and come with different stickers to change their facial expressions.

The Clova Friends Dock was also released alongside the two models which is compatible with your TV, house lights and air conditioning. Make your life easier by simply giviving a command like "Hey, Clover, turn off the TV" (Nee Clova, terebi o keshite).

There are also future plans to increase the number of compatible electronic devices.

■Information Clova Friends (MINIONS Kevin)

Available: LINE Clova website and Rakuten Books

Price: ¥8,640 (Tax Included)

Clova Friends mini (MINIONS Bob)

Available: LINE Clova website, Rakuten Books and select electronic stores

Price: ¥5,400 (Tax Included)Sales location details:

https://clova.line.me/where-to-buy/

Clova Friends (MINIONS Kevin)×Clova Friends mini (MINIONS Bob) Set
Available: LINE Clova website and Rakuten Books

Price: ¥9,900 (Tax Included)

Clova Friends Dock
Available: LINE Clova website and select electronic stores

Price: ¥3,780 (Tax Included)

Clova Friends×Clova Friends Dock Set
Available: LINE Clova website and select electronic stores

Price: ¥11,330 (Tax Included)
*The "Clova Friends (MINIONS Kevin)" and "Clova Friends Dock" set is available on the LINE Clova official website or Rakuen Books only.

Clova Friends mini×Clova Friends Dock Set
Available: LINE Clova website and select electronic stores

Price: ¥8,370 (Tax Included)

Clova Friends Minions Official Page: https://clova.line.me/clova-friends/minions/

LINE Clova Official Website: https://clova.line.me/

™&©Universal Studios

Licca-chan Dresses Up as Minion in Cute Collaboration

Licca-chan is a Japanese dress-up doll series by Takara whose popularity can be compared to that of Barbie in the US. She has teamed up with Despicable Me to receive her very own Minion outfit. This version will go on Sale on August 4 at toy shops, department stores and online in Japan, as well as Takara's official shopping site Takara Tomy My Mall.

The collaboration was devised after the Minions won the Japan Character Awards 2018 which was held on March 29, while Licca-chan received an honourable mention.

Licca expressed her love for Minions on her Twitter account. Her dress-up doll outfit features a yellow shirt and denim overall, as well as engineer boots, and a Minion hat with goggles. She also comes with a Tim teddy bear which Bob is always holding in Despicable Me.

There are over 30 items of Minions merchandise available from Takara Tomy right now. Check the official homepage for more details.

■Information
Minion Daisuki Licca-chan

Price: ¥3,800 (Pre-Tax)
On Sale: August 4, 2018
© TOMY:TM & © Universal Studios
Official Website: takaratomymall.jp

Limited Edition Minions Ice Cream to be Sold This Summer at Baskin-Robbins in Japan

Baskin-Robbins, known as "31" in Japan, will sell a limited edition Minions ice cream this summer from July 17 to August 30. The ice cream is based on the banana-loving Minions from the film series Despicable Me.

This limited-edition summer flavour is called Minions Meccha Fruits and as the title suggests is packed full of delicious fruit flavours. The orange coloured sourbet contains banana, apple and orange while the green sherbet is a mix of lychee, kiwi and white grape. The orange sourbet is also decorated with edible blue and yellow Minions.

For this ice cream, the usual Small Double size has been upgraded to the Regular Double at no extra cost and called Minions Double, meaning you get an extra 50%. It's served in one of three original Minion cups: 'Aloha,' 'Fever!,' and 'Tropical.' It even comes with a Minions spoon.

If you purchase three Minions Double from August 10 you can get one of the tote bags pictured above for just an extra ¥150.

If you want something to cool you down even more, then get yourself the Crushed Ice Minion pictured above which combines the Minions ice cream with crunchy shaved ice. There's also a variety pack box and two other ice creams, Minion Sweets Hunt and Bello! Minion. The seasonal Boo Ya! Minion flavour is also making a return.

Minions are set to take over Baskin-Robbins. Join the fun!

■Information
Minions Mecha Fruits

Price: Single Regular Size – ¥360

Available: From July 17, 2018 for a limited time

Minions Double

Price: ¥470 (*Cup selected randomly)

Available: July 17, 2018 – August 30, 2018

Crushed Ice Minion

Price: ¥450

Available: July 17, 2018 – August 19, 2018

Variety Bag Minion

Price: Small (6) ¥1,450 / Small (12) ¥2,800 / Regular (6) ¥2,000 / Regular (12) ¥3,380

Available: July 17, 2018 – August 19, 2018

Minion Sweets Hunt

Price: ¥4,000

Size: 19cm x 5cm

Available: From April 20, 2018

Bello! Minion

Price: ¥2,850

Size: 14cm x 5cm

Available: From April 20, 2018

Boo Ya! Minion

Price: Single Regular Size – ¥360

Available: From July 17, 2018 for a limited time

*All prices include tax. Prices differ from store to store.

Baskin Robbins Japan: http://www.31ice.co.jp/

TM & © Universal Studios