Doraemon Clover Friends Mini Smart Speaker Released by LINE
LINE released a Doraemon model of their 'Clova Friends mini,' a smart speaker equipped with the Clova AI assistant.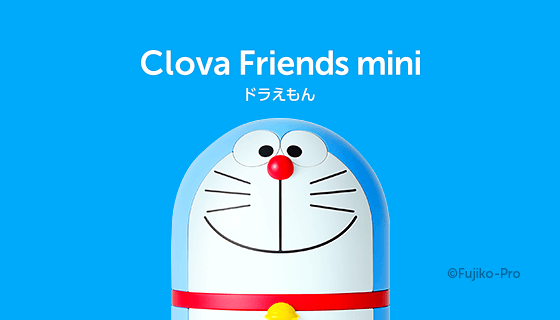 According to a user questionnaire*, Clova Friends, which was released last year, is used by people of all ages in numerous situations, including on their break and when they wake up. This time, the company have developed a more family-friendly product that people can use regularly by using the character Doraemon.
*Details and results of the questionnaire can be found over on the official Clova blog (Japanese).
The new Clova Friends mini Doraemon model makes use of all of the previous Clova Friends functions but also introduces Doraemon's voice. He will answer in various ways when you talk to him, with lines such as "I'm Doraemon. I'm happy to speak to you." (Translated from Japanese.)
There are 51 secret tools in Doraemon's conversational arsenal, including unique references such as to his favourite food dorayaki as well as mice which he doesn't like. For example, if you say to him in Japanese, "It's hot," he'll respond "How about drinking some Eskimo Extract? Whenever you say it's hot the temperature will feel a cool 3℃." It'll feel like you're having a real conversation with the blue robotic cat himself. You can even request him to sing a song, say a tongue twister and much more. The company are also considering going ahead with more updates for the software in the future, so he'll be able to do even more things.
In addition, to celebrate Doraemon the Movie: Nobita's Treasure Island breaking box office records in the franchise, a special outfit has been released for your Clover Friends mini Doraemon to wear. There are just 200 available on a first-come, first served basis which were released at the Fujiko·F·Fujio Museum and on Rakuten Books on June 1.
RELATED ENTRIES
New Doraemon and Korosuke Dessert Gets Served at the Fujiko F. Fujio Museum

The Kawasaki-based Fujiko F. Fujio Museum, which is dedicated to the Japanese manga writing duo who created Doraemon, is now serving up its new Doraemon Korosuke Chiffon Sandwich which was added to the menu on Wednesday.

Doraemon Korosuke Chiffon Sandwich | ¥1,280 (Tax Included)

The new arrival sees Doraemon and Korosuke turned into chiffon sandwiches with the beloved blue robot cat made from chocolate and filled with banana cream and his friend filled with mango cream.

Check out some of the other items available on the menu at the museum too.

Doraemon Arrabbiata | ¥1,230 (Tax Included)

French Toast de Anki Bread | ¥980 (Tax Included)

Fork into the Doraemon Arrabbiata with tomato sauce and a Doraemon face made from egg sheets, or a French toast inspired by Doraemon's Copying Tost, one of his many Secret Gadgets.

ⒸFujiko-Pro

Information

Doraemon Korosuke Chiffon Sandwich

Released: April 21, 2021

Where: Fujiko F. Fujio Museum

Address: 2-8-1 Nagao, Tama Ward, Kawasaki, Kanagawa 214-0023, Japan

Opening Hours: 10:00-18:00

Official Website: http://fujiko-museum.com/english/

Doraemon Daytime Umbrellas Release to Celebrate Manga's 50th Anniversary

Japanese rain wear brand Wpc. is celebrating the 50th anniversary of Doraemon with the release of its I'm Doraemon series of daytime umbrellas. The collection dropped on Thursday at Wpc.'s online shop as well as at Wpc. Shinsaibashi PARCO and LOFT, PLAZA, and Mauri stores in Japan.

Shade Doraemon Galore mini | ¥3,400 (Before Tax)

Shade 4th Dimension mini | ¥3,200 (Before Tax)

Shade I'm Doraemon mini | ¥3,200 (Before Tax)

Shade Pass Loop mini | ¥3,200 (Before Tax)

The cute mini umbrella series cutes 99.99% of UV light and offers the same amount of shade.

Doraemon Future Department Store to Open Pop-Up Shop in Ginza Mitsukoshi

Benelic Co., Ltd. has announced the opening of a pop-up shop version of Doraemon Future Department Store, the world's first official Doraemon shop, at Ginza Mitsukoshi in Tokyo from March 17.

Doraemon Future Department Store first opened back in December 2019 in Odaiba, Tokyo. Dedicated to the beloved manga and anime character Doraemon, the store has opened various pop-up shops across Japan including Fukuoka, Osaka, and Nagoya. The new pop-up shop will be the first to open in Tokyo and will be stocked with the usual fan must-grabs, items exclusive to the Odaiba shop, Ginza exclusives, pre-sales, and more.

 

Ginza Mitsukoshi Exclusives & Pre-Sales

1. The Exclusives

The Ginza Mitsukoshi pop-up shop will sell four exclusive items including a T-shirt, handy tote bag, and more.

The merchandise will feature an illustration based on the designs of the shopping bags given at Doraemon Future Department Store. Take a look below.

Ginza Mitsukoshi Exclusive T-Shirt (5 Colours) | ¥3,520 (Tax Included)

Sizes: S・M・L

Ginza Mitsukoshi Exclusive 2-Way Tote Bag | ¥2,860 (Tax Included)

2. The Presales

Fans can get their hands on pre-sales of 7 items in the "Flying to Department Store" series of kitchen, cookware, and other items, as well as 12 accessories that both kids and adults alike can enjoy.

 

Flying to Department Store Series – Kitchen Apron | ¥4,400 (Tax Included)

 

Flying to Department Store Series – 21cm Plate | ¥3,850 (Tax Included)

 

Doraemon & Dorami Back Earrings | ¥2,200 (Tax Included)

Customisation Service

The pop-up shop will offer a customisation service which lets customers have different embroideries put into the T-shirts, tote bags, and key rings. The work is done on the spot by hand so you can see the result of what will be a very special item of which only one exists in the world. Perfect for Doraemon fans and gifts to friends and family.

Freshly-Made Dorayaki

The Ginza Mitsukoshi pop-up shop will also serve freshly-baked dorayaki stamped with Doraemon's cute face. They will be made in limited quantities each day.

 

Dorayaki | ¥290 (Tax Included)

Bonus Items For Spending

1. Every purchase at the Doraemon Future Department Store pop-up will earn customers a free sticker. These are available in limited quantities.

2. The first 300 people at the pop-up shop to take their receipts to the main Doraemon Future Department Store in Odaiba between March 17 and 29 will receive a different limited-edition free sticker.

 

Ginza Mitsukoshi Original Doraemon Sticker

 

Odaiba Doraemon Future Department Store Sticker

Information

Doraemon Future Department Store in Ginza Mitsukoshi 2021

Running: March 17, 2021 – March 29, 2021

Where: Ginza Mitsukoshi Shinkan Floor 7F

Address: 4-7-16 Ginza, Chuo-ku, Tokyo

Opening Hours 10:00-20:00 (Until 18:00 on March 29)

Doraemon Future Department Store Official Website: https://mirai.dora-world.com/

Premium Doraemon Cookware Developed by French Brand Le Creuset to Release in Asia, Australia, and New Zealand

Premium French cookware brand Le Creuset Japan is celebrating Doraemon's 50th anniversary by releasing a collection of original cookware items inspired by the characters, colours, and designs from the series.

The line-up will be released not only in Japan but across Asia as well as Australia and New Zealand and can be enjoyed by both kids and adults alike during dinnertime.

Pre-sales of the items in Japan will begin on March 4 at Doraemon Future Department Store, Le Creuset Japan's online shop, Rakuten, and Yahoo! Shopping. The collection will then roll out for general sale at Le Creuset stores and elsewhere in Japan on March 6.

A special pop-up shop will also open from March 4 to 17 on the 5th floor of Shibuya Hikarie in Tokyo where fans can get their hands on all the products in the collection.

 

Special Sets | Prices Include Tax

Le Creuset Japan opened pre-orders for limited-stock item sets on Thursday (February 25) before everything is released digitally with designs based on Doraemon, Dorami, and other characters from the manga and anime series.

The Sets

Doraemon Special Set | ¥53,900

Dorami Special Set | ¥48,400

 

 

Cast Iron

Doraemon | ¥38,500

Dorami | ¥33,000

Doraemon | ¥44,000

Stoneware

Doraemon & Dorami Plate Set | ¥8,800

 

Doraemon & Dorami Oblong Plate Set | ¥6,600

Doraemon All-Stars Stone Plates (5 Included) | ¥14,300

Doraemon All-Stars Stone Tumblers (5 Included) | ¥11,100

Information

Lu Creuset x Doraemon Collaboration

Release Date: March 6, 2021

Where (Japan Locations): Le Creuset, Rakuten, Yahoo! Shopping, Amazon, Mitsukoshi Iseten, Hare no Hi Kitchen, ZOZOTOWN, Doraemon Future Department Store, and elsewhere

Product Page: https://www.lecreuset.co.jp/brand/doraemon/

Doraemon's 50th Anniversary Celebrated With Traditional Limited-Edition Edo Kiriko Cut Glasses

Imperial Enterprise is celebrating the 50th anniversary of Doraemon with the release of a very special glass collection. The glasses, which are limited to just 500 units, are made using the traditional Japanese glass cutting method known as Edo Kiriko. They were released via the online shop PREMICO on Wednesday (February 24).

Doraemon 'Sky Blue Dream' Glass

Dorami 'Future Brilliance' Glass

Special Doraemon & Dorami Glass Boxes

Doraemon's "Sky Blue Dream" glass is cut with some of the blue robot cat's iconic gadgets while his sister, Dorami's "Future Brillance" glass is adorned with her accessories.

The Edo Kiriko Cooperative Association is a long-standing establishment that has been around since 1921. Its artisans craft each and every glass using traditional methods. These Doraemon glasses are no different and come packaged in specially-made boxes.

(c)Fujiko-Pro

Information

Doraemon Edo Kiriko Glasses

Japanese Product Name: ドラえもん 夢切子 江戸切子グラス

Released: February 24, 2021

Delivery: From Early March 2021

Designs: 2

Price: ¥29,800 (Before Tax)

Units: 500 (Limited-Edition)

Official Website: https://iei.jp/doraemon-kiriko/

Doraemon Cherry Blossom Handkerchief Perfect For Springtime Hay Fever

A cute new cherry blossomed collection of Doraemon themed handkerchiefs is set for release in Japan on February 20 in time for the spring season – and perfect for sufferers of hay fever!

Doraemon Handkerchief Collection

Doraemon Towel Handkerchief | ¥1,000 (Before Tax)

The designs see Doraemon playing around and enjoying the Japan's cherry blossom season. The handkerchiefs are on the larger, sizing up at 53cm, making them perfect for wrapping bento and lunch boxes too.

Information

Doraemon Towel Handkerchief
Release Date: February 20, 2021
Available: Department stores and stores selling handkerchiefs in Japan
Kawabe Official Website: https://www.kawabe.co.jp/

Doraemon Future Department Store to Open Pop-Up Shop in Hakata

Doraemon's official shop Doraemon Future Department Store, which is located in Odaiba, Tokyo, has announced that it will open a pop-up shop in Hakata, Kyushu, from February 18 to March 7. Fans can get their hands on a selection of exclusive merchandise and more.

Not Only Merchandise, But Services Too

1. Customise Service


The pop-up shops will offer a customisation service which lets customers have different embroideries put into the T-shirts, tote bags, and key rings. The work is done on the spot by hand so you can see the result of what will be a very special item of which only one exists in the world. Perfect for Doraemon fans and gifts to friends and family.

2. Post Office


The shop will offer a postal service for sending off Doraemon letters and postcards with original Doraemon stamps.

Bonus Items: 1st Anniversary Postcard / Mini Tote Bag

There are also bonus items for fans to get their hands on depending on how much they spend.

1. Customers who buy anything from the pop-up store will receive a free 1st anniversary postcard. One per transaction, available while supplies last.

2. Customers who spend over ¥5,000 (tax included) in a single transaction will receive a free tote bag. One per transaction, available while supplies last.

Universal Points Card

Points cards will be available which allow fans to buy additional exclusive merchandise as well as receive discounts. 1 point = ¥1 discount. Points are gained during transactions. These cards can be used not only at the pop-up shop but the main store in Odaiba as well as online. There's also a handy app tied to the card.

Information

Doraemon Future Department Store in JR Hakata City 2021
Running: February 18, 2021 – March 7, 2021
Where: JR Hakata City AMU EST Floor 1F POPUP STAGE
Address: 1-1 Hakata Station Central Gate, Hakata-ku, Fukuoka-shi, Fukuoka
Opening Hours: [Mon-Sat] 10:00-21:00 / [Sun & Holidays] 10:00-20:00
Doraemon Future Department Store Official Website: https://mirai.dora-world.com/

Famous Doraemon Quotes Feature On Traditional Kiriko Cut Glasses

GLASS-LAB, a company in Japan that makes traditional Edo Kiriko cut glass products, has created a collection of drinking glasses featuring famous quotes from the popular Doraemon manga series . The glasses are available to buy in Japan via publisher Shogkaukan's online site Waraku Web.

Doraemon Kiriko Cut Glasses (5 Designs) | Limited to 20 glasses per design | ¥44,000 Each (Tax Included)

The inside of the glasses are made use a glass flattening technique called hei-kiriko while the base is sandblasted with a technique called suna-kiriko that was invented by GLASS-LAB to print on the manga strip design. The finishing result makes the manga panel reflect on all sides of the glass.

©Fujiko-Pro,Shogakukan

Doraemon x GUCCI Collection Launches Worldwide

In celebration of Chinese New Year, GUCCI launched a new collection in collaboration with the famous Japanese manga series Doraemon as selected by the brand's Creative Director Alessandro Michele.

©Fujiko-Pro

GUCCI recruited photographer Angelo Pennetta to create playful photoshoot for the collection which features smiling models accompanied by Doraemon inside a retro house.

©Fujiko-Pro


©Fujiko-Pro

The exclusive collection features over 50 items from T-shirts to hoodies, shoes, bags, headwear, a suitcase, and more. Each item combines the stylish design of GUCCI and the colourful blue and white colour of the iconic manga character.

©Fujiko-Pro


©Fujiko-Pro

Every item in the line-up arrives in sustainable packaging made from 100% recycled materials. GUCCI stores in Japan, Australia, China, Hong Kong, India, Malaysia, Singapore, Taiwan, Thailand, and Vietnam will also welcome figures and prints inspired by the cities in these countries. The Shanghai and Hong Kong GUCCI art walls will also feature Doraemon against a GG backdrop.

The collection was released on GUCCI's official website worldwide and will drop in-store in Japan on January 20. The GUCCI store in Shibuya PARCO will plaster up promo posters and the Ginza, Aoyama, Shinjuku, and Nagoya branches will feature recreation's of the iconic Anywhere Door from the manga series.

Official HIGE DANdism Release Music Video Teaser For Doraemon Film Theme 'Universe'

Official HIGE DANdism dropped a teaser for their new Universe single on Wednesday, the newest single from the pop band which is set for release on February 24, 2021.

The new song features as the main theme for the upcoming anime film Doraemon: Nobita's Little Star Wars 2021 which is hitting Japanese theatres on March 5, 2021. The song is an ode to the little alien Papi and the grand adventures of Doraemon and co in the film.

Official HIGE DANdism – "Universe" Music Video Teaser


The full music video, directed by Takuto Shimpo who has directed numerous of the band's videos, will premiere on YouTube on January 9, 2021 at 18:00 (JST). Save the premiere video link below.

Official HIGE DANdism – "Universe" Music Video Premiere Link

Universe will be released in three editions: the CD-Only Edition, CD+Live Blu-ray Edition, and CD+Live DVD Edition. The DVD and Blu-ray editions come with the full footage of Official HIGE DANdism's online concert "Official HIGE DANdism ONLINE LIVE 2020 – Arena Travelers -" which was watched by 120,000 fans on September 26, 2020.

Universe will hit major music streaming and download services earlier than the physical release on January 9, 2021.

©藤子プロ・小学館・テレビ朝日・シンエイ・ADK 2021

Information

Universe
Release Date: February 24, 2021
CD-Only Edition: ¥700 (Before Tax) [PCCA. 70553]
CD+Live DVD Edition: ¥4,500 (Before Tax) [PCCA-06011]
CD+Live Blu-ray Edition: ¥4,500 (Before Tax) [PCCA-06010]
Official HIGE DANdism "Universe" Special Site: https://universe.ponycanyon.co.jp

Doraemon: Nobita's Little Star Wars 2021
Release Date: March 5, 2021
Official Website: https://doraeiga.com/2021/

Doraemon Future Department Store to Open Pop-Up Shop in Osaka and Nagoya

Doraemon's official shop Doraemon Future Department Store, which is located in Odaiba, Tokyo, is celebrating its 1st anniversary of opening this December by opening two limited-time shops in Osaka and Nagoya this month and January respectively. Fans can get their hands on a selection of exclusive merchandise and more.

Customise Service

The pop-up shops will offer a customisation service which lets customers have different embroideries put into the T-shirts, tote bags, and other merch they buy. The work is done on the spot by hand so you can see the result of what will be a very special item of which only one exists in the world. Perfect for Doraemon fans and gifts to friends and family.

Post Office

The shop will offer a postal service for sending off Doraemon letters and postcards with original Doraemon stamps.

Bonus Items

1st Anniversary Postcard


Mini Tote Bag


Those who buy anything from the department stores will receive a free 1st anniversary postcard. And for every ¥5,000 spent (tax included) they'll get a mini tote bag. These are all limited in stock so you'll want to get them while they're hot.

If you're in Osaka or Nagoya over the New Year be sure to pay a visit to the Doraemon Future Department Store pop-up shops.

©Fujiko-Pro

Information

Doraemon Future Department Store in Abeno Harukas Kintetsu 2021
Location: Abeno Harukas Kintetsu, Wing Building Floor 4F
Running: December 30, 2020 – January 17, 2021
Opening Hours: 10:00-20:00 (until 18:00 on January 17)
Closed: January 1, 2021

Doraemon Future Department Store in Takashiyama Gate Tower Mall 2021
Location: Takashiyama Gate Tower Mall (Nagoya), Rose Terrace on Floor 7F
Running: January 8, 2021 – January 26, 2021
Opening Hours: 10:00-21:00

*Opening hours subject to change

Doraemon Design Wristwatch Releases For Manga Character's 50th Anniversary

Customisable watch brand UNDONE released a new collection of wristwatches in Japan on Tuesday (December 15).

Special Doraemon 50th Anniversary Series

The celebratory line-up commemorates Doraemon's 50th anniversary and includes limited quantity models, customisable made-to-order models, and more, each with references to the beloved series.

50TH ANNIVERSARY

50TH ANNIVERSARY (Limited to 150 models) | ¥39,600 (Tax Included)

The '50TH ANNIVERSARY' model features an illustration of Doraemon as seen in the early days of the manga series.

The early artwork of Doraemon is nothing short of adorable

Back of wristwatch features vintage style design

FRIENDSHIP

FRIENDSHIP (Limited to 150 models) | ¥39,600 (Tax Included)

Best friends Nobita and Doraemon come together for this special design.


Spot Doraemon's tiny bell at 12-o'clock

Doraemon and Nobita on the back side

The watch has simple white dials, and it has a function where it lights up at night to reveal Doraemon and Nobita. The design captures the beauty of the pair's everlasting friendship.

THE BELL

THE BELL (Customisable Model) | ¥29,700 (Tax Included)

This cute watch just screams Doraemon's design with its colouring and his iconic bell in the centre.


The bell turns as the hands go around

Doraemons everywhere on the back side

This watch is customisable with various different designs. If you look closely at the 50-minute mark you'll see a red dot representing Doraemon's tail. It's also a nod to his 50th anniversary.

©Fujiko-Pro APPROVAL NO.S611617