Detective Conan Skateboard Game Announced for Nintendo Switch™ Release
Detective Conan Skateboard Run: Kaito Kid and the Mysterious Treasure is the first ever Detective Conan game for the Nintendo Switch™ set to arrive on the Nintendo eShop sometime in April 2019.
A 3D skating action game, the title will coincide with the release of the newest Detective Conan film The Fist of Blue Sapphire hitting Japanese cinemas on April 12, 2019.
Play as Conan and jump on an engine-equipped skateboard to high jump, do tricks and shoot soccer.
The game is set in an enormous theme park built by Sonoko Suzuki's grandfather Jirokichi Suzuki. There are three areas and 30 stages to enjoy.
During the gameplay Kaito Kid will make a sudden appearance and try to knock Conan off his skateboard with giant balls, cards and other gimmicks.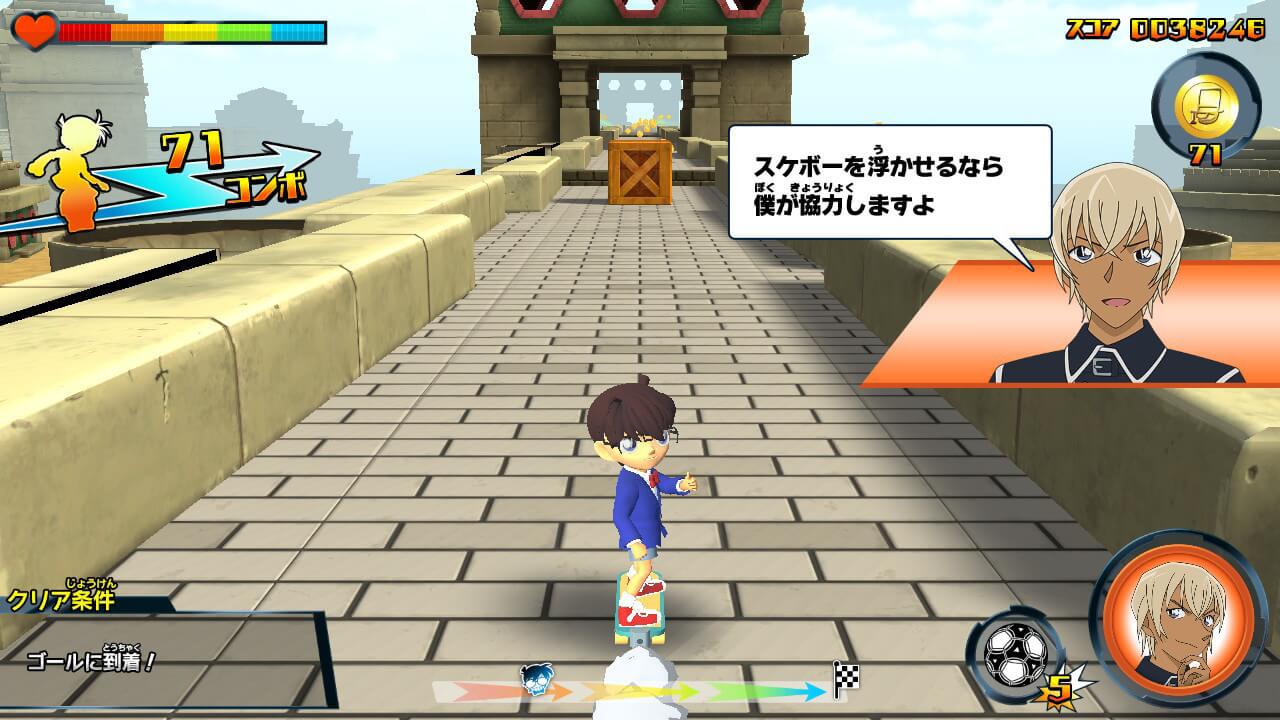 Conan's comrades will make an appearance to give him support through 10 different skills.
Minami Takayama and Kappei Yamaguchi will lend their voices for Conan and Kaito Kid respectively.
Jump on your board and stop Kaito Kid from his antics!
Information
Detective Conan Skateboard Run: Kaito Kid and the Mysterious Treasure
Release Date: April 2019 (Subject to change without notice)
Price: ¥3,500 (Tax Included) <Download Edition>
Official Website: https://conanrun.tms-game.com
Detective Conan: The Fist of Blue Sapphire
Release Date: April 12, 2019
Official Website: https://www.conan-movie.jp/
©Gosho Aoyama / Shogakukan・Yomiuri Telecasting Corporation・TMS 1996 ©TMS
© 2017 Nintendo
The Nintendo Switch logo and Nintendo Switch are registered trademarks of Nintendo Co., Ltd.
RELATED ENTRIES
Latest News On SUPER NINTENDO WORLD at Universal Studios Japan – MOSHI MOSHI NIPPON

SUPER NINTENDO WORLD is set to open at Universal Studios Japan (USJ) in 2020ーthe year of the Tokyo Olympicsーas the world's first theme park area centred on the world, games and video game characters from Nintendo.

What is "SUPER NINTENDO WORLD"?

SUPER NINTENDO WORLD will be the first-ever multilevel Nintendo-themed area at USJ, and the first of its kind in the world. Fans of the internationally beloved games can expected to see a whole host of rides and attractions dedicated to their favourite characters, from Mario Kart to Yoshi and beyond, as well as themed restaurants, merchandise shops, and more.

Power Up Band

Guests at SUPER NINTENDO WORLD will be able to feel like they are in a Mario video game with the Power Up Band, a purchasable wristband which works in connection with the USJ app for smartphones., which enables them to collect digital coins and compete with their friends for the highest score on the scoreboards.

Hit question blocks to collect coins

Just like Mario does in his quest to save Princess Peach from Bowser, guests can collect coins by hitting Question Blocks with their Power Up Bands. They will feel like they are competing in a video game, in real time, with the other guests in the park. The Power Up Band has numerous features, including the ability to obtain collectable items like Mario character stamps by completing various conditions listed on the app.

 

Battle bosses with friends

Additionally, guests can collect 'Keys' in a new attraction called 'Key Challenges' with which they can unlock various gameplay opportunities including 'Boss Battles.' They will be able to battle bosses together with their friends.

Charli XCX & Galantis drop music video to promote the park's grand opening

To promote the opening of SUPER NINTENDO WORLD, USJ dropped a music video entitled WE ARE BORN TO PLAY on their official YouTube channel on Tuesday in collaboration with Swedish electronic DJ duo Galantis and English singer-songwriter Charli XCX. The music video merges the real world with the world of Mario, with Charli hanging out with Toad on top of Peach's castle and people stomping on digital Goombas. The song features original music mixed together iconic leitmotifs from the Mario games.


We look forward when SUPER NINTENDO WORLD finally opens and will most definitely cover it once it does.

PLAYFUL KIRBY: Laforet Harajuku's Newest Pop-Up Shop Offers Exclusives For Fans of Nintendo's Popular Character

Fans of Kirby who are in Japan for the holiday season will be delighted to hear that the Kirby-themed pop-up shop "PLAYFUL KIRBY" finally opened at Laforet Harajuku today and will run until Boxing Day.

When playing Super Smash Bros. there's no other character I'll pick but Kirby. If you love Kirby as much as I do, then you'll be waiting no time at all to head to PLAYFUL KIRBY like I did after hearing that they're selling a whole range of original and exclusive merchandise the likes of which Nintendo players have never seen before.

The store itself is located on the second floor of Laforet Harajuku in Harajuku, Tokyo. You'll spot it instantly with the Kirby-pink text wrapped around the walls of the entrance.

Kirby's pink colour fills the entire shop floor. Upon entering you'll spot all the different items on offer, including fashion items, as well as various photo spots featuring Kirby's cute face.

There's even a tiny Kirby door so that he can get into the shop! Be sure to find it if you visit.

The original version of this pop-up shop first appeared two years ago, and enjoyed visits not only from game fans, both kids and adults who had never heard of Kirby before, or who had heard of him but never played the games. The fashion line-up was a result of fan demand to enjoy Kirby in a variety of different ways. A visit to PLAYFUL KIRBY is like being inhaled into his Dream Land.

PLAYFUL KIRBY is centred on two collaborations. This includes a teaming-up with popular illustrator Shogo Sekine. When this pop-up shop was conceived, Shogo Sekine was at the top of the list for collaborations with the staff in charge. The staff agreed that mixing the worlds of Kirby and Sekine together would give rise to some seriously wonderful results. After much internal discussion and talks with Sekine, a whole line of merchandise was created.

The items feature Sekine's stylised typography, symbols, shapes and so on. Their subtle design means they can be used as both everyday items and nerdy fan items. They're stylish while retaining the cute aspects of Kirby.

The following items are the number one most recommended pieces of merchandise to pick up as chosen by the PLAYFUL KIRBY staff.

Tote Bags Ver. 2 PINK STRIPE – ¥2,800

These tote bags feature gradations of Kirby pinks. This design is also featured on a t-shirt you can pick up too. They're both made with high quality fabrics.

Sacoche Pouches (2 Designs) – ¥2,300 Each

The "Copy" written on the sacoche pouches refers to Kirby's ability to copy his opponents' abilities and appearance. This design is also included on a variety of other merchandise pieces like a smartphone case and more.

Blanket – ¥3,800

At first glance, this blanket just looks like a stylish blanket with a floral print, but if you look closely you'll spot Kirby blended in with the design. A perfect choice for the coming winter season.

Plush Toy – ¥2,300

Kirby had intended to put on his stylish t-shirt ready to go out, but he ended up looking just adorable.

The store's second collaboration is with Converse Stars, also showcasing an assortment of cute and fun items.

Cap – ¥5,800 / Long T-Shirt (Medium/Large) – ¥7,800 Each

Show off your love of Kirby with some simple but stylish unisex Kirby attire.

Hand Towel – ¥1,200

Another must-get item is this hand towel which keeps the roundness of Kirby's head. Use at home or take it out with you!

Stickers (3 Designs) – ¥500 Each

Get your hands on these Laforet Harajuku-exclusive stickers with designs so cute you'll want to collect them all!

I spoke with the person in charge of the pop-up shop about the future of Kirby outside of the video game, and they told me that they plan to have more pop-up shops like this and open the opportunity for people to enjoy Kirby in a range of different ways while playing his games. For someone like me, who likes Kirby more than anything, I can't wait to enjoy even more Kirby in the future.

PLAYFUL KIRBY is open until December 26, 2019, so if you're in Tokyo until then, make sure to pop on over to Laforet Harajuku.

▶︎Win Limited Edition Stickers

MOSHI MOSHI NIPPON is holding a competition on our official Instagram, Twitter and Weibo pages for a chance to win limited edition stickers from PLAYFUL KIRBY.

How to Apply: Follow us on social media and share/retweet our post about the competition for a chance to win 1 special sticker from PLAYFUL KIRBY. (Designs are chosen randomly.)

These are limited edition stickers exclusive to PLAYFUL KIRBY, so don't miss your chance to get one!

© Nintendo / HAL Laboratory, Inc.

Information

PLAYFUL KIRBY

Running: December 16, 2019 – December 26, 2019

Location: Laforet Harajuku's 2nd Floor CONTAINER (1-11-6 Jingumae, Shibuya, Tokyo)

Opening Hours: 11:00-21:00 (Until 19:00 on December 26, 2019)

PLAYFUL KIRBY Official Website: http://playfulkirby.jp

Laforet Harajuku Official Website: https://www.laforet.ne.jp/

Kirby Pop-Up Shop 'PLAYFUL KIRBY' to Open in Laforet Harajuku in Tokyo

LEGS is opening a Kirby-themed pop-up shop named 'PLAYFUL KIRBY' for a limited time in Laforet Harajuku, a landmark of Tokyo's fashion hub Harajuku.

The shop has invited popular Japanese illustrator Shogo Sekine on board, who is known for its distinct typography work which mixes fashion with messages written in English, to create an original line of Kirby apparel and miscellaneous fashion items.

PLAYFUL KIRBY is also teaming up with Converse. Kirby has inhaled a few too many Converse Stars and has turned into a truly fashionable pink blob. The line-up is unisex so can be enjoyed by anyone and everyone. It will include items also available to purchase at Converse Stars branches as well as Laforet Harajuku exclusives.

Witness Nintendo's Dream Land hero in an all-new light as he becomes a fashion icon at Laforet Harajuku this month from December 16 to 26.

©Nintendo / HAL Laboratory, Inc.

*Photos are for illustrative purposes only

Information

PLAYFUL KIRBY

Running: December 16, 2019 – December 26, 2019

Location: Laforet Harajuku's 2nd Floor CONTAINER (1-11-6 Jingumae, Shibuya, Tokyo)

Opening Hours: 11:00-21:00 (Until 19:00 on December 26, 2019)

PLAYFUL KIRBY Official Website: http://playfulkirby.jp

Laforet Harajuku Official Website: https://www.laforet.ne.jp/

Shibuya PARCOーWhere You Can Enjoy Everything: Anime, Games, Food, Fashion & More

Shibuya PARCO finally opened its doors on November 22. The shopping complex is already receiving overwhelming love and attention as Shibuya's newest tourist spot as it strives to offer itself as "a unique, next-generation facility" for the world.

Boasting a gargantuan 193 shops, spanning fashion, food, art and more, Shibuya PARCO is a place where you can enjoy just about anything. MOSHI MOSHI NIPPON has compiled a list of our own recommended places from there for you, the readers, if you ever visit Shibuya.

Mirai Sake/KUBOTA SAKE BAR (Floor B1F)

Sake is a big part of Japanese culture, and is enjoyed by people worldwide. Mirai Sake/KUBOTA SAKE BAR are serving the ultimate sake experience, where you can select the drinks that best suit  your palate. The bar will serve original drinks, rare sake from ¥500 a cup, as well as food pairings from ¥400.

There will also be 12 original cocktails judged by YUMMY SAKE. If you've found you're not too good with sake, then you're sure to find one you like when pulling up a stool here.

Mirai Sake Official Website: https://miraisake.com/

ONITSUKA (Floor 3F)

Japanese fashion brand Onitsuka Tiger has announced a new luxury line entitled THE ONITSUKA. They have created a hybrid design combining formal shoes with sneakers that goes with a variety of styles, from suits to casual.

The shoes are made from high quality leather from the brand Kobegyu Leather. The heal of the souls are equipped with αGEL Foam to offer comfort and shock resistance for dynamic movement. This line will also be available to purchase at a concept store opening in New York in March 2020.

Onitsuka Tiger Official Website:  www.onitsukatiger.com

AKIRA ART OF WALL (Floors 4F & B1F)

The new PARCO MUSEUM TOKYO and GALLERY X housed inside Shibuya PARCO both aim to promote art and culture to the people of Tokyo. Decorating them as the opening exhibition is the "AKIRA ART OF WALL Katsuhiro Otomo × Kosuke Kawamura AKIRA ART EXHIBITION." This art wall is in fact a relocation of the AKIRA art wall that had existed at the infrastructure building site in Shibuya for almost two years. Parts of it had been damaged over time, and so has resurfaced at the new museum.

You can also get your hands on a range of merchandise, from classic manga prints to posters, clothing made in collaboration with apparel brands, and more. This is a limited-time exhibition, so if you're in Tokyo this December, don't miss out.

©MASH・ROOM/KODANSHA ©Kosuke Kawamura ©︎AKIRA ART OF WALL EXHIBITION

AKIRA ART OF WALL Otomo Katsuhiro × Kosuke Kawamura AKIRA ART EXHIBITION

Locations/Times

PARCO MUSEUM TOKYO (Shibuya PARCO 4F): November 22, 2019 – December 16, 2019 @ 10:00-21:00

GALLERY X (Shibuya PARCO B1F) November 22, 2019 – December 18, 2019 @ 10:00-21:00

*Exhibitions at both sites will end at 18:00 on their final dates. Last entries to PARCO MUSEUM TOKYO are 30-minutes before closing times.

Entry Price: General ¥1,000 / High School Students and Below ¥800 / Preschoolers – Free

Nintendo TOKYO/6F

At Nintendo TOKYO, the first long-awaited official Nintendo shop, fans can look forward to purchasing games, consoles, character merchandise, and more. There is also an area where you can play games, and events are scheduled to be held at the store.

The store stocks lots of exclusive goods you won't find anywhere else. If you love games, and you love Nintendo, then this place is a must-visit if in Tokyo.

Nintendo TOKYO Official Website: https://www.nintendo.co.jp/officialstore/index.html

Pokémon Center Shibuya (Floor 6F)

Pokémon fans won't be able to resist stepping into the Pokémon Center, where they can pick up countless Pokémon merch. Upon entry they'll walk past a 2-meter tall Mewtwo.

From plush toys to bags, kitchenware, stationary, Shibuya-exclusives and moreーstock up on all the Pokémon gear you could ever want. There's even some items made in collaboration with Nintendo TOKYO which is just next door!

Pokémon Center Official Website: https://www.pokemon.co.jp/gp/pokecen/

いかがでしたか?いろいろなジャンルのお店が大集結している渋谷PARCOにぜひ足を運んでみてくださいね。

Information

Shibuya PARCO

Address: 15-1 Udagawacho, Shibuya, Tokyo

Opening Hours: Shops & Services 10:00-21:00 / Restaurants 11:00-23:30 (*Times differ between shops)

No Fixed Holidays

Official Website: https://shibuya.parco.jp/teaser/

Anime Crossover Mobile Game Dengeki Bunko: Crossing Void Releases Worldwide

Dengeki Bunko: Crossing Void is a turn-based RPG developed in collaboration by 91Act and SEGA. On November 5, 2019, the game service was made available in 24 countries worldwide across Europe, America, India, Oceania, and elsewhere.

Dengeki Bunko: Crossing Void is based on the 2D fighting game Dengeki Bunko: Fighting Climax Ignition, which was released on PlayStation®4, PlayStation®3, and PlayStation®Vita in 2015. The game features a roster of characters from Dengeki Bunko's multitude of light novel series.

The game was published in mainland China last August by Tencent and in Taiwan, Hong Kong and Macao last December by Net Publishing. It was also published in South Korea and 11 other southeast Asian countries by G-Mei, an umbrella company of 37Games, in April of this year. Together with the 24 new countries added on Tuesday, the game is now available in 40 countries and regions worldwide.

If you are a fan of titles such as Sword Art Online, A Certain Magical Index, and Shakugan no Shana, and have yet to experience the world of Dengeki Bunko: Crossing Void, you are in for an immersive treat.

©SEGA  ©2017 KADOKAWA ASCII MEDIA WORKS  ©91Act

Information

Dengeki Bunko: Crossing Void

Genre: Turn-based RPG

Release Date: November 5, 2019

Price: Free (Additional items available for purchase)

Developed by: 91Act / SEGA

Platforms: iOS/Android

Language: English

Available: North America, Canada, Brazil, Iceland, Ireland, UK, Italy, Austria, Holland, Switzerland, Sweden, Spain, Denmark, Germany, Finland, France, Portugal, Belgium, Russia, India, Australia, New Zealand, Turkey, South Africa

Official Website: https://crossingvoid.91act.com/

Mario & Sonic at the Olympic Games Tokyo 2020 Unveils 5 Sports in the Game

As excitement is on the rise worldwide in anticipation for the Tokyo 2020 Games, the world just cannot wait for the release of the iconic Nintendo Switch™ game Mario & Sonic at the Olympic Games Tokyo 2020, which is due to be released very soon. Sega has just unveiled a small snippet of information on five events that are going to be included in the game which we are sharing with you today.

Tokyo 2020 100m

Aim for nothing but first place in the Tokyo 2020 100m. Increase your speed with the rapid push of a button. By building up your speed before the race starts and releasing it at the correct moment, you will get off to a dashing start. The "special dash" is a way to rapidly cut down on your time. 

Tokyo 2020 Rugby Sevens

This game will plunge you straight into the action. Work with your team of seven and use a range of tactics such as passes, strong tackles and kicks to get the upper hand. Carry the ball to the goalline to watch those points roll in. When your special gauge reaches its max power, you will be able to use a "super dash" ability to get the ball to the goalline if on the offense. If on defence, your special ability is the "special tackle", which will provide you with the power to whip the ball away from your opponent. These special abilities have the power to drastically turn the tables and are not to be taken lightly. This game features guest character Diddy Kong!

Tokyo 2020 Canoeing

Get your heart pumping with the thrill of competition while staying synchronised with your partner in a canoeing race. If your timing is perfect, you will pick up speed straight away. Team up with your friend and dive right into the fun. If you are falling behind, don't let your heart sink in despair. Paddle as much as you can and you will be able to catch up with the others in no time!

Toyko 2020 Equestrian Jumping

Let no hurdle taint your gracefulness as you soar through the sky and clear each one. You can take part in Equestrian Jumping individually or as part of a team. Be careful of sharp turns and hurdles! When you increase your speed, your stamina will drop, however, you will recover lost stamina with every hurdle you successfully clear. If you manage to clear lots of hurdles in succession, you will gain enormous amounts of speed and will be on your way to a record-breaking winner. You can also use a special dash once in this game. If you manage to use it while successfully striking a difficult pose, you will continue to zoom off to the finish line at high speed. This game features Larry Koopa as a special guest!

Tokyo 2020 Table Tennis

Face off in a singles match or team up with your friend for a doubles match. Your avatar will move automatically, allowing you to fully dedicate your brain power to using a range of techniques. Build up your power to change the speed and spin of the ball.Zazz has infiltrated this game to take part as a guest character!

Join in the Tokyo 2020 celebration fun with these new epic games!

TM IOC/TOKYO2020/USOC 36USC220506. © 2019 IOC. All

Rights Reserved. © NINTENDO. ©SEGA.

Information

Mario & Sonic at the Olympic Games Tokyo 2020™

Platform: Nintendo Switch™

Initial Release Date: November 1, 2019

Price: ¥5,990 (before tax)

Genres: Sports, action

Players: 1 – 4

* Play with up to 8 people when you play online.

*Nintendo Switch™ supports 2 – 4 local players.

Official Website: https://www.olympicvideogames.com/marioandsonic/jp/

Tokyo Ghoul Creator Sui Ishida's New Game JACK JEANNE: Cast Unveiled!

Tokyo Ghoul's creator Sui Ishida designed the characters, created the storyline, illustrations and scenarios for a brand new game to be published by the sensational Japanese media company Broccoli. The game, which has previously been announced to be called JACK JEANNE, revealed its cast at Tokyo Dome Show 2019. Check out the cast information and watch the latest trailer on the game's official website.

 The latest trailer video reveals the main character, Tachibana, as she enters the Univale Opera School for males. The story follows her as she rises to the various challenges of four classes whilst concealing her identity as a female. Tachibana's goal is to obtain the "Quartz" rank in each class, which will give her recognition for being the top performer in each class. Each of the cast members was personally selected by Ishida. You can catch the cast names and hear their voices by watching the latest trailer.  

The Cast

Sarafumi Takashina: Takayuki Kondo

Kai Mutsumi: Jun Kasama

Kokuto Neji: Daisuke Kishio

Mitsuki Shirota: Gakuto Kajiwara

Suzu Orimaki: Yuma Uchida

Soshiro Yonaga: Gen Sato

The game is planned to be released on Nintendo Switch in the year 2020.  Get ready for the best drama school youth story of the century!

©️Sui Ishida/BROCCOLI

Gamers! Rally Your Teammates For A New Quest: TOKYO GAME SHOW

The TOKYO GAME SHOW is in a league of its own. It is a mecca for gamers who cannot get enough of Japanese games and entertainment. This is where Japan's major game publishers from all kinds of platforms unite to put on an enormous exhibition. 

This includes the opportunity to explore games that are yet to be released as well as hear new announcements about the direction developers are steering the future of gaming. There's no lagging behind. This is a major event for the gaming industry, raking in leagues of heroes every year. 

On August 28, a total of 2,417 game booths were announced, which is the largest number the event has ever seen in its history. This event is home to games on a range of platforms including for console, smartphone and PC. The enormous variety of genres includes the most cutting-edge and latest trends including Esports, VR and much more.

For those of you who love cosplay, this event is your chance to finally meet your fantasy. The outside area of Hall 9 will have a Cosplaying Area Stage where two events will take place: a cosplay fashion show and a gathering. 

On Saturday 14th, Hall 1 event stage will hold the Cosplay Collection Night@2019 event where participants and event staff will take over the stage in game character cosplay. Spectating is free, so feel free to watch as each cosplayer dominates the entire stage, showing off their excellent craftsmanship and skills as they walk the runway and strike a pose definitely worth saving in your highlights! 

On Sunday 15th at 2:30 pm, cosplayers will take to the stage in units of two or more to put on a dance or combat show that you just cannot critically miss out on. 

Schedule:

September 14 (Sat)  From 12:00 ー Cosplay Runway  From 15:30 ー Cosplay Runway

September 15 (Sun) From 13:30 ー Cosplay Runway From 14:30 ー Cosplay Dance and Combat Shows From 15:30 ー Cosplay Runway

The Gathering is where cosplayers can interact with one another and have photos taken ー the perfect opportunity to send those friend requests. On September 14, a gathering dedicated to the Final Fantasy Tales Series will take place on the Cosplay Area Stage. On September 15, there will be gatherings for the Dynasty Warriors and Samurai Warriors series.

Schedule:

September 14  13:00-13:30 Final Fantasy Series Gathering  14:00-15:00 Final Fantasy Tales Series Gathering 

September 15 12:30-13:00 Dynasty Warriors and Samurai Warriors Series Gathering

More information on the exhibitions, booths and events will be announced on the morning of September 12 so please check it out. 

There is no better way to multi kill your time than to spend the entire day at TOKYO GAME SHOW 2019 ー get your tickets and GLHF!

Information

TOKYO GAME SHOW 2019

Event Information

Business Days*: September 12 & 13, 2019 (10:00~17:00)

*Business Days are open to industry and press only.

Public Entry*: September 14 & 15, 2019  (10:00~17:00)

*Doors may open at 9:30 am according to conditions on the day.  

Venue: Makuhari Messe (Mihama Ward, Chiba)

Exhibition Halls 1-11/ Event Hall/ International Conference Hall

Entry Fee: Advanced tickets: ¥1,500 (after tax)

On The Door: ¥2,000 (after tax)

Those under Elementary School age can enter for free (public entry days only)

Official Website: https://expo.nikkeibp.co.jp/tgs/2019/en/

Going on a cinema trip during Golden Week? Here's 5 films perfect for kids and adults!

Hey everyone! It's Midori again from Moshi Moshi Nippon's Editorial Department!

As this Golden Week holiday is especially long, some people are going on holiday! As the weather is pretty unpredictable, it's the perfect opportunity to get your hands on cinema tickets ー it shouldn't be crowded either! Here's five of our film recommendations. Adults as well as kids are bound to love these films and they're all showing during April and May!

Crayon Shin-chan: Honeymoon Hurricane ~The Lost Hiroshi~

Every year, there's a new Shin-chan movie! In this movie, the Nohara family explore an unknown region during their trip to Australia! The Nohara couple have never celebrated their honeymoon, so what better time than now, they thought! Father Hiroshi, however, was kidnapped by a masked figure who wants to get their hands on some treasure! The masked figure, treasure hunters and the Nohara family are against each other to retrieve Hiroshi! As the final silly adventure of the Heisei era, it's something you just can't miss! Aimyon is in charge of the theme song for this movie, so this is your chance to hear her song "Haru no Hi"!

Aimyon to Perform Crayon Shin-chan: Honeymoon Hurricane ~The Lost Hiroshi~ Main Theme

Crayon Shin-chan: Honeymoon Hurricane ~The Lost Hiroshi~

Release: Fri 19th April 2019

Official website: http://www.shinchan-movie.com/

© Yoshito Usui / Futabasha / Shinei / Television Asahi ADK

2019 ©U/F・S・A・A 2019

Detective Conan: The Fist of Blue Sapphire

The film Detective Conan: Zero the Enforcer which was released last year was the highest grossing film out of the entire Detective Conan series. In its opening weekend, The Fist of Blue Sapphire managed to top the revenue of Zero Enforcer, and we are expecting this to rise up to become the highest grossing film in the Japanese box office! The film is set in Singapore where Kaito Kid steals the blue sapphire! Kaito Kid is a popular character even in the original series and with Makoto Kyogoku added to the mix, we've got a recipe for mayhem! Adults and children are bound to love this Detective Conan movie!

Detective Conan: The Fist of Blue Sapphire

Release: 12th April 2019

Official website: https://www.conan-movie.jp

©1997-2019 Gosho Aoyama/Detective Conan Design by Committee

Pokémon Detective Pikachu

This world-famous anime has finally become a movie! Former Pokémon trainer Tim discovers that his father has gone missing and embarks on a quest to find him. He heads to Ryme City;  a city where Pokémon and people live together in harmony. Upon his arrival, he meets his father's partner Detective Pikachu,  who surprisingly seems to be able to talk to him! Tim is still uncertain whether his father is even still alive, and so the pair search for Tim's father and protect Ryme City against the terrible incidents that occur during their visit! Will Tim ever be reunited with his father?! This is your chance to see Pikachu feature in a Hollywood film!

Pokémon Detective Pikachu

Released first in Japan on 3rd May.

Official website: https://meitantei-pikachu.jp/

© 2019 Legendary and Warner Bros. Entertainment Inc. All Rights Reserved.

© 2019 Pokémon.

Kakegurui

/
「映画 #賭ケグルイ」
舞台挨拶付き先行上映会@大阪
開 催 決 定 !
\

4月27日(土)TOHOシネマズ梅田に #浜辺美波 さん、#森川葵 さんが登場予定‼️
🎲1回目 11:00の回上映後
🎲2回目 14:00の回上映前

詳しくはコチラ🔽https://t.co/bexE2E5xym

大阪でも・・・
賭け狂いましょう! pic.twitter.com/fFBLnfm6Zq

— ドラマ&映画『賭ケグルイ』 (@kakegurui_jp) 2019年4月12日

This popular adult manga/anime is becoming a movie! The movie is set at Hyakkaou Private Academy; a school for rich kids. Here, the social hierarchy is determined by the strongest gambler.  The movie features obsessive gambler Yumeko; a natural gambler who gets a thrill from taking risks and has plunged into game with sweaty clenched fists. The series currently on air is a massively popular drama series. With Minami Hamabe playing the leading part, Taishi Nakagawa, Elaiza Ikeda and many other young actors and actresses have joined forces for this! The original author and director of the series created this version of film too, and so it is a completely original story! Whether you've always been a fan or whether this is your first encounter with the series, you're bound to enjoy it!

Kakegurui

Release: 3rd May

Official website: https://kakegurui.jp/

Aladdin

Check out the new poster for Disney's #Aladdin. See it in theaters May 24. pic.twitter.com/XlLCWxdulh

— Disney's Aladdin (@disneyaladdin) 2019年3月12日

Disney's classic movie Aladdin is now a live-action film! The poor, young Aladdin meets the rich princess Jasmine, and through fate, they encounter a magical genie in a lamp! The genie, who can grant three wishes, sets them on an adventure to seek what they really desire! Not only can you enjoy the movie's signature song "A Whole New World", but the live-action film features new songs created by the music teams behind La La Land and the Greatest Showman. Disney's high movie quality reputation and Will Smith's appearance as the Genie in the film are quite big topics in the news right now!

Aladdin
Release: 7th June
Official website: https://www.disney.co.jp/movie/aladdin.html

All these films were quite big in the news even before Golden Week! If you're tired of the crowds of tourists, how about popping to the cinema for a break?

Detective Conan Scientific Investigation Café to Open at Osaka Hirakata Park

As part of the ongoing Detective Conan Scientific Investigation event being held at Hirakata Park Event Hall in Osaka, it has been announced that a themed café will open from March 9 to May 26 serving a range of Conan themed food and drinks.

Gunpowder Smoke Fries: ¥600 (Before Tax)

Serve in café-original boxes featuring art of Conan and Amuro, these potato fries are covered in a smoked bacon flavour.

Scene of the Crime Pizza: ¥1,200 (Before Tax)

This mayo and corn pizza is made in the image of a crime scene with a victim's silhouette cut from seaweed.

Ice Candy: ¥500 Each (Before Tax)

The Conan version is milk flavoured and contains pieces of strawberry while the Amuro version is mango flavoured and contains pieces of yellow peach.

Vial Drinks: ¥500 (Before Tax) Each (Conan/Amuro/Haibara)

Each of these drinks are served in vials bearing illustrations of Conan, Amuro and Haibara.

APTX-4869 Popcorn: ¥600 (Before Tax)

Contains white chocolate popcorn and strawberry popcorn and comes in a casing inspired by the APTX 4869 poison from the series.

This menu line-up is exclusive to the café. Each item ordered on the menu will get you one of 11 possible coasters featuring superdeformed illustrations of the Detective Conan character cast.

Conan and Amuro are also set to make an appearance at the café on March 14―White Day in Japan―so fans of the series mustn't miss out.

Don't forget to check out Detective Conan Cafe 2019 either which is running to promote the upcoming film Detective Conan: The Fist of Blue Sapphire coming on April 12, 2019.

Information

Detective Conan Scientific Investigation Café

Running: March 9, 2019 – May 26, 2019

Location: Hirakata Park's Event Hall (1-1 Hirakatakōenchō, Hirakata, Osaka Prefecture)

TEL: 072-844-3475

*A ticket to the event is required to use the café.

Time: 10:00-17:00 (Last Entries 16:30)

Closed: March 13, March 20, April 10, April 17, April 24,  May 8, May 15, May 22

Official Website: http://conan-kagaku.jp/

©Gosho Aoyama / Shogakukan・Yomiuri Telecasting Corporation・TMS 1996

Xbox One Puzzle Game KYUB Launches On Nintendo Switch

KYUB is a puzzle game developed by Ninja Egg that was released on July 16, 2016 for Xbox One and January 17, 2017 for Windows.

Nintendo Switch owners can now look forward to playing over 80 levels and thousands of combinations as the game was released on the console on February 7, 2019.

Players control Kyub to solve malicious puzzles and devious traps. They have the ability to switch between action and puzzle phases to use other cubes to help them along their way.

The game is available in 37 countries including in North America, Europe, Japan. Enter the strange and challenging world of Kyub!

Information

KYUB

Platform: Nintendo Switch™

Released: February 7, 2019

©2019 NextNinja Co.,Ltd.

Universal Studios Japan Detective Conan Escape Game, Lupin III XR Ride

Universal Cool Japan has returned to Universal Studios Japan for the 5th time since starting in 2015. Running until August 25, the event this year has been "produced on the largest scale in the event's history." Six major names in Japanese entertainment have been turned into eight attractions including Detective Conan, Attack on Titan, Godzilla, Neon Genesis Evangelion, Sailor Moon and for the first time ever Lupin III.

 

MOSHI MOSHI NIPPON attended Universal Cool Japan 2019's opening ceremony on January 17, 2019. Members of the team got to try out the new Lupin III XR ride before it opened to the general public on January 18. It is running until June 23. We also got to experience the Detective Conan themed escape game.

Japanese singer and actor Win Morisaki, who made his Hollywood debut last year, attended this year's opening ceremony. Clad in a red hakama, he got the crowd pumping, and it seemed like he had experienced the new attractions already. During an interview he said, "[The attraction's] quality and outlook are really cool. I couldn't stop my excitement in getting to dive into the worlds of series I have loved since forever for the very first time."

I also love Detective Conan so much so that I can't lose to Morisaki. I watch it almost every week and I too played the escape game with Conan. To have been able to enter his world is amazing!

One truth prevails in "Detective Conan The Escape: Konjou no Jomaku"

The attraction takes place in a certain building where you face off against Conan's greatest rival, Kid the Phantom Thief, to find the lose treasure. You are split into groups and use 2 touch panels while solving the riddles together with Conan. Will you be able to find the treasure before Kid…?!

Familiar faces join you along the journey including Richard Moore, Rachel Moore, Serena Sebastian, and of course Conan. The game begins with an explanation on the hidden treasure. You advance through the story with the characters. It's just like being in the anime! It's as Win Morisaki said, you dive into the world of Conan.

You are also in touch with Conan throughout the game. It was just like being in the Detective Boys―the detective team Conan made with his elementary school friends. Even with 5 adults the puzzles were fairly difficult. Brainstorming is valuable! It should be solved with a clear mind.

This attraction requires a separate ticket. The number of people that can participate is also limited, so be sure to check the USJ homepage in advance so you can see what day you can directly confront Kid the Phantom Thief with Conan!

Enjoy a car chase with Lupin at the "Lupin III Car Chase XR Ride"

An XR pairs VR technology with a roller coaster. The visuals are synchronised with the movements of the roller coaster itself, and this one places you in a car chase in Lupin III's beloved car.

Once you've got your VR goggles on and are strapped in it's time to set off. The ride is pretty fast so I recommend putting your goggles slightly tight. I don't like tight things so I loosened them after the staff in charge put them on me but they ended up slipping off partway through.

I'm actually not good with roller coasters, but my fear was halved because I couldn't see when we were going to drop at all. You don't even realise you're gradually going up when looking in the VR goggles. This is a roller coaster that even people who don't like them can enjoy.

In the visuals not only do you see Lupin but Jigen, Goemon Ishikawa and Inspector Zenigata too. You've got to experience that feeling of Lupin being chased by Inspector Zenigata.

They also sell churros near the attraction with Fujiko Mine's kiss mark on them. They smell like roses and can only be bought here!

Visit Universal Studios Japan for yourself to enjoy an experience you can't anywhere else.

Information

Universal Cool Japan 2019

Springtime: January 18, 2019 – June 23, 2019
Detective Conan / Lupin III

Summertime: May 31, 2019 – August 25, 2019
Neon Genesis Evangelion / Godzilla / Attack on Titan / Sailor Moon

Official Website: https://www.usj.co.jp/
Official English Website: https://www.usj.co.jp/e/

Tickets: https://www.usj.co.jp/ticket/

原作/青山剛昌「名探偵コナン」(小学館「週刊少年サンデー」連載中)  © 2019 青山剛昌/名探偵コナン製作委員会  ©モンキー・パンチ/TMS・NTV
©諫山創・講談社/「進撃の巨人」製作委員会  TM & © TOHO CO., LTD.  ©カラー  ©Naoko Takeuchi  書・紫舟
TM & © Universal Studios. All rights reserved.
© SCRAP All rights reserved.