Detective Conan Skateboard Game Announced for Nintendo Switch™ Release
Detective Conan Skateboard Run: Kaito Kid and the Mysterious Treasure is the first ever Detective Conan game for the Nintendo Switch™ set to arrive on the Nintendo eShop sometime in April 2019.
A 3D skating action game, the title will coincide with the release of the newest Detective Conan film The Fist of Blue Sapphire hitting Japanese cinemas on April 12, 2019.
Play as Conan and jump on an engine-equipped skateboard to high jump, do tricks and shoot soccer.
The game is set in an enormous theme park built by Sonoko Suzuki's grandfather Jirokichi Suzuki. There are three areas and 30 stages to enjoy.
During the gameplay Kaito Kid will make a sudden appearance and try to knock Conan off his skateboard with giant balls, cards and other gimmicks.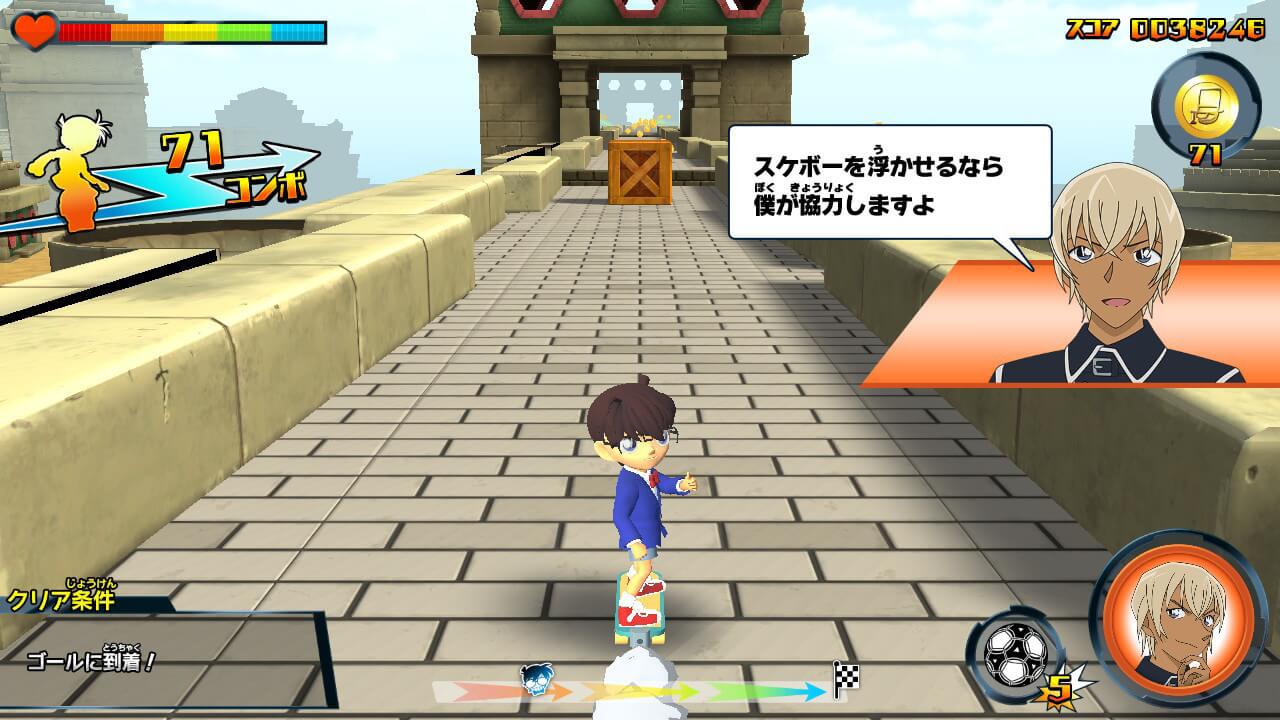 Conan's comrades will make an appearance to give him support through 10 different skills.
Minami Takayama and Kappei Yamaguchi will lend their voices for Conan and Kaito Kid respectively.
Jump on your board and stop Kaito Kid from his antics!
Information
Detective Conan Skateboard Run: Kaito Kid and the Mysterious Treasure
Release Date: April 2019 (Subject to change without notice)
Price: ¥3,500 (Tax Included) <Download Edition>
Official Website: https://conanrun.tms-game.com
Detective Conan: The Fist of Blue Sapphire
Release Date: April 12, 2019
Official Website: https://www.conan-movie.jp/
©Gosho Aoyama / Shogakukan・Yomiuri Telecasting Corporation・TMS 1996 ©TMS
© 2017 Nintendo
The Nintendo Switch logo and Nintendo Switch are registered trademarks of Nintendo Co., Ltd.
RELATED ENTRIES
Super Mario x PARCO Launch Summer 2021 Campaign

Japanese department store chain PARCO is teaming up with Super Mario from June 25 for a special summer campaign which will see stores selling items made in collaboration with the video game franchise.

PARCO Grand Bazaar

Collaboration Item Fair

The Line-Up

XLARGE | T-Shirt

LOEWE | Pouch

CABANE de ZUCCa | T-Shirt

FURFUR | Bag

Lily Brown | Knitwear

TiCTAC | Wristwatch

NUBIAN | Shirt

KIMONO by NADESHIKO | Yukata

Angelic Pretty | Dress

Maison de FLEUR | Bag

Ojaga Design | Keyrings

KiU | Poncho

Discover Japan Lab. | Folding Fan

une nana cool | Pouch

Shimamura Gakki | Electric Piano

Super Mario Hand Towel / PARCO Online Store Exclusive Gift Box

Nintendo TOKYO POP-UP STORE

Over 60 brands tied to PARCO are participating in the Collaboration Item Fair, and Nintendo TOKYO is also opening its first pop-up store. Join Mario this summer.

©Nintendo 

Dress Like EarthBound's Ness With New Era's Hat Collection

New Era has announced its first collaboration with the Mother video game series, also known as EarthBound outside Japan. Two hats, one inspired by Ness's hat from Mother 2, and a 'SMAAAASH!!' version, will be released at the Mother no Hiroba pop-up shop at Shibuya PARCO as well as at participating TOCHIBI stores in Japan on July 1.

NEW ERA® 9FIFTY™ SMAAAASH!!/Ness – ¥7,700 Each (Tax Included)

Both hats feature New Era's iconic 59FIFTY® model, which was first released in 1954, and feature the 9FIFTY™ snapback adjuster. One is coloured red and blue with a white top, just like Ness, and the other is full black with the word 'SMAAAASH!!' on the front.

The Mother no Hiroba pop-up shop will be open at Hobo Nichijo on the 8th floor of Shibuya PARCO in Tokyo from July 1 to 11. EarthBound fans can get their hands on a range of related merchandise.

©SHIGESATO ITOI / Nintendo ©HOBONICHI

Information

MOTHER x New Era Collection

Released Date: July 1, 2021

Product Details: https://www.1101.com/n/s/mother2_newera_pre

MOTHER no Hiroba Pop-Up Shop

Running: July 1, 2021 – July 11, 2021

Opening Hours: 11:00-20:00

Location: Hobo Nichijo (Shibuya PARCO Floor 8F)

Address: 15-1 Udagawacho, Shibuya, Tokyo

Entry: Free

Identity V x Death Note Crossover Launches

NetEase's multiplayer horror game Identity V is currently holding a crossover event with the anime series Death Note. Running until June 27, fans of the series can look forward to seeing some familiar faces in thrilling mind battles.

Death Note is a manga series written by Tsugumi Ohba and illustrated by Takeshi Obata which was serialised in Weekly Shonen Jump from 2003-2006. The manga has over 30 million copies in circulation. Its anime adaptation aired from 2006-2007. The story tells of a notebook called the Death Note where if you write someone's name in it they die. It is one of the most well-known series both in Japan and overseas. One of the aspects of the series that draws people in most are the mind battles between its two intellectual protagonists; Light Yagami and L.

Ryuk is a Shinigami, or Death God, and is the one who drops his Death Note into the human world which is eventually found by the protagonist Light Yagami. He did this on on purpose because he was bored one day and wanted to see what would happen if a human had a Death Note. In the game, he will pursue the Survivors.

Light Yagami, the protagonist of Death Note, finds the notebook one day and after discovering its secrets, decides to rid the world of criminals and people he deems villains under the guise of Kira. He will try to escape the Hunters in the game.

L is the second main character of Death Note. Known as the world's greatest detective, he is tasked with trying to discover why so many people are dying randomly in Japan and who this mysterious Kira is. He will fight against the Hunters.

Misa Amane is a fashion model and supporter of Kira. She also has her own Death Note and eventually becomes the Second Kira. In the game she will take on the role of an engineer and use her skills to make changes to the Manor.

A range of accessories, character actions, furniture, and more themed on Death Note are also rolling out as part of the crossover. Items include apples which are Ryuk's favourite, Misa's Death Note, Light's pen, L's handcuffs, and more.

Discover all kinds of mysterious during the event

The game is littered with mysterious to be discover and solved. Players can complete daily sign-ins to receive rewards such as Crossover Essence, collecting clues with L by participating in matches, and much more.

©大場つぐみ・小畑健/集英社・VAP・マッドハウス・NTV・D.N.ドリームパートナーズ

Dragalia Lost Sound Collection Announced For June 2021 Release

It has been announced that a new album compiling the in-game event music from Dragalia Lost will be released on June 30, 2021. Dragalia Lost is an action role-playing smartphone game developed by Cygames and published by Nintendo.

The two-disc album features artists such as TAKU INOUE, ANCHOR, SiN, Shūhei Mutsuki, Sekihan, M・A・O, BlooDye, Setsuko (from Kuhaku Gokko), Takayoshi Tanimoto, Shiki Aoki, Megumi Ogata, Hironao Nagayama, and more. The first disc features 16 tracks while the second has 22 instrumental tracks. It also comes with a lyric booklet and 60-page artbook. Each copy of the album is also coupled with an application ticket to receive an in-game item.

DRAGALIA LOST SONG COLLECTION is a must-grab for fans of the game.

Information

DRAGALIA LOST SONG COLLECTION

Release Date: June 30, 2021

Where: Amazon Japan / Tower Records / HMV Japan / TSUTAYA / Rakuten Books / TOY'S STORE

Dragalia Lost Official Website: https://dragalialost.com/jp/

Animal Crossing: New Horizons Original Soundtrack to be Released in Three Versions

Animal Crossing: New Horizons was released for the Nintendo Switch in March last year, and I'm sure many of us who have played it have the soundtrack on repeat in our heads daily. Now fans can get their hands on the game's official soundtrack which will be released in three versions: the BGM Edition which features the background music, the K.K. Slider Edition which has instrumental versions of all of the K.K.'s songs on it, and the First Press Limited Pressing Edition.

The First Press Limited Pressing Edition is a special version which includes a specially-made earphone case for storing your earphones as well as the K.K. Slider Jacket Artworks artbook featuring the CD covers of all of K.K.'s songs you can get in game.

BGM Edition | ¥4,950 (Tax Included) | 4 Discs | COCX-41434~7

Features all in-game background music including all the different tracks that play every hour during the game's 24-hour day cycle, music that plays depending on the weather, at in-game facilities on the island, event music, and more, for a total of 173 tracks. It also features a bonus track that was released back in May 2020 on Twitter.

K.K. Slider Instrumental Music Edition | ¥4,400 (Tax Included) | 3 Discs | COCX-41438~40

This edition features 95 instrumental songs from the beloved K.K. Slider spread across three discs.

BGM Edition + K.K. Slider Instrumental Music Edition | ¥11,000 (Tax Included) | 7 Discs

This version includes the earphone case, both editions, and the artbook, all packaged in a limited-edition box.

©2020 Nintendo

※Nintendo Switchは任天堂の商標です。

Japan's Kirby Café Announces Kirby's Happy Birthday Fair

If you didn't know, Kirby's birthday falls on April 27. To celebrate, Kirby Café Tokyo and Kirby Café Hakata have announced the Kirby's Happy Birthday Fair event which will run from April 1 to May 9 where customers can get their fingers on some delicious birthday treats and items.

 

Kirby's Birthday Line-Up

Happy Birthday☆Kirby | ¥1,518 (Tax Included)

No birthday is complete without a fitting cake. This one is loaded with fruit, strawberry cream, an icing cookie, and other delicious treats. Make sure to get yourself a slice before Kirby inhales it whole!

Kirby 29th Birthday Badge | ¥594 (Tax Included)

Kirby 29th Birthday Candy (Lime Flavoured w/Sticker) | ¥638 (Tax Included)

TOKYO BOX Candy (Lemon Flavoured w/Sticker) | ¥638 (Tax Included) | Exclusive to Kirby Café Tokyo

Candy (Soda Flavoured w/Sticker) | ¥638 (Tax Included)

Candy (Strawberry Flavoured w/Sticker) | ¥638 (Tax Included)

Information

Kirby's Happy Birthday

Running: April 1, 2021 – May 9, 2021

Bookings: Not mandatory but recommended

Kirby Café Tokyo: https://kirbycafe-reserve.com/guest/tokyo/

Kirby Café Hakata: https://kirbycafe-reserve.com/guest/hakata/

Kirby Café Tokyo

Address: Tokyo Skytree Town Solamachi Floor 4F (1-1-2 Oshiage, Sumida, Tokyo)

Opening Hours: 10:00-21:00 (Last Orders 21:00)

Kirby Café Hakata

Address: Canal City Hakata North Bldg. B1F, 1-2-1 Sumiyoshi, Hakata, Fukuoka, Fukuoka Prefecture

Opening Hours: 11:00-21:00 (Last Orders 22:00)

Kirby Café Official Website: https://kirbycafe.jp

Nintendo Releases Hatsune Miku Logic Paint S for the Switch

Hatsune Miku Logic Paint S was released for the Nintendo Switch on March 18. The game was published by Crypton Future Media, who are known for creating VOCALOID, and comes as their first-ever puzzle game. The game is available for 25% off until March 31.

The main visual for the game was created by illustrator NEGI

The game is the expanded and complete version of Hatsune Miku Logic Paint -MIKULOGI- which was released for smartphones in March 2020. Players use the numbers in the top and left-hand sides of the screen to fill in a grid of square in order to create an image. They can also use the X marks to prevent mistakes. The images include illustrations of Piapro characters including Hatsune Miku and her familiar line-up of friends.

Players can also set their favourite songs to play in the home and puzzle screens and can unlock more songs by collecting Stars.

Hatsune Miku Logic Paint S builds on the MIKULOGI version by introducing even more puzzles – over 350, including the addition of new 20 x 20 puzzles alongside the original 5 x 5, 10 x 10, and 15 x 15. Players can now choose favourite Piapro character to solze puzzles together with, including Miku, Luka, Rin, Len, Kaito, and Meiko. There are also Missions for players to complete which will unlock artwork and 18 different songs.

Kirby Café Begins Serving its Spring Picnic Themed Menu

The Kirby Café branches in Tokyo and Hakata rolled out their Spring 2021 menu on Friday which is set to run until June 6. Themed on a springtime picnic, the line-up includes three items: six siz different temari-zushi servings, cherry blossom mochi, and a cherry blossom latte, all inspired by the Kirby video game series.

The Menu

Cherry Blossom Temari-zushi: Eat In ¥2,178 / Takeout ¥2,138

A serving of six sushi rolls perfect for a spring picnic. Each roll features designs that will be instantly-recognisable to Kirby fans.

Souvenir – Lunchbox (4 Designs)

Kirby's Spring Search | ¥1,078 (Tax Included)

Kirby is playing hide and seek under the cherry blossom tree in this cute dish which is adorned with shiny coloured candy.

Cherry Blossom Latte | ¥968 (Tax Included)

A light pink-coloured cherry blossom latte with a touch of salt. Mix everything together for a tasty sipping experience.

Animal Crossing: New Horizons Releases Osaka's City of Daito as Accessible Island

The city of Daito in Osaka teamed up with the Nintendo Switch title Animal Crossing: New Horizons to release the city as an accessible island, Daito Island, on March 10.

Every March, Daito hosts a PR event to promote the city. Due to the effects of the COVID-19 pandemic, however, the event has seen strict restrictions that do not allow social gatherings. In order that the event not be cancelled entirely, Daito is collaborating with Animal Crossing: New Horizons to promote the city in-game with stalls, historical content like traditional armour and Iimoriyama Castle, and more.

Visitors to the island will receive three kinds of Miyoshi Nagayoshi armour, a family crest, and a hat and outfit of Daito's city mascot Daiton. These are available until April 30.

The access code is: DA-1888-0815-5276

Super Nintendo World Opening March 18 at Universal Studios Japan

Ouverture du Super Nintendo World le 18 mars à Universal Studios Japan

Cinq ans depuis sa première annonce en 2016 et son report de la date d'ouverture dû au corona virus, le moment est enfin venu : Universal Studios Japan ouvre la zone Super Nintendo World le 18 mars 2021 (jeudi).

Super Nintendo World est le premier parc à thème au monde à être basé sur les personnages et les jeux de Nintendo, combinant des idées innovantes avec une technologie de pointe. Il ouvre à l'occasion du 20e anniversaire de l'USJ, ce qui fait de ce printemps une période festive pour le parc.

Les fans pourront s'attendre à entrer dans le château de Bowser, frapper les blocs de point d'interrogation comme Mario, ou mettre la main sur des produits exclusifs et bien plus encore. Restez à l'écoute pour de plus amples informations pour préparer votre visite !

WIZARDING WORLD and all related trademarks, characters, names, and indicia are © & ™ Warner Bros. Entertainment Inc. Publishing Rights © JKR. (s21) Minions and all related elements and indicia TM & © 2021 Universal Studios. All rights reserved. TM & © 2021 Sesame Workshop © 2021 Peanuts Worldwide LLC TM & © Universal Studios & Amblin Entertainment Universal Studios Japan TM & © Universal Studios. All rights reserved. © Nintendo

MONSTER HUNTER RISE Nintendo Switch Accessory Series Includes Items Inspired by In-Game Monsters

A new collection of official MONSTER HUNTER RISE accessories for the Nintendo Switch is set to be released in Japan on March 26, 2021. It is unconfirmed whether the items will be released outside Japan.

MONSTER HUNTER RISE Magnamalo Grip Controllers for Nintendo Switch | ¥5,478 (Tax Included)

MONSTER HUNTER RISE Palico & Felyne Hand Pouch for Nintendo Switch | ¥2,178 (Tax Included)

MONSTER HUNTER RISE 64GB micoSD Card + Palico Card Case for Nintendo Switch | ¥6,578 (Tax Included)

MONSTER HUNTER RISE 64GB micoSD Card + Felyne Card Case for Nintendo Switch | ¥14,278 (Tax Included)

©CAPCOM CO., LTD. ALL RIGHTS RESERVED.

Kyary Pamyu Pamyu's New Song 'GUM GUM GIRL' Features in Nintendo Switch's Ninjala Commercial

This year marks the 10th anniversary since Japanese pop star Kyary Pamyu Pamyu made her debut, and to kick off 2021, she has announced the release of a new single titled GUM GUM GIRL which will hit music streaming and download platforms on January 29, 2021.

The GUM GUM GIRL single artwork painted by Kyary

The cover art for GUM GUM GIRL was painted by Kyary herself on a canvas using acrylic paints. Kyary painted with passion for her 10th anniversary year.

The singer also unveiled a new look which features metallic silver paper to represent the inside of gum packaging. Her magical makeup sees her face lined with rhinestones, serving stylish, futuristic vibes.

Kyary has been involved in the promotion of the Nintendo Switch title Ninjala, and in the game's latest commercial, she makes an appearance alongside Japanese comedy trio Yonsen Toshin to play the game. You can also hear a snippet of GUM GUM GIRL in the commercial. Check it out below.

Ninjala Commercial feat. Kyary Pamyu Pamyu

Ninjala is a popular title across the globe having been downloaded over 5 million times. In June 2020, a remix of Kyary Pamyu Pamyu's hit song Ninja Re Bang Bang was released by Steve Aoki in collaboration with the game. The song was also made available in-game in October.

Kyary is once again teaming up with Ninjala to feature her new single GUM GUM GIRL in-game, and a special GUM GUM GIRL T-shirt is being released for player avatars. These will be available from January 29 to February 18. Ninja Re Bang Bang Steve Aoki Remix, the clothing item, and dance emote released for that song will also be re-released during this time.

Kyary will premiere a brand new music video for GUM GUM GIRL on her YouTube channel at the stroke of midnight (JST) when January 28 turns to January 29. In the meantime, fans can check out Kyary discussing ideas for the music video with Yasutaka Nakata and her team. The can be watched in Japanese below.

The Making of "GUM GUM GIRL"

Kyary Pamyu Pamyu shows her gratitude for her 10th anniversary year with the release of GUM GUM GIRL which is sure to brighten up anyone's day who has been feeling down during the COVID-19 pandemic. Stay tuned for the official release.