Spend 24-Hours With Dolphins at Iki Iruka Park
Iki Iruka Park in Nagasaki Prefecture is undergoing renovation and is set to reopen on April 25 with new facilities and programs.
Iki Iruka Park first opened in 1995. Located in the city of Iki on the island of Iki, the park enjoys up to 20,000 visitors a year. Its reopening will see a new cafe space open where the park will be open from morning time, something rarely seen on the island of Iki. The cafe menu will include items never before served in Iki such as pancakes from VERY FANCY®―a shop in Tokyo―as well as açaí bowls using local fruits and more. There will also be food served with local produce such as Iki brand beef, seasonal ingredients and so on. In the future the park hopes to be open at dinner time too as well as serve alcohol such as the Iki shochu from the shochu brewery that opened last year.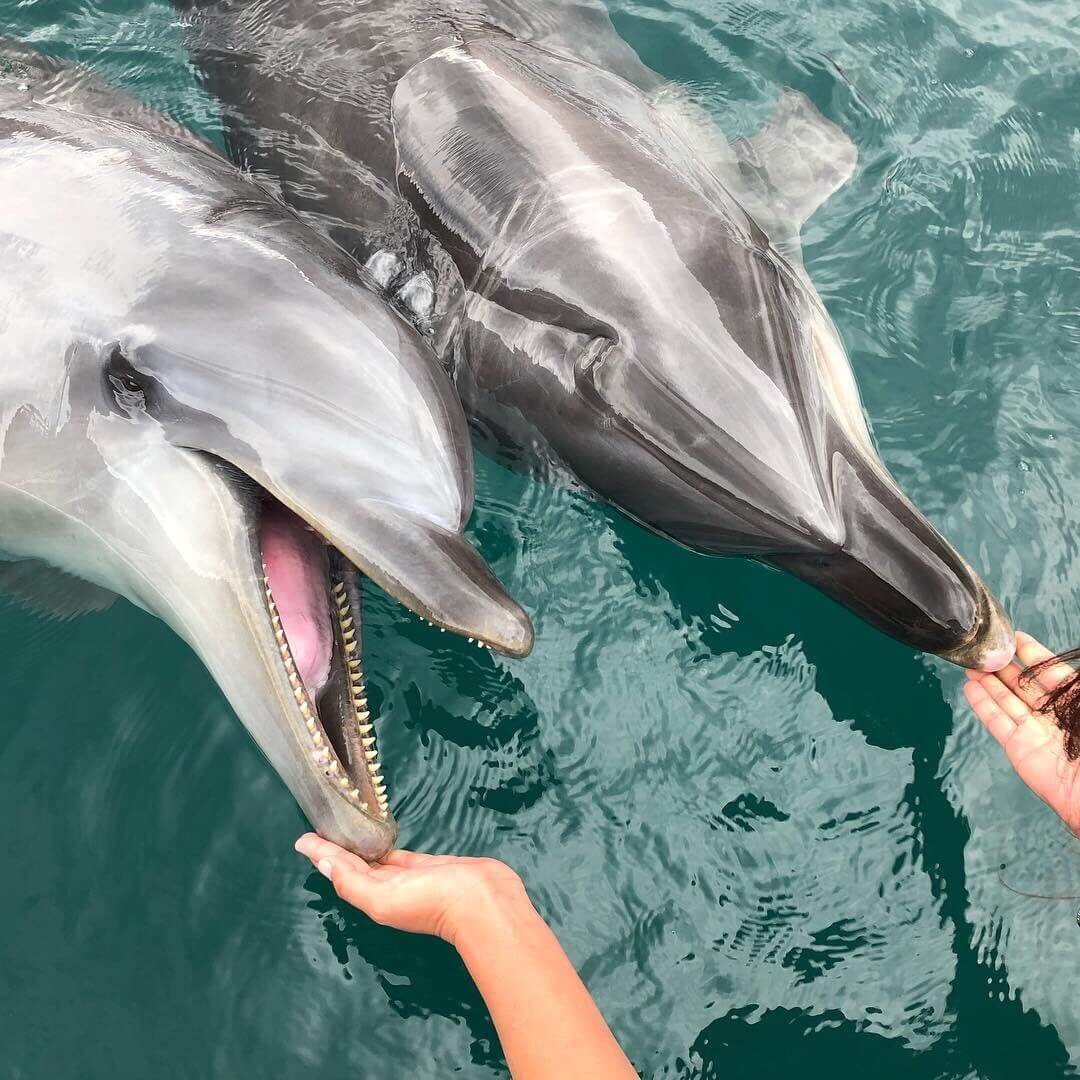 The new Iki Iruka Park will make full use of the surrounding natural environment for visitors to come into contact with the dolphins more, swim with them, and experience what it's like to be a trainer amongst other activities. There will also be a special 1-night stays for 1 person where they get to spend 24 hours with the dolphins.
Information
Iki Iruka Park
Address: Katsumotocho Higashifure, Iki, Nagasaki Prefecture
Opening Hours: Weekdays 9:30-17:30 / Weekends & Holidays 9:30-17:00
Website: http://www.ikiparks.com/iruka
Price
Non-Residents General ¥500 / Junior High School Students and below ¥250
Residents: Free (Citizen Card Required)
RELATED ENTRIES
Toshio Suzuki & Studio Ghibli Exhibition Bound For Nagasaki This Summer

The second run of the Toshio Suzuki & Studio Ghibli Exhibition is set to take place at Huis Ten Bosch in Nagasaki from July 13 to September 23. The event is focused on longtime Studio Ghibli producer Toshio Suzuki and centres on specific "words" he wishes to convey through this work.

The exhibition had its first run in Tokyo back in April this year. We covered that event in detail so be sure to give it a read.

The enormous 3-meter tall Yubaba & Zeniba centrepiece will return at the Nagasaki exhibition. Visitors can draw omikuji fortunes from the display which have Suzuki's keywords written on them along with his explanation of them. You can take these home with you―a perfect addition for your Studio Ghibli collection!

An extremely special merchandise shop will also open at the site with exclusive items and products on sale and decor and decorations that will have you feeling you have stepped right into an enchanting world woven by Studio Ghibli.

Fan: ¥702 (Tax Included)

Get your hands on an official Spirited Away fan to cool yourself down at the event this summer. On one side is an illustration of Yubaba and on the other some powerful words from Suzuki.

Tote Bag: ¥1,620 (Tax Included)

Express your love for Studio Ghibli everyday with this tote bag featuring the same illustration of Yubaba―which is the main visual for the exhibition―on the side. It's big enough to be worn on your shoulder making it a convenient day-to-day item.

Tea-Towel: ¥1,296 (Tax Included)

This beautiful tea towel is made in collaboration with dyed goods company Chikusen who have been around since the Edo period. It has a traditional indigo blue colour and is made from high quality material. A perfect gift and souvenir for any fan of Studio Ghibli.

We can't forget the themed food menu either. You'll find it on the first floor of Huis Ten Bosch at the Tea Salon.

Bath House Dessert: ¥850 (Tax Included)

A fitting dessert for any guest of the Spirited Away bath house, look forward to a bamboo charcoal-black chocolate-sprayed vanilla ice cream, colourful sugar candy and a cookie. It's also served with iced corn tea.

Toast For Adventure Lovers: ¥650 (Tax Included)

Served with a glass of iced corn tea is a delicious egg-topped slice of toasted baked in the hotel bakery. Like you see in anime series, it makes you want to grab it, shove it between your teeth and run outside on an adventure.

Any fans of Studio Ghibli's work aren't going to want to miss out on this very special event. If you're in Japan this summer be sure you get to go.

©️TS ©️Studio Ghibli

Information

Toshio Suzuki & Studio Ghibli Exhibition

Running: July 13, 2019 – September 23, 2019

Location: Huis Ten Bosch Art Museum, Huis Ten Bosch (1-1 Huis Ten Bosch Machi, Sasebo, Nagasaki Prefecture)

Time: 9:00-21:00 *Depending on day – check official website for details

Prices

*Free for those who hold any of Huis Ten Bosch's passport tickets including the 1-Day Passport, Moonlight 4 Passport, After 5 Passport, VIP Premiere Passport, and Yearly Passport

*For those who hold a Sansaku (Walking) ticket: Adults ¥800, Children ¥700, Toddlers & Preschoolers ¥500

*For those who hold a Harbour Zone-only ticket: Adults ¥1,600, Children ¥1,400, Toddlers & Preschoolers ¥1,000

(Harbour Zone Entry Price: Adults & Children ¥1,000, Children & Preschoolers ¥500)

Huis Ten Bosch Official Website: https://www.huistenbosch.co.jp/

Play With Pingu At Aqua World Oarai, Ibaraki!

Aqua World Oarai, Ibaraki is collaborating with the world's favourite childish penguin Pingu. This summer, Pingu will feature in the special event: Penguin-tachi no fushigina sekai Pingu summer festival (Pingu summer festival: Enter the curious world of penguins). The event will run from July 13 to September 1.

Located just a 1.5 hour bus/train ride away, Aqua World Oarai, Ibaraki is in easy reach from Tokyo. It takes just 1 hour 15 minutes to reach by car. 

Pingu Photo Spots

Enter the aquarium and you will find numerous Pingu-themed photo spots. Take a photo next to statues of Pingu and friends, or with an original design photo panel. This is the perfect place to create lots of good summer memories with your family or friends and take lots of fun pictures.

Chat with Pingu

You can also enjoy a fun conversation with Pingu by watching fun videos. Come play with the characters and enjoy their cute animations and unique voices. This venue is full of unique and fun experiences.

Uchiwa Fan Stamp Rally (Weekday-limited)

Explore the aquarium to locate the three stamp spots. There is a Pingu, Pinga and Robby stamp spot where you can collect your stamps to complete the picture on your uchiwa fan. Completing the picture on your fan will be as fun as completing a colouring book!

Running: Weekdays (Not running between August 13 ー 16)

※ This event will finish early if all Uchiwa fans are given away before the end of the event. 

Pingu Greeting

Pingu will visit the aquarium himself, so enjoy interacting with him!

Running: July 14, 15, 20, 21, 27, 28, August 3, 4 (8 days total).

Times: 11 am, 1:30 pm, 3:30 pm, (lasts approx. 30 mins).

Besides the above, there is so much Pingu-tastic fun to be had. Come create some special summer memories with Pingu at Aqua World Oarai, Ibaraki 

© 2019 The Pygos Group / (C)MATTEL, NHK, NEP, PPI

Information

Penguin tachi no fushigina sekai Pingu summer festival

(Pingu summer festival: Enter the curious world of penguins)

Running: July 13 ー September 1, 2019 

Location: Event space on floor 4 (4階企画展示室)

Aqua World Oarai, Ibaraki 

Address: 8252-3 Isohamacho, Oarai machi, Higashiibaraki District, Ibaraki

Website: http://www.aquaworld-oarai.com

Pingu Character Website: http://www.pingu.jp/

Goldfish Festival, Fireworks And Much More Family Fun at Aquamarine Fukushima

During the summer holiday period between July and September, Aquamarine Fukushima is holding a range of events and supporting children to learn about marine life independently. Come join in the festival fun with goldfish scooping games, quoits, and much more. There will also be a fair from August 11 to 15. 

Aquamarine Fukushima Rare Creatures Picture Book <Complete the pictures!>

Dates: July 13 ー September 1

Aquamarine Fukushima is displaying rare creatures and ecological systems. The children can write the name of the new creatures they discover in their own picture book. Once they have completed the picture book, it will be an original record of discoveries. As the children record the features of the animals and other organisms they discover, adults will also find this information beneficial when looking around the exhibitions. 

How to take part: Pick up an application form at the entranceway on floor 1 of the aquarium main building (Honkan). The answers will all be distributed in one place. (Subject to change).

Summer Aquamarine Fukushima: Children's Answer Room

Open: July 20 ー September 1 

Here, all the answers to the children's puzzles about Aquamarine life are presented in panels and explained in easy terms. Along with the picture book where the children can record interesting life forms, this is the perfect way to support independent exploration. 

Goldfish scooping and Fun Fair

You can purchase goldfish that were bred at the aquarium, or catch them yourself at the goldfish scooping area. There is also a games corner where you and your children can enjoy a range of fun activities such as quoits. 

The goldfish building, which just opened last year, will be bringing back its 60cm-large Goldfish Nebuta lantern. To raise spirits during Japan's O-bon lantern festival, the aquarium will be open for much longer so that a lantern event can be held in the evening. 

Iwaki Traditional Vegetable Marché

Open: August 17 ー 18 (11:00 ー 14:00)

Head to the Aquamarine Aguri located outside Aquamarine Fukushima to purchase everyday vegetables as well as Japanese vegetables that have been grown through the cooperation of Iwaki farmers and Iwaki city. The traditional Iwaki marché sells mainly traditional summer vegetables such as okuimo potatoes, yardlong beans, beefsteak plants, kojiroi cucumbers, and much more. From local vegetables to healthy goods, everything is produced at Aquamarine Fukushima. 

Iwaki Fireworks Festival 

Enjoy the sight of fireworks soaring through the sky before your very eyes from the Aquarium grounds. This large-scale fireworks event will run until 9 pm on August 3.

Running: August 11 ー 15 (8pm) . 

※ Last entries: Up to 1hr before closing time. 

Come visit Aquamarine Fukushima for a perfect fun-filled day with the family!

Information

Goldfish Display and Sales

Running: August 11 ー 12 (Monday, national holiday) 

Times: 10:00 ー15:00、16:30 ー19:00

Goldfish Scooping/ Fair

Running: August 11 ー 15

Times: 16:30 ー19:00

The goldfish scooping event will end once all fish have been caught.

Water Yo-Yo Fishing, Quoits, Fishing Games, Barbecue Skewers: ¥300 per turn.

 

Aquamarine Fukushima 

Address: Tatsumicho-50 Onahama, Iwaki, Fukushima

Official Website: https://www.aquamarine.or.jp/

Enoshima Aquarium's Summer Decor Designed by VELVETA DESIGN's Kimi Hasegawa

Kimi Hasegawa is a representative of VELVETA DESIGN, an interior design company. She has been put in charge of producing the decor and design of Enoshima Aquarium's upcoming summer event which is set to begin on July 13.

Hikaru no Enosui – Sagami Bay Great Fish Tanks – Day

Hikaru no Enosui – Ocean Encounters – Night

The theme of this event is "light" which will be presented in two forms: Day, which will run through the morning and afternoon, and Night which will begin at 4:00pm. Expect to see glowing jellyfish decorations, art pieces entitled Lace Fish which will be dotted around the aquarium and showcase sea creatures made from lace, and more. Visitors will be pulled into a delicately crafted illuminated underwater world of wonder.

The Lace Fish artwork will be lit up with a colourful show of vivid lights.

During the Night slot, the wireless LED light system FreFlow® will be use to illuminate the aquarium.

Visitors can also observe Sagami Bay and Enoshima from the Ocean Deck which is being refurbished for the event. Enjoy one of the glowing cocktails with someone special while gazing at the captivating nightscape of Enoshima.

Experience an aquarium like never before this summer at Enoshima Aquarium.

©VELVETA DESIGN 

Come see the new baby seal at Sunshine Aquarium! Aquarium turns to the public for name-choosing!

A mummy and baby Baikal seal can be seen at Sunshine Aquarium, Tokyo from Wednesday 15th May! From the same day, the aquarium will be accepting suggestions for a cute name for the baby seal!

Three weeks after birth, the baby seal started to lose its white baby fur. Now, its fur is completely ash grey! The baby has been weaned off milk and has started to eat fish, however, it is still craving all the attention! When the staff approach, the baby immediately starts to whine and quickly shuffles towards them. The staff stroke the baby's belly and after looking up at the staff happily, the baby often falls asleep!

The baby seal can be visited by the public from Wednesday 15th May and from the same day, the aquarium will start to take name suggestions from the public. The nickname will be announced on Thursday 13th June!

There is also a chance for you to get your hands on original goods and postcards to celebrate! Please take this opportunity to view these extremely precious Baikal seals and think of a lovely name while you're at it!

※After a month since birth, the baby will grow black fur and become an adult!

Information

Help the aquarium choose a name for the new baby Baikal seal!

Applications accepted: Weds 15/05 ー Sun 09/06

There will be a ceremony on Thursday 13th June to announce the baby's name. (subject to change)

Application procedure: The application box will be located at the exit of Sunshine Aquarium. Please write your name suggestion, the reason you chose it and then fill out the necessary information to complete your application. Only one name application can be made per person.  

Prizes: The top 10 names will be selected and those who chose the names will receive a selection of Baikal seal-themed goods. Out of all applicants, 50 will be randomly selected by lottery to receive Baikal seal poster which is approximately life-sized! Now that's the real seal!

※ B1-size poster prize.

Enjoy a dolphin show and projection mapping at Maxell Aqua Park, Shinagawa!

Maxell Aqua Park, Shinagawa will be running a special event called FLOWER AQUARIUM Directed BY NAKED ーBrand New Sea- from Saturday 27th April ー Sunday 7th July 2019.

 The main attraction of the event is the dolphin performances, which will be even more incredible as a new water fountain is going to be installed at the park. There will be different collaborations running during the day and night, creating an even more spectacular dolphin programme which crosses the boundaries of art!

During the day, there will be a collaboration with female vocal group Little Glee Monster, whose powerful and beautiful vocals and harmonies are worthy of note. The dolphin show will really come alive with the power of their music! The nighttime version features a collaboration with one of Japan's most creative companies called NAKED Inc., who will also be managing the water tank exhibition areas. Enjoy a show of multicoloured flowers blooming and sunlight glimmering through the trees with the 360-degree projection mapping show. The projection mapping is a fantastic representation of spring, and is further enhanced with the dolphins!

There will also be an exhibition zone dedicated to the water tanks, artwork and colourful projection mapping area. Allow yourself to be completely surrounded by butterflyfish, fluttering like butterflies through the water. Spot the colourful light reflecting off the jellyfish which look like beautiful flowers. Enjoy the relaxing view of a countless number of flowers as the picturesque view of the beginning of summer unfolds.

You can also grab a bite to eat at the cafe bar, which is serving up an original menu with a FLOWER AQUARIUM theme. Come enjoy a moment to yourself regardless of the weather. The cafe is indoors and is the perfect environment for you to enjoy the refreshing taste of the start of summer!

Other event contents include a penguin performance and a jellyfish exhibition which also uses projection mapping over a large area! As we're approaching the holidays, this is your chance to enjoy a magnificent world through the latest technology, so come on down to Maxell Aqua Park, Shinagawa!

Information

Dolphin performance

Times: 10:00 am onwards, (5 ー 6 shows, each lasting approx. 15 mins)
※ The schedule of events running during this event period is subject to change.

 

Maxell Aqua Park, Shinagawa.  

Address: 4 Chome-10-30 Takanawa, Minato City, Tokyo (Inside Shinagawa Prince Hotel)

Entry prices:

Individual:¥2,200 (adults/ high school students+), ¥1,200 (elementary/middle school students), ¥700 (kindergarten)

Year-long passport ¥4,200 (adults/ high school students+), ¥2,300 (elementary/middle school students), ¥1,300 (kindergarten) 

※ There are two event attractions. Each costs ¥500 to attend once. 

 

Event period: Saturday 27th April ー Sunday 7th July 2019.
Saturday 27th April ー Monday 6th May (8:30 ー 22:00)
Tuesday 7th May ー ー Sunday 7th July (10:00 ー 22:00)
※ Last entries accepted up to 1 hour before closing time.

TEL:03-5421-1111 (directory) 

 

Maxell Aqua Park, Shinagawa official website: www.aqua-park.jp

Exhibition of Bizarre Creatures to be Held at Sunshine Aquarium in 2019

Sunshine Aquarium in Ikebukuro, Tokyo is set to host its third Hen na Ikimono Ten ('Exhibition of Strange Living Creatures') from March 30 to early July next year in collaboration with Ikuo Hayakawa, author of the best-selling book Hen na Ikimono. The first and second exhibitions brought in close to 200,000 people.

The exhibition will feature a line-up of odd-looking animals with detailed audio commentaries from Ikuo Hayakawa himself to create an experience that will feel like you are immersed in the book.

Some of the creatures on display include the Peters' elephantnose fish which has a chin like that of an elephant's trunk, the Armadillo girdled lizard which puts its tail in its mouth and rolls up into a ball when it feels threatened, and the spindly, spider-like arrow crab. More creatures are scheduled to be announced in the near future.

If you're a fan of weird and wacky wildlife then don't miss out on this special exhibition.

Information

Sunshine Aquarium x Ikuo Hayakawa 3rd 'Hen na Ikimono' Exhibition

Running: March 20, 2019 – Early July 2019

Location: Sunshine Aquarium

Price: ¥600

*Priced at ¥400 for users of the aquarium or observation deck and yearly pass holders.

 

Sunshine Aquarium

Address: 3-1-3 Higashiikebukuro, World Import Mart Bldg. Rooftop, Toshima Ward, Tokyo

Opening Hours:

Now until March 20, 2019 – 10:00-18:00

From March 21, 2019 – 10:00-21:00

Price: Adults (High School Students and Above) ¥2,200 / Children (Elementary & Middle School Students) ¥1,200 / Infants (4+ years) ¥700

TEL: 03-3989-3466

Official Website: http://www.sunshinecity.co.jp

Anime Tourism 88 Adds the Yamamoto Nizo Museum to its List of Must-Visit Anime Sites

Anime Tourism 88 is a website for anime fans around the world that works with the anime industry and officials around the country. The site has just added the Yamamoto Nizo Museum in Goto, Nagasaki to the 2019 edition of its must-visit locations associated with anime.

The museum is a celebration of Japanese art director Nizo Yamamoto who is best known for his work with Studio Ghibli. The films he has worked on include Laputa: Castle in the Sky (1986), Grave of the Fireflies (1988), Princess Mononoke (1997) and even Madhouse's The Girl Who Leapt Through Time (2006). Visitors at the museum can expect to see background illustrations from his works, original pieces drawn from the establishment and more. The building itself is a renovated samurai house that was built during the Edo period in 1863.

Yamamoto himself grew up surrounded by the immense natural environment of Goto. If you visit Nagasaki, be sure to visit the museum dedicated to him.

Information

Yamamoto Nizo Museum

Address: 2 Chome-2-7 Bukeyashiki, Goto, Nagasaki Prefecture

Opening Hours: 9:00-18:00

Closed: Mondays (And New Year Holidays – December 29~January 3)
Access: 10 minutes by car from Fukue Airport / 2-minutes by bus from Zenkyouji (善教寺前) bus stop / 10-minutes on foot from Fukue Port

TEL: 0959-76-3923

Entry Price

Single: Adults ¥400 / Elementary~High School Students ¥200

Group (5 or more): Adults ¥320 / Elementary~High School Students ¥160
*Student residents of Goto can enter for ¥100.
*Free entry for infants.

Yamamoto Nizo Museum Official Website: https://www.goto-yamamoto-nizo-museum.com/

Anime Tourism 88 Official Website: https://animetourism88.com/en

Japan's Top 10 Instagram-Worthy Locations

Snaplace is a website that analyses posts on social media they they deem 'Instagrammable.' They have close to 6,000 spots listed on their website, and they have selected the very best from their data this year to make two Top 10 lists for 2018 – one for Instagram and one for Twitter.

Instagram Top 10


1st Place: Yasaka Kōshin-dō (Kyoto, Kyoto Prefecture)
Coming in at No. 1 is Yasaka Kōshin-dō, a small temple in Kyoto dedicated to Shomen Kongo, a guardian warrior, and three wise monkeys. The temple is known by locals for the colourful cloth balls that decorate the site called "kukurizaru" on which worshippers write their wishes and hang them. There is a rental kimono place close to this temple, making it the perfect spot to snap some photos.

2nd Place: Kawagoe Hikawa Shrine (Kawagoe, Saitama)
Kawagoe Hikawa Shrine is a popular spot with Japanese women for being a shrine of love. There, you can get your hands on special charms and fortunes based on the East Asian concept of the 'red string of fate' which binds together two people destined to meet. There's a stylish cafe and in summer they set up a corridor of wind chimes as shown in the photo. There's lots of places to take pictures here.

3rd Place: BE KOBE (Kobe, Hyogo)
The "BE KOBE" sign was built in April 2017 and was seen much across student social media during its first year. You can see lots of high school students take photos here on school trips to Kobe from October to March. This spot was initially popular with just students but its recognition began to spread amongst the masses and today taking a picture there is a must-do when visiting Kobe. On a busy day you can be waiting over 30 minutes to get one.

4th Place: La Collina (Omihachiman, Shiga)
La Collina is a confectionery factory that sells a range of exclusive sweets and confections including baumkuchen. This cute place looks like something out of a fairy tale and is noted for its post-worthy treats and chic, otherworldly architecture. Its spread on social media came from the fact that the building can easily make it look like you've been transported to another world. It has a real Studio Ghibli vibe to it with its grassy roof and surrounding natural environment.

5th Place: Sakushima (Nishio, Aichi)
6th Place: 21st Century Museum of Contemporary Art (Kanazawa, Ishikawa)
7th Place: Sarushima (Yokosuka, Kanagawa)
8th Place: Sankoinari Shrine (Inuyama, Aichi)
9th Place: Site Of Reversible Destiny (Yoro, Gifu)
10th Place: Shima Mediterranean Village (Shima, Mie)

Twitter Top 10

1st Place: Ōkunoshima (Takehara, Hiroshima)
Ōkunoshima is sometimes called "Poison Gas Island" for its role in World War II as a poison gas factory. But it is more known for being called "Rabbit Island" due to the number of feral rabbits living there. Around 700 roam the island, so it's become a popular spot for taking photos.

2nd Place: Fukui Prefectural Dinosaur Museum (Katsuyama, Fukui)
This museum is the biggest dinosaur museum in Japan and is renowned across Asia for its dinosaur fossil and specimen display. The gigantic realistic dinosaur models have hit it big on Japanese social media.

3rd Place: Ushiku Daibutsu (Ushiki, Ibaraki)
Ushiku Daibutsu was originally the tallest statue in the world from 1993-2002, even making it into the Guinness World Records. As of 2018 it is now one of the five tallest statues in the world. A photo of this Buddha looks like something from another world which led to its surging popularity on social media.

4th Place: Yasui Konpiragu Shrine (Kyoto, Kyoto Prefecture)
The Yasui Konpiragu Shrine is home to a large stone which is associated with binding good relationships tighter and severing bad ones. You first write your wishes on a piece of paper. If you want to initiate a good relationship then you must crawl through the hole in the stone from front to back while holding the paper. To end a bad relationship you crawl from back to front. The ritual is completed by sticking the paper onto the stone.

5th Place: Shimizu Koen (Noda, Chiba)
6th Place: Sand Museum (Tottori, Tottori Prefecture)
7th Place: Mikane-Jinja Shrine (Kyoto, Kyoto Prefecture)
8th Place: Nanzo-in (Kasuya District, Fukuoka)
9th  Place: North Safari Sapporo (Sappoto, Hokkaido)
10th  Place: Momotaro Shrine (Inuyama, Aichi)

Use this list as reference when in Japan to get the very best photos for showing off your trip!

Fantastical Aquarium Arriving to Kyocera Dome Osaka on July 28

An aquarium themed event is making its way to Sky Hall of Kyocera Dome Osaka's Sky Hall on July 28 and will run to August 26 during which people can enjoy watching a captivating show of fish inside lit-up tanks.

Expect to see goldfish as well as a range of freshwater fish like the Japanese rice fish. Photography is also allowed so you can take plenty of great photos in the magical, vibrant worlds of the fish.

The Sketch Aquarium which was popular last year is making a reappearance in the form of a huge 10 meter screen. There will also be an insect corner with rhinoceros beetles and stag beetles which are popular with Japanese kids.

Experience a wondrous artistic world created by a variety of fish species.

■Information

Aquarium in Kyocera Dome Osaka Sky Hall

Running: July 28, 2018 – August 26 ,2018

Time: 11:00am-7:00pm (Last Entries 6:30pm)

Location Sky Hall, Kyocera Dome Osaka 9F (3-2-1 Chiyozaki, Nishi-ku, Osaka)

TEL: 06-6586-0106 (9:00am-6:00pm)

Tickets: Available same-day only

Entry Price: Adults ¥600 / Children ¥400

*Those aged 3 and under permitted free entry. One child per adult.

*Paper for the Sketch Aquarium costs ¥100.

Website: http://aqua-kyocera.com/

BOOK & CAFE: Nagasaki Prefecture's Best Bookstore & Cafe Fusion

Tsutaya Bookstore Mirai Nagasaki Cocowalk is a new bookshop and cafe combination that opened on July 20 in Nagasaki Prefecture which people of all ages can enjoy.

There are 200 seats at the book and cafe space that are as comfortable as if you were in your home living room. Order a delicious cup of coffee and choose some reading material from a selection of different books, or gaze the townscape of Nagasaki from the window.

There are counter seats filled with books on travelling and sofas to relax on too.

Fashion concierge Yoshitsugu Naoyasu of Ropponmatsu Tsutaya Book Store decked out the shop with a selection of high quality tools and items from Nagasaki to give it that lifestyle vibe.

The 2500m²+ sales floor includes a food corner as well as a space for artists and creators to perform and give talks. There's also workshops and an art exhibition.

There's also a kid's area where they can enjoy reading picture books aloud and where there's a range of classic children's stories that adults will find nostalgic to rediscover. The area has board games too.

Enjoy books in a new and exciting way at Tsutaya Bookstore Mirai Nagasaki Cocowalk.

UNESCO Adds Nagasaki's 'Hidden Christian Sites' to World Heritage List

The 'Hidden Christian Sites in the Nagasaki Region' was officially added to UNESCO's World Heritage list on June 30. The decision was made at the 42nd Session of the World Heritage Committee which was held in Bahrain. This is the 18th location in Japan to feature on the list.

Over 2,000 people attended the public viewing of the announcement. The moment the official registration was declared, the people gathered at the event all cheered.

The Hidden Christian Sites are twelve sites in the Nagasaki and Amakusa regions which serve as evidence of a history of Christianity in Japan during its time of prohibition from the 17th to the 19th century. They tell us about how the hidden Christians existed in society, their connection to relgion and their faith, as well as how their traditional religious beliefs changed once the prohibition was lifted.

Japanese musician Masaharu Fukuyama gave the statement below regarding the decision to add the sites to the list. Fukuyama was appointed as the navigator of the Nagasaki Prefecture Blue Islands Project in February 6 this year. Since then, he has been involved in every project as a creative producer. He stated that he wants to know more about islands and so was invited to Nagasaki at the beginning of May. He also visited the settlements on Hisaka Island, one of the Goto Islands.

Masaharu Fukuyama's Comments:

"Congratulations on the 'Hidden Christian Sites in the Nagasaki Region' being registered on the World Heritage list. By knowing about Nagasaki's long history, it will allow peace for humanity in the future. Perhaps that was the reason behind this World Heritage registration."

Lots of related events and exhibitions are set to be held in Nagasaki Prefecture in connection with the decision.