Felissimo's Cute Rabbit Item Collection―New Rabbit Themed Products Every Month
Felissimo dropped its new rabbit product collection on February 22 from its YOU+MORE! brand. All the items in this miscellaneous collection are drawn by rabbit illustrator Shirato Akiko. The collection will run for an entire year during which a new product will be released each month.
From a tote bag to a purse and more, all of these Felissimo-originals can be incorporated into your daily life
Canvas Tote Bag
Made from canvas fabric and featuring a relaxed chestnut colour, this tote bag has a natural taste to it. Its A4 size makes it convenient for popping out to the shops or as an additional bag for work.
Pouch
The perfect choice for on trips or if you need a place for your bits and bobs. It features an illustration of a cute grey Dutch rabbit with twinkling eyes.
Die Cut Cushion
This adorable orange rabbit cushion is on the small side, is soft to touch, and will have you picking it up without even thinking about it.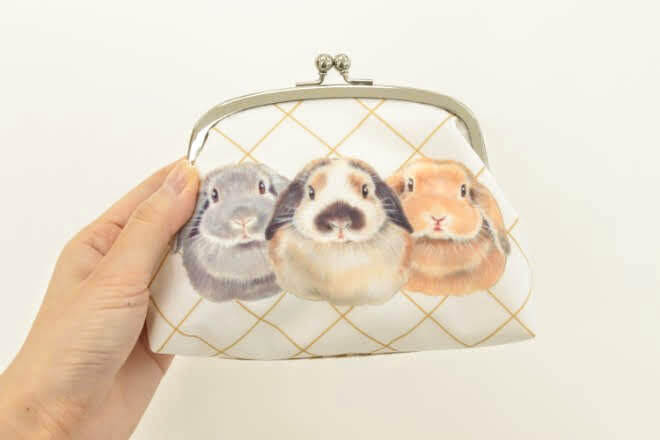 Coin Purse
Carry these three floppy bunnies and your coins with you everyday with this coin purse. It's also the perfect size for storing small makeup items.
Cup With Lid
Perfect for the winter season and cold weather for keeping your tea or coffee warm. The lid can also be used as a place to put sweets, snacks or biscuits while you drink too.
There are many more products to come too, so if you love rabbits or know a rabbit lover then don't miss out!
Information
YOU+MORE! Shirato Akiko's Rabbit Collection
Price: ¥1,500 (+8% tax = ¥1,620) *1 new product every month
・Details: One product illustrated by Shirato Akiko
・Materials: Different for each product
・Sizes: : Different for each product
・One product to be sold every month over the period of 12 months.
Product Details: https://feli.jp/s/pr190308/2/
RELATED ENTRIES
Felissimo's Cat Club Collaborates with f winery for Special Event

Felissimo's small-scale urban winery f winery is teaming up with Cat Club! From August 11 until September 25, guests can enjoy three original wines, chocolates, bread, and other unique merchandise featuring everyone's favorite kitties. This is the first collaboration between the portside winery and the popular cat collection.

Collaboration Products

Brown-and-White Sailor Cat (Cabernet Sauvignon & Merlot)


Tuxedo Sailor Cat (Sauvignon Blanc)


Grey Tabby Passenger Cat (Japanese Muscat Berry A)

Orange and Bitter Chocolate / Coffee and Bitter Chocolate / Matcha Chocolate

Collab Menu


Chocolate Plate with Wine (Example)


Blue Sky White Wine Jelly / Morning Sunrise Orange Jelly / Evening Sunset Red Wine Jelly

Chocolate Latte / Tea Latte / Tea Soda

The collaborative menu with Cat Club Parlor includes a wine set and a lineup of non-alcoholic drinks that everyone can enjoy. The original label wines will be available on the Felissimo website starting August 18, and one percent of the proceeds will be donated to the company's foundation supporting dogs and cats and helping them to find foster homes, as well to prevent cat overpopulation. 

Be sure to check out these adorable products–they'll make great gifts!

Felissimo Releases Parakeet-Shaped Marshmallows to Support Small Bird Conservation Efforts

Felissimo's 'Little Bird Club' has unveiled a new collection of mini Japanese-style marshmallows! These tasty treats, flavored with chocolate and Anko (red bean paste) are available to order online. 

Mini Japanese-style Parakeet Marshmallows Round 2 (Chocolate Anko)

Mini Japanese-style Parakeet Marshmallows Round 2 (Chocolate Anko)

These adorable sweets were a smash hit during their first release, and this new collection features a variety of colorful parakeets certain to delight bird lovers. Its cute packaging makes it a perfect gift, and there's no doubt that these sweets will be a hit on social media. A portion of the sales will be donated to the Felissimo Little Bird Fund, which supports bird conservation activities.

Felissimo's KAWAII COMPANY to Sell Colorful Miwa Soumen Noodles for a Limited Time

In late 2020, Felissimo teamed up with the 'King of Kawaii' Sebastian Masuda to create KAWAII COMPANY, a project selling adorable original items. The company is now teaming up with Ikeri, a long-running Miwa Soumen shop in Nara, to create some colorful noodles to enjoy this summer. Five colors will be available, and these noodles can be purchased online until September 30, 2022. 

The Kawaii Soumen box includes five scents and flavors of noodle–purple sweet potato, plum, Kabosu, Blue Beefsteak Plant, and plain. The adorable box is also reusable!

Ikeri has been selling soumen in Nara for over 170 years. This new collaboration aims to introduce more 'kawaii' into traditional pieces of Japanese culture. Ikeri's thin soumen noodles are made by hand one by one and shine like jewels when boiled.

Customers are welcome to try different arrangements with these gorgeous noodles. These are the perfect summer gift for adults who love tasty food, tradition, and appearance! The wooden box is handmade by craftsmen in Nara Prefecture.

How would you like to not only eat these tasty noodles but post them all over social media?

Felissimo Nekobu Teams Up with Akihabara Nagomido for Limited Time Cat-themed Cafe

Romantic Taisho-style cafe Akihabara Nagomido and Felissimo's Nekobe, a company that loves all things to do with cats, are teaming up for a collaboration cafe! Open until March 20, guests will be greeted at the door by an original cat illustration by Arisa Shimoda, a popular illustrator for Nekobe. Enjoy a special photo spot and a collaboration coffee shop menu complete with cat-themed dishes. Exclusive merchandise will be on sale at the goods corner and online, and 1% of all proceeds will be donated to a charity finding forever homes for cats and dogs. 

Collaboration Menu

Swordfish Tuna Steak Cutlet

Catwalk Tiramisu

Hide and Seek with Fluffy Cream! Mini Cat Parfait

Flying Fish?! Kitty Soda

Cafe Latte with Cat Design

Yoshino-chan's Anmitsu with Marshmallows

Akihabara Nagomido Limited-Edition Collaboration Merchandise

Chocolate Rusk

Sweets in Tin

Sugar Cats

Japanese-style Marshmallow

Yoshino-chan, a tortoiseshell cat wearing a lovely kimono against a backdrop of Taisho-era stained glass, was created by Arisa Shimoda, a well-known illustrator.

Which of these dishes would you order?

Information

Akihabara Nagomido x Nekobu Parlor
Running until March 20, 2022
Open 24 Hours

Food Available from 11:00 – 20:00 (Last Food Order at 19:00 / Last Drink Order at 19:30) *Seating limited to 90 minutes when busy.
Address: Akihabara Nagomido, Sakai Suehiro Building B1F (6-14-2, Sotokanda, Chiyoda-ku, Tokyo)
Official Site: https://nagomi-cafe.com/

Tottori Prefecture's White Rabbit of Inaba Wins Top Prize in Japan's Indie Souvenir Contest

From July 29 to August 11, over 320,000 people from around Japan voted for their favorite lesser-known local souvenir. Sponsored by Japanese e-commerce site Mercari, the contest highlighted 47 unique goods from around the country, one for each prefecture. The winners have been announced, and the White Rabbit of Inaba from Tottori Prefecture has won first place, receiving more than 60,000 votes.

A music video-style web commercial featuring the winning product is now being produced to support the shop and particular region of Tottori. The music will be performed by electro-pop group Frasco.

In Japan, the rabbit is known for bringing good fortune, and has been a beloved symbol since ancient times.  The white rabbit in particular, featured in the local Izumo myth 'The White Rabbit of Inaba,' plays a major role in connecting the characters Onamuchi-no-kami and Princess Yakami. In 1968, the famous confectionery 'White Rabbit of Inaba' was created in the hopes of bringing good luck to those visiting the area.

Much like how an indie music group has a small group of hardcore fans but may not be well-known outside of small circles, these indie souvenirs are popular with locals, but may not be known to those outside the community. On the official website, fans can see their favorite treats displayed on what looks like album covers as an homage to this fitting comparison.

On social media, there was incredible support for the project from all kinds of people: those who made the souvenirs in the first place, those who love their local area, and those who were seeing these treats for the first time and dying to try them.

Which of the 47 souvenirs would you be most happy to receive?

Sebastian Masuda and Felissimo Release Kawaii Multicoloured Miwa Soumen Noodles

Felissimo and Sebastian Masuda's cute and happy KAWAII COMPANY project released a new collection of multicoloured soumen noodles at Senjutei Somen Chaya on July 11 which are available for a limited time until August 31. The colours of the noodles are naturally-derived.

KAWAII COMPANY 5 Kawaii Soumen Noodles | 1 Set = ¥2,420 (Tax Included)

Digital Catalogue

The cute Miwa soumen noodles are made by Ikeri, a long-standing shop that was established in Nara over 170 years ago. Each noodle colour signifies a different colour: Japanese purple sweet potato, plum, kabosu citrus, beefsteak, and plain. The noodles are packaged in a wooden box featuring KAWAII COMPANY's key visual designed by Sebastian Masuda along with golf leaf.

The noodles aren't designed just to look cute – they are authentic in flavour and in how they are made with traditional Japanese techniques.

Felissimo's Summer 2021 Hair Turbans Are Made Using Traditional Japanese Banshu-Ori Weaving

As part of Felissimo's "Japanese Craftsman Project," the fashion retailer released a new collection of jacquard hair turbans in collaboration with POLS, a textile brand based in Nishiwaki, Hyogo.

Green x Brown – Pink x Brown – Light Grey x Orange – Sky Blue x Yellow | ¥4,800 Each (Before Tax)

The hair turbans are made using a traditional Japanese weaving technique called banshu-ori whereby threads are dyed before they are woven, allowing for items to maintain their colour for much longer.

POLS is a textile company that uses a jacquard loom to create designs brimming with originality. The hair turban collection features colours that aren't over the top so can be enjoyed by anyone and everyone. They are also a great item for doing your hair and makeup while working remotely and add a little something to your look if you're in a situation when you need to wear a mask.

USGMEN x Village Vanguard Clothing Collection Releases

The popular Japanese LINE sticker character series USGMEN is now taking orders for a new collection of merchandise on Village Vanguard for a limited time. The collection dropped on March 13.

The Line-Up

USGMEN White T-Shirt | Medium, Large | ¥4,180 (Tax Included)

USGMEN Yellow T-Shirt | Medium, Large | ¥4,180 (Tax Included)

USGMEN Black Suuetto T-Shirt | Medium, Large | ¥5,830 (Tax Included)

USGMEN Hoodie | Medium, Large | ¥6,380 (Tax Included)

USGMEN Cap | ¥3,630 (Tax Included)

USGMEN Face Mask | ¥1,430 (Tax Included)

USGMEN Clear Pencil Case | ¥2,200 (Tax Included)

USGMEN – Usagi & Same Acrylic Key Rings | ¥770 Each (Tax Included)

USGMEN Tote Bag | ¥2,530 (Tax Included)

USGMEN Sacoche | ¥2,420 (Tax Included)

©︎うさぎメン

Sebastian Masuda x Felissimo Launch KAWAII COMPANY

Felissimo and Sebastian Masuda have collaborated to launch the all-new KAWAII COMPANY.

KAWAII COMPANY opened its website on November 16, 2020. It is a project for those who love the kawaii side of life, aiming to add spice to everyday normality and expand everyone's inner-kawaii. KAWAII COMPANY's website will house a whole range of original items, such as the "Roomy Monster" outfit which lets you transform into a colourful monster.

Roomy Monster | ¥12,000 (Before Tax)

With many people working from home now, online meetings are the new norm, which can be a stress for a lot of us. But KAWAII COMPANY has come up with a way to bring smiles to fellow colleagues with their "Roomy Monster" outfit which is sure to elicit surprise and smiles when everyone sees a colourful monster on the webcam. The design is inspired by a monster that Sebastian Masuda conceived as a child, and now the colourful and fluffy beast has come to life.

Monster Multi Pouch | ¥3,400 (Before Tax)


This monster multi pouch is like a plush toy, featuring fluffy fur, colourful hair, sparkly eyes, and a flowing, frilly dress. Its enormous mouth is closed with a zip which when opened reveals a place for storing all your bits and bobs.

Mini Eco Bag | ¥1,500 (Before Tax)

These colourfully kawaii eco-bags may only be 19cm long they're more reliable than they look. They can be wrapped up small for easy storage and unravelled for when you need to do a bit of shopping.

Double Gauze Mask | ¥1,600 (Before Tax)


Anti-bacterial Mask Case (Set of 3) | ¥1,400 (Before Tax)


Add some fun to your routine face mask wearing with a super cute mask and mask case for storage. They're not just for show either – made with double gauze, the material is of high quality and feels soft on the face. The masks are pleated and so curve to fit the face nice and snug. The cases are also made so that they are anti-bacterial, keeping your mask hygienic.

Kawaii Tansan Senbei (5 Included) | ¥2,000 (Before Tax)


The Kawaii Tansan Senbei is the first entry to the KAWAII TANBO series in which items that KAWAII COMPANY discover while travelling Japan are made into 'kawaii versions.' These senbei rice crackers are light, crunchy, and have great flavour. They are tinned and wrapped in cute packaging too making for a perfect gift.

Discover and enhance your love of kawaii with Sebastian Masuda's new project.

Colourful Yukata and Jinbei Collaboration Launches by Subikiawa and Felissimo

Felissimo has joined hands with popular Kyoto-based store Subikiawa to launch a new collaborative series of items. They are now available to purchase via Felissimo's official website.

Who are Subikiawa?

Subikiawa is a tableware store known to all in Kyoto that's open around three days a month. "Tabletop Circus" is the theme of their hand drawn tableware series which is mainly centred around glassware. Subikiawa first began their collaboration series with Felissimo back in 2016. Since then, they have teamed up to make yukata, jinbei, pyjamas, clothes, and moreーall with Subikiawa's cute illustrative designs.

The new yukata and jinbei they have developed for this summer features a colourful underwater theme with various fishes, pebbles, and water plants.


Kyoto Subikiawa Shokki to Tsukutta Suichu Dance Yukata – ¥5,500 (Before Tax)

Kyoto Subikiawa Shokki to Tsukutta Suichu Dance Yukata (Women's) – ¥7,300 (Before Tax)

The collection features yukata and jinbei made with designs so that parents and kids can dress up together. The clothes are made from 100% slub cotton yarn, giving them a nice feeling against the skin. The waist is also fitted with string so that even beginners to yukata can tie them easily.


Kyoto Subikiawa Shokki to Tsukutta Nail Seals (1 Set) – ¥1,400 (Before Tax)

Kyoto Subikiawa Shokki to Tsukutta Suichu Dance Bib Kit (1 Set) – ¥2,800 (Before Tax)

The new collection also includes nail seals to make your fingertips bright and beautiful, as well as an embroidery kit to make your own cute bibーthis is part of Felissimo's brand Couturier. The bib is soft and made using 100% Banshu-ori cotton fabric. Banshu-ori is a fabric from Hyogo Prefecture. The cotton is also dyed before being woven so the colour won't fade as quickly when washed.

Beautiful Jellyfish Umbrellas Designed by Kamo Aquarium Will Keep You Dry

YOU+MORE!, a brand of humorous merchandise and accessories developed by Felissimo, has teamed up with the famous Kamo Aquarium to release a series of jellyfish umbrellas.

The intricate umbrella designs were developed in cooperation with the staff at Kamo Aquarium's Jellyfish Dream House. Three different kinds of jellyfish were used as inspiration for the umbrellas.

Moon Jelly Umbrella

YOU+MORE! Moon Jelly Umbrella – ¥1,600

Moon jellyfish are perhaps one of the most popular kinds of jellyfish out there. What may be the most striking part of this umbrella is the colour gradation which gives it a transparent effect. The edges of the umbrella are also curved, giving it a delicate silhouette and making it look even more like the real things.

The umbrella's frames are built strong, and the material of the umbrella itself is a white glass fibre which serves not only to mimic the colour of a moon jelly, but so that you can still see through it too. (As a side note, all three of the umbrella designs are made from glass fibre.)

Northern Sea Nettle Umbrella

YOU+MORE! Northern Sea Nettle Umbrella – ¥1,600

Like the northern sea nettle itself, this umbrella features a dome shape and incorporates a stripe design. A northern sea nettle has 16 stripes, and so that many were added to the umbrella. The jellyfish staff at the aquarium praised this one as the most realistic.

Spotted Jelly

YOU+MORE! Spotted Jelly Umbrella – ¥1,600

Like the northern sea nettle, the spotted jelly too as a cute dome-shaped body. If someone who has never seen one of these jellyfish umbrellas before sees this design, they'll think of it as just having cute spotted design. However, a jellyfish enthusiast is sure to get excited as the sight of this one with its details like its orange colour and the dots around the edges.

Kamo Aquarium will begin selling limited edition versions from the end of June this year which come with an ephyra charmーthat's the name for a baby jellyfish. The aquarium is currently closed until May 6 due to the coronavirus. The latest updates can be found on their official website.

Cute New Doraemon Merchandise From Felissimo Can Be Enjoyed By Adults Too

Felissimo launched online pre-orders for its new line of 12 Doraemon themed items on February 20, 2020. Doraemon is a symbol of Japanーa national treasure that continues to be be adored by kids and adults alike around the country.

The collection is centred around everyday practical items that can even be enjoyed nonchalantly by grown-ups.

Doraemon Laundry Net Set – ¥1,400 (Before Tax)

There are four in this collection of laundry nets, big and small. Designs include "Mini Doraemon," "Memory Bread," "Anywhere Door," and "Dress-Up Camera."

Doraemon & Nobita-kun Slippers – ¥2,100 (Before Tax)

 Doraemon and Nobita-kun features on this collection of slippers. There are four designs, with the tops being made from corduroy, and all with beautiful colours.

Doraemon Pull Pass Case – ¥2,300 (Before Tax)

These three pass cases all have Doraemon designs and come with a pullable elastic string. Each has its own classy one tone colour. Perfect for storing small items and heading out.

Doraemon Smartphone Cases – ¥2,900 (Before Tax)

The three cute smartphone cases come in chic colours and designs, with an additional colour inside for the four card pockets.

Doraemon Plastic Bottle Towels – ¥950 (Before Tax)

Decorate your drinking bottle with one of these four cute Doraemon bottle towels, all with a cute tail. They can be used for other things like deodorant too.

Doraemon Zipper Bag Set – ¥800 (Before Tax)

Keep your food stored and safe in an adorable Doraemon zipper bag, whether it be snacks or ingredients. They're perfect for giving gifts in too.

Doraemon Nail Seals <Basic> – ¥1,450 (Before Tax)

Glam up with some cute Doraemon nail seals, ranging from natural colours to gold leaf and more, which can cater to a variety of different situations.

Doraemon Embroidered Pouches – ¥3,000 (Before Tax)

These kits embroidery equipment to make your own Doraemon-design pouch. Make the pouch, attach the fastener, and you've got yourself a place to store your items.