Cherry Blossom Sweets Fair Blooms at Daimaru Tokyo
The hanami season is almost here! Hanami is one of the main ways of enjoying spring in Japan, but don't forget about all of the seasonal, cherry blossom themed treats being sold specially for this spring time. Why not head to a cafe to see what seasonal goodies they have this year?
Over at Daimaru Tokyo they are having a cherry blossom sweets fair from March 15 to April 9. Let's take a look at new desserts at 7 cafes in the department store.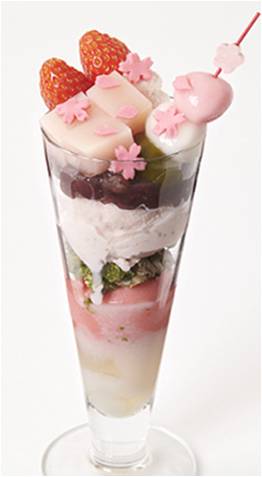 Sakura Doki: ¥1,533 @ Saryo Tsujiri (Floor 10F)
A new experiment this season, the Sakura Dokri is a parfait made with non-alcoholic sweet sake. Spoon into cherry blossom flavoured sweet sake jelly, cherry blossom iced cream, strawberry sherbet, dango and more. This is spring and sakura in a cup!
Blue Afternoon Tea Fragola for 2: ¥5,600 @ THE CAMPANELLA CAFE (Floor 4F)
The hugely popular Blue Afternoon Tea Set of THE CAMPANELLA CAFE is turning pink for this spring season only.
Cherry Blossom & Strawberry White Crepe: ¥1,944 @ Sembikiya Fruit Parlour (Floor 3F)
A beautiful offering of cherry blossom bean paste and Japanese strawberries served onto a crepe with cherry blossom-fragranced white chocolate sauce and strawberry ice cream.
Classic Pancake Strawberry Fall: ¥780 @ Tully's Coffee (Floor 4F)
These pancakes are loaded with strawberry sauce and drizzled in condensed milk.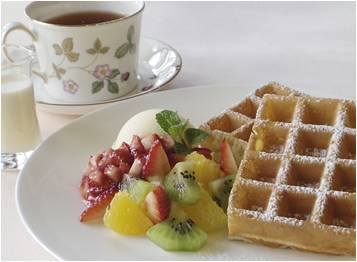 Fruit Waffle: ¥1,080 (w/ drink ¥1,404) @ Cafe Eikokuka (Floor 7F)
Strawberries, kiwi and other colourful fruits bring spring to these deliciously fried waffles.
Cherry Blossom Anmitsu (w/ drink): ¥1,400 @ INODA COFFEE (Floor 8F)
This anmitsu―or syrup-covered anko bean jam―has been updated for spring with a cherry blossom flavour.
Printanier: ¥864 (w/ drink ¥1,404) @ BURDIGALA CAFE  (Floor 5F)
This printanier is a cake made with cherry blossom and mascarpone cream and a pistachio mousse.
Don't miss this sakura sweets this spring at Daimaru Tokyo!
Information
Sakura Sweets Fair
Running: March 15, 2019 – April 9, 2019
Daimaru Tokyo
Address: 1-9-1 Marunouchi, Chiyoda Ward, Tokyo
TEL: 03-3212-8011
Official Website: https://www.daimaru.co.jp/tokyo/
RELATED ENTRIES
OIMON: The New Local Kagoshima Sweets Brand Established by BAKE

BAKE Inc., a confectionery company that manages the freshly-baked cheese tart chain BAKE CHEESE TART and cream puff chain CROQUANTCHOU ZAKUZAKU, has announced the launching of a new brand.

Named "OIMON," the brand will specialise in creating sweets made from local sweet potatoes, with the first branch opening at the new Gohobi Street zone inside Amu Plaza Kagoshima, a shopping complex connected directly to the JR side of Kagoshima-Chūō Station, on March 13, 2020.

What is OIMON?

OIMON is a new shop specialising in sweet potato confectionery whose concept is "Tradition x Innovation." Its first branch is opening in Kagoshima, a prefecture that produces sweet potatoes and shochu from its warm climate. These traditional ingredients and methods will be combined with both Kagoshima's contemporary food and food culture and BAKE Inc.'s design, flavours and preparation methods to create a new kind of local Kagoshima confectionery

Sweet potato cakes aplenty with Kagoshima flavour

Freshly-Baked Mini Mikan Sweet Potato Cake: Single Serving – ¥237 / Box of 5 – ¥1,188 / Box of 10 – ¥2,376 (Tax Included)

Freshly prepared in-store, you can pick from a single serving as well as a box of 5 or 10. The mini sweet potato cakes are inspired by gane, something taken from traditional Kagoshima cuisine. Gane refers to julienned sweet potatoes, but it also means "crab" in the Kagoshima dialect because the way it's cut looks like a crab. The sliced sweet potatoes are wrapped and baked in a sweet potato paste to bite-size pieces.

The cakes are also soaked in caramel sauce, and their surface lathered in "Kosama Gin," a craft gin made using lots of mikan oranges grown on Sakurajima in Kagoshima. Enjoy the delicious milky taste of the caramel coupled with the crunchy gane texture. The sweet potato paste is laced with powder made from the mikan oranges, adding a fresh and fruity flavour.

OIMON will promote Kagoshima to the rest of Japan

The brand colouring is a mix of beige and pink, reminiscent of Japanese sweet potatoes. OIMON went for a minimalist design to convey the simplicity of sweet potatoes. The logo is made up of round slices, also like round slices of sweet potato. The entire design conveys the fact that this is something from and exclusive to Kagoshima.

Information

OIMON

Grand Opening: March 13, 2020

Address: Amu Plaza Kagoshima Main Building 2F, 1-1 Chuocho, Kagoshima, Kagoshima Prefecture

Opening Hours: [Mon-Thurs] 10:00-20:30 / [Fri-Sun, Holidays & Day Before Holidays] 10:00-21:00

TEL: 099-210-5695 

Official Website: https://oimon.jp

Japanese Hanami 2020: Soak Up the Pink Springtime Cherry Blossoms at Hoshino Resorts KAI

KAI, a hot spring ryokan brand managed by Hoshino Resorts, has announced an exciting new experience at 14 of its branches called "Otsu na Hanami Tabi" (A Chic Flower-Viewing Trip) which will run from March 15, 2020 to May 31, 2020.

The service offers a new kind of Hanami, or flower-viewing, experience for guests that doesn't stop at just admiring the cherry blossoms, but enables them to enjoy both local history and customs too. Guests will be provided with a wicker basket of delicious Hanami goodies to enjoy, just like they did in the past.

We've picked five of the Hoshino Resorts KAI hot spring inns that we think our readers will be most interested in. Let's take a look!

Hoshino Resorts KAI Tsugaru | Aomori

Hoshino Resorts KAI Tsugaru is located in the town of Owani, which sits in southern Tsugaru in Aomori Prefecture. They are offering an exciting experience this May: "Shidare-zakura Hitorijime Taizai," which lets a single group have exclusive access to an area of seven shidare-zakura weeping cherry trees blooming in the inn's spacious garden, which sit far away from guest rooms. Those lucky enough to experience this service can sip on cider and tuck into some delicious apple pie while listening to a Tsugaru-style shamisen performance, known as tsugaru-jamisen.

Shidare-zakura Hitorijime Taizai

Running: May 1, 2020 – May 7, 2020

Price: ¥5,000 per person

No. of People: 1 group per day (2-4 people per group)

Booking: 0570-073-011 (KAI Reservation Centre)

Note: The tsugaru-jamisen performance will take place 15:30-16:30

Hoshino Resorts KAI Kawaji | Tochigi


Feel what it's like to live the life of someone living in a satoyamaーa village centred around an agricultural lifestyleーby waking up with the sunrise to start work early. Your morning job will be making tea at the watermill. You will use traditional and ancient tools like the suribachi mortar and the houroku pan to make tea grown from tea leaves in the area which you can enjoy a cup of to start your Hanami. As well as making tea, you'll be able to enjoy a quiet breakfast while gazing at the Yoshino cherry trees, so you can get that real satoyama spring experience.

Running: April 18, 2020 – April 25, 2020

Hoshino Resorts KAI Izumo | Shimane

Hoshino Resorts KAI Izumo is located in Tamatsukuri Onsen in Shimane Prefecture, where all guest rooms have their own open-air bath. The hot spring ryokan's "Sakura Koraku" experience gives you a chance to try wariko sobaーa style of soba noodles originating in Shimane's city of Matsueーunder the cherry blossom trees.

Sakura Koraku

Running: April 1, 2020 – April 20, 2020

Time: 15:00-19:00

Price: ¥500 for one Hanami picnic set for two people (5 sets prepared per day)

Booking: Hoshino Resorts KAI Izumo front reception

Notes: Rickshaw will run from April 1, 2020 to April 7, 2020 costing ¥1,300 per person. 30 minute ride. 5 groups per day (2 people per group).

Hoshino Resorts KAI Kaga | Ishikawa

Head to one of Kaga's famous weeping cherry blossom tree spots to enjoy a cup of Japanese tea prepared yourself. This plan offers the chance to experience Ishikawa culture in a spot that has been loved by locals for decades.

Running: April 1, 2020 – April 30, 2020

Hoshino Resorts KAI Aso | Kumamoto

Hoshino Resorts KAI Aso stands in Aso-Kuju National Park. Gaze at the five peaks of Mount Asoーthe largest active volcano in Japanーwhile sipping on water drawn from one of Japan's 100 famous water sources. Change up the water of the water to your liking: carbonate it, add syrup, and so on. You'll also get some refreshing fruits that have sat in carbonated water. Sit amongst the colourful flowers, like tulips and baby blue eyes, while soaking up the beautiful sights of Aso.

Tansan Ohanami

Running: April 20, 2020 – May 31, 2020

Price: ¥3,000 per person

No. of People: 3 groups per day (two people per group)

Booking: 0570-073-011 (KAI Booking Centre)

Note: In the case of rain, Tansan Ohanami will not run on that day

This is just 5 of the 14 Hoshino Resorts KAI branches offering a chic Hanami experience. If you're travelling to Japan this spring, be sure to check out what they're offering.

GODIVA's Irresistible Chocolixir Sakura Drink Available This Spring

GODIVA Japan Inc. is releasing a new chocolate drink as part of their Chocolixir series. The new drink flavour "Chocolixir Sakura" will be sold from February 16 to April 9, 2020 at GODIVA shops only. 

Chocolixir Sakura: ¥630 (Before Tax)

Cherry blossom jelly and pink chocolate curls rest on top of a white cloud of whipped cream to create the appearance of cherry blossom petals. The drink creates the image of beautiful sakura petals as they reflect off the water's surface, creating the warm image of the rays of the spring sun. The sweet aroma and creamy melt-in-the-mouth white chocolate is divine. This chilled drink also contains small pieces of smashed white chocolate, creating a fun texture in your mouth. 

It looks just as wonderful as it tastes. One sip will fill your heart with the refreshing vibes of spring. GODIVA's velvety smooth chocolate drinks are always to die for. You just have to try it. 

NAKED SAKURA AQUARIUM: Cherry Blossoms and the Sea Come Together at Tokyo's Maxell Aqua Park

Maxell Aqua Park Shinagawa has announced the holding of a new exhibition entitled "NAKED SAKURA AQUARIUM" which will run at the Tokyo-based aquarium from March 1, 2020 to April 19, 2020.

Offering "cutting-edge Tokyo entertainment," the exhibition is combined music, lighting, and visuals with living beings. Using the latest in leading edge tech, visitors will be treated to a visual treat of animals living harmoniously with the season. The exhibition promises you will notice something new with each visit. Enter a world of spring like never before as cherry blossoms and the ocean come together through digital art.

Cherry Blossom Tayori

The entrance to the aquarium will be in full bloom with cherry blossoms. The water tanks in the centre will be perfectly pink and house madai snapper, a type of fish also nicknamed "sakura-dai" around this season.

Spilling Cherry Blossoms

This area will be like an atrium, with water tanks and showcases lined up beautifully next to each other and decorated with cherry blossom art flowers. The water tanks, which bring to mind the image of a "banquet," will house sakura-dai, sea goldie, and other fishes.

Dancing Cherry Blossom Garden

In the immersive Patterns area, you can see the "possibilities" of the four seasons as digital art works to combine a seasonal landscape with the sea creatures on display.

Also in the Dancing Cherry Blossom Garden will be Cape penguins who will put on a performance using their physical abilities. The performance, which is split into two parts, will make use of projection mapping. The first part will see the bloom of yaezakura cherry trees, while the second part will have jacaranda, also called the "purple cherry blossom," a flower that blooms in South Africa where Cape penguins originate.

Dolphin Performance Day Version – Cherry Blossom Dance

The daytime dolphin performance sees visitors gathering in the amphitheatre. This interactive performance is inspired by springtime banquets and Hanami flower-viewing. Enjoy seeing the dolphins dance high-speed to the rhythm of Japanese rock music.

Dolphin Performance Night Version – Cherry Blossom Story

The nighttime dolphin performance uses the water, lighting, visuals, and music to celebrate cherry blossoms in the evening. Enjoy a more delicate, but powerful performance from the dolphins, and see the flowers in all their beauty.

Jewellery Fish Rumble

The ceiling and walls of the spacious Jewellery Fish Rumble area all have reflective mirror surfaces. Countless pink and blue illuminations light up this evening cherry blossom-themed area, where you can enjoy a digital Hanami experience together with the jellyfish.

Katou Flower Lantern

The NAKED SAKURA AQUARIUM cafe and bar is adorned with a cylindrical water tank with illuminated coral. The cafe/bar is inspired by Katou, which is when the evening light feels like it is being lit up by fully bloomed cherry blossom flowers. The menu includes a selection of cherry blossom and matcha drinks, as well as a selection of sweet treats perfect for the Hanami season.

3 Dango & Mini Taiyaki – ¥500 (Red Bean Paste/Cream)

Sakura Mizu-warabi Rice Cake – ¥500

Enjoy a completely different kind of Hanami experience at Maxwell Aqua Park.

*Photos are for illustrative purposes only

Information

NAKED SAKURA AQUARIUM at Maxell Aqua Park Shinagawa

Running: March 1, 2020 – April 19, 2020
Address: Shinagawa Prince Hotel, 4-10-30 Takanawa, Minato Ward, Tokyo
Opening Hours: 10:00-22:00
Prices: General (High School Students and Older) ¥2,300 / Elementary-Middle School Students ¥1,200 / Children (4+ Years) ¥700
Exhibition Page: http://www.aqua-park.jp/special/snowaquarium2019/en_index.html

Maxell Aqua Park Shinagawa Official Website: http://www.aqua-park.jp/aqua/en/

Van Gogh & Monet Inspired Tarts to be Released by Qu'il Fait Bon in Japan

Japanese fruit tart masters Qu'il Fait Bon is promoting the upcoming London National Gallery Exhibition, which is set to arrive at Tokyo's National Museum of Western Art on March 3, 2020, with the release of two new art-inspired tarts, which will be available at Qu'il Fait Bon from the same day.

The National Gallery in London is a world famous art museum that houses countless artworks from across the generations. The museum is well-known for its collection of high quality European paintings, and the first time ever, it's taking 61 these works for large scale exhibitions in Tokyo and Osaka this year.

Orange & Mango Tart – "Sunflowers"

One Piece – ¥736

Whole Tart (25cm) – ¥7,365

This first tart is inspired by Vincent van Gogh's famous Sunflowers series. The beautifully layered floral dessert contains matcha and honey flavoured almond cream, mango pudding, fresh orange and mango pieces, and meringue. The honey used is Bulgarian sunflower honey. Together with the beautiful, swirling meringue and the cross-section of the sliced cake, the tart strongly depicts Gogh's gorgeous Sunflowers work.

Available:

Qu'il Fait Bon (Grand Maison Ginza) / Serving: March 3, 2020 – Mid April 2020

Qu'il Fait Bon (Grand Front Osaka) / August 11, 2020 – Mid September 2020

Green Fruit & Peach Mousse Tart – "The Water Lily Pond"

One Piece – ¥732

Whole Tart (25cm) – ¥7,322

The second tart is themed on Claude Monet's The Water Lily Pond. A lily bed of fresh fruits sip atop a peach mousse, which has a gentle fragrance.

Available:

Qu'il Fait Bon (Grand Maison Ginza) / Serving: April 8, 2020 – Mid May 2020

Qu'il Fait Bon (Grand Front Osaka) / July 7, 2020 – Mid August 2020

Make a day of art by heading to the London National Gallery Exhibition and finishing it off with a delicious artistic tart at Qu'il Fait Bon.

Information

London National Gallery Exhibition

Tokyo Exhibition

Running: March 3, 2020 – June 14, 2020

Location: National Museum of Western Art (Ueno Park, Tokyo)

Osaka Exhibition

Running: July 7, 2020 – October 18, 2020

Location: The National Museum of Art, Osaka (Nakanoshima, Osaka)

Official Website: https://artexhibition.jp/london2020/

Kate Spade New York Reveals Japanese Cherry Blossom Inspired Collection

Optimistic femininity is at the core of Kate Spade New York's brand, and that is upheld with the revealing of their new "Cherry Blossom" collection which is set to drop this spring.

Nicola Glass, the Creative Director at Kate Spade, was inspired to design the Cherry Blossom collection after her many times seeing her favourite flower, the Japanese cherry blossom, when visiting Japan. The colourful line-up features a variety of pink shades and flower prints.



from left: molly cherry blossom large satchel in black ¥53,000, molly cherry blossom medium satchel in tutu pink ¥45,000, spencer cherry blossom zip around continental wallet in soft pink multi ¥31,000

from left: spencer cherry blossom small dome cosmetic ¥11,000, spencer cherry blossom wrislet in soft pink multi ¥14,000, iphone case cherry blossom liquid glitter in clear multi ¥6,000


Nine items adorn the floral collection, including two sachel bags, two wallets, two fragment card cases, a cosmetic pouch, key ring, and iPhone case. The collection will be released at Kate Spade New York stores in Japan (select branches not participating) on February 26, 2020. Japan will also get some exclusive colours not available anywhere else.

Disney Princess Inspired Cupcakes Released at Ginza Cozy Corner in Japan

Disney princesses around the world won't be able to resist the nine new cupcakes released at Ginza Cozy Corner last week in Japan.

The cupcake collection is being released to celebrate Hinamatsuri, a festival held annually in Japan on March 3, which prays for the well-being and healthy maturity of girls. The line-up can be enjoyed by child and adult Disney fans alike, and includes not only Disney princesses, but other female characters in the Disney cast. This includes Minnie Mouse, Belle, Snow White, Cinderella, Aurora, Ariel, Jasmine, and more.

Disney Girl's Collection (Contains 9) – ¥2,700 (Tax Included)

These cute cupcakes look like they have come straight out of a Disney character toy box. They not only look pretty, but sound delicious too, like the raspberry Minnie cupcake, lemon-flavoured Belle cake, cheesecake Cinderella, and more.

Celebrate Hinamatsuri in Disney-style by picking up a box of these cupcakes at Ginza Cozy Corner.

Starbucks Japan Reveals Cherry Frappuccino®ーThe Second Drink of Starbucks Sakura Season

Starbucks Japan has announced that the second drink in its Sakura Season series of springtime cherry blossom drinks will be released on February 26, 2020. Named the "Sakura Sakuranbo Frappuccino®" (Cherry Blossom Cherry Frappuccino®), this tasty-looking drink is exclusive to Japan.

Sakura Sakuranbo Frappuccino®—Savour the sweet and tangy fresh cherry pieces

Sakura Sakuranbo Frappuccino® – Tall ¥590 (Before Tax) / Available: February 26, 2020 – March 12, 2020

The new drink contains fresh and sweet cherry pieces. It uses a cherry blossom flavoured base together with strawberry milk, which adds a subtle flavour, and a sauce made from fresh cherries. Cherries in Japan also go by the name outou (桜桃), which has the Japanese kanji for sakura (cherry blossom) in it. This is because its roots come from the same family of roses.

The drink has a unique sweet and sour punch to it, and one sip is enough to make you feel like spring is here. Topped with pink, white, or blue Japanese sugar candies known as konpeitō, this drink truly offers a toast to a kawaii Japanese spring.

Customise your drink for free with "Sakura Toppings"

Free Sakura Toppings / Available: February 26, 2020 – March 12, 2020

For Sakura Season at Starbucks, customers can customise all drinks with two different colours of mochi pieces and dried raspberries shaped like cherry blossom petals. The coffee company highly recommend topping cappuccinos, white mochas, and matcha cream frappuccinos® with them. Make your drink your own!

Starbucks is also releasing a new range of merchandise, such as mugs and tumblers, with theme "Spring Misty-Rain," on February 26. These gorgeous designs are inspired by the light rainfall in spring which falls onto the cherry blossoms and grass and makes them glisten with the light. A new cherry blossom Starbucks Card will also be available to pick up for a limited time.

Sakura Season at Starbucks is always a popular time in Japan, so if you're planning a trip here for spring and are in need of a coffee top-up, then you're in for a real treat.

'SAKURA Romantic Tea Party' is Q-pot CAFE. Omotesando's Newest Afternoon Tea Experience

Q-pot. has revealed its new "SAKURA Romantic Tea Party" line-up which is set to be served at Q-pot CAFE. in Omotesando, Tokyo from March 1, 2020 for a limited time.

The cherry blossom pink coloured and flavoured line-up includes a glamorous afternoon tea set, limited-edition parfaits, plated goodies, drinks, and more. "Romantic" is the key word for this beautiful Japanese springtime assortment.

Romantic SAKURA Parfait w/ Drink – ¥1,850 (Tax Included)

The tall Romantic SAKURA Parfait is layered with a mix of both Japanese and Wesrern flavours, built up delicious with cherry blossom cream cherry blossom petal-laced jelly, houjicha tea sauce and more, all of which is topped off with cherry blossom cookies and meringue.

Romantic SAKURA Mont Blanc Plate w/ Drink – ¥2,060 (Tax Included)

This plate of delight features a soft mont blanc made with cherry blossom bean paste cream, rich matcha chocolate, Japanese waguri chestnut, and chestnut cream. Q-pot. CAFE offers a selection of original macarons too which you can pick from including strawberry, chocolate, lemon, and melon. Feel the call of Japanese spring with this romantic cherry blossom mont blanc.

Romantic SAKURA Afternoon Tea Set w/ Drink – ¥2,400 (Serves 1) (Tax Included) *Photo shows tea set for two

Simply put: a colourful pink and romantic afternoon tea set.

The top tier is decorated with cherry blossom St. Honoré cakes made with gorgeous cherry blossom cream, peach bavarois, strawberry cookies, and rich cream ganache-filled biscuits.

The bottom tier includes fat croissants filled with duck pastrami and cucumber that has been dressed with white wine vinegar. They're served together with a white asparagus cream potage soup and skewered olives, mini tomatoes and pickles, creating a truly gourmet addition to your afternoon tea experience.

Romantic SAKURA Berry Blossom Tea (Hot/Iced) – ¥750 Each (Tax Included)

There's also a cute pink cherry blossom tea that can be served hot or iced. It's made using Q-pot CAFE.'s popular "Flower Garden" flavour which has a refreshing after taste as well as a floral and fruity sweet scent. Added to it is cherry blossom and raspberry flavouring which mixes deliciously with the milk.

Hanami Party Plan – ¥3,000 Per Person (Tax Included) *Reservation-only

You can also book a special hanami party plan which adds a sparkling beverage to the afternoon tea set together with a a cherry blossom card and a crunchy meringue. You must reserve for 2+ people, making it perfect for enjoying together with a friend or special someone.

It's not long until March now, meaning springtime, cherry blossoms, and Hanami flower-viewing is just around the corner in Japan. Why not celebrate romantically at Q-pot CAFE.?

Information

SAKURA Romantic Tea Party

Running: March 1, 2020 – April 26, 2020

Online Reservations: Now Open

*Afternoon tea set and hanami plan to be served until March 29, 2020

Q-pot. Omotesando

Address: 3-4-8 Jingumae, Shibuya, Tokyo

Opening Hours: 11:00-20:00 (Last Orders 19:30)

Closed: New Year's Holidays

Official Website: https://www.q-pot.jp/eng/

This Week's Dessert: Indulging in a Seasonal Parfait at Kinoshita Chaen in Ise

One thing I do at least once a week without fail is treat myself out to some delicious food or dessert. I find it very important time well spent in order to live a happy, fulfilling life.

This week, a business trip took me out of Tokyo to the city of Ise in Mie Prefecture. When the trip was over, I had some spare time to kill before my train arrived, so I went inside a cafe called Kinoshita Chaen which is close to Ise Grand Shrine.

You can arrive at Kinoshita Chaen in just three minutes on foot is walking from Ise Grand Shrine, or five mintues from Ise Station. The exterior design of the building takes on a Western style, which I found to be both cute and retro. You can feel the warm and welcoming atmosphere of the cafe as soon as you step inside. The decor is decked out with all things wooden.

The cafe has been around since the Meiji Period. It serves drinks and desserts all made using tea, and offers both eat-in and takeout services.

I ordered their seasonal-exclusive parfait. 90% of the people in there were ordering it, so I thought it must be popular!

Strawberry & Parfait Puree Parfait w/ Japanese Black Tea – ¥1,300 (Tax Included)

This super cute parfait is completely stuffed to the top with strawberries♡

You can snap cute photos of it no matter the angle♡

When I spooned the caramel puree, soft custard reveal itself. You get a delicious pairing of the bitter flavour and crunchy texture of the caramel with the subtly sweet custard.

The next ingredient to show itself was the mascarpone cream, which combines with the rest of the flavours perfectly. Once your mouth is satisfied with the sweetness of the flavour combinations, you're next met with Ise matcha gelato.

The matcha gelato is a great palate cleanser for the sweet ingredients when eaten on its own. When eaten together with the sweet puree, you get a completely different kind of delicious flavour. I recommend trying it together with the puree, mascarpone cream, and the crunchy pie which is the next layer.

Moving on from the sweetness and bitterness, the next layer is fresh strawberry sherbet, which is a combination of sweet and sour. To finish, you're brought back to the subtle sweetness once more with white chocolate mousse, strawberries, and mixed berry jelly.

The final bites of a parfait can generally be hard to get down because you grow tired of the flavour, but the ones sold at Kinoshita Chaen are on another level. The various flavours and textures mean you won't grow tired as you spoon through the many layersーyou'll find yourself savouring every last bite.

The Japanese black tea that came with it was luxurious. The cafe actually caters the type of tea they serve to each seasonal parfait. Enjoy a cup together with your parfait.

Matcha Soy Flour Dumpling Cream – ¥830

I didn't get to order them this time, but I'm really taken by the matcha soy flour shiratama dumplings… The dumplings are made in-house and are topped with brown sugar syrup from Okinawa and Ise matcha. The bitterness of the matcha together with the rich sugar syrup is sure to be delicious with some chewy dumplings. I'll definitely be trying them when I next visit.

I cannot recommend a trip to Kinoshita Chaen enough. Offering an exemplary menu of Ise flavours, their drinks and sweets maintain the culture and tradition of Japanese tea while keeping up to date with current trends in the world of sweets.

Today's Souvenir

Houjicha Teabags – ¥400 (1 Pack) 

On the days you get to eat delicious sweets, you've got to share the happiness with friends and family. I bought some houjicha tea bags made with tea leaves grown in Mie Prefecture. They have various other teas too, and the packaging is really cute, so they're perfect as gifts for friends and family.

Information

Kinoshita Chaen (Ise Branch)

Address: 1-1-31 Iwabuchi, Ise, Mie Prefecture

Opening Hours: 10:30-17:30 (Last Orders 17:00)

Closed: Wednesdays (Except Obon, New Year's, and public holidays)

TEL: 0596-24-6747

Official Website: https://www.kinoshitachaen.com/

Grab Tokyo Souvenirs at Roppongi Hills' New Food & Gift Area

The new "Food & Gift Area" at Roppongi Hills is set to open in the North Tower on Floor B1F on April 10 where you can get your hands on a huge range of exclusive gifts and souvenirs, as well as quick and delicious food. It will house a total of 19 stores; that's 12 shops selling Japanese confections and other picks perfect as gifts to yourself or someone else, and 7 eateries offering takeout and eat-in options.

In the gift area, 12 storesーa mix of new establishments as well as well-known businesses setting up shop in Tokyo for the first timeーwill open their doors, such as the New Style Ginza Sembikiya cafe, Kashi no Kirokujo which sells exquisite cakes that are hard to get your hands on, and more. And there's a whole range of Roppongi Hills exclusives too, like artistic yokan sweet bean jelly inspired by Tokyo's streets, castella with the Roppongi Hills logo on it, senbei rice crackers, assorted sliced mochiーthe list goes on.

Gift Area – Roppongi Hill Exclusives

Tokyo Enbo – ¥4,320 (Tax Included) @ Wagashi Yui

Recreated are the landmarks of Tokyo in the morning sun, with the beautiful silhouettes of the city's skyrise buildings formed into sweet bean jelly. Try and find Roppongi Hills in this picturesque perfection.

Ukeian Castella Wasanbon – ¥2,160 (Tax Included) @ Ukeian

This castella cake is made rich and moist thanks to the eggs laid by specially-bred chickens. It's made with wasanbon fine-grained Japanese sugar,  which gives it a tantalizing smell. The logo stands out too, giving it a beautiful appearance in addition to the delicious flavour.

Roppongi Hills Sanmaido (5 Included) – ¥702 (Tax Included) @ Ginza Matsuzaki Senbei

The senbei rice crackers have a gentle flavour, handcrafted one by one by the shop's master chefsーincluding the Roppongi Hills logo design of these tile-shaped rice crackersーby adding eggs and sugar to wheat flour.

Kinanomiya Sando (Exclusive Packaging/3 Included) – ¥540 (Tax Included) @ KISSHOKARYO

KISSHOKARYO Japan Premium "Miyabi" – ¥1,870 (Tax Included) @ KISSHOKARYO

Munch down on these delicious chocolate cookies made with high quality soy flour, almonds, and oat milk.

They're also serving a special Japanese parfait for eating-in, made with specially-selected Uji matcha from Kyoto and homemade soy flour.

Sankaku Box Sando – ¥1,080 (Tax Included) @ New Style Ginza Sembikiya

Roppongi Hills Exclusive Melon Parfait – ¥2,700 (Tax Included) @ New Style Ginza Sembikiya

Added to the thick and fluffy bread is fresh fruit and subtly sweet cream to make a refreshing sandwich. The chocolate sandwich in the left of the picture is exclusive to Roppongi Hills.

The must-try is the melon parfait, which is made with melons grown in Shizuoka that have been specially selected by the shop.

Cake Shop Miracle Collaboration Set – ¥3,456 (Tax Included) @ Kashi no Kirokujo

This set is an assortment made by four long-standing cake makers: Akasaka Kakiyama, Obusedo, Ganyudo, and Nanohana.

Roppongi Lingotto – ¥3,240 (Tax Included) @ Bicerin

Caffe mocha al Bicerin – ¥660 (Tax Included) @ Bicerin

Served in a limited-edition Roppongi Hills box, the "Roppongi Lingotto" bears the shopping complex's logo, and is a popular gift that was even served to members of the Japanese government at the G7 Ise-Shima and G20 Osaka summits.

When dining in, you can order a rich bicerin which is a mix of espresso, milk, and chocolate sauce topped with whipped cream that's shaped to look like a hill.

Raw Pound Cake Assortment – ¥1,700 (Tax Included) @ Pavlov

Choose from seven adorable small-size cakes, including cream vanille, pistachio fruits rouges, chocolate orange, very berry, Kyoto matcha, caramel nuts, and mont blanc.

Roppongi Exclusive GIFT – ¥918 (Tax Included) @ Jiichiro

Wrapped in special Roppongi Hills packaging, this box contains an assortment of Jiichiro treats from their popular baumkuchen to rusk, gateau chocolat, and more.

In the Food Area, seven restaurants will open serving quick, authentic food. A number of popular restaurants are also making an appearance, like Kyu Yamutei which is famous for its Osaka spice curry, as well as THAI STREET FOOD by KRUNG SIAM. The menu line-ups will include dishes exclusive to Roppongi Hills.

Food Area – Roppongi Hill Exclusives

Curry-Gear MAX – ¥1,650 (Tax Included) @ Kyu Yamutei

This curry combines unique ingredients and spices. The ingredients and roux are switched up every month, and you can pick from one to four rouxs.

Khao Soi No-Broth Mazemen Noodle Curry – ¥1,200 (Tax Included) @ THAI STREET FOOD by KRUNG SIAM

This mazemen noodle curry is a spin on the hugely popular khao soi Chiang Mai ramen, made without any broth. It has the full-bodied aroma and spiciness that comes with Thai-style curry. Change up the flavour with a topping of homemade pepper.

Fisherman's Seafood Spaghetti alla Pescatora – ¥1,848 (Tax Included) @ Pasta & Pizza Uota

Piled with plenty of seafood, this luxurious and specially-made tomato pasta wastes no flavour of the fish used for its rich sauce.

Brioche Vendée N – ¥864 (Tax Included) @ Boulangerie Bonheur

A traditional brioche from Vendée in France. It's combined with orange flower water and contains raisins soaked in Kirsch. The center is moist and just melts in your mouth.

Seafood & Eel Dashi Chazuke – ¥1,320 (Tax Included) @ Dashi Chazuke En

Another exclusive to Roppongi Hills is this chazuke, filled with all the flavours and sea like tuna, porgy, eel, and more. Try it as it is first and then pour over the broth.

Spring Vegetables & Fried Fish Lunch Box – ¥900 (Tax Included) @ Dexee Deli

A set of seasonal vegetables like edible chrysanthemums, asparagus, and cabbage, combined with fried fish, rice, and bamboo shoots.

Find a whole world of food, desserts and gifts at Roppongi Hills' new Food & Gift Area.

Information

Roppongi Hills Food & Gift Area

Address: 6-10-1 Roppongi, Minato Ward, Tokyo

Grand Opening: April 10, 2020

Official Website: https://www.roppongihills.com/

Starbucks Reserve®︎ Roastery Tokyo to Release Cherry Blossom Spring Drinks and Merchandise

Starbucks Reserve®︎ Roastery Tokyo boasts the most incredible location, sitting by the side of Nakameguro, one of Tokyo's most famous spots for seeing the cherry blossoms in spring.

This year, the coffee roastery's "Sakura Season" is set to begin on February 15, when its cherry blossom-inspired merchandise collection is released, along with a line-up of pink beverages and food.

The official Starbucks sakura merchandise ranges from tumblers and mugs to a key ring, handkerchief, and more, for a total of 10 items.

Strawberry Chia Oolong – ¥900

Poppun Sakura Jasmine Tea – ¥950

Floating Blossom – ¥900

Six beautiful beverages from last year's Sakura Season at Starbucks are also making a return from the Teavana™️ brand, made with delicate and soft cherries, hibiscus, and tea leaves as refreshing as green grass.

Clockwise From Left: Gianchetti & Sakura – ¥880 / Mini Panettone Sakura – ¥680 / Cornetti Sakura – ¥380 / Maritozzo Sakura – ¥540

Italian bakery Princi®︎ is also heading to Japan for the first time to serve up Italian food culture to people at Starbucks Reserve®︎ Roastery Tokyo. Enjoy the floral taste of cherry blossoms done in a Princi®︎ way.

Heading to Tokyo for Hanami and the cherry blossoms? Then make a stop at Starbucks Reserve®︎ Roastery Tokyo for this year's Sakura Season.

Information

Starbucks Reserve®︎ Roastery Tokyo Sakura Season

Release Date: February 15, 2020

Location: Starbucks Reserve®︎ Roastery Tokyo

*The Princi®︎ products will also be served at the Starbucks Reserve®︎ Store at Ginza Maronie-dori

Official Website: https://www.starbucks.co.jp/press_release/pr2020-3360.php