MOSHI MOSHI Kimono Salon produced by YUMENOYA opens in the MOSHI MOSHI BOX!
Leaders of Harajuku's kawaii culture ASOBISYSTEM (Located: Shibuya, Tokyo / Company President: Yusuke Nakagawa) and BANLEE ENTERTAINMENT Co., Ltd. (Located: Kanazawa, Ishikawa / Company President: Tomohiro Tsunoda), who manage "JAPAN CULTURE EXPERIENCE TOURS -YUMENOYA-", a studio where you can experience Japanese culture hands-on in Asakusa's popular tourist spot, have teamed up and will be opening the "MOSHI MOSHI Kimono Salon Produced by -YUMENOYA-" on the 2nd floor of the "MOSHI MOSHI BOX", Harajuku's pltourist information center, as part of ASOBISYSTEM's "MOSHI MOSHI NIPPON" project.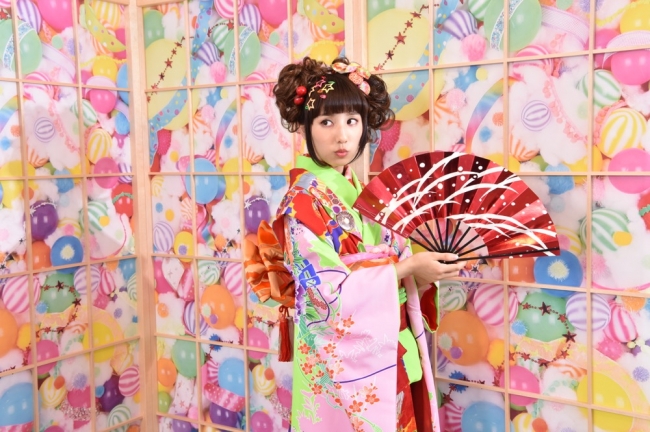 The person producing the store is Takafuji Ukon, second generation to the Takafuji Dance Company and the producer of "YUMENOYA Project". As its first project, the store itself will feature original Harajuku style kimono and clothes which you can wear and have your photo taken. The clothes will be themed around the concept of "Harajuku Roman", a combination of "Taisho Roman", which refers to a styling of kimono confined to the Taisho period, and "Harajuku Kawaii Culture".
Up and coming fashion creator Yuka (有伽), who helped with the styling and design of famous Japanese artist Wagakki Band's outfits, and who has had work displayed at Gajoen's "Wa no Akari ya" and on "VOGUE Italia web", will be in charge of the clothes in the store. Moreover, you can have your photo taken in front of a colourful shoji-style door (sliding paper door) designed by art director Sebastian Masuda, the man responsible for Kyary Pamyu Pamyu's music videos, as well as a host of other things. The Moshi Moshi Kimono Salon is the only place where you can make such special memories as these and the only place where you can take photos and transform them like this.
<Service Summary>
-Transformation Photo Service-
Have a commemorative photo taken wearing radiant, Harajuku original style kimono and clothing. You can choose from the simple course, where the photograph data can be given to you or printed for you on the same day, or a cooler course, where we manufacture your photo for you or make an album which can be received the following day.
Reservation site:www.tokyo-samurai.com
RELATED ENTRIES
On January 25, the Japanese hip-hop R&B girls' group XG released the music video for their long-awaited third single SHOOTING STAR. The single is also available now via download and streaming, and fans can also snag a CD Box while supplies last. XG is comprised of seven members–Jurin, Chisa, Hinata, Harvey, Juria, Maya, and Cocona.

SHOOTING STAR features stunning space-inspired visuals and fashion, blending heavy bass and the group's signature 'BellSound.' The stunning harmonies, powerful rap, and delightful vocals stand out, with the lyrics expressing the member's single-minded desire to strive and grow into world-class artists.

Also included with the new single is the addictive track LEFT RIGHT, featuring a catchy synth loop and trap beat with strong bass and a fine-tuned hi-hat sound. Fans will want to sing around to the rap portion, and the song is filled with positive energy–XG's signature. The girls don't let anyone but themselves dictate their actions, always believing in themselves as they move forward.

The two songs settle well into the genres of hip-hop and R&B. The girls want listeners to trust in themselves and become who they want to be.

Alongside the music video, fans can also enjoy the SHOOTING STAR LIVE STAGE, where the girls perform both new songs.

The videos pulled in an incredible amount of attention and commentary from fans around the world.

XG – SHOOTING STAR (Official Music Video)


In the SHOOTING STAR video, the members can be seen in cool over-the-top outfits sharing their music from a place beyond the universe. This high-end, innovative work is unfathomably unique, showing off the youthful power of XG.

Following the group's first single Tippy Toes and second single MASCARA, the sky's the limit for this budding girl group. With unbeatable choreography and a signature style, keep an eye on XG in 2023!

Atarashii Gakko! to Appear as Themselves in Baby Assassins 2, New Song 'Janaindayo' to Serve as Theme Song

The newest track from the popular dance and vocal unit Atarashii Gakko! titled Janaindayo will be used as the theme song for the upcoming film Baby Assassins 2, releasing at Shinjuku Piccadilly Cinema and other theaters nationwide on March 24, 2023.

The original Baby Assassins film was released on July 30, 2021 and ranked at the top spot
in Filmarks' first-day satisfaction ranking and won the Japan Movie Critics Award for Best
New Director (Yugo Sakamoto) and Best New Actress (Saori Izawa). Expectations are high
for this long-awaited sequel!

In the film, the members of Atarashii Gakko! will play themselves, though details are
scarce. Be sure to tune into the film to see their performances!

Recently, Atarashii Gakko! announced solo concerts at Zepp Osaka Bayside on April 30 and Zepp Shinjuku in Tokyo on May 2. These performances will be held almost a year after the girls held their solo concert at Zepp DiverCity in Tokyo last May. Tickets are on sale now!

Anime Series Sacrificial Princess and the King of Beasts to Hold Advanced Screening and Chat Event Starring Cast Members

An advance screening and chat event for the upcoming anime series Sacrificial Princess and the King of Beasts, set to begin airing in April 2023, will be held at Shinjuku Wald 9 on February 11.

Those lucky enough to get tickets will be treated to the first two episodes of the series followed by a chat with select cast members including Kana Hanazawa (Sariphi), Satoshi Hino (Leonhart), Yuka Nukui (Cy), and Natsumi Fujiwara (Clops).

The ticket lottery is now open on e+, and general ticket sales will open on February 3 if any tickets are left!

Be sure to check out the series when it airs this April!

Information

Sacrificial Princess and the King of Beasts Advanced Screening and Chat Event
[Date]
February 11, 2023
①11:00 screening
②12:50 screening
*Both include an exclusive chat with the cast after the screening of Episodes 1 and 2.

[Chat Guests]
Kana Hanazawa, Satoshi Hino, Yuka Nukui, Natsumi Fujiwara
*Guest speakers are subject to change without notice.

[Venue]
Shinjuku Wald 9(https://tjoy.jp/shinjuku_wald9)

[Admission]
¥2,500 (Tax included, all seats reserved)

[How to Purchase Tickets]
◆e+ Preorder by Lottery
*Users must create a free account in order to preorder tickets.
URL: https://eplus.jp/niehime/
Sales Period: January 20, 18:00 – January 29, 23:59
Limit: 2 per person
Lottery Result Announcements to be made via Email and on the official website
Annnouncement: February 3, 15:00
Payment Period: February 3, 15:00 – February 5, 21:00
*If payment is not confirmed during this period, you will not receive your tickets.

◆e+ General Ticket Sales (First-come, First-served) *Only if there are seats remaining
URL: https://eplus.jp/niehime/
Sales Period: February 3, 18:00 – February 9, 20:00

In the event of additional sales, the number of seats sold may be subject to change in accordance with national and local government guidelines at the time sales begin.

Sacrificial Princess and the King of Beasts
Airing April 2023
Official Site: https://niehime-anime.com/

Japanese Indie Game Label Yokaze to Hold Exhibition at Taipei Game Show

Japanese indie game label Yokaze will exhibit many anticipated upcoming titles at the 2023 Taipei Game Show. The event will be held in Taiwan from February 2 until February 5, 2023.

ghostpia


ghostpia's visuals mix warm, delicate art that would be fit for an illustrated children's book with glitch and noise effects, for a strangely nostalgic visual novel vibe. The story takes place in a snowy town where immortal "ghosts" live. When Sayoko, a girl who doesn't belong, meets Yoru, a newcomer to town, her world begins to change. Her thoughts begin to drift outside of the town, and certain events bring her back to a lost friendship. Filled with mystery and a bit of violence, this title is being touted as a movie you can read on PC.

Developer: Chosuido
Release Date: 2023
Platform: Nintendo Switch™/Steam, etc.
Website: https://ghostpia.xyz/

Recolit


Recolit is a pixel art mystery adventure game where players explore a strange town by following trails of light. After your spaceship crash lands in a mysterious place, you'll have to help the residents of the town as you explore and progress through the story.

Developer: Image Labo
Release Date: 2023
Platform: Steam/itch.io (Others planned)
Website: https://image-labo.com/recolit/

 

Kitsune: The Journey of Adashino

Kitsune: The Journey of Adashino is a 3D adventure game set in a mysterious version of Japan. One day, a fox girl and her frog friend find themselves on a mysterious island shrouded by darkness but for a few floating lights. Torii gates, food stall lanterns, and neon signs give light and color to the island. Something is lurking in the shadows, inching ever closer. Kitsune can use light to temporarily blind these demons, giving her enough time to find safe routes and hiding places. Be sure to enjoy this curious tale when it releases in the future!

Developer: Rias
Release Date: TBD
Platform: Nintendo Switch™/Steam (Others planned)
Website: https://www.foxandfrog.net/

Tuyu Releases Non-Credit Video of Tokyo Revengers: Christmas Showdown Arc Ending Theme

The non-credit version of the Tokyo Revengers: Christmas Showdown arc ending theme is now available.

The track is inspired by the emotionally-charged second season, which picks up where the first season left off and focuses heavily on Taiju, Yuzuha, and Hakkai Shiba. Listeners will be reminded to protect the things they care about as they listen to the powerful lyrics.

Tokyo Revengers: Christmas Showdown Non-credit Ending

With its emotional melody and fitting lyrics, fans of the first season should be ready to face the intensity of the ongoing second season. The song is now streaming.

Be sure to tune in to the explosive second season of this globally-loved anime series!

Introduction
Takemichi Hanagaki traveled twelve years back in time in order to save his girlfriend and change his life for the better. Returning to the present day after his battle with Valhalla is done, he's now the leader of the Tokyo Manji gang. His joy is short-lived, however, as the modern gang still seems to be ruled by Tetta Kisaki, the root of all evil. Nothing has been altered, and in order to truly save his girlfriend, Takemichi needs to face things head-on.

©和久井健・講談社/アニメ「東京リベンジャーズ」製作委員会

TRIGUN STAMPEDE Opening and Ending Themes Available on One Album

An album featuring both the opening and ending themes of the anime series TRIGUN STAMPEDE will be released on a single album on February 22, 2023 from TOY'S STORE. The opening, TOMBI, is performed by Kvi Baba, while the ending, Hoshi no Kuzu α, is performed by both Salyu and Haruka Nakamura.

Preorders are now available and those snagging a copy will also be gifted an original sticker featuring the album's artwork.

The record is only available in limited quantities and sales will conclude once the item is sold out.

TRIGUN STAMPEDE Non-Credit Ending


TOMBI, performed by Kvi Baba, was released on January 6 and has seen a surge in popularity, appearing on a number of popular playlists and reaching the top spot on the iTunes Rap and Hip-Hop chart.

The ending theme song, Hoshi no Kuzu α by Salyu and Haruka Nakamura, was released on January 13, 2023.

The jacket features an original design featuring the main character, Vash the Stampede, from the Trigun anime series.

The jacket was designed by Takahiro Yasuda, an art director and graphic designer belonging to the creative association CEKAI.

The non-credit ending video featuring the ending theme song is now available on the YouTube TOHO animation channel.

Be sure to tune into the long-awaited series TRIGUN STAMPEDE!

© 2023 内藤泰弘・少年画報社/「TRIGUN STAMPEDE」製作委員会

BABYMETAL Releases 'METAL KINGDOM,' the Third Single from the Upcoming Concept Album 'THE OTHER ONE'

Ahead of the release of the band's concept album THE OTHER ONE on March 24, 2023, BABYMETAL has released a few tracks to get audiences even more pumped after a year of silence. In October 2022, the group released Divine Attack, followed by Monochrome in November.

On January 20, BABYMETAL released the song METAL KINGDOM on all major music download and streaming services worldwide.

To coincide with BABYMETAL's 10th anniversary last year, the group announced that it would "seal" itself off from the world until further notice. In April 2022, THE OTHER ONE was announced to relaunch the group in the METALVERSE, a piece of the virtual metaverse. The upcoming concept album will be inspired by the idea of a BABYMETAL that fans don't know, and a total of 10 songs have been discovered within THE OTHER ONE restoration project, with each song representing a specific theme based on 10 separate parallel worlds that the members have discovered. METAL KINGDOM is inspired by the parallel world 'THRONE.'

Written as an anthem to usher in a new era, the song aims to remind people that they have the strength to inspire themselves and the ability to start down a new path. The track rises powerfully from BABYMETAL's throne of silence heralding the beginning of a new start for the group.

BABYMETAL has finally broken the seal, and on January 28 and 29, 2023, the duo will hold the BABYMETAL RETURNS -THE OTHER ONE 2-day concert at Makuhari Messe in Chiba. More information will be announced soon, so keep an eye on social media and BABYMETAL's official website!

CrosSing Cover Project Uploads Nanaka Suwa's Version of Yukari Tamura's Song 'Fantastic future'

The CrosSing cover song project brings together popular voice actors to sing classic songs in their own unique style. Launched in March 2022, the YouTube channel has amassed over 150,000 subscribers and upon each song's release, the project continuously trends on Twitter and other social media sites.

On January 18, 2023, the official CrosSing YouTube channel uploaded a recording video of voice actress Nanaka Suwa performing the song Fantastic future.

Nanaka Suwa is best known for playing Kanan Matsuura in Love Live! Sunshine!! The actress has also released two studio albums. In this new video from CrosSing, Suwa is seen performing Yukari Tamura's popular song Fantastic future, used as the opening theme for the anime series The "Hentai" Prince and the Stony Cat.

Fantastic future – from CrosSing – Nanaka Suwa (Recording Video)

The track is now available on numerous streaming sites and those purchasing the high-res version from mora will be able to access a special mini-interview with Suwa herself. LINE MUSIC has also started a playback campaign, and fans listening to the track over 300 times will be entered to win an autographed image!

A retweet campaign is also underway, with two lucky winners receiving Nanaka Suwa's autograph. For details, check out the official CrosSing Twitter.

The CrosSing project released its first compilation album, CrosSing Collection Vol. 1, in September. Kana Hanazawa's cover of Rain from Makoto Shinkai's short anime film The Garden of Words is included as a bonus track. The track is also available on YouTube.

CrosSing Collection vol.1

Attack on Titan The Final Season Part 3 to be Split in Two, First Half to Air in March

It has been announced that Attack on Titan The Final Season will split its third part into two halves.

The first half will begin airing on NHK General starting March 3 at 24:25. The second half
will air sometime during 2023 with more details to be revealed in the future.

Prior to this, a special compilation of all 87 episodes will be aired on NHK General from
February 25 to February 27. Every episode of Attack on Titan that has aired to date will be condensed into seven episodes.

A new trailer has been released ahead of the beginning of Part 3 inspired by the phrase "This is Freedom." Fans will see Eren smiling as a child, a vast difference from the man he grows to be. The despair in the video is palpable, but there is still some hope being kept alive by the characters.

Finally, to commemorate the third part of The Final Season, fans will be able to watch episodes from the series for free on the streaming service GYAO! starting January 17.

After years of massive popularity, Attack on Titan is approaching its climax. Be sure to tune into Part 3 when it begins airing in March!

©諫山創・講談社/「進撃の巨人」The Final Season製作委員会

Information

Attack on Titan The Final Season Part 3
Part 3, First Half Air Date: March 3, 2023 at 24:25 (NHK General)
Final Season Official Site: https://shingeki.tv/final/

Yutaro to Appear in NHK E Special Drama Series 'Tokyo no Yukiotoko'

Yutaro will appear in the upcoming drama series Tokyo no Yukiotoko airing on NHK E starting February 4, 2023.

The family-centered series is packed with both humor and sorrow and tells the story of humanity living alongside a mysterious other species–the Snow People. Kouichi Yajima, known for his work on Kazeyo Arashiyo, Kounodori, and Busujima Yuriko no Sekirara Nikki, penned the screenplay.

Information

Tokyo no Yukiotoko (Special Drama Series)
Starting: February 4, 2023 on NHK Educational TV
Airing every Saturday, 21:00-21:30 (5 episodes)
Script: Kouichi Yajima
Starring: Hayato Isomura, Kana Kita, Shingo Mizusawa, Miwako Shishido, Akari Takaishi, Tamae Ando, Manabu Hamada, Yutaro, Naoto Eguchi, Eri Tokunaga, Saori, Yasuhi Nakamura, Ron Mizuma, Kaito Yoshimura, Yui Kitamura, Shuntaro Miyao, Tamaki Ogawa, Shiro Sano, Yorie Yamashita

BiSH Reveals Artwork and Bonus Images for 'BiSH OUT of the BLUE' Concert Blu-Ray Release

BiSH, a punk band without instruments, has unveiled the cover art for the BiSH OUT of the BLUE Blu-ray. Fans can get their hands on this incredible release on February 15, 2023. The band has also revealed some special bonuses available at CD shops while supplies last.

DVD盤

BiSH OUT of the BLUE was the group's largest-ever outdoor solo concert and was held at
the Fujikyu Highland Conifer Forest on October 22, 2022. Fans can also find a limited
edition Blu-ray/DVD which will also include live footage from the annual FiNE NATURE
SENSATiON (previously TOKYO BiSH SHiNE) free concert held at Zepp DiverCity.

Preorders are now open so be sure to check out the details below!

Matt Cab and Grace Aimi Release 'Honemade Aishite'

Matt Cab and Grace Aimi released a cover of the song Honemade Aishite (Love Me to the Bone) on January 19, 2023.

The lyrics for Honemade Aishite were written by Kohan Kawauchi, a master author and screenwriter who also wrote the lyrics for the classic hit songs Ofukurosan and Isezakicho Blues. It was composed by Jun Kitahara, the man behind Showa era hits like Inochikurenai, Kyodai Jingi, and the theme song for Manga Nippon Mukashi Banashi. Now, a massively popular song from the 1960s has been revived in 2023 with a new hip-hop sound.

Last October, Matt Cab and Grace Aimi each released a studio session video of the new track on each other's social media pages, instantly attracting attention and rave reviews from several artists. Pulling in nearly 1 million views, there was clearly major fan demand for a full release.

The song combines a structure, melody, and lyrics that capture the feeling of the Showa era while also infusing elements of modern hip-hop and R&B.

Information

Matt Cab & Grace Aimi
Honemade Aishite (Digital Single)
Release Date: January 19, 2023
Streaming URL: https://lnk.to/HoneMadeAishite

Lyrics: Kohan Kawauchi
Composition: Jun Kitahara
Arrangement: Matt Cab