Watch PEACH JOHN's temptingly delicious and cute lingerie commercial ♡
PEACH JOHN have finished their new Autumn TV commercial "Autumn dolce", which adds a touch of Autumn essence into an every day scene to create a vivid reminder of the "Autumn appetite".
Supermodel Lindsey Wixson modelled with delicious looking sweets and desserts ー literally as the icing on the cake as looking the new video reveals that she is actually part of the topping of the desserts. From the start to the end of the video, you won't be able to take your eyes off her for one moment! The desserts create a fascinating and luxurious feeling to compliment the 6 varieties of trendy lingerie. There is no doubt that you will sense a cute and girly feeling by watching this video!
Furthermore, in addition to the advert, you can also watch a short video revealing the making of the commercial, where Lindsey Wixson disguises herself in the 12 varieties of desserts. You can watch the Autumn Dolce commercial and the making of the commercial at PEACH JOHN's official website. ( http://peachjohn.com )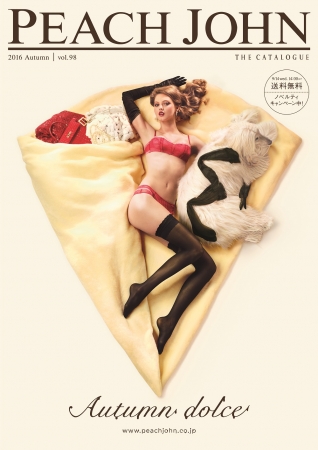 ■Information
Official site: 「Autumn dolce special site」: http://peachjohn.com/special/160727dolce/
「PEACH JOHN 2016 Autumn vol.98」 (Published in the catalogue on Wednesday 24th August)
Online store: PEACH JOHN online store  http://peachjohn.co.jp
■Related article:Pikachu turns into lingerie?! YUMMY MART's limited edition collaboration sale to celebrate the 20th anniversary of Pokémon!
■Related article:Japanese lingerie maker Peach John charms us with line of Alice in Wonderland themed loungewear
RELATED ENTRIES
PEACH JOHN Luxury New Collection Seduces This Valentine's Day

PEACH JOHN released their new Valentine's Day collection on Wednesday (January 13) at PEACH JOHN stores and their online site in Japan. It's also available to purchase in Hong Kong, China, and Taiwan.

Full of Love Bra Set | Sizes: B-D Cup, UB 70/75 | ¥3,980 (Before Tax)

Amour Rose Bra Set | Sizes: BC-DE Cup, UB 70/75 | ¥3,980 (Before Tax)

Love Fleur Camisole Set | Sizes: S/M, M/L | ¥3,980 (Before Tax)

Bombast Cream Rich Set: ¥3,280 (Before Tax) | Peach John Hipurun Medicated White Cream Set: ¥2,280 (Before Tax) | Eros Beauty Body Milk Set ¥4,100 (Before Tax)

Happy Lovers Love Power Charge Pyjama Set (S/M, M/L): ¥4,980 (Before Tax) | Men's Happy Lovers Love Power Charge Pyjama Set (M/L): ¥5,680 (Before Tax)

This line-up is a true luxurious treat for Valentine's Day.

Information

PEACH JOHN Valentine's Collection
Released: January 13, 2021

Available: PEACH JOHN
Official Website: www.peachjohn.co.jp

Peach John's New Lingerie Set is Inspired by Van Gogh's 'Sunflowers'

Peach John introduced a new design to its "Kisho no Bra" lingerie line on May 27, 2020. The items in the line are inspired by famous paintings.

The first collection to be released in the line hit shelves last year. The items look inspiration from Claude Monet, Alphonse Mucha, and Pieter Bruegel the Elder, and were a huge hit amongst buyers for their delicate lacework, prints, and colour variations.

Kisho no Bra – Gogh Yellow: ¥3,980 (Before Tax) [Sizes: B-F Cup, UB 65/70/75]

Kisho no Panties Song – Gogh Yellow: ¥1,480 (Before Tax) [Sizes: S, M, L]

For the second entry to the line, Peach John are introducing a "Gogh Yellow" collection inspired by Vincent van Gogh's Sunflowers. Vivid sunflowers have been embroidered into the lingerie items to recreate the delicate art piece.

The bra and panties both maintain a feminine design while still conveying the wonder of the original artwork, making it an expression of both art and beauty.

Pokémon Clothing Collection Releasing This Spring From GiRLS by PEACH JOHN

GiRLS by PEACH JOHN has revealed its new Pokémon collection which is set to release on their official website and in select stores on May 7, 2020. Items include Peasy wireless bras, bra sets, lounge wear and more with cute Pokémon designs from familiar faces such as Pikachu, Eevee, Jigglypuff, Sylveon, and more.

Product Line-Up

Peasy 001 – ¥2,280 (Before Tax) | Sizes: S, M, L


Pikachu Print Panties – ¥1,480 (Before Tax) | Sizes: M only

The Peasy wireless bra and underwear features an adorable Pikachu print design with the popular Pokémon's many different expressions.

Rirakore Sylveon Lace Bralette Set – ¥2,980 (Before Tax) | Sizes: M, L

Feel as beautiful as Sylveon with this lady-like bralette set.

Morikore Flowers & Eevee Bra Set – ¥3,980 (Before Tax) | Sizes: Bra = B-F/65/70/75

Eevee is embroidered into this cute bra set which is sure to please any girl.

Jigglypuff's Sleepy Pyjamas – ¥3,980 (Before Tax) | Sizes: M only

Jigglypuff will help lull you sleep with this comfy pyjama set.

Pokémon Icon Thermal Pyjamas – ¥3,980 (Before Tax) | Sizes: M only

Snug thermal pyjamas that are comfy even on hot summer days. The set features tiny adorable Poké Balls.

Pikachu Pouch – ¥1,980 (Before Tax) | Sizes: One Size

A pouch plump like Pikachu which you can find many uses for.

© 2020 Pokémon.
© 1995 – 2020 Nintendo/Creatures Inc./GAME FREAK inc.TM, ®, and character names are trademarks of Nintendo.

Tom and Jerry Limited Edition Pyjamas Made Designed by PEACH JOHN

Japanese lingerie brand PEACH JOHN have teamed up with the internationally beloved animated series Tom and Jerry―which also maintains a popular following in Japan―to release a collaborative collection on October 31, 2018.

The line features a selection of unisex roomwear as well as men's PJs all inspired by the slapstick comedy series.

The collection is available on PEACH JOHN's official website, at branches and in their catalogue. Items bought from any of these places will be sent in an original Tom and Jerry pizza box. These are available on a first-come, first-served basis and make for a perfect gift to yourself or someone else.

Nap Raised Satin Embroidered Pyjamas: ¥7,980 (Pre-Tax) – Sizes: S/M, M/L  – Colour: Navy (Dots)

Satin Eye Mask: ¥1,980 (Pre-Tax) – Size: One Size – Colour: Navy

The pyjamas are a combination of a tailored collar shirt and straight pants made with nap raised warm satin. If you take a closer look at the dot designs you'll see Jerry hiding behind them. The collection comes with a Tom eye mask made with the same material.

Nap Raised Flannel Embroidery Pyjamas: ¥6,980 (Pre-Tax) – Sizes: S/M, M/L  – Colours: Stripe / Graphic

Men's Nap Raised Flannel Embroidery Pyjamas: ¥6,980 (Pre-Tax) – Sizes: S/M, M/L  – Colours: Stripe / Graphic

There's also the classic flannel design pyjamas, with both sides using warm and fluffy nap raised flannel material. The cool colour combination stripe design features Jerry inside of Tom's pizza about to be eaten while the vintage graphic design includes scenes of Jerry running from Tom.

This collection is a must-have for any Tom & Jerry fans out there.

PEACH JOHN will start publishing "momo Life." The magazine will reveal the real lifestyle of Rola who is always gathering attention on Instagram

"PEACH JOHN," a brand that is popular among young girls which sells cute and functional lingerie's started publishing a magazine called "momo Life" from the 17th of May. "momo Life" offers information in order to improve girls' quality of living. The magazine offers a lot of contents which can be only offered by a lifestyle introducing brands which sell not only lingerie's but also fashion items, room wears, cosmetics, and chandleries.

One of the remarkable contents in this magazine is, "BEAUTIFUL LIFE IN ROLA" – Rola / Ten things to do in order live a happy life.

The interview is divided into ten topics about Rola who is always glittering and adding her charm. The interview is about "LOVE." Any girl (not just her fans) can feel sympathy with the content of the interview which reveals Rola's real lifestyle.

—

The following is an abstract from the contents.

 "I'm not focusing on getting married now because I'm busy doing my work. I don't know what an ideal couple would be. But one thing I can say is that I'm looking forward to meeting a partner in the future who I can respect and I want that respect to be mutual. I don't know who I'm going to meet in the future but I want to polish myself always and make sure that I don't miss a wonderful encounter."

 "You shouldn't be thinking 'Well, I guess I will meet somebody that I love in the future, so who cares.' We shouldn't be passive, otherwise we might miss the chance to meet someone special."

 "So, I'm always curious about connecting with new people. Therefore, I try to accept my friends' coaxing me to come along to some outing.  I'm sure that somebody that I like or somebody that is charming will lead me to something new."

 ("momo Life"P.4~5 Rola / Ten things to do in order to live a happy life – Abstract from the main text.)

—

The rest of the interview can be seen on the website of "momo Life" in a few days! "momo Life" vol.1 can be purchased at all PEACH JOHN stores throughout Japan. Don't miss the magazine which is a BOOK-in-BOOK of the latest catalog of the summer season "PEACH JOHN 2017 Summer Vol.101!"

Related article:Cover depicting Mai Shiraishi is an earmark♡ "LARME 028" which introduces LARME-styled summer styles will be available from the 17th of May.

Related article:Yurina Hirate and Rika Watanabe of female idol group Keyakizaka46 to make debut appearance in Larme Magazine!

Enjoy Halloween from your very own bedroom with these roomwear outfits from PEACH JOHN!

Lingerie brand PEACH JOHN have spooked up some Halloween themed roomwear and slippers for this year's Halloween. The outfits are perfect for the spooky season and can be worn anywhere and anytime, from lounging around in your house to creeping around the streets of town.


The monster parker below is a warm, fluffy hoody, perfect for the cold days of October. If you put the hood up, not only will you be warm but you'll turn into a monster too! The warm slippers, too, will complete your look. If creepy isn't your style, then we recommend the cute mini cat one-piece that comes with cat ears. This too can be worn indoors or out. Get your hands on one of these new items from PEACH JOHN and have fun Halloween!

■Information
PEACH JOHN Halloween Site: http://www.peachjohn.co.jp/pjitem/list/?_alg=160928halloween&count=150&_dm=2&outlet=include&sort=6

PEACH JOHN Official Account: @peachjohn_official

ーーー
■Related Article: Donuts too cute to eat! ♡ Don't miss Mister Donut's collaboration with Snoopy — "Misdo Halloween Campaign"!!

http://www.moshimoshi-nippon.jp/18789

■Related Article: Check out Ginza Cozy Corner's limited edition Disney Halloween sweets range!

Japanese lingerie maker Peach John charms us with line of Alice in Wonderland themed loungewear

Now you can relax in comfortable loungewear while feeling like you're inAlice's Wonderland!!

If you're looking for at-home clothes that you can relax in but still feel excited about, then Japanese lingerie maker Peach John's new Alice in Wonderland Collection may be what you need.

The limited edition loungewear collection, which will be released on June 22 as a tie-in with the much-anticipated movie Alice Through the Looking Glass (which won't come out in Japan until July 1, incidentally — darn those Japanese film distribution companies again!), seems to mix fashion and comfort effectively with a good dose of the bright colors and elements of fantasy associated with the Alice in Wonderland stories.