The Japanese energy drink Lipovitan D is collaborating with the anime series Kingdom to release a line of drinks with character illustrations on the bottles. The drinks will be available in packs of 10 and sold on Amaozn and elsewhere from March 29 to May 29.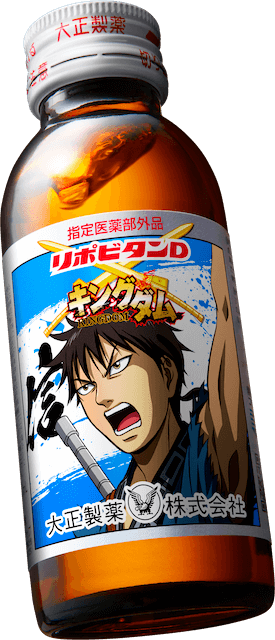 The theme of the drink pack is Shutsujin, or "departure for war." There are 15 character designs in total spread across 3 categories each of which have 5 character designs in them. The categories for these limited edition bottles are Shutsujin, Chishou ("Resourceful General") and Daishougun ("General").
The packs also come with paper crafts to create paper versions of items that appear in the anime series.
The Shutsujin pack comes with an almost 2-meter long sword.
The Chishou pack comes with a Ka Ryo Ten helmet you can actually wear.
The Daishougun comes with a detailed Yo Tan Wa mask that can also be worn.
The collaboration's website lists different ways you can utilise these fun items. The manufacturers put their all into making them and made the following comments.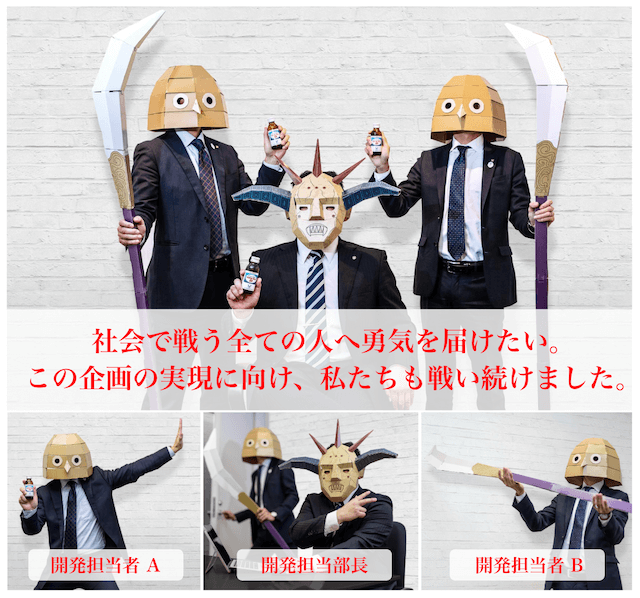 Lead Developer
"There's a lot of adversity in the office. I wondered to myself if there was something Lipovitan D could do to face this adversity… that's when we arrived on a collaboration with Kingdom. We worked hard on this so that people can pluck up the courage to face any adversity head on just like the protagonist Xin, and we made is so it can be used even in the business scene."
Developer A
"Not everybody holds the same courage and motivation to never lose like the characters in Kingdom. The helmet is the item those people need to gain the courage to take a step forward."
Developer B
"I was always a fan of Kingdom. I thought and planned long and hard to grant my dream of wanting to someday work under somebody like Yo Tan Wa. I got some laughs out of the office wearing the Yo Tan Wa mask, even out of my always-strict superiors. It changed their impression of me into something mysterious."
Information
Shutsujin! Craft Pack
Release Date: March 29, 2019
Pre-Orders: From March 18, 2019
Price: ¥1,460 (Before Tax)
Quantity: 10 Bottles (100ml each)
*Limited stock available. Product will discontinue once all have been sold.
*There is a chance that not all design labels will be included. Please check the campaign website for more details.
Product Page: https://brand.taisho.co.jp/lipovitan/lipod/campaign/kingdom2019/
©Yasuhisa Hara・Shueisha・NHK・NEP・Pierrot