Event Report: Entering the Cute World of the Sylvanian Families Exhibition at Matsuya Ginza
Hey, readers. Ellie here from the MOSHI MOSHI NIPPON Editorial Team.
Sylvanian Families is a line of adorable palm-sized Japanese anthropomorphic animal figurines, cute houses and furniture. The first ever exhibition for the franchise with over 1,000 items is currently being held at Matsuya Ginza until March 25, so I paid it a visit.
I often played with Sylvanian Families when I was small. I was excited like a kid to see just what kind of exhibition it was going to be.
At the exhibition you get to look back over the entire history of Sylvanian Families. The series was first released in 1985 with a family of nine animals, one house and eleven pieces of furniture. It took inspiration from European doll houses and was turned into something that was better for the Japanese market for children enjoy.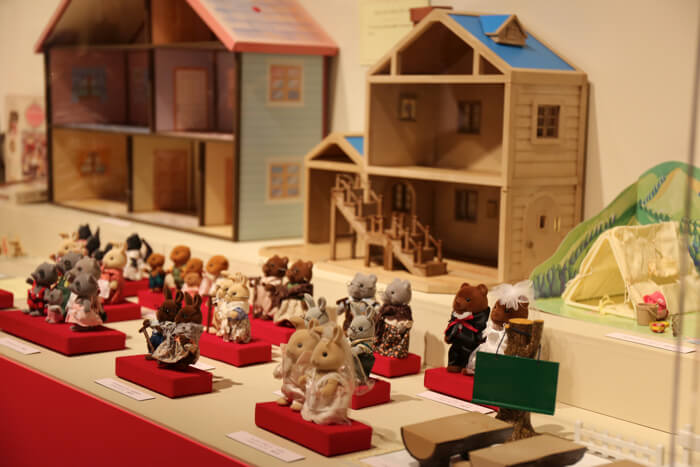 As time has gone on, the line-up has grown to develop Sylvania, the village in which the series is set, even bigger. To date there are around 70 families, 100 houses, shops and more.
Today, not only can you play with and decorate your toys, you can also handmake their clothing and arrange the houses and furniture to create your own personal world. And there are a lot of people doing this!
I saw lots of cute furniture that sent me on a nostalgia trip.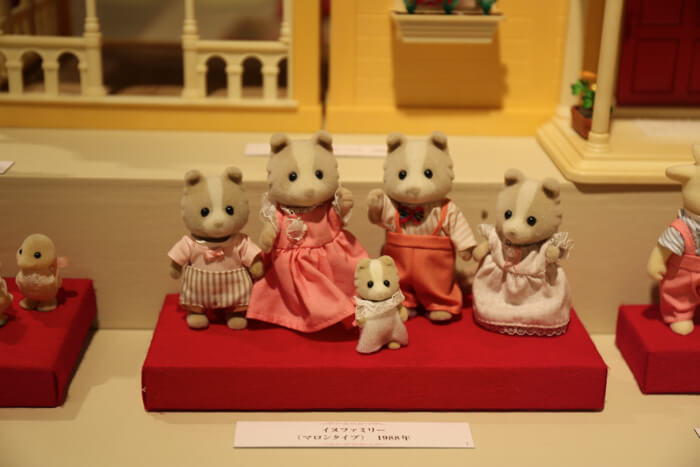 The items on display at this exhibition focus on those sold in Japan, but Sylvanian Families is loved by people in over 60 countries and regions. The worldwide total of dolls sold exceeds 150 million.
This is a photo of a new house made in collaboration with a doll house maker. I uttered the word "Cute…" without even thinking♡
Many other collaborative works are also on display here besides those with doll house makers. This photo here is from a doll contest carried out by students of Bunka Fashion College in Tokyo. There are 60 dolls on show.
After getting your fun fill of Sylvanian Families, there's also a photo spot prepared where you can have your photo taken to make it look like you have shrunk and entered the world of Sylvanian Families.
And you mustn't miss the exclusive products and merchandise on sale! There are about 250 items to choose from you can't get anywhere else such as stationery and other miscellaneous pieces.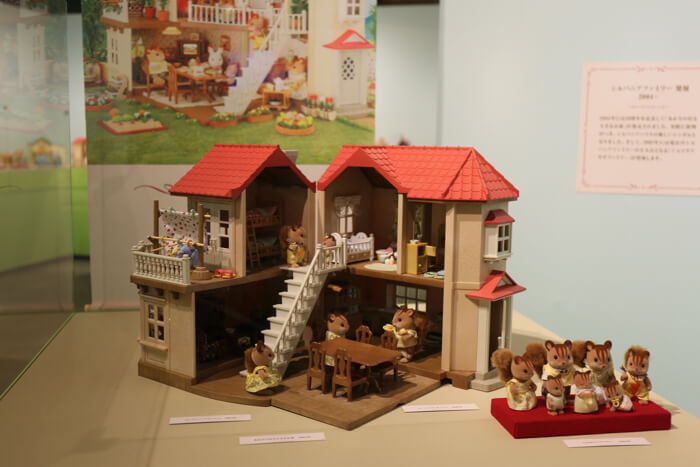 34 years on, Sylvanian Families continues to charm kids and adults alike. If you're in Tokyo this month then be sure to visit.
Information
Sylvanian Families Exhibition
Running: March 13, 2019 – March 25, 2019
Time: 10:00-20:00 (until 19:30 on March 17 and 24 and 17:00 on March 25)
*Last entries are 30 minutes before closing times
Location: Matsuya Ginza Floor 8F
Price: Adults ¥1,000 / High School Students ¥700 / Junior High School Students ¥500 / Elementary School Students ¥300
Enquiries: Matsuya Ginza (03-3567-1211)
Event Page: http://www.matsuya.com/m_ginza/exhib_gal/details/20190313_sylvanianfamilies_8es.html
©️EPOCH
RELATED ENTRIES
Ginza Sony Park's Milan Design Week 2019 Exhibition to be Shown in Tokyo

Ginza Sony Park is set to display their #012 Affinity in Autonomy exhibition at the Ginza Sony Park buildingーwhich is a project for the renovation of the Sony Buildingーfrom December 14, 2019.

Affinity in Autonomy was first shown by Sony at Milan Design Week 2019 which was held back in April. It received huge praise from attendees, and so Ginza Sony Park are bringing it back home to showcase at the building, which has enjoyed over 5 million visitors since it opened, for more people to experience it. The exhibit looks at elevating the affinity between humans and robots so that they may co-exist.

Also as part of the exhibition, Sony will showcase five individual pieces entitled Awakening, Accordance, Autonomous, Affiliation, and Association, which make use of image sensors. As visitors experience each one in order, their affinity towards robots will grow. Sound and visuals will play in response to people's movements.

The exhibition combines sound, colour and interaction, offering new insight into robots. What's more is that the robots recognise humans and response in real time, further enhancing the realism offered by the experience.

If you're in Tokyo this holiday season, and are looking for the robots, then be sure to pay a visit to Ginza Sony Park.

Information

#012 Affinity in Autonomy

Running: December 14, 2019 – January 13, 2020 (Closed December 31, 2019 and January 1, 2020)

Time: 10:00-20:00

Location: Ginza Sony Park PARK B2 / PARK B3 (5-3-1 Ginza, Chuo Ward, Tokyo)
Entry: ree

Event Page: https://www.ginzasonypark.jp/program/020/

Valentine's Day 2020: Japanese Chocolates, Golden Desserts & More at GINZA SIX

Winter may be cold, but that's no excuse to stay indoors all day when there's so many seasonal events and festivals to be enjoyedーespecially in Japan. With Christmas and New Year's just on the horizon, it'll soon be time to begin preparations for Valentine's Day.

GINZA SIX is the biggest shopping centre in Ginza, a district itself which prides itself as the high end part of Tokyo. Seeing as Ginza is home to many internationally-known chocolatiers, you can bet that GINZA SIX is sure to deliver when it comes to high-quality Valentine's chocolates and sweets. And you'd be right in thinking that, because the shopping complex is ready to showcase some of the delectable delights set to pose in all of their delicious glory during the season of love. Whether it's a treat to some premium chocolate to your special someone, or a bit of self-indulgence, GINZA SIX has you covered this coming Valentine's Day.

But that's not all, because a string of pop-up shops are going to open too. Let's take a peek into what's to come.

Premium sweets made with the "4th type of chocolate"

We all know dark, milk, and white chocolate, but many people are still unaware of ruby chocolate. Made from ruby cocoa beans, the chocolate was officially unveiled in 2017, and is marketed as the "4th category" of chocolate. It will come as no surprise then that GINZA SIX will be making use of this still rare chocolate, as well as "blonde" chocolateーyet another unfamiliar type.

Valrhona Blonde Chocolate Plate With Jasmine Scent – ¥1,200 @ THE GRAND GINZA

Blonde chocolate's characteristic quality lies in its combination of caramel and biscuit. The chocolate artisans over at Valrhona, a Japanese chocolate company savoured by some of the world's top patissiers, have forged a blonde chocolate dome dessert injected with a raspberry puree and sweet vanilla mousse. The dessert is sat on a bed of crunchy crumble and surrounded with a pool of jasmine-scented blonde chocolate cream. This one's for the adults to enjoy.

Ruby Saku Langue de Chat (12 Pack) – ¥1,200 @ ISHIYA GINZA

For a limited time only, ISHIYA GINZA's langue de chat, also known as cat tongue biscuits, arrive in a ruby chocolate flavour. They took their delicious cat tongues and sandwiched smooth and sour ruby chocolate between them.

Japanese-style chocolates

These next chocolates are made with the Japanese spirit and palate in mind.

Tsujiri Collection (8 Pack) – ¥2,360 @ Tsujiri

The tea experts at Tsujiri have paired chocolate with matcha and houjicha, two types of tea that go perfect with chocolate. Bringing out the flavour of tea in their products is Tsujiri's speciality. Houjicha comes as the newest flavour to this product alongside koicha, yuzu, sesame praline, Japanese pepper, sakura strawberry, and brown sugar.

Kurosu Vinegar Raw Chocolate – ¥1,500 @ Shoubunsu Vinegar Brewery

Kurosu vinegar is smooth and doesn't have a strong flavour or smell. It goes well with these chocolates from the Shoubunsu Vinegar Brewery, including their slightly bitter milk chocolate and white chocolate with soy milk. Each bite offers a sweet, refreshing flavour.

Textural chocolates

If you're here for the texture, then you've come to the right place. From a dessert that combines light pound cake with rich mousse to a melt-in-the-mouth chocolate terrine, GINZA SIX has no shortage of sweets with tempting textures.

Rouge – ¥2,315 @ Patisserie Pavlov

This dessert is made with pound cake and rich mousse and is lavish with ganache. It's covered with a strawberry chocolate coating and finished with an artisanal chocolate decoration.

Chocolate Terrine – ¥6,000 @ FRANCK MULLER GENEVE

Luxurious is the word to describe this chocolate terrine, a heavenly mix of Swiss dark chocolate and tasty cultured butter, resulting in a complex flavour profile of richness and melt-in-the-mouth sweetness.

Dine-in Valentine's menu

Another way to enjoy your time at GINZA SIX for Valentine's 2020 is to sit down at one of the cafes or restaurants to enjoy one of their exclusive Valentine's Day menu items, such as an afternoon tea. It's a great way to spend your time with your loved one or as a get-together for all the singles out there!

La Saint-Valentin Afternoon Tea Sets – ¥4,200 (Serves 1) @ THE GRAND GINZA

"Noir & Blanc" (Black/White) is the theme of these afternoon tea sets, which come in two different colours and are towered with strawberry-packed sweets and savoury snacks. Will you go for the stylish noir, or the sophisticated blanc?

Coppa Valentine – ¥1,819 @ Café Cova Milano

Served in a wine glass, this strawberry dessert is a layered combination of sweet and sour strawberry sorbet, chocolate ice cream, and strawberry sauce. It's topped with heart-shaped chocolate and a rose bell.

Limited-time pop-up shops

CAFÉ COVA (GINZA SIX Floor B2F) 

CAFÉ COVA has lots of incredible surprises for the Valentine's season next year, including a chocolate box wrapped in beautiful packaging, as well as the above-pictured heart and rose panettone (which, by the way, they'll only be selling a select few of!)

Paul Smith POP UP SHOP (GINZA SIX Floor 4F) / Open November 27, 2019 – January 14, 2020

IDEAS FROM LONDON is a pop-up shop by Paul Smith that's set to bring ideas from the UK to Japan. See their new fashion collection, special collaborative items, and more.

This is just a select look at what's to come when the season of love hits GINZA SIX. Make sure you don't miss out.

Information

GINZA SIX

Address: 6-10-1 Ginza, Chuo Ward, Tokyo

Opening Hours: Shops/Cafes (B2F-5F) 10:30-20:30 / Restaurants (6F, 13F) 11:00-23:00

*Business hours differ from shop to shop.

No Fixed Holidays (But shops and restaurants will be closed on January 1, 2020)

Access: Directly connected to Ginza Station via the Tokyo Metro Ginza Line, Marunouchi Line and Hibiya Line.

TEL: 03-6891-3390
Website: http://ginza6.tokyo/

Andy Warhol Exhibition in Kyoto: Select Major Artworks Revealed

An exhibition centred around Andy Warhol, the American artist who was at the forefront of the pop art movement, is set to roll up to the Kyocera Museum of Art in Kyoto from September 19, 2020. Around 200 pieces of art will be showcasedーover 100 of which have never been displayed in Japan beforeーas well as 15 video art pieces.

Three Marilyns (1962), Andy Warhol. The Andy Warhol Museum. *First showcasing in Japan

All of the pieces to be shown at the exhibition are the property of The Andy Warhol Museum, which is located in Pittsburgh, Pennsylvania in the US, where Warhol was born.

The Last Supper (1986), Andy Warhol. *First showcasing in Japan

Tunafish Disaster (1963), Andy Warhol. *First showcasing in Japan

Peacock (1957), Andy Warhol. *First showcasing in Japan

The line-up displays Warhol's diverse works, including his highly treasured Three Marilyns, as well as Tunafish Disaster from his Death and Disaster series, the enormous The Last Supper piece, Peacock which makes use of the Japanese style of gold leaf art, and more.

Kyoto (Kiyomizu-dera) (1956), Andy Warhol.

The exhibition will also turn its attention to Warhol's connections to Kyoto which haven't been discussed before. It will feature Warhol's sketch of Kiyomizu-dera in Kyoto which he drew during his trip around the world.

*All pieces are property of The Andy Warhol Museum

© The Andy Warhol Foundation for the Visual Arts, Inc. / Artists Rights Society (ARS), New York

BABYMETAL Collaborates On Fashion Designer Yohji Yamamoto's Ground Y Collection

2019 is the year of BABYMETAL, with their latest album METAL GALAXY having dropped in October and making them the highest Japanese group/artist to place on the Billboard Top 200 in the US in 56 years. As they continue knee-deep in their ongoing world tour, you might be wondering what else they have in the pipeline.

Well, we can confirm that for you right here and now: they have teamed up with internationally-lauded Japanese fashion designer Yohji Yamamoto on his revolutionary Ground Y collection which boasts a genderless and ageless style.

Pre-sales of the collection will take place at the new Shibuya PARCO which is set to open on November 22. This will be followed by sales at GINZA SIX, Laforet Harajuku, and the online store THE SHOP YOHJI YAMAMOTO.

The collection will bring together the unique world of BABYMETALーa band which has won love the world over and has featured as guest acts on many tours of international artistsーand Yohji Yamamoto, a rebel and innovator in the fashion industry whose DNA is woven into the Ground Y line. The inspiration for this jet black collaborative collection is "galaxy," an homage to BABYMETAL's latest record METAL GALAXY.

There are numerous items in the collection, including a jumbo cut and sewn embroidered with both the BMD FOX APPAREL logoーBABYMETAL's official apparel brandーand the Ground Y logo. There's also a big hoodie featuring a 360° print and BABYMETAL's logo, a draped silk satin long shirt, and more.

MASATOSHI YAMASHIRO snapped the photos in this photoshoot, a Tokyo-based photographer who started his career in LA and New York and works with fashion magazines, advertisements, and more.

Information

Ground Y feat.BABYMETAL "GALAXY" Collection

Items: Long Shirt / Shirt Dress / Jumbo Cut & Sewn / Big Cut & Sewn / Big Hoodie / Big Sweater

Prices: Cut & Sewn ¥25,000-¥28,000 / Hoodie ¥35,000 / Sweater ¥38,000 / Shirt Dress ¥110,000-¥120,000 (All prices tax-excluded)

Release Date: November 28, 2019 (Pre-sales bein at Ground T Shibuya PARCO on November 22, 2019)

▼SHOP INFO:

Ground Y GINZA SIX (Floor 4F, 6-10-1 Ginza, Chuo Ward, Tokyo)
Ground Y LAFORET HARAJUKU (Floor 1F, 1-11-6 Jingumae, Shibuya, Tokyo
Ground Y FaSoLa STARS (Narita International Airport 1, Passenger Terminal Central Building Floor 3F, Narita, Chiba)
Ground Y SHIBUYA PARCO (Floor 2F, 15-1 Udagawacho, Tokyo) *Opens November 22, 2019
THE SHOP YOHJI YAMAMOTO: http://theshopyohjiyamamoto.jp/JP/shop/c/c20

Official Touken Ranbu Event to be Held Across Japan to Celebrate Game's 5th Anniversary

The key visual for the upcoming "Touken Ranbu Honmaru Haku 2020" event has been released. The event will take place across Japan, including Sunshine City in Ikebukuro, Tokyo from January 5 to 19 next year in celebration of the online browser and mobile game's 5th anniversary.

The event was first held in 2017 to celebrate two years since the game's release where it was taken to 5 cities around Japan. This new event promises to be even bigger and better than before, with each room having its own theme. It will be a coming together of everything encompassing the franchise, including the anime, stage play, musical, film and more. After Ikebukuro, it will head to Osaka, Aichi, Fukuoka, Hiroshima, Niigawa, Ishikawa, and elsewhere. More dates and details are to be announced.

All tickets are designated to specific time slots for each day. Pre-sale tickets for Ikebukuro opened on October 25 will close on October 31, so don't miss out.

Information

Touken Ranbu Honmaru Haku 2020

Running: January 5, 2020 – January 19, 2020

Time: 10:00-19:00

Venue: Ikebukuro Sunshine City Exhibition Halls A & B (3-1 Higashi-Ikebukuro, Toshima Ward, Tokyo)

Entry Price: ¥2,000 (Tax Included) / With Folder ¥2,600 (Tax Included)

*Same-day and advance ticket prices are the same

Event Website: http://honmaruhaku2020.jp

GINZA SIX's Kurogi Chacha to Serve High-Quality Green Tea Caviar Ochazuke

Kurogi Chacha, a restaurant in GINZA SIX, is serving up an all-new ochazuke (green tea poured over rice) dish made with gyokuro, a high-quality green tea, and caviar. It will be served for a limited time for the whole month of November.

Gyokuro Caviar Chazuke – ¥20,000 (Before Tax)

Kurogi Chacha is a restaurant made in collaboration with Kyoto's long-standing tea company Fukujuen and Kurogi which has been called the hardest restaurant in Japan to reserve a table at due to the sheer number of reservations.

The new Gyokuro Caviar Chazuke is made with rich caviar and fine quality gyokuro tea which adds a refreshing taste to the dish. One bowl is served with an entire 30g can of caviar so you can enjoy its full flavour.

If you find yourself in the Tokyo's high-end district of Ginza then don't pass up this opportunity to wine and dine at Kurogi Chacha.

Information

Kurogi Chacha – Gyokuro Caviar Chazuke

Price: ¥20,000 (Before Tax)

Running: November 1, 2019 – November 30, 2019 (*Kurogi Chacha is reservation-only)

Address: GINZA SIX Floor oB2F, 6-10-1 Ginza, Chuo Ward, Tokyo

Opening Hours: 10:30-20:30

TEL: 03-6264-5754

GINZA SIX Christmas 2019: Christmas Cake, New Art by Klaus Haapaniemi & More

Ginza's biggest shopping complex GINZA SIX is celebrating Christmas this year with an upcoming event entitled "Celebration of Life: Hoshi no Umi no Shukusai" (A Festival Under a Sea of Stars) which will take place from November 5, 2019 to December 25, 2019.

Celebration of Life: Hoshi no Umi no Shukusai

The visuals for "Celebration of Life: Hoshi no Umi no Shukusai" were created by Finnish artist Klaus Haapaniemi. The work is titled "Astral Sea" and Haapaniemi arranged the art specifically for the event. It features animals and living beings floating through space amongst the stars, each moving to the rhythm of the stars' revolution. With this grand work, Haapaniemi has created a new myth that makes one think of space and how it connections to the lives of humans.

The space and time-transcending "Lightning Whales" which appear in the Astral Sea will be suspended from the shopping centre's atrium, and tapestries of Haapaniemi will also be draped down the centre, turning GINZA SIX itself into its own Astral Sea. The 10-meter long Lightning Whales floats have been designed in such a way that it looks like they are flying through space. Additional artwork can also be found in the front entrance, show window on floor B2F, and elsewhere.

Klaus Haapaniemi x GINZA SIX Christmas Collaboration Items

Several stores inside GINZA SIX are also releasing items in collaboration with Haapaniemi.

Mimuro Sugi Junmai Daiginjo Imadeya Ginza Limited Edition Model – ¥3,000 @ Imadeya Ginza

This Junmai Daiginjo is part of the Mimuro Sugi Roman Series developed by a sake brewery in Nara. This transparent drink retains the delicate flavour of the rice and leaves a beautiful lingering aftertaste. It's best enjoyed with some tasty food.

Available: November 5, 2019 – February 29, 2020 (While supplies last)

Lightning Whales Frozen Fruit Bar – ¥600 @ PALETAS

These new frozen fruit bars from PALETAS are inspired by Haapaniemi's Lightning Whales. The bar's fantastic colouring is taken from the Astral Sea, while its flavour is blueberry gelato with salt. It's decorated with gold leaf and silver leaf.

Available: November 5, 2019 – January 31, 2020

Gloves – Whale Embroidery ¥9,000 / Swan Embroidery ¥10,000 @ Ginza Tsutaya Book Store

Gloves are a must-have during winter, and these ones come with whale and swan embroidery. You're sure to grab people's attention with these gorgeous fits.

Available: November 8, 2019 – December 25, 2019

*Listed prices don't include tax. Items subject to change without notice.

Christmas Cake & Party Food

Ginza is known for its long list of gourmet restaurants, serving food from around the world. This holiday season, GINZA SIX has plenty of Christmas delights lined up.

Noel Neige – ¥4,630 @ Pavlov Pâtisserie

This gorgeous, light cake uses cream for its snowy landscape, topped with bright-red strawberries.

Panettone Babbo Natale – ¥7,407 @ Café Cova Milano

Cova's panettone is made with a secret recipe that has been handed down since the beginning of the 19th century.

Assorted Mini Sandwiches – ¥3,704

This assortment of mini sandwiches are the perfect choice for Christmas parties, filled with a variety of delicious ingredients like smoked salmon, caviar, pastrami, and more.

*Listed prices don't include tax.

This is just a small look at what GINZA SIX has in store for this Christmas. If you're spending the holiday season in Tokyo, be sure to stop by.

Information

GINZA SIX

Address: 6-10-1 Ginza, Chuo Ward, Tokyo

Opening Hours: Shops/Cafes (B2F-5F) 10:30-20:30 / Restaurants (6F, 13F) 11:00-23:00

*Business hours differ from shop to shop.

No Fixed Holidays (But shops and restaurants will be closed on August 26, 2019)

Access: Directly connected to Ginza Station via the Tokyo Metro Ginza Line, Marunouchi Line and Hibiya Line.

TEL: 03-6891-3390
Website: http://ginza6.tokyo/

Ginza's Gorgeous Ice Cream Shop coisof Releases Halloween Parfait

Ginza's luxury ice cream shop has released a new parfait flavour for the Halloween and autumn season.

They have called it the "Akiiro Murasaki coi Parfait" (Autumn Colour Purple coi Parfait). Coloured like the vivid sumire plant―a species of violet―this mouth-watering parfait contains a jam made in-house with whole natsuhaze, a wild type of blueberry that has been used in Japan since ancient times. It's topped with a dollop of rich and milky ice cream, a puree made from in-season purple sweet potatoes, and assorted nuts for added crunch.

Natsuhaze blueberries contain a lot of polyphenols, giving them an elegant sour flavour which goes unbelievably well with the taste of the milky ice cream and sweet potato. The parfait is served with a liqueur made from sumire extract.

For the Halloween period between October 16 to 31, the parfait can also be topped with various spooky decorations at no extra cost, like chocolate ghosts, spiders and cobwebs.

If you're celebrating Halloween in Japan this year, or want to treat your date to a Halloween treat, then take them to Tokyo's high-class shopping district Ginza for a luxurious parfait.

Information

Akiiro Murasaki coi Parfait

Price: With Liqueur ¥1,200 (Before Tax) / Without Liqueur ¥1,000 (Before Tax)

Running: October 16, 2019 – November 30, 2019

*Free Halloween parfait toppings available October 16, 2019 – October 31, 2019

Coisof

Grand Opening: January 17, 2019

Address: re:Dine GINZA Floor 9F, 4-3-1 Ginza, Chuo Ward, Tokyo

Opening Hours: 11:00-22:00

TEL: 050-3628-5009

Website: coisof.favy.jp/

Shibuya PARCO Refurbishments Reveal Collaboration Exhibitions With AKIRA, AUTO MOAI, JUN INAGAWA And More

The new fully refurbished Shibuya PARCO shopping complex is set to reopen on November 22, 2019. When Shibuya PARCO closed for renovations in 2016, GALLERYX BYPARCO was moved to Spain-zaka in the centre of Shibuya. This November, GALLERY X will return to its home on the basement floor 1 of the shopping complex. 

The first opening exhibition of GALLERY X is titled "AKIRA ART OF WALL Katsuhiro Otomo × Kosuke Kawamura AKIRA ART EXHIBITION" which will see an entire wall decorated in a collage of art by manga author and film director Katsuhiro Otomo and his legendary series AKIRA until May 2020. 

The art wall is in fact a relocation of the AKIRA art wall that has existed at the infrastructure building site in Shibuya for almost two years. Parts of it was damaged over time, and so it will resurface at PARCO MUSEUM TOKYO on the 4th floor of the new Shibuya PARCO. That's not all: there will also be valuable original works displayed as well as posters, 3D model recreations of things seen in AKIRA, the series soundtrack by Geinoh Yamashirogumi playing, 3D attractions where you can interact with a futuristic "Neo Tokyo" and much more. 

AUTO MOAI (December 2019)

Kazuki Iio (Zun) (December 2019)

Misaki Tanaka (February ー March 2020)

JUN INAGAWA (April 2020)

The first exhibition will be followed by a strong lineup of exhibitions. The exhibition areas will be filled with a wide range of attractions, making it appealing for a wide range of people with different tastes. 

* The above information and dates are subject to change at any moment without prior notification.

GALLERY X is full of originality and is a source of the latest entertainment culture so please check it out. 

Information

GALLERY X

Address: Shibuya PARCO floor B1, 15-1 Udagawacho, Shibuya, Tokyo

Opening Hours: 11:00 ー 21:00

Official Website: art.parco.jp/

Japanese Sweets Brand Minamoto Kitchoan to Open Cafe Restaurant K. MINAMOTO in Ginza

Japanese confectionery brand Minamoto Kitchoan will open a new cafe and restaurant called "K. MINAMOTO" on October 19.

K. MINAMOTO will be located on floors 2-5 at THE HOUSE, Minamoto Kitchoan's new company building which it just moved to on October 3. The cafe-restaurant's menu concept is dubbed "Ginza Sunny Fruits." It takes into consideration how daily fruit consumption has greatly decreased today by serving up a luxurious fresh fruit-packed line-up.

Minamoto Kitchoan is a company that has made full use of fruits since its establishment, including the suikanshuku, a Japanese wagashi confection made of whole dried domestic persimmons. We can trust then that K. MINAMOTO will provide us with our 5-a-day.

Roast Beef Sandwich w/ Fruit Soup – ¥2,420 (Tax Included)

Seafood Lemon Cream Fedelini w/ Fruit Soup – ¥1,650 (Tax Included)

Each and every dish on the menu has fruit, all grown in Japan to ensure the a high level of quality. Since the dishes have fruity flavours, prepping them is simple, and they enjoy the colours and textures of each fruit.

Drinks haven't been left out either. They are made with fruit purees and syrup, or are tossed in as they are, allowing for maximum fruity goodness.

Smoked Salmon, Fruit Salad & Potato Galette w/ Fruit Soup – ¥1,980 (Tax Included)

Autumn Fruit Almond Pudding – ¥1,760 (Tax Included)

All the staff at K. MINAMOTO have a wealth of knowledge about the menu and the fruits used in each dish. Their service creates a comfortable atmosphere, and though they are polite they are incredibly friendly, so you can call out to them without worry.

Get your fill of fruit from the all-new K. MINAMOTO, opening October 19.

Information

K. MINAMOTO

Grand Opening: October 19, 2019
Address: Minamoto Kitchoan Shinhonsha Bldg. "THE HOUSE" (Floors 2F-5F), 6-9-8 Ginza, Chuo Ward, Tokyo

Opening Hours: [Mon-Sat] 11:30-20:30 / [Sun & Holidays] 11:30-19:00

No Fixed Closures

Minamoto Kitchoan official website: https://www.kitchoan.co.jp

Dine On Fancy Authentic Japanese Food Casually at SHARI in Ginza

SHARI is a restaurant located on the second floor of Mitsui Garden Hotel Ginza-gochome, a new hotel that opened on September 26 located within walking distance from Ginza Station and Higashi-Ginza Station. This restaurant serves authentic and fancy Japanese-style food as well as luxurious Kobe beef, gozen set meals, and much more.

Ginza is known as the expensive, upmarket part of Tokyo, and when talking about small local restaurants there the pricing threshold tends to be rather high, but at SHARI customers can enjoy proper Japanese cuisine in a more casual manner and at a much more affordable price, with the typical set lunches starting at just ¥1,200.

Sophisticated is the word that springs to mind upon entering this restaurant, as your eyes meet the gorgeous mix of wood on black. As well as table seats, they also have counter seats too, allowing for you to enjoy a little luxury on your own if you so wish.

There is an additional restaurant inside the main restaurant itself that goes by the name Teppanyaki Mitaki, a tiny six-seater restaurant that serves Kobe beef, a type of wagyu beef and one of the top three beefs in Japan.

SHARI Gozen – ¥3,000 (Before Tax)

I ordered the SHARI Gozen which is served during lunchtime. This set comes with six small bowls, each filled with different colourful foods. It's a cute-looking set♡

There's lots of meat and fish included in the set. For meat, they have steak made with domestic beef. It's succulent and drizzled in a rich sauce that fills your mouth deliciously with a single bite. With the sashimi, the restaurant makes sure to serve fish that's in reason. There were 3 types of fish so it was a very satisfying meal.

The set can also be served with a variety of deep-fried foods, stewed foods, and cold fishes, as well as rice, miso soup, desserts and more. No matter what you order you can rest assured you'll be full afterwards.

SHARI is a chic and stylish restaurant with great food, plus it's located in Ginza. And you can enjoy all of this at a super low price!

Lady's Gozen – ¥2,600 (Before Tax)

I have to recommend the Lady's Gozen if you're looking to enjoy fish and vegetables. It comes with two varieties of sashimi and one fried fish, all in season, as well as an assortment of fried food, savoury egg custard, and four side dishes.

It also comes with rice and sushi rolls as well as a dessert like the SHARI Gozen.

The whole dinner menu is lined with Japanese food, including sashimi, tempura, fried food and more. There's also various courses, including the Teppanyaki Mitaki course which is priced from ¥12,000. It comes with Kobe beef of course in addition to various other high quality ingredients.

Shu – ¥1,000 (Before Tax)

I also recommend this Japanese-style cocktail for those thinking of staying late. It's inspired by the colours used in kabuki theatre―a Bloody Mary combining shichimi, nihonshu, and tomato juice. The rim of the glass is lined with more shichmi for a spicy and refreshing kick when you sip.

Check out the cute glass it comes in too.

From affordable lunches to dinner courses made with top quality ingredients, SHARI can be enjoyed throughout the entire day with its diverse menu line-up. Be sure to pay a visit to tuck into authentic Japanese cuisine in the luxury district of Ginza.

Writer: Sayuri Mizuno (MOSHI MOSHI NIPPON)

Translator: Joshua Kitosi-Isanga

Information

SHARI

Address: Mitsui Garden Hotel Ginza-gochome (Floor 2F), 5-13-15 Ginza, Chuo Ward, Tokyo

Opening Hours: Morning 6:30-10:30 (Last Entries 10:00) / Lunch 11:30-15:00 (Last Orders 14:00) / Evening 17:30-23:00 (Last Orders 22:00)

Closures: Morning – None / Lunch & Evening – Mondays (If Monday falls on a Public Holiday, closed the following day)

Access: 4-minutes on foot from Ginza Station's A5 Exit / 1-minute on foot from Higashi-Ginza's A1 and 4 Exits

*¥500 service charge during dinnertime. 10% service charge instead for Teppanyaki Mitaki. Smart-casual dress code. Preschoolers not permitted entry.

Official Website: http://shari-the-tokyo.jp/shari/

Roof Star Gardens Illumination Event to Take Place On GINZA SIX's Rooftop Garden

Ginza's biggest shopping centre GINZA SIX has announced that it's set to light up its rooftop garden with an enchanting illumination event titled Rooftop Star Garden which will begin on November 26 and run until February 24 next year.

Standing at 56 meters high, the rooftop garden is the "closest place to the stars" in Ginza. This will be GINZA SIX's first ever illumination event and it will shine a bright spotlight against the nightscape of Ginza's streets.

Rooftop Star Garden will take place in two areas in the garden: the Water Fountain Area and the Forest Area, both of which will welcome star-themed light shows.

The theme of the Water Fountain Area is "Shooting Star," whose LED lights will elicit a sense of profoundness in its observers. 147 LED lights will form the main monument of this area, with bright, sparkling illuminations that will remind one of shooting and twinkling stars.

The Forest Area is made up of two separate areas between the Water Fountain Area. Lasers will shoot through crystals, creating an ocean of countless specks of light that look like little stars that make it feel like you're in space.

This limited-time event is the perfect way to spend this year's Christmas, so don't miss out.

*Photos are for illustrative purposes only

Information

Rooftop Star Garden

Location: GINZA SIX Garden (Building Rooftop)

Address: 6-10-1 Ginza, Chuo Ward, Tokyo

Running: November 26, 2019 – February 24, 2019

*Will close during bad weather or during invitation-only events

Time: Sunset to 23:00

Entry: Free

GINZA SIX Official Website: https://ginza6.tokyo/