I tried a ¥1000 soft serve ice cream ♡ My trip to the CREMIA pop up shop!
Hello, this is Midori from Moshi Moshi Nippon's Editorial Department.
Now we've plunged right into spring, the weather is perfect for soft serve ice cream! A limited edition pop up shop called "CREMIA" selling ice cream to fit that perky spring feeling has just opened in Omotesando!
This may be slightly more expensive than other soft serve ice cream places but it is popular because it is so tasty. Some of you reading this are probably already familiar with CREMIA. This pop up shop sells an upgraded version of their delicious ice cream which is even more luxurious! CREMIA is already a rich-flavoured ice cream and I was wondering just how you could possibly make it even tastier so I dashed over there to uncover the mystery!
I escaped Harajuku, which is full of people during this season, and headed for Omotesando which is relaxing and peaceful. It's a nice idea to enjoy the nice weather and eat your ice cream while taking a stroll but CREMIA melts particularly fast so I recommend enjoying it on the second floor.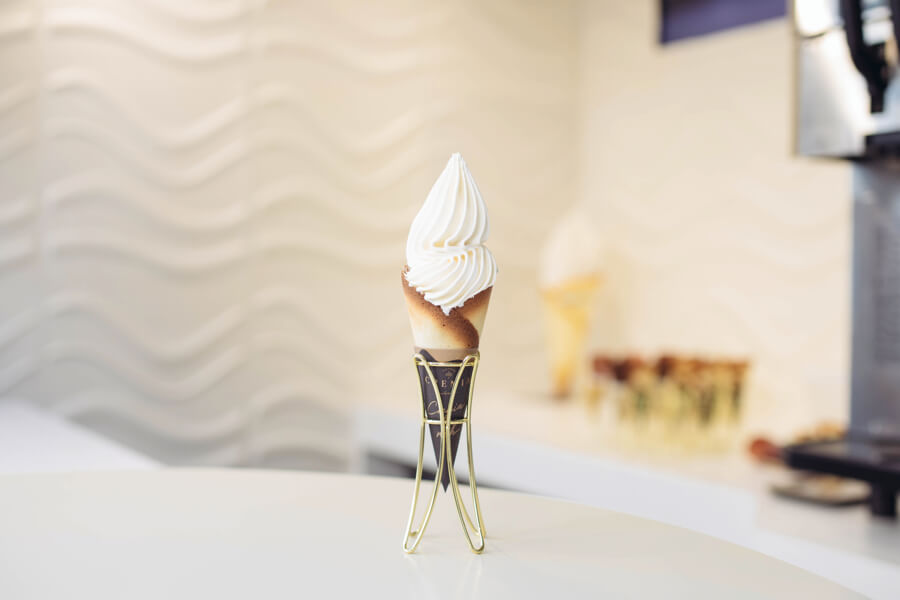 CREMIA the rich ¥1000 (price including tax) 
This is the legendary ultimate "CREMIA the rich"… and it's ¥1000! It's quite expensive for a soft serve ice cream so I was a bit on edge!
….Aaaaahhhhh!!!!
It was just like the ice cream you can get on a farm! It was very smooth and rich but not sickening and it wasn't too sweet either. I was sat on the chair enjoying my ice cream and it was perfect. 
There are also other items on the pop up shop limited edition menu so I tried them for you too!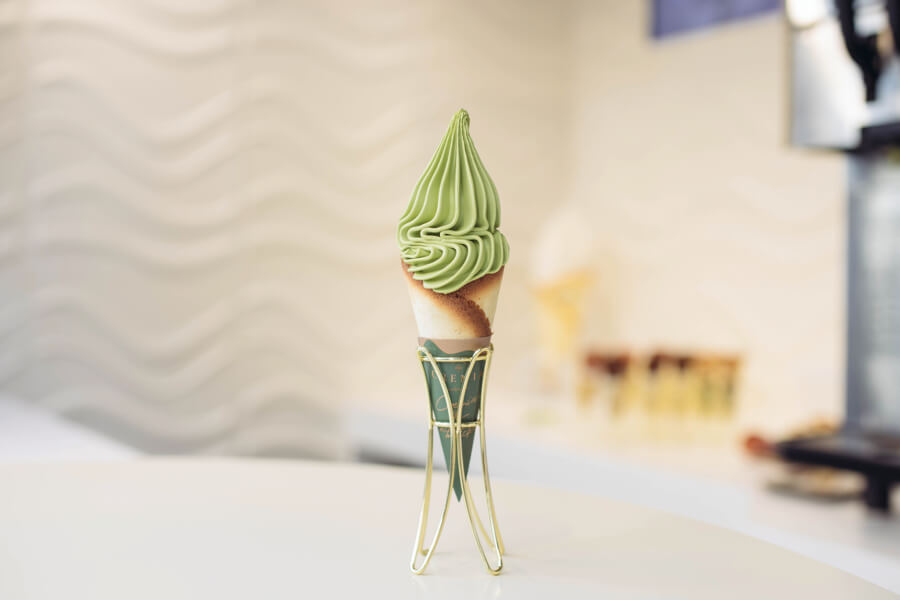 CREMIA the rich Matcha ¥1000  (price including tax)
CREMIA the rich Matcha is the most luxurious matcha ice cream! It is popular among adults. This is a rich ice cream but with just one lick the matcha flavour drifts and spreads through your mouth. This is the longest lingering matcha-flavoured ice cream I have ever eaten!
CREMIA the Custard  ¥540  (price including tax)
CREMIA the Custard is custard flavoured (as implied by the name). If you look closely at the cone, you'll notice it's pink ー how cute! This is a raspberry cone. You can only taste the raspberry flavour of this luxury cone just enough to recognise that it's raspberry -flavoured. This is very appropriate for spring and is goes perfectly with the custard soft cream.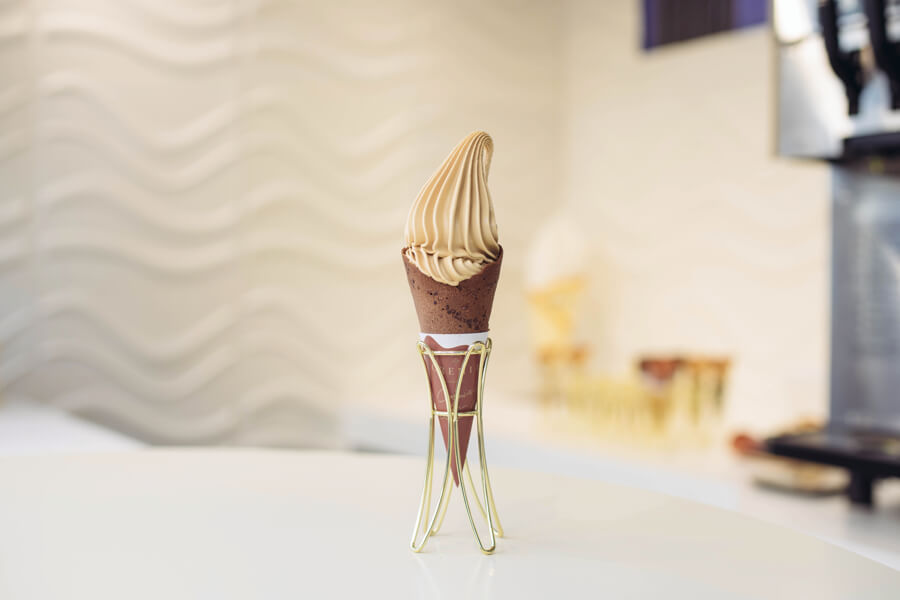 CREMIA the Caramel  ¥540  (price including tax)
CREMIA the Caramel is a caramel soft serve ice cream. It is sweet yet slightly bitter which is a very adult-like flavour. The saltiness of the hidden rock salt makes for a sophisticated flavour. This is a very stylish ice cream!
This is the most luxurious CREMIA ice cream and for that reason it may be a bit expensive, but you will definitely be satisfied. This is a great way to reward yourself for accomplishing something, or perhaps you could go for a special date there with somebody? Of course, you can also eat it on an average day….or to add some luxury to your average day ー it's just the best!
Information
CREMIA pop up shop
20th March ー 7th April
Opening hours: 11:00 ー 19:00
Zero Base Omotesando
RELATED ENTRIES
Kyoto's Sweet and Salty Matcha Cheese Tea is an Enlightening Flavour Discovery

Kiyomizu Cheese Kobo opened at Kiyomizu Gojozaka at the foot of the famous Kiyomizudera Temple as Kyoto's first ever cheesecake shop to sell its delicious cheesecakes in a cute jar. On August 13, they released a mouthwateringly rich Matcha Cheese Tea which will enlighten you with a new way to enjoy matcha.

The Matcha Cheese Tea harnesses Kyoto's unbeatable Uji matcha which is full of rich and fresh flavour. A light cloud of fluffy cheese foam floats on top of the drink, adding a salty accent to the overall flavour. A traditional tea combined with a sweet and salty cheese flavour ー this brand new flavour discovery will leave you feeling refreshed and enlightened. The recipe for the cheese foam consists of cream cheese carefully selected by the cheesecake shop's specialists. This is then blended with a small amount of salt to accent the flavour. 

If you mix the matcha milk tea with the cheese foam, the rich matcha mixes with the saltiness of the cream cheese, creating a sweet salty flavour that you will not be able to get enough of. As the flavour is not too overpowering, you can enjoy this drink endlessly and will feel refreshed even on a hot summer's day. 

Matcha Cheese Tea: ¥460

Kiyomizu Cheese Kobo recommends three different ways to drink the Matcha Cheese Tea to enjoy three different levels of flavour combinations. 

① First off, drink just the matcha milk tea so you can experience the true authentic flavour of Kyoto's famous rich Uji matcha tea. 

② Next, move your straw so that you taste just the cheese foam on its own. The fluffy foam will gently slide over your tongue and spread a mild and sweet flavour all over your mouth. 

③ Finally, it's time to mix everything. The saltiness of the cheese foam and the sweetness of the matcha milk will create a new salty sweet flavour that you will want to try again and again.

Whether you are a Japanese local or a foreigner, this drink is a fun new way to enjoy matcha. If you are new to matcha, this is a good way to try the flavour without being too overwhelmed. 

Information

Kiyomizu Cheese Kobo (清水チーズ工房)

Address: 569-10, Shiraitocho, Higashiyama Ward, Kyoto City, Kyoto

Opening Hours: 11:00 ー 17:30

No fixed closed days.

Official Website: http://kiyomizu-cheese.com/

Haneda Airport Releases First Bubble Tea Which Passengers Can Enjoy as They Fly

XFLAG STORE + HANEDA is a small branch of XFLAG STORE and is located in Terminal 1 of Haneda Airport. On August 13th, they released three energising bubble tea flavours served in a bottle that you can take on board with you when travelling along domestic air routes. The three bubble tea flavours are; MILK TEA, HOJICHA (a type of green tea) and MATCHA. 

These bubble tea flavours are limited to XFLAG STORE + HANEDA and were created with the intention of providing a splash of energizing fun to tiresome travels. 

As long as you screw the lid on properly, you can store your delicious drink in your bag and even carry it onto your flight so you can enjoy it whilst soaring through the clouds. This is the first time a shop at Haneda airport has ever sold a bubble tea drink with the intention of flight passengers taking it on board with them.

*Drinks and liquids are usually permitted on domestic flights in Japan. Please check the specific rules of your flight by referring to the official website of your airline. 

To commemorate the release of the new bubble teas, XFLAG STORE + HANEDA has launched an Instagram campaign with the chance to win an Amazon gift card worth ¥10,000 (approx. 80GBP/95USD). 

To take part in the Instagram campaign for the chance to win a ¥10,000 Amazon gift card, be sure to take a photo with your XFLAG STORE + HANEDA bubble tea drink and then post the picture on Instagram with the following three hashtags:

#旅タピ #タピオカ #空の上で飲めるタピオカドリンク

Four winners will be selected.

Get your summer holidays off to a soaring start with a beautiful bottle of bubble tea. 

Information

MILK, HOJICHA, MATCHA Bubble Teas

Price: ¥650 (before tax)

Release Date: August 13, 2019 

Available at: XFLAG STORE + HANEDA 

Address: Haneda Airport Terminal 1 South Wing, floor 3 (3-3-2 Haneda Airport, Ota Ward, Tokyo)

*Bubble teas sold may differ in appearance to the images in this article. 

* The MILK Bubble Tea (cup) is also available at XFLAG STORE SHINSAIBASHI. Both the HOJICHA and MATCHA Bubble Tea flavours are limited to XFLAG STORE + HANEDA.

XFLAG STORE Portal Website: https://xfl.ag/soratapi

Sold Out On Day One―Itohkyuemon's Matcha Parfait Bars Release at Gion Shijo Store

Kyoto-based Uji tea store Itohkyuemon released its new Matcha Parfait Bars at its new branch in Gion Shijo on August 7.

The bars proved so popular that all 1,500 in stock sold out on the first day. The store is currently being piled with orders for future sales. There are five flavours to enjoy: the classic matcha parfait flavour as well as cherry blossom, tropical, mont blanc, and strawberry.

Matcha Parfait Bar – Matcha

The matcha flavoured bar retains the original rich flavour of the Uji matcha, which has been passed down since the Muromachi period, and combines it with a delicious assortment of parfait toppings including raw matcha chocolate, mini daifuku, coarse sweet red bean paste, and more.

Matcha Parfait Bar – Sakura (Cherry Blossom)

For another traditional Japanese twist there is the springtime sakura parfait bar which is made with cherry blossom pink rice flour dumplings and ice cream. It's also topped with cherry blossom cream and salted cherry blossom petals for a cute finish.

Matcha Parfait Bar – Tropical

Tropical flavours like pineapple and mango blend together in this bar which is drizzled in a sweet, sour and refreshing tropical sauce. Topped with fresh tropical fruits, this is the ultimate summertime luxury.

Matcha Parfait Bar – Mont Blanc

This bar incorporates a sense of autumn with its mix of candied chestnut, astringent chestnut skin, and melt-in-the-mouth mont blanc cream.

Matcha Parfait Bar – Strawberry

Strawberry lovers will delight in the handmade strawberry sauce and strawberry meringue of this bar. The meringue elevates the sumptuous flavours of the parfait even more, including the fresh strawberry, raspberry and blueberry toppings which provide a sweet and sour kick.

Which of these Matcha Parfait Bars do you want to try the most?

Information

Matcha Parfait Bars

Released: July 10, 2019 (On August 7, 2019 at the Gion Shijo branch)

Prices

Matcha Parfait Bar – Matcha: ¥540 (Tax Included)

Matcha Parfait Bar – Sakura (Cherry Blossom): ¥590 (Tax Included)

Matcha Parfait Bar – Tropical: ¥590 (Tax Included)

Matcha Parfait Bar – Mont Blanc: ¥590 (Tax Included)

Matcha Parfait Bar – Strawberry: ¥640 (Tax Included)

Participating Branches: Uji Honten, JR Uji Station, Gion Shijo, Byodoin, Kyoto Station, and online shop

Online Shop Product Page: https://www.itohkyuemon.co.jp/site/parfait-bar/index.html

Fate/Grand Order Themed Cafe to Open in Omotesando

The third run of the Fate/Grand Order themed cafe, with designs produced by Sanrio, will take place at OMOTESANDO BOX CAFE&SPACE from September 5 to 29.

Fate/Grand Order is a popular online free-to-play RPG developed by Delightworks for smartphones and is based on the Fate/stay night franchise by Type-Moon. The story has continued to evolve since its released in July 2015, and as of July 2019, it has been downloaded more than 1.7 million times. A TV anime adaptation is slated for release in October 2019 and an anime film is in production for 2020.

This marks the third opening of this limited-time cafe, the previous two having taken place in December 2017 and August 2018 respectively. This year sees the introduction of new Servants as well as an all-new menu with the theme "Autumn tea room." Exclusive merchandise featuring designs of the Servants will also be available for fans to pick up.

When you book a table in advance (¥650 before tax per person) and order from the menu you'll receive one of the above possible 16 lunch mats.

And if you order a drink you'll get one of the 16 coasters. You'll get one of either piece of this original merchandise per item you order from the menu.

Menu Line-Up

Master & Mash Snow Field Meatballs – ¥1,490

This dish is piled with filling sauteed meatballs and mushrooms. The cream sauce is made to look like a snowy field. It's served with a side of jam for a succulent sweet and sour kick.

Romani & Vinci Waffle Sandwiches – ¥1,590

Waffles turned from desserts into a real meal, packed plump with chicken and cheese and served with a side of fries.

Gilgamesh & Merlin Afternoon Tea Set – ¥1,690

This gorgeous assortment of finger food includes cute cupcakes topped with Gilgamesh and Merlin. Enjoy together with a nice cup of tea.

Brynhildr & Sigurd Croquembouche Parfait – ¥1,390

Croquembouche is often served at weddings in Italy at France. Here, it has been turned into an easy-to-eat parfait. It's topped with salt ice cream, yogurt mousse and more, all in refreshing colours.

Fruit Tea (5 Flavours) – ¥790 Each (Male Master / Female Master / Mash / Romani / Da Vinci)

Matcha Milk Float (3 Flavours) – ¥790 Each (Okita / Ryoma / Izo)

Original Merchandise

Acrylic Key Rings (16 Designs – Chosen Randomly) – ¥650

Folder Set of 2 – ¥750

There are even more items on the menu as well as merchandise to look forward to at the cafe. Head to Omotesando and enjoy a beautiful autumn with the Servants!

 © TYPE-MOON / FGO PROJECT

*All prices listed are pre-tax. Photos are for illustrative purposes only.

Information

Fate/Grand Order Design produced by Sanrio – 3rd Collaborative Cafe

Running: September 5, 2019 – September 29, 2019

Location: OMOTESANDO BOX CAFE&SPACE (Pine Under Flat Floor B1F, 5-13-2 Jingumae, Shibuya, Tokyo)

Official Website: https://fgo-sanrio-cafe.jp/

*Reservations now open via the official website

Shop in Harajuku & Omotesando With a Takeout Dessert From Q-pot CAFE

The real summer is here now, and what better way to cool yourself off during your shopping spree in Harajuku and Omotesando than with a cool and refreshing takeout dessert from Q-pot CAFE?

Melty Mousse (Peach x Apricot Seed) – ¥500 (Tax Included)

Q-pot CAFE's Melty Mousses are encased in an adorable jar. This one is a heavenly mix of fruity peach mousse and a smooth apricot kernel milk mousse. Laced in the peach mousse is a divine blend of raspberries and lychees. The subtle sweetness of the peach coupled with the sourness of the raspberries and refreshing taste of the lychees make this dessert a perfect summer pickup. Also hidden within the delicious mix are pieces of fresh and juicy peach.

Melty Mousse (Mint x Chocolate) – ¥500 (Tax Included)

This summer sees the return of Q-pot CAFE's popular mint chocolate mousse. Chocolate and mint are always an exquisite combination, and this mousse mix proves it, fusing rich chocolate with a cool mint kick. The cute melty-looking mint chocolate at the top also gives it an appetising appearance.

Cat Ice Creams – ¥600 Each (Tax Included)

Also returning once more this summer are Q-pot CAFE's adorable cat ice creams, a mix of ice cream and various toppings. Choose from strawberry, vanilla or chocolate.

All of these desserts will be available to buy from August 5. They are all super cheap and are perfect for getting for takeout and walking around Harajuku and Omotesando. Be sure to stop by if you're planning a shopping trip there this summer break.

Information

Melty Mousse

Release Date: August 5, 2019

Price: ¥500 (Tax Included)

Available: Q-pot CAFE Omotesando (3-4-8 Jingumae, Shibuya, Tokyo)

Cat Ice Creams

Release Date: August 5, 2019

Price: ¥600 (Tax Included)

Available: Q-pot CAFE Omotesando (3-4-8 Jingumae, Shibuya, Tokyo)

Q-pot CAFE Official Website: https://www.q-pot.jp/shop/cafe/

Vegan Bubble Tea Arrives at Harajuku's BOTANIST Tokyo Tea Stand

For the whole month of August, the BOTANIST Tokyo tea stand in Harajuku is serving two different tapioca bubble tea beverages. Just 100 of each will be sold each day.

The two delicious drink flavours include "Butterfly Pea Soy Milk Tea" and "Matcha Milk Tea." Both beverages are made with high quality tapioca pearls from bubble tea store Bull Pulu who serve up Taiwanese pop culture with their tasty menu.

Vegans shopping in Tokyo's Harajuku and Omotesando areas will be excited to try the vegan-friendly Butterfly Pea Soy Milk Tea. Both of the drinks are also sold in eco cups and come with paper straws.

Tapioca Butterfly Pea Soy Milk Tea – ¥600 (Tax Included)

The vegan-friendly option is a combination of bright and colourful butterfly pea tea and soy milk. It's laced with a tropical coconut syrup for enhanced flavour.

Tapioca Matcha Milk Tea – ¥600 (Tax Included)

The matcha milk tea is a combination of rich and smooth matcha foam and milk. It's mixed with a fragrant hazelnut syrup.

Both drinks are takeout only and are available to buy on the first floor. If you fancy a little refreshing drink while strolling through Harajuku then be sure to visit BOTANIST Tokyo.

Information

BOTANIST Tokyo

Address: 6-29-2 Jingumae, Shibuya, Tokyo (Shop – Floor 1F / Cafe – Floor 2F)
Business Hours: 11:00-20:00
Official Website: https://botanistofficial.com/shop/

Stone Oven Cooked Burgers Served at New Ishigamaya GOKU BURGER in Omotesando

Stone oven hamburger chain Ishigamaya Hamburg has opened its first global flagship branch Ishigamaya GOKU BURGER in Omotesando. The restaurant will be open for a limited-period of 2 years.

The classic hamburger is made from 100% ground beef, but at Ishigayama Hamburg they serve what is known as the "Hamburg Steak," a mix of onions, spices, breadcrumbs, milk and other ingredients in the patty. It's a popular dish in Japan alongside ramen and tonkatsu.

We visited Ishigamaya GOKU BURGER to see what a hamburger tastes like at a place that specialises in juicy, stone oven cooked Hamburg Steak.

The restaurant faces Omotesando Hills. It's in the same building as Heiroku Sushi on the second floor. It's very easy to spot with its big sign that reads "GOKU BURGER."

The cosy burger joint has a casual atmosphere to it, lit up by its many variations of lamps.

From the big windows you can look down onto the the streets of Omotesando.

From your table you can see the large stone ovens which cook the famous Hamburg Steak. The smell is incredible.

I ordered the ¥1,450 Avocado Cheeseburger. It looks really cool with the knife stuck through it. You can choose from three different sauces to coat your burger: Original, Teriyaki and the Chef's Special. I went with Original.

Time to tuck in! But before that, you've got to put on the gloves provided by the restaurant which come with every burger. So what explains why the sauce is served in a separate tray! The fact you get your own gloves is a great idea since it means it'll keep your hands nice and clean so you won't get grease all over them.。

The meat is succulent and extremely juicy. The burger juices and sauce blend together to make a really delicious flavour which make you just keep on dipping.

The hamburgers are made with red meat that has only a little fat content, with each burger formed by hand individually. And by cooking them in a stone oven it means the burger will cook evenly and all at once, sealing the flavours and juices in even more compared to infrared cookers. The buns too have an amazing taste and are nice and fluffy.

The potato fries are round rather than long and thin. They don't go soggy and go amazingly with the sauce too.

The ¥1,580 BLT Burger looks tasty too, it's packed full of colourful ingredients.

When you order the ¥1,380 Premium Hamburg Steak Regular Set they pour the sauce over for you, so I had to take a photo. The thick steak is crispy on the outside and soft on the inside so it maintains its juiciness.

If you love burgers then you'll definitely want to pay a visit to Ishigamaya GOKU BURGER to try a burger like no other.

Visiting Shibuya's Candy Apple Store | Food Review

Hello everyone! This is Midori from MOSHI MOSHI NIPPON.

Candy apples are the staple food of summer festivals. A crunchy candy coating and a sweet, fruity apple is such a divine combination. It can be quite difficult to find candy apples outside of festivals. That's where Candy Apple steps in. This is a brand new shop on the block that specialises in candy apples!

This is located just a five-minute walk from Shibuya Station's west exit. If you check out their saved Instagram story, you probably won't get lost. During the weekdays and on Saturdays, this is an Italian restaurant called Buonappetito. On Sundays, when the restaurant is closed, it transforms into a candy apple shop.

The shop interior is gorgeous.

Plain: ¥600

I ordered the plain apple without wasting any time. This is much larger than what you would usually get at a festival. Although these are usually eaten by immediately sinking your teeth in and biting out a big chunk, you can cut your apple here and enjoy it at your own pace. 

After taking your first bite, you will realise just how different this is to your normal candy apple. The apple is coated in a thin layer of candy, creating a delicious crunch. The apple is fresh, juicy and sweet. Some candy apples are made with mushy apples that are not fresh, however these apples are extremely fresh and delicious right to the last bite. 

These candy apples are full of a variety of flavours.

Cinnamon Sugar: ¥600

The apple with the dusting of beige-coloured powder is cinnamon-flavoured. The sweet cinnamon scent spreads everywhere as soon as you set it on the table. The sweet flavour of the apple and the fragrant cinnamon is a match made in heaven. 

Cocoa: ¥600

The apple covered in the brown powder is cocoa-flavoured. The slightly bitter flavour of the chocolate is a perfect match for the sweet apple. The colour contrast between the brown chocolate and white apple is also beautiful. ♪

Matcha: ¥600

The apple with the green powder is matcha as you may have already guessed! The flavouring of the Uji matcha used for this apple was carefully balanced to maximise the flavour when combined with the apple. After you take your first bite, you just won't be able to stop. 

Blueberry Yoghurt: ¥600

The bright white dusting on this blueberry yoghurt-flavoured apple is beautiful. The blueberry scent is mild and is perfect with the yoghurt.

Black Cocoa: ¥600

The pitch black colour of the Black Cocoa Candy Apple is very appetizing. The black cocoa is even more bitter than the cocoa apple, which really brings out the flavour of the sweet apple even more.

You can even get chocolate fondue for your candy apple (¥400). By adding the fairly bitter chocolate to your candy apple, you can enjoy three different kinds of sweetness when it mixes with the chocolate, candy and the apple. 

You can even order your candy apple to go, making it the perfect summer souvenir. Taking it home to enjoy is also another wonderful way to make the most of your experience. 

This candy apple shop is only open on Sundays, but you can order to take away on other days. 

This is a flavour that a festival candy apple will never be capable of offering. You can tuck into your apple inside the beautiful shop, or take it home to enjoy at home at your own pace. 

Information

Candy Apple

Address: Nomura Building 1st floor, 7-12, Sakuragaocho, Shibuya, Tokyo

Opening Hours: 11:00-20:00 (Open every week on Sundays only)

*Only the Italian restaurant Buonappetito is open on weekdays.

Instagram: https://www.instagram.com/candy_apple_369/

Q-pot Reveals Summery Peach Themed Food and Accessory-Inspired Desserts

Q-pot is an accessory brand whose products are made to look just like delicious desserts. They also have their own cafe in Omotesando where they flip that concept, making desserts that look exactly like real accessories. The cafe has just unveiled its new refreshing peach themed drink and dessert line-up for summer.

Peach Pink Plate w/ Drink – ¥2,060 (Tax Included)

Available this summer only, Q-pot Cafe's peach pink plate is sure to tickle the fancy of girls out there. The peach mousse is a luxurious mix of peach puree and elderflower which give off a positively permeating fragrance. A sumptuous harmony of flavours is brought together when you locate the layers of the mousse which include a jelly centre containing sliced peaches, and an almond crunch bottom.

You also get the choice of one of four fancy macarons which contain refreshing peach sherbet and peach syrup.

Peach Pink Soda Float – ¥750 (Tax Included)

The refreshing peach pink soda float contains a peach syrup that allows the full-bodied fragrance of the peaches to come through as well as a satisfyingly sour pink grapefruit syrup, a dollop of salted milk ice cream, and a topping of peach. The drink sparkles like jewellery, and you're sure to shine beautifully too with just a sip.

Of course, Q-pot being Q-pot means that they have some peach-inspired accessories too.

Peach Whipped Cream Earring Set – ¥10,000 (Before Tax) / Little Peach Cake Necklace – ¥9,500 (Before Tax) / Peach Ice Cream Ring – ¥5,200 (Before Tax) / Peach Key Ring – ¥15,000 (Before Tax)

Express your love for peaches with this glamorously fruity line-up. They will make for perfect additions to your summer look!

Information

Q-pot Cafe "PEACH" MENU

Location: Q-pot Cafe Omotesando

Release Date: August 5, 2019

Reservations accepted via telephone and online.

TEL: 03-6447-1218 (11:00-20:00)

Website reservations accepted from August 5, 2019 at 13:00 (JST)

Q-pot. SUMMER 2019 "PEACH" Accessories

Available: at Q-pot. stores, Q-pot. Online Shop, Q-pot. International Online Shop

Official Website: http://www.q-pot.jp/

L'OCCITANE Omotesando: Japan's First Spa & Cafe Combination Store

The new L'OCCITANE Omotesando Voyage Sensoriel will open in the Omotesando and Harajuku area―Tokyo's hub of trends and culture―on July 27. This new concept store is Japan's first ever spa and cafe establishment where customers can enjoy L'OCCITANE with all five of their senses.

1st Floor: VERBENA CAFÉ by L'OCCITANE

Nestled in the corner of the first floor is the chic VERBENA CAFÉ where customers are treated to a menu blooming with fresh verbena, an ingredient you don't see everyday.


Fresh Verbena Blanc Manger – ¥1,280 (Tax Included)

Mango Verbena Parfait – ¥1,480 (Tax Included)

Sweet Tea Float Series – ¥1,280 Each (Tax Included)

The menu is tied to the seasons, so for this summer, you can look forward to cooling yourself off with the Fresh Verbena Blanc Manger and Mango Verbena Parfait, both made with fresh seasonal fruits, or a choice of one of the refreshing Sweet Tea Floats.

1st Floor: petit Spa L'OCCITANE

Also located on the first floor is the petit Spa L'OCCITANE which is opening as the first spa attached to a main branch. Their beauty menu covers everything from ageing care to relaxation. They also offer facial treatment services using Immortelle Divine Harmony―the latest in L'OCCITANE's skincare range―as well as the relaxing L'OCCITANE spa service which is guaranteed to send you off into a beautiful sleep.

1st Floor: VOYAGE SENSORIEL

The shop will also sell the elusive 86 Collection, a series of fragrances made in collaboration with Pierre Hermé Paris and sold at select stores only across the world.

Additionally, to celebrate the opening of the VERBENA CAFÉ, the shop will also sell limited edition verbena products and kits which can be gift wrapped.

If you're looking for a little luxury while in Tokyo then look no further than the spectacular new  L'OCCITANE Omotesando Voyage Sensoriel, opening July 27.

Information

L'OCCITANE Omotesando Voyage Sensoriel

Grand Opening: July 27, 2019
Address: Emoto Bldg. 1F/B1F, 4-29-4 Jingumae, Shibuya, Tokyo
Business Hours: 11:00-21:00 (Cafe Last Orders 20:00)
Official Website: https://jp.loccitane.com/omotesando

This Summer, Try These Luxurious Kyoto-Limited Uji Matcha Pancakes

Eggs 'n Things, Shijo Street, Kyoto will be selling luxurious Uji matcha pancakes from August 1, 2019. 

Eggs 'n Things Shijo Street first launched their delicious uji matcha pancakes back in February 2017. The pancakes quickly became a big hit among the locals as well as the tourists, appealing to visitors who wanted to discover more about Kyoto. This summer, Eggs 'n Things is packing their Kyoto-limited pancakes with even more Kyoto goodness.

These pancakes are luxuriously covered with rich matcha custard cream and garnished with rice flour dumplings, adzuki bean paste, chestnuts and a mini monaka wafer cake. Matcha is even kneaded into the pancake dough, maximising its mellow flavour. If you visit Kyoto, be sure to fully immerse yourself in the wonders of matcha ordering these matcha pancakes at Eggs 'n Things Shijo Street, Kyoto.

Information

Kyoto-limited Uji Matcha Pancakes 

Price: ¥1,580 (before tax)

Limited sale period start date: August 1, 2019 

Restaurant: Eggs 'n Things Shijo Street, Kyoto

 Eggs 'n Things Shijo Street, Kyoto

Address: 47-4,  Motoakuojicho, Higashinoroindori Shijo Sagaru, Shimogyo Ward, Kyoto

Opening Hours: 9:00 ー 22:00 (last orders: 21:00)

Q-pot Cafe's Dreamy Sailor Moon Afternoon Tea | Food Review

Hey, readers. I'm Midori from MMN's editorial team.

Sailor Moon fans are going to want to visit Q-pot right now―a cafe in Omotesando that makes desserts that look like real accessories―as the cafe is currently collaborating with the franchise. The inside of the cafe has been transformed into a cute and magical Sailor Moon world, the kind you could only imagine in your dreams. It has blown up since it opened on June 30 across Japanese social media.

There was no way I was going to miss a chance to eat here, so I took a trip to Q-pot to see what kind of kawaii things they had on the menu for the collaboration.

You'll know Q-pot when you see it in Omotesando by the pouring teapot on the wall next to the menu outside.

Strung up at the entrance are lots of ema plaques where people write their wishes and goals.

As soon as you step inside the cafe you are transported into a world of cute. The various chocolate and biscuit decorations on the wall are just plain kawaii. It gets you excited to start eating♡

I started by ordering the drink set which comes with the Moon Twilight Soda and Tuxedo Night Mocha. The soda contains berries and its lemon and apple flavour gives it a sweet and sour taste. The pink gradation is cute too♡

The mocha takes inspiration from Tuxedo Mask flying through the city at night. The rim of the glass is lined with sparkly sugar. The drink isn't just an ordinary cafe mocha – it secretly contains a sweet strawberry flavour which adds an enchanting aftertaste.

Next I tried the Transformation Brooch Macaron Cake. Shaped as a macaron, this cake is based by the brooch necklace which Usagi uses to transform into Sailor Moon. It's served on a ribbon-shaped plate which you can take home with you. The cake is filled with apricot and mango mousse inside which is pineapple♡

On top of the macaron is another exquisite macaron containing lemon jelly. The jelly and fruit sparkle to create a girly and gorgeous dessert. After you've eaten you can take the plate back to use at home!

And now for the crowning jewel: the Sailor Moon Afternoon Tea Set! This is one that anybody is going to crave when seeing it. It comes with two plate packed with food and desserts. The ribbon at the top is cute too.

The upper tier is adorned with macarons, mousse cakes, cookie sandwiches, and glass desserts.

The lower tier has sandwiches, vichyssoise soup, and olive and tomato pinchos.

The glass dessert is a raspberry mousse topped with Sailor Moon's Moon Stick. The mousse is fluffy and very tasty. The sourness of the berries isn't too strong either – it's a nice and light flavour.

When biting into the mousse cakes your mouth is filled with the gentle sweetness of the white chocolate.

Macarons are a popular dessert at Q-pot. The Sailor Moon ones are bite-sized and almost seem a waste to eat because of how cute they are. The cookie sandwiches, which are based on Luna and Artemis, are stuffed with lemon cream which has a refreshing taste. The cookies also have a delicious buttery flavour.

The lower tier sandwiches contain duck and broccoli. The sandwiches are small but you get a lot of veg so you won't go hungry. The soup is great not just as a light meal but as a palate cleanser after the desserts too. Try eating some when your stomach says it's full from all the sweet stuff!

My belly was pretty full after this afternoon tea set. I recommend ordering it for lunch.

If you're looking for a place to eat out with your girl friends when why not enter the fairy tale world of Q-pot for the Sailor Moon collaboration? Q-pot even has its own merchandise too so be sure to check it out!

©Naoko Takeuchi・PNP・Toei Animation