Enjoy an early spring with these Shikoku tourist spots and gourmet food recommendations!
The three cities of "Anan City (Tokushima), and Muroto and Aki (Kochi) located in the southeastern Shikoku region will experience spring ahead of the Honshu region. Today we will introduce information on spring holiday sightseeing and delicious food that you can only enjoy in the three cities.
Anan Tokushima
In Anan City, there is a place called "Sumitomo Gion"; the garden of a private residence which is open to the public where dozens of varieties of Japanese Iris flowers are maintained. In the garden of about 500 meters, 40 varieties of 1000 Irises, Hydrangea and Hollyhocks are in bloom, and will be in full bloom from late May to late June.
At the top of Mt. Tsumuneyama lies Mt. Tsushima Shrine, which is visited by many worshipers who come to pray for longevity. This area is a large garden called Tsumuneyama garden and it is colored pink with about 2000 cherry blossoms such as Yoshinozakura, Botanzakura, Yamazakura and more sakura trees. The annual "Sakura Festival" is held in late April every year, and it is always full of visitors.
There is a shrine with a lucky cat called "Omatsu Daigongen-sama", (aka: the "Cat God"). Here, you can purchase and collect cat goods.
Muroto City, Kochi Prefecture
About 2000 sakura trees of 35 types were planted by citizens in the public park "Kenritsu Muroto Kōiki kōen" in Muroto City, and this year will be the earliest cherry blossom festival to take place in Kochi prefecture!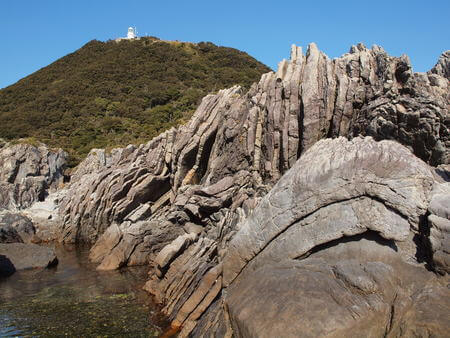 In addition, Muroto has a major tourist attraction called "Muroto UNESCO Global Geopark", which is one of the only 9 UNESCO-certified Global Geoparks in Japan. It is said that this where the sea and land meet and a new land feature is born. You can enjoy the unique lansdcape from the sea floor to elevated areas where you can stroll. This is also home to the subtropical plant Ficus superba (Akou no ki) .
If you ever stop by Muroto City, you should also visit the Murotohaiko Aquarium that opened last year. This was once an elementary school that was abolished. The pool has been used in its undeveloped state for the purpose of the aquarium! We recommend you visit the sea turtles and hammerhead sharks, who now swim in the former elementary school 25-metre pool!
Aki City, Kochi Prefecture
At Uchiharano Park in Aki City, about 15,000 Rhododendrons bloom in the park every April. To celebrate, Tsutsuji Festival is held from late March to early May every year and entertains many, many tourists.
Also, speaking of Aki City, there is a long history of farming and grain cultivation, and rich rural scenery spreads over the wide flat land. In such a landscape, there is a rural clock that was crafted personally by a local landlord. The clock tower built with skills and techniques they learnt themselves. Everything from the cogs to weights were made by hand. This remains today as the main symbol of the rural landscape of Aki City.
Furthermore, as local gourmet is essential on any tourism itinerary, you must try the local seafood dishes made fresh using locally caught fish. In Anan, you can enjoy "Hamo-don", which is made using dagger-tooth pike conger eel. In Muroto, you can try the local specialty "Kinmeidon" that uses splendid alfonsino fish caught in Muroto city. Finally,  "Kamaage chiri men don" is an Aki speciality that uses whitebait fish. 
Come and fully indulge in the wonders of Shikoku!
RELATED ENTRIES
Japan Coronavirus: Room for Rescue Project Provides Free Accommodation to Foreigners Who Can't Get Home

With flights cancelled around the world, it is becoming increasingly harder for foreigners to return home from Japan, resulting in them being forced to change their plans, extend their stay, and live every day in stress and uncertainty. To lend a helping hand to foreign travellers in this stressful time, three accommodation companies Slacktide Co., Ltd, Shared Value Co.,Ltd. and Life Bonds, LLC, who manage Kaname Inn Tatemachi, Sakura Cross Hotel and BONDS HOUSE respectively, have launched a joint accommodation project called "Room for Rescue" which provides free accommodation to international visitors who cannot return home as a result of the current travel restrictions.

This collaborative project was launched to ensure that foreign travellers don't feel like their trip to Japan was a bad experience, which could be a reason to avoid visiting Japan again in the future and heavily impact the tourism industry.

Tokyo:BONDS HOUSE

Tokyo:Sakura Cross Hotel

Kanazawa: KANAME INN

Currently, three accommodations in Tokyo and one in Kanazawa have opened their doors to stranded foreigners.

Room for Rescue: Request a Room

https://kaname-inn.com/room-for-rescue/

To apply for a room, you need a valid visa and a cancelled flight ticket which meets Room for Rescue's criteria. For more information, please refer to the application page. The Room for Rescue project is also looking for more accommodations to join the fight against coronavirus and open their doors to stranded foreigners. If you own an accommodation in Japan and want to help foreign travellers, please apply using the link below.

Become Part of Room for Rescue (for accommodation owners)
https://kaname-inn.com/room-for-rescue/contact/


If you are an individual who wants to support this project, please consider donating via their crowdfunding page mentioned in the information section below.

Kyo no Ondokoro Marutamachi: Rent An Entire Kyoto Townhouse to Yourself

Kyo no Ondokoro Marutamachi is set to open in the Goshominami area of Kyoto on April 25, 2020. The single-accommodation hotel is a complete renovation of a traditional Kyoto-style townhouse.

Kyo no Ondokoro Marutamachi comes as the 7th branch of hotels from Kyo no Ondokoro. It's a single building to rent for up to 4 people, who can enjoy taking a soak in the man-made carbonated spring bath which is kind to the skin and hair, using the soft water shower, and getting ready in the spacious makeup corner. It's the perfect getaway for girl groups travelling together.

The hotel is in a convenient location for sightseeing in the ancient capital of Kyoto. The building has been completely renovated to adapt to modern lifestyle while still retaining those traditional elements of a Kyoto townhouse that was built during the Meiji Periodーand in an area that's rich in traditional scenery.

The lounge space sofa seats are inspired by Japanese rock gardens

The lounge space, which connects the second-floor bedrooms and the washitsu Japanese-style room, are furnished with unique round sofas. All the rooms open up to each other so guests can enjoy the company of each other during their travel stay.

Hinoki cypress artificial carbonated spring bath

Amenities

The round bath is made from hinoki cypress, and the carbonated water lets you stay glowing and nice and warm after you step out of it. The bathroom is also stocked full of amenities like shampoo courtesy of popular brand THREE.

Up to four people can apply their makeup together in the makeup corner

The makeup corner is big enough to sit four people so they can get ready for their day or night out together while chatting.

Colourful art pieces also adorn the walls of the makeup room, Japanese-style room and elsewhere to add a touch of beauty to them.

If you're planning a trip to Kyoto with the girls then why not book at Kyo no Ondokoro Marutamachi when it opens on April 25?

Information

Kyo no Ondokoro Marutamachi

Address: 341-2 Shōshōiotabichō, Nakagyō-ku, Kyoto, 604-0873

Grand Opening: April 25, 2020

Price: ¥30,000 per night

Bookings: Opened on March 27, 2020

Offcial Website: https://www.kyo-ondokoro.kyoto/en/

Pan Am to Release Travel Inspired Clothing Collection in Collaboration with MIZUNO

Japanese sportswear brand Mizuno is collaborating with Pan American World Airways (Pan Am) to release a clothing collection called "52 Collaboration with PAN AM" in their "Go to by mizuno" series of lifestyle attire for active adults at the end of March. It will be available in Mizuno stores, Mizuno's official online shop, and pop-up shops in Japan.

Travel is the theme of the collection, and is the first co-developed line-up from "Go to by mizuno." It incorporates the functionality of sportswear while promoting the fun and excitement of travel.

What is Pan Am?

Pan American World Airways, commonly known as Pan Am, was at the forefront of the airline industry during its 64-year run. It was the first company to adopt the Boeing 707 when it ordered 20 of them for commercial use in 1955. It became the world leading airline in both name and reality in the 1960s. In 1972, Idlewild Airport (now John F. Kennedy International Airport) became a hub for Pan Am, and they also set up a company building in Manhattan. The airline is still fondly remembered today, and is sure to be a name mentioned by those who have travelled around the world.

Collaboration Items

The clothing line-up of 38 itemsーspanning T-shirts, caps, socks, travel bags, and moreーfeatures the Pan Am logo and is made from waterproof and stretchy sports clothing that can be used for everyday wear.

Information

52 Collaboration with PAN AM

Sold at:
17 Mizuno stores (including MIZUNO TOKYO and MIZUNO OSAKA CHAYAMACHI)
Mizuno online shop
Department Stores (Kawanishi Hankyu, Nishinomiya Hankyu, Kintetsu Department Store, Nara, Kashihara, Moriguchi Keihan Department Store, Kobe Hankyu, Kawagoe, Fukudaya Department Store, Utsunomiya)
*Pop-up shops from late March to early May (check official website for shop list)
*Shonan Tsutaya pop-up exhibition (March 20-April 27)

Official Website: https://www.mizuno.jp/52goto/

World's Largest Athletic Tower Banpaku BEAST to Open at Expo '70 Commemorative Park in Osaka

Banpaku BEAST is set to open as the largest athletic tower in the world at Expo '70 Commemorative Park on March 15, 2020, standing 24 meters tall.

The hexagonal tower was created by German-based amusement park attraction developers KristallTurm. It has four floors, each of which is its own "athletic area," as well as an observation deck. It is a comprehensive workout tower, offering 120 different kinds of athletic activities such as climbing and slacklining, meaning the fun will never end in a single day, and will have you wanting to go back for more.

The tower makes use of its full height; expect to use your entire body during your ascension, ride barrels, bikes, and more. Safety is guaranteed while still offering a heart-racing experience for those thrill-seekers. The facility can be used by both kids and adults alike who want to test themselves and feel refreshed after a good workout.


See Banpaku BEAST in action in the official video above.

Information

Banpaku BEAST

Location: Expo '70 Commemorative Park, Suita, Osaka

Time: Reception 9:30-15:00 / Open 10:00-16:30

Price: General ¥3,500 / Elementary school children and below ¥3,000
*Separate fee charged for entry to Expo '70 Commemorative Park's Natural and Cultural Gardens (General ¥260/ Elementary school children and below ¥80)
Access: 5-minutes from Expo Memorial Park Station via Osaka Monorail

Official Website: https://www.se-amuse.jp/bampakubeast/

MOSHI MOSHI ROOMS Opens Sentō Bathhouse and Sumō-Themed Fusion Accommodation Called 'DOSUKOI'

MOSHI MOSHI ROOMS is located in the heart of Harajuku's tourism welcomes travellers from all over the world to immerse in Japanese culture in a way they've never experienced before. The cherry blossom-themed accommodation SAKURA is a blooming success throughout the year and ORIGAMI's mesmerizing and clever designs never fail to make tourists crease their necks in amusement. 

The third Japanese culture accommodation has stomped into MOSHI MOSHI ROOMS as a fusion of sumō wrestling and sentō bathhouse culture called 'DOSUKOI'. The word dosukoi is phrase that sumo wrestlers shout out to get hyped up – perfectly summing up your excitement as you explore this spectacular fusion world from corner to corner. From a giant sumō hand to a historical sentō bathtub with a magnificent mural artwork scenery, the entrance, living room and sentō-style bathing area is overflowing with originality.

Living Room

The entrance to the living room is themed around a sentō bath. The tiled roof and traditional entranceway noren fabric dividers will be the first thing to welcome tired travellers. 

A giant sumō hand overshadows the light on the ceiling, representing the tsuppari striking technique used by sumō wrestlers. The furniture, including the soft sofa, rug and chairs, is white and beige to represent the colour of the sumō ring. 

The relaxing room is punctuated with powerful illustrations of sumō wrestlers that cover the wallpaper. 

Bathroom


The round bathtub is made from Japanese cypress wood and is large enough to fit 3-4 people – perfect to soak off your tiredness with friends and family. A large wall painting (mural)  of a grand ocean view dominated by Mount. Fuji stretches across the wall. A purple curtain is suspended above the circular bath, representing the mizuhikimaku curtain which hangs above a sumō ring. 

The dressing area is equipped with a fridge and chair like a traditional bathhouse. DOSUKOI guests will also find complimentary bath salts which are a gift.

The grand mural is an original piece by Kiyoto Maruyama – one of Japan's three remaining sentō mural artists. This graceful painting was created using a large and smaller brush. As you admire the bold colours and fine details of this rare art, which is fading away as society progresses, you will be sent on a journey back through time. 

Bedroom

The spacious sleeping area consists of two levels, each of which has enough room for two people to sleep. The room also has another bed in storage, meaning that up to five guests can stay. 

Sink and Toilet

The separate sink area is equipped with a hair dryer. There is also a Japanese Washlet toilet with multiple functions. 

Amenities and Extras

The kitchen is fully equipped with cooking utensils, a microwave, refrigerator and all the daily essentials. 

After a long, relaxing hot soak, put on a light yokozuna yukata robe and you'll feel just like a sumō champion. There are also many amenities and items that fit with the DOSUKOI theme. 

MOSHI MOSHI ROOMS isn't just a hotel but is also the perfect party space for you and your friends to get together. As the cold days are still with us, how about warming up in a toasty sentō-style bathtub with your friends?

Kyoto Aquarium to House 20 Types of Jellyfish With New 'Jellyfish Wonder' Area

Kyoto Aquarium is currently undergoing a large-scale renovation and is set to reopen on April 29, 2020.

When it reopens, visitors will be able to visit the new jellyfish area, called "Kurage Wonder" (Jellyfish Wonder), which will span 350㎡ in width and 40 meters in length. It will house the largest number of different species in western Japanーup to 20ーwith around 5,000 individual jellyfish to see, like the northern sea nettle and pacific sea nettle.

The area begins at 10 individual water tanks where you can see how moon jellyfish change and grow. It then moves onto the 6.5 meter circumference "GURURI" panorama tank which offers a 360° view of 1,500 moon jellyfish.

This tank is entered through an arch, which once you pass through leads you under the tank where your vision is filled with the sight of countless moon jellyfish.

The new "Kyoto Jellyfish Research Lab" has also been built where guests can observe the staff breeding and researching jellyfish on a day-to-day basis. Enjoy hearing how the jellyfish are cared for behind the scenes while chatting together with the staff. Various other activities you can participate in will be introduced in the future too.

Discover the wonderful world of jellyfish at the newly-renovated Kyoto Aquarium.

Information

Kyoto Aquarium

Address: 35-1 Kankijicho, Shimogyo Ward, Kyoto

Reopening: April 29, 2020

Access: 15-minutes on foot west from Kyoto Station's Central Exit / 7-minutes on foot from Umekōji-Kyōtonishi Station via the JR San'in Main Line

Official Website: https://www.kyoto-aquarium.com/en/

Tokyo Tokyo Official Souvenir Shop Opens in Haneda Airport

Tokyo Toyko, a website that provides information on things to do in Japan's capital, opened its own souvenir shop, called Tokyo Tokyo Official Souvenir Shop, in EDO KOJI on February 22, 2020, which is located on the fourth floor of Haneda Airport International Passenger Terminal.

As part of an effort to promote the appeals of Tokyo to the world, Tokyo Metropolis is carrying our PR work and branding with the catchphrase "Tokyo Tokyo Old meets New."

Happy Daruma / Mamehapi

Edo Kimekomi Waving Cat

The "Tokyo Omiyage Seisaku Project" aims to develop products in collaboration with Tokyo Metropolis and local businesses with the "Tokyo Tokyo" brand. To date, 50 products (excluding colour variations) have been produced, from traditional crafts to stationery, food, and moreーall embodying the spirit of Tokyo.

The shop design features illustrations of Asakusa and Shibuya, two a symbols of Tokyo that have been around since the Edo Period and are and hub of traditional and contemporary Japanese culture respectively. The shop is also planning to hold workshops, where you can learn to make your own daruma and origami.

If you're travelling to or from Haneda Airport, then be sure to pay a visit to Tokyo Tokyo Official Souvenir Shop where you can pick up souvenirs that combine traditional and contemporary culture.

Information

Tokyo Tokyo Official Souvenir Shop

Location: EDO KOJI – Haneda Airport International Passenger Terminal (Floor 4F)

Address: 2-6-5 Hanedakuko, Ota Ward, Tokyo

Opening Hours: 8:00-21:00 (Open all year round)

Raise Your Own Sky Lantern at New Greenpia Tsunan in Niigata

New Greenpia Tsunan, a resort facility in Tsunan, Niigata, is holding an exciting sky lantern event every day until March 31, 2020.

 

The sky lantern event is held every winter at New Greenpia Tsunan, and has returned again for 2020. It began in 2012 as a means of showing respect for and praying for the revival of disaster-stricken areas, such as the areas affected by the 2011 Tohoku earthquake, the Nagano and Niigata earthquake, and so on. Every year, couples and families come together to put their prayers and wishes into the lanterns before letting them go into the night sky. The countless lanterns raised at once soar up high and light up the black cloak of the night like burning stars.

For 2020, the event will also sell lantern t-shirts, handkerchiefs, hand towels, cookies, and other themed items.

 

If you're travelling in or around Niigata in Japan this year, then don't miss New Greenpia Tsunan's very special winter event.

Information

Sky Lantern Event

Running: Everyday until March 31, 2020 (Except select days where the site is closed or booked)

Location: New Greenpia Tsunan (12300 Akinari, Tsunan, Nakauonuma-gun, Niigata)

Time: Weekdays – From 18:00 / Saturdays & Days Before Public Holiday – From 18:00 & 20:00 / March Onward – From 18:30

Booking: Bookings available until 17:00 on the day at New Greenpia Tsunan

Price: ¥1,500 (1 lantern)

Official Website: https://new-greenpia.com/

*In the case of stormy weather, the event will not proceed on that day

ART LAB KYOTO: The New Shop Opening at Kyoto City Kyocera Museum of Art

ART LAB KYOTO is the new museum shop set to open at Kyocera Museum of Art on March 21, 2020 in line with the revamp currently undergoing at the museum, with design work being co-created by Japanese architects Jun Aoki and Tezzo Nishizawa.

Kyoto is known as a hub of Japanese culture, managing to maintain traditions while constantly evolving. ART LAB KYOTO will embody everything about this idea when it opens after the museum's revamp. The spacious shop will not only sell merchandise related to the exhibitions, but books and goods related to art from Kyoto both traditional and contemporary, items in collaboration with external artists, original and exclusive sweets, and more. ART LAB KYOTO will also host events promoting the diversity of art and culture in Kyoto.

Information

ART LAB KYOTO

Address: Kyoto City Kyocera Museum of Art Floor B1F (124 Okazaki Enshojicho, Sakyo Ward, Kyoto)

Grand Opening: March 21, 2020

Closures: Open every day until April 30, 2020 except March 23. The schedule commencing May will be posted at a later date on the official website.
Opening  Hours: 10:00-19:00

Official Website (English): https://kyotocity-kyocera.museum/en/

You Can Take Your Pets to These Hotels and Accommodations in Japan

Online travel booking website Rakuten Travel has released this year's list for the most popular hotels and accommodations you can stay at with pets in Japan. The list is based off travellers' reviews taken from the website. This list has been updated and published every year since 2014, making this its 6th run.

Placing number one on the list for the first time is Yutsura, a ryokan Japanese-style inn which opened in Shizuoka in April 2018 and can be rented by one person or group for one night. Up to six people in a single group can stay there along with up to 5 small dogs weighing 5kg or less. It's highly favoured amongst travellers who want to take their dogs on the road due to the extent the inn caters for pets. Guests can enjoy having the dogs in their rooms as well as feed their pets there, all without being a bother to other guests.

Nipponia Sawara Merchant Town Hotel in Chiba Prefecture came in second place. You can feel the history of this hotel accommodation which is renovated from a traditional storehouse and townhouse. It allows up to three pets in a room which collectively weigh 25kg. There are three types of rooms to choose from, including one with a dog park. It also offers various services, including a free night for one dog, snacks and amenities for dogs, and more.

In third place is Dog Pension R65 in Shizuoka Prefecture which allows not only big and small dogs, but cats and other pets too. It offers large footbaths for dogs to use, dog parks, and many other services that cater to pets. The hotel also offers cottage-type accommodation rooms separate from the main building too if you're looking to spend some peaceful time away with your beloved companion.

If you're looking to travel around Japan with your pet, be sure to check if a hotel allows animals. Check the link below for the full Top 10 list.

Matcha Desserts in Sapporo You Just Have To Try

We've previously covered the best spots to try delicious matcha desserts in Kyoto. Now, with the help of expert dessert Instagrammer Kei, we are going to introduce you to some of the most delicious spots to try matcha desserts in Sapporo, Hokkaido.

If you want to discover more delicious cafés, desserts and drinks in Hokkaido, make sure to check out Kei's Instagram (@607keih).

 

KotoniSand, Nishi Ward

Macchan French Toast: ¥1200

 From dinners to desserts, this café serves up lots of meals based on their delicious thick-sliced bread. Bread flavours include plain, matcha and even coffee. You can order to go or enjoy the eat-in-limited menu. This fluffy french toast is soaked in matcha liqueur and is full of flavour even before trying it with the toppings. Take a bite of it with the red bean paste for a flavour adventure. A limited number of these are sold per day so if you want to try it, make sure to get there early. 

▼KotoniSand

Address: 1-1-1 Yamanote 5 Jō, Nishi-ku, Sapporo, Hokkaido

Opening Hours: 11:00-18:00
Closed: Tuesdays
Official Website: https://kotonisand.business.site

Ame no hi to yuki no hi, Minami Ward

Gelato Futatsu: ¥450

Located before Jozankei's onsen hotspot is a café called Ame no hi yuki no hi. It serves delicious pizzas and a variety of gelato flavours depending on the season. Their matcha ice cream is delicious. They even allow you to order two or three flavours at once so you can enjoy a mix and match of combinations. 

▼Ame no hi to yuki no hi

Address: 2-4-1, Jozankeionsennishi, Minami Ward, Sapporo, Hokkaido 

Opening Hours: 10:00-17:30
Closed: Thursdays
Official Website: https://www.amenohitoyukinohi.com

KANON pancakes, Shiroishi Ward

Matcha Tiramisu Pancake: ¥1500

This is a famous pancake shop in Kikusui. Tuck into a stack of fluffy pancakes inside the relaxing and soothing restaurant. The Matcha Tiramisu Pancakes are soaked with liqueur, creating a texture that is softer and moister than their standard pancakes. In addition to the matcha liqueur, the pancake is also dusted with matcha powder for a richer matcha flavour. Finally, they are drizzled with delicious brown sugar syrup and topped with walnuts.

▼KANON pancakes

Address: 5-5-18 Kikusui 3 Jo, Shiroishi Ward, Sapporo,

Opening Hours: 10:00-17:00 (Last Orders: 16:00)
No Regular Holidays
Official Website: https://kanon-pancakes.com

Any cafe, Kita Ward

Matcha Kintoki: ¥1350

This shop uses gluten-free ingredients in their food. This pancake dish is made using unpolished rice powder, three pieces of Turkish delight, red bean paste, rice flour dumplings, and cream made from Hokkaido-produced mascarpone and fresh cream. The cream is full of the bitter and delicious flavour of matcha, making the pancake sweet and very delicious. 

▼Any cafe

Address: 3-2-24 Kita 18 Jonishi, Kita Ward

Opening Hours: 11:00-18:30 (Last Orders: 18:00)
Closed: Tuesdays

Official Instagram: https://www.instagram.com/any_cafe_sapporo/

If you are looking for delicious matcha desserts in Sapporo, let this article help you decide where to go. When your food cravings kick in, make sure to visit Kei's Instagram which is full of the most delicious meals, drinks and desserts in Hokkaido. 

Original Article Contents and Photos by: Kei (@607keih )

Tour Tokyo, Pick Strawberries and Enjoy Afternoon Tea On The ichigosan bus

From their popular AWAPA Foam Party event where you can dance in a club filled with foam to their BATHTUB CINEMA event where you can watch a movie with your friends in a bathtub, Afro&Co. never fails to bring us new and creative ways to have fun. They are now collaborating with Saga prefecture to run the 'ichigosan bus': a sightseeing bus which will introduce you to wonderful spots in Tokyo with an unexpected strawberry twist to celebrate the first anniversary of Saga prefecture's strawberry farm 'ichigosan'. Enjoy strawberry picking inside the bus and then tuck into a strawberry-tastic afternoon tea set and much more. The bus will be running for a five day period from January 1 to 19, 2020.

ichigosan Afternoon Tea

ichigosan Panna Cotta

The ichigosan bus commemorates one-year since Saga Prefecture launched their new brand of delicious succulent strawberries called 'ichigosan'. The collaboration hopes to spread the delicious flavour of ichigosan strawberries to as many people as possible with the five-day-limited strawberry-tastic bus tour. Hop on the red double-decker bus, which looks just like a London tour bus, to enjoy strawberry picking on floor one and an original strawberry afternoon tea set prepared by a chef from Royal Garden Cafe Aoyama on floor two.

ichigosan Crêpe

ichigosan Tart

This three-experience-in-one tour bus introduces you to the newest famous spots in the city, offers you a fun strawberry picking experience and even comes with a delicious strawberry afternoon tea set. You can book tickets in advance online and there are two kinds of tickets available for on-the-day purchases. As this is the best season to enjoy ichigosan strawberries in Japan, make the most of it on this tour and you will be berry pleased.

Information

ichigosan bus

Running: January 15 – 19, 2020

Operating Times: 11:00 – 18:30

Arrival and Departure Point: Royal Garden Cafe Aoyama

(2 Chome-1-19 Kitaaoyama, Minato City, Tokyo)

Bus Tour Time: 55 Minutes

5 Tours per Day

Price: Tickets are sold in pairs, ¥3,800 Per Person

Tickets: Reserve online or purchase on the day. There are two kinds of same-day tickets. (Subject to change)

Official Website: https://www.saga-ichigosan.jp/ichigosanbus2020/