MOSHI MOSHI Pick-Up Spot:Heroic Japanese drums in the night of Noto, Wajima!Ishikawa Prefecture, Wajima onsenkyo
Goshinjo-daiko Free Concert
Heroic Japanese drums in the night of Noto, Wajima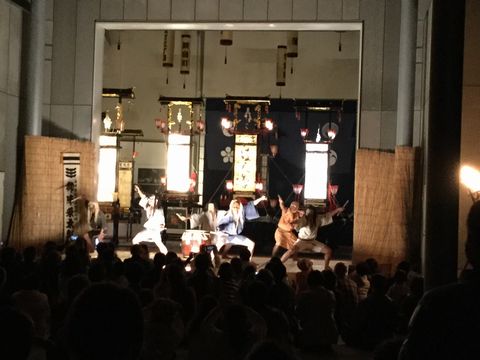 Goshinjo-daiko are traditional, heroic Japanese drums. In 1576, Uesugi Kenshin, a military commander from Echigo area, and his warriors invaded Okunoto area. The villagers in Nafune village bravely fought against them using farming implements such as sickles and hoes, but they lost. This drum performance is based on a historic fact that has been told by old patriarchs in this area. The story is about villagers who hit drums in the pitch-black while making a counterattack on the Uesugi clan wearing masks which were made of tree bark, and wigs which were made with seaweed. When wearing the masks, they called themselves "Goshinjo," and this traditional culture is still inherited today. The wild drum beats make the ground shake and make audiences excited.
■Related article:Discover the greatness of Fukui Prefecture「Fukui prefecture Video Movie Contest 2016」
Gojin-daiko is going to be played at Wajima-Kiriko Hall, Motenashi plaza in Wajima Onsen-kyo from the end of April to the beginning of November. Their performance is made up of three-stages called "Jo-Ha-Kyu" which means slowly at first, gradually fast and then very fast at the end.  We hope you enjoy the heroic Japanese drums in the night of Noto.
■Information
Event schedule:04/29/16 to 11/06/16 on Saturday, Sunday, Holidays and during summer breaks
http://wajimaonsen.com/resources/site/3/20160216173249.pdf
Time schedule:20:30〜20:50
Place:Wajima Kiriko Hall, Motenashi plaza
Access:From Kanazawa to Wajima, it takes 2 hours on Hokuriku Highway bus
Phone:Wajima Kiriko Hall ☎︎0768-22-7100 
—
■Related article:Go on tours with the new convenient Hokkaido Bullet Train!
■Related article:20 Year Anniversary of Itsukushima Shrine UNESCO Registration!
RELATED ENTRIES
Discover the wonder of Kanazawa with AMIAYA and ETSUNA with new "HAKKEN" videos produced by Channel 47

Fashion icons show the modern and historical charm of Kanazawa, Japan

TOKYO, JAPAN (16 November, 2021) – Channel 47, a company focused on globally promoting the appeal of local and popular Japanese culture through the power of entertainment, is excited to debut their new "HAKKEN" video series today, 16 November, highlighting the wonderful modern and historical tourism aspects of Kanazawa City in Ishikawa Prefecture. "HAKKEN" is the Japanese word for discovery, which is the core feeling this new video series is aiming to convey. Channel 47 wants toinspire viewers to discover the wonders of Japan's local culture through these shortfilms.

The debut videos feature fashion icons AMIAYA and ETSUNA (both represented by ASOBISYSTEM), each exploring a different facet of what Kanazawa has to offer curious visitors. These films were produced by Channel 47 as a part of promotional efforts for the Kanazawa Film Festival held in September of 2021. These entries in the "HAKKEN" series were informed by Channel 47's shared philosophy with the Kanazawa Film Festival, to disseminate the culture of Japan's countryside and promote its appeal worldwide.

In the first video, twin model & singer duo AMIAYA discover the "pop" elements of the city at locations such as the Omi-machi market, the 21st Century Museum of Contemporary Art, the Nagamachi Samurai District, and more. Along the way they sample delicacies from some of Kanazawa's highly rated restaurants. Through their experiences viewers will see art, food, shopping, and scenery that has high appeal among visitors.

Watch "HAKKEN – Discover Kanazawa with AMIAYA"

https://www.youtube.com/watch?v=a9-gD-ftTE0

Find AMIAYA online

Official Website: https://asobisystem.com/talent/amiaya/

AMI Instagram: https://www.instagram.com/amixxamiaya/

AYA Instagram: https://www.instagram.com/ayaxxamiaya/

Twitter: https://www.twitter.com/AMI__AYA

In the second video, fashion designer and influencer ETSUNA takes a different approach and wanders the traditional side of Kanazawa. Starting with a stroll in the Higashi Chaya District, her journey takes her to make ceramic art at Hokutoh, and to see historic locations such as the Ishikawa Bridge, the Gyokusen'inmaru Garden, Sannomaru Square, and more. To fit the traditional theme of her visit, she visits Kimono & Antiques Soki and gets dressed for the occasion. Viewers will see through ETSUNA's exploration the beauty and historical legacy of Kanazawa City.

Watch "HAKKEN – Experience Kanazawa's History with ETSUNA"

https://www.youtube.com/watch?v=Z3h-57mhouU

Find ETSUNA online

Official Website: https://asobisystem.com/talent/etsuna/

Instagram: https://www.instagram.com/etsunaotsuka/

Twitter: https://www.twitter.com/etsuna_artist/

ABOUT KANAZAWA FILM FESTIVAL

The 15th Kanazawa Film Festival was held from September 18-20, 2021 in Theater 21 at the 21st Century Museum of Contemporary art in Kanazawa. The festival has a reputation not only for the high quality of films presented each year, but also for its "New Directors with Promising Talent" program. This year 83 films were entered in the "New Directors with Promising Talent" program, and 11 of them won screening rights. The Grand Prix was awarded to MELIA's "Experiential Tour", for which she also received the special Channel 47 Award.

More information on the Kanazawa Film Festival can be found at

 https://www.eiganokai.com/event/filmfes2021/kanazawa/

ABOUT CHANNEL 47

Channel 47 is a project that using the power of entertainment to communicate the appeal of Japan and its different regions to overseas audiences. Through planning and producing events with celebrities and personalities, Channel 47 creates content that conveys the appeal and charm of Japan's many different regions to viewers all over the world. Channel 47 created the post-movies for the 15th Kanazawa Film Festival, held in September 2021. Additional efforts to promote the event overseas include producing

English subtitles for "Alien Painter" which was screened as a Kanazawa Film Festival Scholarship Film.

For more information about Channel 47 please contact: info@channel47.jp

Socially Distanced NAKED Night Walk Art Project to Open in Kaga, Ishikawa

The COVID-19 pandemic has impacted how many people live their lives, with fewer and fewer people venturing outdoors. Now, Japanese creative company NAKED has announced a Night Walk at the picturesque Katayamazu Hot Springs in Kaga, Ishikawa. While practicing social distancing, visitors can explore an illuminated wonderland from December 17, 2021, until January 16, 2022. 

Lights of the Dragon God: Ukimidou

Sunny Spot Baths: Katayamazu Hot Springs Sunahase Park, Aiai Plaza

NAKED Distanced Lanterns: Katayamazu Hot Springs Sunahase Park, Aiai Plaza

NAKED Flower Cleansing: Katayamazu Hot Springs Sunahase Park, Aiai Plaza

The Halo of Life: Aizenji Temple

Crystal-Dyed Paper Lanterns: Aizenji Temple

Guests will be invited to explore the grounds while carrying a NAKED Distanced Lantern–both an art piece, and a way to illuminate your steps. With safety in mind, there will be plenty of space between visitors, so people can enjoy the event with peace of mind. 

The location for the event, Katayamazu Onsen, was recently a runner-up in the Onsen General Election 2018 spectacular scenery category. Surrounded by crystal blue waters and with a beautiful view of Mt. Haku, the location will have guests feeling completely calm by the time their visit comes to an end. 

Information

NAKED Night Walk -Katayamazu Hot Springs-

Running: December 17, 2021 – January 16, 2022

Hours: 17:00-22:00

Address: Katayamazu Hot Springs (Sunahase Park, Aiai Plaza, Yonomoto Park, Aizenji Temple)

Admission: Free

Official Site: https://yoru-sanpo.naked.works/katayamazu/

Gorgeous Project Mapping Event Coming to Yamashiro Onsen in Kaga, Ishikawa

DMM.com will sponsor a projection mapping project titled Yamashiro Night Promenade Fall 2021 on Yamashiro Onsen Street in Kaga, Ishikawa prefecture from October 30 until November 28, 2021. 

The limited-time project is being organized by the Yamashiro Onsen Tourist Association with support from DMM. Under the themes of harmony and local tradition, brilliant images of flowers, water, and geometric patterns will illuminate the hot spring resort while accompanied by music. There will also be traditional Taiko performances during the event. 

Information

Yamashiro Night Promenade Fall 2021

Running: October 30 – November 28, 2021

Hours: 20:20-21:20 (Canceled for rain) 

Address: Yamashiro Onsen Street in front of Hatori Ryokan (17 Onsen-dori, Yamashiro Onsen, Kaga City, Ishikawa) 

Official Site: https://sousei.dmm.com/

Colorful Collection of Wajima Lacquered Goods Appear at Yokohama Takashimaya

An exhibition featuring artisan Hiroshi Nakakado's unique lacquerware will be on display at Yokohama Takashimaya from September 29 until October 5, 2021. Wajima, located in Ishikawa prefecture, is home to 25,000 people, and a number of craftsmen producing Wajima-nuri, known throughout the country as some of the most durable and beautiful lacquered products in Japan. 

Umbrella Dessert Dish: ¥31,900

Umbrella Dessert Dish: ¥59,400

Coffee Cup & Saucer: ¥49,500

Pasta Bowl: ¥30,800

Cube Vase: ¥26,400

Umbrella Cup: ¥52,800

Limited-Edition Takashimaya 190th Anniversary Goods | Wine Glass: ¥67,100 / Dry Lacquer Sake Cup (small): ¥33,000 / Dry Lacquer Sake Cup (medium): ¥35,200 / Oval Tray: ¥60,500

Nakakado Lacquerware, established in 1928, specializes in the top coating of Wajima-nuri, the traditional lacquerware made in the small city of Wajima, in Ishikawa prefecture. Nakakado Hiroshi, a fourth-generation craftsman, is one of the leading experts on 'colored lacquer.' Using his unique technique, each piece is treated like a canvas and painted on appropriately. Gazing at each detailed piece, it's easy to see that Nakakado has over 40 years of experience in his field–he has created over 100 different colors of lacquer, and continues to create modern lacquerware featuring trendy techniques such as gradation. His innovative pieces break the mold of traditional Wajima-nuri, and are beginning to become popular with younger generations. 

In recent years, the production value of Wajima-nuri has begun to decline, largely due to changes in lifestyle, the aging population, and a lack of successors due to the low birth rate in Japan. Additionally, the COVID-19 pandemic has put a halt to foreign tourism, with local tourism also in a steep decline over the past year. Compared to the amount of production in 1991, the current rate is only 20%, and the number of workshops and craftsmen continues to decline year after year. 

If you're in the area, be sure to check out this exhibition highlighting one of the traditional crafting areas of Japan. Purchasing any of these items will also help revitalize Wajima city, and hopefully, bring more attention back to this fading craft. 

Yusuke Nakamura Exhibition Opens at the 21st Century Museum of Contemporary Art, Kanazawa

The Yusuke Nakamura Exhibition opened at 21st Century Museum of Contemporary Art, Kanazawa, on April 29. It was also announced that the Japanese illustrator is releasing the first artbook to compile all of his CD cover art on May 28, but the book can be bought early at the exhibition.

Yusuke Nakamura Exhibition

Yusuke Nakamura Exhibition CD Artworks

Yusuke Nakamura has designed covers forASIAN KUNG-FU GENERATION, Masashi Sada, Spitz, and more

Commentary on the CD covers written by the Yusuke Nakamura himself

Rough sketches are featured in the book

A talk between Yusuke Nakamura and Masafumi Gotoh (ASIAN KUNG-FU GENERATION)

It wouldn't be an exaggeration to call Yusuke Nakamura one of Japan's most prolific artists, having worked with some of the country's biggest names such as ASIAN KUNG-FU GENERATION, Gentouki, Masashi Sada, and more. His new artbook, entitled PLAY, compiles all of his CD covers from 2002-2020, commentary, rough sketches, talks, and more. While many things from the book are explored at the exhibition, there's plenty of content exclusive to the book too, so it's a must-grab for fans.

Information

Yusuke Nakamura Exhibition

Running: April 29, 2021 – May 29, 2021

Location: 21st Century Museum of Contemporary Art, Kanazawa

Official Website: https://www.kanazawa21.jp/

PLAY
Release Date: May 28, 2021

Price: ¥2,273 (Tax Included)

Hyatt Centric Kanazawa Reveals Spring Season Inspired Food For February

The all-day dining restaurant FIVE – Grill & Lounge at Hyatt Centric Kanazawa is serving up a selection of spring season menu items this February including an afternoon tea cake set perfect for Valentine's Day, a special Valentine's Day dinner, refreshing springtime parfaits, and more.

The hotel's rooftop terrace bar will also serve up some bunny-themed Valentine's and feel-good spring cocktails.

FIVE – Grill & Lounge

Valentine's Cake Set | ¥2,500 (Before Tax)

Serving Dates: February 1, 2021 – February 14, 2021
Serving Times: 14:30-17:00
Details/Bookings: https://bit.ly/FIVEFebCakeSets

February Cake Set | ¥2,500 (Before Tax)

Serving Dates: February 15, 2021 – February 28, 2021
Serving Times: 14:30-17:00
Details/Bookings: https://bit.ly/FIVEFebCakeSets

Valentine's Parfait | ¥1,800 (Before Tax)

Serving Dates: February 1, 2021 – February 14, 2021
Serving Times: 14:30-17:00
Details/Bookings: http://fivegrillandlounge.jp

Chocolate Parfait | ¥1,800 (Before Tax)

Serving Dates: February 15, 2021 – February 28, 2021
Serving Times: 14:30-17:00

Details/Bookings: http://fivegrillandlounge.jp

Valentine's Day Dinner | ¥12,500 (Before Tax)

Serving Dates: February 12, 2021 – February 14, 2021
Serving Times: 17:30-22:00 (Last Orders 21:30)
Details/Bookings: https://bit.ly/FIVEValentineDinner

RoofTerrace Bar

Valentine's Day Cocktail

White Rabbit | ¥1,500 (Before Tax)

Serving Dates: February 1, 2021 – February 14, 2021
Serving Times: 17:00-22:00 (Last Orders 21:30)
Details/Bookings: http://roofterracebar.jp

Spring Cocktails

Very Berry Mojito / Panacea | ¥1,400 Each (Before Tax)
Serving Dates: March 1, 2021 – May 31, 2021
Serving Times: 17:00-22:00 (Last Orders 21:30)
Details/Bookings: http://roofterracebar.jp

Feel spring early with Hyatt Centric Kanazawa's special seasonal line-up.

7 Best Spots to Visit During Autumn in Ishikawa Prefecture's City of Kaga

Ishikawa Prefecture is generally split into two areas—Kaga and Noto—and these areas are home to six cities dubbed Kaga no Kuni, or "Kaga Country." The cities include Kaga, Komatsu, Nomi, Kawakita, Hakusan, and Nonoichi. Today, we'll be looking at some of the must-visit spots in these cities to visit during the autumn season.

Kaga Country's Autumn Colours

Natadera Temple in Komatsu

The beautiful Natadera Temple is a symbol of southern Kaga and even has a Michelin star in Michelin Green Guide Japan. It's home to a large number of important cultural properties such as the picturesque Kigan Yusenkyo Rock Formations. Visitors can ross the Fugetsukyo Bridge to reach the observation deck from which their eyes are treated to all the fiery colours of autumn.

Address: Yu-122 Natamachi, Komatsu, Ishikawa
TEL: 0761-65-2111
Natadera Temple Official Website: http://www.natadera.com/

Kakusenkei Gorges in Kaga

The Kakusenkei Gorges are located in a valley where the Daishoji River runs. Its autumnal beauty is said to be the most beautiful in all of Japan's Hokuriku region. The 1.3km stretch of the valley has a public footpath which is perfect during autumn as you gaze at the red and yellow leaves overlooking the river below.

Address: Kakusenkei Gorges, Yamanakaonsen Kajikamachi, Ho, Kaga, Ishikawa
TEL: 0761-78-0330
Information: https://www.yamanaka-spa.or.jp/global/eng/view2.html

Matsusaki in Nomi

Matsusaki is an onsen ryokan (hot spring Japanese inn) that was built during the Edo Period. It's enjoyed greatly for its open-air baths which boast their own water source as well as their kaiseki-ryori traditional Japanese multi-course dinner made using local ingredients. It's also the setting for the Japanese novel Umi no Naru Toki. It boasts a gorgeous garden with an area that overlooks trees which blossom beautifully in autumn.

Address: 3-1 Tatsunokuchimachi, Nomi, Ishikawa
TEL: 0761-51-3111
Matsusaki Official Website: https://www.matsusaki.jp/

Jumoku Park in Hakusan

The park located by the Ringyoshiken Center in Ishikawa Prefecture is home to a variety of towering regional trees. There are 900 trees of 130 different species, which give rise to beautiful cherry blossoms in the spring. It also enjoy incredible autumn scenery and is home to rolling fields and a Japanese-style garden too. It offers must-see views throughout all four seasons.

Address: Ho-1 Sannomiyamachi, Hakusan, Ishikawa
TEL: 076-272-0673
Information: https://www.pref.ishikawa.lg.jp/ringyo/about/park.html

Aramata Gorge in Komatsu

Aramata Gorge is known as one of the Eight Views of Kano. The Osugidani River flows through this year, and there's huge strangely shaped rocks and rolling trees which create an incredible sight to see. There's a 400m path which bustles with people during the autumn months who flock to see the verdure.

Address: Akazemachi, Komatsu, Ishikawa

Bettou Suspension Bridge in Hakusan

Bettou Suspension Bridge is the entryway to the highset peak of Hakusan. The discharge of rocks to the area in 2004 meant that the bridge had to be rebuilt. The towering bridge offers a panoramic view of autumnal trees and bushes.

Address: Shiramine, Hakusan-shi, Ishikawa

Tedori Gorge in Hakusan

The beautiful Tedori Gorge was created as a result of the flow of Tedori River. Along the 8km path, which runs from Komon Bridge to Taizan Bridge, is a 20m-30m precipitous cliff. The surroundings along the bridge are a must-see, bringing people together every year to see the autumn environment.

Address: Kamashimizumachi, Hakusan, Ishikawa

Coronavirus in Japan: Kaname Inn Tatemachi in Kanazawa Offers Free Accommodation to Foreigners Who Can't Get Home

Kaname Inn Tatemachi, a hotel in Kanazawa, Ishikawa, has announced a project named "Room for rescue" which will offer free accommodation to foreigners unable to travel back to their home countries from Japan due to lockdowns and restrictions from going outside as a result of the ongoing COVID-19 pandemic

With flights cancelled around the world, there is no way for foreigners to return home from Japan, resulting in them being forced to change their plans and extend their stay. They are living their days in constant worry, both financially and mentally. To ensure that foreign travellers don't feel like their trip to Japan was a bad experience, free accommodation is becoming available to those who meet certain prescribed conditions.

In response to the decreasing number of tourists, Kaname Inn Tatemachi opened its doors to Japanese citizens through Facebook for free accommodation to help support businesses like local restaurants that could no longer make a living. They received a lot of guests, as well as a request from a friend who asked if someone from the Netherlands could stay there because they couldn't get back to their country. This sparked the "Room for rescue" project for stranded foreign tourists to stay at Kaname Inn Tatemachi for free too.

 

Kaname Inn Tatemachi is using its own funds to pay for the project and allow free stay. However, doing this long term will put strain on the business, so to help pay for hotel use and staff's wages, the hotel has opened up a crowd funding page which you can find here.

Information

Room for rescue

Aimed at: Foreign travellers who cannot return home

How to Apply

Send the following details to the e-mail address r4r@kaname-japan.com

①Write "Room 4 Rescue" as the subject of your e-mail

②Include which country you are from

③Write the names of all the people who wish to stay at the hotel

④Write the number of adults

⑤Write the number of children

⑥Write your check-in time and date

⑦Write your check-out time and date

⑧Attach a screenshot or photo of your cancelled flight details

Application Deadline: March 28, 2020 at 23:59 (JST)

Free Accommodation Stay Time: Until April 15, 2020

Top 4 Must-Visit Places in Ishikawa to Keep Cool This Summer – MOSHI MOSHI NIPPON

Ishikawa Prefecture was formerly split between Kaga Province and Noto province and is still sometimes thought of as two peas in a pod. What was once Kaga Province in the now southern part of Ishikawa consists of six cities and towns including Kaga, Komatsu, Nomi, Kawakita, Hakusan, and Nonoichi.

Kaga Province is home to many waterfall spots widely known as great places for keeping cool in the hot sun. Providing as great sightseeing experiences, one can bask in the negative ions of the waterfalls and overcome the summer scorch.

Watagataki Waterfall

Watagadaki gets its name from its appearance which is likened to falling torn cotton (wata being the Japanese word for the material). You will arrive right next to the waterfall when you descend down the path beside it, at which its great tumbling sound will fill you with a feeling reminding you that you are enveloped in nature.

▶︎Watagataki Waterfall (綿ヶ滝)

Address: 1-4 Shimoyoshitanimachi, Hakusan, Ishikawa Prefecture

Enquiries: 076-274-9544 (Hakusan Tourist Centre)

Access: 50-minutes south of Japan National Route 157 via Hakusan Interchange / 60-minutes from Kanazawa Station

 

Nanatsudaki Falls

Nanatsudaki Falls is comprised of seven smaller waterfalls which it gets its name from. It has long been a place of worship. Six of the waterfalls are found upstream, where the water rolls beautifully over the rocks which have formed over tens of thousands of years as a result of the movement of the earth's crust. The surrounding trees boast lush green verdure or red and yellow autumnal leaves depending on the season, offering different spectacular sights to behold whatever time of the year you visit. There's a path you can walk along where the upper six waterfalls are so you don't have to worry about falling in!

▶︎Nanatsudaki Falls (七つ滝)

Address: Nagatakimachi, Nomi, Ishikawa

Enquiries: 0761-51-2308 (Nomi no Satoyama Fan Club)

Access: 25-minutes by car from Nomi-Neagari interchange

Tsuruga Falls

 

The water at Tsuruga Falls flows down five levels, and the biggest waterfall at the back splits into two separate waterfalls. Collectively the waterfalls tower up 30 meters high which is an incredible sight to see when up close. Tsuruga Falls gets its name from the splitting waterfall at the back which is said to look like the legs of a crane.

▶︎Tsuruga Falls (鶴ヶ滝)

Address: Yamanakaonsen Aratanimachi, Kaga, Ishikawa Prefecture

Enquiries: 0761-78-0330 (Yamanaka Onsen Tourist Association)

Access: 15-minutes by car from Yamanaka Onsen Bus Terminal

Junigataki Waterfalls

 

The name origin of Junigataki Waterfalls lies in its twelve separate falls which flow from the Gotani River. The incredible crashing sound of the water cannot be put into words; it's an overwhelming spectacle that will have you wanting to go back more than once. In summertime it's common to see families and young people playing in the water from up at the top of the waterfall down to the lake below. The waterfalls are a quite a distance from the city of Komatsu, but there are roads that lead right to it so it's very accessible.

▶︎Junigataki Waterfalls

Address: Nunohashimachi, Komatsu, Ishikawa Prefecture

Enquiries: 0761-22-4111 (Komatsu City Hall)

Access: 45-minutes by car from JR Komatsu Station

Did you enjoy this list? If you're in Japan this summer visiting Ishikawa then be sure to pay a trip to one of Ishikawa's many waterfalls to cool yourself off.

The New Kaga Onsen Hot Spring Town-Inspired Purin Shop Kaga no Yu Purin

Kaga no Yu Purin is a new shop specialising in Japanese custard puddings, known in Japanese as 'purin,' that is inspired by Kaga Onsen―a collection of hot spring towns in Ishikawa Prefecture. It will open on June 29.

The shop encourages people to experience Kaga Onsen's ancient hot spring culture while enjoying their desserts made with fresh ingredients from Kaga such as milk and eggs. The shop itself too has that Japanese hot spring atmosphere to it.

One of their standout purin is the Awa Purin (Bubble Pudding), the first purin in Japan to be inspired by the bubbles of hot springs. Not only is its appearance bubbly, the texture is too so it just melts on your tongue. Other purin flavours include strawberry, which are made with local strawberries, Kaga-bocha tea, and pumpkin.

If you're passing through the hot spring region of Kaga Onsen then be sure to treat yourself to one of these special purin.

Information

Kaga no Yu Purin

Address: 1-55 Kosuganamimachi, Kaga, Ishikawa Prefecture

Business Hours: Weekdays 10:00-16:00 / Weekends & Holidays 10:00-17:00

Access: 1-minute on foot from Kagaonsen Station

Official Website: https://kaganoyupudding.com/

Hot spring trip in the mountains of Ishikawa Prefecture recommended by sommeliers

"Kissho Yamanaka" will sell the hot spring lodging plan named "Kissho TOUJI" from April of 2018 to the 30th of September.

Yamana Onsen (hot spring) which was opened about 1,300 years ago is a hot spring area where the famous Japanese poet Basho Matsuo stayed for 9 days.

The plan that they are going to sell offers the experience of enjoying the view/forest of Kakusen Valley, Kaga Area's delicious foods and hot springs. This hot spring is known to be effective for relieving stress and healing illnesses.

"Yuge Kaido Machi Aruki Ticket" where you can enjoy 10 hot springs in the mountains, local sakes, Daiginjo (sake variety) Soft Served Ice Cream and famous crocket is included in the plan as well as the Jiwamon Onigiri (rice ball) lunch menu/Teppanyaki (pan fried meat and vegetables), sauna, hand-massage service, rental cycle and bus tickets.

Persons who are interested in this plan must visit Kissho TOUJI since you can obtain an onsen textbook from the onsen sommeliers.

■Information

Kissho TOUJI – Hot Spring Plan Recommended by Onsen Sommeliers.
Address: Kissho Yamanaka, 14-3, 1st avenue, Higashimachi, Yamanaka Onsen, Kagashi, Ishikawa Prefecture
Date: 2018/04/01 (Sat.) to 09/30 (Sat.)
Price: One day ticket that comes with dinner and breakfast / 21,000 yen ~ (two persons – one room) ※the price differs depending on season. ※tax/service fees and hot spring fee (150 yen) are not included, additional fee (5,000 yen) must be paid when staying at the accommodation before a holiday. ※one person – one room ticket is available.
Meal: Dinner – tea ceremony dishes of Kaga Noto Area at "Benihana," breakfast – Japanese dishes or teppan breakfast
TEL:0761-78-5656
Website:http://kissho-yamanaka.com/

Experience-based, gold-leaf museum "Hakkokan" was renewed!

Japan's largest "experience-based museum," "Hakkokan" was renewed on the 20th of April 2018.

The museum was built about 20 years ago and it was renewed to become "an experience-based gold-leaf museum" using the latest technologies such as projection mapping. Museum staff will entertain and introduce the beautifulness and charms of "gold-leaf" to their customers.

 

The panels that include directions written in 8 languages (Japanese, English, Chinese, Korean, Russian, French, Spain and German) were installed. They will also offer various contents related to gold-leaf such as an entertainment spot named "Taikangata Kinpaku Museum," "Taikendokoro" where both children and adults can play together.

 

 

The largest gold-leaf specialized shop in the Hokuriku Area, "Hakuichi Café" where they will sell very popular menu items named "Kinpaku no Kagayaki Soft Cream."

And "Sozo Kogei," a gallery which was opened last winter.

 Let's visit Hakkokan to learn about gold-leaf.

■Information

 

Experience-based gold-leaf museum "Hakkokan"

Address: 1-1, 2nd avenue, Morito, Kanazawashi, Ishikawa Prefecture Business hours: 9:00 to 18:00

TEL:076-240-8911