UNIQLO Releases Super Mario Bros. T-Shirts from UT Brand
UNIQLO released their new Super Mario Family Museum collection as part of their UT t-shirt graphic brand on April 1 at UNIQLO branches across Japan and via their online store.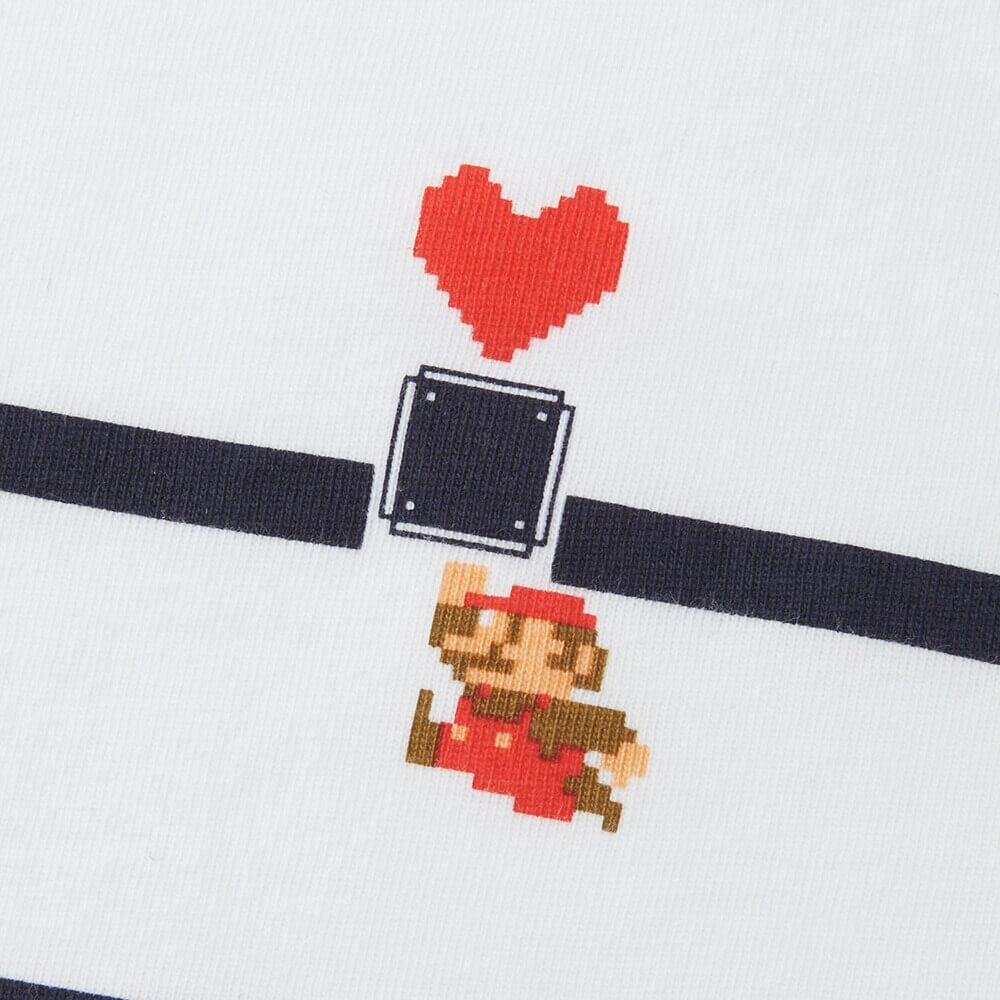 Since the releases of the original Super Mario Bros. in 1985, Mario has continued to reign as one of the most symbolic and iconic video game characters of all time. UNIQLO pays their respect to the legendary plumber with this new collection which features classic designs from the game.
Men's Collection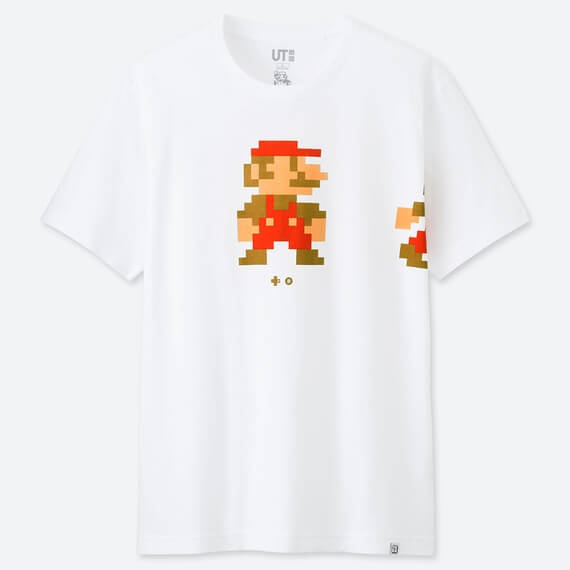 This first white t-shirt bears a print of the original 8-bit Mario. Underneath him is the B Dash command, something which will be familiar to any gamer. This commands enables Mario to run. If you look to the right of the t-shirt you'll see part of Mario's figure―he's dashed off screen!
The next t-shirt has a chic black design with a pocket that features multiple Bullet Bills firing in all directions.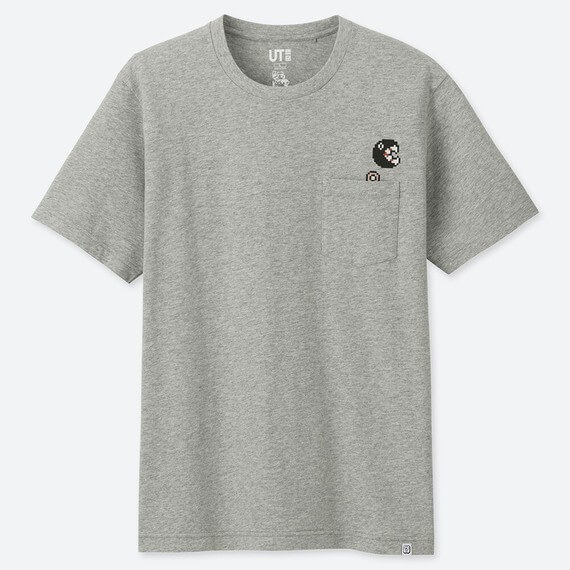 Another pocket design this time with a Chain Chomp poking its head out. We all have our memories with these feisty and irritable critters―one misstep or bad jump offers you as a meal to this crazy chomper.
Colourful stripes and a Yoshi egg decorate this t-shirt. Fans will be able to relate to the relief and excitement of seeing one of these shaking eggs.
Women's Collection
This Princess Peach t-shirt is available as part of the women's collection. A cute pink decorates the design which is complemented by a beautiful 2D graphic of Peach.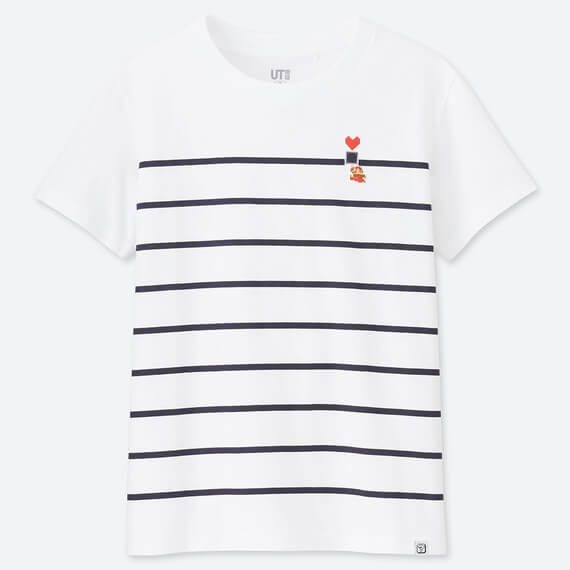 Mario has jumped on many boxes in his career and this one gives him a love heart. The t-shirt has simple black stripes against a white background which gives a French vibe to it.
At first glance you see polkadot, but upon closer inspection you'll notice they're actually Boos! They go perfectly with the pitch black background as they wait in the dark for Mario to walk by…
Kid's Collection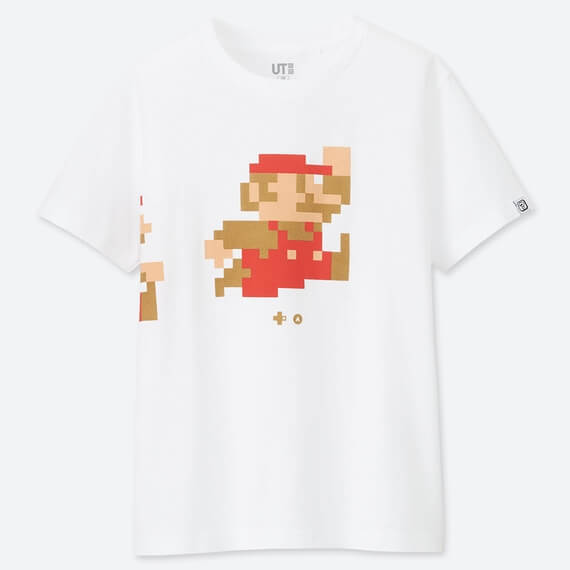 Similar to the t-shirt in the men's collection, this one has the jump command on it. If you line it up with the men's t-shirt it creates an image of Mario running and jumping!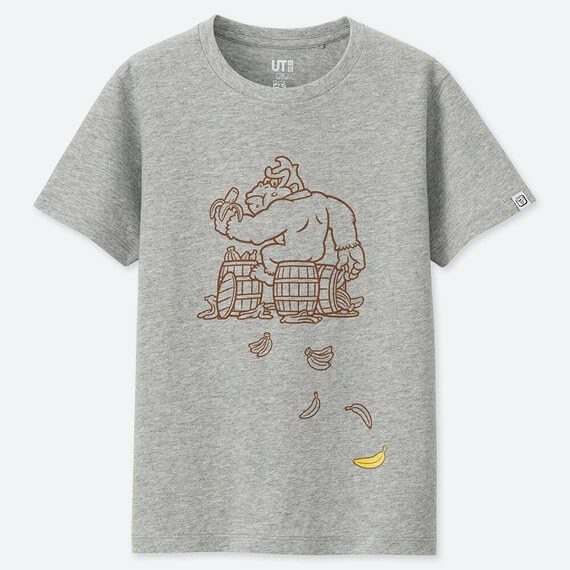 Donkey Kong is another member of the Mario family, and only kids get his t-shirt. You'd better not steal his bananas.
Kids also get this exclusive bright green t-shirt with an adorable sleeping Yoshi on it. This one is perfect for easily-excitable children.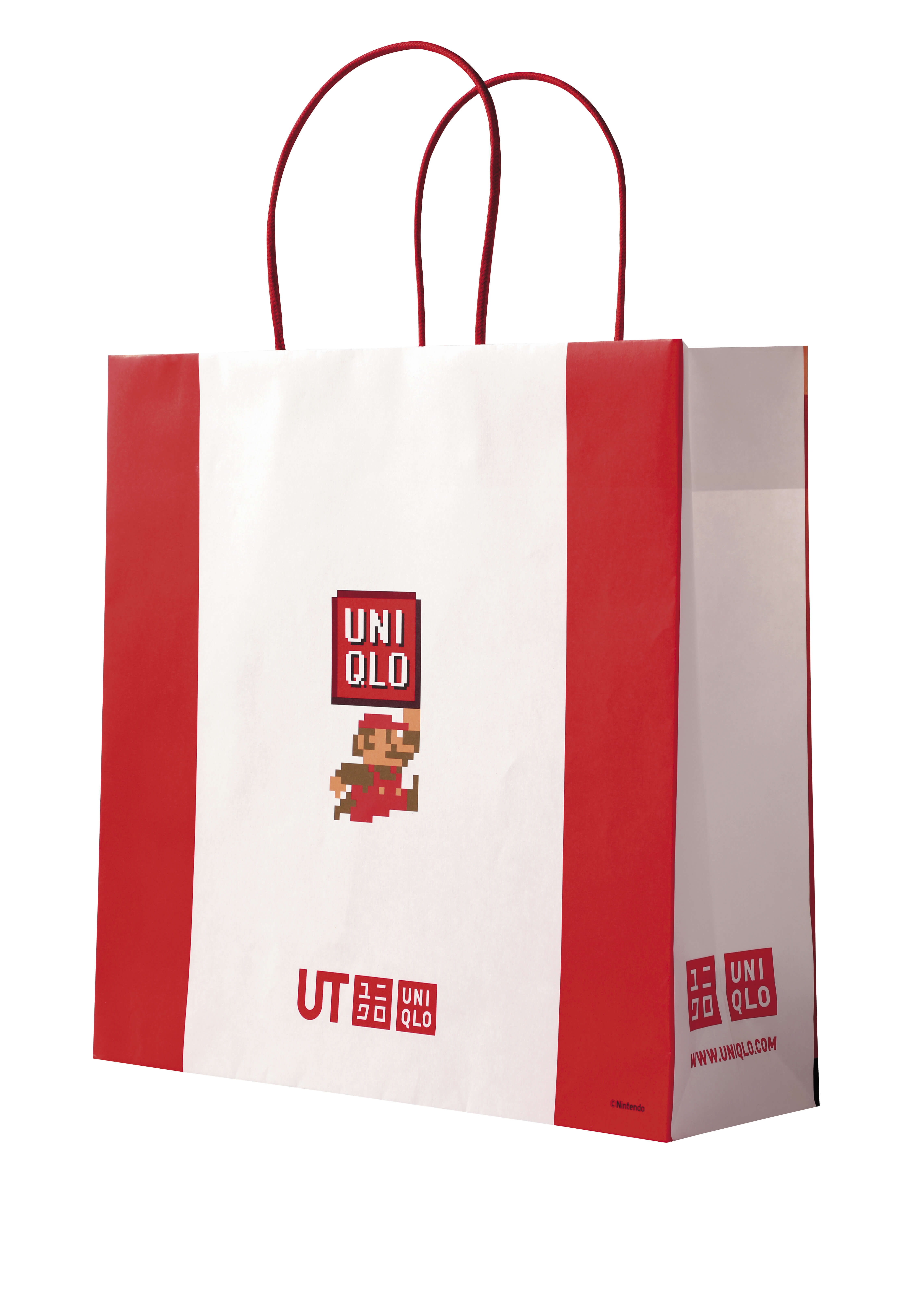 If you buy anything from this collection in-store it will come bagged in one of these question block shopping bags. These are limited in stock and are available on a first-come, first-served basis.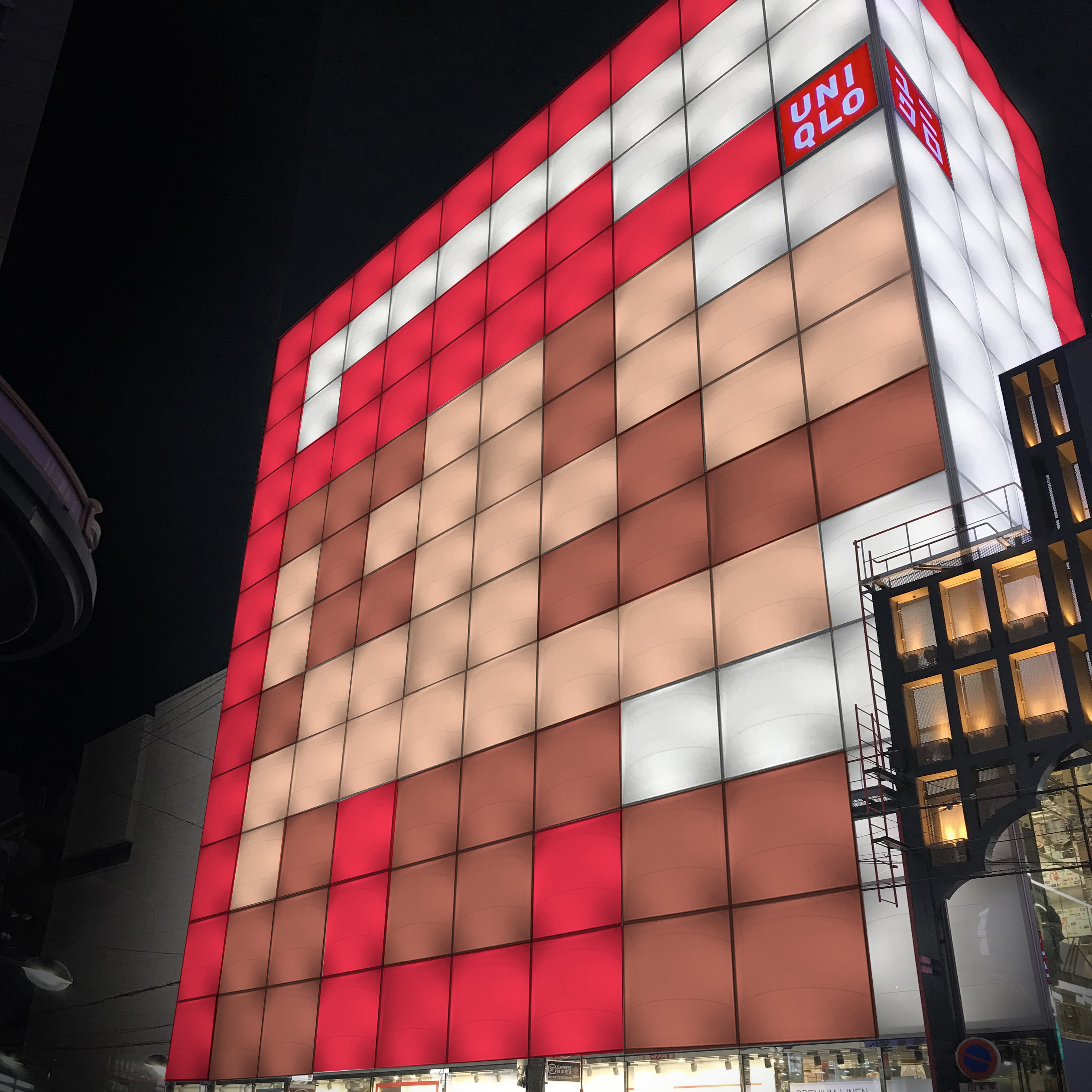 If you're in Osaka then you'll definitely want to stop by the Shinsaibashi branch of UNIQLO. The entire store (from March 29) is lit up to create an awesome looking 8-bit Mario! More characters are planned to show their faces on the building too  up until mid-April.
Which t-shirt are you eyeing up the most?
Information
"SUPER MARIO FAMILY MUSEUM" UT
Release Date: April 1, 2019
Price: Men's & Women's – ¥900 (Before Tax) / Kid's – ¥790 (Before Tax)
Available: At UNIQLO branches across Japan and their online store
Sizes: Men's (XS-4XL) / Women's (XD-3XL) / Kid's (100-160)
*Men's and women's XS and XXL-4XL sizes as well as kid's 100 and 160 sizes are available online only.
Product Page: www.uniqlo.com/jp/store/feature/uq/ut/nintendo-museum/
UNIQLO Official Online Store: https://www.uniqlo.com/jp/
©Nintendo
RELATED ENTRIES
Uniqlo U, the brand created by Artistic Director Christophe Lemaire and his team in Paris, is giving us the warm welcome of its Spring/Summer 2021 collection which is set to drop first in Japan on January 22, 2021 and globally on January 28, 2021. The line-up features a fitting silhouette comfortable for the warmer seasons and focuses on simple and comfy threads perfect for today's modern lifestyle. The items come in earth tones that serve us season-changing vibes. This 10th season of Uniqlo U also welcomes a kids line-up to the collection.

The women's collection features light and airy items made from viscose and cotton-polyester blends as well as 3D knits to give that refreshing summery feel. The sheer shirt comes in men's stripes while the regular fit jeans have been updated with a straight silhouette. The shiny rayon tunic and dress present fluidity and soft colors while the twill skirt will come in an A-line silhouette. Coats have been cut shorter for those who are active.

The new kid's collection added to Uniqlo U features all the classic one pieces, T-shirts, and short pants made into children's sizes so that they too can enjoy the thrills of dressing well in comfortable, sophisticated styles.

Don't miss the Uniqlo U Spring/Summer 2021 Collection.

Jason Polan x UT Collection to Drop at UNIQLO

UNIQLO's T-shirt brand UT is set to collaborate with American artist Jason Polan with a special collection featuring his art that will drop on January 29, 2021.

Polan was a New York-based artist who passed away in January 2020 at the age of 37. He become a partner of UNIQLO in 2016 and has since collaborated with UNIQLO on three separate occasions with his collections being made available worldwide.

Honouring Polan's favourite iconic drawings

In 2008, Jason Polan gave himself a challenge to draw every person in New York. Each drawing in this project featured a description of what Polan saw when drawing people along with the date of when he saw them, giving people an insight into his world as he saw it. He is also known for his love of giraffes, hamburgers, and tigers, which make up some of his most iconic art pieces. He even did some drawings while in Tokyo.

Join in continuing his legacy with artists around the world.

Jason Polan's passion for bringing people together to create their own art gave birth to the World's Biggest Drawing Club. This has inspired people from across the globe to share their own sketches of everyday life. UNIQLO will commemorate Polan's death anniversary with a special online drawing event on their Instagram page on January 27, 2021.

The World's Biggest Drawing Club – Online Event

Help continue Jason Polan's mission and join the The World's Biggest Drawing Club. For more information, visit UNIQLO's website here.

Running: January 8, 2021 – February 21, 2021
How to Join: https://www.uniqlo.com/jp/en/contents/feature/jason-polan/campaign/
#worldsbiggestdrawingclub (Global hashtag)
#ドローイングクラブ (Japan hashtag)

Every Person in "UNIQLO TOKYO"

On January 27, the first anniversary of Polan's death this year, UT will host a special one-night drawing workshop hosted by prominent artists. UNIQLO TOKYO will also welcome pre-sales of the T-shirt collection on the same day.

Date: January 27, 2021

Time: 19:00 (JST)

Where: UNIQLO's official Instagram page.

Special Items

Novelty

Those who buy two or more items from the collection at select UNIQLO stores and UNIQLO's online shop will receive the uni-ball Vision Elite, a pen loved by Polan, with the artist's name inscribed on it. Limited quantities available.

Original Box

Those who order from the collection online will have their items shipped in an original box. Limited quantities available.

Leaflet Book

All UNIQLO branches in Japan are now handing out a special Jason Polan leaflet book have also have dedicated drawing spaces to encourage people to make art.

Super Nintendo World Releases Virtual Tour of Entire Theme Park Area

Universal Studios Japan (USJ) announced last month that its highly-anticipated new Super Nintendo World area will open on February 4, 2021, which also happens to fall on the day of USJ's 20th anniversary.

Super Nintendo World comes as the world's first theme park area to be based around Nintendo's characters and games, combining innovative ideas with cutting-edge technology.

With just one month left until the grand opening, USJ has launched a special website for Super Nintendo World which offers a virtual tour through each part of the new theme park area. Mario fanatics are sure to be delighted by the adornments from Bowser's Castle to Pipes, Mushrooms, Question blocks, and more, as well as familiar faces like Goombas, Thwomps, Yoshi—the list goes on.

Accessing the site will bring you to an overview of the map. As you scroll down the website takes you on a virtual journey to each of its iconic attractions, all of which are designed to make you feel like you're really in the world of Super Mario.

Yu Nagaba x Snoopy Clothing Collection to Release at UNIQLO

Japanese illustrator Yu Nagaba is collaboration with the popular Peanuts comics to release a collection of T-shirts from UNIQLO's graphic T-shirt brand UT. It is a follow up to his last year's collaboration with Snoopy and the Peanuts gang and will release at UNIQLO in Japan on January 1, 2021.

A heart-warming collection filled with positivity

Yu Nagaba himself is a fan of Peanuts and has used his iconic drawing style to capture the gang's positivity to create a collection that's sure to keep you uplifted throughout the day.

T-Shirts (6 Designs) ¥1,500 Each (Before Tax)

Kids Line-Up (Excerpt)

Merchandise Line-up 

The collection also includes a line-up of merch too like caps, umbrellas, bags, and more.

Yu Nagaba Interview (Japanese):

UNIQLO Harajuku's Enormous Snoopy by Yu Nagaba

Nagaba has also illustrated an enormous 1.5-meter canvas of Snoopy which will be put into the UNIQLO Harajuku store on December 26. The illustrator will also be present on January 9, 2021 to do signings. But that's not all—customers who spend over ¥5,000 (before tax) in the store between January 1-3 next year will also receive a Yu Nagaba original sign bag along with sweets. These are available on a first-come, first-served basis. Additionally, for every two Yu Nagaba x Peanuts items bought at all UNIQLO stores in Japan, customers will receive a special sticker.

Information

PEANUTS x Yu Nagaba UT
Release Date: January 1, 2021
Available: UNIQLO Japan stores / UNIQLO Japan online store
Product Page: https://www.uniqlo.com/jp/ja/spl/ut-graphic-tees/peanuts-yu-nagaba/

Yu Nagaba Signing
Date: January 9, 2021

Time: 11:00-13:00

Location: UNIQLO Harajuku
Attending: You must buy something from this collection by January 9, 2021 at 13:00 to attend

*More details will be announced on UNIQLO Harajuku's official website at a later date

Champion x Super Mario Bros. Reveal Limited-Edition Capsule Collection

American athletic brand Champion is releasing a limited-edition capsule collection in collaboration with the popular Nintendo franchise Super Mario Bros. via its online store and Champion Brand House Shibuya Tokyo and Champion Brand House Shinsaibashi Osaka branches on December 4, 2020.

The new collection combines familiar Super Mario Bros. imagery with Champion's classic comfy apparel. Designs include the vintage packaging design from the original Super Mario Bros. game case, Fire Flower Mario, and more, all of which is sure to stir pangs of nostalgia in old school gamers.

All purchases include two stickers including an 8-bit Champion logo and a Mario picture in his classic red overalls.

UNIQLO x JW ANDERSON Unveil Their First Ever Holiday Collection For 2020

London-based fashion brand JW ANDERSON is following up its Autumn/Winter collaboration with UNIQLO with the two companies' first ever holiday collection. Centring around the theme "A Cozy Countryside British Cottage," the collection captures the vibe of spending time in a cozy cottage on the outskirts of London.

Traditional and uplifting British prints for a brighter winter

The holiday collection is made up of everything you need for surviving winter: beanies, gloves, socks, and snoods, all decorated with traditional British prints like argyle and jacquard. All the colours match together perfectly so the line-up works perfectly as a set. It features an JW ANDERSON-esque twist and incorporates HEATTECH technology to get you through the cold months.

Limited-edition argyle gift boxes

Gift Box | ¥290 (Small/Medium/Large)

This collection is boxed in an argyle gift box to make for the perfect Christmas packaging.

Stay warm this winter with the soft and cozy new JW ANDERSON x UNIQLO holiday collection, rolling out December 4, 2020.

UNIQLO Announces Loungewear Collaboration With Pokémon and Sumikko Gurashi

Japanese clothing retailer UNIQLO has announced a loungewear collection for the holiday season in collaboration with Pokémon and Sumikko Gurashi—the latter being a set of fictional characters created by San-X. Set to roll out in Japan from November 19, the fleece line-up is the perfect gift for the coming winter months.

Pokémon Line-Up

Everybody's favourite Pokémon are coming together for this cosy collaboration. The fleece set's theme is "Night Explorer" which imagines the wearer exploring the night together with their Pokémon. The designs feature moon and star motifs with neon colouring.

When the collection launches, those who purchase one of the Pokémon fleece sets in Japan will receive a set of two clear-coloured Pokémon figurines. And if they order online via UNIQLO's website, their order will be shipped in a special Pokémon box.


Buyers will also receive a card with a code on it to participate in a special campaign.

Sumikko Gurashi Line-Up

The corner-dwelling Sumikko Gurashi character merchandise is themed on a sleepover with items made warm, fluffy, and cosy.


The three Sumikko Gurashi sets will launch online only on December 18.


Picking up either of the fleece sets or poncho blanket sets from December 18 will land you one of the above-pictured plush toys.




UNIQLO will also be selling limited-edition Sumikko Gurashi gift cards too both online and in-store when the sets are released.

Nintendo's New Super Mario Merchandise and Lights Are a Must-Grab For Gamers

Nintendo has announced that this winter they will release five new Super Mario related products. They are also releasing four new Super Mario lights in collaboration with UK-based gifts company Paladone Products at the end of November.

Super Mario Home & Party Merch

2-Way Large Wrapping Bag (Mario) | ¥1,600 (Before Tax)


2-Way Small Wrapping Bag (Super Mushroom) | ¥1,300 (Before Tax)

Bag up your presents, whether your own or somebody else's, in one of the two wrapping bags featuring Super Mario and Super Mushroom designs. They can even be used for shopping or storing things. Both are also fitted with cute Question Block pockets inside.

Zipper Bag (Mario/Super Mushroom) | ¥800


Zipper Bag (Yoshi/Egg) | ¥800

Another great idea for storage are these zipper bags which are great for putting away small items like stationery and cosmetics. There are two sets: the Mario/Super Mushroom set or the Yoshi/Egg set, both of which come with five zipper bags of each design.

Message Cards & Envelopes | ¥800

Write a fun card to someone this holiday season. The envelopes are Question Blocks, so when you take the card out it looks like it does in the Super Mario games where the items come out of the blocks.

Super Mario Lights (4 Designs) | ¥1,500

These palm-sized lights are made by UK-based gifts company Paladone Products and so are also available outside Japan. Perfect for decorating any gamer's room or desk.

© Nintendo
TM&© 2020 MANUFACTURED BY PALADONE PRODUCTS LTD, APEX HOUSE, DOLPHIN WAY SHOREHAM BY SEA,WEST SUSSEX BN43 6NZ UK

UNIQLO's Collaboration With Jil Sander Returns With the +J Autumn/Winter 2020 Collection

It's been 11 years since Jil Sander first teamed up with UNIQLO, but now she's set to bring back her signature modern style as the legendary collaboration returns with the +J Autumn/Winter 2020 Collection which is serving "sophisticated essentials."

   

The collection is "inspired by a sense of enlightened understatement" and "consists of versatile, iconic pieces." Each item boasts trendy volume and sophisticated silhouettes while maintaining comfort and style.

+J 2020 Autumn/Winter 2020 Collection

 Outer: ¥7,900-¥24,900 / Pants: ¥3,990-¥9,990 / Skirt: ¥6,990 / Shirt: ¥3,990-¥8,990 / Cut & Sewn: ¥1,990-¥4,990 / Knitwear: ¥3,990¥12,900 / Dress: ¥4,990-¥5,990 / Accessories: ¥2,990-¥9,990

The sophisticated and modern line-up includes the Down Volume Hooded Coat, Hybrid Down Oversized Fit Parka, Ultra Light Down Hooded Coat, Cashmere Blend Chesterfield Coat, and more.

"I set out to define the global modern uniform with this in mind: Clothes should be long-lasting and enduring," Sander said in a statement. "They should serve the wearer and give her or him the energy and self-assurance which is so much needed in our global reality."

World's First Mario Cafe and Shop Opens at Universal Studios Japan in Osaka

Universal Studios Japan (USJ) announced earlier this month that its new Nintendo-themed area SUPER NINTENDO WORLD will open in spring 2021. While the grand opening of SUPER NINTENDO is still a while away yet, USJ has everyone covered, as the new and first of its kind Mario Cafe & Store officially opened inside the park's Hollywood Area on October 16, 2020.

The cafe and shop is dream come true for fans of the Mario bros as they enter into a world inspired by the video game series with Mario and Luigi and level decorations in every corner. It can be easily spotted thanks to the red and green "M" and "L" letters on the windows symbolising Mario and Luigi as well as the Mario and Luigi hats. Gamers can enjoy this exciting space while they wait for the official opening of SUPER NINTENDO WORLD.

Themed food and merchandise line-up

Decorations are instantly recognisable with Question Blocks and Pipes on the walls, Mario Mushroom-coloured tables, and more.

The food line-up includes dishes, drinks, and desserts like pancake sandwiches made to look like Mario and Luigi's hats, fruit dream soda inspired by the brothers' moustaches, and a selection of original merchandise which reads "WHOSE CAP?" on it like T-shirts and more. You can see more of what's on the menu here.

© Nintendo.

SUPER NINTENDO WORLD Will Open at Universal Studios Japan in Spring 2021

Universal Studios Japan (USJ) has announced that its new Nintendo-themed area SUPER NINTENDO WORLD will open in spring 2021. The park was originally scheduled to open last year, the year of the Tokyo Olympics, but the date was postponed due to COVID-19.

SUPER NINTENDO WORLD: A Nintendo Fan's Dream

SUPER NINTENDO WORLD will be the first-ever multilevel Nintendo-themed area at USJ, and the first of its kind in the world. Fans of the internationally beloved games can expected to see a whole host of rides and attractions dedicated to their favourite characters, from Mario Kart to Yoshi and beyond, as well as themed restaurants, merchandise shops—the list goes on. There is endless amount of fun for fans to feel a part of the Nintendo world as they take up the role of Mario and hit blocks to receive coins, collect items, and much more.

While the grand opening of SUPER NINTENDO is still a while away yet, USJ has everyone covered. The new and first of its kind Mario Cafe & Store will officially open inside the park's Hollywood Area on October 16, 2020. Let's take a closer look.

Mario Cafe & Store

Mario Cafe & Store's location inside the Hollywood Area


This Mario themed space will serve up food and drink inspired by everybody's favourite plumber as well as sell merchandise.

The cafe and shops' exterior designs

The cafe and shop can be easily spotted thanks to the red and green "M" and "L" letters on the windows symbolising Mario and Luigi as well as the Mario and Luigi hats. Gamers can enjoy this exciting space while they wait for the official opening of SUPER NINTENDO WORLD.

Mario & Luigi themed food

The food and drink line-up pays tribute to the beloved Mario video game franchise with instantly-recognisable motifs.

①Strawberry Shortcake Mario Hat Pancake Sandwich ②Grape Cheesecake Luigi Hat Pancake Sandwich ③Mario's Strawberry Cream Fruit Cream Soda ④Luigi's Apple Cream Fruit Cream Soda ⑤Soft Drinks (Super Mushroom, comes with drinks bottle)

Everything on the menu is sure to have you snapping some photos for Instagram.

Exclusive Mario merchandise

The shop is located next to the cafe and offers a whole range of exclusive merchandise with references to the Mario games like the brothers' hats, Princess Peach's crown, and more.

There's also a special "WHOSE CAP?" series of goods to grab.

Stay tuned for future updates on SUPER NINTENDO WORLD.

*Photos are for illustrative purposes only

WIZARDING WORLD and all related trademarks, characters, names, and indicia are © & ™ Warner Bros. Entertainment Inc. Publishing Rights © JKR. (s20)
Minions and all related elements and indicia TM & © 2020 Universal Studios. All rights reserved.
TM & © 2020 Sesame Workshop © 2020 Peanuts Worldwide LLC © 1976, 2020 SANRIO CO., LTD. APPROVAL NO.EL0061901
TM & © Universal Studios & Amblin Entertainment TM & © Universal Studios. All rights reserved.
Nintendo properties are trademarks and copyrights of Nintendo. © Nintendo.

UNIQLO's UT Brand Collaborates With London-Based Accessory Brand CHAOS

UNQILO launched a new collaboration titled "#REALTALK CHAOS UT" with its own graphic T-shirt brand UT and London-based accessory brand on September 28, 2020.

CHAOS is an accessory brand created by popular fashion stylists Katie Lyall and Charlotte Stockdale. Their fresh new collaboration with UT is centred on "girls' real talk."

Capturing the girls of today in words


Women's T-Shirts (7 Designs) – ¥1,500 / Women's Hoodies (4 Designs) – ¥2,990 (Before Tax)

The creative collection features sassy lines like "Absolutely Not!," "Can't Talk," and "A Little Chaotic" printed large on boxy t-shirts and hoodies with eye-catching colours

"We've wanted to collaborate with UNIQLO since launching the brand," explains CHAOS. "Our dream has come true, and we're super excited about it. Honesty and humour are the themes of #REALTALK CHAOS."

They continue: "This collection features colours, graphics, and typography that's typical of the CHAOS brand. It's a coming-together of everything we love. It's been a wonderful experience creating our first-ever collection with UNIQLO."

*Comments translated from Japanese