UNIQLO Releases Super Mario Bros. T-Shirts from UT Brand
UNIQLO released their new Super Mario Family Museum collection as part of their UT t-shirt graphic brand on April 1 at UNIQLO branches across Japan and via their online store.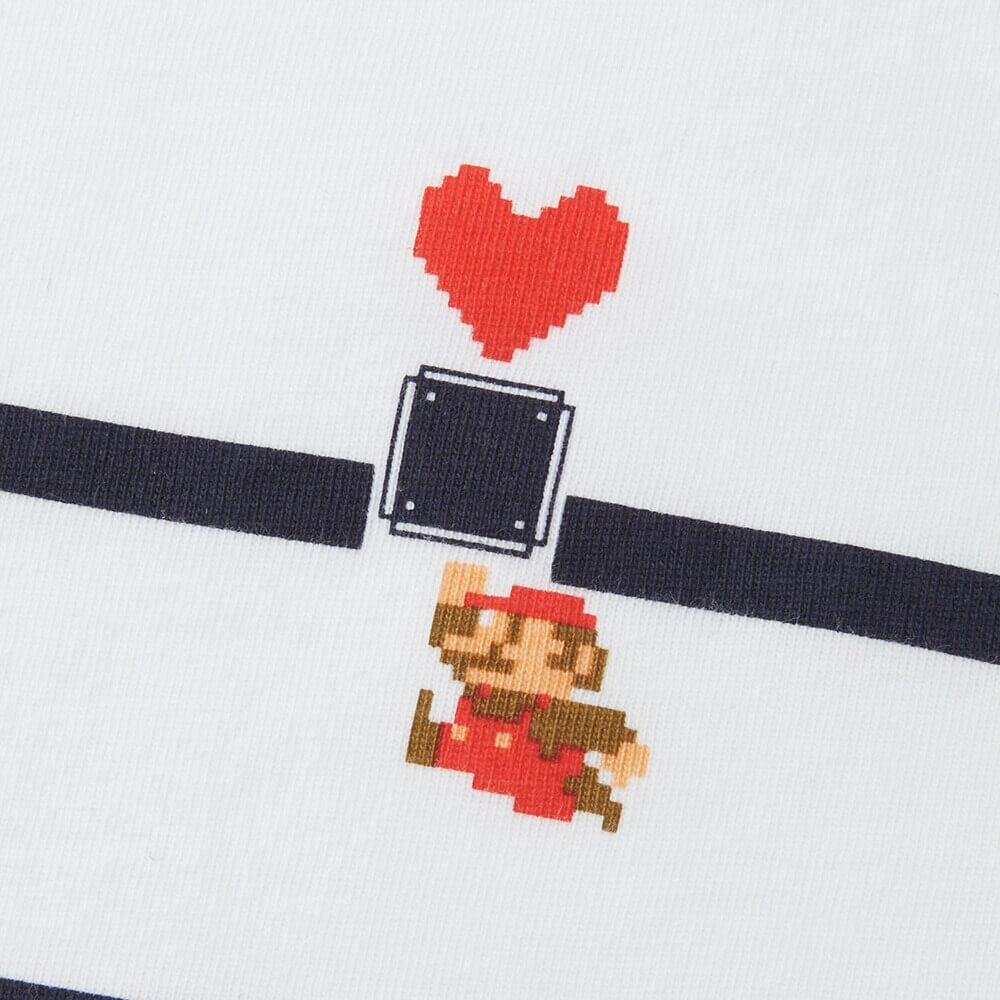 Since the releases of the original Super Mario Bros. in 1985, Mario has continued to reign as one of the most symbolic and iconic video game characters of all time. UNIQLO pays their respect to the legendary plumber with this new collection which features classic designs from the game.
Men's Collection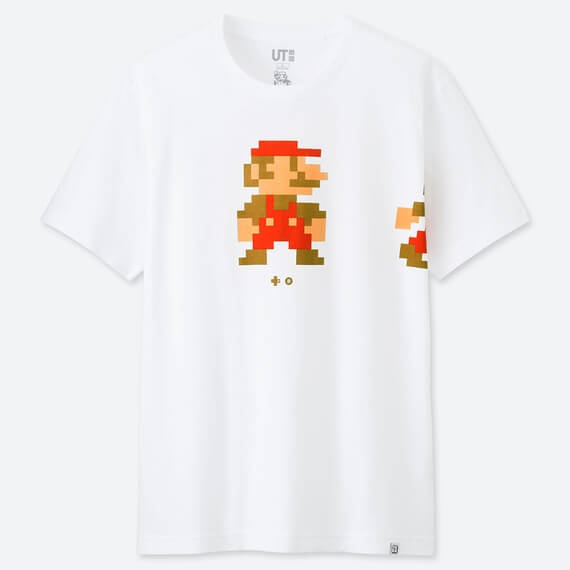 This first white t-shirt bears a print of the original 8-bit Mario. Underneath him is the B Dash command, something which will be familiar to any gamer. This commands enables Mario to run. If you look to the right of the t-shirt you'll see part of Mario's figure―he's dashed off screen!
The next t-shirt has a chic black design with a pocket that features multiple Bullet Bills firing in all directions.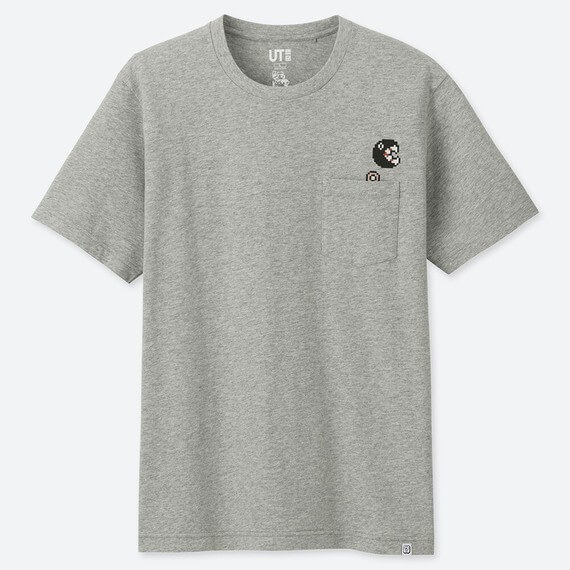 Another pocket design this time with a Chain Chomp poking its head out. We all have our memories with these feisty and irritable critters―one misstep or bad jump offers you as a meal to this crazy chomper.
Colourful stripes and a Yoshi egg decorate this t-shirt. Fans will be able to relate to the relief and excitement of seeing one of these shaking eggs.
Women's Collection
This Princess Peach t-shirt is available as part of the women's collection. A cute pink decorates the design which is complemented by a beautiful 2D graphic of Peach.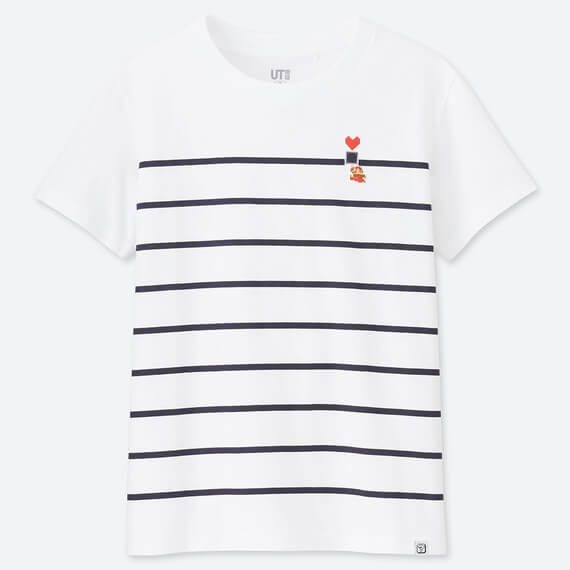 Mario has jumped on many boxes in his career and this one gives him a love heart. The t-shirt has simple black stripes against a white background which gives a French vibe to it.
At first glance you see polkadot, but upon closer inspection you'll notice they're actually Boos! They go perfectly with the pitch black background as they wait in the dark for Mario to walk by…
Kid's Collection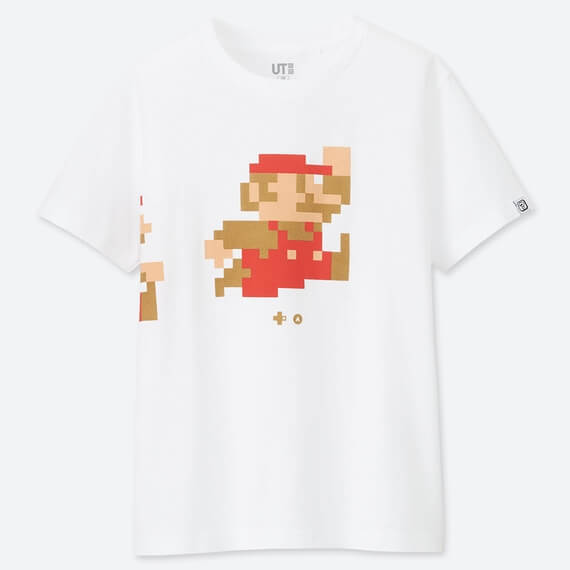 Similar to the t-shirt in the men's collection, this one has the jump command on it. If you line it up with the men's t-shirt it creates an image of Mario running and jumping!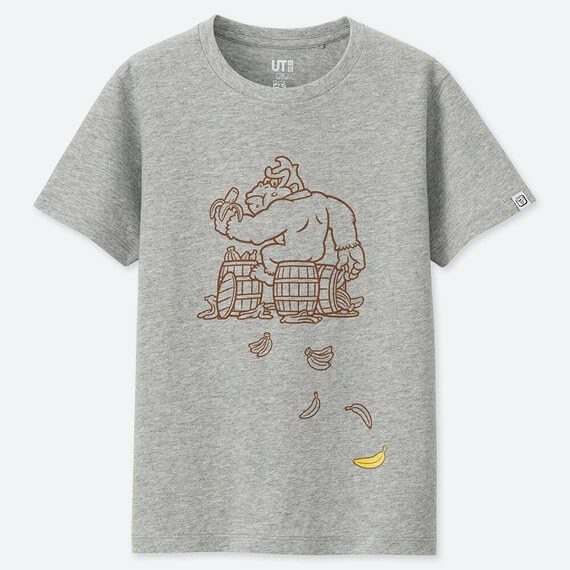 Donkey Kong is another member of the Mario family, and only kids get his t-shirt. You'd better not steal his bananas.
Kids also get this exclusive bright green t-shirt with an adorable sleeping Yoshi on it. This one is perfect for easily-excitable children.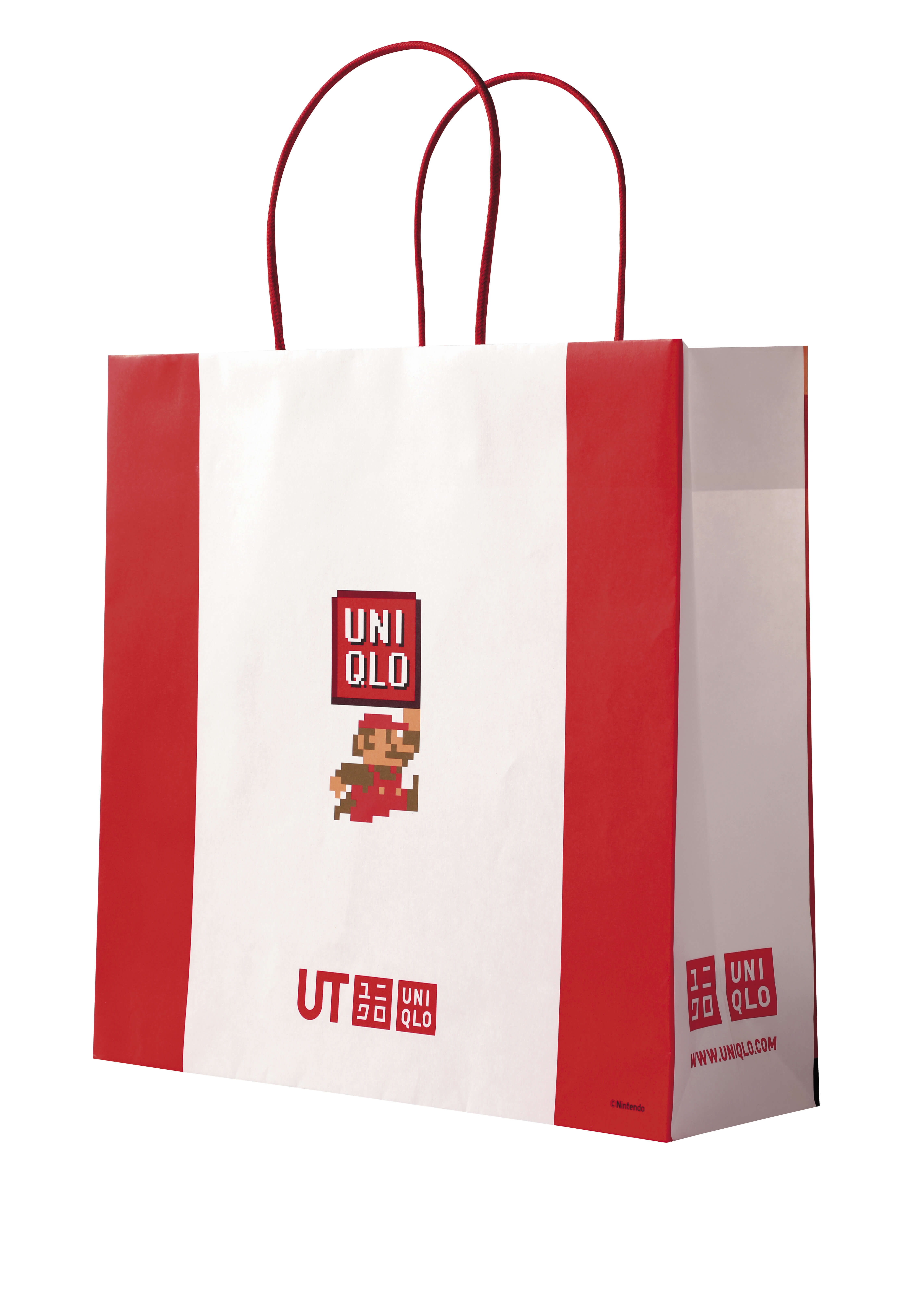 If you buy anything from this collection in-store it will come bagged in one of these question block shopping bags. These are limited in stock and are available on a first-come, first-served basis.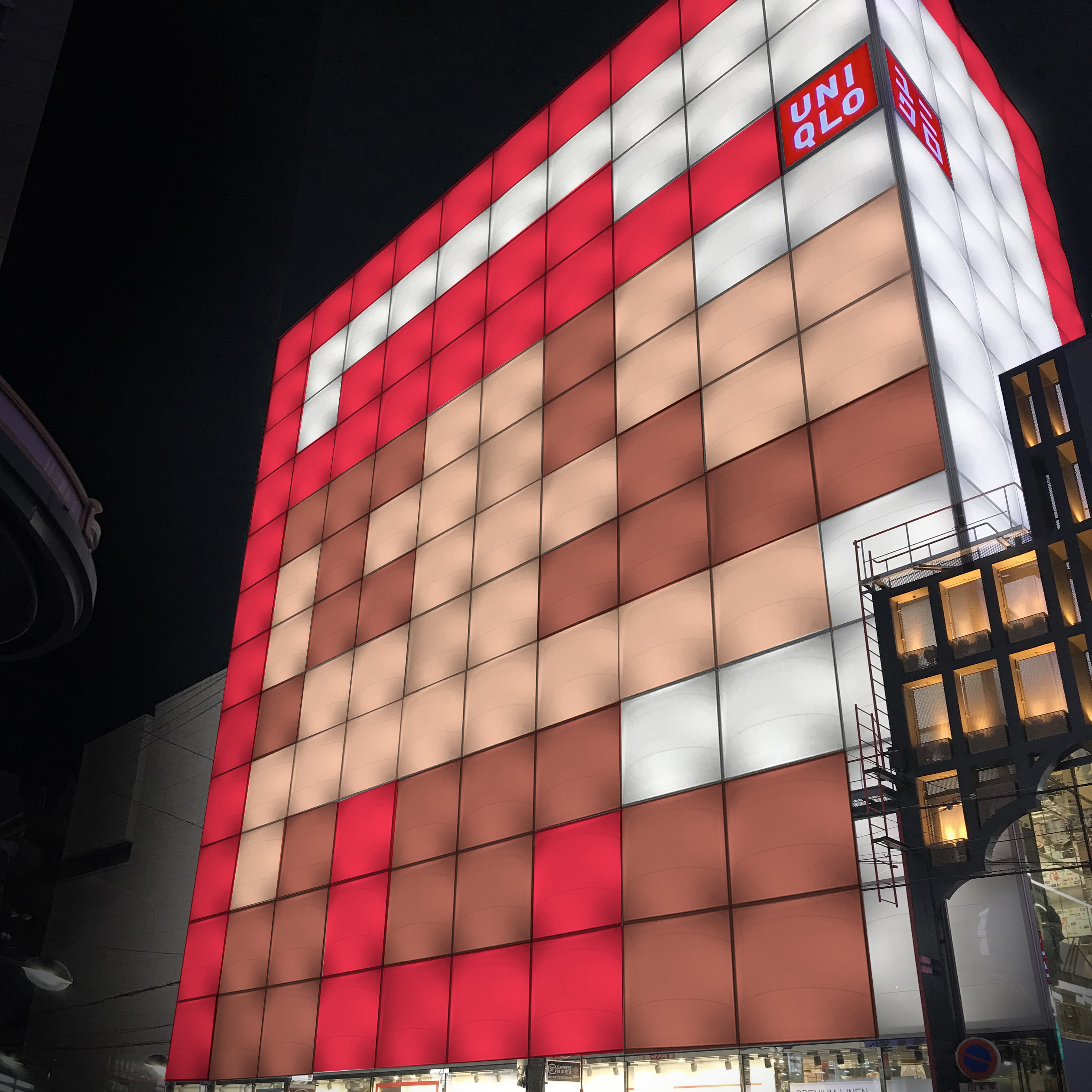 If you're in Osaka then you'll definitely want to stop by the Shinsaibashi branch of UNIQLO. The entire store (from March 29) is lit up to create an awesome looking 8-bit Mario! More characters are planned to show their faces on the building too  up until mid-April.
Which t-shirt are you eyeing up the most?
Information
"SUPER MARIO FAMILY MUSEUM" UT
Release Date: April 1, 2019
Price: Men's & Women's – ¥900 (Before Tax) / Kid's – ¥790 (Before Tax)
Available: At UNIQLO branches across Japan and their online store
Sizes: Men's (XS-4XL) / Women's (XD-3XL) / Kid's (100-160)
*Men's and women's XS and XXL-4XL sizes as well as kid's 100 and 160 sizes are available online only.
Product Page: www.uniqlo.com/jp/store/feature/uq/ut/nintendo-museum/
UNIQLO Official Online Store: https://www.uniqlo.com/jp/
©Nintendo
RELATED ENTRIES
UNIQLO's New MySize CAMERA App Introduces bodygram Which Measures Your Body

UNIQLO's new MySize CAMERA app has adopted a new deep learning AI program called "bodygram" which can measure multiple areas of your body wherever and whenever by just taking a photo, and with your clothes on too.

Once you've entered the person's height, weight, sex, and age, the snap of a picture will determine the measurements of 10 areas of a person's body including the chest, hip, and waist.

The data is broken down on an easy-to-read chart which will be indispensable when going out and buying clothes.

Obviously when it comes to vague set sizes like small and medium, the number of cm of a waist, or specifics like shoulders or even waist, measurements can vary from brand to brand. The app solves this issue by having a set measurement and enables you to customise measurements from brand to brand.

The future of clothes shopping is here with bodygram.

Mario & Sonic at the Olympic Games Tokyo 2020 Release Date & Details Revealed

Sega has announced that Mario & Sonic at the Olympic Games Tokyo 2020 will be released on Nintendo Switch™ on November 1, 2019.

The upcoming sports video game is a crossover between Nintendo's Super Mario and Sega's Sonic the Hedgehog franchises which makes full use of the Joy-Con™ on the Nintendo Switch.

The latest trailer which dropped on Tuesday revealed that players will also be sent back in time to the Tokyo 1964 Olympics with a set of 10 games with classic 2D graphics. The game will also feature a Story Mode where players can compete in the Olympics and play a variety of mini games.

The game is now available for pre-order on the Nintendo eShop. If you pre-order the game you will be able to play the game immediately at midnight when it drops on November 1.

TM IOC/TOKYO2020/USOC 36USC220506. © 2019 IOC. All Rights Reserved. © NINTENDO. ©SEGA.

Beautiful Sailor Moon T-Shirts Released by UNIQLO's UT Brand

UNIQLO's graphic t-shirt brand UT it collaborating with Sailor Moon to release a collection of t-shirts at UNIQLO stores across Japan and their online store on June 23.

The original Sailor Moon manga series written and illustrated by Naoko Takeuchi was the biggest shojo manga series of the 1990's. It has been translated into 17 languages and the anime series has been made available in over 40 countries. The Sailor Moon 25th Anniversary Project began in 2017 and has brought about new anime series, a musical and more. In July this year, the manga series was released digitally and simultaneously worldwide for the first time.

To celebrate and help promote the digital distribution of the manga series, the t-shirt collection was made in collaboration with Naoko Takeuchi herself. The designs are enough to make the hearts of fans out there throb.

This design features Sailor Moon's iconic pose when she declares, "In the name of the moon, I'll punish you!"

This design showcases the classic scene when the Sailors send in their power to the Holy Grail. The dialogue has been translated into 10 languages in celebration of the international digital distribution of the manga.

The front of this t-shirt features the series logo while the back has the Sailors and Luna each with their respective colours.

The back of this t-shirt features Sailor Moon's birthday scene. It comes with trendy tie-dye colouring.

This final design has a pocket with a picturesque scene of Azabu-Jūban, a district in Tokyo where the Protagonists live. There is also a cute embroidering of Luna above it.

From longtime readers to more recent fans, this is a collection you're sure to enjoy!

©Naoko Takeuchi

Attack on Titan, Seven Deadly Sins, Fairy Tail & Other Anime T-Shirts Releasing at UNIQLO

UNIQLO's graphic t-shirt brand UT are celebrating the 60th anniversary of manga magazine Weekly Shonen Jump with a new t-shirt collection via their sub brand MANGA UT. The t-shirts will go on sale from August 12.

The collection covers six anime series serialised in the popular magazine including Hajime no Ippo, Fairy Tail, The Seven Deadly Sins, Attack on Titan, Negima! Magister Negi Magi, and Shōta no Sushi. Each t-shirt pays homage to its respective series, featuring iconic scenes that have stayed with fans, sound effects, and original designs that capture their worlds.

Hajime no Ippo

Hajime no Ippo is a boxing manga written and illustrated by George Morikawa. It follows Ippo Makunouchi, a shy high school student who suffers at the hands of bullies. He begins a career in boxing in search of the answer to the question "What is strength?" and battles his rivals and those around him to grow as an individual. The t-shirt design captures the lively energy seen in the characters and is surrounded by eye-catching SFX.

©George Morikawa/Kodansha

Fairy Tail

Fairy Tail is a fantasy adventure manga written and illustrated by Hiro Mashima. It follows the dragon slaying wizard Natsu and his tale of growth as part of the Fairy Tail guild. One of the t-shirts features four characters from the guild and the other is a large illustration of Acnologia, the main characters' strongest enemy.

©Hiro Mashima/Kodansha

The Seven Deadly Sins

The Seven Deadly Sins is a fantasy battle adventure series written and illustrated by Nakaba Suzuki. It follows the titular characters each of whom represent the seven deadly sins. There are several t-shirt designs including one featuring Meliodas looking up to the sky and another of him and his comrades out on a peaceful trip. There is even a hand drawn illustration of Hawk, a talking pig and Meliodas's pet, which was illustrated by Suzuki himself and UT's editors.

©Nakaba Suzuki/Kodansha

Attack on Titan

Attack on Titan is an dark fantasy adventure series written and illustrated by Hajime Isayama. The story is set in a world where humanity lives within giant walls which help protect them from towering man-eating Titans. The terrifying t-shirt design features one of the Titans that live inside the walls.

©Hajime Isayama/Kodansha

Negima! Magister Negi Magi

Negima! Magister Negi Magi is an fantasy adventure and harem series written and illustrated by Ken Akamatsu. It follows the story of Negi, a wizard who becomes an English teacher at Mahora Academy, where he helps his class of students overcome their problems. He is also in search of his father who is known as a hero in the world of wizardry. There are two t-shirts, one featuring the main heroine Asuna Kagurazaka, and another of some of the other students in the class.

©Ken Akamatsu/Kodansha

Shōta no Sushi

Shōta no Sushi is a food manga series written and illustrated by Daisuke Terasawa which follows the story of Sekiguchi Shota who works as an apprentice and aims to become a sushi chef. There are two t-shirt designs, one which features the manga's logo and a slice of sushi and the other with the logo and a whole sushi platter.

©Daisuke Terasawa/Kodansha

Show your support for your favourite Weekly Shonen Jump series by picking up one of these awesome t-shirts!

One Piece: Stampede T-Shirts to be Released by UNIQLO For Upcoming Film

UNIQLO have announced that they will release a line of t-shirts to celebrate the release of the upcoming anime film One Piece: Stampede which will hit Japanese theatres on August 9. The t-shirts will be released as part of the company's UT graphic t-shirt collection at UNIQLO stores in Japan and on their website on July 29.

The collaboration marks the second time One Piece has teamed up with UT. The entire collection was crafted by UNIQLO's UT team with feedback from the legendary Eiichiro Oda, the author of the manga series.

The collection is inspired by the idea of the Straw Hat Pirates boarding the Thousand Sunny and heading on summer vacation, with Luffy carrying a gun barrel on his back for launching fireworks and Chopper wearing a firework explosive hat.

There is also the Pirates Festival t-shirt featuring the same mark that Chopper wears in the film.

Help commemorate the anime's 20th anniversary in the run up to the movie's release by getting your pirate hands on one of these exclusive t-shirts!

©Eiichiro Oda/Shueisha・Fuji Television・Toei Animation

"One Piece: Stampede" ©Eiichiro Oda / 2019 "One Piece" Production Committee

Information

One Piece: Stampede UT Collection

Release Date: July 29, 2019
Price: Men's – ¥990 (Before Tax) / Kids – ¥790 (Before Tax)
Designs: Men's – 8 / Kids – 3
Available: At UNIQLO stores and the online store in Japan. Kids sizes available at branches with a kids section only.
Sizes: Men's XS-4XL (XS, XXL-4XL available online only) / Kids 100-160 (100 and 160 available only only)
Product Page: www.uniqlo.com/jp/store/feature/uq/ut/onepiece-stampede/

TikTok & UNIQLO Launch Hashtag Campaign #UTPlayYourWorld

Short video app TikTok and fashion retailer UNIQLO have launched a new global hashtag campaign to find influencers for its graphic design t-shirt brand UT.

Teaser Trailer (Japan/France/US)

The hashtag challenge is being held in the Japanese, US, French and Taiwanese markets. All you need to do to join is wear your favourite UT t-shirt, make a video on TikTok with the challenge's theme song #UTPlayYourWorld and post the hashtag.

One person will be selected from each country and region for a total of five. These winners will have their videos posted on the monitors in UNIQLO stores around the world and on social media. Winners in Japan will also be able to appear on in a UNIQLO TV commercial.

What are you waiting for? Make your video today!

Information

Global Hashtag Challenge

Running: June 25, 2019 at 00:00 (JST) – July 11, 2019 at 23:59 (JST)

*Starting on June 24, 2019 in Taiwan only

*Please refer to the website below for application details, prizes, winner announcements etc.

#UTPlayYourWorld Official Website: www.uniqlo.com/ut-play-your-world/

Pixar Movie T-Shirt Collection to be Released by UNIQLO's UT Brand

UNIQLO are set to release a new line of t-shirts in their graphic brand UT called "PIXAR VACATION" which is part of the brand's Magic For All Disney collection.

Some of Disney•Pixar's most films are included in the line-up including Toy Story, Monster's Inc., and Finding Nemo. The designs feature colourful pop art that can be enjoyed by people of all ages.

Men's: ¥990 (Before Tax) | Sizes XS-4XL

Women's: ¥990 (Before Tax) | Sizes XS-3XL

Kid's: ¥790 (Before Tax) | Sizes 100cm-160cm

Those who purchase any of these select items will receive a UNIQLO original Toy Story 4 capsule toy of either Woody, Buzz, the Little Green Men, or Bo Peep. They are limited in stock so make sure to grab your t-shirt quick. The way to obtain the toy is different whether purchasing in store or online so check the official website for more details.

A special promotional short video was also released featuring the four toys over on UNIQLO's official YouTube page.

Fans of Disney•Pixar and those excited for the upcoming release of Toy Story 4 won't want to miss out on this collection.

UT Celebrates Iconic One Piece Scenes in New T-Shirt Collection

UNIQLO are set to release a new collection of One Piece t-shirts from their t-shirt graphic brand UT on May 10 online and at all stores across Japan.

The One Piece anime series began broadcasting in 1999 and is an adaptation of Eiichiro Oda's manga series of the same name serialised in Weekly Shonen Jump. The series is adored the world over.

The new t-shirt collection celebrates the series' 20th anniversary with designs of iconic scenes. "Friendship, Love & Bonds" are the keywords in these designs which feature familiar faces of characters. They are a must-have for any fan of the show.

© Eiichiro Oda/Shueisha, Toei Animation

Naruto, Gintama & More―UNIQLO Releases Manga-Inspired T-Shirt Series MANGA UT

Japanese retailer UNIQLO, which owns the T-shirt collection "UT" is developing a subseries called "MANGA UT" which is a collection based on world famous anime and manga. The new collection will be launched at UNIQLO stores nationwide and on the online store from Monday 27th May 2019.

Detective Conan © Gosho Aoyama/Shogakukan, Yomiuri Telecasting Corporation, TMS 1996

BORUTO – NARUTO NEXT GENERATIONS NARUTO-NARUTO – SHIPPUDEN ©Masashi Kishimoto  Scott / SHUEISHA Inc, TV Tokyo, Pierrot Co. Ltd.

This year the collection offers items for women too, so everyone can enjoy an even larger variety of products. This year, Detective Conan, Boruto – Naruto Next Generations and Naruto Shippuden are featuring in the collection for the first time. This will be the first time that a solo Detective Conan item is released.

NARUTO – SHIPPUDEN ©Masashi Kishimoto  Scott / SHUEISHA Inc, TV Tokyo, Pierrot Co. Ltd.

Gintama © Hideaki Sorachi/SHUEISHA Inc, TV Tokyo, Dentsu Inc., BNP, Aniplex Inc.

Yu ☆ Yu ☆ Hakusho original works/Yoshihiro Togashi Yu ☆ Yu ☆ Hakusho (JUMP Comics published by SHUEISHA Inc.) © Yoshihiro Togashi (1990-1994)  ©Pierrot Co. Ltd./SHUEISHA Inc.

As well as original Weekly Shōnen Jump anime such as Naruto Shippuden and Gintama, legendary anime such as Yu ☆ Yu ☆ Hakusho and HUNTER X HUNTER are also part of the collection!

Urusei Yatsura © Rumiko Takahashi /Shogakukan

Ranma ½ © Rumiko Takahashi / Shogakukan

…but there's still more! The collection also features 14 popular Weekly Shōnen Sunday manga/anime such as Urusei Yatsura, Ranma ½ and Inuyasha!

Come check out this T-shirt collection which features Japan's most world-famous anime and manga!

Information

MANGA UT

Release: Monday 27th May 2019

Available at UNIQLO stores nationwide (Japan) and on the online store.

Prices: Men's/ Women's (¥990+ tax)/Kids (¥790 + tax)

Product info: https://www.uniqlo.com/jp/store/feature/uq/ut/mangaut/

UNIQLO released their new MICKEY BLUE line of t-shirts on April 8 from its t-shirt brand UT as part of the "Magic For All" Disney collection. The line is available both in-store and online.

Due to its popularity, this is the third year the MICKEY BLUE line is being released. This UNIQLO-original Mickey Mouse collection fuses together indigo blue and ocean blue.

Women's UT: ¥990 (Before Tax)

This t-shirt design features Mickey running while carrying a surfboard.

Men's UT: ¥990 (Before Tax)

Another surfboard design, but this time Mickey is holding it while holding a cute pose.

Kid's UT: ¥790 (Before Tax)

Other designs beckon summertime with including those with blue stripes and those with dots.

And for the first time in the collection Donald Duck also makes an appearance to celebrate his 85th anniversary.

This stylist collection is a must-have for any Disney fans!

UNIQLO Video Showcases New Monster Hunter & Street Fighter T-Shirts

UNIQLO is set to release its new collection of Street Fighter and Monster Hunter t-shirts from its graphic t-shirt brand UT both in-store and online on April 15.

In the run up to the collection's release, UNIQLO posted a video on their official YouTube channel in promotion of it.

The video features fight sequences that mix together gameplay and with live action.

UT has released many popular t-shirts in collaboration with Monster Hunter so far and this time it will include one in celebration of the series's 15th anniversary. The t-shirt will feature the legendary dragon Rathalos and a 15th anniversary  logo.

Other designs will include the easily-recognisable meat icons from the game, an original camoflauge t-shirt with silhouettes of the main monsters and more. Any gamers out there won't want to miss out on these fun and faithful collections.

Street Fighter T-Shirts Released by UNIQLO's UT Brand

Street Fighter II was first released in 1991 and become a record-breaking hit in the industry. Over the past few years, the fifth game in main series, Street Fighter V, has become international as an e-sport. Japanese clothing company UNIQLO have revealed that they are releasing 12 different t-shirts based on V from their t-shirt brand UT.

Featuring completely original designs, the t-shirts incorporate iconic motifs and poses from different characters in the game.

Which do you want the most?