UNIQLO Releases Super Mario Bros. T-Shirts from UT Brand
UNIQLO released their new Super Mario Family Museum collection as part of their UT t-shirt graphic brand on April 1 at UNIQLO branches across Japan and via their online store.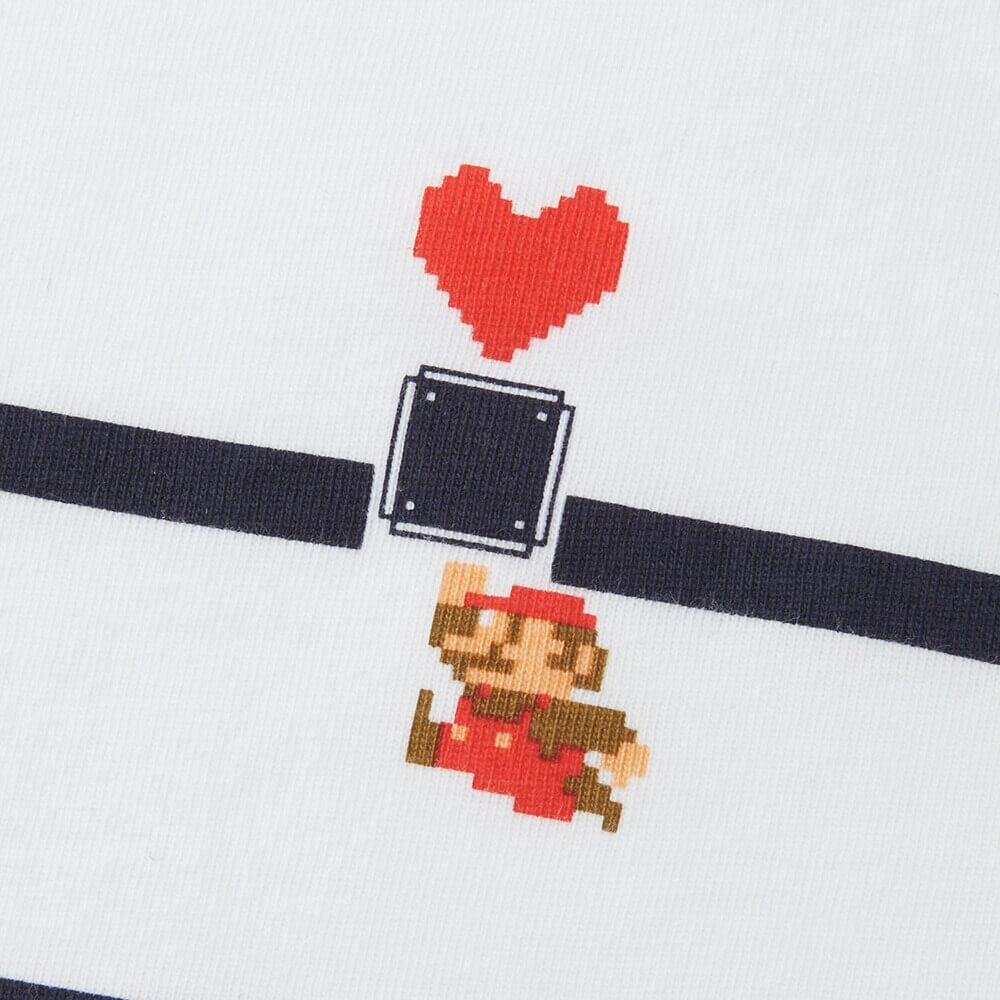 Since the releases of the original Super Mario Bros. in 1985, Mario has continued to reign as one of the most symbolic and iconic video game characters of all time. UNIQLO pays their respect to the legendary plumber with this new collection which features classic designs from the game.
Men's Collection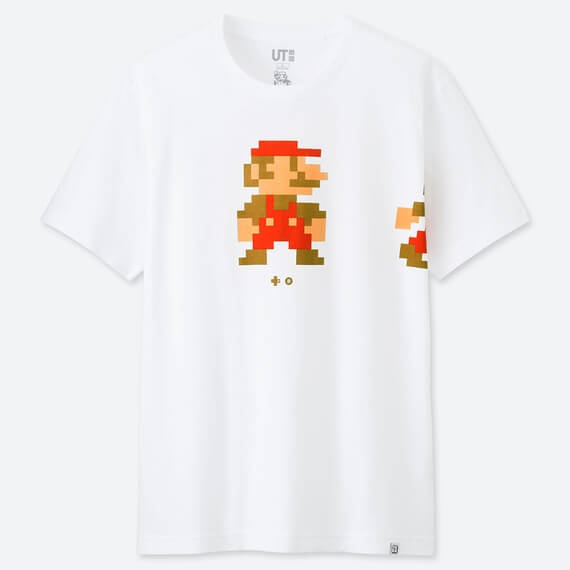 This first white t-shirt bears a print of the original 8-bit Mario. Underneath him is the B Dash command, something which will be familiar to any gamer. This commands enables Mario to run. If you look to the right of the t-shirt you'll see part of Mario's figure―he's dashed off screen!
The next t-shirt has a chic black design with a pocket that features multiple Bullet Bills firing in all directions.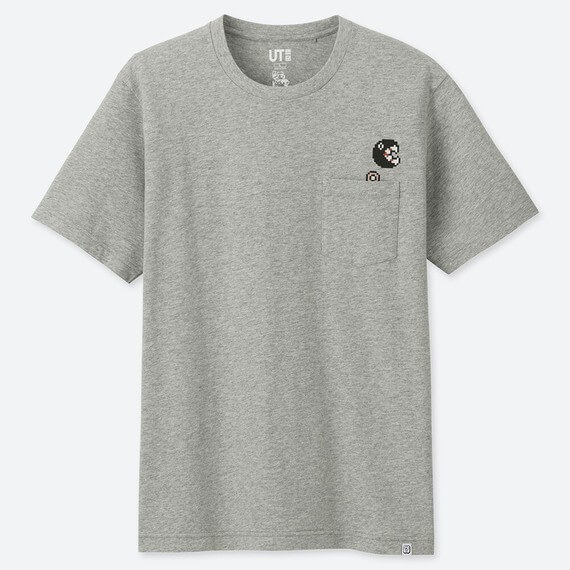 Another pocket design this time with a Chain Chomp poking its head out. We all have our memories with these feisty and irritable critters―one misstep or bad jump offers you as a meal to this crazy chomper.
Colourful stripes and a Yoshi egg decorate this t-shirt. Fans will be able to relate to the relief and excitement of seeing one of these shaking eggs.
Women's Collection
This Princess Peach t-shirt is available as part of the women's collection. A cute pink decorates the design which is complemented by a beautiful 2D graphic of Peach.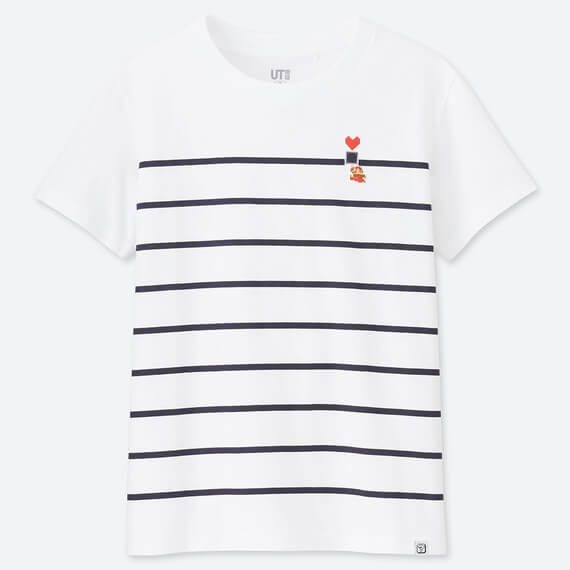 Mario has jumped on many boxes in his career and this one gives him a love heart. The t-shirt has simple black stripes against a white background which gives a French vibe to it.
At first glance you see polkadot, but upon closer inspection you'll notice they're actually Boos! They go perfectly with the pitch black background as they wait in the dark for Mario to walk by…
Kid's Collection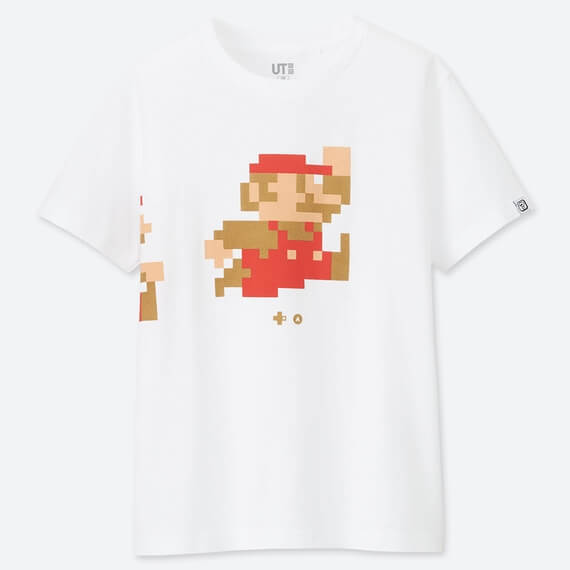 Similar to the t-shirt in the men's collection, this one has the jump command on it. If you line it up with the men's t-shirt it creates an image of Mario running and jumping!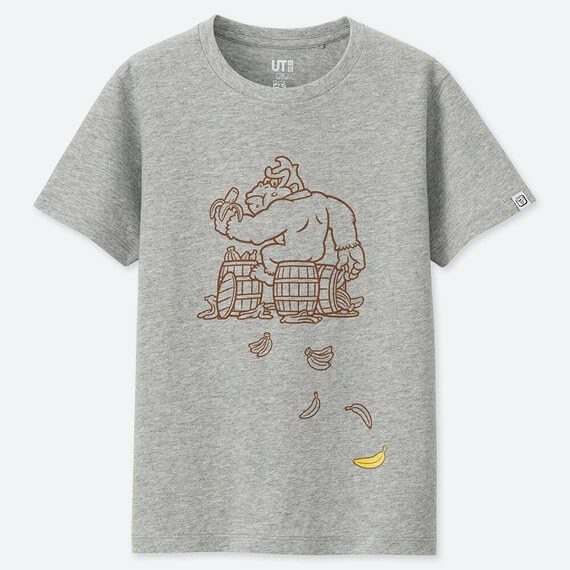 Donkey Kong is another member of the Mario family, and only kids get his t-shirt. You'd better not steal his bananas.
Kids also get this exclusive bright green t-shirt with an adorable sleeping Yoshi on it. This one is perfect for easily-excitable children.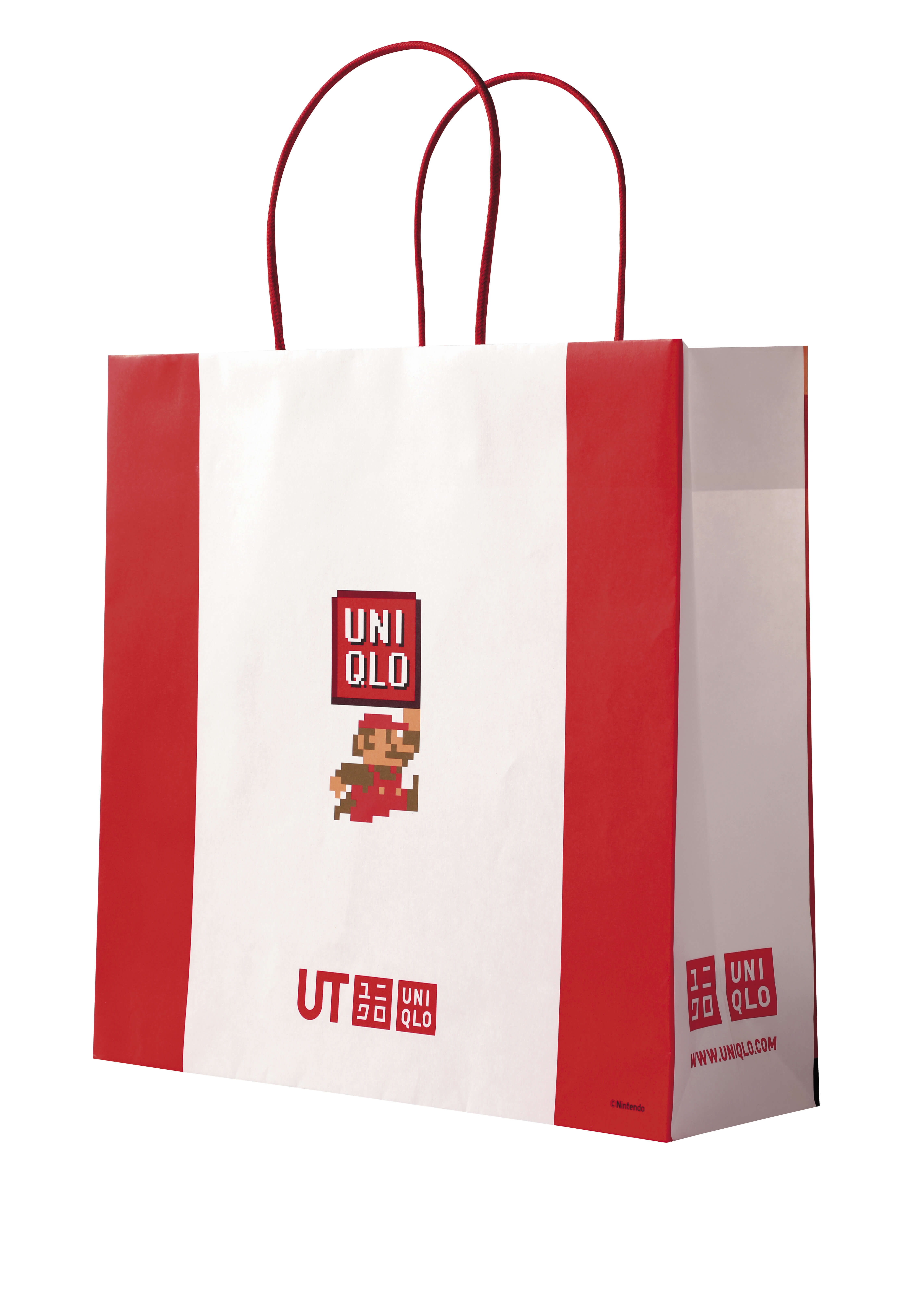 If you buy anything from this collection in-store it will come bagged in one of these question block shopping bags. These are limited in stock and are available on a first-come, first-served basis.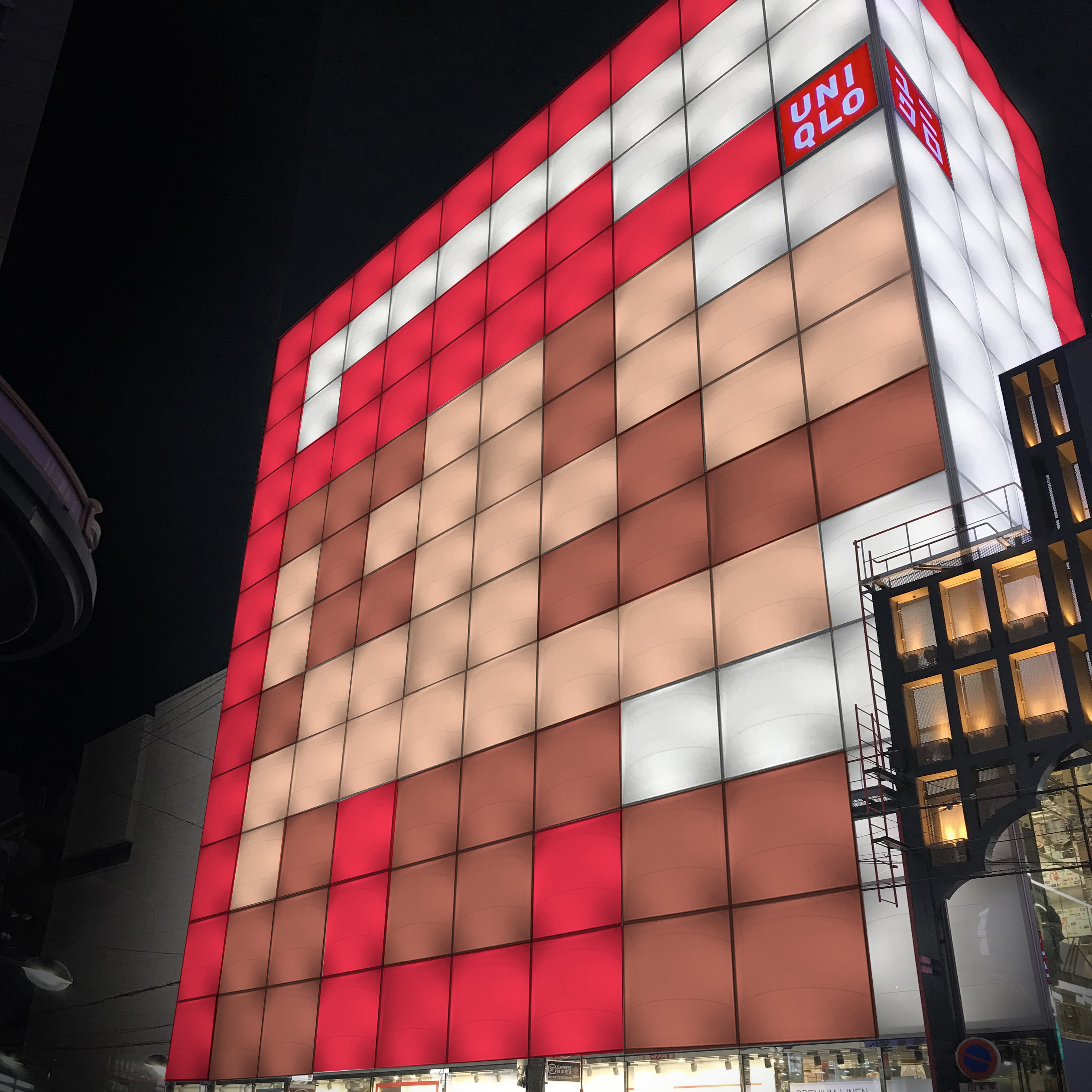 If you're in Osaka then you'll definitely want to stop by the Shinsaibashi branch of UNIQLO. The entire store (from March 29) is lit up to create an awesome looking 8-bit Mario! More characters are planned to show their faces on the building too  up until mid-April.
Which t-shirt are you eyeing up the most?
Information
"SUPER MARIO FAMILY MUSEUM" UT
Release Date: April 1, 2019
Price: Men's & Women's – ¥900 (Before Tax) / Kid's – ¥790 (Before Tax)
Available: At UNIQLO branches across Japan and their online store
Sizes: Men's (XS-4XL) / Women's (XD-3XL) / Kid's (100-160)
*Men's and women's XS and XXL-4XL sizes as well as kid's 100 and 160 sizes are available online only.
Product Page: www.uniqlo.com/jp/store/feature/uq/ut/nintendo-museum/
UNIQLO Official Online Store: https://www.uniqlo.com/jp/
©Nintendo
RELATED ENTRIES
UNIQLO's Global Design Competition UT GRAND PRIX 2022 is Themed on the Peanuts Comics

The UT GRAND PRIX (UTGP) is a design competition that started in 2005. The contest uses the T-shirt as a creative medium and invites everyone to freely express their creativity. This year, the competition is themed on the Peanuts comic strips by Charles M. Schulz which first hit the scene in the US back in 1950, over a hundred years ago.


Create your own Peanuts tee design


Artists are invited to unleash their imagination and bring their own Peanuts creations to life using UNIQLO's UT brand as their canvas. Designs will be judged by the Charles M. Schulz Museum and a team of Charles M. Schulz creative associates.

An internship at the Peanuts studio


The Grand Prize is $20,000 and all winning designs will become products sold in UNIQLO stores worldwide in the summer of 2022. The winners of the top two prizes will be invited to the USA. There will also be an internship opportunity to be a member of the Charles M. Schulz creative associates team.

Sign up to the competition and submit your entry for the chance of your artwork being featured worldwide.

UNIQLO x Tate Modern Launch UNIQLO Tate Play

UNIQLO and British art gallery Tate Modern have signed a three-year global partnership. The two first came together for the UNIQLO Tate Lates event series which began in 2016. This new partnership brings about new free programme of playful activities for families of all ages. This summer, people are invited to transform the floor of the Turbine Hall at Tate Modern into a giant collaborative work of art at UNIQLO Tate Play: Mega Please Draw Freely. Tate will also release a t-shirt collection in collaboration with UNIQLO's UT brand in 2022.




Tadashi Yanai (Fast Retailing Chairman, President and CEO, UNIQLO) | Comment


"UNIQLO is proud to be partnering once again with the world-renowned Tate Modern especially this year, as 2021 is the year we are celebrating the 20th anniversary since launching UNIQLO in the United Kingdom. Our renewed collaboration with Tate Modern is based on a shared philosophy of Made for All, a concept echoed in LifeWear, clothing designed to help make everyone's daily life better, and in giving everyone the opportunity to enjoy art. My hope is for many families to get involved in the UNIQLO Tate Play program."

UNIQLO Tate Play invites everyone of all ages to scribble, doodle, sketch and become part of an unforgettable experience.


UT is UNIQLO's graphic print t-shirt brand which first launched in 2007. 'Wear Your World' is the brand's philosophy. It has collaborated with anime, manga, bands, films, and more, and next year, it is teaming up with Tate Modern in an exclusive collection.

Super Mario x PARCO Launch Summer 2021 Campaign

Japanese department store chain PARCO is teaming up with Super Mario from June 25 for a special summer campaign which will see stores selling items made in collaboration with the video game franchise.

PARCO Grand Bazaar

Collaboration Item Fair

The Line-Up

XLARGE | T-Shirt

LOEWE | Pouch

CABANE de ZUCCa | T-Shirt

FURFUR | Bag

Lily Brown | Knitwear

TiCTAC | Wristwatch

NUBIAN | Shirt

KIMONO by NADESHIKO | Yukata

Angelic Pretty | Dress

Maison de FLEUR | Bag

Ojaga Design | Keyrings

KiU | Poncho

Discover Japan Lab. | Folding Fan

une nana cool | Pouch

Shimamura Gakki | Electric Piano

Super Mario Hand Towel / PARCO Online Store Exclusive Gift Box

Nintendo TOKYO POP-UP STORE

Over 60 brands tied to PARCO are participating in the Collaboration Item Fair, and Nintendo TOKYO is also opening its first pop-up store. Join Mario this summer.

©Nintendo 

YOASOBI x UNIQLO UT T-Shirt Collab Collection Releasing This July

UNIQLO's UT collection is a line of tees created in collaboration with other brands, anime, shows, and more. On July 2, UNIQLO is teaming up with the Japanese music duo YOASOBI to release an exclusive new collection.

YOASOBI, which is comprised of Ayase and ikura, made their debut in 2020 with their hit song Yoru ni Kakeru. Since then, their music has continued to top charts in JApan.

The collection is a fusion of fashion and music in women's and kids designs featuring stills taken from seven of the duo's iconic music videos including Yoru ni Kakeru, Halzion, Tabun, Gunjo, Haruka, Encore, and their new track Sangenshoku.

The Line-Up

Women's Tees | 7 Designs | ¥1,500

Kids Tees | 5 Designs | ¥990

To promote the collaboration, YOASOBI will also hold a free YouTube livestream on July 4 2021 at 6pm (JST). The online event is called "SING YOUR WORLD" and will see them perform live.

©藍にいな ©ラビットマシーン ©すばこ舎・山中琴美・村山辰徳・細矢祐輔 ©南條沙歩 ©しなの ©牧野惇
©古塔つみ ©むつき潤
©伊豆見香苗・すばこ舎・山中琴美・村山辰徳・細矢祐輔 ©文・すばこ舎・山中琴美・村山辰徳・細矢祐輔

Jujutsu Kaisen x UNIQLO T-Shirt Collection Announced

UNIQLO are set to collaborate with Jujutsu Kaisen for the first time ever in a new t-shirt collection from their UT brand on June 4. The Jujutsu Kaisen manga series written and illustrated by Gege Akutami has sold over 45 million copies, making it one of the best-selling series of all time.

The Line-Up

Men's T-Shirts (7 Designs)

Kids T-Shirts (4 Designs) 

This first collection features iconic scenes and lines taken from the main characters of the manga series. The line-up is a must-grab for fans looking to express their love of the series, which saw the first season of its anime adaptation conclude in March. A second collection is planned for release.

©芥見下々 / 集英社

Paul & Joe x UNIQLO to Launch UT Collection

UNIQLO has announced the worldwide release of its new "Paul & Joe UT Collection" which will hit the brand's site on March 26. The line-up features a variety of t-shirts with a fun and colourful springtime feel to them.

The Line-Up

Women's T-Shirts (2 Designs – 9 Colours) ¥1,500 | Blouses (1 Design – 3 Colours) ¥2,990

 Women's Skirts (1 Design – 4 Colours) ¥2,990 | One Piece (1 Design – 3 Colours) ¥4,990 | Scarfs (1 Design – 4 Colours) ¥990 | Bag (1 Design – 3 Colours) ¥1,500

Girls T-Shirts (2 Designs – 6 Colours) ¥990 | Girls One Piece (1 Design – 4 Colours) ¥2,990 | Baby T-Shirts (1 Design – 4 Colours) ¥990 | Baby Leggings (1 Design – 3 Colours) ¥790

Freebies

Hairbands

Customers who buy two or more of the items in this collection will receive a free hairband. These are limited in stock so are first-come, first-served. Additionally, those who use the gift service will have their items wrapped in a special gift sleeve case.

The collection features motifs that are symbolic of the Paul & Joe brand, such as chrysanthemums, and lilies, which are believed to bring happiness, in pastel colours. It also features cats, another iconic motif of the brand. The line-up includes all the wardrobe essentials such as t-shirts, dresses, blouses, scarfs, and bags for women, girls, and babies.

ALL PAUL & JOE PRINTS ARE COPYRIGHTED

Super Nintendo World Opening March 18 at Universal Studios Japan

Ouverture du Super Nintendo World le 18 mars à Universal Studios Japan

Cinq ans depuis sa première annonce en 2016 et son report de la date d'ouverture dû au corona virus, le moment est enfin venu : Universal Studios Japan ouvre la zone Super Nintendo World le 18 mars 2021 (jeudi).

Super Nintendo World est le premier parc à thème au monde à être basé sur les personnages et les jeux de Nintendo, combinant des idées innovantes avec une technologie de pointe. Il ouvre à l'occasion du 20e anniversaire de l'USJ, ce qui fait de ce printemps une période festive pour le parc.

Les fans pourront s'attendre à entrer dans le château de Bowser, frapper les blocs de point d'interrogation comme Mario, ou mettre la main sur des produits exclusifs et bien plus encore. Restez à l'écoute pour de plus amples informations pour préparer votre visite !

WIZARDING WORLD and all related trademarks, characters, names, and indicia are © & ™ Warner Bros. Entertainment Inc. Publishing Rights © JKR. (s21) Minions and all related elements and indicia TM & © 2021 Universal Studios. All rights reserved. TM & © 2021 Sesame Workshop © 2021 Peanuts Worldwide LLC TM & © Universal Studios & Amblin Entertainment Universal Studios Japan TM & © Universal Studios. All rights reserved. © Nintendo

UNIQLO x Haruki Murakami T-Shirt Collection Features Novelist's Book Motifs

UNIQLO is collaborating its T-shirt brand UT with the internationally-acclaimed Japanese writer Haruki Murakami to release a collection of T's featuring motifs inspired by the novelist's books and radio program. The collection will first release in Japan on March 8 and subsequently worldwide on March 15.

The collection features nods to some of Murakami's most acclaimed works including Pinball, 1973; Norwegian Wood, Dance Dance Dance; Sputnik Sweetheart; Kafka on the Shore; and 1Q84.


UNIQLO's Andy Warhol x Kosuke Kawamura Collection Launches This February

UNIQLO is set to release its new "Andy Warhol x Kosuke Kawamura" collection as part of its T-shirt series UT worldwide on February 8, 2021.

Men's

Kids

©/®/™ The Andy Warhol Foundation for the Visual Arts, Inc.
©Kosuke Kawamura

Trademarks Licensed By Campbell Soup Company. All Rights Reserved.

Marilyn Monroe™; Rights of Publicity and Persona Rights: The Estate of Marilyn Monroe, LLC.

The special collection sees the iconic artwork of the legendary American visual artist Andy Warhol redesigned by Japanese artist Kosuke Kawamura, who is greatly influenced by the pop art mastermind.

Uniqlo U, the brand created by Artistic Director Christophe Lemaire and his team in Paris, is giving us the warm welcome of its Spring/Summer 2021 collection which is set to drop first in Japan on January 22, 2021 and globally on January 28, 2021. The line-up features a fitting silhouette comfortable for the warmer seasons and focuses on simple and comfy threads perfect for today's modern lifestyle. The items come in earth tones that serve us season-changing vibes. This 10th season of Uniqlo U also welcomes a kids line-up to the collection.

The women's collection features light and airy items made from viscose and cotton-polyester blends as well as 3D knits to give that refreshing summery feel. The sheer shirt comes in men's stripes while the regular fit jeans have been updated with a straight silhouette. The shiny rayon tunic and dress present fluidity and soft colors while the twill skirt will come in an A-line silhouette. Coats have been cut shorter for those who are active.

The new kid's collection added to Uniqlo U features all the classic one pieces, T-shirts, and short pants made into children's sizes so that they too can enjoy the thrills of dressing well in comfortable, sophisticated styles.

Don't miss the Uniqlo U Spring/Summer 2021 Collection.

Jason Polan x UT Collection to Drop at UNIQLO

UNIQLO's T-shirt brand UT is set to collaborate with American artist Jason Polan with a special collection featuring his art that will drop on January 29, 2021.

Polan was a New York-based artist who passed away in January 2020 at the age of 37. He become a partner of UNIQLO in 2016 and has since collaborated with UNIQLO on three separate occasions with his collections being made available worldwide.

Honouring Polan's favourite iconic drawings

In 2008, Jason Polan gave himself a challenge to draw every person in New York. Each drawing in this project featured a description of what Polan saw when drawing people along with the date of when he saw them, giving people an insight into his world as he saw it. He is also known for his love of giraffes, hamburgers, and tigers, which make up some of his most iconic art pieces. He even did some drawings while in Tokyo.

Join in continuing his legacy with artists around the world.

Jason Polan's passion for bringing people together to create their own art gave birth to the World's Biggest Drawing Club. This has inspired people from across the globe to share their own sketches of everyday life. UNIQLO will commemorate Polan's death anniversary with a special online drawing event on their Instagram page on January 27, 2021.

The World's Biggest Drawing Club – Online Event

Help continue Jason Polan's mission and join the The World's Biggest Drawing Club. For more information, visit UNIQLO's website here.

Running: January 8, 2021 – February 21, 2021
How to Join: https://www.uniqlo.com/jp/en/contents/feature/jason-polan/campaign/
#worldsbiggestdrawingclub (Global hashtag)
#ドローイングクラブ (Japan hashtag)

Every Person in "UNIQLO TOKYO"

On January 27, the first anniversary of Polan's death this year, UT will host a special one-night drawing workshop hosted by prominent artists. UNIQLO TOKYO will also welcome pre-sales of the T-shirt collection on the same day.

Date: January 27, 2021

Time: 19:00 (JST)

Where: UNIQLO's official Instagram page.

Special Items

Novelty

Those who buy two or more items from the collection at select UNIQLO stores and UNIQLO's online shop will receive the uni-ball Vision Elite, a pen loved by Polan, with the artist's name inscribed on it. Limited quantities available.

Original Box

Those who order from the collection online will have their items shipped in an original box. Limited quantities available.

Leaflet Book

All UNIQLO branches in Japan are now handing out a special Jason Polan leaflet book have also have dedicated drawing spaces to encourage people to make art.

Super Nintendo World Releases Virtual Tour of Entire Theme Park Area

Universal Studios Japan (USJ) announced last month that its highly-anticipated new Super Nintendo World area will open on February 4, 2021, which also happens to fall on the day of USJ's 20th anniversary.

Super Nintendo World comes as the world's first theme park area to be based around Nintendo's characters and games, combining innovative ideas with cutting-edge technology.

With just one month left until the grand opening, USJ has launched a special website for Super Nintendo World which offers a virtual tour through each part of the new theme park area. Mario fanatics are sure to be delighted by the adornments from Bowser's Castle to Pipes, Mushrooms, Question blocks, and more, as well as familiar faces like Goombas, Thwomps, Yoshi—the list goes on.

Accessing the site will bring you to an overview of the map. As you scroll down the website takes you on a virtual journey to each of its iconic attractions, all of which are designed to make you feel like you're really in the world of Super Mario.