Aymmy in the batty girls's New Spring Fashion Items
Aymmy in the batty girls is a fashion brand led by Ayumi Seto. I took a trip to the store's press room together with Chinese model Etsuna to see the brand's new spring collection.
First up, Etsuna & Ayumi's casual attire!
"I normally wear a lot of pastel-coloured clothes, but today I came wearing a bright rose pink one piece to look like Ayumi! I was also happy Ayumi was wearing the same coloured pants as me." ―Estuna
Shirt: ¥14,040 / Pants with Belt: ¥18,360 (All Tax Included)
"I coordinated this outfit using Aymmy's new items. The sparkly buckle on the pants is an important piece so I wore shiny earrings and glasses to go with it. I also combined the purple in the shirt design with the pants, so even though I have both the patterns and flashy coloured pants it all comes together." ―Ayumi
Aymmy in the batty girls's recommended spring items
The theme for Aymmy in the batty girls's items this season is "Blooming Garden Picnic." They maintain that typical Aymmy feel while mixing in springtime motifs like daisies and tulips. The collection is made to make you feel like you're by the flower beds having a picnic.
Which item do they recommend this most?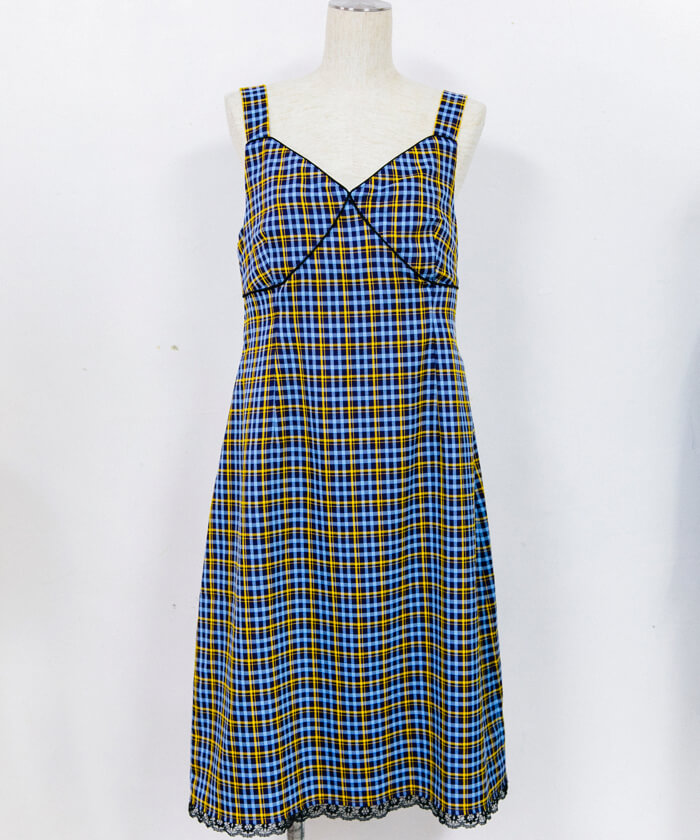 One Piece: ¥22,680 (Tax Included)
"This slim-fit knitwear is something I want to see combined with the checkered one piece. It's made tight and minimalist and can be worn stylishly and girly. The collar and sleeves are also rainbow coloured." ―Ayumi
Knitted Polo: ¥10,800 (Tax Included)
"This slim-fit knitwear is something I want to see combined with the checkered one piece. It's made tight and minimalist and can be worn stylishly and girly. The collar and sleeves are also rainbow coloured." ―Ayumi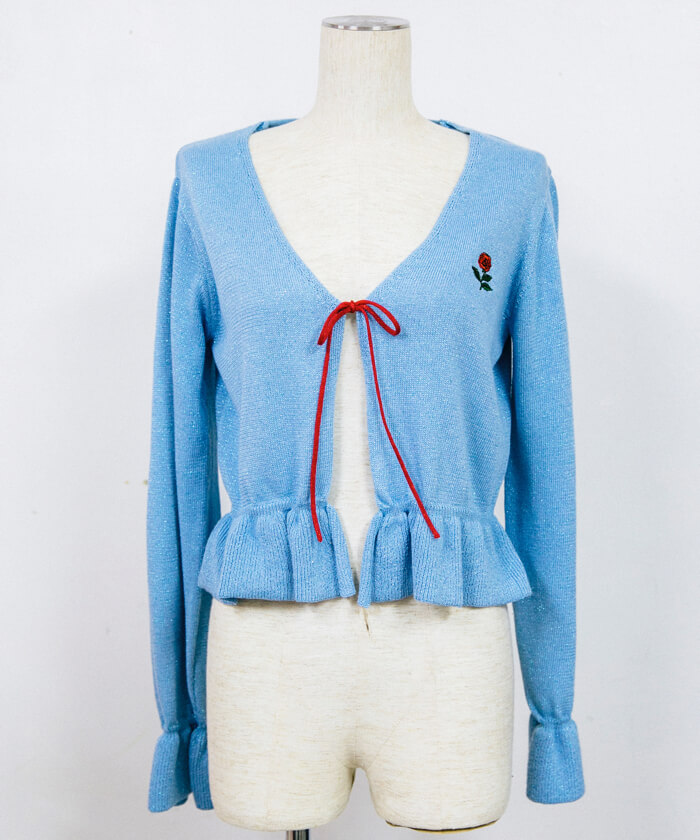 Cardigan: ¥14,040 (Tax Included)
"Glitter is in the spotlight this spring, so I recommend this knitted glitter cardigan too. The sleeves have frills to make you look cute. Another highlight is the red ribbon." ―Ayumi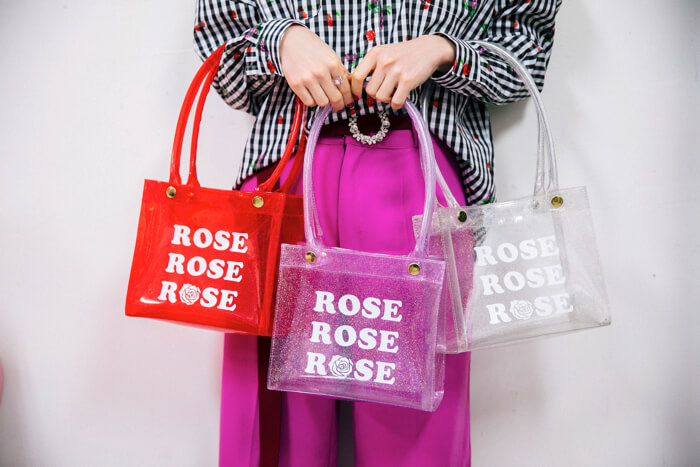 PVC Bag: ¥7,560 (Tax Included)
"The number one most popular items at our exhibition were these three PVC bags. They come in three different colours. They are transparent so you can see the contents inside which I think is cute. I recommend the red one to those who don't want their things to be seen though, that one is harder to see through. We made the handles long too so they can be worn from the shoulder!" ―Ayumi
Etsuna & Aymmy's outfit showdown!
At Etsuna's request Aymmy did her styling for her!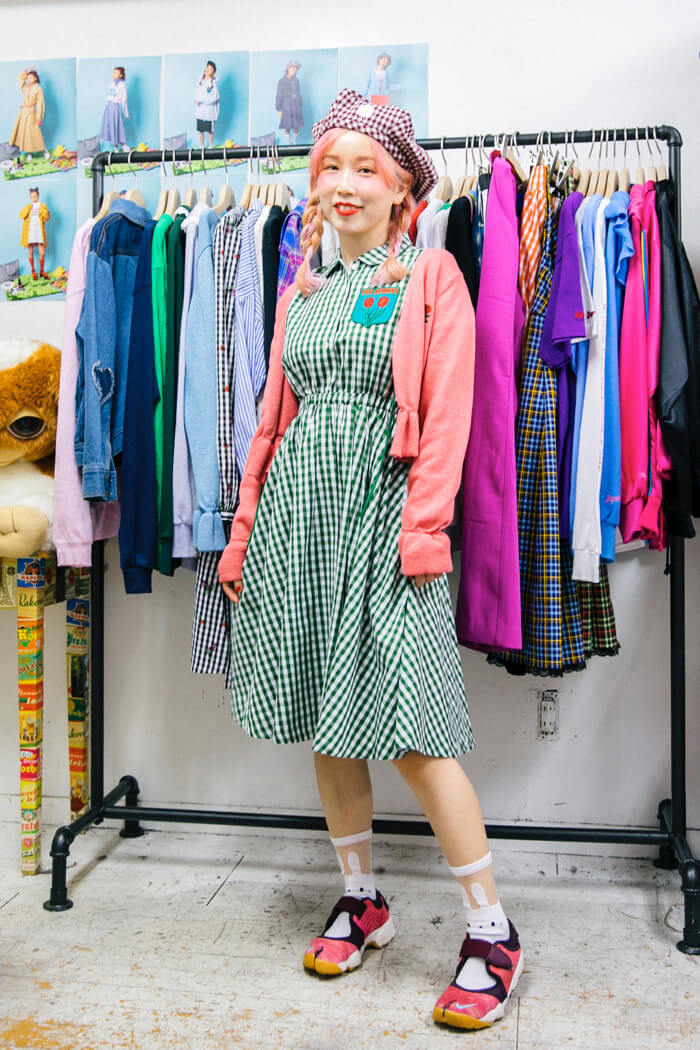 One Piece: ¥17,820 / Cardigan: ¥14,040 / Beret: ¥8,640 (All Tax Included)
"Estuna's image is pink, so I tried to give the outfit a spring vibe by combining pink and green. The gingham one piece has a high waist and can be used to alter to change how it looks so you can make yourself look even more stylish." ―Ayumi
Next, Etsuna did Ayumi's styling.
Sweater: ¥9,720 / Skirt: ¥17,280 / Blouse: ¥12,960 / Cap: ¥5,400 (All Tax Included)
"Ayumi normally goes for a boyish look, so I wanted to make her more girly so I mixed in a dotted blouse. I combined red and white to make her look like Lolita from the movie." ―Estuna
Estuna was very happy with her first ever visit to the Aymmy press room. She comments: "Back when Ayumi used to be a frequent model in magazines, I often saw her cute boyish style. I am moved to be able to actually meet the person whom I admired. I can see she has become more of an adult since the magazines, but the base of her hasn't changed one bit!"
Aymmy in the batty girls's new item collection can be bought from the brand's official website or via Amazon. Those living overseas can purchase them on Amazon too. There are plenty of other cute items we couldn't show today too, so be sure to check them out and enjoy filling up your wardrobe for Spring 2019!
Etsuna also made a video about her trip over on her Weibo page, so check that out below too.
https://weibo.com/1053701534/HnKj48RL9
Model / Ayumi Seto Etsuna
Writer / Sayoko Ishii
Photographer / Kayo Sekiguchi
RELATED ENTRIES
MOSHI MOSHI ROOMS: The Most 'Kawaii' Accommodation Experience in Harajuku

I visited MOSHI MOSHI ROOMS -SAKURA- with Chinese talent Etsuna and Japanese model Ren Koseki. This accommodation and Harajuku hot spot is gaining much attention right now for its interior design which offers the full 'kawaii' experience wherever you look. It is produced by ASOBISYSTEM, a company that aims to promote Harajuku culture to the rest of the world.

It is located just an 8-minute walk from Meiji-Jingumae Station via the Tokyo Metro Line or 10 minutes on foot from Harajuku Station via the JR Line. Its ideal location places it very close to the most popular areas in Harajuku including Takeshita Street, Ura-Harajuku and Omoteando. It is even within walking distance from the New National Stadium which is set to be completed in November 2019 and will serve as the venue for the 2020 Summer Olympics and Paralympics.

The concept of this single-room accommodation is 'SAKURA' which is the Japanese word for cherry blossom making it the perfect place to be in right now for the spring season. Its gorgeous and unique layout is overlooked by a huge cherry blossom monument in the bedroom which also works as a light to create a magical atmosphere.

Pink is the base colour for the room which is perfect for parties and girl-only get-togethers. The is the main bed and separate simple beds to accommodate up to 5 guests. But it can house as many people as you like if they're just coming to play! This fantastic system is made possible by Airbnb.

You're sure to snatch an Instagram moment in front of this neon sign which reads 桜―that's 'sakura' in Japanese!

The room even comes with an iconic dresser fitted with a huge mirror. This means you and your friends can all put your makeup on together at the same time before you head out. There's a hair drier as well as hair straighteners which Ren is using in the photo.

There's even a rooftop area which provides a panoramic view of Harajuku. This space can be used for parties, BBQs and whatever else you can think of! But keep in mind that the roof can be reserved by non-guests too in which case access will be restricted. Be sure to find out in advance if you're thinking of using it.

How did you find your stay at MOSHI MOSHI ROOMS -SAKURA-, Etsuna and Ren?

Etsuna: "From a foreigner's perspective, I really felt the Japanese-ness towards the sakura which is great. The dresser is huge too, I'm happy that two people can do their makeup at the same time! The place is not only cute, but it's made in such a way that the functionality of the room is easy to use. It felt heart-warming to be there."

Ren: "When it comes to lots of girls wanting a place to get together, not for travel but just to hang out, love hotels are the mainstream, but 'fun' and 'cute' don't really stand together in a place like that. But here, five people can stay together, and no matter where they take photos it's going to look cute! Plus it's in Harajuku, you can get some stylish-looking food and drinks from nearby cafés for takeout and stay up late. That sounds amazing. I can think of so many things!"

SAKURA is located on the 5th floor of a building, but if you have a lot of luggage you can contact the staff in advance and they will carry it up for you. MOSHI MOSHI ROOMS offers a very special experience where you get to stay the night in Harajuku. And SAKURA is just the start. We plan to open even more rooms on the other floors with different concepts, so look forward to it!

ASOBUILD: The New Facility in Yokohama Offering Cutting-Edge Entertainment

ASOBUILD is a new entertainment facility connected directly to Yokohama Station that just recently opened on March 15, 2019. The complex offers new ways to enjoy entertainment. Prior to its opening, Chinese model Estuna attended its press conference to find out more.

ASOBUILD is a renovated building that was formerly an annex of the Yokohama Central Post Office. The entire complex from the basement floor up to the roof has been transformed into one giant play area. Each floor has its own theme which offers shopping, exciting interactive activities, workshops, the latest technology, a kid's park and more. The various floors serve to entertain a whole range of different people.

MONOTORY – Japan's biggest hands-on market (Floor 3F)

Floor 3F is home to MONOTORY, Japan's largest hands-on market with over 150 artists officially signed up to it. It is here that workshops to create well over 200 different handicrafts in 20 different fields take place. Get involved and make leather crafts, ceramics, candles, flower arrangements and much more. Workshops can be signed up for over on the official website.

MONOTORY

Location: ASOBUILD Floor 3F

Opening Hours: 10:00-22:00

Sign Up:https://monotory.me/

ALE BOX – An Interactive Site Currently Home to the Poop Museum (Floor 2F)

ALE-BOX can be found on the 2nd floor. It is home to a range of permanent experience-based events and is also host to limited-time ones too, such as Unko Museum Yokohama―the world's first amusement park themed on poop―which is running now until July 15. You really need to see it for yourself, but to give an example, there is a giant poop volcano in the center of the park which releases poop like lava.

In the interactive area there is a game where you can stand on poop, another where you can make poop by shouting, and other poop-related interactive games.

There is even cute pink and sparkly poop area made for taking Instagrammable photos.

During the press conference, an artist named 326 drew poop portraits of people. There's plenty of things you can rest assured you've never experienced before happening at the Unko Museum, so don't hold it in―get on over there.

Also on the same floor is an escape game and a VR picture book made by Akihiro Nishino of the stand-up comedy duo King Kong. The activities and events happening on this floor will continue to change so there will always be something new to enjoy whenever you visit.

Unko Museum Yokohama

Address: ALE-BOX, ASOBUILD Floor 2F, 2-14-9 Takashima, Nishi Ward, Yokohama, Kanagawa Prefecture
Running: March 15, 2019 – July 15, 2019

No Fixed Holidays.

Price: Junior High School Student and Older – ¥1,700 / Elementary School Student – ¥900 / Toddler – Free

Opening Hours

[Monday-Thursday] 11:00-20:00 (Last Entry 19:30)

[Friday-Sunday & Holidays] 10:00-21:00 (Last Entry 20:30)

Official Website: https://ale-box.com/unkomuseum/

POST STREET – Enjoy Yokohama Cuisine & Entertainment (Floor 1F)

POST STREET is located on the 1st floor and is directly connected to the East Exit of Yokohama Station. This 'gourmet street' is lined with 18 restaurants serving up Yokohama-style food such as the popular Shi Umai BAR, the all-new Niboshi Soba created by the owner of HechiKan, popular donut chain DUMBO Doughnuts and Coffee, the cheese restaurant DAIGOMI which is always booked up, and so on.

The cheeseburgers served at DAIGOMI BURGER, a restaurant and branch of Minamiaoyama- and Ikebukuro-based cheese restaurant DAIGOMI, are different from regular cheeseburgers as cheese is made as the main ingredient.

Making the burger patty 100% beef is a key step to bringing out the full enjoyment of the cheese. The buns are made with Japanese brown rice flour. Etsuna was very satisfied with hers, saying: "The D.G.M Cheeseburger is loaded with cheese. Ir's delicious with the BBQ sauce, it adds a little sweetness."

DAIGOMI BURGER

Location: POST STREET, ASOBUILD Floor 1F

Menu: D.G.M Cheeseburger – Lunch ¥1,780 (Tax Included) / Grand ¥1,674 (Tax Included), and more

PITCH CLUB – An Amusement Bar, Lounge & Adult Play Area (Floor B1F)

PITCH CLUB is an amusement bar and lounge on the basement floor currently in its pre-opening period. Its grand opening is set for Friday April 5. Created as a 'sophisticated play area for adults,' the space is a fusion of art, technology and sophisticated décor styled in the image of a Brooklyn bar.

Games include billiards with pink tables and cues, table tennis, pinball, board games and more. Play a game while enjoying a cocktail made by some of Japan's leading bartenders or a rich wine brewed in Yokohama.

There is even an in-house darts game called Flash Darts that makes use of projection mapping. There are various ways to play and the targets can be changed too.

As well as the open space there are individual rooms too with stylish artwork covering the walls. These make for a perfect place for a private party or get-together.

PITCH CLUB

Location: ASOBUILD Floor B1F

Pre-Opening Period: March 15, 2019 – April 4, 2019

Grand Opening: April 5, 2019

Opening Hours: 6:00pm to Midnight (Until 4:00am on Fridays, Saturdays & Public Holidays(

Price: Men ¥3,000 / Women ¥1,000 (comes with 1 drink)

And there's plenty more where that came from. The rooftop is home to a multisport court with basketball and football. The kid's park will open on the 4th floor in May. The whole building is decked out with artwork from up-and-coming visionary artists.

Etsuna summed up her thoughts of her visit: "Each floor offers different atmospheres to enjoy. There's art in various places so there are plenty of spots to snap photos for social media! Kids and adults alike can have fun here, so be sure to pay it a visit."

See ASOBUILD yourself and experience cutting-edge entertainment you won't find anywhere else!

Model:Etsuna Otsuka
Writer:Sayoko Ishii
Photographer:Kayo Sekiguchi

Information

ASOBUILD

Opened: March 15, 2019

Address: ASOBUILD, 2-14-9 Takashima, Nishi Ward, Yokohama, Kanagawa Prefecture

Official Website: https://asobuild.com

MMN Festival 2018: Review of Airbnb Tours Held by Popular Japanese Models

MOSHI MOSHI NIPPON FESTIVAL 2018 in SHIBUYA was held across the weekend of March 24 and 25 and promoted Japanese culture to the world from Shibuya. The event ended with huge success.

One of the popular aspects of the event were the original tours held in collaboration with Airbnb. Three models who performed on stage at the festival's Harajuku Kawaii Market, presented by Mynavi Baito, became guides and took attendees on their own original tours.

Let's review each of the tours so you can get a feel for walking the streets of Harajuku and participating in workshops with the models!

Guide: Yuri Suganuma – Getting Involved in a Workshop with Yuri Suganuma

Yuri 'Yurippa' Suganuma worked as a guide at the Swag Workshop. She learned how to make a 'swag' from Asami Char Tanabe, a popular type of wall decoration similar to a wreath.

What colours shall we go with?" "Aah, that's cute!" Yurippa and those who got involved in the workshop were back and forth with each other having fun.

At the end of the workshop, everyone held their swag for a photo. It was a special workshop for those involved, who also posted their photos on social media.

Guide: Saki Shibata – Shibatabi

Saki 'Shibasaki' Shibata held a tour on both days of the festival called 'Shibatabi,' a play on her nickname where 'tabi' means a 'trip' or to travel.

On the 24th, Shibasaki took part in the CHACO workshop, something she had always been interested in. Everyone made matching piercings and earrings together before eating some lunch later on.

Originally, the group were scheduled to go to Cat Street for some shopping, but the weather was too good, and the cherry blossoms were in full bloom. So, they had a change of plan and instead made a trip to Yoyogi Park. They spent hanami strolling through the park.

To wrap up, they walked back to their starting point of SHIBUYA CAST, ending the first day of Shibatabi.

On the 25th, Shibatabi began with dressing up in kimono! Each person in the group had their kimono fitted in succession, and when everyone had theirs on they departed for Onden Shrine. There, they admired the booths such as the target practice game and glimpsed the performances on stage. To commemorate the day, they received a goushuin, before heading to their next destination SHANTi. This is Shibasaki's favourite curry soup restaurant. Everyone enjoyed eating curry together before heading back to SHIBUYA CAST and scattering

Shibatabi was like hanging out as friends with Shibasaki. She plans to hold it again every now and then, so be sure to keep up to date with her social media or check the MOSHI MOSHI NIPPON website and our social media too.

Guide: Ayumi Seto – Aymmy in the batty girls Tour

Model and designer Ayumi Seto gave a tour of 'Aymmy in the batty girls.' The first half of the tour centered around a workshop. Everyone created their own original mugs using Aymmy designs.

 The tickets for this tour were like golden tickets as there were only 5 available. Those lucky few who obtained one were a little nervous in front of Ayumi.

Following the workshop was a trip to the Aymmy in the batty girls store, where everyone was given tips and trucks for co-ords and styling with this year's spring and summer items.

If you were one of the people who was able to spend a wonderful day on one of these exclusive tours: how did you find it?

MOSHI MOSHI NIPPON will be teaming up with Airbnb again to hold future tours the way we know how. If you want the chance to get involved with one, then be sure to stay up to date via our website and social media.

Rinko Murata, Saki Shibata, Ayumi Seto & Culumi Nakada collaborate on Zoff's clear lens sunglasses

Rinko Murata, Saki Shibata, Ayumi Seto and Culumi Nakada are teaming up with glasses brand Zoff to release their own designs for the company's "Zoff UV clear sunglasses." Pre-orders for the glasses will open via Zoff's online store on January 12th.

The "Zoff UV" line of glasses come equipped with clear lenses that provide 100% UV protection while still making you good, absorbing the UV light from your eyes, which is said to be one of the causes of spots and freckles.

Rinko Murata Design

"I wanted glasses with a thin metal frame, so that's the shape I went for with this collaboration. This design will adapt to your everyday look, and gives an even more stylish impression."

The burgundy colour is great against the skin, sophisticated, and has a vintage-like quality to it, so when you put on the glasses it brings out all the small nuances of your face. It's a colour that'll with any outfit you wear. The "tortoiseshell" design gives a nuance of refined dress and a classic look. This design will work best with your favourite one piece or simple outfit.

Saki Shibata Design

"To bring out a vintage quality and elegance, I put in patterns and took time focusing on the colour tones and materiality for each of them. Especially the materiality. The matte khaki and beige have a glossy finish to them, that's my favourite part."

Getting the khaki design right was trial and error from beginning to end. If the green in the khaki was too strong, it was difficult to co-ordinate the design with outfits and wouldn't look good with the face, so a grey-black khaki was decided on. It can be worn smoothly with a casual look. The choice of beige has excellent compatibility with the skin, and while emitting a soft atmosphere, it also brings everything together neatly. This design works well with co-ords of a similar colour, as well as choices like a red and white striped with denim, shirts and so on.

Ayumi Seto Design

"I went with a soft cat eye design, something which anyone can wear easily. The materiality changes with each colour and so changes how you come across. The light blue frame has a glossy finish completed with shiny gold, giving it a bright and brilliant look all the way. The khaki doesn't have a glossy finish and is silver to give a cooler look."

The blue design emits a bright and gorgeous image. It tends to be thought of as difficult, but this design works with various hair colours. The temples which fit over the ear are furnished with a striking navy tortoiseshell design. This design goes perfectly with girly clothing such as checkered gingham shirts, frills, bow-ties! The khaki design is even more remarkable than black, and gives a much sharper and cooler impression than brown. The temples on this pair come with a brown tortoiseshell pattern. There's glitter inside too. In terms of co-ordinating, there are lots of options: you can go khaki-on-khaki with MA-1 and military style clothing, off-white knitwear, and other warm attire. This design also works with denim and casualwear.

Culumi Nakada Design

"I used vintage glasses as reference to come up with my designs. To bring out that retro vibe, I went ahead and decorated the edges by showing the screws in the frame. I was very particular about the shape of the frame. It's a cat eye design but more subtle, so even beginners to the cat eye look can wear them easily. I was conscious in creating a design that lots of people would get their hands on."

The standard black design is easy to wear and for those people who want to try out the cat eye look but don't want something that stands out so much. If you've ever thought you wanted to add a little something to your co-ord or you've grown tired of your wardrobe, then up your game with this pair of glasses. The clear design is for those people who want to just dip their toes into something fashionable and people looking for glasses that are different from everyone else's. It looks great on the face and can be worn with casual and office styles.

Each and every pair of these clear lens sunglasses have been crafted with the utmost care and an unrivaled attention to detail. Choose your favourite and look great!

■Information

Zoff UV Clear Sunglasses "NEO MODERN GIRL"

Price: ¥7,500 (tax excl.)

*comes with non-prescription 100% UV protection lenses

*prescriptions are available from ¥3,000 (tax excl.) in-store at Zoff

*comes with glasses cleaning cloth

On Sale: January 19, 2018

*pre-orders open via Zoff online store from January 12th

*available early via Live Shop! from January 12th

Official Webpage:http://www.zoff.co.jp/sp/zoffuv/neo-modern-girl/

Ayumi Seto's design brand, "Aymmy SPORTS" and Mickey Mouse's collaborative items will be released on April 28th

The Japanese popular model, Ayumi Seto's design brand, "Aymmy in the batty girls" and one of its sections, "Aymmy Sports" and Mickey Mouse's collaborative items will be released on April 28th.

T-shirts, tote bags, and caps will be sold.

T-shirts with illustrations of Mickey running and Mickey holding up a watermelon, will be sold.

The T-shirts are made of a soft material and so they are very comfortable to wear.

You should get tote bags and caps as well!




Check out Aymmy Sports' collaborative items and enjoy the early summer feeling.

■Information

Aymmy SPORTS × Disney

On-sale date: April 28th, 2017

Price:

T-shirts(RUN) ¥5,400

T-shirts(WATERMELON) ¥5,400

Tote bag ¥3,240

Cap ¥4,320

Aymmy in the batty girls Official website:http://www.aymmy.com

−−−

Related article:London based fashion label Lazy Oaf to sell popular brand 'Aymmy in the batty girls' fashion!

【Tokyo Stroll】Stroll around in Ginza for half a day. Visit the special stationary stores and get a delicious ground meat cutlet hamburger!

Ginza is a sophisticated town that you can enjoy in various ways such as visiting historical and old-established restaurants, typical sightseeing spots, and the latest fashion stores. There are some stores that carry lots of functional and fashionable stationaries in this town. Today, Ayumi Seto and I are going to visit the special stationary stores in Ginza area.

Starting with EDITO 365 in Shinmaru Building

Start strolling from the Shinmaru Building that is easily accessed from Otemachi and Tokyo train stations.

We visited the "EDITO 365" that carries a wide selection of stationary and miscellaneous goods on the forth floor of Shinmaru Building. They carry great quality stationary goods, original schedule note books and unique miscellaneous products.

We recommend "PAUL & JOE La Papeterie" which is the first stationary merchandise from the brand name called "PAUL & JOE." This has drawn attention since last year, and they are going to start selling their spring season collection in 2017. This pattern that has kitties on a  pale spring color is really cute!

Ayumi's favorite is the heart shaped metal pen holder which is the original holder that has shiny gold stamping. It is great to buy for yourself or give it as a gift to someone along with some note books.

▼Information

ÉDITO 365 in Shin-Marunouchi Building

Address:1-5-1 Shin-Marunouchi Building 4F, Marunouchi, Chiyoda-ku, Tokyo

Hours:11:00AM to 9:00PM. Mon to Sat

11:00AM to 8:00PM. Sun. and holidays

Holiday:Open 7 days a week(Except January 1 and legally required days for inspection)

To "Gekko-so Art Supply store"

The next one we visited is "Ginza Gekko-so Art Supply Store" located In Hanatsubaki Street, Ginza 8 Chome. It is a historical art supply store that was established in 1917.

This store only carries original art supply products. The products include colors, brushes and sketch books made by the craftsman and have a horn emblem that signature "call good friends."

They succeed making all Japanese made colors since 1940, and the color named "cobalt violet pink" won 1st prize in the World Painting Color Award in 1971. They still have been creating high quality art supplies, and so many colorful paintings such as oil colors, water colors and gouache placed all over the wall.

▼Information

Address:8-7-2 Eiju Building 1F・B1F, Ginza, Chuo-ku, Tokyo

Hours:11:00AM to 7:00PM.

Holiday:Year end and New Year Holidays.

Only 1st floor painting material department is closed on Wednesday.

(The following day if it falls on a public holiday)

>>next page

Popular Fashion This Year: A collection of leopard print outfits!

Hi, everyone.

The animal print craze starts every year when it turns winter.

In this article, I've compiled together some styles that use leopard print because I see that around quite a lot.

・Big Spotted Leopard Print

http://wear.jp/jouetie0825/8507189/

Leopard print clothing tends to be designed with small leopard print spots, but big spots are nice too, right! And they go great together with pink velour pants.

・The Standard Fur Coat

http://wear.jp/rinakatsuta/8677955/

When you think of leopard print clothing you think fur coats. I've come to see them a lot recently around town.

You can make quite an impact by wearing one of these, so there's no need to worry if the rest of what you're wearing is somewhat simple. They're pretty handy things, aren't they?

・The Standard Skirt

http://wear.jp/mekkomekko/8559590/

As well as the fur coat as a standard leopard print item of clothing, you also have the skirt!

It's more casual than the coat, but when you really look at it you can see that it's actually a gorgeous piece.

When you want to look cool you can put on some tights, when you want to look a little cute you can wear tights, or when you want to go all out and look really flashy you can wear fishnet tights. You can use tights in lots of different ways, and I recommend doing so together with the skirt.

This outfit looks really cute together with the sweater! I personally really love this look〜

・Full-body: Impact 1000%!!!!

http://wear.jp/yodapinco/5218120/

If you're the flashy and showy type, sorry to have kept you waiting.

Did you double-take? Yes, you saw it right.

This is an entire leopard print outfit!! Has this been done before…?!

If you look closely, you can see that even the tights are leopard print…! It's bright! Too bright!

And the black knitted sweater supports the entire thing!

・A Peek at Coat on Coat

http://wear.jp/setoayumi/8556295/

This outfit is worn by Ayumi Seto.

The leopard print clothing worn by Ayumi in this photo is from "Aymmy in the batty girls." It's a light piece so you can wear a coat on top of it too.This combination is awesome: leopard print, pink and khaki!

So, what do you think?

I will be happy if this article changed your preconceptions about the kinds of people who wear leopard print clothes, like grandmas from Osaka or Pikotaro.

If you're thinking that you'd like to try out leopard print but want something a little more nonchalant, then maybe start from a leopard print bag.

Be sure to use this article as reference!

Until next time.

−−−

■Related article:Winter fashion edition: Let's wrap up warm in thick and fluffy clothes this winter!

■Related articla:Today's knitted clothing is just too cute! Check out this kawaii knitwear collection

Check out "Aymmy in the battle girls" Summer 2016 items with Seto Ayumi & Una!

Apparel brand "Aymmy in the batty girls", run by fashion model Seto Ayumi, recently held its Summer 2016 exhibition. The theme for the event was "SKATE GARAGE".

Ayumi said, "This year is VAN'S 50th anniversary, and I also thought going for Summer's beach and street culture vibe would be a good idea". She came up with the design when she went to LA and saw the American high-speed skateboarding action movie "Slash!!".

Let's check out fashion designer Ayumi's recommended items, and fashion model Una who wore them!

First up is the item of most interest: the patterned t-shirt series. Giving off a masculine vibe, these t-shirts are open-neck and have wide sleeves. The one-piece styled t-shirts are a refreshing design and very girly! The polo shirts have a texture that makes them seem like old clothing. Turquoise-blue and orange have been used for this season's theme colour. The checkered shirts also shout skater.


The border and collar's colour scheme on the cutsew are also noteworthy! The open shoulders give it a healthy summer feeling. The image for the embroidery is "skate garage". The items worn by model Una at the exhibition are all-in-one! She looks cool and stylishly dressed in those monotone colours!

There are lots of items to look forward to for Summer, so be sure to keep an eye on Aymmy this year!