Cupcake Cafe MO' CREAM DECO CAFE to Open in Omotesando for Limited Time
MO' CREAM DECO CAFE by MONTEUR is a new cupcake and dessert cafe that will open at hanami in Omotesando for a limited time from April 11 to 17. Customers can look forward to enjoying free decorations with their MO' CREAM and taking plenty of photos for Instagram.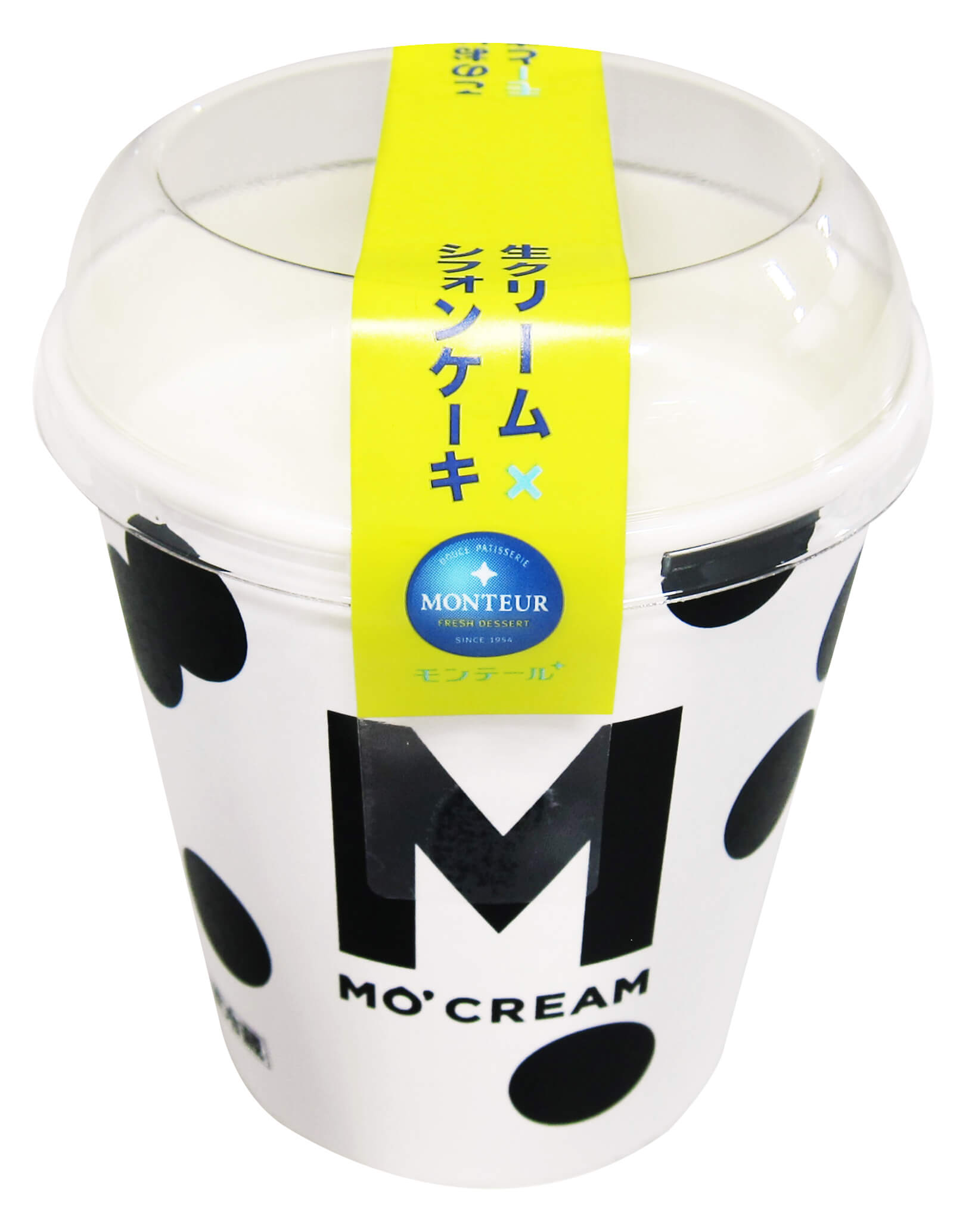 MO' CREAM: ¥259 (Tax Included)
MO' CREAM is made with carefully selected fresh cream to made a rich cream. Underneath the cream is a soft chiffon cake that goes deliciously with the cream. Its simple form means you can enjoy topping it with fruits and chocolate from home. When MO' CREAM was released in October last year, Japanese social media was flooded with people posting their own creations.
When ordering at the cafe, customers get to pick three free toppings for their MO' CREAM from 10 options including cookies and marshmallows.
Special DECO Kit (Fee Charged)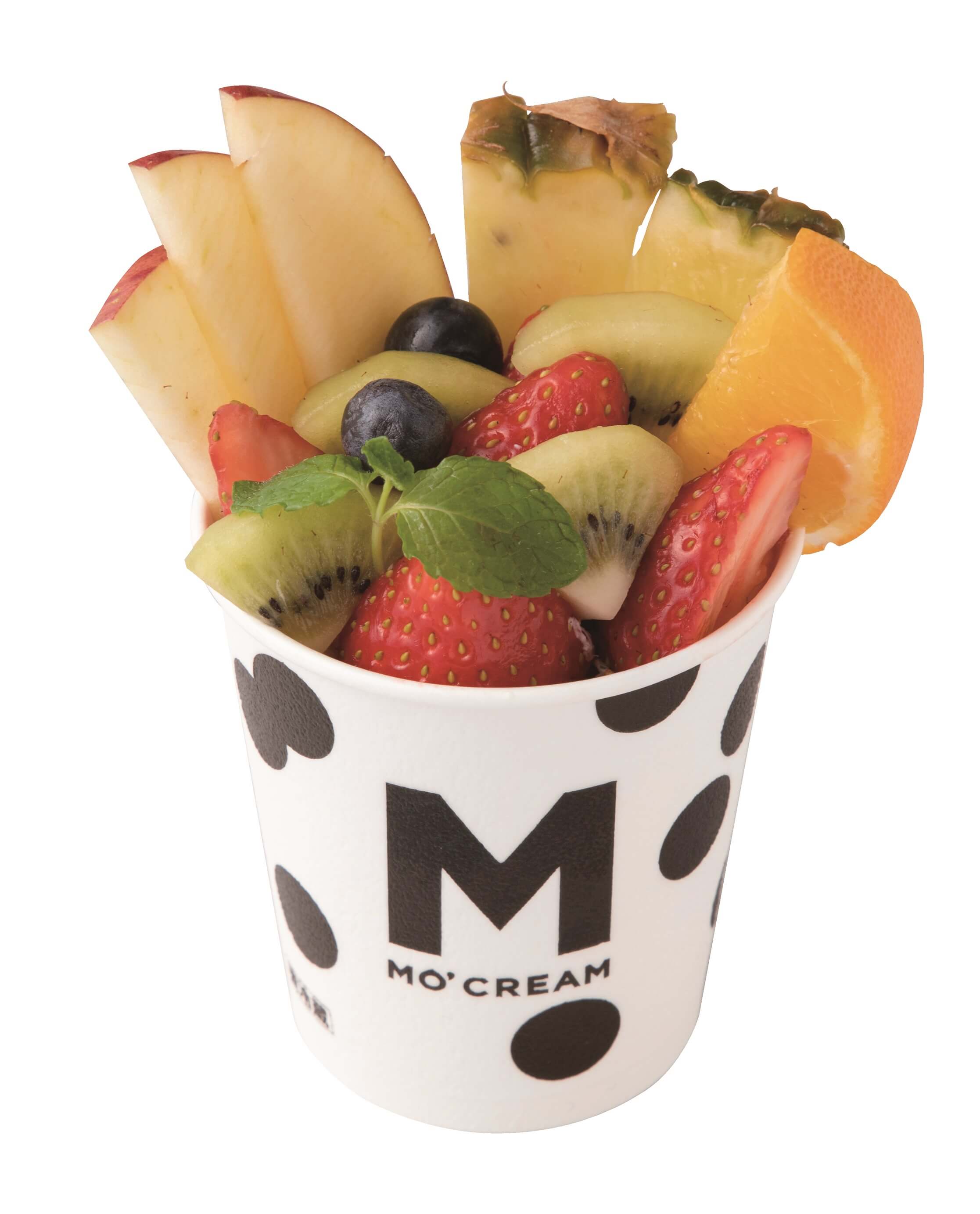 Fruit Kit: ¥300 (Before Tax)
Various 'kits' can also be bought to combine with your MO' CREAM. This includes the fruit kit which contains colourful assorted fruit.
Animal Kit: ¥150 (Before Tax)
Create a cute animal from ice cream and biscuits.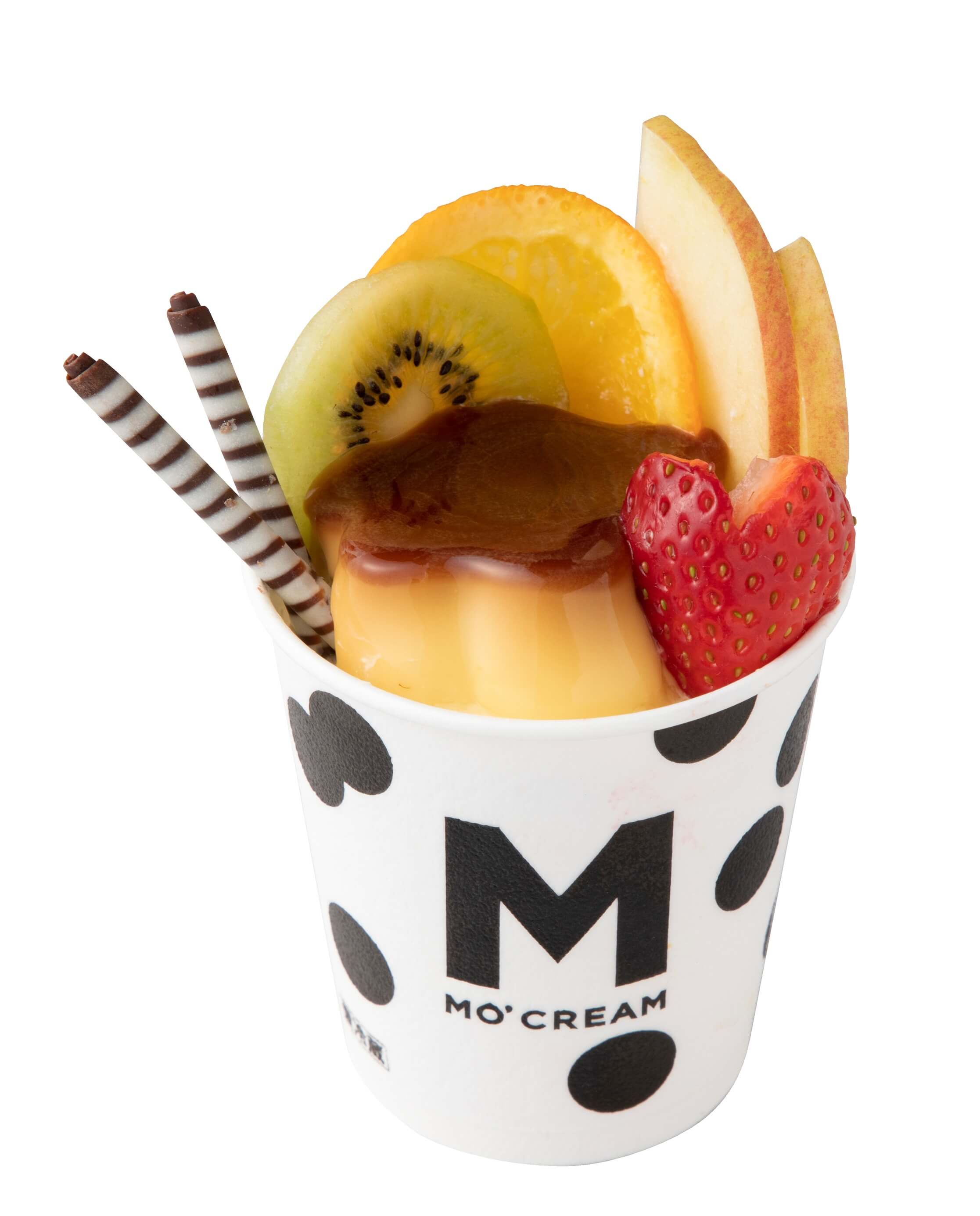 Pucchin Purin Kit: ¥150 (Before Tax)
Create a purin à la mode with a tiny custard pudding from Glico.
The outside of the cafe will be decorated in MO' CREAM's iconic dotted pattern. Two pink photo spots will also be on site for taking cute photos. And don't miss the MO' CREAM Tower, a huge tower made from the cupcake cups.
The cafe will also hold a campaign to win some MO' CREAM merchandise. To enter, take a photo of your MO' CREAM that you decorated in the shop and post it on social media. Prizes include a spoon, clip and more with designs of the cafe's official mascot characters Shu Cream-kun and Shu Cream-senpai. These items are limited in stock so don't miss out.
Information
MO' CREAM DECO CAFE by MONTEUR
Address: AF Lohas St. Bldg 1F, 5-3-8 Jingumae, Shibuya, Tokyo
Running: April 11, 2019 – April 17, 2019
Business Hours
[Weekdays] 12:00-20:00 (Last Orders 21:30)
[Saturday] 11:00-22:00  (Last Orders 21:30]
[Sunday & Holidays] 11:00-18:30 (Last Orders 18:00)
Website: https://www.monteur.co.jp/information/2019/0402_3675.html
RELATED ENTRIES
This Week's Breakfast: French Toast at Bread, Espresso & in Omotesando

Once thing I do at least once a week without fail is treat myself out to some delicious food or dessert. It's very important time well spend in order to live a happy life.

Today, I went out for breakfast. I got up a little earlier than usual and headed to my favourite cafe, Bread, Espresso & which is located in Omotesando.

It's really easy to get to: it's just a 5-minute walk from the A2 exit of Omotesando Station. Mornings are quiet in Omotesando, you don't see many people walking around, so it feels like a completely different place compared to its busy streets during the day.

When you enter the cafe, the smell of freshly-baked bread is the first thing to hit your senses. I sat down on one of the comfy sofa-seats and ordered myself the French toast breakfast set.

There's plenty of space between tables, so it's an environment that's easy to kick back and relax in.

Inside and outside the cafe are cute signs with that day's recommended menu items written on them. Next time I visit I think I'll try one of the lunchtime desserts. That's what I daydreamed about while waiting for my French toast to arrive.

French Toast Set w/Drink – ¥800

The French toast has a subtly sweet scent. It's made with one of the cafe's popular foods: the butter-loaded bread known as "Muu."

The toast's crusts were nice and crunchy while the middle part was fluffy. The soft bread just melts in your mouth when taking a bite, and your taste buds are treated to the sweet flavour of the egg.

The toast is delicious as it is, and you can totally leave it at that and enjoy your morning breakfast. But if you want to take it to the next level then you can drizzle the accompanying honey over the toast, giving the sweetness an even richer flavour.

I'm usually not good with the characteristic sweet taste that honey has, or the bitterness layered into the overall flavour, but this honey was on the milder side so I really enjoyed it.

After my food, I enjoyed the cappuccino the barista beautifully made for me which comes as part of the set.

My 1-hour morning was spent even more relaxed than usual here. It's much different from lunchtime which is a much busier and hurried time, so I could sink in my chair and really enjoy my drink too.

Waking up early and enjoying a relaxing breakfast. That's all I did, but it helped ease my busy mind and soul. I'm a simple person, and I think I'll be able to face my week and work hard at it after this.

Today's Presents

Futsu Furu Fig Sandwich – ¥420

Futsu Uni Fruits – ¥400

I wanted to share the happiness between friends and family on this fine day where I got to eat a delicious breakfast. These sandwiches are packed full of fruits―seasonal fruits which are best enjoyed right now. If you're wondering what other sandwiches they sell then be sure to visit.

Writer: Sayuri Mizuno (MOSHI MOSHI NIPPON)

Translator: Joshua Kitosi-Isanga

Information

Bread, Espresso &

Address: 3-4-9 Jingumae, Shibuya, Tokyo

Business Hours: 8:00-20:00

No Fixed Holidays

Six Scrumptious and Satisfying Sodas in Kyoto You Have To Try

At MOSHI MOSHI NIPPON, we have introduced a lot of kawaii bubble tea drinks you can in enjoy in Kyoto. However, we have much more to offer you than just bubble tea news! Today we have summarised the top soda drinks you can enjoy in Kyoto which both look and taste amazing. With the help of kyoto cafe life tiara 's phenomenal photos, we will be introducing you our top six picks.

SHIN-SETSU /Nakagyō-ku

Blood Orange (left)  Blue Curaçao (right): ¥690

With a variety of 24 colourful cream sodas on the menu, this café offers a rainbow of flavours to enjoy. Your aesthetic soda is best enjoyed within the the picturesque American-style interior of the café, which is filled with antiques and cute pink decorations.

▼SHIN-SETSU

Address: 277 Enpukujimaecho, Nakagyo Ward, Kyoto

Opening Hours:

Weekdays: 12:00-19:00(L.O)

Saturdays 13:00-19:00(L.O)

Sundays 12:00-19:00(L.O)

No fixed holidays

Official Instagram: @shinsetsu.kyoto

Rhône(ローヌ)

On top of the refreshing blue ocean of soda floats a scoop of ice cream ー what a nostalgic image. The bright red cherry accents the flavour. Rhône serves not only delicious sodas but also homemade pudding and many other delicious desserts which are sure to leave your stomach satisfied. 

 

▼Rhône

Address: 645-1, Sanjoinokumacho, 

Nakagyo Ward, Kyoto

Opening Hours: 12:00-22:00

Closed: Wednesdays and Thursdays

Kissa Zou (喫茶ゾウ)

After becoming a big hit in Nagoya, Kissa Zou opened a new branch in Kyoto earlier this year in April. An adorable elephant (zou) can be seen riding the very top of your scrumptious soda. It is just too cute to eat!

▼ Kizza Zou 

Address:440-3 Santeicho, Kamigyo Ward, Kyoto,

Opening Hours: 9:00-18:00(L.O 17:00)

No fixed holidays

NOTTA CAFE

Cream Soda with Oiri Sweets (left) :  ¥600 Custard Pudding (right): ¥500

NOTTA CAFE's cream sodas have decorated the front pages of magazines before. A large crowd of oiri (Japanese-style round sweets) of a variety of colours can be seen huddled together riding the ice cream float on top of this cream soda. This ice cream soda is one of a kind and full of a variety of textures and flavours so you must try it.

▼NOTTA CAFE

Address: 37 Saiinkitayakakecho, Ukyo Ward, Kyoto

Opening Hours: 11:30-20:00 (Wednesdays: 11:30-21:00)

Closed: Mondays (additional irregular holidays)

Kissa Soirée (喫茶ソワレ)

Blue Sky Cream Soda (left) Strawberry Cream Soda (right): ¥700 each

This soda is topped with vanilla ice cream and a sakuranbo cherry. When the ice cream mixes with the soda, it becomes creamy. The interesting interior of this café is the perfect place to enjoy your luxurious sparkly cream soda.

▼Kissa Soirée

Address: 95, Nishikiyamachidori Shijo Agaru Shincho, Shimogyo-ku, Kyoto

Opening Hours

1st floor: 13:00-19:00 (L.O.18:00)

2nd floor: 14:00-19:30 (L.O.18:45)

Closed:Mondays

Maeda Coffee (前田珈琲)

This butterfly pea herb tea has minty aroma and a refreshing taste.  When you mix it, it gradually turns pink so you can enjoy the flavour as well as the changing appearance of your drink.

▼Maeda Coffee

Address:  236 Takoyakushi Dori Karasuma Nishi Iru Hashibenkeicho, Nakagyo- ku, Kyoto

Opening Hours: 7:00-19:00

Open all year round.

If you are ever in Kyoto, make sure to check out these cafés. If you are looking for more inspiration, look no further than kyoto cafe life tiara's Instagram, which is full of delicious desserts in the Kansai region.

Text and photos: @happy_pinkrose_tiara

The "Pancake Prince" Opens A Brand New Pancake Restaurant in Omotesando

After a year of extensive research eating pancake after pancake, the one known as the "Pancake Prince" will open another branch of the Pancake restaurant VERY FANCY® in Omotesando on September 11. This restaurant will feature a unique Omotesando menu. 

The real identity of the legendary Pancake Prince is Satoru Sugimoto. In just one year, he visited a total of over 200 pancake restaurants in Japan and even overseas. His endless research led him to crafting a series of special recipes, which consist of high quality ingredients such as low viscosity wheat flour, aluminium-free baking powder, buttermilk and homemade cheese. The pancakes are fried carefully, creating a fluffy pancake with a new half-baked texture. 

VERY FANCY® has launched a brand new online advanced booking system which allows customers to quickly take to their seats without having to wait. Thanks to this new system, the restaurant has now become queueless. 

The menu at the brand new restaurant is based on the restaurant's standard pancake menu. The additional Omotesando menu is full of original ingredients and toppings that are unique to Omotesando. If you turn up to this branch, you can enjoy a lot more than just pancakes as there will be a variety of collaboration contents offered as well. This restaurant has also prepared a kid's menu and baby chairs. 

Homemade cheese kneaded into pancake batter and then fried to perfection ー this is just one example of the new fluffy "half cooked" texture pancakes that you absolutely must try. Come spend a wonderful moment munching marvelous pancakes surrounded by a cute and photogenic atmosphere.  

Information

VERY FANCY®︎ OMOTESANDO
Grand Opening: September 11, 2019

Address: AF Lohas St.Bidg 2F, 5-3-8 Jingumae, Shibuya, Tokyo
Opening Hours: 11:00-22:00
No regular holidays.

Reservation Website: http://veryfancy.me

The Little Mermaid Themed Cafes Set Sail to Tokyo, Osaka, Nagoya & Hokkaido

Ariel is swimming to Japan this September as four branches of OH MY CAFE turn into cafes inspired by The Little Mermaid. The Tokyo and Osaka branches will open on September 21, the Hokkaido branch on September 22, and the Nagoya branch on September 27. The collaboration is being carried out by LEGS COMPANY, LTD.

Disney's The Little Mermaid was released back in 1989 as the 28th Disney animated feature film. It tells the story of the internationally-beloved Disney mermaid princess Ariel and her curiosity about the world above the sea.

The cafe's concept is "independent girl." Each cafe will take on a stylish look and be inspired by Ariel's unwavering heart and her strength to make her dreams come true.

Menu Line-Up

<Ariel> Veggie-Packed Pesto Pasta – ¥1,990

If you're vegetarian, you won't be disappointed with this healthy, vegetable-packed pasta dish. The plate it is served on features an illustration of Ariel swimming elegantly in the ocean.

Seaside Cream Risotto – ¥1,990

Based on sandy beaches is this creamy risotto. If you look closely you'll see one of Ariel's priceless treasures from her endless collection of whose-its, whats-its, and thingamabobs. Sebastian is hiding on the plate too, can you spot him?

<Kiss The Girl> Romantic Fruit Bowl – ¥2,190<Kiss the girll>

This romantic dish speaks for itself. Inspired by the breathtaking boat date between Ariel and Eric, the bowl includes assorted fruit, a cookie with the two lovers on it, and a side of jelly with Flounder cheering them on.

Drinks Line-Up

<Flounder> Stripey Yogurt Drink – ¥1,090 / With Coaster – ¥1,890

Flounder is Ariel's closest friend, so he had to be included on the menu. This cute yogurt-flavoured smoothie takes on the same colours as our stripey fish companion.

<Sebastian> Strawberry Smoothie – ¥890 / With Coaster – ¥1,790

Servant of King Triton and music composer, everybody's favourite Jamaican crab Sebastian gets his very own yogurt smoothie too. Mix the strawberry sauce in well for the best flavour.

Exclusive Original  Merchandise

Acrylic Badge (5 Designs) – ¥800

Lunch Mat (Set of 2) – ¥800

Bag – ¥1,500

Bonus Items

Every person that books a table in advance (¥500) and orders something from the food menu will receive one of 30 possible A5 folders.

Additionally, if they spend over ¥1,000 at the merchandise corner of a cafe, they'll receive the above-pictured The Little Mermaid 30th shopper bag. These are limited in stock and are available on a first-come, first-served basis.

There are lots of other character-themed food and drinks to be enjoyed at the cafes besides these ones too. To see everything, you'll need to visit yourself! Immerse yourself in the magical world of The Little Mermaid with cafe decorations featuring Instagrammable illustrations drawn exclusively for this collaboration.

*All listed prices are pre-tax.

*Photos are for illustrative purposes only. Actual products may differ.

©Disney

Information

"The Little Mermaid" OH MY CAFE

Locations/Dates
・Tokyo: OH MY CAFE TOKYO (Tokyu Plaza Omotesando Harajuku) / September 21, 2019 – November 9, 2019

・Osaka: kawara CAFE&DINING Shinsaibashi / September 21, 2019 – November 10, 2019

・Nagoya: kawara CAFE&KITCHEN Nagoya PARCO / September 27, 2019 – November 10, 2019

・Hokkaido: Cafe Interlude / September 22, 2019 – October 14, 2019

Official Website: https://mermaid.ohmycafe.jp/

PEANUTS Café and PEANUTS DINER to run Nostalgic Flying Ace Fair

The PEANUTS Cafe and PEANUTS DINER located in Nakameguro, Yokohama and Kobe will be holding a nostalgic Snoopy Flying Ace Fair from September 4th at all branches.

The first time this fair was held, Snoopy dressed as an Astronaut. As this is the second time the fair will be held, Snoopy will be present at all PEANUTS Cafes and PEANUTS DINERs in a different costume. This time, his costume is themed around the series Flying Ace. Pilot Snoopy will be soaring into the scene fully equipped in his Flying Ace gear, steering his red doghouse to battle his rival the Red Baron as he did in those nostalgic daydreams. 

During the fair period, there will be a whole new menu of drinks and original merchandise themed around Snoopy's classic look where he is wearing his Flying Ace aviator hat and red scarf.

Flying Ace Green Tea Latte: ¥700 before tax (eat in) Comes with a limited original drinks coaster

Take out: ¥600 (after tax) 

The colour of the green tea takes on the image of Snoopy's green helmet. The sweetness and bitterness of the flavours perfectly balance out. The strawberry syrup adds a tangy accent of flavour. The vibrant colour creates the imagery of Snoopy's red scarf fluttering in the breeze. The drink is topped with vanilla ice cream and whipped cream and is studded with cocoa cookie bullets penetrating through its deliciously creamy surface. If you love sweet drinks, then come taste the flavour of Snoopy's adventurous daydream.

* The limited original coaster is only given to those who order to eat in.

* As there are a limited number of these coasters, there is a possibility that they will run out before the end of the fair period.

Original Flying Ace Eco Tote Bag (green/orange):¥1,500 (before tax)

The PEANUTS Cafe in Meguro has also released a limited edition Flying Ace version of their popular Original Eco Tote Bag. This bag is available in the two fair colours: green and orange. This A4-sized bag is the perfect size for multiple uses. It can be folded and stored inside your main bag as a sub bag or even used as your main bag.

If you are a Snoopy fan, make sure to stop by!

© 2019 Peanuts Worldwide LLC

Information

Flying Ace Fair: IT'S A BEAGLE LIFE "HOW'S THIS?

Running: September 4 ー November 4, 2019

Running at: PEANUTS Cafe Nakameguro
Address:2 Chome-16-7 Aobadai, Meguro City, Tokyo

Website: http://www.peanutscafe.jp/

Q-pot CAFE. Omotesando Unveils Halloween Menu & Accessories For 2019

Q-pot. is known for its accessory brand, which features jewellery made to look like sweets and desserts. It is also known for the Q-pot CAFE. which flips that concept, instead making sweets and desserts that look just like real accessories.

For Halloween this year, the Q-pot CAFE. has whipped up a spooky menu with the theme "DEVIL NIGHT" featuring appearances of all things Halloween from pumpkins to ghosts.

Devil Obake-chan Plate (w/Drink) – ¥2,060 (Contains milk, eggs and wheat)

This kawaii dessert plate features a ghost made from a chewy vanilla gyūhi mousse filled with berry sauce. It comes with crunchy black bat cookies made with rich black cocoa cream and a pumpkin flavoured jack-o-lantern macaron.

Black Cat Plate (w/Drink) – ¥2,060 (Contains milk, eggs and wheat)

Steer clear from black cats this Halloween, except for this one which is a dark Graham cracker made from bitter caramel and chocolate mousse and is filled with almonds and dried cranberries. Flying around the kitty are the same crunchy black bat cookies made with rich black cocoa cream and the pumpkin flavoured jack-o-lantern macaron.

Vampire Chocolate Latte – ¥750 / +¥100 as Set (Contains milk and wheat)

Don't fear―you won't turn into a vampire if you take a sip from this chocolate latte topped with latte art of a flying bat. This frothy rich dark chocolate delight includes smashed Oreos.

Strawberry Cheese Tea – ¥750 / +¥100 as Set (Contains milk)

The strawberry cheese tea is a unique mix of the cafe's high quality black tea and salty cream cheese. It's smooth to taste and is surprisingly light to drink. Add a fruity strawberry punch to the cheese tea by pouring in the accompanying strawberry sauce.

Vampire Afternoon Tea Set For One – ¥2,400 (Contains milk, eggs and wheat)

They even have a gorgeously spooky afternoon tea set.

The top plate comes with sponge and cream cheese cake pops coated in chocolate, salty breadsticks, homemade scones made from butter cream and sweet and sour berry sauce, devil heart macaron-topped cupcakes, and pumpkin macarons.

The bottom plate features savoury foods including croissants filled with egg, basil and dried tomatoes, as well as olives, mini tomatoes, pickles, and a soup.

As well as Halloween food, the cafe also has a line-up of "DEVIL NIGHT" themed accessories for sale.

[From Top Left Clockwise] Vampire Bat Piercings (Pair) ¥8,000 / Mini Devil Ghost Sheet Necklace (Set/Special Packaging) ¥21,000 / Vampire Bat Brooch ¥7,000 / Vampire Bar Ring ¥12,000 / Vampire Spider Ring ¥13,000

Black Cat Necklace ¥16,000 / Silk Hat Charm ¥4,500

The black cat jewellery is a new addition to this year's line-up.

Enjoy a very cute and special Halloween in Japan this year at Q-pot CAFE.

*All listed prices are pre-tax

Information

2019 HALLOWEEN MENU

Running: September 10, 2019 – October 31, 2019

Address: Q-pot CAFE. Omotesando (3-4-8 Jingumae, Shibuya, Tokyo)

*The Halloween menu price will increase in line with the Japan's increase in consumption tax from 8% to 10% from October 1, 2019

Reservations: https://www.q-pot.jp/cafe.php

Q-pot. 2019 HALLOWEEN "DEVIL NIGHT" Jewellery

Release Date: September 7, 2019

Available: At Q-pot. (3-4-8 Jingumae, Shibuya, Tokyo) / Q-pot. Pop-Up Shop at IKSPIARI / Q-pot. ONLINE SHOP (from noon)/ Q-pot. INTERNATIONAL ONLINE SHOP

Chibi Maruko-chan Themed Cafe Heading to Tower Records Cafe Omotesando

To celebrate the 30th anniversary of the Chibi Maruko-chan anime series, Tower Records Cafe in Omotesando is collaborating with the franchise to turn its establishment into all things Maruko-chan for a limited time from September 5 to 29. Also, 22 branches of Tower Records as well as the Tower Records online store will sell collaborative merchandise.

Maruko-chan's Hamburger Plate – ¥1,500

The hamburger plate will be served throughout the entire collaboration. Hamburgers are Maruko-chan's favourite meal, and this one is served with vegetables and a rice ball with her adorable face on it.

The collaboration will be split into two different periods with different food and merchandise line-ups. The food in the second period has yet to be unveiled, so we will take a look at some of the things for the first period.

Collaboration Period ①

Nagasawa-kun's Onion Soup Pasta – ¥1,500

Served with a whole onion, this soup seeped vongole pasta is inspired by the onion-head himself Nagasawa-kun.

Chi Chicken Sandwich – ¥1,500

This dish is  inspired by the scene in the anime series when Maruko fights with her sister over who gets to have a notebook as there is only one of them. When her sister claims ownership, Maruko proceeds to write "idiot" on the front cover while she's asleep and slips it back onto her bookshelf. This tuna mayo packed sandwich comes with a sandwich bag featuring the design of the notebook.

Noguchi-san's Birthday Cake – ¥1,200

Celebrate Noguchi-san's birthday (September 9) with this very special blueberry and milk crepe birthday cake.

30th Anniversary Melon Soda Float – ¥800

Topped with a dollop of ice cream and a cherry, the melon soda comes with a special 30th anniversary straw tag.

Chibi Maruko-chan Lattes – ¥700

The character lattes will have different character designs for each period as pictured above with the top row being the first collaboration and the bottom the second.

For every menu item ordered, customers will receive a random postcard. The postcards above feature the designs from the first collaboration period.

And the ones above here are those in the second.

And if you order a set of three items (food, drink and dessert), you'll receive an exclusive lunch mat. All of these items are first-come, first-served so you'll want to get to the cafe ASAP when it opens.

The exclusive merchandise takes on a music theme with original designs, from a towel to a tote bag and more.

Three t-shirts and a hoodie will also be sold exclusively at Tower Records Shibuya, Tower Records Shinjuku, Tower Records Cafe Omotesando, and the Tower Records online store.

Full information can be found on the official website below.

*All prices are tax-inclusive. Photos are for illustrative purposes only.

*Please enquire with shop staff about any food allergies.

ⒸSakura Production/Nippon Animation

Information

Chibi Maruko-chan x TOWER RECORDS CAFE

Running: September 5, 2019 – September 29, 2019

Period ①: September 5, 2019 – September 17, 201

Period ②: September 18, 2019 – September 29, 2019

*The menu line-up and free gifts will be different for each period

TOWER RECORDS CAFE Omotesando
Address: Imon Harajuku Bldg. 2F, 6-3-9  Jingumae, Shibuya, Tokyo

Opening Hours: 11:00-21:30 (Last Orders 20:30)
Official Website: http://tower.jp/restaurants/cafe/omotesando

*No reservations, however during busy times numbered tickets will be handed out. Details on numbered tickets will be announced on the cafe's official Twitter page: @TRC_Omotesando

Chibi Maruko-chan x TOWER RECORDS Collaboration Merchandise
Release Date: September 5, 2019 (*Pre-orders now open)
Available: At 22 Tower Records branches and the online store
Tower Records Online: https://tower.jp
Collaboration Page: https://tower.jp/chibimaru

Top 13 Cream Sodas in Tokyo: Cool Yourself Down This Summer with Classic Drinks & Modern Beverages

Hey, MOSHI MOSHI NIPPON readers! I'm Banako of MOSHI MOSHI FRIENDS.

It's safe to say that most long-standing, older cafés in Japan serve cream soda. It's a drink that bellows with nostalgia, topped cutely with a dollop of ice cream and sparkling bright with vivid colour like some rare jewel.

It's a rather simple drink, but the number of people intrigued by its unique appearance are evidently on the rise. And I'm one of those people! I've had times where if it's available on the menu I want to order it-and further still I've gone out of my way to a café solely because I've wanted some cream soda.

Depending on the vibe and atmosphere of a café, the appearance of the cream soda will be different, which also means a different flavour. This is all part of the enjoyment of cream soda: it's fun to compare the different tastes.

I have made a long list of my most recommended cream sodas in Tokyo, all of which I have actually tried!

To make it easier to picture each drink I have also given a rating out of 5☆ stars for the strength of the fizziness, the sweetness of the soda, and sweetness of the ice cream. Use this as reference when picking your drink of choice. Enjoy this specially curated selection of drinks in cafés that you're going to want to snap lots of pictures of♡

①CAMPUS TOY cafe&bar

CAMPUS TOY is located in the Jinbocho district of Tokyo. This exciting little place has gone for an American pop vibe. They sell toys too.

The extra goodies they put in the cream soda here is influenced by the US too. The owner is a really interesting person, so much so that you end up losing track of the time as you get lost in conversation with them.

Fizziness:★★★★☆

Soda Sweetness:★★☆☆☆

Ice Cream Sweetness:★★★☆☆

CAMPUS TOY cafe&bar

Address: 2-10 Kanda-Jinbocho, Chiyoda Ward, Tokyo

Opening Hours: [Mon-Fri] 18:00-22:00

Closed: Weekends & Public Holidays

Access: 2-minutes on foot from Jinbocho Station's A2 Exit

TEL: 03-3261-7383

Instagram: https://www.instagram.com/campustoy_matz/?hl=ja

②Café Negura

This little-known-good-spot can be found in Shimokitazawa. The café interior has relaxed and retro décor. Their cream soda is served with two stacks of ice cream and a crown of whipped cream topped off with a cherry. What a cute-looking drink!

Fizziness:★★★☆☆

Soda Sweetness:★☆☆☆☆

Ice Cream Sweetness:★★★★☆

▶︎ Café Negura

Address: PACKAGE ONE Floor 1F (North Side), 2-26-13 Kitazawa, Setagaya Ward, Tokyo

Opening Hours: 11:30 ー 20:00

Closed: Mondays & Tuesdays

Access:152m walk from Shimokitazawa Station

Twitter:https://twitter.com/neguracafe_mi

③Sepia

Another retro-style café, except this one is specifically influenced by the Showa period . Situated in Shibamata, everything about this café, from the outside to the interior, breathes retro-Showa. On the second floor is the Candy Candy Museum.

Their cream soda is the quintessential classic cream soda…but with a twist. It has mikan in it, a type of orange, which is very rare with cream sodas. That gives off a retro-ness too. Another cute beverage!

Fizziness:★★★☆☆

Soda Sweetness:★★☆☆☆

Ice Cream Sweetness:★★★☆☆

▶︎ Sepia

Address: 7-4-11 Shibamata, Katsushika Ward, Tokyo

Opening Hours: 10:00-18:30 (Last Orders 18:00

Closed: Tuesdays & Wednesdays

Access: 2-minutes on foot from Shibamata Station (Accessed via the Keisei Line)

Instagram: https://instagram.com/sepiamama?igshid=1urnwdix23qbx

④ALL C'S CAFE

ALL C'S CAFE is in Koenji, the retro hub of Tokyo. Decorations of cute bears are what this café is all about. There are enormous life-sized bears everywhere, so you can get ready to snap some seriously kawaii pictures.

The café itself, as well as the adorable smiley bear on your cream soda, is sure to elicit some high-pitched "Aww's."

Fizziness:★★★☆☆

Soda Sweetness:★★☆☆☆

Ice Cream Sweetness:★★★★☆

▶︎ALL C'S CAFE

Address: Miyake Bldg. 2F, 3-25-24 Koenji, Suginami Ward, Tokyo

Opening Hours: 12:00-22:00

Closed: No Fixed Holidays (except Obon and New Year's Holidays)

Access: 5-minutes on foot from the north exit of Koenji Station (Accessed via the JR Chuo Line)

Website: http://www.allcscafe.com

⑤Café Hosekibako

Hosekibako, which means 'jewelry box' in Japanese, is right next to Chitose-Karasuyama Station. Retro vibes waft their way throughout this cozy little hideaway with the littering of Showa manga and other miscellaneous odds and ends.

This café too has the signature classic cream soda. It has a transparent appearance in its truly beautiful colour.

Fizziness:★★★☆☆

Soda Sweetness:★★★☆☆

Ice Cream Sweetness:★★★☆☆

▶︎ Café Hosekibako

Address: Koyama Mansion 102, 4-18-18 Minamikarasuyama, Setagaya Ward, Tokyo

Opening Hours: 12:00-18:30 (Last Orders 18:00)

Closed: Wednesdays

Access: 5-minutes on foot from the east exit of Chitose-Karasuyama Station (Accessed via the Keio Line)


Website: https://housekibako.wixsite.com/2009

⑥THE GREAT BURGER STAND

This hamburger shop sells an American-style cream soda, topped with swirly ice cream rather than cream soda's classic dollop. That, together with the huge glass it's served in, is enough to get you excited before you even take a sip. The café can be found in Shibuya Stream, meaning you can stop by for a breather after shopping.

Fizziness:★★★★☆

Soda Sweetness:★★☆☆☆

Ice Cream Sweetness:★★★★☆

▶︎THE GREAT BURGER STAND

Address: Shibuya Stream 1F, 3-21-3 Shibuya, Shibuya Ward, Tokyo

Access: 1-minute on foot from Shibuya Station via the JR Yamanote Line 

Opening Hours: 11:00 ー 23:00 (Last orders:  22:30)

Closed when Shibuya Stream is closed.

Access: Approx. 1-minute walk from Shibuya Station (JR Yamanote Line)

Instagram: https://www.instagram.com/the_great_burger/

⑦Coffee Shop Galant

Right beside Ueno Station you'll find Galant, a coffee shop also with an air of retro-Showa to it during the bubble economy period. You'll feel like you've been transported back in time when you see the dazzling décor and the staff uniforms. Peeking through the see-through liquid is a cute red cherry♡

Fizziness:★★★★☆

Soda Sweetness:★★☆☆☆

Ice Cream Sweetness:★★★☆☆

▶︎ Coffee Shop Galant

Address: 6-14-4 Ueno, Taito Ward, Tokyo

Opening Hours: 8:00-23:00

No Fixed Holidays

Access: Directly behind the toy store Yamashiroya (山城屋), just a two minute walk from JR Ueno Station. Also 1-minute on foot from exit 5b of Ueno Station (accessed via the Tokyo Metro Line and Hibiya Line)

Tabelog: https://www.google.co.jp/amp/s/s.tabelog.com/tokyo/A1311/A131101/13039759/top_amp/

⑧bio ojiyan cafe Harajuku

Ojiya, also known as zosui, is a type of Japanese rice-based vegetable soup. In my opinion, the ojiya served here is the tastiest in the world! Their cream soda comes in a large round cup and is a nice refreshment after a spot of ojiya.

Fizziness:★★★★☆

Soda Sweetness:★★☆☆☆

Ice Cream Sweetness:★★★★☆

▶︎bio ojiyan café

Location: 4-26-28 Jingumae, Shibuya, Tokyo

Opening Hours: 11:00-20:00

No Fixed Holidays

Access: 10-minutes on foot from JR Harajuku Station / 3-minutes on foot from the Jingumae Crossing ticket gate elevator exit of Meiji-Jingumae Station (Accessed via the Tokyo Metro Fukutoshin Line)

Website: http://mfs11.com/brand/bio-ojiyan-cafe-harajuku/

⑨PEPPERS DRIVE IN

The main dish at this Kanagawa-based restaurant is curry. Every single thing about PEPPERS DRIVE IN is influenced by retro US elements, from the car park to the nooks and crannies inside and even the trays. You can take some really cute photos literally anywhere in the restaurant. The cream soda portion stays true to the American taste too with a generous serving.


Fizziness:★★★☆☆

Soda Sweetness:★★☆☆☆

Ice Cream Sweetness:★★★☆☆

▶︎PEPPERS DRIVE IN 

Address: 1129-1 Kidokoro, Hiratsuka, Kanagawa

Opening Hours: Lunch 11:30-15:00 (Last Orders 14:45) / Dinner 18:00-22:00 (Last Orders 21:30)

Closed: Wednesdays (Except on public holidays, in which case closed the following day)

Access: 6-minutes by taxi from south exit of Isehara Station (Accessed via the Odakyu Odawara Line) / 16-minutes by taxi from the north exit of Hiratsuka Station (Accessed via the JR Tokaido Main Line)

Official Website: http://www.peppers.co.jp

⑩BRIDGE

I reviewed the melon bread pancakes at this Ginza-based café earlier this year. It's located inside a long-standing department store meaning the cream soda here has been around for a long time too, offering a more traditional taste. They are served on coasters which you can take home with you. It's a great place to stop off for a break when strolling around Ginza.

Fizziness:★★☆☆☆

Soda Sweetness:★★★★☆

Ice Cream Sweetness:★★★☆☆

▶︎BRIDGE

Address: NISHIGINZA Floor B1F, 4-1 Ginza, Chuo Ward, Tokyo

Business Hours: [Monday-Saturday] 11:00-20:30 (Last Orders 20:00) / [Sunday & Holidays] 11:00-20:00 (Last Orders 19:30)

Closed: When NISHIGINZA Department Store is closed.

Website: http://www.nishiginza.co.jp/page/shopguide/detail/?id=33

⑪HIROMAN'S COFFEE

Another snug hideout, situated in the backstreets and surrounded by trees, is HIROMAN'S COFFEE. This cute café has lots of antique picture frames, rabbit ornaments, and other tidbits. Their melon soda arrives in a cute round and plump glass. They plenty of other Instagrammable drinks too including one topped with cotton candy. This one is one to keep coming back to!

Fizziness:★★★★☆

Soda Sweetness:★★☆☆☆

Ice Cream Sweetness:★★★☆☆

▶︎ HIROMAN'S COFFEE

Address: 3-18-12 Jingumae, Shibuya, Tokyo

Opening Hours: 11:00-19:00 (Last Orders 18:30)

No Fixed Holidays

Access: 10-minutes on foot from Meiji-Jingumae Station

Instagram: https://instagram.com/hiromans_coffee?igshid=oumb3g7aergo

⑫ blikje button

⑫blikje button

blikje button in Shimokitazawa, which offers both a café and dining experience, has a vintage vibe to it with decorations that have a handcrafted feel to them.  The glasses the cream sodas come in match that aesthetic. The stroking colours of the sodas are something beautiful to behold!

Fizziness:★★★★☆

Soda Sweetness:★★☆☆☆

Ice Cream Sweetness:★★★☆☆

▶︎blikje button

Address: Shimokitazawa Central Bldg. 2F, 2-14-7 Kitazawa, Setagaya Ward, Tokyo

Opening Hours: 12:00-23:00 (Lunch 12:00-16:00/Café 12:00-18:00/Dinner 17:00-23:00) *Food last orders 22:00, drink last orders 22:30

No Fixed Holidays

Access: 2-minutes on foot from Shimokita Station via the Odakyu Line / 2-minutes on foot from the south-west exit of Shimokitazawa Station via the Keio Inokashira Line

Website: http://www.blikje-button.com/

⑬CAROLINE DINER

CAROLINE DINER is a famous café in Harajuku inspired by American diners. The cream sodas sold here are striking and nothing short of Instagram-worthy! They go perfectly with the stylish interior of the café that you'll no doubt find yourself taking photos.

Fizziness:★★★☆☆

Soda Sweetness:★★★☆☆

Ice Cream Sweetness:★★★☆☆

▶︎CAROLINE

Address: 2-14-11 Jingumae, Shibuya, Tokyo

Opening Hours: 12:00-18:30 (Last Orders 18:00)

Closed: Thursdays

Access: 10-minutes on foot from Meiji-Jingumae Station / 10-minutes on foot from Kita-Sando Station / 10-minutes on foot from Setagaya Station

Website: http://caroline1.theshop.jp/

And that's all from me Banako and my must-try recommendations for Tokyo cream soda. Do you have a favourite from this list?

Tokyo's summer is nowhere near over yet. How about treating to yourself to a nice refreshing cream soda to cool yourself down from the scorching heat?

Tokyo Stroll: The Café That You Want to Visit to See Someone #11 – 'Hatoya' in Asakusa

In this edition of The Café That You Want to Visit to See Someone, I visited Hatoya which is located in Asakusa Shin-Nakamise Arcade.

The streets of Tokyo's historical district of Asakusa are packed to end with cafés. You can be spoiled for choice, but Hatoya stood out to me in particular as it's an especially old café. Business there began back in 1927 but the actual building was built back in the Taisho period, meaning its history spans more than 90 years ago!

The outside appearance of the shop is smart and chic so it's very easy to spot. I couldn't tell by looking from the outside, but the inside is full of old decorations and odds and ends which make you feel the history of the café.

One reason why I wanted to visit this place so much is because I was drawn to their logo. It's really retro-kawaii so I just couldn't resist!

You should take some photos too if you visit.

It was time to head inside. It's really comfy and cozy in there; the atmosphere was nice and relaxed.

Framed on the wall is a map of the Asakusa area during the Taisho era. Hatoya became famous back then because people could buy coffee for a mere 5 sen (a single sen is one-hundredth of a yen).

When business first began at Hatoya, because the café was opposite the stage door of a theatre, all of the famous actors and actresses would pop in. Some include famous Japanese comedian Roppa Furukawa and film actor Kiyoshi Atsumi who played Tora-san in the film series Otoko wa Tsurai yo.

I ordered the café's popular hotcakes which cost ¥600. They have been making these same hotcakes since before the war.

They were nice and fluffy and had a deliciously gorgeous brown colour. The flavour was out of this world when the butter melted from the heat of the hotcakes and mixed together with the syrup.

The portion might look like a lot but they are fluffy and have a light flavour so can be finished with no problem.

And is the café's signature milkshake (¥500).

It's so refreshing that you can knock it back all in one go. It has a simple flavour but it tasted so good!

I also ordered the ¥600 cream soda, my favourite beverage.

I've been to many cafés, and have covered many in this series, but this is the first I have dined at with such a deep history. I found myself enthralled by the stories of the owner who has continued to treasure the café and maintained it all the same since it opened. I feel like I have learned about a world I never knew about. The next time I go to Hatoya with a friend I'll be sure to let them in on its history. I encourage you to visit too!

Writer/Model: Ema Tanioku
Photographer: Haruka Yamamoto
Design: Yuko Abe (ASOBISYSTEM)

TALENT PROFILE

Ema Tanioku

"Emaeri" is the nickname for models Ema and Eri Tanioku, who are Aomoji fashion model twins. Ema and Eri Tanioku specialise in twin fashion coordination. Over the years their fanbase has increased due to their cute looks. Ema Tanioku spreads Harajuku culture within Japan as well as overseas and works as a Harajuku Tourism Ambassador. Starting off as a model, Ema has broadened her talent range from fashion magazines to TV, and from playing the lead role in dramas to movies.

Mango Drinks Cafe CAFE MANGOSIX Opens First Japan Branch in Okinawa

MANGOSIX Japan opened its first ever CAFE MANGOSIX branch in Naha, the capital of Okinawa, on August 10.

CAFE MANGOSIX is a hugely popular cafe in South Korea which serves healthy drinks and desserts themed on its 6 S's concept: Sensual, Slim, Sweet, Social, Sexy, and Style.

Their must-try beverage is the Mango & Coconut Juice which combines rich mango with sweet coconut milk. The cafe even has some drinks exclusive to Japan so you won't find them anywhere else!

The popular Blue Lemonade from South Korea is also being sold.

Cool yourself off after sunbathing on the beaches of Okinawa by grabbing a drink from the new CAFE MANGOSIX!

Information

CAFE MANGOSIX

Address: 1-16-6 Matsuo, Naha, Okinawa

Opening Hours: 8:00-22:00

Access: 10-minutes by car from Naha Airport / 4-minutes on foot from Prefectural Office Station (via Yui Rail, aka Okinawa Monorail) / 2-minutes on foot from Okinawa Prefecture Government Building

Official Website: http://www.mangosix.co.jp/

Fate/Grand Order Themed Cafe to Open in Omotesando

The third run of the Fate/Grand Order themed cafe, with designs produced by Sanrio, will take place at OMOTESANDO BOX CAFE&SPACE from September 5 to 29.

Fate/Grand Order is a popular online free-to-play RPG developed by Delightworks for smartphones and is based on the Fate/stay night franchise by Type-Moon. The story has continued to evolve since its released in July 2015, and as of July 2019, it has been downloaded more than 1.7 million times. A TV anime adaptation is slated for release in October 2019 and an anime film is in production for 2020.

This marks the third opening of this limited-time cafe, the previous two having taken place in December 2017 and August 2018 respectively. This year sees the introduction of new Servants as well as an all-new menu with the theme "Autumn tea room." Exclusive merchandise featuring designs of the Servants will also be available for fans to pick up.

When you book a table in advance (¥650 before tax per person) and order from the menu you'll receive one of the above possible 16 lunch mats.

And if you order a drink you'll get one of the 16 coasters. You'll get one of either piece of this original merchandise per item you order from the menu.

Menu Line-Up

Master & Mash Snow Field Meatballs – ¥1,490

This dish is piled with filling sauteed meatballs and mushrooms. The cream sauce is made to look like a snowy field. It's served with a side of jam for a succulent sweet and sour kick.

Romani & Vinci Waffle Sandwiches – ¥1,590

Waffles turned from desserts into a real meal, packed plump with chicken and cheese and served with a side of fries.

Gilgamesh & Merlin Afternoon Tea Set – ¥1,690

This gorgeous assortment of finger food includes cute cupcakes topped with Gilgamesh and Merlin. Enjoy together with a nice cup of tea.

Brynhildr & Sigurd Croquembouche Parfait – ¥1,390

Croquembouche is often served at weddings in Italy at France. Here, it has been turned into an easy-to-eat parfait. It's topped with salt ice cream, yogurt mousse and more, all in refreshing colours.

Fruit Tea (5 Flavours) – ¥790 Each (Male Master / Female Master / Mash / Romani / Da Vinci)

Matcha Milk Float (3 Flavours) – ¥790 Each (Okita / Ryoma / Izo)

Original Merchandise

Acrylic Key Rings (16 Designs – Chosen Randomly) – ¥650

Folder Set of 2 – ¥750

There are even more items on the menu as well as merchandise to look forward to at the cafe. Head to Omotesando and enjoy a beautiful autumn with the Servants!

 © TYPE-MOON / FGO PROJECT

*All prices listed are pre-tax. Photos are for illustrative purposes only.

Information

Fate/Grand Order Design produced by Sanrio – 3rd Collaborative Cafe

Running: September 5, 2019 – September 29, 2019

Location: OMOTESANDO BOX CAFE&SPACE (Pine Under Flat Floor B1F, 5-13-2 Jingumae, Shibuya, Tokyo)

Official Website: https://fgo-sanrio-cafe.jp/

*Reservations now open via the official website

Popular Tokyo Café Bakery BREAD, ESPRESSO & to Open in Fukuoka

Bakery café BREAD, ESPRESSO & has made quite a reputation in Omotesando, Tokyo for its stylish interior and delicious coffee and bread. The bakery café is now opening a new branch in Fukuoka called BREAD, ESPRESSO & HAKATA & on September 25th, 2019.

To commemorate 10 years in business, BREAD, ESPRESSO & will be opening their first ever branch in Hakata, Kyushu. The café bakery will be nestled between Hakata Station and CANAL CITY HAKATA. Whether you are a busy commuter looking for a heartwarming cup of coffee or a traveling tourist, the location is ideal for anyone looking for a quick rest stop. 

The new café bakery is approximately 165 m² in size, making it the largest branch. The shop is decorated with a pure white base theme and has the perfect comfortable environment to enjoy a coffee. 

Mu: ¥330 (after tax)

French Toast: ¥750 (after tax)

BREAD, ESPRESSO &'s popular Mu and French Toast will be on the menu along with Hakata-limited goods. If you are searching for some delicious bread in Hakata, please make your way to BREAD, ESPRESSO &.

Information

BREAD, ESPRESSO & HAKATA & (パンとエスプレッソと博多と)

Address: 101, 2-8-12, Hakata Ekimae, Hakata Ward, Fukuoka 

Opening Hours: 8:00 ー 20:00

No regular holidays. 

TEL:092-292-1190

Website: http://www.bread-espresso.jp/