Another batch of bands and artists have been added to the line-up for this year's Summer Sonic Festival which is set to take place in Tokyo and Osaka in August.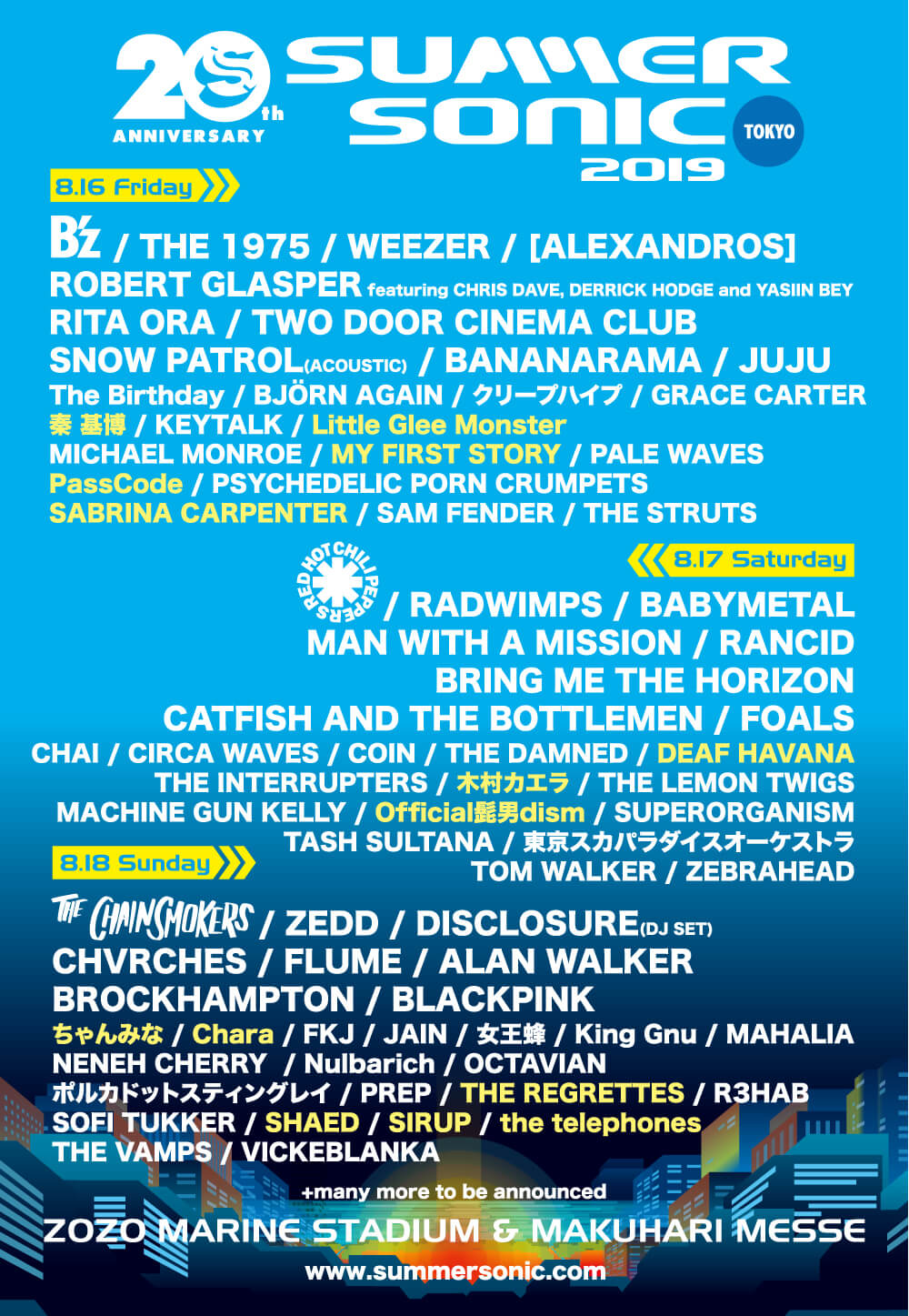 Performing at the festival in Tokyo on the 16th and Osaka on the 18th is American singer and songwriter Sabrina Carpenter who just performed in Japan as part of her Asia leg of her ongoing tour, and MY FIRST STORY, a band leading the Japanese rock scene.
Female vocal group Little Glee Monster are taking their extraordinary voices to the Tokyo show where metal idol group PassCode and singer-songwriter Motohiro Hata will also perform. Playing Osaka is amazarashi who has garnered much support and attention from other musicians as well as male and female rock duo GLIM SPANKY.
Kaela Kimura will celebrate her 15th anniversary this year with her first live performance in 5 years in Tokyo on the 17th and Osaka on the 16th. English alternative rock band Deaf Havana and four-piece Japanese piano pop band Official DANdism will play in Tokyo and Ryokuousyoku Syakai from Aichi Prefecture will play Osaka.
The list goes on: American punk band from Los Angeles The Regrettes and Washington, D.C.-based electro-pop trio SHAED will perform in Tokyo on the 18th and Osaka on the 17th. Hailing from Japan on these dates is SIRUP, a next-generation artist from Osaka gaining huge attention right now. Playing Tokyo only is next-generation female rapper and singer Chanmina, the unique singer of love Chara, and the telephones who are celebrating 10 years since their major debut.
There are only a select number of tickets left so book yours ASAP!