Hi, I'm Midori from Moshi Moshi Nippon's Editorial Department!
Finally, the Disney Easter we've all been waiting for has finally begun! Every year, Disney Resort is bustling with people during its Easter celebration. Not only are there shows, but the food is also noteworthy! I made my way down there, tried the food and now I've put together this report on DisneySea's Easter-limited food based on my findings! You can only try these dishes this season so make sure you experience these precious flavours!
An Egg hunt…in my pasta?! Cafe Portofino special set!
The Mediterranean harbour area that looks like a South European port city is located on the right as you enter DisneySea. It is here that you will find Portofino, and they're selling a special Easter set! Portofino is popular because you can enjoy Mediterranean food whilst looking over the beautiful townscape. I have been here to eat quite a few times and I am very pleased with my experiences here!
Special Set ¥1,880 (tax included)
This linguine tomato carbonara and appetizer even comes with a dessert and drink! All of a sudden, your table will be filled with bright colours! If you pay extra, you can change your drink into an alcoholic drink! The appetizer includes marinated salmon, barley salad, octopus, mussels and egg – all the individual foods were full of flavour! The eggs were just so cute I didn't want to eat them!
Within the tomato and carbonara lies a hidden soft boiled egg that customers can enjoy hunting down! Even adults who have graduated from university will secretly get a kick out of this egg hunt! The fresh tomato flavour is refreshing and perfect for the Easter spirit. The dessert is panna cotta with passionfruit sauce. It looks like a sunny-side-up egg! How cute!
Sweet panna cotta and refreshing passion fruit sauce is the perfect combination!
I could feel something granulated in the dessert which made me curious, so I asked the staff what it was. They told me it was panna cotta seeds! This granulated texture is very mysterious and fun! The Cafe Portofino Special Set is indeed very "special" and with just that, you can tell it's very satisfying. This set is the perfect way to complete your day of memories at the park!
Mamma Biscotti's Bakery souvenir sweets cafe is so cute!
Vanilla pudding and Milk Jelly, Cherry and Vanilla Mousse Cake with souvenir cup ¥800 each (tax included)
Mamma Biscotti's Bakery is located in the same area as the Mediterranean harbour and serves up desserts with souvenirs! This Easter, there's a limited edition vanilla pudding and milk jelly that come with a souvenir cup, and a cherry and vanilla mousse cake that comes with a souvenir plate. The vanilla pudding has quite a deep flavour with a refined sweetness. The souvenir mug has a spring-themed design that uses spring colours – you will want to use it straight away!
The mousse cake is easy to eat quickly and goes perfectly with the sour cherry flavour. It also looks cute too! The plate that comes with it is a good size to use for a range of purposes. Like the mug design, the plate also has a spring-themed design. It's so hard to just have one of these souvenirs! This design is only available here so I wouldn't be surprised if people come here every season to buy all the seasonal designs!
Continue through the park to discover the special meal set at the "Yucatan Base Camp Grill" located in the Central America-themed jungle "Lost River Delta".
Special Set ¥1,580 (tax included)
A hamburger with tomato, barbeque sauce, omelette rice and sausage all on one plate! The set gives you the opportunity to choose vanilla pudding and a soft drink for the perfect hearty meal! You can also change your soft drink for an alcoholic drink for an extra fee.
The main plate includes a hamburger, omelette rice and a sausage for a good price! Take your first bite and you'll immediately return to your childhood. The burger is juicy, and even called back the adventurous spirit that I left behind when I entered adulthood! This is the fuel you need to explore Lost River Delta! The pudding is moist and dense but comes in a small quantity. This is the perfect meal for an adventurer! Enjoy your hearty meal here and embark on your adventure to uncover the secrets of ancient Central America!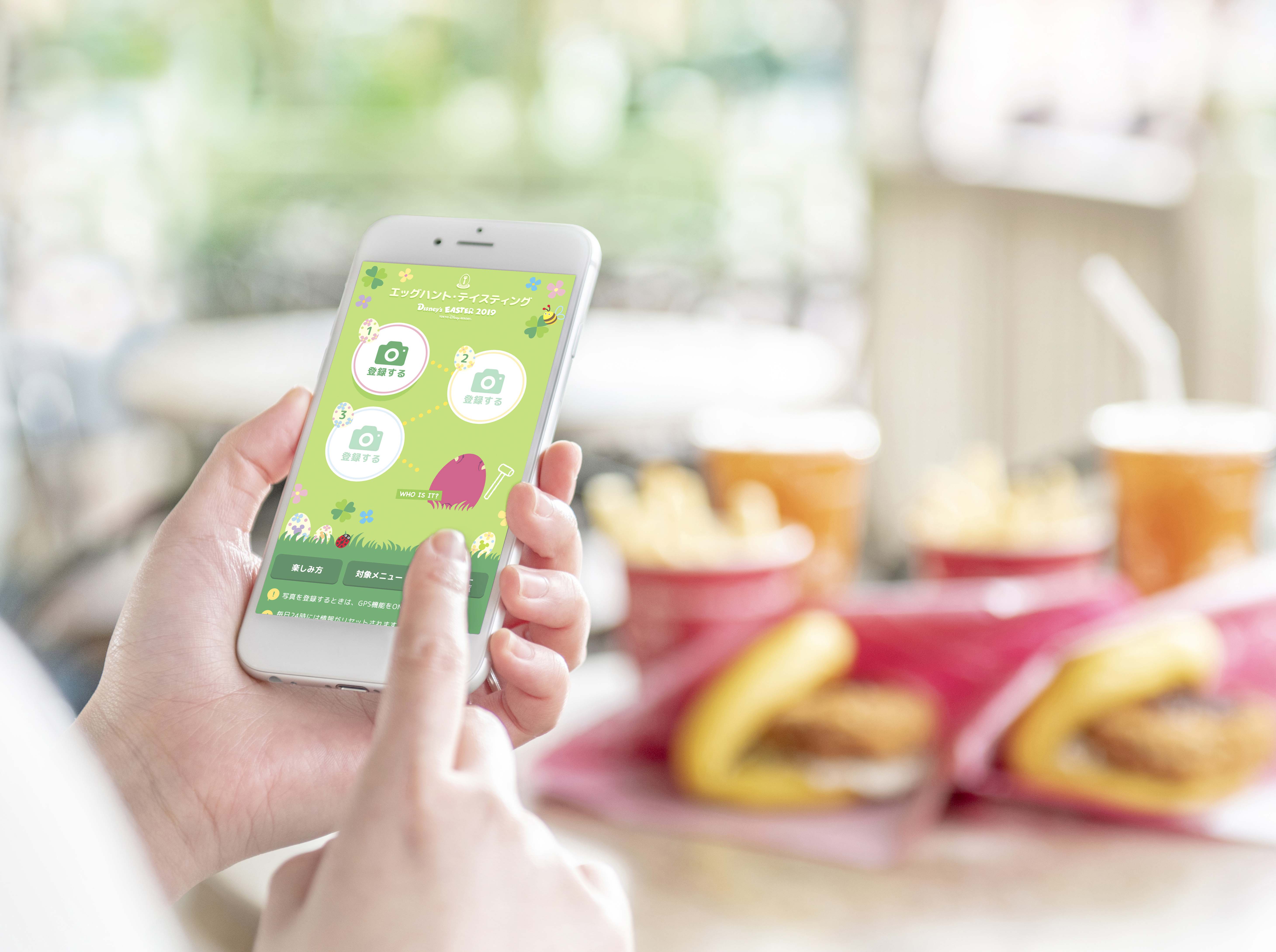 Don't miss out on the Egg Hunt Tasting event being held at DisneyLand and DisneySea! If you buy off the Easter menus and post three photos of your food on your social media sites, you will receive an Easter egg! Of course, the Easter menus that are part of this campaign also include the two menus mentioned in this report. There are 21 different kinds of Easter eggs you could receive! Which will you get? Aren't you excited?!
Not only is DisneySea's Easter menu delicious, but there are a range of special extras that come with what you order. The normal menu is also great but the Easter-limited menu has been specially made, so please come check it out!