Snow Peak collaborates with LINE FRIENDS! Get your hands on these cute camping items!
SNS app LINE and their global brand LINE FRIENDS are collaborating with mountain-climbing apparel brand Snow Peak. The limited edition outdoor wear will be available from Friday 12th April.
The collaboration items will be launched worldwide simultaneously. You can purchase these at the LINE FRIENDS STORE in Harajuku and online, as well as in Korea, Hong Kong and China. You can also get these at Snow Peak stores, e-stores and their online store.
This is the second time LINE FRIENDS is collaborating with Snow Peak. Last October, the collaboration items consisted of mugs, spoons and fork sets and much more. As sales continued, the collaboration's popularity grew! Now half a year has passed and the two companies are at it again for round two! As we're approaching the camping season, the concept for these goods is "everyday camping and camping every day". From adults to children, LINE FRIENDS characters are loved by all generations. You get a warm feeling from these goods as they incorporate the designs of your favourite familiar faces!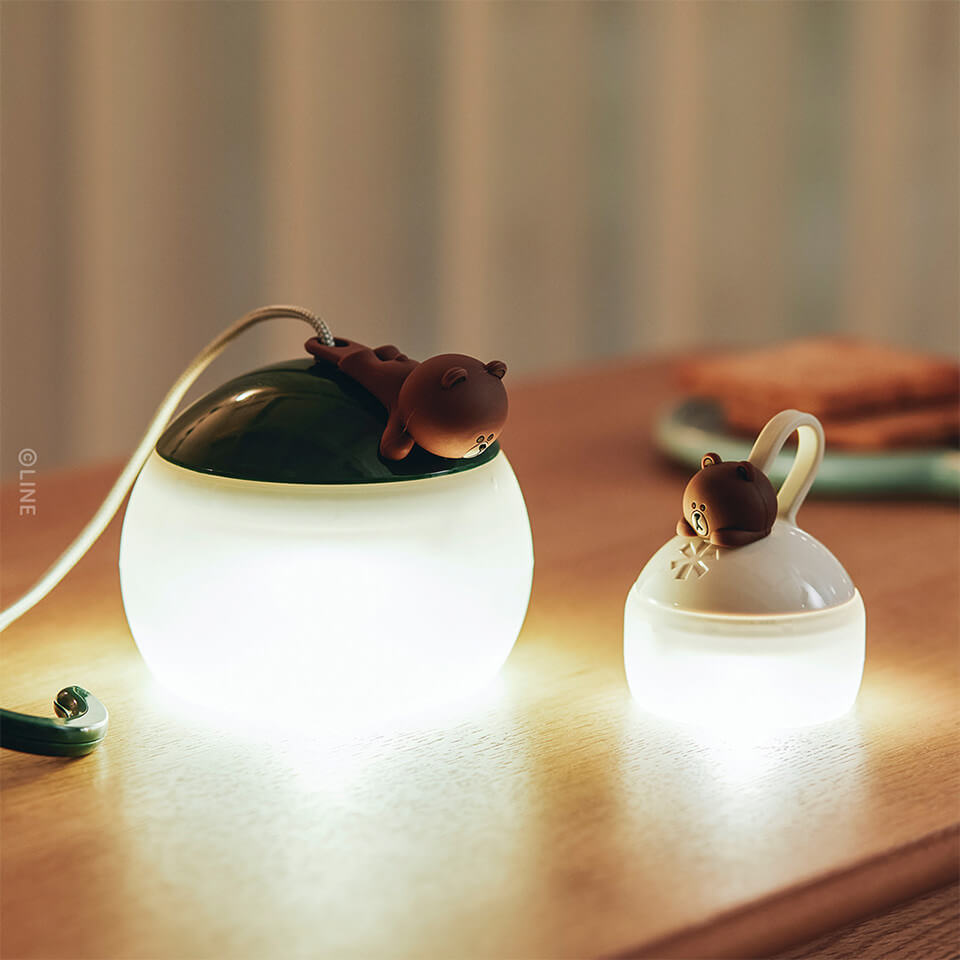 Ho-zuki light 12,400 (+ tax) , Tane ho-zuki light Snow Peak 4,800円 (+ tax)
The left lamp in the picture above is the original colour LINE FRIENDS character USB lamp and comes with a connector cover. Set it to "yuragi mode" and it will flicker when the wind blows! It even has a sleep mode (oyasumi mode) where the lamp dims when the surrounding area is quiet. On the right in the picture is the original colour LINE FRIENDS character lamp with a looped handle. You can hold this cute LED lantern in the palm of your hand.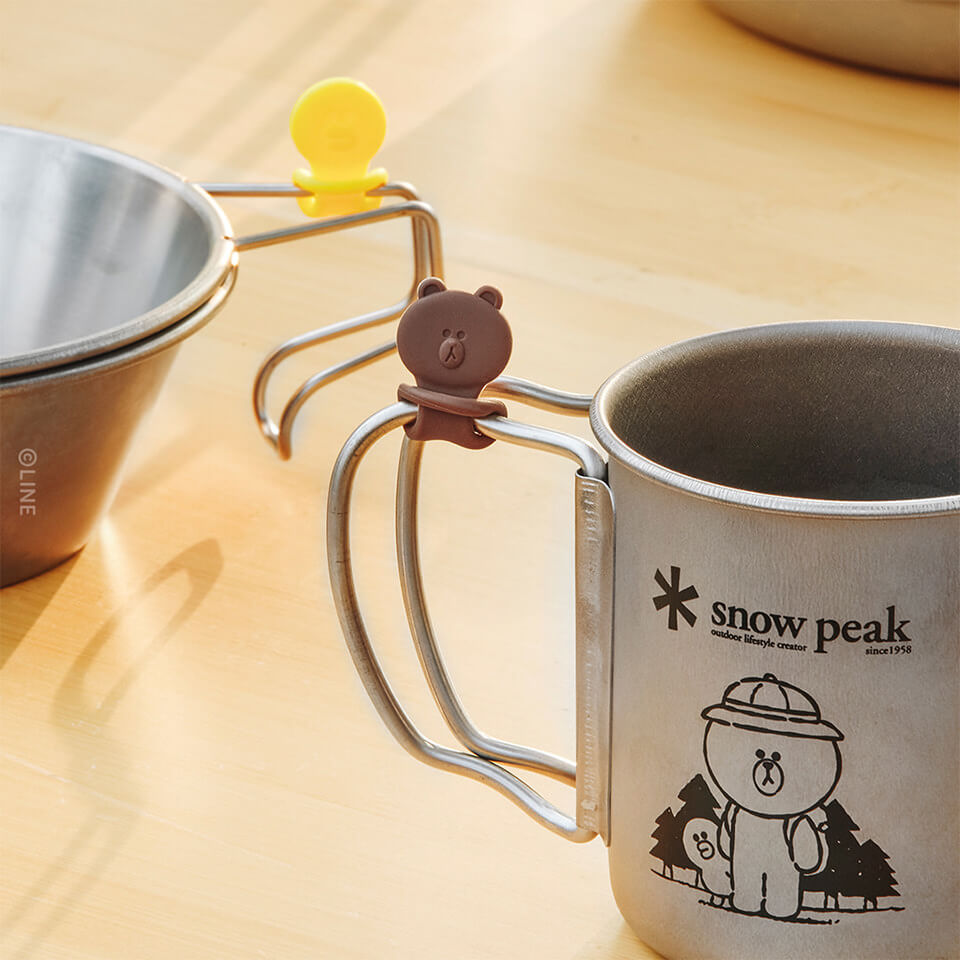 Cup Marker Snow Peak ¥1,700 (+ tax)
These are brown and Sally-themed camping accessories! There are five different sets containing 10 accessories that can spice up your mugs and sierra camping cups.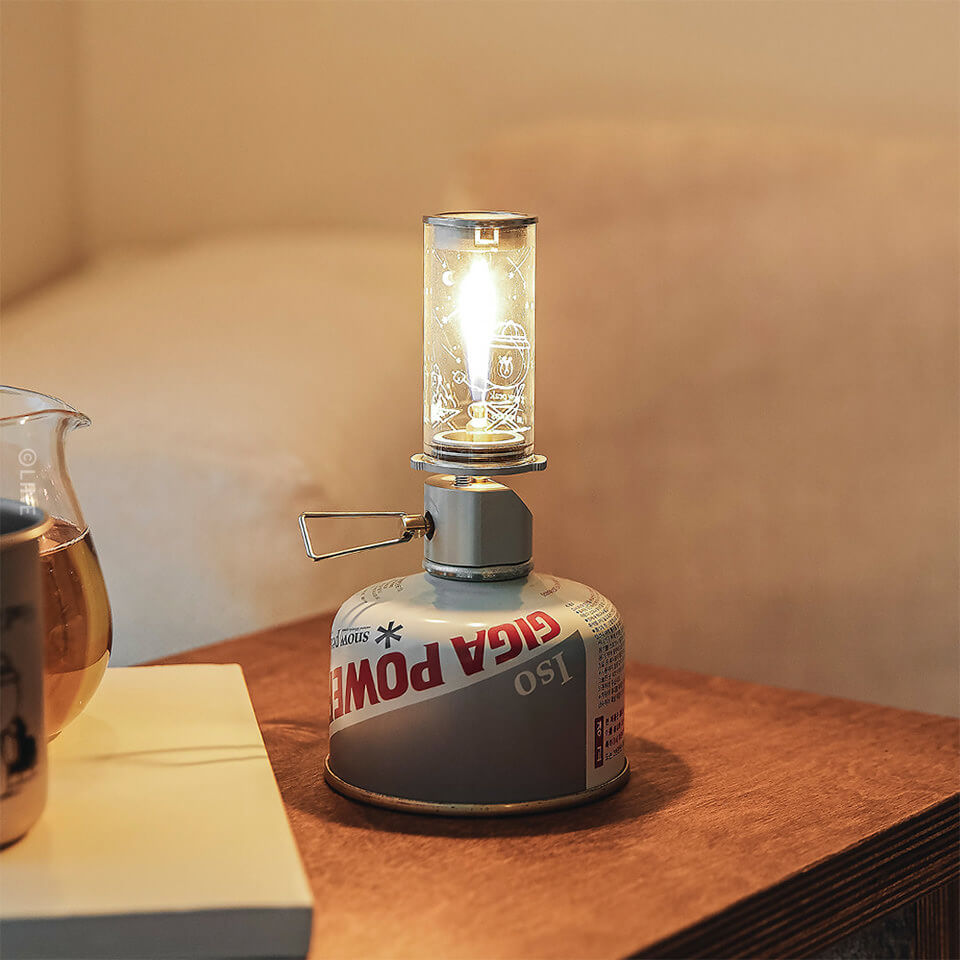 Little Lamp Nocturne Snow Peak ¥4,400  (+ tax)
This little light displays Brown and Sally enjoying a fun camping trip! Put it on your camping table and enjoy the design lighting up your tent!
Flag Garland Snow Peak ¥5,500 (+ tax)
This is original Brown and Sally-themed bunting that's sure to bring life to any camping party!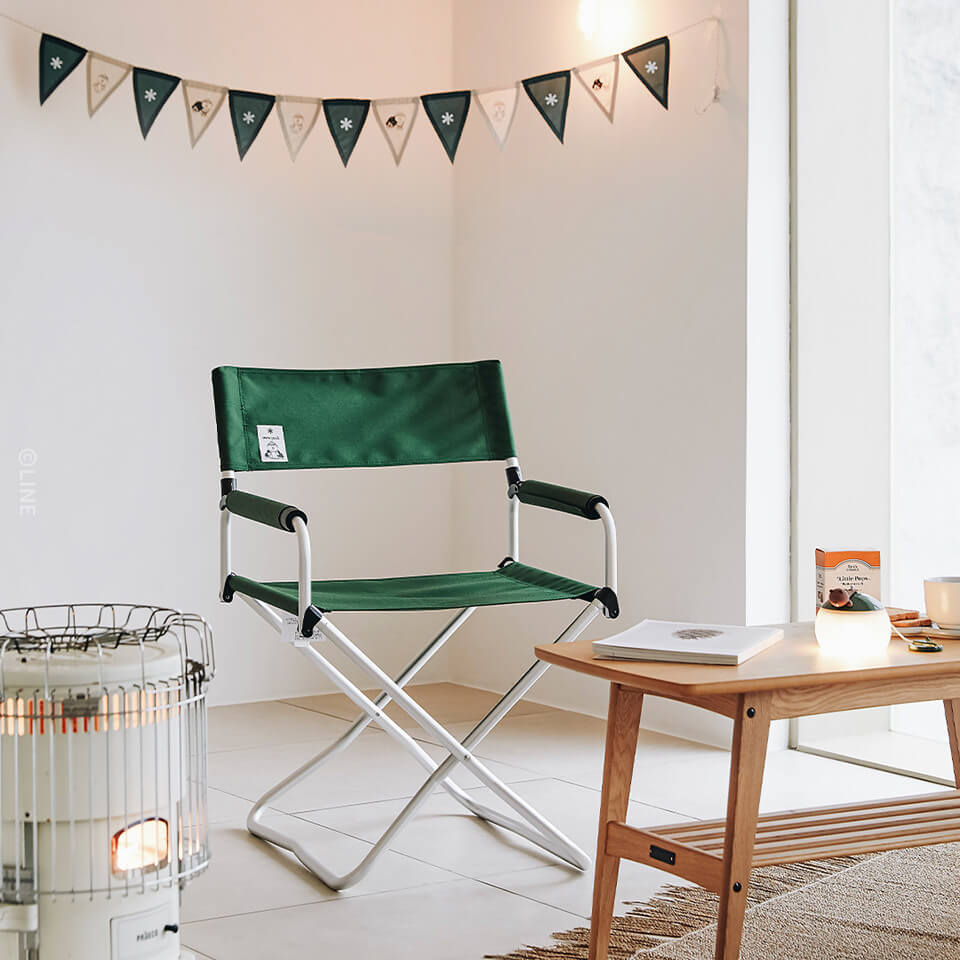 FD Chair Snow Peak ¥9,900 (+ tax) 
This brown and Sally-themed original colour chair is packed with Snow Peak's close attention to detail! This is a must-have standard item for any LINE FRIENDS camping trip!
These items are useful for a range of purposes! Not only can you use these for camping, but also for a picnic or even just at home! So, how about it?
Information
Snow Peak|LINE FRIENDS collaboration items
Release date: Friday 12th April 2019
※ Released on the online store on the same day at 11:00 am
LINE FRIENDS online store: https://www.linefriends.jp
RELATED ENTRIES
Artist FUKI Collaborates with LINE MUSIC to Make Romantic Bubble Tea at Tai Parfait Cafe

LINE MUSIC-Bu is LINE MUSIC's research team that studies popular music trends among teen girls. LINE MUSIC-Bu teamed up with love song-writer FUKI, who is releasing one love per month for 12 months, in order to produce a new bubble tea drink and tapioca dessert especially for couples. The drink and dessert is being sold at Tai Parfait Cafe, Yokohama World Porters. FUKI will also perform at a free live gig at Yokohama World Porters on December 25, which is the last day of collaboration drink and tapioca dessert sales. 

The collaboration pair-tapi contains two different drinks in a twin split cup. One side of the cup is filled with cafe au lait and the other with a strawberry-flavoured drink. Both sides are stuffed with yummy tapioca pearls and are topped with a mountain of cream. This cute drink sees the perfect opportunity to get closer to your partner. 

The second collaboration treat is the Tai Parfait Tapi which is stuffed with strawberries and tapioca pearls. The adorable tai fish is made from sweet dough – and it has cute eyelashes too. The fish's enormously wide mouth can be seen chomping down on the delicious dessert. 

Enjoy a romantic bubble tea and make sure to check out FUKI's love song LOVE and CRY, which is based on a true story. The song is currently available on a number of digital music services. 

Teen girls full of love problems find FUKI'S songs highly relatable. As Yokohama World Porters will be lit up for Christmas, you just can't miss FUKI's performance on December 25.

Information

LOVE and CRY / FUKI

Digital Release: November 11, 2019

Link: https://jvcmusic.lnk.to/loveandcry

Tai Parfait Cafe

Selling Until: December 25, 2020

Location: Tai Parfait Cafe, Yokohama World Porters (Floor 5) 

Address:  2 Chome-2-1 Shinko, Naka Ward, Yokohama, Kanagawa 

Opening Hours: 11:00 ー 22:00

Christmas Free Live Gig

Event Name: FANTASTIC CHRISTMAS

Dates: November 8 ー December 25

FUKI's Performance Date: December 25

Times: 14:00 ー 14:30 and 16:00 ー 16:30 (Stage 2)

Location:Yokohama World Porters Kishamichi Promenade, 2nd Floor Stage 

Price: Free

BTS Characters BT21 Themed Cosmetics Releasing at LINE FRIENDS Flagship Store in Harajuku

BT21 are the characters created by South Korean boy band BTS for messaging apps like LINE and Facebook. If you're part of the BTS Army you won't want to miss the new BT21 cosmetic collection set to hit shelves at the LINE FRIENDS Flagship Store in Harajuku and online shop tomorrow (July 13).

VT Art in Stick Concealer: ¥1,650 Each

21 Light Beige / 22 Medium Beige / 23 Natural Beige / Contour

VT Art in Stick Foundation: ¥2,750 Each

18 Pure Beige / 21 Light Beige / 22 Medium Beige / 23 Natural Beige

VT Art in Multi Eyeshadow: ¥2,200 Each

01 Original Brown / 02 Peach Brown / 03 Snow Rose / 04 Beige Gold

VT Art in Lip Palette: ¥3,300

Lipstick Special 01 Pink Fantasy: ¥1,650

Lipstick Special 02 Orange Rocket: ¥1,650

There are plenty of other must-get items for fans too so be sure to pay a visit to the LINE FRIENDS Store when shopping in Harajuku.

*Above-listed prices are pre-tax

Information

BT21 Original Cosmetic Series

Released: July 13, 2019

Available: LINE FRIENDS Flagship Store in Harajuku and LINE FRIENDS Official Online Store

LINE FRIENDS Flagship Store Harajuku

Address: Harajuku Zero Gate, 4-31-12, Shibuya, Tokyo

Business Hours: 11:00-21:00 (No Fixed Holidays)

TEL:  03-5785-3001

BT21 Official Website: https://www.bt21.com/about

BROWN & FRIENDS and BT21 Beach Themed Merchandise Releases at LINE Store in Harajuku

A lone-up of beach-themed merchandise released at the LINE flagship store in Harajuku on June 22 featuring a set of familiar faces including BROWN & FRIENDS and BT21.

Big Towel: ¥3,780 (Tax Included)

Face Towel: ¥1,512 (Tax Included)

Mini Towel: ¥735 (Tax Included)

From the BROWN & FRIENDS range comes big towels and face towels featuring Brown and Cony donning swimsuits. The towels being sold in Japan are made by Imabari, a leading company in the towel industry and a representative of Japanese quality. They are super soft and have good water absorbency.

BROWN & FRIENDS Fan: ¥324 (Tax Included)

BT21 Fan: ¥648 (Tax Included)

BT21 fans will want to get their hands on the BT21 to cool themselves down this summer. The fan features the BT21 characters lined up on the beach wearing shorts and dancing in unison. There are several other fans too, including one of the BT21 characters wearing rubber rings, as well as ones of individual BROWN & FRIENDS characters.

Electric Fans

BROWN & FRIENDS, BT21 and Usamaru snacks will be released on July 5 including fruit drops, biscuits, cakes and more which make as perfect gifts to friends and family.

Information

"Enjoy Summer" Products

Released: June 22, 2019

Available: At LINE FRIENDS Flagship Store in Harajuku / LINE FRIENDS Online Store

LINE FRIENDS Flagship Store in Harajuku

Opening Hours: 11:00-21:00 (No Fixed Holidays)

Address: 4-31-12 Jingumae, Shibuya, Tokyo

TEL: 03-5785-3001

Challenge your virtual cooking skills! Messaging app LINE launches cute cooking game "LINE Chef" worldwide!

Japanese messaging app LINE has released a new cooking game in its LINE GAME service titled LINE Chef. The game was released worldwide.

In LINE Chef, you transform into famous LINE friends character Brown and as the chef, can enjoy cooking up a variety of delicious meals. At the moment, there are only three dishes you can make; pancakes, omelette rice and a hamburger. As the game develops, more dishes will be added! Starting with Japan, advanced registration to play the game opened on 8th April 2019 and since, many people seized the opportunity to challenge their virtual cooking skills. The game became officially playable from 21st May.

All those who registered in advance will be rewarded with numerous special gifts! This includes 500 coins to spend on anything in LINE chef, a non-stick coating for your pan to prevent burning, 10 rubies and the buddy Takotako!

※ These bonus items will only be given to players who registered in advance for the game as long as they log into the game within two weeks. These will be presented to players on a first-come-first-served basis.

That's not all! To commemorate the release of the game, LINE is running an invite-your-friends campaign! The more friends you invite, the more luxurious your bonus reward!

Cook up a whole load of fun with LINE Chef!

© LINE Studio

Information

Invite Your Friends Campaign

1 Friend: 1 Heart
10 Friends: 500 Coins
20 Friends: Burn-Resistance Coating + 5 Lottery Tickets
30 Friends: 5 Rubies + 5 Lottery Tickets
50 Friends: Buddy "Charo (A Type)"

LINE Chef Official Website: https://chef.game.line.me/ja/

LINE FRIENDS STORE pop up shop opens in Osaka featuring BT21 goods and much more!

For the first time ever, LINE Friends Japan is collaborating with the three character brands BROWN & FRIENDS, BT21 and LINE Creators Market for a massive pop up shop event to take place all under one roof! The lineup of goods includes approximately 2,000 products, making it the biggest pop up shop event in history! The shop will be open only for a limited period from Weds 24/04 to Mon 27/05 at Daimaru Shinsaibashi, Osaka. This gathering of approximately 2,000 products is rather overwhelming!

Famous global Korean boyband BTS collaborated with LINE FRIENDS CREATORS to produce the characters BT21, which is massively popular among the millennial generation. There are products here available for advanced sale! There is a total of 18 varieties of shirts as well as stationery, miscellaneous goods and much more! There is also an original photo spot where you can take a photo with your favourite character from BROWN & FRIENDS, BT21 or LINE Creators Market!

There are just so many LINE FRIENDS character goods here so pop by and find your favourite characters!

Information

LINE FRIENDS POP UP SHOP Daimaru Shinsaibashi store

Address: Daimaru Shinsaibashi, Kitakan 14th floor Event Hall,  (1 Chome-7-1 Shinsaibashisuji, Chuo Ward, Osaka)

Open: Weds 24/04 ー Mon 27/05 2019

Opening hours: 10 am ー 8:30 pm

※ Open until 6 pm on the last day.

Official website: https://www.linefriends.com/?lang=jp

BTS Manga 'SAVE ME' Exhibition Arrives at LINE FRIENDS STORE Harajuku

March 17 marked one year since the LINE FRIENDS Flagship Store in Harajuku opened. To celebrate, the shop is holding an exhibition themed on SAVE ME, the official webtoon from South Korean boy band BTS, from March 22 to April 18.

The comic was developed by NAVER WEBTOON Corporation―a service that published original webtoons from around the world―and BTS's management company Big Hit Entertainment. It is available to read in South Korea, the US, China, Taiwan, Thailand and Indonesia as well as Japan where it is viewable via LINE only.

BT21 Drawing Tote Bag: ¥2,160

BT21 Soft Nesoberi Bag Plush Toy Charm: ¥1,404

New BT21 merchandise will also be sold for BT21 Week which is running from March 22 to March 31. During this time, fans who spend over ¥3,000 (tax included) will receive an original 1-year anniversary sticker.

Information

BTS Universe Webtoon 'SAVE ME Pt.0' Exhibition

Running: March 22, 2019 – April 18, 2019

Location: LINE FRIENDS STORE Floor 3F

LINE FRIENDS Flagship Store Harajuku

Address: Harajuku Zero Gate, 4-31-12, Shibuya, Tokyo

Business Hours: 11:00-21:00 (No Fixed Holidays)

TEL:  03-5785-3001

Website: https://www.linefriends.jp

LINE FRIENDS Store Harajuku Celebrates 1st Anniversary With Exclusive Merchandise

The LINE FRIENDS Flagship Store in Harajuku will turn 1-years-old on March 17, 2019. To celebrate, the store will hold a commemorative event titled "1st Anniversary SPECIAL THANKS" from March 15 to 31.

The store is well-known for its BT21 collection―a collaboration between South Korean boy band BTS and LINE FRIENDS―but for this anniversary event, it is teaming up with Japanese tableware brand KINTO and French stationery brand RHODIA to release a line of exclusive items which will be available both in-store and on the LINE FRIENDS website. They will discontinue once the entire stock has sold out.

Mug: ¥1,296 (Tax Included)

Double Wall Glass: ¥1,620 (Tax Included)

The KINTO collaboration consists of 6 items, exclusive to Japan, which feature cute Brown and Sally designs.

Brown Multi Case Set / Sally Multi Case Set: ¥4,320 Each (Tax Included)

The RHODIA multi case sets also feature Brown and Sally designs. These will be sold in South Korea and Hong Kong too but Japan gets a pre-release. Each set contains a selection of stylish stationery.

An anniversary campaign will also be carried out during the event. People will be gifted original sticker sets of Brown, Cony, Usamaru and BT21. A lottery will also be held where you can win popular merchandise.

Information

1st Anniversary SPECIAL THANKS Campaign

1st Campaign: March 15, 2019 – March 21, 2019 (BROWN & FRIENDS and Usamaru Week)

2nd Campaign: March 22, 2019 – March 31, 2019 (BT21 Week)

LINE FRIENDS Flagship Store Harajuku

Address: Harajuku Zero Gate, 4-31-12, Shibuya, Tokyo

Business Hours: 11:00-21:00 (No Fixed Holidays)

TEL:  03-5785-3001

Website: https://www.linefriends.jp

Visiting the LINE FRIENDS Flagship Store in Harajuku―BT21, Usamaru Merchandise & More

Hey, MOSHI MOSHI NIPPON readers. It's Midori again from the MMN editorial team.

LINE is a messaging app used around the world, but especially in Japan where it is as ubiquitous as WhatsApp is in the West. It's popular for its wide range of character stickers, many of which have earned such a reputation as to spawn merchandise lines.

In Harajuku there is a shop dedicated to these very characters: the LINE FRIENDS Flagship Store. It's packed with customers every single day. I went to visit for the very first time and see what all the fuss is about.

The store is located along Meiji-Dori Street, just a five-minute walk from Harajuku Station's Omotesando Exit.

You'll spot it right away from the LINE FRIENDS characters waiting for you at the window!

It's opposite H&M.

It's fairly large-looking, isn't it? Upon entering I was met by a huge Brown, a popular bear character on LINE.

This huge and fluffy Mega Brown is so popular it's not uncommon to see people lining up to take a photo with him. He's so cute I understood why people line up for a picture!

At the store you can buy merchandise for familiar LINE characters like Brown & Friends, super popular faces created by users in the Creators Market like Usamaru, items from the BT21 character brand―a collaboration between K-Pop group BTS and LINE FRIENDS―and more.

The BT21 range is on the third floor.

The BT21 characters were created by the BTS members themselves. At this Harajuku branch of the LINE FRIENDS Store there is an exhibition of original sketches by the members as well as details on their characters and more.

It's also a big screen showing the characters being made. This is an irresistible area for both BTS and BT21 fans!

There's even statues of the characters on display. They're all cute so you just want to take photos of them all! The characters are even up the stairs – there were people taking photos of them while walking up.

Back down on the second floor are lots of items of characters designed by Creators.

Usamaru (above) was there to meet me. So cute!

There's even merchandise exclusive to the Harajuku branch which would make for perfect gifts. But all the items are so cute I want to keep and use them myself.

And the list just goes on. There's so much to choose from I just want everything!

There's also items made in collaboration with the Helvetica font. It's really stylish and would be great for guys or for using in the office!

There was BT21 merch on the second floor too.

Fans of the original Brown & Friends posse can rejoice in knowing that there are plenty of items from them too, all of which can't be bought at any other souvenir shops.

Not only are there decorative pieces but practical things you can incorporate into your daily life too like plates, cups, containers and more.

Brown & Friends, BT21 and other characters can be found on the first floor as well.

Japan-inspired goods too like the above daruma doll plushies.

These are Hasami ware mamezara dishes. This fusion of traditional and modern Japan is really stylistic.

Gashapon capsule toy machines can be found next to the till area, so if you're standing there in the store thinking to yourself, "Well, I've accumulated a bunch of coins during my Harajuku trip, so…" then try your luck.

The highlights of the LINE FRIENDS Flagship Store in Harajuku are its great line-up of items and cute interior design and decor. Their stock of daily necessities are adorable too, some of which can't be found with other regular character products. Pick and surround yourself with your favourites to use each day!

Whether as a gift from Harajuku or Japan everything can easily be made use of. You'll find lots of cute character statues too in addition to the Mega Brown so shopping there is incredibly fun.

Whether you're visiting Harajuku for the first time for spring break or making a long-awaited return, be sure to visit the LINE FRIENDS Flagship Store where time flies by in an instant.

Information

LINE FRIENDS Flagship Store Harajuku

Address: Harajuku Zero Gate, 4-31-12, Shibuya, Tokyo

Business Hours: 11:00-21:00 (No Fixed Holidays)

TEL:  03-5785-3001

Website: https://www.linefriends.jp

A NEW range of fast-charge wireless chargers have been released as part of the LINE FRIENDS Jungle Brown series.

There are three different cute variations of the wireless pads to choose from, each featuring the lovable Brown from the LINE messenger app stamps in different animal costumes. The chargers are Qi compatible so will charge phones simply by placing them on top of the pads.

They may be cute on the face of it, but these are authentic chargers that will quickly power up both iPhone and Android devices. Each one is made from silicone so they don't slip easily. Thorough testing has been carried for effects to the human body as well as high temperature and humidity so as to ensure a safe product. They are Qi certified so can be used without worry. They also come with a long and handy 1 meter USB-C cable.

Get your hands on one of these cute and high quality chargers for yourself.

Information

Jungle Brown Fast Charge Wireless Charger Pads

Price: ¥4,000 (Pre-Tax)

Colours: Dino Brown / Piggy Brown / G. Brown

Product Page: http://www.mycaseshop.jp/lf43025/

LINE Sticker Character Usamaru Collaborates With 'Yukimi Daifuku Cookies & Cream' Ice Cream

Lotte will release the popular cookies and cream flavour in its Yukimi Daifuku ice cream line on September 17. The company is teaming up with the LINE sticker character Usamaru for the product this year.

Usamaru is a very popular rabbit character on the Japanese messaging app LINE who was created by illustrator sakumaru. The cute and surreal bunny is especially with teenagers up to people in their 30s in Japan.

Yukimi Daifuku Cookies & Cream are soft mochi-wrapped dollops of vanilla ice cream containing chocolate cookies. The flavour of the cookies have been made even richer this time around.

There are 5 very cute Usamaru packaging designs to look out for each with small differences. Lotte are also holding a Yukimi Daifuku x Usamaru campaign where you can get your hands on an original clear file. Full details can be found on their website.

Enjoy this cute and delicious collaboration with Usamaru.

■Information

Yukimi Daifuku Cookies & Cream
Available: Everywhere in Japan

On Sale: September 17, 2018

RRP: ¥130 (Pre-Tax)

Lotte Official Website: https://www.lotte.co.jp/

Yukimi Daifuku x Usamaru Original Clear File Present Campaign
Running: From September 17, 2018 (*Select shops not stocking)
Conditions: Purchase two Yukimi Daifuku Personal (47ml x 2) or one Yukimi Daifuku Multi (30ml x 9) to receive a free clear file
Product: Obtainable with all Yukimi Daifuku products
Present: A4 Original Clear File (Yukimi Daifuku x Usamaru)

LINE have released two new Minion models in their Clova Friends smart speaker range on August 21: "Clova Friends (MINIONS Kevin" and "Clova Friends mini (MINIONS Bob). They also released the Clova Friends Dock which comes with a remote control and is compatible with both Clova Friends and Clova Friends mini.

Clova Friends is a series of cute smart speakers modelled on popular characters such as those in the LINE FRIENDS gang like Brown the bear and Sally the chick.

The speakers are equipped with the AI assistant Clova which, similar to the Amazon Echo, is voice controlled and can update you not only on the news and weather but can play music and tell you fortunes too.

They have been on sale since December last year and make it feel as if you're really talking to the characters. They can be enjoyed together with friends and family too.

The newest entry to the character range include the popular Minions from the hit animated movie franchise Despicable Me.

The two types include the taller Clova Friends Kevin and the shorter Clova Friends mini Bob who has two different eye colours.

You can converse with the Minions using their language with words like "Banana" and "Bello." You can also say things to them in Japanese like kawaii ne ("Aren't you cute?"), suki da yo ("I like you") and tsukareta ("I'm tired") and they will give a wide range of different reactions. You can also make requests like asking them to do a sum or sing a song.

The models are also customizable and come with different stickers to change their facial expressions.

The Clova Friends Dock was also released alongside the two models which is compatible with your TV, house lights and air conditioning. Make your life easier by simply giviving a command like "Hey, Clover, turn off the TV" (Nee Clova, terebi o keshite).

There are also future plans to increase the number of compatible electronic devices.

■Information Clova Friends (MINIONS Kevin)

Available: LINE Clova website and Rakuten Books

Price: ¥8,640 (Tax Included)

Clova Friends mini (MINIONS Bob)

Available: LINE Clova website, Rakuten Books and select electronic stores

Price: ¥5,400 (Tax Included)Sales location details:

https://clova.line.me/where-to-buy/

Clova Friends (MINIONS Kevin)×Clova Friends mini (MINIONS Bob) Set
Available: LINE Clova website and Rakuten Books

Price: ¥9,900 (Tax Included)

Clova Friends Dock
Available: LINE Clova website and select electronic stores

Price: ¥3,780 (Tax Included)

Clova Friends×Clova Friends Dock Set
Available: LINE Clova website and select electronic stores

Price: ¥11,330 (Tax Included)
*The "Clova Friends (MINIONS Kevin)" and "Clova Friends Dock" set is available on the LINE Clova official website or Rakuen Books only.

Clova Friends mini×Clova Friends Dock Set
Available: LINE Clova website and select electronic stores

Price: ¥8,370 (Tax Included)

Clova Friends Minions Official Page: https://clova.line.me/clova-friends/minions/

LINE Clova Official Website: https://clova.line.me/

™&©Universal Studios

LINE FRIENDS Store Re-Opens at Harajuku Zero Gate

LINE is a communication app popular in Japan and other countries, similar to WhatsApp.

The flagship LINE FRIENDS character merchandise stores has just re-opened in Harajuku Zero Gate.

There are currently 100 LINE FRIENDS stores open worldwide, stocking merchandise from popular LINE stamp characters such as Brown, Choco and Cony.

There's a huge selection of items available in-store from stationery to plush toys, tableware made in collaboration with world famous brands, snacks and candy only available at the stores, and much more.

Upon arriving at LINE FRIENDS, you'll also be greeted by a giant plush of Brown the bear.

Head to LINE FRIENDS and get your hands on some super cute merch!

■Information

LINE FRIENDS Flagship Store in Harajuku

Address: 4-31-12 Shibuya, Tokyo

Opening Hours: 11:00-21:00

No Fixed Holidays.

TEL: 03-4360-9069

Website: https://www.linefriends.com/?lang=en