Mecha-Ude Animation Project Gets Full Anime and Manga Series
Sae Okamoto's Mecha-Ude project has attracted worldwide attention, and now, a full anime and manga series have been announced! Okamoto's up-and-coming anime production company TriF Studio, located in Fukuoka, will work on the series, which follows Hikaru, a normal student, and Alma, a Mecha-Ude wielder who can be activated when he bonds with a human. 
Yoshino Koyoka has also started publishing a manga adaptation of the series on LINE Manga and other ebookjapan services. Three free chapters were published on September 15, and the series will run bi-weekly. TriF Studio will supervise and provide the story.
A documentary video teasing the anime series and giving more information about TriF Studio has also been uploaded to YouTube. The video shows that the pilot's theme song was written by Eve with a music video produced by Masayoshi Oishi. Hiroshi Matsuyama, the CEO of CyberConnect2, serves as the general supervisor of the series. Terumi Nishii, the chief animation director for the popular series Jujutsu Kaisen, worked on character designs for Mecha-Ude. 
The average staff age at TriF is 25, which is incredibly young for an animation studio. What can we expect from such a unique collection of creators? 
Be sure to keep an eye on this new anime and manga project!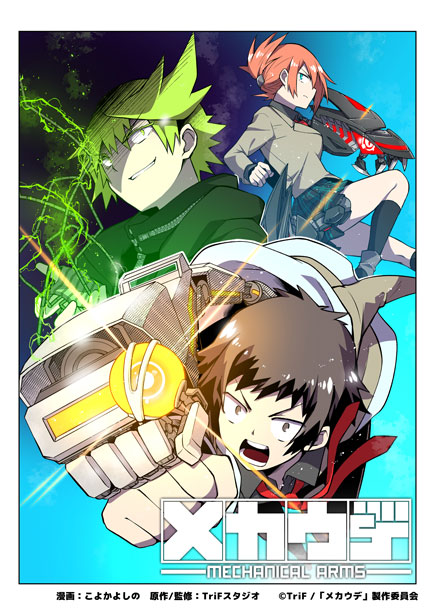 (C)TriF/「メカウデ」製作委員会
RELATED ENTRIES
Idol Group Cho Tokimeki Sendenbu to Perform Ending Theme for Shadowverse Flame Anime Series

On November 9, 2022, idol group Cho Tokimeki Sendenbu will release their new single STAR, which will be used as the ending theme for the anime series Shadowverse Flame. The second series to be inspired by Cygame's card-battling game Shadowverse, Shadowverse Flame follows Light Tenryu, a Shadowverse newbie, as he and his friends fight card battles and level up. Produced by ZEXCS and directed by Keiichiro Kawaguchi, the series began broadcasting Saturdays at 10:00 AM this April. 

 

The ending theme, STAR, is a cheery song meant to encourage listeners to chase after their dreams. On October 22, the idol group Cho Tokimeki Sendenbu will hold its largest solo concert ever at Makuhari Messe. 

In a surprise video posted on Cho Tokimeki Sendenbu's social media, the girls announced that they would perform the ending song. All of the members seem overjoyed to be performing a song for an anime series, something they've never done before. Aki Suda is so happy, she starts crying tears of joy.

 

STAR is available to stream now, and fans will be able to purchase a limited-edition disc version at the mu-mo shop. This special release will include the STAR music video, the making of the song, and live footage from the group's concert held in May 2022.

Enako and P Maru-Sama Collaborate on Onimai: I'm Now Your Sister! Anime Opening Theme

The popular manga series Onimai: I'm Now Your Sister!, currently serialized in Monthly Comic Rex, will be adapted into an anime series in 2023. Nekotofu's series has sold over 500,000 copies since 2019.

The comedy follows Mahiro Oyama, an otaku living with his younger sister Mihari, a scientist. One day, he wakes up in the body of a young girl as a result of Mihari's experiments. Learning to live as a middle school girl, the series is full of hilarity and nonsense and is sure to adapt well to the small screen. The manga series ranked fifth in Da Vinci's Next Manga Award 2018 in the web manga category and ranked ninth in the Web Manga Overall Election 2019. It also ranked third in AnimeJapan's Manga We Want to See Animated Ranking in 2020.

Multi-genre entertainer P Maru-sama and cosplayer Enako are teaming up to perform the anime's theme song Identeitei Meltdown. Enako has been featured on 70 magazine covers and won the 2022 Cover Girl Award, while P Maru-sama has received an incredible 1.9 billion video views on his YouTube channel. 

Marika Kono, Kaori Ishihara, Hisako Kanemoto, and Minami Tsuda–the four main voice actresses–will sing the ending theme, Himegoto, under the group name Onimai Sisters.

The opening and ending theme CDs will be released simultaneously on February 15, 2023. Will you be watching the series next year?

Comment from Enako

"I'll be working with P Maru-sama to create the opening theme for the anime series Onimai: I'm Now Your Sister!

Identeitei Meltdown is an absolutely adorable and speedy duet, and I hope that this peppy track makes people super excited for the series!

Be sure to watch Onimai along with me!"

Comment from P Maru-sama

"I'm so thankful to be asked to participate in the Onimai opening theme! 

This song is super cute and super energetic, and I'm so happy I could sing with Enako herself! I'm looking forward to watching the anime! Hooray!!!"

©ねことうふ・一迅社/「おにまい」製作委員会

Information

Identeitei Meltdown

Release Date: February 15, 2023

Official Anime Site: https://onimai.jp

Romantic Killer Anime Series to Air on Netflix This October

The anime adaptation of the Romantic Killer manga series will begin streaming on Netflix worldwide on October 27, 2022. The series follows Anzu Hoshino, played by Rie Takahashi, a high school girl who just wants to play video games and who doesn't care about fashion or love. A wizard named Riri, played by Mikako Komatsu, suddenly appears to force Anzu to fall in love. 

Anzu then meets three handsome guys: Tsukasa Kazuki, the most handsome guy at school, Junta Hayami, a baseball ace and Anzu's childhood friend, and Hijiri Koganei, a rich dreamboat. Check out the trailer for the upcoming series below.




 


Official Goods

In the new trailer, we see the three men approaching Anzu, who declares her lack of interest in dating and romance. At first glance, the series seems like a simple genderswap of typical shojo tropes, but Romantic Killer offers more than that, with more hilarious secrets in store for viewers. Will Anzu be able to regain her lazy life, or will she really find herself smitten by one of these suitable bachelors?

When Riri tries to force Anzu into a romantic relationship, things don't go smoothly. The first person Anzu meets is Tsukasa, played by Yuichiro Umehara, who is fed up with love after being pursued by countless girls since he was young.

Next, she meets Junta Hayami, a star baseball ace and childhood friend played by Gakuto Kajiwara.

Finally, Anzu meets Hijiri Koganei, a wealthy scion who thinks that every woman is in love with him. Fans will recognize his voice actor as Natsuki Hanae, who previously played Tanjiro Kamado in Demon Slayer.


Other voice talents appearing in the series include Kenjiro Tsuda as Tsuchiya, Hijiri's butler, Manaka Iwami as Saki, Anzu's best friend, and Hiro Shimono as Manato, Tsukasa's closest buddy.

The ending theme is titled Romantic Love ~Won't You Fall in Love?☆~, and is performed by Riri's voice actress Mikako Komatsu.

Be sure to tune in to this slapstick romantic comedy next month!

(C) 百世渡/集英社 (C)Netflix

Voice Actor Music Hero Project PRELUDERS Releases Music Video for 'Horizon Climber'

On August 31, 2022, the voice actor, hero, and music project PRELUDERS released the album By Your Side. Now, the music video for the song Horizon Climber by High Five has been released, and it's absolutely gorgeous!

High Five is a group led by Asuka Morito (Junya Enoki), and Horizon Climber is a song filled with hope. Young people are encouraged to listen to imagine the kind of hero they'd like to become!

Horizon Climber Music Video

The music video for Horizon Climber depicts the fifth and final chapter of the voice drama Koubou (Beam of Light), in which the members of High Five and S-quad finally confront the two members of Vice Versa, voiced by Atsushi Tamaru and Shintaro Asanuma. The battle is ready to start, with Asuka (Junya Enoki) and Ko Kujikami (Yuma Uchida) taking on those who would threaten their friends. Be sure to keep an eye out for more from this exciting project!

 

Be sure to give this gorgeous video a watch!

(C)PRELUDERS

Netflix Anime Series 'Exception' Unveils Cast, Composer

The new Netflix anime series Exception is scheduled to air worldwide on October 13, 2022. The space horror is based on a new story by novelist and film director Hirotaka Adachi (Otsuichi), with character designs by Yoshitaka Amano, known for his work on the Final Fantasy series.

The score for the anime will be composed by Ryuichi Sakamoto, while the cast includes Chikahiro Kobayashi, Takahiro Sakurai, Yuko Kaida, Takanori Hoshino, and Atsumi Tanezaki. The trailer and key visuals promise plenty of mystery and terror, and viewers can expect a one-of-a-kind story and curious worldview.

The story takes place in the far future. Humans have been driven from Earth, forced to move to another galaxy. Members of an advanced scouting team are sent to search for a planet suitable for terraforming. This team is created through a biological 3D printer, while their original counterparts are kept in cryo-sleep.

The series will follow these copies as they seek to complete their mission, but the darkness of space promises some terrifying moments. A glitch in the system causes one of the crew members, Lewis (Chikahiro Kobayashi), to be printed in a deformed state.

The four other members of the team–Mac (Takahiro Sakurai), Nina (Yuko Kaida), Oscar (Takanori Hoshino), and Patty (Atsumi Tanezaki) are attacked by this monster, and the countdown to the end of the mission begins. Where is there to run in space?

The trailer shows a terrifying copy of Lewis running through the ship attacking the crew, though also shows a glimpse of his mentality leaking through as he utters the word "misprint." This won't be a series to watch alone in the dark.

Some humans are ruthless, claiming that the copy isn't at all human and killing it is the only option. Others say that killing isn't the right thing to do and that there must be a way to help the misprinted being. 


Is this deformed version of Lewis human? What does it mean to be alive? What is a human being? This anime series asks some seriously heavy questions, and you won't want to miss it.

Composer Ryuichi Sakamoto shared his thoughts on how he came to work on the series. "I chose to participate after reading the script. I love sci-fi, and I knew I wanted to see this come to life. In today's world, cloning and genetic manipulation technology continue to advance, but that leads to questions about the meaning of life and what it means to be human. This series deals with those questions head-on."


"I wanted the main theme to be symphonic like you'd hear in other sci-fi films like Star Wars," he said. "As a whole, I tried to make the soundtrack more dark and ambient. Not scene by scene, but as one giant piece. That said, I did include some intense sounds for the battle scenes. This is a soundtrack I truly love."

Yuzo Sato (Transformers: Titans Return) is directing the series, while Bakken Record and 5 Inc. are producing the series.

Featuring a star-studded cast and incredible direction, screenwriting, character design, and music, this space horror anime series isn't one to miss.

Photo by zakkubalan (C) 2020 Kab Inc.

Long-Awaited Cosmetic Line from Anime Brand 'badmood' Now Available

Fashion brand badmood, a line of goods inspired by the anime BAD MOOD, has released its first cosmetic line! The anime itself was written by Fukase from SEKAI NO OWARI, who also designed the characters. Four products are available–a shadow palette, gel eyeliner, color change lip balm, and bright sun cream. Products are available at the CREE'MARE online store, 9 CREE'MARE by DHOLIC stores, and the DHOLIC Lumine Omiya store. 

badmood Shadow Palette

・Easily-portable eyeshadow palette with 4 colors

・Comes in two textures: Powder and Jelly

・Dense color offers complete coverage, even when applied with fingertips

・Orange-Brown: ¥2,600 (Tax Included)

badmood Gel Eyeliner

・Creamy texture gently adheres to the eye area

・Sure to keep lines firmly in place without smearing

・Includes a pencil sharpener for thinning the tip

・01 Matte Black / 02 Chocolate Brown: ¥1,800 (Tax Included)

badmood Color Change Lip Balm

・Offers a bright pop of natural color when applied

・Moisturizing for those with dry lips

・Smooth and easy to use without leaving sticky residue

・01 Orange / 02 Grape: ¥2,000 (Tax Included)

badmood Bright Sun Cream

・Moist texture for easy application

・Easy to match to any skin tone

・SPF50+ sure to block harsh ultraviolet rays

・Skin Color: ¥2,600 (Tax Included)

Customers will also receive a badmood original tattoo sticker for each product purchased!

*Available while supplies last.

*Not available at Rakuten or Qoo10 Official Store.

Shonen Jump Series 'Undead Unluck' to Get Anime Adaptation in 2023

TMS Entertainment has announced that it will produce the anime adaptation of the popular Shonen Jump manga series Undead Unluck in 2023!

The series follows Fuuko, a girl desperate for a passionate romance like the ones she sees in her favorite manga. Due to her Unluck ability, that seems impossible–but one day, she's swept off her feet by Andy. As his unwilling test subject, she follows as Andy works to find a way to trigger a stroke of Unluck big enough to kill him for good. However, when the pair discovers a secret organization is hunting them, it puts Andy's burial plans on hold. Now, the exciting supernatural comedy series is making its way to the small screen!

The first teaser visual has been unveiled, showing Andy, a man with an immortal body, and Fuuko, a girl who brings bad luck to those she touches. 

The anime will be produced by both David Production (JoJo's Bizarre Adventure) and the TMS subsidiary UNLIMITED PRODUCE. 

Look forward to the Undead Unluck anime series next year!

©戸塚慶文/集英社・アンデッドアンラック製作委員会

Pancake Shop Butter Collaborates with LINE's 'Honesty Series' Sticker Set

The pancake specialty cafe Butter is collaborating with illustrator Yuu Itsuki from August 19 until September 4, 2022. Fans of Itsuki's adorable LINE Sticker series will recognize a few characters appearing in the many dishes popping up during the event. Along with a lineup of sweets, main dishes, and beverages available to enjoy at the store, some special collaboration macarons will be sold as a takeout-only item.

Friendly Fruit Buttermilk Pancakes

Kuma-chan's Shortcake Pancakes with Handmade Donuts

Kuma-chan's Sleepy Omu Curry

Lemonade

Blue Lagoon Lemonade

Exclusive Macaron Box (Take-out Only)

Order Bonus for Sweet and Main Dishes: Original Postcard and Pin

Drink Order Bonus: Pin

Come enjoy this sweet collaboration menu featuring Kuma-chan and his two best friends!

Raven of the Inner Palace Trailer Reveals October Air Date, Cast Details

The majestic Chinese fantasy tale Raven of the Inner Palace has sold over 1.2 copies since 2018. Written by Koko Shirakawa and illustrated by Ayuko, an anime series will premiere in October 2022. 

 

The first trailer and a new key visual for the series were revealed during a live-streamed special on August 20. It was also announced that Nobunaga Shimazaki would portray Onkei, while Nobuhiko Okamoto will play Tankai. 

Key Visual for Raven of the Inner Palace

Raven of the Inner Palace – Trailer #1

The series will begin airing on October 1, so be sure to tune in!

Cast Comments

Onkei Screencap

Nobunaga Shimazaki (Onkei)
A Eunuch in service of Koshun. He is in charge of escorting Jusetsu under the order of Sei Ei. 

"I'm Nobunaga Shimazaki, and I'll be playing Onkei.
While his eyes may give many the impression that he's rather cold, he's actually…well, you'll have to watch to find out.
I hope you'll watch how his humanity reveals itself as he meets and protects Jusetsu."

Tankai Screencap

Nobuhiko Okamoto (Tankai)
A Eunuch in service of Koshun. He's excellent at gathering information.

"I'm Nobuhiko Okamoto, and I play the role of Tankai.
Witchcraft and sorcery coexist with real history in this fantasy series.
Tankai may seem somewhat aloof, but beneath that, he is filled with kindness and incredible strength.
Look forward to being a part of this incredibly beautiful world."

Summary


Who is the mysterious Raven?

A series selling over 1.2 million copies.
The Chinese fantasy tale by Koko Shirakawa is about to come to life.

Uki, an imperial concubine, has never been called to the emperor's bedchambers, and maintains a singularly unique life within the harem chambers. 

Seen by some as having the appearance of an old woman, and some others as a young lady, she is known to use mysterious magic that helps with everything from finding lost items to inflicting curses. 

When a circumstance makes the emperor call on her, their meeting will change history.

Sacrificial Princess & the King of Beasts Anime Reveals Visual, Teaser Trailer

Yu Tomofuji's manga series Sacrificial Princess & the King of Beasts began serialization in Hakusensha's Hana to Yume magazine in 2015, coming to a close in 2020. A spinoff series began serialization on August 20, and more news about the upcoming anime adaptation has been unveiled. The series is scheduled to begin sometime in 2023. 


Teaser Trailer
https://youtu.be/xXGMz4KNymc

 

A gorgeous teaser from J.C. Staff shows off the adorable human girl Sariphi and the beastly king Leonhart. Fans can also hear the character's voices, with Sariphi being voiced by Kana Hanazawa and Leonhart portrayed by Satoshi Hino. Yuka Nukui has been chosen to play Cy, while Natsumi Fujiwara will play Clops.


The key visual shows the main characters in front of a lush tree found in the kingdom of Ozmargo, where the series is set.


Sacrificial Princess & the King of Beasts will be directed by Chiaki Kon. Seishi Minakami will be in charge of series composition, while Shinya Hasegawa will act as character designer. KOHTA YAMAMOTO will provide the music, while Jin Aketagawa will act as the sound director.

The series now has an official YouTube channel, and cast interviews will be posted in the near future. Be sure to follow!

Summary


A young girl named Sariphi has been chosen as the 99th sacrificial meal for the Beast King.
She is resigned to her fate and prepared for the horrifying ritual.
Only then does she learn the truth about Leonhart, the King everyone so fears.
Surprisingly, Sariphi is welcomed as his queen.

©友藤 結・白泉社/「贄姫と獣の王」製作委員会

'My Master Has No Tail' Anime Series Reveals Second Key Visual

A new visual for the upcoming anime series My Master Has No Tail has been revealed! The image features Mameda, the main character, as well as Bunko Daikokutei, Byakudanji Tsubaki, Enshi Kirino, Utaroku Ebisuya, Shirara Tsubaki, and Buncho Daikokutei.

The visual has a retro feel, fitting for the series. The story follows Mameda, a tanuki born in the wrong era. A rakugo master decides to make Mameda his apprentice. 

The series will begin airing on September 30, 2022, and more information will be released in the coming weeks.

2nd Trailer

My Master Has No Tail began as a manga series in 2019. Written and illustrated by TNSK, it's serialized in Kodansha's seinen magazine good! Afternoon. The anime will be directed by Hideyo Yamamoto, known for his work on Cells at Work and Strike the Blood.

ⒸTNSK・講談社/春来亭活動写真部

 

'Kiss xxxx Collectors Edition' Manga Release Celebrated with Collaboration Cafe

To celebrate the release of KISS xxxx Collector's Edition, the compilation of Maki Kusumoto's classic manga series, a collaboration cafe will be held at Ginza's Zikkai Library Bar from August 2 until September 28, 2022.

KISS xxxx, the second installment of the Kusumoto Maki Collection, a series of beloved editions of Maki Kusumoto's works published by Shogakukan Creative, includes illustrations that have never been included in the previous books, as well as spin-off works published or announced outside the serialized magazines, for a total of three volumes. An original postcard will also be included in each volume. 

KISS xxxx Collector's Edition Collaboration Menu

KISS xxxx Collectors Edition Volume 1 Cover

About KISS xxxx


Kameno and Kanon. These mysterious lovers live simple lives, and each day is standard. 

This landmark work tells an immortal love story, impacting a generation of readers. This reprint brings the story back to life in higher quality, so why not jump in?

Information

KISS xxxx Collectors Edition Volume 1 – Collaboration Cafe

Venue: Ginza's 'Zikkai' Library Bar

Running: August 2 – September 28, 2022

Official Site: https://www.zikkai.com/

KISS xxxx Collector's Edition <Maki Kusumoto Collection>
On Sale July 29, 2022 
https://www.shogakukan-cr.co.jp/book/b10012343.html


*Volume 2 will be released in late September 2022. Volume 3 will be released in late November 2022.