Felissimo neko-bu releases new black cat coat & docking dress ー Adorable, sophisticated and stylish! ♪
"Felissimo neko-bu" have released a new black cat coat, knitwear, cat-themed skirt and docking dress!
As well as being easy to wear, the basic shape of the black cat coat (kuroneko coat) allows it to look good on skirts and trousers! The coat resembles a cocoon silhouette coat, giving it a simple and not-too-sweet appearance. At a glance, you will notice the cat-patterned lining ♥ The coat also comes with a fluffy cat tippet to wrap around your neck!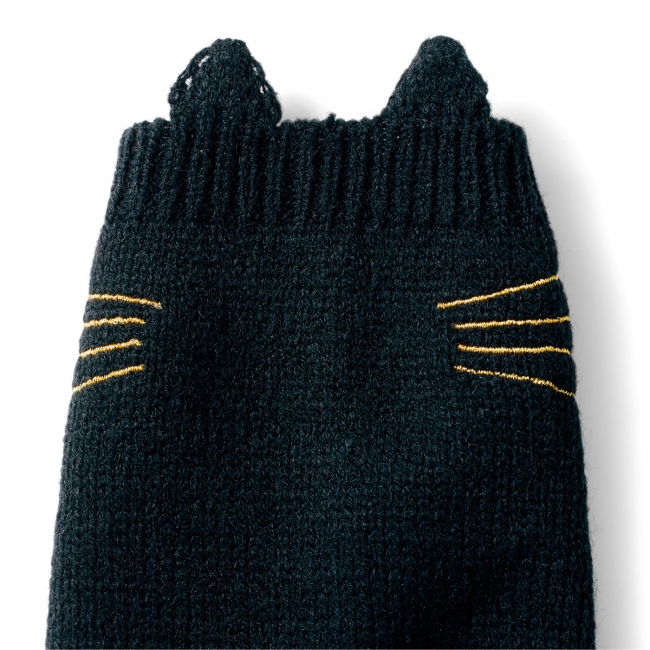 Chic knitwear for adults — a thick cat design jumper on top of a skirt put together to make a docking dress — one item of clothing with an exquisite design made to define perfection! This elegant outfit is decorated with a noble collar, and the cuffs are decorated with cat whiskers and ears! The top layer of the outfit can be removed and worn separately, which looks great in a casual setting!
The deadline to order these two items of clothing is Monday 5th December. Once ordered, the clothing will delivered from early November 〜 mid-December. A portion of the money will go towards organisations that support the protection and sheltering of animals without owners, actively search for owners, work towards the prevention of excess breeding of stray cats, and protect animals during times of disaster.
Enjoy the black cat style and become the cool, sophisticated woman with a hint of cute kitten!
 ■Information
 Deadline to order: Monday 5th December 2016
Shipping period: Early November 〜 mid-December
Fluffy cat fur tippet + coat : ¥16,900 ※
Black cat knit + cat patterned skirt (docking dress) : ¥5,900 ※
 ※ Prices without tax
Felissimo official site: http://www.felissimo.co.jp/
ーーー
■ Related article: Forget ghouls and ghosts and dress up as a cute "Kuroneko" for Halloween this year!
■ Related article: Winter 2016 Cat Punch Gloves from Felissimo come with adorable new details
RELATED ENTRIES
Kyoto Neko Neko: Cat Shaped Desserts and Pastries Served at Kyoto's New Bakery

ALL HEARTS COMPANY, a Japanese company that develops bakeries and patisseries across Japan, opened its new bakery and confectionery shop Kyoto Neko Neko in Shijo, Kyoto on June 1, 2020. There, they are serving cat-shaped pastries and desserts including Kyoto-exclusive products from their Neko Neko Bread brand and Neko Neko Cheesecake shop.

Kyoto Neko Neko Danish Bread: ¥1,200 (Before Tax)

This butter-loaded Danish pastry is folded into a braid shape and baked which keeps the pastry moist. It's topped with a sprinkling of sugar, leaving it glistening. It's recommended that you first try the pastry as it is—soft and moist. You can then try lighting toasting it which gives it a crispy texture and brings out the delicious aroma of the butter.

Products are packaged in a cute box making them a great gift idea.


Kyoto Neko Neko Cheesecake (On sale from mid-June 2020)

This cheesecake is made with Brie de Meaux cheese and is laced with black cocoa. The luxurious cheese combined with black soy beans and brown sugar syrup jelly makes for a marriage between Japanese and Western flavours. You get an extra layer of deliciousness too with a dusting of soy flour.

Kyoto Neko Neko Bread (Plain): ¥550 (Before Tax)

This Kyoto version of the Neko Neko Bread is still made without water, but rather than using only milk, Kyoto Neko Neko has added soy milk made using soy beans from a tofu shop in Kyoto, lending a smooth and rich flavour to the bread. And instead of mascarpone cheese, Kyoto Neko Neko uses soybean cream, and instead of dairy butter a soy cream butter.

Kyoto Neko Neko Bread (Houjicha): ¥680 (Before Tax)

Kyoto Neko Neko Bread (Matcha): ¥680 (Before Tax)

There's also a houjicha flavour made with houjicha tea and white chocolate, as well as a matcha flacvour combined with black soybean.

Information

Kyoto Neko Neko Shioji
Address: 578 Obiyamachi, Tachiuri Nakanocho, Shimogyo Ward, Kyoto
Grand Opening: June 1, 2020
Opening Hours: 10:30-18:00
No Fixed Holidays (Closed: New Year's Holidays)
TEL: 075-221-1001

Official Website: https://nekoshoku.jp/

Buy These Face Masks and Help Save Japan's Cats in the Process

Neco Republic launched online pre-orders of its new face masks, called "SAVE THE CAT MASK," via its website on May 6, 2020. Neco Republic is a company who pours efforts into helping save cats in Japan; they manage various businesses including the cat cafe Neco Republic which takes in rescue cats, NECOREPA/ which sells a variety of products and items with all proceeds going towards their efforts to taking in stray cats, Neco Ichi Neco Za which is a rescue cat event held in Japan, and more.

The "SAVE THE CAT MASK" series was launched for cat lovers and as a way to help cats in the process. The previous batch of these masks sold out in just two days.

High quality materials and skilful sewing, all made in Japan

SAVE THE CAT MASK – ¥1,980 for one / ¥9,900 for five

The masks are made from high quality natural cotton with all manufacturing carried out in Japan. They are sewed using a Japanese sewing method known as ayaori which ensures elasticity and makes it harder for the masks to wrinkle. The masks can also be washed repeatedly. Maintaining hygiene is of utmost important when it comes to face masks, and so these face masks are made so you can hand wash them lightly with detergent as well as put them in a net before putting them in the washing machine.

The masks are all sewn in Gifu Prefecture which is where Neco Republic is based.

Cute designs inspired by cats

There are five design variations of the masks each inspired by a different cat breed including calico, Russian Blue, tuxedo, white, and black. They are also shaped subtly like a cat which most likely won't be noticed by other people meaning you can express you love of cats secretly.

Save cats during the process

The masks aren't only for us humansーthey benefit our cats too. All proceeds from the masks will go towards Neco Republic's rescue cat cafe as well as be used for the company's efforts for helping rescue cats.

Information

Neco Republic's SAVE THE CAT MASK

Stylish Textile Face Masks Made in Japan to be Released by Q-pot.

Q-pot. released a new collection of textile style face masks from its "Made in Japan" apparel line Q-pot.Dress via its online shop on April 22, 2020.

The masks arrive in response to the serious shortage of masks in Japan for those who need them the most. The masks can also be washed repeatedly, and feature the same textile design seen in Q-pot.Dress's attire collections. The inside is made from cotton double gauze which feels comfortable on the skin.

Cloth Face Mask – ¥2,200 (Before Tax)

There are four designs in total: "Strawberry Field" with its nostalgic aesthetic, "Chocolate College" which features sweet and tempting chocolate across the whole front, "Honey Lemon" which gives sunshine vibes of early bring, and the green and girly "Patisserie Q-pot. Morning."

These masks can of course be used as a preventative measure against coronavirus, as well as for hay fever and for fashion too.

Information

Q-pot.Dress Cloth Masks

Order Window: Available from April 22, 2020 until stock sells out

Purchase:

Q-pot ONLINE SHOP (Available from 12:00pm, JST)

Q-pot. INTERNATIONAL ONLINE SHOP

お届け日:2020年5月中旬頃予定

*各デザイン、お一人様1点までとさせていただきます。

*生産の都合上、お届け時期は変更になる場合がございます。

*マスクは科学的に感染の予防効果は認められてはおりません。「感染(侵入)を完全に予防するものではない」という点を十分にご理解いただいた上で購入をご検討下さいますよう、宜しくお願いいたします。

Stay Home: 6 Fun Character Dessert Recipes to Try During the Lockdown

Here at MOSHI MOSHI NIPPON, we post news and information about Japan in six languages. Our aim is to deliver a variety of content related to Japan for those who love and enjoy Japanese culture.

Right now, people across the globe are in self-isolation as a result of the coronavirus pandemic. The same goes for Japan too, so we've taken this opportunity to create a new series on the website to show how we're spending time at home here in Japan.

The future is yet uncertain, and we hope for normality to return for all of us soon. We created a new articles series called Stay Home with which we hope to take your mind off the situation, even for just a little bit, to help you feel calmer. It might give you some tips on what you can do while spending time at home.

We have picked 6 character recipes from our popular Kaori's Easy Recipe series where Kaori shows us how to turn delicious desserts into cute characters.

1: Disney Tsum Tsum Chocolate Covered Cookies

Ingredients:

・Silicone cupcake case (6cm size used for this recipe)・White chocolate・Matcha chocolate・Marble chocolate・Chocolate plastic (also called "modelling chocolate")・Chocolate pen・Oreo cookies・Pink, yellow, blue and green food colouring

This is a super simple recipe which requires you to melt chocolate, put it in a cupcake case, let is set, and decorateーthat's it! This is a fun one to do together with your kids.

Full Recipe: https://www.moshimoshi-nippon.jp/215213

2: Pompompurin Pumpkin Tarts

Ingredients:

・12 Tart shells・150g Pumpkin (deseeded, skin taken off and made soft)・50ml Fresh cream (In this recipe I used soy milk)・20-30g Sugar (Depending on the sweetness of the pumpkin)・1 Egg yolk (small egg)・Sliced Chocolate・Tinned yellow peach

Soften some pumpkin in the microwave and add sugar, fresh cream, and egg yolk. Place into some store-bought tart shells, draw on faces, and you have yourself some adorable Pompompurin tarts.

Full Recipe: https://www.moshimoshi-nippon.jp/107177

3: Korilakkuma Coffee Jelly Parfait

Ingredients:

・Coffee Jelly・Chocolate Pens・Milk・Ice Cream

A super simple parfait made using store-bought coffee jelly. There's a bit of technical work that goes into making Korilakkuma's face, but Kaori shows you how to do it nice and easy.

Full Recipe: https://www.moshimoshi-nippon.jp/118421

4: Hello Kitty Fruit Sandwich

Ingredients:

・Sliced bread・Strawberries・Fresh cream・Sliced cheddar cheese・Chocolate sheets・Cutter

You'll never want to slice your bread any other way after following this recipe. Hello Kitty is topped with freshly sliced strawberries, fresh cream, and other delights.

Full Recipe: https://www.moshimoshi-nippon.jp/38348

5: Totoro Black Sesame Seed Pudding

Ingredients
・Black Sesame Purin Mix (purchased from Daiso)・Milk・Pura Chocolate (Swiss chocolate also fine)・Transparent Jar (Weck jar used)・Almonds・Fresh Cream・Fruits of your choice

Totoro's features are made with little chocolates and chocolate pens. Those are added to turn the entire glass into a cute Totoro pudding dessert♡

Full Recipe: https://www.moshimoshi-nippon.jp/120542

6: Mickey & Minnie Mouse Cookie Cupcakes

Ingredients (Makes 6 cupcakes measured 7cm):
・2 medium eggs (40g egg yolk/60g egg white)・60g granulated sugar・2tsp vegetable oil・1-2tsp lemon juice・45g weak flour

The recipe shows you how to make the actual cupcake, but store-bought ones work too. The Mickey and Minnie decorations are made from Oreos and marble chocolate.

Full Recipe: https://www.moshimoshi-nippon.jp/292614

Bring the cafe experience to your own home with one of Kaori's easy recipes. See more of her recipes here: Kaori's Easy Recipe

Kaori Kubota (@kaopan27)
I live in Hokkaido and I love to make character themed foods, desserts and pastries♡

I want to see my family smile, so I enjoy putting in a bit of effort to make character foods and changing food into something cute♡

You can see more of my character foods and character bento boxes on my Instagram page→@kaopan27

These Breathtaking Doughnuts Will Turn Your Home Into an Authentic Cafe Experience

With most of us cooped up indoors, that desire to go and relax in a cafe with some coffee and cake just keeps on growing. "gmgm," a doughnut shop in Koenji, Tokyo that specialises in "flower doughnuts," is very aware of this, and so they opened an online shop on Saturday to allow for people to enjoy that authentic cafe experience from their own home.

gmgm, the flower doughnut shop

Nana Yui, an artist of dried flower art, opened gmgm in June 2019 as the sister store to HANABAR, a bar in Ikebukuro, Tokyo where drinks are served topped with beautiful dried flower art. At gmgm, the beautiful flower art combines harmoniously with the antique furniture and decor. It's a popular doughnut shop whose doughnuts are beautiful enough to be given as gifts.

Earl Grey x Rose: ¥500

Cream Cheese Strawberry x Safflower: ¥500

The doughnuts gmgm is offering to ship out on their website include their five regular doughnut flavours and some limited-time flavours, all of which are nothing short of cute works of art.

Customers who order on the shop by April 30 will also receive a free dried flower and a tea turns blue. Those who order more than 8 will receive that plus a pressed viola flower you can eat.

You can also make ice cubes with flowers in them and set your table like in the cafe's photos for a really luxurious tea time!

Information

gmgm

Address: 3-60-10 Koenjiminami, Suginami, Tokyo

Opening Hours: [Weekdays] 14:00-20:00 / [Weekends & Public Holidays] 12:00-20:00

Closed: Mondays
TEL: 03-6877-0537

Official Website: https://www.gmgm.info

Tadanori Yokoo Releases Art Book Collection of His Late Beloved Cat Tama

Since his cat Tama passed away in 2014, Japanese graphic designer and illustrator Tadanori Yokoo has drawn 91 pieces of his beloved feline companion. Those pieces have been compiled into a new art book entitled Tama, Kaetteoide ("Come Home, Tama").

Tama was a famous cat amongst fans of Tadanori Yokoo, who would feature him on his Twitter page and blog from time to time. Yokoo's love for Tama was also well-known amongst his followers. Tama was a stray cat and appeared in Yokoo's garden. In the 15 years Yokoo took care of him, Tama's affection warmed the hearts of both the artist and his family of fans.

The 91 pieces that Yokoo created of Tama since his passing were originally never going to be seen by anyone. But this year, on the seventh anniversary of Tama's death, Yokoo has decided to publish them.

Tama, Kaetteoide – ¥2,200 (Before Tax)

The collection features not only art pieces, but diary and written entries too that Yokoo occasionally wrote about Tama. Yokoo's Twitter page become a diary for the artist, where he expressed his sadness and loneliness after losing his cat, which has received much attention with his followers. The book includes the diary entries from when Tama was alive to his death and up to 2018.

Editor's Comment

When Yokoo met with Yoko Ono, he said of his work, "I didn't draw this as artーI drew it as a love letter to my cat," to which she responded, "And that's exactly why it's art." I too believe that if a piece of art moves a person's heart, then that in itself makes it art. Featured in this book are many of Yokoo's diary and written entries about his beloved Tama. But it also begs the question to people what is love, what is life, and what is death? It's a treasured illustrated collection for people, and above all one you can't help adoring. I believe this book will add something to the lives of every art fan, of every cat lover, and every person who kindly buys themselves a copy."


An exhibition showcasing all of the illustrations in the book is set to take place at Nishimura Gallery in the near future. The exhibition has been postponed as a result of the coronavirus outbreak, but you can check the gallery's official website for when the event will next be rescheduled.

Cat-Shaped Bread Shop Neko Neko Shokupan Re-Releases Neko Neko Packs Due to High Demand

Due to high demand from customersーselling out their previous limited stock in February in this yearーNeko Neko Shokupan re-released its popular "Neko Neko Packs" once more on March 20, again with limited stock.

What's inside the Neko Neko Pack?


Neko Neko Pack A & B – ¥1,000 Each (Before Tax) / Available: From March 20, 2020 while supplies last


Neko Neko Pack is available in two versions, A and B. Both contain one piece of cat-shaped bread, jam, and an original folder.

The texture of the jams differ between both versions: 'A' is smooth sweet bean paste while 'B' is mashed sweet bean paste. The specific bread that is included in the pack is not sold separatelyーyou need to buy yourself a full Neko Neko Pack.

Quality flavour guaranteed at Neko Neko Shokupan


The shop's "shokupan," a style of bread loaf, is made with 100% milk, giving it rich and milky flavour and moist, chewy flavour. No water is used for baking this bread, only milk, which is sourced from Hokkaido. It also contains honey, fresh cream, and butter to give it a sweet, melt-in-the-mouth taste.

Their cute arrangements of the bread are super popular

Kids and adults alike can enjoy eating at Neko Neko Shokupan with the many variations the bread can be served in, like face decorations with a chocolate pen. You can see lots of different original arrangements on Japanese social media like Instagram.

Neko Neko Shokupan's kawaii, high-quality bread is a must-try, so be sure to visit your closest branch when visiting Japan.

Information

Neko Neko Pack

Release Date: March 20, 2020 (while supplies last)

Available: Most Neko Neko Shokupan branches in Japan

Official Website: https://nekoshoku.jp/

Capy Neko Cafe: Japan's First Cat and Capybara Cafe Opens in Tokyo

Capy Neko Cafe is the newest animal cafe to hit Tokyo. Located in the neighbourhood of Kichijoji, right by the station, customers are able to interact with both cats and capybara at the same time.

Japan is famous for its host of animal cafes, from the ubiquitous cat cafes to more unique ones like the owl cafe. But Capy Neko Cafe stands out from the rest as being the first cafe in Japan to combine cats and capybara.

You might wonder whether it's actually safe to pet a capybara. They may be the largest rodent in the world, but they in fact loved to be pet by people. They are gentle creatures that get on with and can live alongside cats. At the cafe, you can take photos of the capybara who are sure to be chilling on the sofas as well as feed them. The comfy environment also means that they'll feel like your very own pet capybara at home.

▶︎Tawashi (Male)

Tawashi is a sensitive, affectionate, and gentle guy. He loves snacks, and he's sure to flop down if you start petting him on the butt. Part of his daily routine is having an afternoon nap on the sofa together with the cats.

▶︎Dan (Male)

The vice store manager of Capy Neko Cafe. He adores humans. He's the kind of guy who'll probably jump up onto you if you cover your lap with a blanket and sit on the sofa.

▶︎Emma (Female)

Another member with a soft spot for humans, Emma is reserved kitty who lets everybody eat their food first. She's a needy and spoiled girlーif she's on your lap, you're not getting up. She's siblings with Dan.

▶︎Cream (Male)

Cream is everybody's idol. He's unapologetically spoiled and a handsome guy with perfectly round black pupils.

This list is just a small taste of the many cute residents to meet at Capy Neko Cafe. The cafe is also active in finding families for their rescued cats. The number of people who want to own a cat in Japan are looking to rescues now instead of pet shops. At Capy Neko Cafe, you get the best of both worlds: you can meet and interact with a cat and see if they're a good match for you.

If you're interested in visiting Capy Neko Cafe, keep in mind that priority goes to those who have booked in advance. This can be done via their official website, so book first and look forward to kicking back and enjoying a cup of tea, coffee or soft drink before interacting with the cats and capybara!

Information

Capy Neko Cafe

Address: PLATANO Floor 2F, 1-5-10 Kichijōji Minamichō, Musashino, Tokyo

Business Hours: 12:00-18:00

Closed: Wednesdays

Official Website: https://capyneko.cafe/

Introducing the Kawaii Girls of the World | Kawaii Fashion Snap #4: Pink Paradise

Welcome to Episode 4 of Kawaii Fashion Snap where we get to know all about the kawaii girls of the world and their fashion. Each girl in this series has incorporated Japanese-like fashion into their wardrobe and turned it into something of their own.

Today, we'll be taking a look at outfits that make use of the colour pink♡

Currently residing in Tokyo, Molly leaves a huge impression with her T-shirt that reads "ANTI WAR" in both English and Japanese. Her stylish use of cute pastel colours throughout accentuates this fashionable look, and her pink and purple hair combined with the thick sole trainers is a match made in heaven.

Molly is a big fan of the Japanese idol group CY8ER and has even gotten a photo with the group―as well as several chekki photos with Rinahamu, one of the members. Be sure to check out her Instagram @pink_morii

The Pinkmilkteahime has us wanting to dye our own hair blue because hers looks so cute. This co-ord may look simple at first with the single big pink t-shirt, but in fact the rest of her outfit and all of her accessories are uniformly blue, which makes her hair look even more beautiful. Even the blue and pink artwork in the background is in tune with her look.

On her Instagram, she posts not only more beautiful looks, but pictures of her latest purchases too―from snacks to stationery. Follow her on Instagram @pinkmilkteahime

Brodie's baby pink jumper skirt co-ord is kawaii supreme. She is serving us regalia princess with her frilly blouse and jumper skirt which has sweet patterns on it. And if you look closely, her white phone case has a cute flower pattern design♡

If you're look for some girly styles then we highly recommend following Brodie @vanillabwunny

Everything about the composition of this shot of Mimi Usagi can be described as cute. She has a cute character t-shirt on, and everything from her innerwear to her skirt is perfectly pink.

Her pink cheek makeup adds a glimmering allure and helps flaunt her clearly innate kawaii. We want to try shooting a look like she has in this photo too! Be sure to follow her @usagimimichu

Alexandra has gone for a sexy style here: her simple pink one piece is stunning and laces together flatteringly with those glittery shoes. And all of the items and accessories she has with her are pink, from the chekki camera in her hand to her shoulder bag♡

Alexandra's Instagram feed is a treasure trove of exquisite and artistic looks. If fantasy takes your fancy, then make sure you follow her @sasha786x

If you'd like to feature in the next Kawaii Fashion Snap or know somebody that would, then follow us on Instagram and post at us with the hashtag #moshimoshiphoto. We hope you look forward to the next entry!

GOODGLAS double-walled animal-themed glasses at Tokyu Department store!

Double-walled glass pioneer GOODGLAS will be selling cute animal-themed glasses at four Tokyu Department stores for a limited time only starting from 30th May 2019. The four limited stores are Shibuya main store, Shibuya station Toyoko store, Kichijoji store and Tama Plaza Kanagawa store. 

Bear: ¥3,200 + tax

Labrador: ¥3,200 + tax

The double-walled glasses will come in the following designs: Dog, cat, duck, bear, labrador, wild boar, grape, and cherry blossom.

Shiba Inu dog: ¥3,200 + tax

Bunny: 3,500 + tax

Cat: ¥3,500 + tax

From 8th June, more mug designs will be added to the series shown above! The Shiba Inu dog mug, which was fully sold out soon after it was launched for sale back in April, is making a comeback! There will also be two more brand new designs: the bunny and the cat! The Shiba Inu, bunny and cat mugs will be sold at Tokyu Department store in advance. They will be available for general sale from 14th June.

You won't be able to stop drinking from these cute mugs so get your hands on some!

Information

GOODGLAS

Release date: 30/05/2019

Available at:Four Tokyu Department stores

 

Store information

Tokyu Department store Shibuya main store (6th floor) Kitchen/ tableware section

(2 Chome-24-1 Shibuya, Shibuya City,)

Tokyu Department store Shibuya station, Toyoko store (Minamikan 8th floor) Kitchen/ tableware section

(2 Chome-24-1 Shibuya, Shibuya)

Tokyu Department store Kichijoji (6th floor) Kitchen/ tableware section

(2 Chome-3-1 Kichijoji Honcho, Musashino, Tokyo)

Tokyu Department store Tama Plaza (4th floor)  Japanese/western-style tableware section

(1 Chome-7 Utsukushigaoka, Aoba Ward, Yokohama, Kanagawa)

 

For more information on GOODGLAS double-walled glasses, please check GOODGLAS JAPAN's website: https://www.r-kj.com/

SHIBUYA109's Purikura Photo Booth Shop moreru mignon Undergoes Rennovation

moreru mignon is a shop located in the department store SHIBUYA109 in Tokyo. It specialises in 'purikura,' a unique type of photo booth which lets you decorate your photos before printing them out. The shop just reopened on May 22 with all-new decor and has been moved to floor B2F of SHIBUYA109.

GIRLS'TREND Kenkyuusho of Japanese entertainment company FuRyu produced the new design of the shop. It is inspired by the bedroom of a girl who loves style and is just a smidgen selfish. The wall is plastered with pictures of cats based on female models, and poking out of the clothe-filled closet is a huge cat's tail with a ribbon tied around it.

There is also a huge Instagrammable sofa bed and a display of food, milk and more.

For a limited time only, the purikura machine designs have cats posing as models on the side of them. Customers can also get their hands on a cute new shop card. The shop itself serves up all the "kawaii" a girl could need with its photogenic interior. It can be enjoyed for some simple purikura shots, for taking commemorative photos, and for just getting together with your girl friends.

And to celebrate the reopening, limited copies of a free magazine titled Nyaaruzu Trend ("Girly Cat Trends") will be available at the shop from May 31. It includes a bonus copy of GIRLS'TREND, a free magazine published by FuRyu.

If you're in Tokyo and in need of taking some kawaii photos then be sure to head to moreru mignon.

Information

moreru mignon SHIBUYA109
Address: SHIBUYA109 Floor B2F (2-19-1 Dogenzaka, Shibuya, Tokyo)
Business Hours: 10:00-21:00

*In line with the renovations, the name of the floor which this shop is on will change to "MOG MOG STAND" on June 28, 2019.

SHIBUYA109 Official Website: https://www.shibuya109.jp/ladies/

The Adorable Peach Coloured Cat Themed Set With Red Bean Paste Bread

The Bakery Blue Jean cafe and bakery at Hotel New Hankyu Osaka has revealed a special cat themed set of items that will go on sale from February 21 for four days only. The set is arriving in time for Cat Day in Japan on February 22.

The set comes with a pre-release of the new cherry blossom flavoured red bean paste cat bread arriving at the cafe in March. It also comes with cherry blossom flavoured cat paws, macarons, cookies and more including a pink Blue Jean cat plate. This will be available on Cat Day.

Be sure to get your paws on this set quickly as they sold out in 4 hours last year!

Information

Momoiro Neko Set

Running: February 21, 2019 – February 24, 2019

*30 to be sold on weekdays and 60 on the weekend

Price: 1 set – ¥2,200 (Tax Included)

Location: Bakery Blue Jean, Hotel New Hankyu Osaka Floor B1F (1-1-35 Shibata, Kita Ward, Osaka, Osaka Prefecture)

Opening Hours: 8:00-22:00

TEL: 06-6372-5101