Yokohama Chinatown's Beauty & the Beast Cafe & Restaurant Holds Easter Fair
Beauty & the Beast is a cafe and restaurant located in Yokohama Chinatown that is based on the French fairy tale Beauty and the Beast. The establishment has announced that it will hold an Easter fair from April 20 to May 31 where it will add a cute and delicious assortment of rabbit themed desserts to its menu.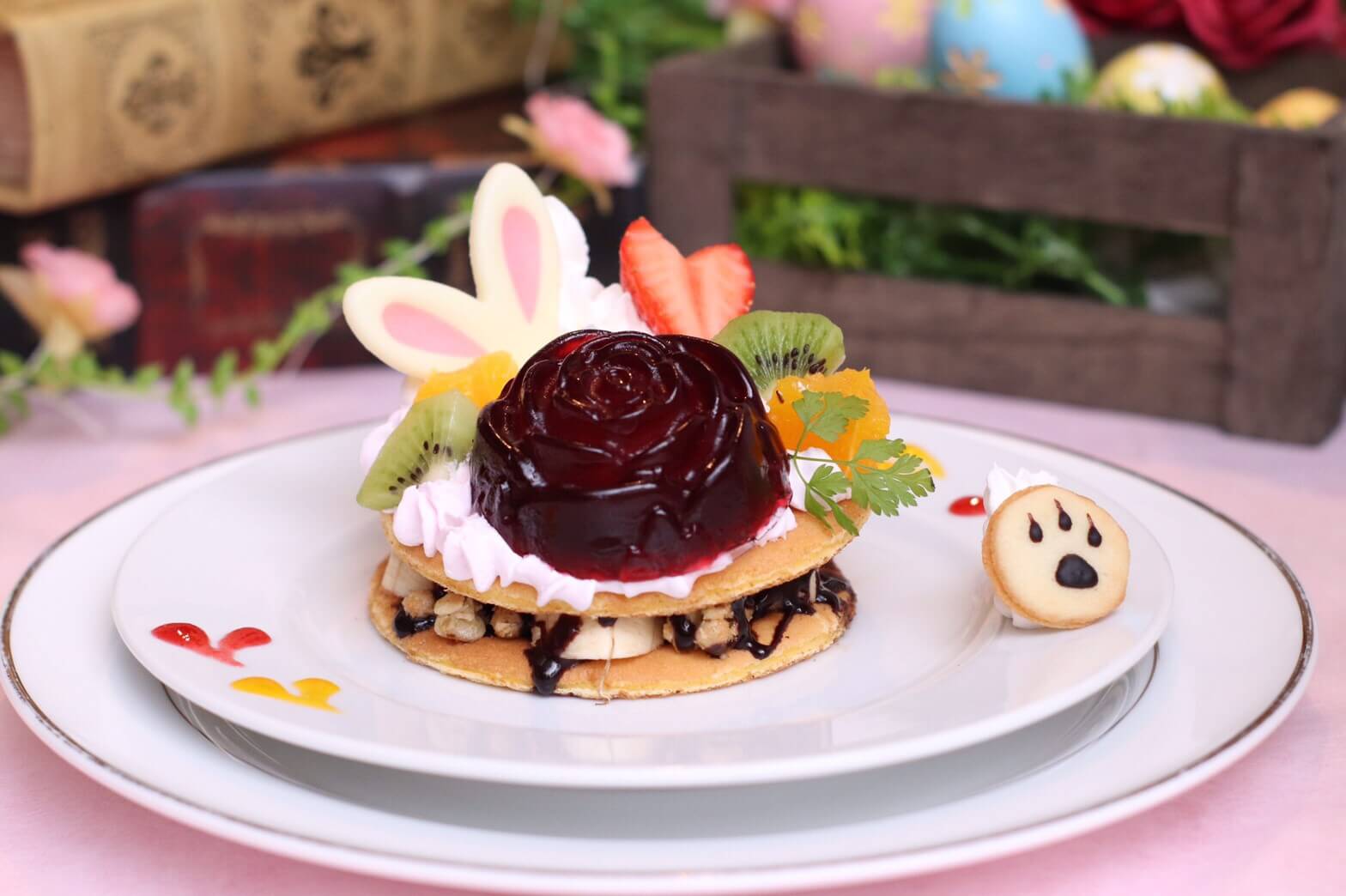 Rabbit Hide and Seek Pancakes: ¥1,100 (Before Tax)
These incredibly cute pancake dish features a rabbit lost in Beast's rose garden. Sandwiches between the pancakes is chocolate, banana and cereal. The rose itself is made from blackcurrant flavour jelly.
Strawberry Rabbit: ¥700 (Before Tax)
Also lost in Beast's rose garden is this pink bunny made from lemon and cheese cream and strawberry ice cream.
Easter Bunny Vanilla Pudding: ¥980 (Before Tax)
A returning dessert from last year, this homemade pudding is a traditional smooth Japanese custard pudding topped with cool vanilla ice cream.
Head to Beauty & the Beast to fill your belly and add some new amazing desserts to your Instagram page.
Information
Beauty & the Beast
Location: 219 Yamashitacho, Naka Ward, Yokohama, Kanagawa Prefecture)
Opening Hours:
[Weekdays] Lunch 12:00-16:00 / Dinner 17:00-21:00
[Weekends] Lunch 11:03-16:00 / Dinner 17:00-19:00, 19:30-21:30 (2 Slots)
Closed: Tuesdays & Wednesdays (*But will be open every day for Golden Week from April 27 – May 6)
TEL: 045-228-9910
Reservations: https://r.gnavi.co.jp/hhvsp6pf0000/e
RELATED ENTRIES
Tokyo's Pokémon Café Adds Eevee Frappe to the Menu

The Pokémon Café in Ikebukuro, Tokyo, is adding an apple flavoured Eevee frappe to its ever-growing Pikachu Sweets by Pokémon Café menu. The frappe will be available from October 2 to December 4.

Eevee Apple Pie Frappe

The sweet tang of the apple combines with the caramel to create a tasty dessert drink, topped with whipped cream, crunchy piece bits, and a cute Eevee tail cookie.

Buy the separate Eevee sleeve to put on your drink to make a fully complete and adorable Eevee frappe♡

© 2020 Pokémon.©1995-2020 Nintendo/Creatures Inc./GAME FREAK inc.
Pokémon, ポケットモンスター and ポケモン are registered trademarks of Nintendo, Creatures Inc. and GAME FREAK inc.

Review: Meeting Pixar Characters in Japan at PIXAR FEST in Omotesando

OH MY CAFE, a chain of cafes in Japan, is now running a special Pixar-themed food event called 'PIXAR FEST' which will run in Tokyo, Osaka, and Nagoya.

"Keep On Smiling" is the the concept of the event, which will serve up a whole range of different foods including a Lightning McQueen exclusive on September 5, a special drink inspired by Disney Pixar's Onward which released earlier this year, a collection of strawberry desserts centred on Lots-o'-Huggin' Bear to celebrate Toy Story's 25th anniversary, and more. There's lots to see, so we follow MIOCHIN to the Tokyo event in Omotesando.

PIXAR FEST at OH MY CAFE is packed full of exciting things for both kids and adults alike. Here's our report.

The fun begins even before you enter the cafe, as at the entrance, you are met with a wall poster of numerous popular Pixar characters.

The moment you step inside, Sully is there ready to greet you! You can even take a picture with him, so if you visit, don't miss the chance.

You'll find familiar faces scattered all around the cafe, like Woody, Buzz, Mike, Nemo. The decorations and designs are really wonderful.

The original menu has a cute lineup too, with dishes, drinks, and desserts inspired by characters from the animated movies.

The food tastes really good too, so be sure to pick out a menu item based on your favourite movie.

Until October 9, you can order the special Onward and Lightning McQueen menu items. This includes 'Ian & Barley's Pink Sunset Blue Mallow Tea' and 'Lightning McQueen's Kachow Lightning Hamburger Sandwich.' You can see the full menu lineup here. It makes you want to watch Pixar movies all day then grab some Pixar food!

Lots-o'-Huggin' Bear from Toy Story 3 will have his own special menu items too: the 'Lots-o's Strawberry Chicken Hamburger' and 'Lots-o'-s Strawberry Drink.' These will be served from October 10 to November 24.

The cafe has its own collection of PIXAR FEST merchandise in three different types: the "PIXAR FEST Series" which uses the cafe's main visual for its design, the "Vintage Series" which uses a cute purple, and the "Alien Mix" which has a pop design with the Little Green Men from Toy Story.

Customers can also receive a limited-edition OH MY CAFE sticker if they order something from the menu, buy some merchandise, and post their thoughts about the cafe and their items on Twitter with the hashtags #キャンペーン #PIXAR FESTカフェで最高の思い出を作ろう #OHMYCAFE. Be sure to get involved if you're in Japan this summer and autumn.

PIXAR FEST at OH MY CAFE is a dreamland for Pixar fans, and is best experienced in person.

©Disney/Pixar

Information

PIXAR FEST OH MY CAFE

Tokyo

OH MY CAFE TOKYO / August 28, 2020 – November 15, 2020

Address: Tokyu Plaza Omotesando Harajuku (Floor 3F), 4-30-3 Jingumae, Shibuya, Tokyo

 

Osaka

kawara CAFE&DINER Shinsaibashi / August 28, 2020 – November 17, 2020

Address: Shinsaibashi OPA (Floor 9F), 1-4-3 Nishishinsaibashi, Chuo Ward, Osaka, Osaka Prefecture

 

Nagoya

kawara CAFE&KITCHEN Nagoya PARCO / September 4, 2020 – November 24, 2020

Address: Nagoya PARCO South Building (Floor 5F), 3-29-1 Sakae, Naka Ward, Nagoya, Aichi Prefecture

Pixar Fest OH MY CAFE Official Website: https://pf2020.ohmycafe.jp/

Review: The 30 Year Old Cafe Chatei Hatou in Shibuya

Hi, everyone. It's Banako of MOSHI MOSHI FRIENDS. Today I'm reviewing Chatei Hatou, a long-standing cafe in Shibuya, Tokyo.

Shibuya is a place that bustles with youth culture and fashion. It's also home to many eateries, but there aren't many places around that you can go to to get away from the busy streets for a quiet break.

Chatei Hatou opened in 1989 at Miyamasuzaka Shita in Shibuya, where it has gone unchanged and welcomed customers for the past 30 years. It's very easy to get to, being just a 3-minute stroll from the Hachiko Exit of Shibuya Station.

When opening the door to the cafe and stepping inside, the first thing to jump out at you are the rows of coffee cups lined up along shelves behind the counter.

The coffee cup collection features a selection of works by many different makers. There's even a cup in there valued at ¥200,000!

The antiques littered here and there around the cafe elevate the vibe of the cafe. There's a number of seating areas, including the counter seats as well as tables for two, four, or big groups.

I felt the faint tasty scent of the Japanese pudding calling to me so I went and ordered a pumpkin pudding along with a hot chocolate.


Cafe Chocolat (Hot) ¥950 / Pumpkin Pudding ¥500


The pumpkin pudding was nice and moist and rich in flavour. Nothing short of delicious. It's made even sweeter when eaten together with the fluffy whipped cream―which also elevates the flavour of the pumpkin too.


I was inspired by the cafe owner to go for the cup I chose for my hot chocolate. There is so much variety between the cups; it's fun getting to see rare ones. Be sure to check their Instagram page where they have more detailed write-ups about their coffee cups and coffee varieties.

The cafe has a selection of original coffee blends which they make fresh with the utmost care and consideration. You can buy their coffee beans, take cake away from you, and even order whole cakes, so you can enjoy their delights at home.

Chatei Hatou has stood together with Shibuya these past 30 years. According to the owner, the most important thing about running a cafe is making sure its doors are always open. It's been tough as a result of the pandemic this year, but the cafe is still there as a part of people's lives.

The next time you're in Shibuya, why not enjoy a drink and a sit down at Chatei Hatou?

Information

Chatei Hatou
Address: 1-15-19 Shibuya, Shibuya-ku, Tokyo
Opening Hours: 11:00-23:30 (Last Orders 22:30)
No Fixed Holidays (But may be closed during the New Year Holidays)
Access: 3-minutes on foot from Shibuya Station's Hachiko Exit
Official Instagram: https://instagram.com/hatou_coffee_shibuya?igshid=9ubwybwvpktb
*The cafe is cash-only and has an outdoor smoking area

Writer: Banako
Translator: Joshua Kitosi-Isanga

Tokyo Stroll: The Café That You Want to Visit to See Someone #14 – 'Kayaba Coffee' in Yanaka

In this edition of The Café That You Want to Visit to See Someone, I visited Kayaba Coffee, a coffee shop in Yanaka, Tokyo, which is a perfect example of the old and traditional shitamachi neighbourhoods.

Kayaba Coffee is just a 10-minute walk from both Nezu Station and Nippori Station.


This is a place I've visited in my private time out of work and I'm always excited to go. Kayaba Coffee was established in 1938, and actually closed in 2006. But due to public demand, the cafe reopened just two years later in 2008. It's a popular coffee shop loved by people of all generations.

Time to head on in.

The first floor houses the counter and table seats, while the seating on the second floor is traditional zashiki style on tatami flooring. Although it's a cafe, you I feel so relaxed in there that it's like I'm visiting my grandma's house. The sun shines through the big windows, making you all warm and want to take a nap.

I ordered their super popular egg sandwich! The menu was changed in May this year, and a new and improved version of their egg sandwich was put on there. It's made using sourdough bread from VANER, a local bakery in Uenosakuragi not far from the cafe.


Breakfast Menu – Egg Sandwich | ¥1,000

The chewy, sour bread is the perfect combination with the fluffy eggs.

Lemon Squash | ¥600

The lemon squash has a cinnamon aftertaste. Everything on the menu is made with love and perfection; before I realised it, I was hooked on going there.

Strawberry Shaved Ice | ¥800

This was my first shaved ice of the year! I went with the classic strawberry flavour. The syrup is super juicy and nearly collapsed the fluffy shaved ice the moment I put it on. It has a syrupy texture and the strawberry juice has a sweet and sour kick that's just simply delightful♡

And you can make it even sweeter by pouring over your desired amount of condensed milk. It was really tasty.


Kayaba Coffee is the same as it was back in the day, and continues to be loved dearly. I think even people who visit it for the first time will feel a sense of nostalgia. If you have a place you can go to relax on bad days or when you're feeling down, it's sure to give you the strength to work hard again. This cafe is a wonderful place that's close to people's hearts.

I want to visit there again already.

Writer/Model: Ema Tanioku
Photographer: Haruka Yamamoto
Design: Yuko Takayama (ASOBISYSTEM)

Translator: Joshua Kitosi-Isanga

Information

Kabaya Coffee
Address: 6-1-29 Yanaka, Taito-ku, Tokyo

Opening Hours: [Tue-Fri] 8:00-18:00 (Last Orders 17:30) / [Weekends] 8:00-19:00 (Last Orders 18:30)

Closed: Mondays

Anime Film Crayon Shin-chan: Crash! Rakuga Kingdom and Almost Four Heroes Promoted With Themed Cafe in Saitama

Crayon Shin-chan: Crash! Rakuga Kingdom and Almost Four Heroes was released on September 11, 2020 as the 28th animated feature film in the Crayon Shin-chan series. To promote the film, a themed cafe is set to open at BOX cafe&space in the city of Koshigaya in Saitama Prefecture from October 1 to November 1.

The cafe originally opened at TOKYO PARADE inside Shibuya PARCO back in March for a limited time, and now it's headed north of Tokyo to Saitama.

Shin-chan fans can look forward to a menu lineup of dishes, drinks, and desserts inspired by the film's theme of "drawing."

Rakuga Kingdom Cafe Crayon Shin-chan Curry | ¥1,390 (Before Tax)

The Shin-chan curry is a spicy yellow curry combined with coconut milk. The white sauce is inspired by the light blue colour of the smocks worn at Futaba Kindergarten in the series.

Rakuga Kingdom Cafe Buriburizaemon Curry | ¥1,390 (Before Tax)

This one's a spicy black masala curry centred on Buriburizaemon.

Uki Uki Da Zo Crayon Shin-chan Pancakes | ¥1,390 (Before Tax)

Pancakes toped with cream and a cute Shin-chab illustration. It's served with a wafer featuring pictures of other characters from the film.

Minna Suki ni Kakeba? Rakugaki Pudding Plate | ¥1,390 (Before Tax)

Two pudding tarts and a crepe which you can draw on with a chocolate pen to create your own cute illustrations like Shin-chan.


Shin-Chan's Miracle Colourful Jelly Soda ¥890 | Shiro's Cotton Candy Strawberry Milk ¥990 (Before Tax)

A soda served with jelly in five different colours and a strawberry milk topped with Shiro who's made from cotton candy. It becomes a sweet strawberry milk as soon as the cotton candy hits and melts into the drink.

Pin Badges (8 Designs) | ¥400 (Before Tax)


Canvas Art | ¥3,500 (Before Tax) *Limited edition

Bonus Items

The merchandise lineup features items with original artwork. There's also bonus items for customers who book a table in advance as well as order a drink.

Enter the Rakugaki Kingdom of drawing at the limited-time Crayon Shin-chan cafe.

ⒸYoshito Usui/Futabasha・Shinei・TV Asahi・ADK 2020

Information

Uki Uki Kaki Kaki Rakugaki Kingdom Cafe
Location: BOX cafe&space
Address: AEON LakeTown kaze LakeTown Gate 1F, 4-2-2 LakeTown, Koshigaya, Saitama

Running: October 1, 2020 – November 1, 2020

Table Reservations: ¥500 (Before Tax) *includes free merch

Cafe Official Website: https://shinchan-movie2020-cafe.jp/

Kyoto Neko Neko x eXcafe Kyoto Arashiyama Collaborate On Breakfast Dishes

eXcafe Kyoto Arashiyama is collaborating with Kyoto Neko Neko to release a new breakfast menu order on September 15, 2020.

eXcafe Kyoto Arashiyama sits in an alley off the main street of Arashiyama, one of Kyoto's most famous sightseeing spots. The cafe is home to a spacious 400㎡ modern Japanese garden.

Hoku Hoku Dango Set

The cafe is open from 10am-6pm and is so popular that it's common to always see a line of people waiting to go in. Some of their most popular dishes include the "Hoku Hoku Dango Set" which has you frying your own dango using a traditional Japanese shichirin BBQ, and the "Kuromaru Roll" roll cake.

Ikusu Cafe Breakfast | ¥1,280 (Before Tax)

The cafe's collaboration with Kyoto Neko Neko comes with cute thick-cut cat-shaped bread that you fry on a charcoal shichirin.


Toast toppings include red bean paste, butter, whipped cream, and fruits which you are free to use to create your own topping combination. The breakfast also comes with two mitarashi dango for dessert.

Information

eXcafe Kyoto Arashiyama
Address: 35-3 Sagatenryūji Tsukurimichichō, Ukyo Ward, Kyoto
TEL: 075-882-6366
Business Hours: 10:00-18:00 (Breakfast served from 8:00)

Official Website: https://nekoshoku.jp/

KUROMI♡MY MELODY CAFE Reveals Halloween Themed Menu

Sanrio's beloved characters Kuromi and My Melody have taken over EGG&SPUMA in Shinjuku this summer with the KUROMI♡MY MELODY CAFE which is open for a limited time until October 31, 2020.

The cafe has been split into two separate themes, with the second theme arriving on September 16, turning the cafe into a cute Halloween experience.

The menu, including the popular afternoon tea set, will transform into spooky Halloween inspired food, with Jack-o'-lanterns and bats decorating the plates.

The Kuromi Kimagure Omelette Curry will be sold in limited quantities on weekends at dinnertime. This cute plate features a pink curry topped with Kuromi's favourite leeks as well as seafood, souffle omelette, and Kuromi herself who is made out of rice.

There's also cute pancakes drizzled in berry sauce, My Melody and Kuromi drinks, and more.

Customers who order anything from the Halloween menu will receive one of these coasters free too!

© 1976, 2020 SANRIO CO., LTD. APPROVAL NO. L611679

Information

KUROMI♡MY MELODY CAFE

Location: EGG&SPUMA

Address: Shinjuku Lumine EST 8F, 3-38-1 Shinjuku, Shinjuku-ku, Tokyo

Running: August 1, 2020 – October 31, 2020

Opening Hours: 11:00-21:00 (Last Orders 20:00)

TEL: 03-6273-0255

Official Website: http://salt-group.jp/shop/egg-spuma/

5 Character Themed Cafés Running in September 2020 – MOSHI MOSHI NIPPON

Character cafés are an exciting experience in Japan which sees a café collaborate with well-known anime series, game series and various franchises by decorating the café interior with designs and illustrations based on them and meals and drinks inspired by them. Let's take a look at 5 must-visit cafés in September 2020.

KUROMI♡MY MELODY CAFE @ EGG&SPUMA, Shinjuku Lumine EST

Sanrio's beloved characters Kuromi and My Melody are taking over EGG&SPUMA in Shinjuku this summer with the new KUROMI♡MY MELODY CAFE which is open for a limited time from August 1, 2020 to October 31, 2020 and is split into two separate phases.

There is an adorable menu line-up including two-tiered afternoon tea set with lots of sweet treats, like waffles and ice cream, all topped with Kuromi and My Melody.

Full Details: https://www.moshimoshi-nippon.jp/340782

▼KUROMI♡MY MELODY CAFE

Location: EGG&SPUMA

Address: Shinjuku Lumine EST 8F, 3-38-1 Shinjuku, Shinjuku-ku, Tokyo

Running: August 1, 2020 – October 31, 2020

Opening Hours: 11:00-21:00 (Last Orders 20:00)

TEL: 03-6273-0255

Official Website: http://salt-group.jp/shop/egg-spuma/

© 1976,  2020 SANRIO CO., LTD. APPROVAL NO. L611679

PIXAR FEST @ OH MY CAFE, Harajuku Tokyu Plaza

OH MY CAFE, a chain of cafes in Japan, is holding a special Pixar-themed food event called 'PIXAR FEST' which is currently running in Tokyo and Osaka from August 28 and will open in Nagoya on September 4.

"Keep On Smiling" is the the concept of the event, which will serve up a whole range of different foods including a Lightning McQueen exclusive on September 5, a special drink inspired by Disney Pixar's Onward which released earlier this year, a collection of strawberry desserts centred on Lots-o'-Huggin' Bear to celebrate Toy Story's 25th anniversary, and more.

Full Details: https://www.moshimoshi-nippon.jp/351140

▼PIXAR FEST OH MY CAFE

Tokyo

OH MY CAFE TOKYO / August 28, 2020 – November 15, 2020
Address: Tokyu Plaza Omotesando Harajuku (Floor 3F), 4-30-3 Jingumae, Shibuya, Tokyo

Osaka

kawara CAFE&DINER Shinsaibashi / August 28, 2020 – November 17, 2020
Address: Shinsaibashi OPA (Floor 9F), 1-4-3 Nishishinsaibashi, Chuo Ward, Osaka, Osaka Prefecture

Nagoya

kawara CAFE&KITCHEN Nagoya PARCO / September 4, 2020 – November 24, 2020
Address: Nagoya PARCO South Building (Floor 5F), 3-29-1 Sakae, Naka Ward, Nagoya, Aichi Prefecture

Pixar Fest OH MY CAFE Official Website: https://pf2020.ohmycafe.jp/

©Disney/Pixar

Sanrio Character Collaboration Café @ POWDER ART CAFE HARAJUKU

POWDER ART CAFÉ HARAJUKU is collaborating with Sanrio until mid-January 2021.

At POWDER ART CAFE HARAJUKU, customers can draw their own designs on their orders, like latte art. They can also look forward to a super cute menu line-up inspired by the adorable character roster.

Full Details: https://www.moshimoshi-nippon.jp/338947

▼POWDER ART CAFE HARAJUKU

Address: IMON Bldg. B1F, 6-3-9 Jingumae, Shibuya, Tokyo

TEL: 03-6450-6037

Opening Hours: 11:00-21:00 (Last Orders 20:00)

Official Website: https://k-tanuma.com/company#04

© '76,'79,'89,'96,'01,'05,'20 SANRIO CO., LTD. APPROVAL NO.L611638

Miffy Café @ Tokyo Solamachi®

In commemoration of Miffy's 65th anniversary, the themed Miffy Café will open on the first floor of Tokyo Solamachi from September 11, 2020 for a limited time.

The menu will serve a healthy lineup of Netherlands cuisine—in line with the heritage of Miffy's Dutch creator Dick Bruna—and customers can get their hands on a selection of original Miffy merch.

Full Details: https://www.moshimoshi-nippon.jp/356067

▼Miffy Café

Address: TOKYO BOX cafe&space, Tokyo Solamachi 1F, 1-1-2 Oshiage, Sumida-ku, Tokyo

Running: September 11, 2020 – November 3, 2020

Reservation Fee: ¥500

Official Website:  https://miffy-skn-65.cafe.jp/

Illustrations Dick Bruna © copyright Mercis bv, 1953-2020  www.miffy.com

Hello Kitty Café @ Narita Airport

KADOKAWA opened a Hello Kitty themed cafe on the Narita Anime Deck—which is located on the Main Building second floor of Narita International Airport Terminal 2—earlier this year which will be open for limited time until October 2, 2020.

As well as themed food, drinks and merchandise, customers can take a Hello Kitty quiz, learn the history behind Hello Kitty, and more.

Full Details: https://www.moshimoshi-nippon.jp/336417

▼Narita Anime Deck – Hello Kitty Collaboration Cafe
Running: July 3, 2020 – October 2, 2020
Location: Narita Anime Deck Entertainment Cafe
Address: Narita International Airport Terminal 2 Main Building Floor 2F (1-1 Furugome, Narita, Chiba)
Opening Hours: 10:00-20:00 (Food Last Orders 19:30)

No Fixed Holidays

Narita Anime Deck Official Website: https://www.animedeck.jp/en/narita/

 

© 1976, 2020 SANRIO CO., LTD. APPROVAL NO. L611439

Did you enjoy this list? If you're in Japan for the end of summer and start of autumn, then be sure to visit all the character cafes you can.

KAWAII MONSTER CAFE HARAJUKU Celebrates 5th Anniversary With Monster Size Portions

KAWAII MONSTER CAFE HARAJUKU turned 5-years-old in August, and to celebrate the quirky cafe's anniversary, it is now serving monster-size portions until the end of September.

Livening up Tokyo with some Harajuku-style cuisine

Autumn is right around the corner in Japan, a time of outings and travel for many people. Due to the effects of COVID-19, however, people have had to cancel their plans. The KAWAII MONSTER CAFE wants the people of Tokyo to still enjoy themselves this autumn, and so is giving 39% off to all residents of Tokyo. All they need to do is show proof of address.

Super-sized burgers, parfaits & more

Giant King Chopper Burger | Regular Price: ¥12,000 (Before Tax), Resident Discounted Price: ¥7,320 (Before Tax) | Serves: 4-6

You and your friends are invited to challenge yourselves to a gorge on the Giant King Chopper Burger, based on the cafe's mascot character chopper. Served in five-colours in line with the cafe's 5th anniversary, this beast of a burger is a hearty mix of BLT, menchi-katsu, teriyaki chicken, the "MEAT MEAT MEAT" main dish from the dinner menu, and more. It's finished with colourful eggs around the side, and plenty of other hidden treats.

Giant Colorful Parfait | Regular Price: ¥10,000 (Before Tax), Resident Discounted Price: ¥6,100 (Before Tax) | Serves: 3-4

This piled-up parfait combines five of the cafe's popular desserts into one towering delight: "Chemical Cake," "Pink Cat Food," "Melty Pancake," "Little Monster," and "Colourful Poison Parfait."

Enormous, decorated servings fruits

Harajuku Decora Mango Parfait Bowl | Regular Price: ¥5,000 (Before Tax), Resident Discounted Price: ¥3,050 (Before Tax)

Where do you even start? There's mango-loaded ice cream, fat waffles, colourful gummies, chocolate, mango sherbet, panna cotta, cornflakes, fruit granola, mango sauce—the list goes on! If you're mango-mad, you'll definitely fall for this one.

Fluffy Marshmallow Watermelon Frappe | Regular Price: ¥5,000 (Before Tax), Resident Discounted Price: ¥3,050 (Before Tax)

Wrapped with marshmallow foam that's fluffy like a cloud and topped with chopped watermelon, pineapple, and assorted fruits, this is similar to shaved ice. It's also topped with nata de coco.

Frog Melon Cream Sods | Regular Price: ¥5,000 (Before Tax), Resident Discounted Price: ¥3,050 (Before Tax)

Celebrating 5 years of KAWAII MONSTER CAFE HARAJUKU, this frog's tongue is made of milk mousse, melon balls, strawberries, blueberries, and kiwi, which are just tumbling out of its mouth. It's served with a side of jumbo soft serve ice cream and melon soda. Arrange the beverage as you like to create your own fruit cocktail.

KAWAII MONSTER CAFE is also collaborating with YouTubers Briana Gigante and RinRinDoll on drinks and desserts.

Miffy Café Opening in Tokyo Solamachi to Celebrate Miffy's 65th Anniversary

In commemoration of Miffy's 65th anniversary, the themed Miffy Café will open on the first floor of Tokyo Solamachi from September 11, 2020 for a limited time. The café will also see a collaboration with Japanese illustrator Shogo Sekine

The cafe is being produced by LEGS COMPANY, LTD. and will feature a casual yet grown-up feminine design. The menu will serve a healthy lineup of Netherlands cuisine—in line with the heritage of Miffy's Dutch creator Dick Bruna—and customers can get their hands on a selection of original Miffy merch.

Food

Terrine-Style Open Miffy Sandwich: ¥1,499

A cute open sandwich made to look like Miffy and served with a side of potato salad and avocado dip sauce, both of which go well with the salmon.

Stammpot Salad Plate: ¥1,499 | With Plate ¥2,499 *From September 19

Inspired by the traditional Dutch dish of stammpot, this plate is topped with sausages, salad, and a gravy sauce to mix.

Balloon Pannenkoek Pancakes: ¥1,599

Pannenkoek pancakes are a staple of the Dutch cuisine. These Miffy versions are topped with balloon-shaped mini tomatoes, eggs, and blueberries.

Desserts

Miffy & Giant Tree Mousse Cake: ¥1,299

Miffy is made from sponge cake and mousse, while the giant tree is a tower of cotton candy, granola, and assorted fruits.

Carrot Dessert Plate: ¥1,299 | With Plate ¥2,299 *From September 19

Served on a café-original plate, this dessert features a cream puff made to look like a carrot. It's served with a dollop of vanilla ice cream and an assortment of fruits.

Miffy Colourful Oat Milk Bowl: ¥1,299

A colourful serving made using fibre-loaded and low-calorie oat milk and a bunch of different fruits.

Drinks

Miffy's Orange Float: ¥899

Made using orange and Grenadine syrup and topped with a Miffy lemon sherbet.

Takeout

Carrot Cream Puff: ¥899

The same cream puff made to look like a carrot is available as a separate takeout option.

Acrylic Key Rings (6 Designs): ¥650 Each / Acrylic Magnets (8 Designs): ¥600 Each (All Before Tax)

Plush Toys (Floral/Blue): ¥3,000 Each

The stylish original and exclusive merchandise was made in collaboration with popular Japanese illustrator Shogo Sekine.

Illustrations Dick Bruna © copyright Mercis bv, 1953-2020  www.miffy.com

Information

Miffy Café

Address: TOKYO BOX cafe&space, Tokyo Solamachi 1F, 1-1-2 Oshiage, Sumida-ku, Tokyo

Running: September 11, 2020 – October 18, 2020

Reservation Fee: ¥500

Official Website:  https://miffy-skn-65.cafe.jp/

4 Must-Try Kawaii Parfaits in Kyoto – MOSHI MOSHI NIPPON

Though autumn is not far off, the summertime heat of Japan has yet to let up, and so what better way to keep cool than treating oneself to a parfait? Here are 5 must-try parfaits that are popular in Kyoto, with photos and descriptions provided by Instagrammar Tiara who posts and reviews desserts around Japan's Kansai region.

CAFE YAMANEKO / Ryōan-ji, Kyoto

Orange Parfait

CAFE YAMANEKO is located along Kinukake-no-michi, a road that connects the Kinkaku-ji, Ryōan-ji, and Ninna-ji temples. Their Orange Parfait is made with a delicious jam that uses all of the orange right down to the peel, and is topped with a Japanese-style pudding, vanilla ice cream, and orange and caramel sauces.

▼CAFE YAMANEKO
Address: 39-6 Tōjiin Kitamachi, Kita-ku, Kyoto
Opening Hours: 11:00-17:30
Official Instagaram: https://www.instagram.com/kyoto_cafe_yamaneko/

CAFE attmos. / Shichijo

Ichijiku Parfait

CAFE attmos. serves super sweet desserts made with choice seasonal fruits. I ordered the 'Ichijiku Parfait' which is made with lots of figs harvested in Kyoto. It was really delicious.

▼CAFE attmos.
Address: ELLA490 1F, Shimoumacho, Higashiyama-ku, Kyoto
Opening Hours: 9:00-17:00
Instagram: https://www.instagram.com/cafe_attmos/

Chocolat BEL AMER Kyoto Villa / Sanjo Sakaimachi

Peach & Chocolate Parfait

This kawaii parfait has a whole mix of ingredients from peach to white chocolate ice cream, sweet white bean paste mousse, crunchy meringue, and more♡ The meringue really adds something different to the parfait.

▼BEL AMER Kyoto Villa
Address: 66 Sanjodori Sakaimachi Higashi Iru Kitagawa Masuyacho, Nakagyo-Ku, Kyoto
Opening Hours: 10:00-20:00

Official site:https://www.belamer-kyoto.jp/

La Klassique / Demachiyanagi

Cherry Glass Dessert

La KLASSIQUE is a cafe close to Shimogamo Shrine. Their "Cherry Glass Dessert" parfait is loaded with ingredients, including cherry sorbet, whipped cream, milk ice cream, fruity red wine sauce, cinnamon crumble, rosehip, blood orange, cherries, meringue, red bean paste, and more. The red wine sauce makes this one for the grown ups to enjoy.

▼La Klassique
Address: 13-9 Shimogamo Morimotocho, Sakyo-ku, Kyoto
Opening Hours: 10:00-18:00
Official Instagram: https://www.instagram.com/laklassique/

These parfaits are available until the end of August and are limited to 15 servings per day. Visit the cafe's official Instagram to find out about reservations.

For more recommendations on desserts to try around the Kansai region of Japan, follow Tiara over on Instagram.

Original Japanese Text & Photos: @happy_pinkrose_tiara

*The information about the items on this list are correct at the time of publishing. For the latest information, please visit each cafe's official websites and social media pages.

Scrumptious and Spooky New Mousse Cakes Haunt The Pikachu Sweets by Pokémon Café Menu

Scrumptious and spooky mousse cakes are set to arrive on the Pikachu Sweets by Pokémon Café menu on September 12, 2020.

Pikachu Sweets Tomodachi Ippai Assortment: ¥2,600 (Before Tax)

The café's popular mousse cake collection is now welcoming two new friends – Gengar and Litwick. The two spooky cakes will be included in the Pikachu Sweets Tomodachi Ippai Assortment set shown above. This surely is the perfect gift for any Pokémon-lover.

Pikachu Sweets Eraberu Cake Set: ¥1,300 (Before Tax)

You can choose two cakes from the six shown above and pay just ¥1,300 to purchase them as a set.

The Pikachu Sweets by Pokémon Café menu changes from season to season. You just have to try these adorable Halloween mousse cakes.

*Names of desserts have been translated from Japanese

©2020 Pokémon. ©1995-2020 Nintendo / Creatures Inc. / GAME FREAK inc.
Pokémon, ポケットモンスター, and ポケモン are registered trademarks of Creatures Inc. and GAME FREAK inc.

Information

Pikachu Sweets by Pokémon Café 

Address: Sunshine City Specialty Shop Area Alpa Floor 2, 3-1-2 Higashiikebukuro, Toshima City, Tokyo

Running: 10:00 ー 20:00

*Opening times may vary according to the facility's opening hours.


Official site:https://www.pokemoncenter-online.com/cafe/pikachu_sweets/