The MOSHI MOSHI BOX Tourist Information Centre is having a promotional showcase for halal products in line with the increasing number of overseas visitors to Japan!
The tourist information centre "MOSHI MOSHI BOX" in Harajuku run by ASOBISYSTEM co., ltd is having a halal promotional showcase where you can find out about and sample halal products from TOPVALU. Titled "KAWAii halal STATION", the showcase will run until the end of November. The Japanese government aims to draw 40 million tourists into the country by 2020. However, Japan still doesn't accommodate certain features for its Muslim tourists, such as places to pray and menus with halal on them. However, there are some places in Japan that do sell halal products, such as the shopping centre "AEON" (イオン) in the Kanto region, as well as the supermarket "My Basket" (まいばすけっと).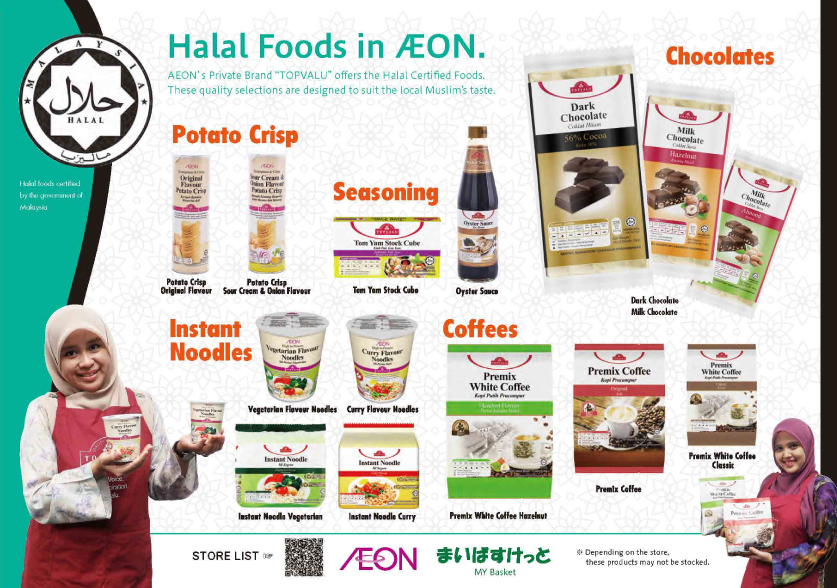 "KAWAii halal STATION" is open to both tourists and people living in Japan and will be promoting halal products that are sold in places like "AEON" and "My Basket". Although there won't be products sold there, there will be samples for you to try, so we would be very happy if lots and people can come and try them out. MOSHI MOSHI NIPPON are looking to the year of 2020, so be sure to follow us!
■Information
KAWAii halal STATION
Address: MOSHI MOSHI BOX, 3-23-5, Jingumae, Shibuya
Opening Hours: 10am-6pm
■Related article:MOSHI MOSHI Kimono Salon produced by YUMENOYA opens in the MOSHI MOSHI BOX!
RELATED ENTRIES
'Edo Punk! The Dynamic World of Ukiyo-e' Released in Japanese and English

Ukiyo-e paintings became popular during the Edo Period of Japanese history. For those weaning to see some of the most rad ukiyo-e paintings around, the new book Edo Punk! The Dynamic World of Ukiyo-e is now available at bookstores nationwide and online. Luckily, the book is also bilingual in English and Japanese!

Kuniyoshi Utagawa, popular in Japan and abroad and known for his unique perspective, and Yoshitoshi Tsukioka, the inspiration for many modern manga series, are both featured in this tome. The many pieces featured combine elements of fantastical beauty and harsh realities, and fans can read commentary by Shoko Haruki. Haruki worked at the Hokkaido Museum before becoming a curator at the Edo-Tokyo Museum in 2017. She specializes in Japanese art history.

The book is now available at bookstores nationwide and online.

Information

Edo Punk! The Dynamic World of Ukiyo-e

Release Date: November 24, 2022

Price: ¥2,400 (Excluding Tax)

Author: Shoko Haruki

Official Site: https://pie.co.jp/book/i/5414/

Craft Beer Service Otomoni Releases Tsundere-themed IPA

Craft beer subscription service Otomoni opened orders for a new Tsundere-themed Hazy IPA on November 15, 2022. The beer has a sweetness level that changes on its temperature and was brewed as part of the 15th installment of the JAPANESE BEER ODYSSEY, which aims to share aspects of both traditional and modern Japanese culture through craft beer.

For better or worse, Japan's otaku culture is now a major part of the country's appeal to people around the world.

Japan's video game and anime market is now legendary around the globe, and millions flock to the country each year to become more immersed in its popular culture. Just look at the annual Comiket event–over 700,000 visitors attend each year!

 

To celebrate the upcoming Comiket, a new beer has been brewed that pays homage to modern otaku culture. The Tsundere Hazy IPA is perfect for otaku who love a little challenge when it comes to their love life.

Brewed with NOMCRAFT Brewing in Wakayama Prefecture, the Tsundere Hazy IPA features two distinct flavors, each coming out more strongly depending on the beer's temperature. 

 

When poured, the beer has a very tropical aroma, and when ice-cold, it's more refreshing and less sweet. 

 

As the temperature of the beer rises, the smell becomes more fruity and strong, with the smell of hibiscus certain to make your mouth water. Whether you like bitter or sweet, this may be the perfect beer for you. 

Would you try this tsundere-themed beer? 

The Sumida Hokusai Museum Opens Hyakunin Isshu Exhibition Featuring 105 Unique Works

The Sumida Hokusai Museum in Sumida-ku, Tokyo, will be holding the 'Hokusai at Play with the 100 Poems' exhibition from December 15, 2022 until February 26, 2023. The exhibition will focus on the Hyakunin Isshu, a famous collection of 100 poems integral to Japanese traditional culture.

Hyakunin Isshu Uba ga Etoki – Sojo Henjo / Katsushika Hokusai, The Sumida Hokusai Museum.

Hyakunin Isshu Uba ga Etoki – Ariwara no Narihira / Katsushika Hokusai, The Sumida Hokusai Museum. (Phase 2)

The Five Great Poets, Tsuki – Katsushika Hokusai, The Sumida Hokusai Museum. (Permanently on Display)

By the middle of the Edo period, the Hyakunin Isshu, or 100 classical poems, had become an established part of Japanese culture. Hokusai, an ukiyo-e artist of the period, painted a total of 27 of these famous poems, incorporating his own ideas and views to create unique pieces still beloved so many years later. This exhibition features 24 paintings from the museum's Hyakunin Isshu collection along with dozens more items pertaining to this legendary collection of writings. Don't miss it!

Information

Hokusai at Play with the 100 Poems

Running: December 15, 2022 – February 26, 2023

*Certain exhibits will be changed between the first and second phases. 

Phase 1: December 15, 2022 – January 22, 2023

Phase 2: January 24 – February 26, 2023

Hours: 9:30-17:30 (Last entry at 17:00)

Official Site: https://hokusai-museum.jp

Hotel Gajoen Tokyo to Hold Tours of Historic Hundred Stairs

The historic Hotel Gajoen Tokyo, which blends a hotel and a traditional Japanese museum, will offer a tour of the Hyakudan Kaidan (Hundred Stairs) from December 3 until December 25, 2022. This Tangible Cultural Property of Tokyo is an incredible sight, and those with an interest in Showa-era architecture won't want to miss it.

In 1988, part of the old Gajoen structure was torn down to make way for new structures along the Meguro River basin,  and the hotel underwent a large-scale renovation over a period of three years. The Hundred Stairs were originally built in 1935 and designated as a Tangible Cultural Property by the Tokyo Metropolitan Government in 2009.

Over the years, the Gajoen has served as a restaurant and gathering place for visitors from both the Showa-era and Heisei-era. Filled with traditional Japanese aesthetics, the location is now filled with art and pieces of cultural significance. A number of special exhibitions are held throughout the year. 

 

Why not come enjoy this tour of a piece of Japanese history?

Information

Winter Tour: Hyakudan Kaidan 2022
~Architecture, Beauty, and Tales of Tradition~

Running: December 3 – December 25, 2022
Hours: 12:30 – 18:00 (Last entry at 17:30)
Venue: Hyakudan Kaidan (Hundred Stairs)
Tangible Cultural Property of Tokyo, Hotel Gajoen Tokyo
Details: https://www.hotelgajoen-tokyo.com/100event/tour2022

Nagoya Castle to Hold Special Autumn Night Art Viewing for a Limited Time

The historic Nagoya Castle will hold a special nighttime viewing event for 14 days only, from November 25 until December 8, 2022. During this period, Honmaru Palace will be open to the public at night, and the Chrysanthemum Corridor inside will be open to visitors for the first time. 


The Ninomaru Garden will also be illuminated and will transport guests to a different place and time by showing a space only possible during dark hours.

Inspired by the relationship between light and shadow, this event focuses on changes that occur over time and the creation and emergence of new ideas and things.

Honmaru Palace, Typically Closed to the Public, to be Open at Night

Nagoya Castle's Honmaru Palace was completed in 1615 and served as the primary residence of the Lord of the Owari Domain and as the Domain's government office. The interior of the palace was lavishly decorated with paintings and other art pieces and was praised as a masterpiece. Sadly, it was destroyed by an air raid in 1945. Restoration work began in 2009 and was completed in 2018 with unparalleled accuracy. The Honmaru Palace gives off a completely different aura at night. 

First Public Viewing of the Jodan-no-ma in the Joraku-den

The Joraku-den was added to Nagoya Castle to accommodate the third Shogun, Iemitsu, on his way to Kyoto. It is the most luxurious of all the Honmaru Palace buildings, and this event marks the first time that the Chrysanthemum Corridor on the north side will be open to the public. Visitors are welcome to admire the golden-blue paintings as they stroll through the historic site.

See Spectacular Paintings when Entering the Tsugi-no-ma Room

During this period, visitors can enter the Tsugi-no-ma room to view classical period paintings, giving a more clear idea of how people acted and dressed during this time in history.

[Ninomaru Garden Special Viewing] 


~Witness a Never-Before-Seen Feudal Lord's Garden through a Spacial Presentation~

Scenography for this unique show was provided by the creative label PERIMETRON. In order to show another side of the Ninomaru Garden at night, the company focused on light's characteristics, from reflection and transmission to refraction and absorption. Light and shadow intertwine in various ways, and guests will be transfixed by this curious showing.

Information

Nagoya Castle: Autumn Night Special Viewing ~KEI~

Running: November 25 – December 8, 2022

Viewing Hours: 9:00-19:30 (Gates close at 20:00)

Official Site: https://www.nagoyajo-kei.jp/

Results of Second Japanese Cultural Grand Prix Announced

The five winners of the second Japanese Traditional Culture Grand Prix have been announced! The contest was spearheaded by the Japan Traditional Culture Promotion Project, established in May 2020 as a collaborative effort among companies, associations, and local governments to establish a sustainable framework for the continued development of Japanese traditional culture.

The project is headed by Seiichi Kondou, the Former Commissioner of the Agency for Cultural Affairs. United Arrows Honorary Chairman Osamu Shigematsu serves as Vice-Chairman. Along with Nobuo Yoshida, the 14th generation head of the 400-year-old traditional paper fan store Ibasen, the Japan Cultural Promotion Project began this Grand Prix as a way to honor outstanding works of Japanese culture by companies, organizations, and individuals. Anyone can enter, regardless of nationality, residence, or age. The jury consists of 11 people from various fields, including Richard Collasse, the Chairman of Chanel LLC, and popular model Kozue Akimoto.

Grand Prix Winner

Dustpan x Broom

Luo Qi

Each dustpan is shaped by hand to match the special shape of the Matsumoto broom, which is then dyed with natural Tokushima indigo dye. The broom is the only one in the world made from home-grown broomcorn, and each is made by a third-generation craftsman with years of experience.

Runner-up Prizes

Japanese Lacquer Art – Ether

Takehito Sasaki

[Critique]


Both traditional and innovative. The spirit of Japanese culture and the meaning of this award seem to have taken shape in this work. The zippers do not open. The surface looks like leather, but it isn't. When the lid is opened, the glossy lacquer seems to spread out. My expectations were surpassed. Anyone who sees it or uses it will find themselves lost in imagination, and I'm sure that thinking about that will bring a smile to the creator's face. This beautiful craftsmanship was born from plenty of care and attention. What a pleasant surprise. (Risa Tanaka)

Sake Drinking Set – Japanese nagomi Sake Cups


Nagomi Fujita

[Critique]


There's something about this piece that shares a spirit with Art Nouveau. The delicate plants superimposed on the bright transparent glass are a powerful image. In traditional Japanese nagomi art, the linear appearance of the plants is painted a bit more lightly, but these overlapping layers and shapes resonate and make an impact. The artist used traditional techniques such as lacquer and foil in a subtle manner, while still making the plants look alive. I'd consider this as a modern take on ecology. (Yuko Hasegawa)

Excellence Award


Floating Boat Counter


Masafumi Kodama (Registered Architect with a First-Class License) / Taiki Ishikawa (First Class Carpenter/Registered Architect with a Second-Class License)

[Critique]
The motif that inspired this piece is the traditional Japanese architectural technique of funahijiki. It's an outstanding piece that utilizes practical architectural practices to create a piece of furniture at the center of a home, somewhere that the family relaxes. It brings the beauty of Japanese wood into the modern age. Funahijiki is a technique that has been used in incredible places, such as the Kyoto Imperial Palace and Kojoin Temple. It's graceful and elegant, and not often seen in the current age. (Hidetsugu Horikoshi)


Folding Chair to Assist in Seiza
patol stool SEIZA

Hirayama Daily Goods Shop, Makiko & Kazuhiko Hirayama

[Critique]


The judges liked this folding chair for assisting seiza sitting, as it's something that could be put to practical use right away. It's sure to help people enjoy tatami culture, and will be a big help for people who seldom sit on the floor in this traditional way. The height and size of the chair, as well as its ability to be folded for easy storage, are nice touches. I'd consider this a masterpiece with incredible potential. (Yuji Akimoto)

These pieces of artwork managed to connect traditional Japanese culture with future sensibilities, so give them a look!

Japanese Painter Uemura Shoen and Others to be Featured at Shohaku Art Museum in Nara

Shohaku Art Museum in Nara will be exhibiting works by Uemura Shoen, Shoko, and Atsushi from September 6 until November 27. This will include sketches and rare works by these classical Japanese artists, many of which will be shown for the first time in two years.

Hanagatami. Uemura Shoen, 1915

Hanagatami (Rough Sketch) Uemura Shoen, 1915

Yang Guifei. Uemura Shoen, 1922

Tsudumi no Oto. Uemura Shoen, 1940

Flowers and Birds of the Four Seasons. Atsushi Uemura, 2010. 

 

The museum has a large number of valuable materials in its collection, including drafts, miniatures, and drawings by Shoen and Shoko. Even the drafts by Shoen are meticulously crafted, down to each and every crease in the kimonos. By viewing the original sketches with the final paintings, guests can feel the emotion that went into them. The exhibition also provides a glimpse of how Shoko and Atsushi deepened their understanding of their subjects through sketching. Fans of Japanese artwork shouldn't miss this valuable exhibition!

Information

Shohaku Art Museum Collection 2022: Uemura Shoen, Shoko, and Atsushi

Running: September 6 – November 27, 2022
Venue: Shohaku Art Museum

Hours: 10:00-17:00 (Last Entry at 16:00)

Official Site: https://www.kintetsu-g-hd.co.jp/culture/shohaku/

Light and Shadow 2022 Event at Hotel Gajoen Tokyo Attracts Over 10,000 Visitors

Hotel Gajoen Tokyo, which blends a hotel and a traditional Japanese museum, is celebrating summer in the spookiest way possible. From July 2 until September 25, guests can enjoy the 'Wa no Akari x Hyakudan Kaidan 2022 ~Light and Shadow: 100 Stories~' event, inspired by the tradition of telling ghost stories in summer to send a chill down your spine. Since opening, over 10,000 visitors have come to experience this once-in-a-lifetime event. 

Each of the seven exhibition areas is connected to the stairway, and each has its own theme pulled from the overarching theme of light and darkness. From Light of Passion to Midnight Light, guests will be surrounded on all sides. As you ascend the stairs, a festive atmosphere transforms into a more frightening one. Although the ghosts are out to play, guests are welcome to enjoy the many art pieces and crafts on display. 

Sokyu Room / Lights of Passion

This Kabuki stage is filled with the passion of women who are addicted to love, a common theme in many traditional plays. The eye-catching Japanese umbrellas and lanterns will no doubt leave an impression, and the wistful music is titled Red Thread. The tale depicted here tells the story of a woman who becomes a haunting specter clad in flames of passion, sobbing and laughing in time with the song. 

Still Water Room / Inverted Light

The three trees crowned with horse heads were created by the artist Eros Nakazato. Guests will feel as though they've been transported to the middle of a meadow as they explore this fantastical room covered in traditional paintings. In the work The Reverse of the Reverse, there are no wild horses on the earth, and those who have been tamed by humans sway in a beautiful and sad way. To make this scarier, the story has been reimagined as guests look through a crystal ball–now, humans are ruled by horses

Starlight Room / Midnight Light

Passing through a corridor of suspiciously flickering yokai lanterns, you will find that the clock has struck midnight. In the darkness, as most humans are asleep, specters are having a lively party. Playful cats dance and play and a number of artistic works by contemporary artists are on display. The music played fuses Japanese and ethnic instruments, some of which are interspersed with the voices of creatures of the night.

Experience this immersive art experience that will delight all five senses through light and shadows while you can!

Information

Wa no Akari x Hyakudan Kaidan 2022 ~Light and Shadow: 100 Stories~

Running: July 2 – September 25, 2022

Hours: 11:30-18:00 (Last entry at 17:30) *Closing at 17:00 on August 20 (Last entry at 16:30)

Venue: Hotel Gajoen Tokyo Hyakudan Staircase (Tangible Cultural Property Designated by the Tokyo Metropolitan Government)

Tickets/Details: https://www.hotelgajoen-tokyo.com/100event/wanoakari2022

Official Site: https://www.hotelgajoen-tokyo.com/

Hotel Gajoen Tokyo Opens Artistic Summer Ghost Story Event

Hotel Gajoen Tokyo, which blends a hotel and a traditional Japanese museum, is celebrating summer in the spookiest way possible. From July 2 until September 25, guests can enjoy the 'Wa no Akari x Hyakudan Kaidan 2022 ~Light and Shadow: 100 Stories~' event, inspired by the tradition of telling ghost stories in summer to send a chill down your spine. The art illumination exhibition promises to be a once-in-a-lifetime experience.

Jounen no Akari (Lights of Passion)

Bamboo Lights

Without light, there are no shadows. In this exhibition, light and shadow complement one another, portraying the popular 100 ghost stories in a new way. Last year's event received critical acclaim as guests found themselves moving breathlessly from room to room, exploring the many incredible pieces put on display. Along the dusk-lit promenade, goldfish lanterns lead guests to the start of their mysterious adventure. The atmosphere changes from room to room, with bamboo lights and shadows surrounding you from all sides. 

An Immersive Light Art Space

Odawara Wind Chimes at Dusk

Luxurious Cherry Blossom Hairpins

Glass Lamp, Iroshita Studio

Flower Arrangement, Rikou Otsuka

As you ascend the stairs, a festive atmosphere transforms into a more frightening one. Although the ghosts are out to play, guests are welcome to enjoy the many art pieces and crafts on display, from flower arrangements by master ikebana artist Rikou Otsuka and sculptures by some of Japan's most influential traditional creators. 

Enjoy Traditional Summer Ghost Stories with Light Art

Ghost Lanterns

Born from the Earth, Yasumaro Ozawa

Byakko, Yuji Nishijima

Inverted Light, Eros Nakazato

Mysterious music will drift through the air, making guests feel as though they've been transported into another world. The eerie space is lit by Ghost Lanterns made by a 200-year-old company in Fukuoka, and the venue is decorated with art blending ukiyo-e with contemporary styles. 

Culture and Crafts from Around Japan

Paper Lanterns from Ise

Bamboo Lights, Akarinowa

3D Knit Lights

Paper Fireworks

Summer fireworks have been recreated in colorful paper form by an artist in Nagaoka, Niigata Prefecture, and materials found in a neglected bamboo grove in Shizuoka Prefecture were used to create the many iconic lights seen throughout the unique exhibition. Local craftsmen are at the heart of the event, with pieces brought in from areas all around Japan.

Wa no Akari Room

A concept room featuring gently flickering lights and lanterns is available to book for a limited time. Why not come spend your summer in this otherworldly atmosphere?

Information

Wa no Akari x Hyakudan Kaidan 2022 ~Light and Shadow: 100 Stories~

Running: July 2 – September 25, 2022

Hours: 11:30-18:00 (Last entry at 17:30) *Closing at 17:00 on August 20 (Last entry at 16:30)

Venue: Hotel Gajoen Tokyo Hyakudan Staircase (Tangible Cultural Property Designated by the Tokyo Metropolitan Government)

Tickets/Details: https://www.hotelgajoen-tokyo.com/100event/wanoakari2022

Wa no Akari Room

Available: July 2 – August 31, 2022 (1 room available per day)
Details/Reservations: https://www.hotelgajoen-tokyo.com/stay/plan

Experience Japanese Culture from Anywhere with Kanda Myojin Shrine's Virtual Space

Kanda Myojin Shrine dates back over 1,270 years, making it one of the most well-known religious sites in Tokyo. Dai Nippon Printing is now making it possible for interested visitors to experience the site from anywhere in the world, unveiling the Kanda Myojin CG Space this week. Developed with approval from the shrine, the virtual space faithfully reproduces the structure and design of the location using 3D laser measurement technology and CG techniques developed by DNP over many years. The space will be open online to all audiences.

 

A portion of the work from the Masayuki Kojo 10th Anniversary Exhibition currently behind held on-site at Kanda Myojin from June 4 until July 10 will also be available to view in the CG space. The space will also be linked to 'Virtual Akihabara,' developed by DNP in conjunction with the AKIBA Tourism Council. Using XR (Extended Reality), the company hopes to develop a wide variety of new communication styles.

The Kanda Myojin CG Space was created by using DNP's laser measurement technology to recreate three-dimensional objects. By using high-definition photography and photogrammetry technology, images of objects are taken from many angles, creating a realistic 3DCG space to explore. The structure of the shrine, which was rebuilt in 1934 after being damaged in the Great Kanto Earthquake, has been faithfully reproduced in every way.

In conjunction with events held at the Kanda Myojin Museum, the Kanda Myojin CG Space will make the history of Kanda Myojin and its collection of materials, including rare ukiyo-e prints, available online for anyone to access. Through these exhibits, people both in Japan and abroad can experience Edo culture through their web browsers!

Hong Kong and Virtual Exhibition to Reimagine Japanese Contemporary Art, Fashion as NFTs

From April 21 until May 15, 2022, Startbahn is holding the 'Made in Japan 3.0: Defining a New Phy-gital Reality' exhibition at a pop-up venue in Hong Kong! A virtual showroom by VIRTRIX is also open for those who can't attend in person.

'Made in Japan 3.0: Defining a New Phy-gital Reality' utilizes blockchain technology and NFTs to showcase cutting-edge Japanese creativity in the worlds of fashion, art, and crafts, bringing the physical and virtual worlds together. The lineup was brought together by Startbahn, a leader in blockchain and Web3 infrastructure in Japan. Participating artists include fashion stars Tomo Koizumi and Anrealage, ceramic artist Takahiro Koga, and Yumi Kishi, known for creating digital portraits using artificial intelligence. The latter has appeared in Vogue and worked with Nike.

Participating Fashion Brands / Designers, Artists


Fashion Brands / Designers
ANREALAGE
HIRUME
Masaya Kushino
TOMO KOIZUMI
YUIMA NAKAZATO

Ceramist
B-OWND / Takahiro Koga

Artist
Yuma Kishi

SBINFT Market Artists:
Tsuki
NauGhtEd
AURORA
NY_
gamacho
galcid
Haioka
mera takeru
marimosphere

Information

Made in Japan 3.0: Defining a New Phy-gital Reality
Running: April 23 – May 15, 2022
Hours: 12:00-20:00
Venue: Shop Go1, K11 Art Mall (K11 Car Park, 18 Hanoi Rd., Tsim Sha Tsui, Hong Kong)

Virtual Showroom / Official Site: https://www.virtrix.io/startbahn/madeinjapan3.0

NAKED Opens Traditional Craft Workshop in Saga Prefecture

Creative company NAKED has begun producing a collection of workshops on traditional crafts found in Saga Prefecture. Along with local creators, the event will continue through February 2022. 

NAKED, together with Saga Prefecture, started a project called the 'Saga Art Prefectural Government Project' in 2016, which focuses on promoting the night economy in Saga. From the fall of 2021 until winter 2022, visitors to Saga will be able to enjoy a night walk surrounded by lanterns and local pieces of artwork.

 

During this event, workshops led by Saga's top creators will invite visitors to create a number of unique, personalized items, from lanterns to hand lotion. Certain workshops are for both adults and children, making this a fun event for the entire family. 

Workshops

aroma*aroma Fragrance School Seminar House: Aromatherapy Soap Making for Parents and Children

Arita Porcelain Lab Painting Experience

Ogi Akari Project Bamboo Lantern Making Experience

Making Magatama at Yoshinogari Historial Park

Balloon Museum: Paper Balloon Making Experience for Parents and Children

full of flowers hyakka Flower Swag Making Experience

aroma*aroma Fragrance School Seminar House (with aroma lecture) Hand Cream Making Experience

Bubbleman Store for Adults: Saga Lotion Making Experience/ Bubbleman Store Candy Soap Making Experience for Parents and Children

Ureshino Warmth Festival Lantern Making Experience