Interview: Having performed at the CBGB festival and currently gaining international attention, just who are "Cheeky Parade"?
Cheeky Parade is part of the Avex idol label "iDOL Street", the second idol group to come out of the label. The group have gained attention both within Japan and overseas for their great vocals and energetic live performances, having performed even in Paris and LA. We interviewed for of the Cheeky Parade members, including Yuriya Suzuki, Yuna Sekine, Seran Mizorogi, and Momoka Kodakari, about two of the members going to study abroad, their latest song "Hands up!", and their thoughts on their overseas performance.
・First of all, please tell us a little about the group "Cheeky Parade".
Sekine: "Cheeky Parade" is a nine member group that have been together 4 years this year. Two of the members are currently studying abroad in Los Angeles so we are working with seven members for the time being. Just as our name suggests, we are "Cheeky", always being mischievous and high energy on stage. If you're able to come and see us live, I think you'll know what we mean.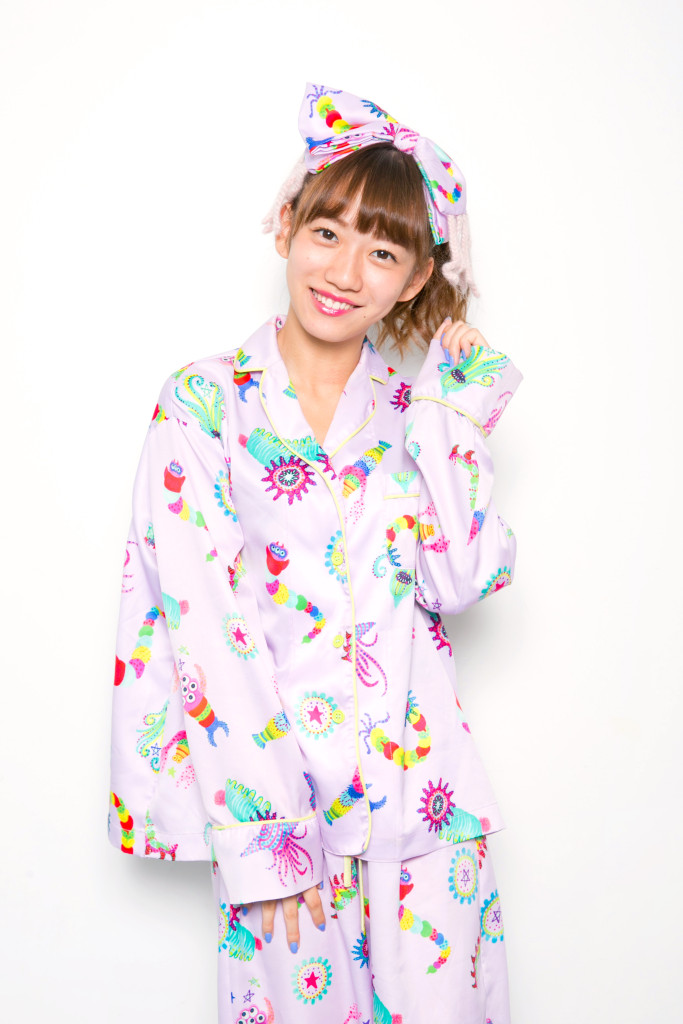 ・What kind of songs do you play the most live?
Mizorogi: We perform a lot of songs that everyone can enjoy together! If you hear our music, you'll be able to forget all the bad things.
・What are the members of the group like?
Mizorogi: We have a lot of very energetic and loud members (laughs). I think the music studio is quiet once or twice a year!
Suzuki: And that energy really comes out on stage! All the members are really lively, and it's the same on stage. It's a lot of fun.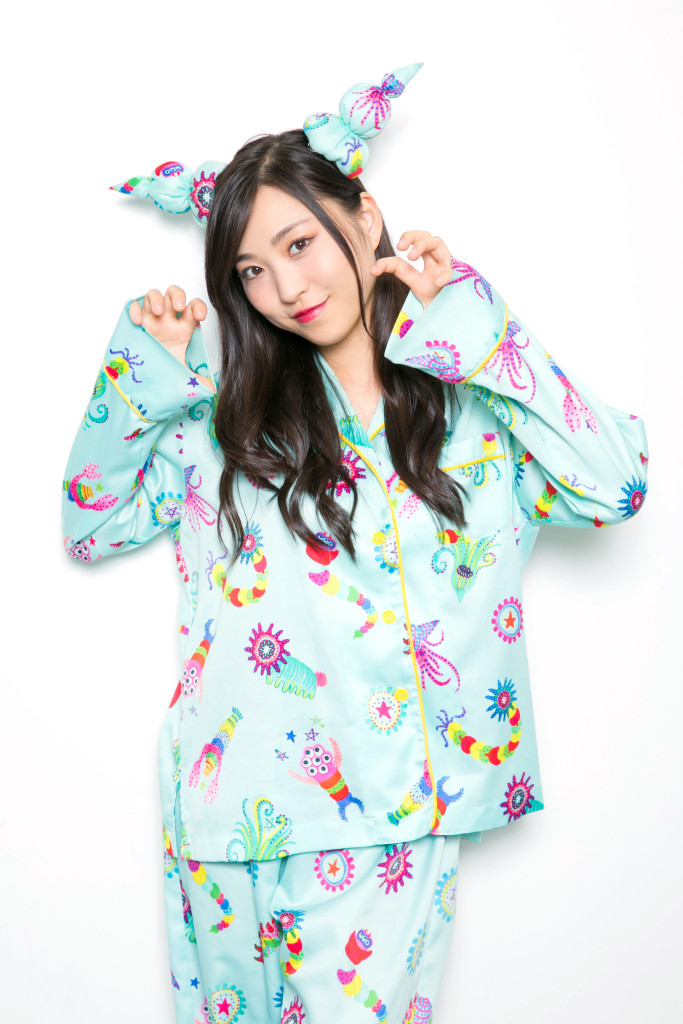 ・The other groups that are with the idol label you are on are accepting new members, but it was decided that Cheeky Parade wouldn't accept new members and continue with who you have. What's the reason for this?
Suzuki: I think because we have ties with each other and we all really get along, and because we've been able to come as far as we have together, so it wouldn't really work if it wasn't the 9 of us.
・Cheeky Parade seem to be really keen about performing overseas, having gone countries like America and France.
Kodakari: Of course we'd be active in Japan, but going overseas has always been our dream! We were able to go to New York, France and Los Angeles last year and the year before. We were able to learn how people overseas do their thing during performances. I've really come to want to spread Japanese culture even more overseas. There are so many Cheeky Parade fans in France that support us, and it's that which makes me want to return the favour to our overseas supporters.
Suzuki: There really is a Cheeky Parade fan community in France. There's a French music program that ranks the most popular Japanese songs. Lots of French Cheeky Parade fans voted for us and we placed 3rd in the rankings!
Two of our members, Marin Yamamoto and Suzuki Mariya, are studying abroad in Los Angeles, but once they come back having studied English, I think we'll be able to become an even stronger group overseas.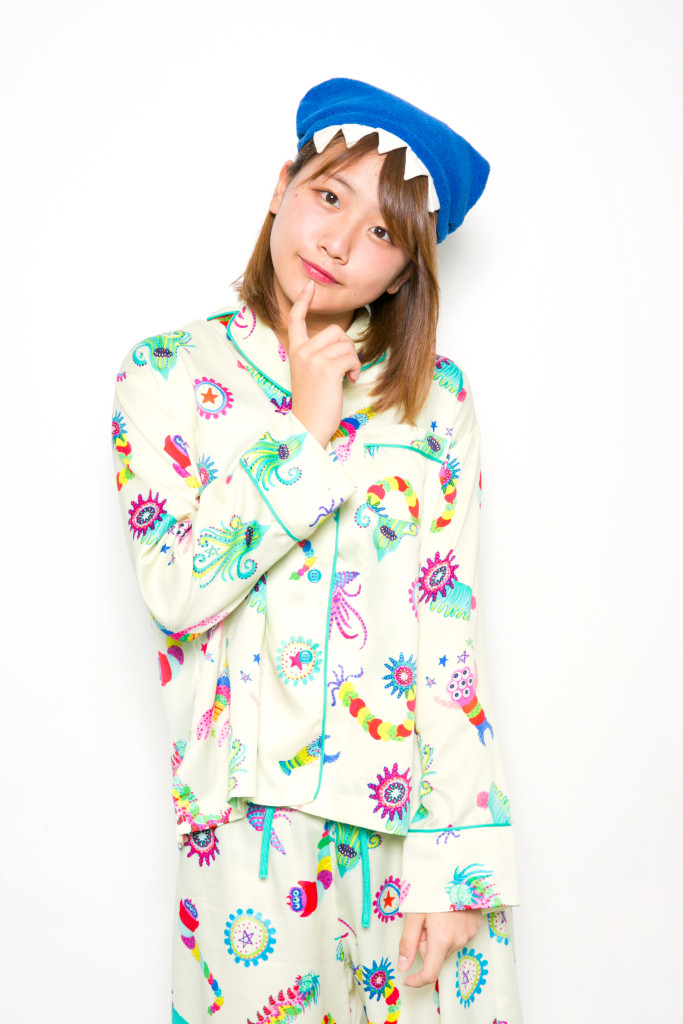 ・What do you think will be the secret weapon that determines your success overseas?
Kodakari: Music that will get everyone going! When we went to New York, nobody knew who we were, so I wondered what would happen, but as soon as our music came on everyone people came over to watch and were really enjoying it. Even though they didn't know the lyrics, I feel like it really resonated with them. Music can connect with anybody in the world. Even though the song is in Japanese, if the melody and rhythm are good then it can bring together that many people. I was really happy.
Suzuki: Cheeky Parade have fun choreography and we all jump together a lot during performances, so performing overseas made me want to come up with more fun songs that foreign people can enjoy too – songs that get your body moving, even if you don't understand the words.
・Are there any songs you'd like people to remember when you perform overseas again?
Mizorogi: I wonder… (laughs). Our new song "Hands up!" is a rock song that even people who don't like idol music can enjoy, so if there are any people overseas that don't know about idol culture, I think they'll be able to have fun with that song. There's a lot of parts where we dance together, so if they keep listening to our songs, watch our live performances and music videos and learn the dances I'll be very happy.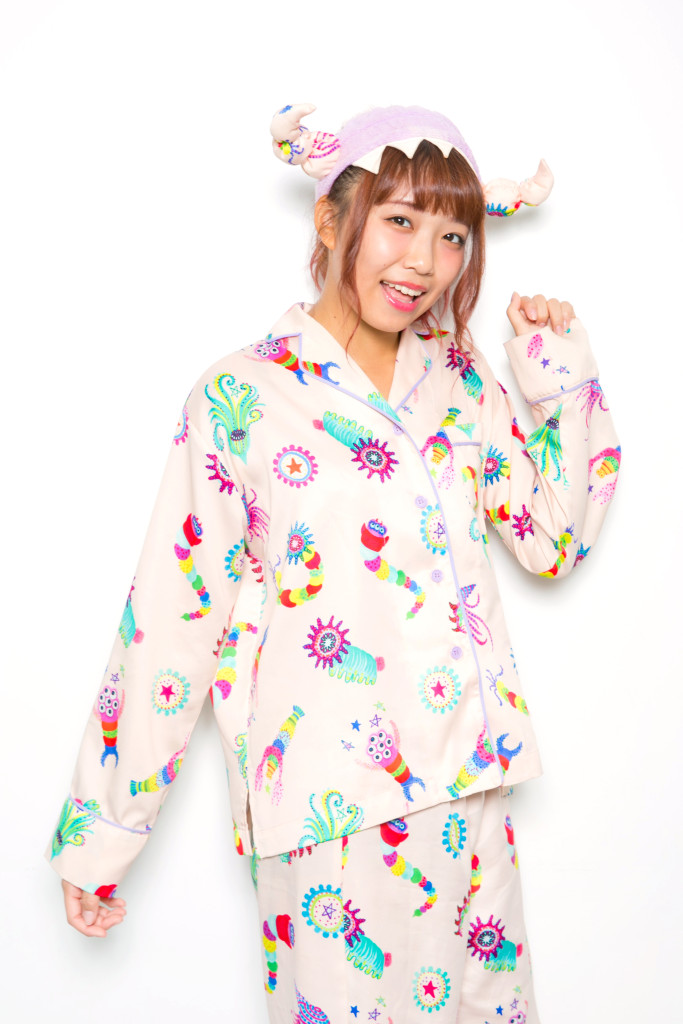 ・It's impressive that you wear pajamas in "Hands up!"
Suzuki: Pajamas are popular in the overseas fashion world at the minute, so we tried adopting the latest fashion. On the other hand, with regards to spreading Japanese culture overseas, when we go there we go wearing kimono.
・Finally, please leave a message for your overseas fans.
Sekine: Even if you don't understand what we're saying during our performances, you'll be able to forget anything and everything and have fun just by watching! I want to start going overseas more, so it's fine if you don't know our songs, just come and see us and I have confidence that you'll love us!
Kodakari: We haven't been overseas wearing these pyjamas yet, so we will perform wearing them, so I'd like all of you to wait for us wearing your pyjamas (laughs).
Suzuki: "I love music", "I love having fun". These are feelings that everyone feels and that connect with anyone in the world, so I would be grateful if you can have fun through Cheeky Parade. If you're someone that likes to have fun, I'd most definitely like you to come and see Cheeky Parade!
Mizorogi: We plan to make Cheeky Parade become bigger and also to become famous overseas, so please be sure to keep an eye on us!
Cheeky Parade Official Website
http://cheekyparade.jp
ーーー
■Related Article: Lucky 7s all round — Cheeky Parade's new formation of 7 celebrates Oricon Daily Ranking of 7th place achieved by their new single released on 7th September!
■Related Article: MOSHI MOSHI INTERVIEW: Cheeky Parade
RELATED ENTRIES
FRUITS ZIPPER Announces First Arena Live Show at Tokyo Metropolitan Gymnasium this Fall

On June 26, FRUITS ZIPPER held a one-man live performance at the "Sayonara Nakano Sunplaza Music Festival," marking the culmination of Nakano Sunplaza's rich history as it undergoes a fresh transformation in honor of its 50th anniversary this year.

With the opening SE playing, laser beams filled the venue, creating an atmosphere brimming with anticipation as the live performance kicked off with "Sekaiwa Kimikara Hajimaru." Popular upbeat songs like "Kanpeki Shugide☆," "Cho Medetai Song – Konnani Shiawasede Iinokana?-" and "Fure Furu Summer!" followed, captivating the audience from the beginning and keeping the excitement alive.

During the MC segment, it was announced that their hit song "Watashino Ichiban Kawaiitokoro," which garnered a staggering 800 million views on TikTok and surpassed 12 million views on the music video since its digital release last year, would be released as the group's first-ever CD single in this September. The announcement of the release consisting of a first-press limited edition, regular edition, and member edition featuring solo jacket designs for each member, heightened the excitement of the audience even further. With smiles on their faces, the group delivered an outstanding performance of all 14 songs, bringing the live show to a close.

As the encore calls echoed through the venue, a sudden news program-style video began playing on the screen, and the expressions of the members reflected a sense of nervousness. Within the homage-like footage resembling the moment of the Olympic host city announcement, it was revealed that the Tokyo Metropolitan Gymnasium had been chosen as the venue for the grand finale of their nationwide tour in this fall. Suzuka Chinzei expressed, "Having the opportunity to perform in such a large venue in our second year since debut is an amazing challenge, and we were able to make this decision because of all of you being here. We will train together as a group leading up to this day, so please stay excited!" The audience responded with warm applause to her heartfelt words.

During the encore, they unveiled their new song "Pure In the World," which is sure to become a new staple that energizes their live performances. The song was produced by Tamaya2060% from Wienners. At the finale of the event, which was filled with "super celebratory" announcements for both fans and members, they performed "Cho Medetai Song -Konnani Shiawasede Iinokana-?" once again. The audience joined in with loud handclaps and responded to Luna Nakagawa's shout of "FRUITS ZIPPER Arena Live Show!" with chants of "Congratulations!" The entire venue came together as one, closing the curtain on a memorable night.

FRUITS ZIPPER will kick off their first nationwide tour in September. The pre-sale of tickets for the tour finale at the Tokyo Metropolitan Gymnasium has begun and will run until July 3.

Information

[Tour Information]
FRUITS ZIPPER JAPAN TOUR 2023 -AUTUMN- TOUR FINAL
Date: October 28, 2023
Venue: Tokyo Metropolitan Gymnasium
Time: Doors 16:00/ Starts 17:30
*Please note that there will be no meet-and-greet session on the day.

[Ticket Information]
-VIP Standing: ¥16,500 (Tax included) *Exclusive to FC members / Up to 2 tickets per application.
-General Arena Reserved Seat: ¥8,000 (Tax included) *Up to 4 tickets per application.
-Reserved Stand Seat: ¥5,500 (Tax included) *Up to 4 tickets per application.

▼VIP Ticket Benefits
-Reserved seating in the front section.
– Commemorative merch gift.
-Original electronic ticket.

[Ticket Pre-Sale Information]
KAWAII LAB. OFFICIAL FANCLUB
Application Period: 6/26 at 21:00 – 7/3 at 23:59
URL: https://kawaiilab.asobisystem.com/

Playguide
Application Period: 6/26 at 21:00 – 7/3 at 23:59
URL: https://t.pia.jp/pia/artist/artists.do?artistsCd=M4140001

[Contact]
HOT STUFF PROMOTION
050-5211-6077
https://www.red-hot.ne.jp/

For the latest tour information, check here:
https://kawaiilab.asobisystem.com/

[Release Overview]
FRUITS ZIPPER 1st Single CD "Watashino Ichiban Kawaiitokoro"
Release Date: September 13, 2023

[Editions]
Limited Edition [CD]: ¥3,000 (Tax included)
Regular Edition [CD]: ¥1,200 (Tax included)
Member Edition [CD/7 versions]: ¥1,200 (Tax included)

[Specifications/Tracklist]

■ Limited Edition (The Cutest Packaging)
Tracklist:
M1. Watashino Ichiban Kawaiitokoro
M2. Pure In the World
M3. Zutto, zutto, zutto!
M4. Cho Medetai Song -Konnani Shiawasede Iinokana?-
Bonus: Music Video DVD

■Member Editions (Member Solo Jacket)
Tracklist:
M1. Watashino Ichiban Kawaiitokoro
M2. Pure In the World
M3. Limited Edition Songs for Each Member Edition *
M4. Cho Medetai Song -Konnani Shiawasede Iinokana?-

*
Suzuka Chinzei Edition: "skyfeelan"
Luna Nakagawa Edition: "Kanpeki Shugide☆"
Amane Tsukiashi Edition: "Re→TRY & FLY"
Karen Matsumoto Edition: "Happy Chocolate"
Noel Hayase Edition: "RADIO GALAXY"
Yui Sakurai Edition: "Sekaiwa Kimikara Hajimaru"
Mana Manaka Edition: "Furefuru Summer!"

The schedule for in-store events will be announced on FRUITS ZIPPER's official SNS channels.

■Regular Edition
Tracklist:
M1. Watashino Ichiban Kawaiitokoro
M2. Pure In the World
M3. Cho Medetai Song -Konnani Shiawasede Iinokana?-
M4. Watashino Ichiban Kawaiitokoro (Instrumental)
M5. Pure In the World (Instrumental)
M6. Cho Medetai Song -Konnani Shiawasede Iinokana?- (Instrumental)

【KAWAII LAB.】IDOLATER Releases New Single 'Aimai Silhouette'

On May 31, the idol group IDOLATER released its 11th single, Aimai Silhouette.

Unlike the group's more mature love songs released in the past, this new track is packed with cuteness and a fresh sound.

City Pop TOKYO Collaborates with Idol Group FRUITS ZIPPER to Produce Member-Inspired Legendary NFTs

The NFT project City Pop TOKYO is inspired, fittingly, by City Pop, a music genre from Japan that is immensely popular worldwide, particularly among Gen Z. Now, the project is collaborating with the incredibly popular idol group FRUITS ZIPPER!

Starting at the end of April, Legendary NFTs inspired by the members of FRUITS ZIPPER will be released sequentially as part of the City Pop TOKYO NFT collection. These collaborative NFTs feature rare designs that are unique among the other characters in the City Pop TOKYO NFT collection and were drawn by Natsumi Sato, the illustrator who oversaw character design for the collection.

This collaboration will commemorate the release of City Pop TOKYO's main collection, which will be available starting at the end of April. City Pop TOKYO will allow both NFT holders and non-holders to participate in new character development through a series of Twitter posts after the main NFT collection is sold. Characters will level up by earning training points when they post on Twitter, which will also be reflected in their NFT properties. The final ranking will be based on level, and a subsequent audition will be held, with winners being invited to join ASOBISYSTEM as new talents.

For this collaboration, the wildly popular FRUITS ZIPPER is sure to bring some new excitement to this incredible project.

Information

<Collaboration Details>
●Seven FRUITS ZIPPER NFTs inspired by the group's members will be added to the City Pop TOKYO collection as Legendary NFTs.
● Legendary NFTs were created by Natsumi Sato, the illustrator behind City Pop Tokyo. Each special edition release has its own unique parts.
● Unlike standard collections, Legendary NFTs will be sold via auction.

Available: April 19 at 21:00 ~ April 20 at 21:00
Amount Available: 7
Price: To be determined at auction

Below are the NFT designs. Illustrations will be sent to auction winners as NFTs.

<Special Benefits for Legendary NFT Holders>
● One NFT airdrop from City Pop TOKYO's main NFT collection
● Easier to accumulate XP points when developing characters on Twitter
● A 3D model from the Gemie Metaverse (Design to be selected from airdrops from the main collection)
●NFT airdrops of future collections (details to be announced as soon as the collections are available)
*Legendary NFTs cannot participate in the promotional game or audition.
*The images and designs of the characters may be used by the FRUITS ZIPPER and its members during their activities.

About City Pop TOKYO
City Pop TOKYO plans to release 1984 original NFTs based on City Pop, a music genre from Japan that is immensely popular worldwide, particularly among Gen Z. The project's characters are featured in trendy outfits and makeup representing symbolic fashion styles in Japan, such as GAL, SHOWA, and REIWA. After the NFTs are sold out, they can be registered as talents with ASOBISYSTEM and entered into the METAVERSE'S GOT TALENT NFT talent audition using Twitter! Successful entries will be invited to have full-fledged virtual careers, appearing in ads and releasing music. Community members can participate in surveys and vote on songs and other releases, coming together to help develop new talent.

Through this project, City Pop TOKYO will work to reaffirm the usefulness of Web 3.0 technology and NFT and further promote Japanese culture to people worldwide.

・Website: https://www.city-pop.tokyo/
・Twitter: @CityPopTokyoNFT
・Discord: https://www.city-pop.tokyo/

<Participating Businesses>

Kingdom Labs
Kingdom Labs is a venture studio that aims to support and invest in projects in the gaming and toC areas within the Web 3.0 domain. The company provides consistent support to entrepreneurs building innovative business models across various industries, from planning to execution. One of the company's key strategies is to partner with large companies that are expanding their business to Web 3.0 or that exist in a different area but hope to create Web 3.0 services. Kingdom Labs takes a unique, multi-disciplinary approach to maximize the interests of investors and partners, leverage its global team, and to grow its global portfolio and investment experience. The company also operates the world-renowned NFT collection Monkey Kingdom.

Representative: CSO Maurice Ng
URL: https://www.kingdomlabs.com/

UPBOND Inc.
UPBOND offers Wallet, which easily allows customers to manage their assets and connect to many Web 3.0 services. Its non-custodial wallet enables general consumers to easily engage with Web 3.0 marketplaces and allows enterprises to obtain customer information with its decentralized identity solution. UPBOND works with top-notch Japanese corporates to bring their business into this new frontier while also updating customer relationships.

Representative: Director Takashi Mizuoka
Head Office: 6-31-15 Jingumae, Shibuya-ku, Tokyo (8F)
URL: https://www.upbond.io

GEMIE
GEMIE is an Asian entertainment-focused metaverse platform inspired by fan culture. The company aims to help artists achieve their full potential by providing them with the tools, resources, and opportunities they need to reach their goals and allowing them to interact with fans from all over the world without limitations.
Comment: "Instead of holding a talent show by region or country, why don't we do it in the metaverse so there won't be any geographical locations – you will be surprised how many talented artists who are worth a shot are scattered in our everyday life!"

Representative: Co-founder John Fung

FRUITS ZIPPER to Embark on First National Tour in September

Idol group FRUITS ZIPPER will embark on its first nationwide tour, FRUITS ZIPPER JAPAN TOUR 2023 -AUTUMN-, this September.

FRUITS ZIPPER has been climbing to the top of the idol scene at a breakneck pace. Their first overseas solo performance in Taiwan was recently a huge success, and tickets for their first anniversary live shows at Toyosu PIT in Tokyo and Namba Hatch in Osaka in May sold out immediately after going on sale.

The tour will begin with a concert in Osaka on September 3, followed by performances in Aichi, Fukuoka, Hiroshima, Hokkaido, and Kanagawa. Tickets for the presale lottery are now on sale for members of the KAWAII LAB fan club.

FRUITS ZIPPER's single Watashino Ichiban Kawaiitokoro, released last year, has inspired over 700 million related videos on TikTok, while the music video has been viewed over 10 million times. Keep an eye on their activities in the near future!

Information

FRUITS ZIPPER JAPAN TOUR 2023 -AUTUMN-

Date: September 3, 2023
Venue: Zepp Namba / Osaka
Time: Doors open at 16:00 / Show starts at 17:00
Contact: Kyodo Information – 0570-200-888

Date: September 5, 2023
Venue: Zepp Nagoya / Aichi
Time: Doors open at 17:30 / Show starts at 18:30
Contact: Sunday Folk Promotion – 052-320-9100 (12:00~18:00)

Date: September 8, 2023
Venue: Zepp Fukuoka / Fukuoka
Time: Doors open at 17:30 / Show starts at 18:30
Contact: Kyodo West Japan – 0570-09-2424 (11:00~15:00 / Closed on Sundays and Holidays)

Date: September 10, 2023
Venue: BLUE LIVE HIROSHIMA / Hiroshima
Time: Doors open at 16:00 / Show starts at 17:00
Contact: YUMEBANCHI (Hiroshima) – 082-249-3571 (Weekdays 12:00~17:00)

Date: September 13, 2023
Venue: PENNY LANE24 / Hokkaido
Time: Doors open at 17:30 / Show starts at 18:30
Contact: Mount Alive – 011-623-6555

Date: September 16, 2023
Venue: KT Zepp Yokohama / Kanagawa
Time: Doors open at 16:00 / Show starts at 17:00
Contact: HOT STUFF PROMOTION – 050-5211-6077 (Weekdays 12:00~18:00)

[Tickets]
VIP Standing: ¥16,500 (Including Tax, excluding drinks)
miniVIP Standing: ¥7,700 (Including Tax, excluding drinks)
General Standing: ¥5,500 (Including Tax, excluding drinks)
2F Reserved Seat: ¥5,500 (Including Tax, excluding drinks)
*Available tickets for Hiroshima and Hokkaido are VIP and General Standing only

KAWAII LAB. Fan Club Presale Tickets (Lottery)
Entry Period: April 10 at 21:00 ~ April 17 at 23:59
URL: https://kawaiilab.asobisystem.com/
*Up to 2 tickets available per person per show

New information will be announced on the official FRUITS ZIPPER social media pages when available.

KAWAII LAB. Report #19: New Idol Group CANDY TUNE Shares Thoughts on Upcoming Debut Concert

Following the success of the idol groups IDOLATER and FRUITS ZIPPER, KAWAII LAB., a project created to introduce Japan's growing idol culture to the world, has revealed the new group CANDY TUNE! Just as candy comes in a variety of flavors and shapes, each member of CANDY TUNE has their own unique personality and passion. Keeping KAWAII LAB's goal of bringing Harajuku to the world at the forefront of its activities, this idol group is ready to perform its pop tunes for audiences around the globe.

The group's name was created to convey gentleness, harmony, and sweet melodies, and on March 7, the debut album from these new idols hit all major streaming services. The titular CANDY TUNE is filled with powerful pop tracks already capturing the hearts of listeners around the world.

In CANDY TUNE's first appearance in the KAWAII LAB. Report series, we interviewed the members about their upcoming debut concert, KAWAII LAB. SESSION ~CANDY TUNE~. Are they ready to take to the stage?

-Your debut concert is coming up soon! How are you feeling? Share a message with the fans!

Bibian Murakawa

"Hi everyone! I'm Bibian Murakawa and my member color in CANDY TUNE is pink. The seven of us have been working together during all kinds of different lessons to become world-class idols. Everyone is so cheerful and each member has her own hobbies and special skills. It's been a blast spending time with them every day! We want the world to know what we're like inside and out, and to love us for who we are!"

Twitter: @bibian_ct1203
Instagram: @murakawabibiann
TikTok: @murakawabibiann

Mizuki Kirihara

"After so much training and so many different lessons, I'm happy to finally be able to perform on stage. We're lucky to have such amazing songs and costumes, and I hope to express myself in authentic CANDY TUNE style. Just spending each day with the members and staff, in general, fills me with so much happiness, and I can't wait to bring that joy to the fans! I just hope everyone can be happy!☺️"

Twitter: @mizuki_ct0221
Instagram: @kirihara_mizuki
TikTok: @kirihara_mizuki

Rino Fukuyama

"I feel blessed to have had all these months of lessons and prep before our debut, and I've really been giving my all! I want this to be the best possible debut concert and I hope we can exceed everyone's expectations. I know I'll be nervous before we go on stage, but this is something that will happen only once in my life, so I want to enjoy it as much as I can! I hope you enjoy listening to our music right up until you see the live performance!"

Twitter: @rino_ct1224
Instagram: @rinomaru_
TikTok: @rinomaru_

Nanako Ogawa

"Only a few days are left until our debut. I still can't believe I'm about to become an idol! (Laugh)

Thankfully, I've been able to interact with fans even before our debut. I feel so happy when I see people's words of support and hear about fans keeping track of new information coming out about CANDY TUNE each day. I hope I can cheer everyone up, even if it's just a little bit. Through CANDY TUNE, I'll make many dreams come true and devote myself to becoming someone's hope in this world!"

Twitter: @nachico_ct1001
Instagram: @__nchisan__
TikTok: @__nachisan__

Natsu Minami

"Not long ago, everything felt so new and I was just trying my hardest to keep up with lessons each day. But as we get closer to our debut, I feel more and more like I've really become an idol. I'm both nervous and excited about what I'll see at our first concert since it will be my first time appearing as a real idol! I'm just so happy to be a member of CANDY TUNE…I'll keep bettering myself right up until the show on 3/14!"

Twitter: @natsu_ct0317
Instagram: @nattanntan
TikTok: @nattanntan

Shizuka Miyano

"Each member of CANDY TUNE is very unique, and I think that really comes through in our performances. I can't wait to show you all how much we've grown! So many people have supported us since before our debut, and we'll never stop being grateful for that. Having been able to perform as idols in such a wonderful environment is a blessing. We'll keep improving ourselves in order to give even better performances in the future, but first, we want to give our all at our debut!"

Twitter: @shizuka_ct0530
Instagram: @myn_szk_ct
TikTok: @miyano_shicha.

Kotomi Tachibana

"I'm thankful to have been given so many opportunities leading up to our debut, like dance and singing lessons, speaking lessons, and so many other things that other idols might have never had a chance to do. I'm working hard every day to put those efforts to good use during our first live show! I have so many feelings about our first concert–I wonder what the view will be like! I want it to be a huge success, and while I'm a little anxious, I'm just looking forward to meeting the fans more than anything! ♡ I hope the concert makes everyone happy!"

Twitter: @kotomi_ct0525
Instagram: @kotomi_5chan
TikTok: @kotomi_5chan

Check out each member's profile here: https://www.moshimoshi-nippon.jp/ja/676709

The members of CANDY TUNE have been working hard as a team each and every day in preparation for their debut concert, focusing on the feelings they hope to convey to their new fans.

The girls are sure to put on a memorable show, and there's no doubt that their historical first performance will bring happiness to each and every person in attendance. Be sure to keep an eye on CANDY TUNE going forward!

CANDY TUNE Releases First Album 'CANDY TUNE'

CANDY TUNE, the newest group from KAWAII LAB, released their first album on March 7. KAWAII LAB is continuing to introduce Japanese idol culture to fans around the world.

The seven-member group is comprised of members Rino Fukuyama, Mizuki Kirihara, Natsu Minami, Nanako Ogawa, Bibian Murakawa, Shizuka Miyano, and Kotomi Tachibana. Just like candy, which comes in tons of different flavors and shapes, the members will bring their own unique personalities and quirks to their pop tunes as they carry on KAWAII LAB's mission of sharing Harajuku style with the world.

Two songs on the group's first album CANDY TUNE were produced by Naoki Kubo and Suu, former members of SILENT SIREN–the sweet and playful Kiss Me Patissier and the inspiring song hanamaru. Hirotaka Hayakawa, who has produced hit songs for countless artists, also contributed. Nanairo Prologue tells the story of the seven members moving forward across a rainbow-colored bridge, andMikan na Seishun (Unfinished Youth) has a fast-paced sound sure to be a hit with new fans. The group's artist photo and the jacket art for the album were provided by Yuko Takayama (yenter).

CANDY TUNE will hold its debut concert titled KAWAII LAB. SESSION ~CANDY TUNE~ on March 14 at Spotify O-EAST. To commemorate the special occasion, IDOLATER and FRUITS ZIPPER will also perform. The three groups will perform the FRUITS ZIPPER hit track Watashi no Ichiban Kawaiitokoro together during the event, and tickets are now on sale.

Additionally, new interviews with the members and behind-the-scenes footage have been uploaded to CANDY TUNE's official YouTube channel.

Information

CANDY TUNE – CANDY TUNE (1st Digital Album)
Streaming: March 7, 2023
Streaming URL: https://kawaiilab.lnk.to/CANDYTUNE
Available to stream on all major subscription music streaming services

Tracklist:
M1 Kiss Me Patissier
M2 hanamaru
M3 Nanairo Prologue
M4 Mikan na Seishun
M5 Kiss Me Patissier -Instrumental-
M6 hanamaru -Instrumental-
M7 Nanairo Prologue -Instrumental-
M8 Mikan na Seishun -Instrumental-

[Debut Concert Details]
Event Title: KAWAII LAB. SESSION ~CANDY TUNE~
Venue: Spotify O-EAST
Date: March 14, 2023
Time: Doors open 17:30 / Show starts 18:30 / VIP Event Ends 22:30
Performers: IDOLATER / FRUITS ZIPPER / CANDY TUNE

[Tickets]
Admission: VIP ¥5,000 / General ¥3,000 / Day-of ¥3,500
Tickets: https://w.pia.jp/t/candy-tune/

<Profile>
The idol group CANDY TUNE consists of seven members: Rino Fukuyama, Mizuki Kirihara, Natsu Minami, Nanako Ogawa, Bibian Murakawa, Shizuka Miyano, and Kotomi Tachibana.

The group was formed by the KAWAII LAB project, started by ASOBISYSTEM to promote Japanese idol culture around the world. CANDY TUNE will make its debut in March 2023.

Just like candy, which comes in tons of different flavors and shapes, the members will bring their own unique personalities and quirks to their pop tunes as they carry on KAWAII LAB's mission of sharing Harajuku style with the world.

Twitter: https://twitter.com/candy_tune_
Instagram: https://instagram.com/candy__tune
TikTok: https://www.tiktok.com/@CANDY_TUNE
YouTube: https://www.youtube.com/channel/UCU0PgOXf0lxzVxN2TLzMJkw
note(Live Schedule):https://note.com/candy_tune

<What is KAWAII LAB?>

KAWAII LAB is a new project by ASOBISYSTEM aiming to promote Japanese idol culture to the world. The company works to discover, train, and produce idols with the potential to be active on the world stage.

KAWAII LAB is produced by Misa Kimura, a model and TV personality. A fan of idols for many years, Kimura was formerly the leader of the idol group Musubizm.

Other KAWAII LAB. groups include IDOLATER, a culture-holic idol group consisting of finalists from ASOBISYSTEM's first national audition in 2018, and FRUITS ZIPPER, a group transmitting NEW KAWAII from Harajuku to the world debuting in April 2022.

In March 2023, the project launched a new idol group.
KAWAII LAB. will continue to promote Japanese idol culture to the world, launching and developing new idol groups, not only in Tokyo but in other cities as well!

Twitter: https://twitter.com/kawaii__lab
YouTube: https://youtube.com/channel/UCW8Q9LBGGBgK6a-u0C0h95A
Fan Club: https://kawaiilab.asobisystem.com/

[Interview] Popular Vocalist Chogakusei Releases Long-Awaited First Album 'Cho'

Chogakusei is a vocalist who has attracted attention for the huge gap between the mysterious atmosphere of his Venetian mask and his aggressive voice. After releasing a single in January, the artist released his first full album Cho on February 15, 2023. We sat down to chat with Chogakusei about his current mental state as he continues to build serious momentum, and about his upcoming first solo concert scheduled for March at the Nippon Seinen-kan Hall.

The Theme of the 1st Album is 'Diversity'

"The word 'diversity' can refer to utilizing elements from different people and cultures, but for the diversity used in this album, I focused more on breaking the rules and thinking outside of the box in a more general sense."

"Since this is my first major album, I felt like it was the fulfillment of a promise. At the same time, I didn't want to be bound by that feeling. As you listen to each track, I think you'll find each of them very colorful. So many different people participated in writing the lyrics–for example, the song Ingel was written by Yu Shinda of BURG HAMBURG BURG, and the Vocaloid producers Surii and PinocchioP also contributed. I hope everyone who listens will take note of the diverse group of creators who worked on the album."

Ingel – Music Video 

Heading Towards his First Solo Concert 'School Admission Briefing'

−You have to admit, it's a pretty unique title for a concert, isn't it?

"Since this is my first live performance period, I wanted it to have the theme of a self-introduction, so 'School Admission Briefing' seemed to fit, given my name. It's an unusual title, for sure. (Laugh) I hope fans who attend will feel what it's like to be a Chogakusei (Super Student). The details of the show are still a secret, though!"

A Vocal Style Inspired by Fan Comments

–You're popular for your deep, aggressive voice. How did your vocal style come about?

"Honestly, I decided on this style after reading comments from fans posted around the time I released my cover of the song Darling. That's when I started posting on YouTube more frequently and I got a ton of feedback. Like, people would point out the parts they liked–the minute and the second. After scrolling through all of that, I decided on my current style. In a way, how I sing was completely created by the fans."

−Tons of international fans have commented on your vocal style. What's the secret of your popularity?

"I'd love to know myself! (Laugh) Please tell me! In my head, I know that I have this slightly rough, low voice that leads to a more masculine singing style. I also put a lot of thought into the costumes and makeup for each song, so a lot of comments tend to focus on that too. They like my style."

"I want to try styles from around the world."

 

"I'd like to try a ton of unique styles from around the world in the future, like Chinese and Arabic styles. I'm up for the challenge of representing different countries and cultures! I hope to incorporate ideas from fans around the world too, so leave them in the comments. I don't care what language you speak, please tell me about your country and what you'd like to see!"

Information

Chogakusei

Born in 2001,  Chogakusei posted their first cover song at the age of 11. Ever since, he's consistently posted videos online, currently posting at a rate of one per week. With over 300 million views on his cover tracks, his aggressive voice and mysterious masked appearance have caused him to gain traction with fans around the world. Chogakusei released his first album Cho on February 15, 2023, and his first solo concert, School Admission Briefing, is to be held at the Nippon Seinen-kan Hall in Tokyo on March 5, 2023.

Official Site: https://chogakusei.com

【KAWAII LAB.】New Idol Group「CANDY TUNE」Debut Concert Planned for March 14 at Spotify O-EAST

A new idol group is coming in March 2023 from KAWAII LAB. , to promote Japan's growing idol culture to the world.

So far, four members have been announced ahead of the group's debut concert. The group name and details of their debut concert have just been revealed!

Following IDOLATER and FRUITS ZIPPER, the third idol group born from KAWAII LAB. has been announced as CANDY TUNE. The name is meant to evoke the image of both kindhearted girls and catchy melodies and harmonies.KAWAII LAB. will continue to focus on its concept of promoting Harajuku culture to the world.

The four members announced so far are Mizuki Kirihara, Rino Fukuyama, Natsu Minami, and Nanako Ogawa. More members will be announced in the near future.

Clockwise from top: Mizuki Kirihara, Nanako Ogawa, Rino Fukuyama, Natsu Minami

CANDY TUNE's debut concert titled KAWAII LAB. SESSION ~CANDY TUNE~ will be held on March 14 at Spotify O-EAST! IDOLATER and FRUITS ZIPPER, both created by KAWAII LAB., will also perform, with the members of CANDY TUNE performing on the same stage as their seniors for the first time.

Information

KAWAII LAB. SESSION ~CANDY TUNE~
Venue: Spotify O-EAST
Date: March 14, 2023
Time: Doors open 17:30 / Show starts 18:30 / VIP Event Ends 22:30
Performers: IDOLATER / FRUITS ZIPPER / CANDY TUNE
https://w.pia.jp/t/candy-tune/

[Tickets]
Admission: VIP ¥5,000 / General ¥3,000 / Day-of ¥3,500
Tickets: https://w.pia.jp/t/candy-tune/
VIP Admission Lottery: February 2 at 21:00 – February 15 at 23:59
General Sales: February 18, 12:00~

■CANDY TUNE Official Social Media
Twitter:@candy_tune_
Instagram:@candy__tune
TikTok:@CANDY_TUNE

Ayakashi Triangle Anime Adaptation by Philosophy no Dance Now Streaming, Non-Credit Opening Released

The groovy 5-member funk, soul, and disco idol group Philosophy no Dance has been
chosen to perform the opening track for the highly-anticipated Ayakashi Triangle anime
adaptation. The group has been wowing music fans with its philosophical lyrics and comical dance moves. This impressive new track titled Neppu wa Ruten-suru is now available to
stream on all major platforms.

Ayakashi Triangle was created by Kentaro Yabuki, known for his previous work To Love Ru. The series follows Matsuri Kazamaki, an exorcist ninja, as he attempts to defend his
childhood friend from evil spirits.

Composed by SoichiroK/Nozomu.S and with lyrics written by Ameko Kodama, Neppu wa
Ruten-suru is a catchy pop track perfect for capturing the worldview of the series.
Beginning with an incredible guitar riff, the five members' voices intertwine with one
another in an incredibly unique way.

A non-credit version of the opening theme has also been uploaded to the Aniplex YouTube
channel.

©矢吹健太朗/集英社・あやかしトライアングル製作委員会

New Idol Group from KAWAII LAB Project Reveals 2 More Members

In March 2023, a brand-new idol group from KAWAII LAB will be born, furthering the project's aim to introduce Japanese idol culture to the world. The first two members of the mysterious group were revealed in December 2022 and two more members have just been announced.

Following Rino Fukuyama and Mizuki Kirihara, gravure model Natsu Minami and experienced idol Nanako Ogawa have joined the new group. The number of members has not yet been revealed, but more additions to the group are expected to be announced ahead of the girl's March 2023 debut.

The group's name and debut concert details will be announced in the future.

Following the stunning success of both IDOLATER and FRUITS ZIPPER, we're looking forward to seeing KAWAII LAB's third group!

<Member Comments>


Natsu Minami

"Nice to meet you! I'm Natsu Minami, but you can call me Nattan.
I've worked as a model in the past, including some gravure shoots. From this point on, I'm going to use what I've learned to improve my singing and dancing, so look forward to it!

This is my first time taking lessons like this and participating in recording sessions. I've worked alone in the past, but the other members have been so supportive and I love them already! I'll do my best to show you all how much I've grown when we debut!"

Birthplace: Tokyo
Height: 156cm
Birthday: March 17, 2001
Talent: Making clothes
Hobbies: Photography, cosplay

Twitter: https://twitter.com/nattanntan
Instagram: https://www.instagram.com/nattanntan/
TikTok: https://www.tiktok.com/@nattanntan


Nanako Ogawa

"I'm incredibly grateful to be surrounded by girls who have experience as idols and who have such amazing potential. I can't believe I'm here.

Now that I'm spending time with these incredibly strong members each day, I can't wait until we make our debut!

I'll do my absolute best to devote myself to this group in my own way, so I hope you'll support me!"

Birthplace: Hokkaido
Height: 160cm
Birthday: October 1, 1999
Talents: Figure skating, finding ♡ in my everyday life, memorizing choreography quickly
Hobbies: Taking selfies, fortune telling, social media, watching mukbangs

Twitter: https://twitter.com/__nchisan__
Instagram: https://www.instagram.com/__nchisan__/
TikTok: https://www.tiktok.com/@__nachisan__

Information


KAWAII LAB. is a project spearheaded by ASOBISYSTEM with the aim of introducing the world to popular Japanese idol culture. The company works to discover, train, and produce idols with the potential to be active on the world stage.

KAWAII LAB is produced by Misa Kimura, a model and TV personality. A fan of idols for many years, Kimura was formerly the leader of the idol group Musubizm.
Other KAWAII LAB. groups include IDOLATER, a culture-holic idol group consisting of finalists from ASOBISYSTEM's first national audition in 2018, and FRUITS ZIPPER, a group transmitting NEW KAWAII from Harajuku to the world debuting in April 2022.
In March 2023, a new idol group will be born.
KAWAII LAB. will continue to promote Japanese idol culture to the world, launching and developing new idol groups, not only in Tokyo but in other cities as well.
Twitter: https://twitter.com/kawaii__lab
YouTube: https://youtube.com/channel/UCW8Q9LBGGBgK6a-u0C0h95A

IDOLATER
Official HP: https://note.com/idolater
Twitter: https://twitter.com/Official_IDLT
Instagram: https://www.instagram.com/idolater_official/
YouTube: https://www.youtube.com/IDOLATER
TikTok: https://www.tiktok.com/@idolater.official?lang=ja-JP

FRUITS ZIPPER
Twitter: https://twitter.com/fruits_zipper
Instagram: https://instagram.com/fruits_zipper
YouTube: https://youtube.com/channel/UCQG8tNnV4hKetLhMb4MopHQ
TikTok: https://www.tiktok.com/@fruits_zipper
note: https://note.com/fruits_zipper

New Idol Group from KAWAII LAB Project Coming in March 2023

In March 2023, a brand-new idol group from KAWAII LAB will be announced, furthering the project's aim to introduce Japanese idol culture to the world. Two members have been announced ahead of the group's debut.

Rino Fukuyama and Mizuki Kirihara have been announced as members, both having former idol experience. It's unclear how many members the group will have in total, but more details are expected to be revealed in the coming months.

We're looking forward to seeing what KAWAII LAB's third group will be, following the stunning success of both IDOLATER and FRUITS ZIPPER.

<Member Comments>

Rino Fukuyama

"I'm Rino Fukuyama, also known as Rinomaru, and I'm happy to announce that I'll be a member of a new idol group from KAWAII LAB. It still feels like a dream, and I'm so excited to work in a totally new environment.
Lessons have already started, and seeing the incredible potential of the other members has me so excited to see what's to come. Honestly, I think we're going to be one of the strongest groups out there, so be sure to stay tuned!
I'm looking forward to taking on all kinds of new challenges. We're all going to make our dreams come true, so please support us!"

Birthplace: Tokyo
Height: 155cm
Birthday: December 24
Talents: Dance, Choreography, English (Spent time abroad)
Hobbies: Watching girls' basketball, Cosmetics

Twitter: https://twitter.com/aksb_rino
Instagram: https://www.instagram.com/rinomaru_/
TikTok: https://www.tiktok.com/@rinomaru_

Mizuki Kirihara

"I'm so happy that I'll be an idol in this new environment with these wonderful members.
I hope everyone will support me as I do what I love and strive to become more expressive and strong.
We're getting ready to show you so many different sides of ourselves, and we'll be sure to never lose our sense of gratitude.
I'll pour everything I have into this and will make my dreams come true, and in the future, I want to show those who support me so many unique things!"


Birthplace: Ibaraki Prefecture
Height: 148cm
Birthday: February 21, 2003
Talent: Dance
Hobbies: Music, Leaning languages (Korean, English)

Twitter: https://twitter.com/kirihara_mizuki
Instagram: https://www.instagram.com/kirihara_mizuki/
TikTok: https://www.tiktok.com/@kirihara_mizuki

<Comment from KAWAII LAB. Producer Misa Kimura>
"I'm so pleased to announce that a new group is on the way from KAWAII LAB. As always, I'll do my very best to make KAWAII LAB the best it can be–a place where these girls can be serious about their idol careers and bring audiences the biggest possible thrills. Between IDOLATER, FRUITS ZIPPER, and this new group, I hope you're looking forward to what's coming from KAWAII LAB!"

Information

<What is KAWAII LAB?>

KAWAII LAB. is a project spearheaded by ASOBISYSTEM with the aim of introducing the world to popular Japanese idol culture. The company works to discover, train, and produce idols with the potential to be active on the world stage.

KAWAII LAB is produced by Misa Kimura, a model and TV personality. A fan of idols for many years, Kimura was formerly the leader of the idol group Musubizm.

Other KAWAII LAB. groups include IDOLATER, a culture-holic idol group consisting of finalists from ASOBISYSTEM's first national audition in 2018, and FRUITS ZIPPER, a group transmitting NEW KAWAII from Harajuku to the world debuting in April 2022.

In March 2023, a new idol group will be born.

KAWAII LAB. will continue to promote Japanese idol culture to the world, launching and developing new idol groups, not only in Tokyo but in other cities as well!

Twitter: https://twitter.com/kawaii__lab
YouTube: https://youtube.com/channel/UCW8Q9LBGGBgK6a-u0C0h95A

<KAWAII LAB. Groups>

IDOLATER
Official HP: https://note.com/idolater
Twitter: https://twitter.com/Official_IDLT
Instagram: https://www.instagram.com/idolater_official/
YouTube: https://www.youtube.com/IDOLATER
TikTok: https://www.tiktok.com/@idolater.official?lang=ja-JP

FRUITS ZIPPER
Twitter: https://twitter.com/fruits_zipper
Instagram: https://instagram.com/fruits_zipper
YouTube: https://youtube.com/channel/UCQG8tNnV4hKetLhMb4MopHQ
TikTok: https://www.tiktok.com/@fruits_zipper
note: https://note.com/fruits_zipper

KAWAII LAB. Report #16 ~One Year of FRUITS ZIPPER~

FRUITS ZIPPER, an up-and-coming idol group from ASOBISYSTEM's KAWAII LAB project, has a simple concept: "From Harajuku to the World." For the past year, the girls have been transmitting what they call 'NEW KAWAII' from Harajuku, an area known for fashion and individuality, to their growing fanbase.

Recently, we sat down with the members to chat about their first year as idols since debuting in April 2022.

ーWhat has the past year been like as members of FRUITS ZIPPER?

Manaka Mana

"The past year has been a year of love. I've learned so much about myself and see my own weaknesses more than I ever have before!

I've been able to encounter emotions I wasn't even aware that I could, and I've even been able to recognize and verbalize a lot of new dreams and goals for the future!

Thank you so much!"

Noel Hayase

"The past year has been the most packed year of my life. There was something to do every single day–it was so hectic and so fun! I could only think about how thankful I was to be part of FRUITS ZIPPER. I'm sure that we've all become stronger over the past year, and I want to keep working hard and expanding our activities more in the coming years!"

Amane Tsukiashi

"Every day seemed to fly by. I met and talked with so many people, and I was finally able to do the job I had always dreamed of doing."

ーYou performed in Thailand this year, highlighting your slogan of 'From Harajuku to the World.' Can you tell us any fun stories from that time?

Yui Sakurai

"I was so happy to see how many people knew about FRUITS ZIPPER–it was more than I could have ever imagined! So many fans told me how happy they were to meet me and it made me so thrilled!

There were some fans who came from Japan too, and they joined the Thai fans to become Team Yui! I really felt like we had shared Harajuku with the world at that moment. ♡

I hope that we'll keep expanding this way and visiting fans around the world. 

It was such a warm and special day."

Luna Nakagawa

"This was my first time performing overseas and I was nervous about how the audience would react. We weren't well-known in Thailand, after all–but when we started singing Watashino Ichiban Kawaiitokoro, everyone sang along!

The concert was so warm and the fans were so sweet, I immediately forgot that it was my first big overseas performance. I was full of adrenaline and it just turned out to be so much fun.

That concert is still my best memory. I can't wait to go back to Thailand to perform again.

Since our motto is 'From Harajuku to the World,' I hope that we can keep expanding to other countries soon!"

ーDo you have any goals for the next year in terms of overseas activities?

Suzuka Chinzei

"I want to do a European tour!

I'm still studying German, but I'd love to try out my communication skills! 🥺 (I guess I could do that here too, but…)"

Karen Matsumoto

"I want to be friends with more overseas fans! 💖

Honestly, I'd love to become like Kyary, an idol who is now recognized all over the world!"

ーGive a message to your fans both in Japan and abroad!

Manaka Mana

"In 2023, I hope that I can spend more time with fans from around the world in person! I want to become stronger and care for those important to me while growing my natural gifts!

I hope you're all looking forwards to a powered-up FRUITS ZIPPER!

Let's make 2023 a great one!" 🤍

Noel Hayase

"Even though we've only just debuted, we've already been so blessed, invited to perform in Thailand and to spend New Year's Eve in Taiwan. How have we been abroad so many times already? I want to keep the momentum going, spread my wings and aim for an even bigger stage! To all the international fans, just wait! We'll keep bringing Harajuku to the rest of the world!"