Sword Art Online: Alicization Collaborates With Fuji-Q Highland
Yamanashi amusement park Fuji-Q Highland is set to hold a collaborative campaign with Sword Art Online: Alicization from April 27 to June 2. This year marks the 50th anniversary of the park and the 10th anniversary of the Sword Art Online light novel series.
Fuji-Q has much planned for the collaboration. The standout event is a screening of Symphonic Alicization Orchestra Special Edition, a special 40-minute compilation of the Sword Art Online Alicization series that aired from October last year to March this year. The video will contain character songs from the CD's that were coupled with limited pressing DVD and Blu-ray copies of the anime.
The park will also have announcements read by characters from the series, a Sword Art Online puzzle quest, stamp rally, photo spots, a themed menu, original merchandise and more.
A colourful firework display will also be held from May 1 to 4 while ADAMAS by LiSA plays, the opening theme for the anime series.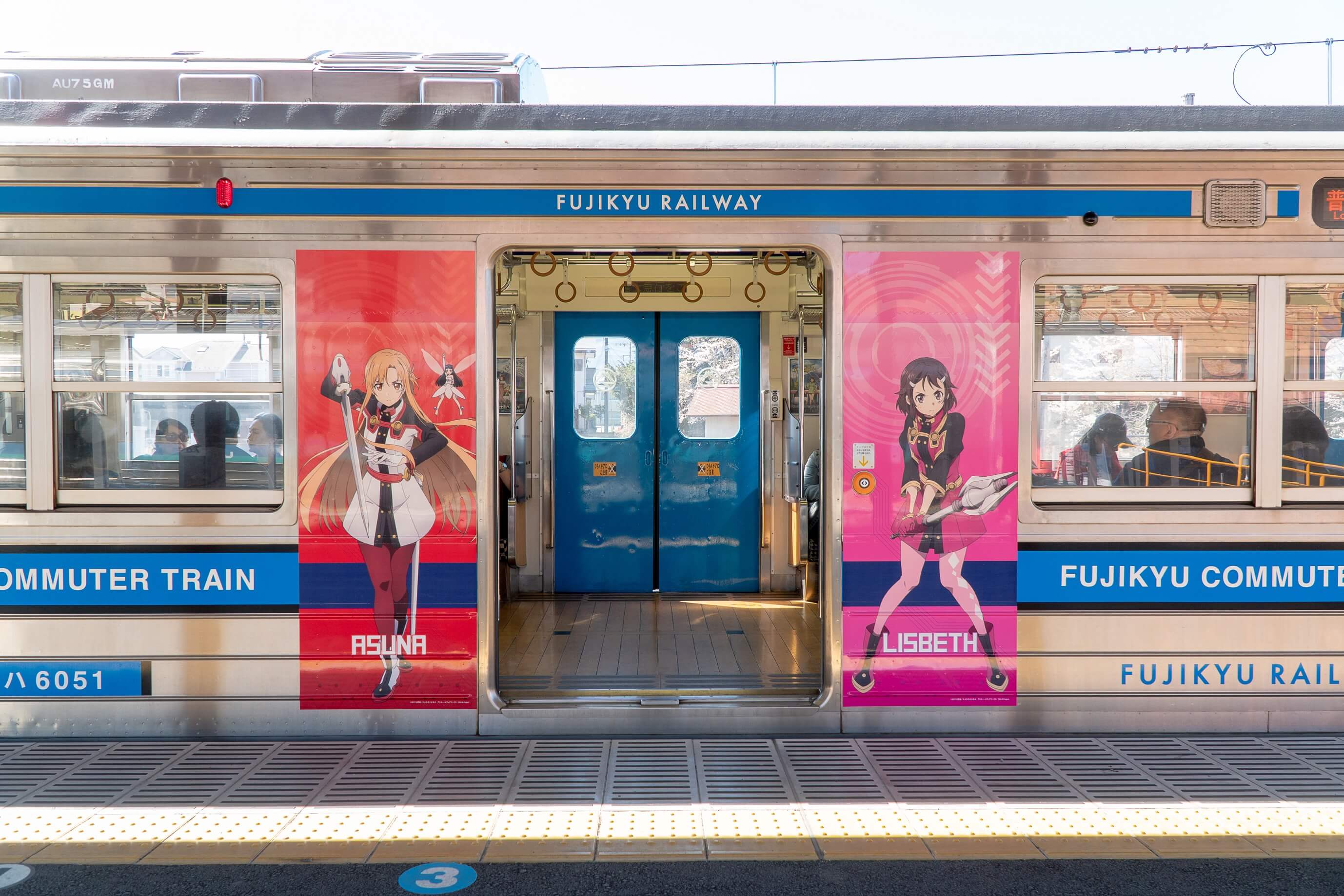 Rapid buses with SAO artwork on them have also been running since April 13.
People who use Fujiyama Onsen or the cabin and lounge Highland Station which are connected to the park will also received an original postcard. Additionally, there is a collaborative accommodation plan taking place at PICA Lake Saiko Fuji as well as a special photo spot of the Blue Rose Sword at the Narusawa Ice Caves.
Information
Sword Art Online: Alicization x Fuji-Q Highland Collaboration
Running: April 27, 2019 – June 2, 2019
Website: https://www.fujiq.jp/special/201904_sao/
Fuji-Q Highland
Address: 5-6-1 Shinnishihara, Fujiyoshida, Yamanashi Prefecture
Opening Hours: Weekdays 9:30-17:00 / Weekends & Holidays 9:30-18:00
Closed: May 9, 2019
TEL: 0555-23-2111
Official Website: https://www.fujiq.jp/
RELATED ENTRIES
Marvel's Eternals and Sword Art Online Collaborate in New Promotion

Over the past few years, Marvel movies have absolutely shattered box office records. The story of the Avengers is now continuing in an entirely new way, as Marvel's Eternals recently released in theaters around the world. Telling the story of a race of immortal beings, the film was directed by Chloe Zhao, the first Asian-American woman to win an Academy Award for Best Director for her film Nomadland.

While there has been no shortage of promotion for the film, the way Japan is highlighting the film is a little different. Recently, Sword Art Online Progressive: Aria of a Starless Night was released, and fans of the popular anime series have been singing its praises across social media. The franchise has sold incredibly well around the world, with multiple anime series, video games, and comics selling over 26 million copies globally. The first film, released in 2017, grossed more than 2.5 billion yen at the box office. 

Eternals tells the origin story hinted at in the Avengers films, while Aria of a Starless Night tells the origin story of Sword Art Online. They both tell stories of unbreakable friendship, and both feature characters attempting to stop evil and save the world. Now, the two have come together for an unforgettable collaboration. 

The creator of Sword Art Online, Reiki Kawahara, is a huge fan of Marvel and was more than happy to make this collab a reality. A collaborative trailer has just been released, along with a side-by-side poster. 

Collaborative Trailer

The narrators in the trailer are Ayumi Tsunematsu, who plays Cerci in the Japanese version of Eternals, as well as Haruka Tomatsu, the voice of Asuna in Sword Art Online.

What do you think of this unlikely team?

©Marvel Studios 2021

Information

Eternals

Now Showing in Theaters Nationwide

Distributed by Walt Disney Japan

Sword Art Online Progressive: Aria of a Starless Night

Now Showing in Theaters Nationwide

Halloween Festival Coming to Virtual Shibuya

Tokyo's Shibuya Ward and au 5G are coming together to promote this year's Halloween events online through Virtual Shibuya, a digital space accessible from smartphones, PCs, and VR devices. A number of events will be held from October 16 until October 30, incorporating popular artists, companies, and popular anime series. The concept for the event is 'FUN FOR GOOD,' aiming to inspire people to contribute to their community while also enjoying the holidays. 

Sadly, this year's Halloween celebration in Shibuya will be canceled again due to the COVID-19 pandemic. To ease any congestion on the streets, the ward is promoting the Virtual Shibuya au 5G Halloween Festival 2021, which will be available to anyone, anywhere. That's right: you won't need to be in Tokyo to participate!

Event Lineup

Special Anime Talks


A simultaneous global virtual fan meetup for Sword Art Online Progressive: Aria of a Starless Night will be held on October 16! Yoshitsugu Matsuoka, who plays Kirito, and Haruka Tomatsu, who plays Asuna, will appear in Virtual Shibuya in avatar form to discuss some highlights of the upcoming film. 

Also, to commemorate the release of the 100th volume of Detective Conan, the Conan Edogawa x Furuya Rei Special Talk in Virtual Shibuya event will take place on October 30th, featuring voice actors Minami Takayama and Tohru Furuya. 

Virtual Concerts

Three artists are scheduled to perform live in Virtual Shibuya during the Halloween event!

・October 24 – povo Presents Creepy Nuts
・October 26 – au 5G Presents MY FIRST STORY
・October 31 – au 5G Presents Atarashii Gakko!

Attraction Lineup

A number of attractions will be available during the two-week event period. Check the website for complete details! 

https://vcity.au5g.jp/shibuya/halloween2021

Official Shop

Starting October 16, an official store selling original event merchandise will be accessible in Virtual Shibuya and on the special event website. These goods will feature characters from select anime series and artists who have supported the project, with all proceeds being reinvested into Shibuya ward. The above items aren't the only things that will on sale, so be sure to check the website for more details!

Limited-Time Only! Make a Collaboration Anime Avatar During Halloween!

In collaboration with avatar platform AVATARIUM, visitors will be able to generate custom avatars wearing costumes from Sword Art Online Progressive: Aria of a Starless Night and Detective Conan! Choose from characters Asuna (SAO), Kirito (SAO), Conan Edogawa (Detective Conan), Ran Mori (Detective Conan), Furuya Rei (Detective Conan), and The Criminal (Detective Conan). 

Even if you're not in Japan, be sure to check out the event while you can!

Information

Virtual Shibuya au 5G Halloween Festival 2021

Running: October 16 – October 31, 2021

Location: Virtual Shibuya (authorized by Shibuya Ward) 

How to Participate: Virtual Shibuya can be accessed using VR Devices, smartphones, and PC/Mac. Users will need to create a free cluster account and install the cluster app on the device you will be using. 

Create a cluster Account: https://cluster.mu/

Download the cluster app: https://cluster.mu/downloads

Official Site: https://vcity.au5g.jp/shibuya/halloween2021

Merch Inspired by Third Sword Art Online Film Available at 13 Tokyu Hands Stores

Sword Art Online Progressive: Aria of a Starless Night, the third film in the series, is hitting theaters in Japan on October 30, 2021. To commemorate its release, 13 Tokyu Hands stores throughout the country will open a Sword Art Online fair, selling special limited-edition goods! The fair will run from October 29 until November 30, 2021. 

Mechanic Costume Series

Acrylic Stand (7 varieties): ¥1,650 each (Tax Included) 

Pin (7 varieties): ¥385 each (Tax Included) 

*Pins are random. 

B2 Tapestry: ¥3,300 (Tax Included) 

Canvas Tote Bag: ¥2,200 (Tax Included) 

Clear Folder (7 varieties): ¥385 each (Tax Included) 

T-shirt: ¥3,850 (Tax Included) 

Mug: ¥1,650 (Tax Included) 

Acrylic Keychain (7 varieties): ¥715 each

*Keychains are random.

Acrylic Diorama Stand: ¥2,750 (Tax Included) 

Clear Folder: ¥385 (Tax Included) 

Sticker (7 varieties): ¥495 each (Tax Included) 

Mug: ¥1,650 (Tax Included) 

Tokyu Hands Limited Purchase Bonus

Tokyu Hands Limited Film Bonus

The Sword Art Online anime series has been an international hit, spanning four seasons and 97 episodes since 2012. A number of video games inspired by the series have also been released. 

This event features the characters drawn in mechanic gear, both in normal and chibi versions. If you're able to make it to one of the participating 13 stores, don't miss out on these rare items!

(C)2020 川原 礫/KADOKAWA/SAO-P Project

Information

Sword Art Online Progressive: Aria of a Starless Night Fair

Running: October 29, 2021 – November 30, 2021

13 Participating Tokyu Hands Locations: Sapporo, Sendai, Shinjuku, Shibuya, Yokohama, Shizuoka, Nagoya, Umeda, Himeji, Okayama, Hiroshima, Hakata, Kagoshima

BanG Dream! Girls Band Party x Fuji-Q Highland Summer Event Announced

Fuji-Q Highland is set to host a summer event in collaboration with the mobile rhythm game BanG Dream! Girls Band Party from August 7 to September 12.

This marks the amusement park's 4th collaboration with the game which will see newly-illustrated artwork of the characters decorating the attractions, a special talk show hosted by the voice actresses, limited-time announcements on the attractions recorded by the voice actresses, a themed food menu, original merch, and more.

A digital stamp rally will also take place which will have guests locating life-sized panels of seven characters which they need to scan with their smartphone. This will give them a special voiced story. Those who obtain all the digital stamps by scanning all the panels will receive a free novelty as well as an original voiced guide for boarding the amusement park train. The train too will be decorated in BanG Dream! artwork.

©BanG Dream! Project ©Craft Egg Inc. ©bushiroad All Rights Reserved.

Celebrate Sasuke Uchiha's Birthday at Fuji-Q Highland's Naruto x Boruto Summer Event

Fuji-Q Highland began its 'NARUTO x BORUTO Fuji Hidden Leaf Village' event on Wednesday which is set to run throughout summer until August 29. The event is taking place to celebrate the birthday of the popular character Sasuke Uchiha from the Naruto franchise.

During the event, a keyword rally will take place, and a special menu will be served up.

Keyword Rally

Guests must play and ride six Naruto-themed attractions at the park where they will be able to collect keywords related to the Uchiha family. Those who manage to answer all the questions correctly will receive one of two free exclusive pins. The Sasuke & Itachi design will be available from June 9 to July 22 and the Uchiha Family design from July 23 to August 29. Check out the designs below, both of which are must-grabs for fans of Sasuke and the Uchihas.

Pin Design 1: Sasuke & Itachi (Uchiha Brothers) | Available: June 9, 2021 – July 22, 2021 

Pin Design 2: Sasuke & Sakura & Sarada (Uchiha Family) | Available: July 23, 2021 – August 29, 2021

Special Menu

Guests will also be able to enjoy a special menu line-up including a ramen dish served at Ichiraku, the ramen bar at Fuji-Q Highland which is themed on the same eatery of the same name in Naruto, and two cakes at Fuji-Q Highland's official hotel resort and spa.

Uchiha Brother's Spicy Ramen | ¥1,500 (Tax Included)

Uchiha Brother's Print Cake

Uchiha Family's Print Cake


ⓒ岸本斉史 スコット/集英社・テレビ東京・ぴえろ

Information

Uchiha's Summer
Running: June 9, 2021 – August 29, 2021

Where: Fuji-Q Highland

Official Website: https://www.fujiq.jp/

Fuji-Q Highland's Gaspard and Lisa Town Begins Spring Season Strawberry Festival

Strawberry lovers, listen up. If you're looking to indulge in strawberry-flavoured desserts all day long, then this fruity festival will have your mouth watering. The Gaspard and Lisa themed town at Fuji-Q Highland in Yamanashi is now holding its annual Strawberry Festa event which is running until May 5.

There are so many tasty treats to enjoy at this year's event, from cakes and pastries, desserts and drinks—all made with plump and fresh strawberries—that you can enjoy eating while walking around the themed town. One must-try is the Strawberry Pavlova which is made with a meringue that's crunchy on the outside and soft in the middle and is adorned with fresh cream and, of course, strawberries. It's a hearty serving but is actually a light and refreshing eat.

Strawberry Afternoon Tea Set at Les Rêves Salon de thé

Strawberry Festa exclusive face masks

Guests at the park who spend over ¥3,000 in a single transaction at any shop in the town will receive a free original face mask.

Hotel guest rooms

Meet Gaspard and Lisa in-person

Les Rêves Salon de thé

Strawberry Crepe recipe showcase

For those unable to travel due to restrictions, the town has also posted an online video showing how you can makes a strawberry crepe at home.

Chocolate bananas at LA BANANE

A variety of new shops have also opened at Fuji-Q Highland, including Strawberry Fetish which is Japan's first shop specialising in strawberry hard candy, as well as LA BANANE where you can enjoy chocolate bananas and other treats.

Colourful bagels at BONBON BAGLE

Gaspard and Lisa Town original merchandise

Fuji-Q Highland's Hidden Leaf Village Theme Park Area Adds New Photo Spots

Fuji-Q Highland, an amusement park in Yamanashi, Japan, added new photo spots to its popular Naruto x Boruto Fuji Hidden Leaf Village area on Friday (December 4).

The new spots

New statues of Jiraiya, Tsunade, Gaara, and Itachi have been placed around the park, making the perfect for a photo opportunity and to make guests feel even more like they're in the world of Naruto.

A new Gaara-inspired ramen dish

¥1,180 (Tax Included)

The area is home to Ramen Ichiraku which is inspired by the ramen bar seen in the Naruto series. There, they have cooked up a new ramen dish inspired by Gaara which comes with a boiled egg with the kanji for 'love' (愛) that's written on the character's forehead.

Naruto themed hotel rooms at Highland Resort Hotel & Spa

Fuji-Q Highland's official hotel, Highland Resort Hotel & Spa, has its own special Naruto-themed rooms with references to shinobi and the Hidden Leaf Village dotted everywhere. A new batch of amenities are also set to roll out for guests from February 1, 2021 which will include yukata that dress you like Naruto and Sasuke, face towels with Naruto and Sasuke on them during their final battle, and more.

If you've always wanted to feel like you're in the world of Naruto, look no further than Fuji-Q Highland.

ⓒ岸本斉史 スコット/集英社・テレビ東京・ぴえろ

Information

Fuji-Q Highland Naruto x Boruto Hidden Leaf Village
Opening Hours: 10:00-17:00
Closed: [2020] December 10th / [2021] January 7th, 14th, 21st, 28th
Official Website: https://www.fujiq.jp/

Shinobi Japanese Ninja Suite Room NARUTO
Capacity: 4 People (¥6,000 for each additional person up to 6 people)
Book: https://www.highlandresort.co.jp/
*Booking comes with amenities

Fuji-Q Highland Begins Christmas Event at Gaspard and Lisa Town

Christmas cheer is here at Fuji-Q Highland, the popular amusement park in Yamanashi, where a special Christmas event is taking place at Gaspard and Lisa Town in the park.

Christmas gift set with original tote bag

Hot Coffee Set | ¥2,000 (Tax Included)

Up until Christmas Day, the Gaspard and Lisa Town shop is selling a special hot coffee set to warm visitors this holiday season which comes with coffee, cookies, and a coffee cup sleeve.


The set comes in a festive tote bag with Gaspard and Lisa celebrating Christmas 2020 around a Christmas tree.

Hot Coffee Set Contents
①Drip Coffee (Gaspard or Lisa version)
②5 Fujiyama Cookies
③Sleeve (Gaspard or Lisa version)
*Tote bags are available while supplies las

Treats for Christmastime

Gaspard and Lisa Christmas Jar Sweets | ¥500 (Tax Included)

At the Les Rêves Salon de thé tea salon, visitors can pick up a jar dessert which contains a sweet and sour tart topped with Gaspard and Lisa shaped cookies. Cafe Brioche is also selling a selection of freshly-made Christmas pastries.

When visitors spend over ¥2,000 in a single transaction at shops in the town they will receive a limited-edition Gaspard and Lisa Christmas coaster.

Send Christmas post to the Gaspard and Lisa creators

When buying something in the town, customers will be handed a Christmas card that they can send a message in to post in the town's Christmas postbox. The post will be sent to wife and husband Anne Gutman and Georg Hallensleben, the creators of Gaspard and Lisa, in Paris, France. Up on the second floor of the town's shop are also drawings and messages by the two creators delivered for this year's Christmas event.

Post Collection: November 14, 2020 – December 13, 2020

Location: Gaspard and Lisa Town Shop

*1 card per transaction, available while supplies last

Meet Gaspard and Lisa

Gaspard and Lisa donning Christmas cloaks will make an appearance on Christmas cloaks to light up the Towatomo Tree. Visitors can also enjoy a soup with a cute Gaspard or Lisa sleeve.

Date: December 25, 2020
Time: From 16:30
Location: Gasprd and Lisa Town's Towatomo Tree
Prices:
Soup Only – ¥300 (Tax Included)

Soup & Sleeve – ¥720 (Tax Included)

Wine bottle shaped chocolate

~Le Premier~Le chocolate au vin | ¥2,980 (Tax Included)

The bakers at Highland Resort Hotel & Spa have crafted a new wine bottle-shaped chocolate for the Christmas event. Its sweetness makes it perfect for pairing with wine.

Available: Les Rêves Salon de thé in Gaspard and Lisa Town

©2020 Hachette Livre

Information

Gaspard and Lisa Town Christmas
Running: November 14, 2020 – December 25, 2020

Location: Fuji-Q Highland

Address: 5–6-1 Shinnishihara, Fujiyoshida, Yamanashi

Opening Hours: 9:00-17:00

Closed: December 3 / December 10

Official Website: https://www.fujiq.jp/en/

Directions to the park: https://www.fujiq.jp/en/access/

Celebrate Naruto's Birthday at Fuji-Q Highland's Hidden Leaf Village Theme Park Area

Naruto Uzumaki's birthday falls on October 10, so to celebrate, Fuji-Q Highland, an amusement park in Yamanashi, Japan, is holding a birthday festival for the titular character of the popular anime series. The event will be held at the park's Naruto x Boruto Fuji Hidden Leaf Village area.

Naruto Ramen | ¥1,280 | Available: October 10, 2020 and October 11, 2020

Customers who order the special ramen dish from the ramen bar at the park, which is called Ramen Ichiraku after Naruto's favourite eatery in the series, will get a huge topping of naruto, a type of Japanese steamed fish-paste cake. Only 100 of these hearty dishes will be served a day.

The park is also holding a social media campaign. If they can reach 7,610 followers—a number which can be read as "na-ru-to" in Japanese—this year, then they'll hold a lottery for fans to win a special prize.

Naruto Print Cake / Naruto Team 7 Print Cake

Fuji-Q Highland will also serve up two cakes, one with just Naruto and the other with Naruto and the rest of Team 7 including Sasuke, Sakura, and Kakashi.


Jiraiya / Tsunade / Gaara / Itachi

Lastly, from the end of November, life-sized portraits of Jiraiya, Tsunade, Gaara, and Itachi will be set up at the park for fans to take photos with.

ⓒMasashi Kishimoto Scott / Shueisha・TV Tokyo・Pierrot

Information

Naruto Uzumaki Birthday Festival 2020 – Naruto x Boruto Fuji Hidden Leaf Village
Fuji-Q Highland Official Website (English): https://www.fujiq.jp/en/

Sword Art Online: Progressive Anime Series Announced

The next chapter of the Sword Art Online anime series has been green-lit. With the completion of season two of Sword Art Online: Alicization – War of Underworld, the anime's official Twitter page and website has confirmed the adaptation of the Sword Art Online: Progressive light novels. Check out the official announcement video below.

Sword Art Online: Progressive – Anime Project Video Announcement


The six-volume Sword Art Online: Progressive is a retelling of the events from the original Aincrad arc of Sword Art Online. Further details surrounding the project have yet to be announced, so stay tuned.

© 2020 Reki Kawahara / KADOKAWA/SAO-P Project

ReoNa's Sword Art Online: Alicization – War of Underworld Song 'ANIMA' Breaks 2 Million YouTube Views

The music video for ReoNa's newest song ANIMA, which is used as the opening theme for the TV anime series Sword Art Online: Alicization – War of Underworld, has surpassed 2 million views on YouTube. The video was released on her YouTube channel on July 12, 2020 and reached 1 million views in just five days. It broke 2 million on Sunday.

ReoNa made her name known during the broadcast of Sword Art Online Alternative: Gun Gale Online in April 2018 in which she performed the singing voice of the anime's singer-songwriter character Elza Kanzaki. She also performed the Sword Art Online: Alicization ending theme song forget-me-not and the insert song Over the Rainbow in January 2019. Two years have already passed since her solo debut.

The ANIMA music video is the first from ReoNa to feature a full backing band. The high speed video also makes use of projection mapping. The full version of the music video is included on the DVD featured on First Press Limited Edition copies of the ANIMA single.

ReoNa – "ANIMA" Music Video

The song ANIMA was released on music streaming and download services on July 13 ahead of the physical single release which dropped on July 22. When the digital version came out, it immediately peaked at No. 1 on iTunes Japan in the Anime Singles category. ANIMA (Special Edition) also reached No. 1 on digital album rankings in Japan.

A special ReoNa character has also been added to the video game Sword Art Online: Alicization Lycoris for which the singer also performs its opening theme Scar/let. The game released on PlayStation 4, Xbox One, and Microsoft Windows on May 21, 2020. Her character design was conceived by abec who is also responsible for illustrations in the original Sword Art Online light novels.

ReoNa | Comment

"My heart is filled with joy at getting to sing for Sword Art Online again, a series which I cherish and became a turning point for me in my life. I hope this opening theme reaches your heart, along with the characters themselves—their trials and tribulations, the paths each of them walk, and their heart and spirit. I've also sung my first ever theme song for a video game: Scar/let, for Sword Art Online: Alicization Lycoris […]"

©2017 Reki Kawahara/KADOKAWA ASCII Media Works/SAO-A Project

©BANDAI NAMCO Entertainment Inc.

Information

ANIMA(アニマ)

Release Date: July 22, 2020

First-Press Limited Edition (CD+DVD+Photo book) VVCL1680-1681 / ¥1,600 + Tax

Limited Edition (CD+DVD) VVCL1683-1684 / ¥1,600 + Tax

Regular Edition (CD Only) VVCL1682 / ¥1,200 + Tax

Streaming Link: https://reona.lnk.to/ANIMA

ReoNa Official Website: http://www.reona-reona.com/

New Sword Art Online: Alicization – War of Underworld Final Season Trailer Released

The final season of the Sword Art Online: Alicization – War of Underworld anime series is set to begin airing on July 11, 2020. The Alicization arc began airing back in October 2018. The anime is an adaptation of the popular light novel series Sword Art Online by Reki Kawahara. A film, Sword Art Online The Movie: Ordinal Scale, was released in 2017 and earned ¥4.3 billion in the Japanese box office.

A new trailer for the final season was released on Aniplex US's YouTube channel which features the ending theme I will… by Eir Aoi. Check it out below.
©2017 Reki Kawahara / KADOMAWA ASCII Media Works / SAO-A Project

Information

I will…
Release Date: August 12, 2020
First Press Edition (CD+DVD: ¥1,800 (Before Tax) [VVCL1695-96]
Regular Edition (CD): ¥1,300 (Before Tax) [VVCL1697]
Limited Pressing Edition (CD+DVD): ¥1,600 (Before Tax) [VVCL1698-99]

Sword Art Online: Alicization – War of Underworld
Initial Broadcast: July 11, 2020

Official Website: https://sao-alicization.net/