Transform into a cat this autumn & winter with this cat-tail phone case and fluffy cat bag
"Felissimo neko-bu" have designed a neko tail smartphone cover that fits your hand like a warm, comfy scarf, as well as a multi-purpose fluffy bag with a swinging cat's tail. The products went on sale online from October 6th.
The phone cover is perfect for those cold days. Fit your hand into the tail snug and it will hug your hand tight and warm. The cute and fluffy bag has a long cat's tail that sways with each prance, and pointy ears to complete the neko look. Always having that warm fluffiness wherever you go is the perfect match for this autumn and spring.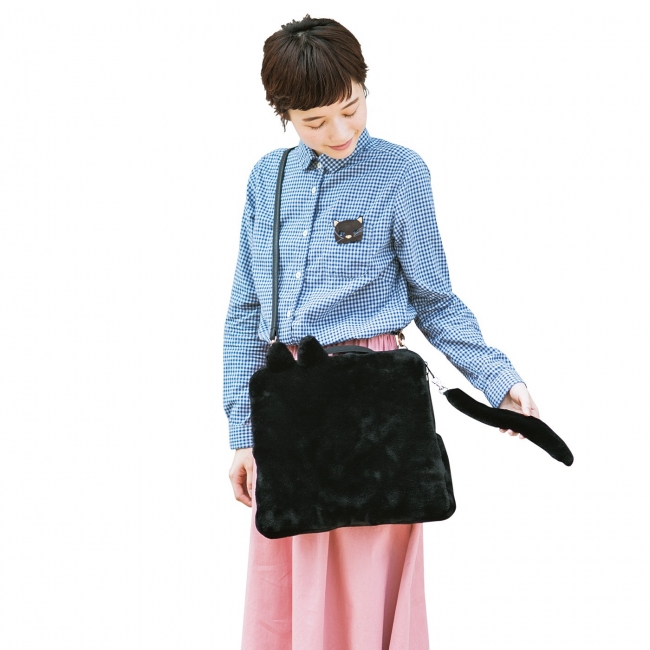 The bag is A4 size so you can fit your belongings into it easily, like your notebook laptop.
Part of the money from your purchase of the items will be donated to animal shelters for pets with no owners and to helping find the animals a home. It will also go towards stopping overbreeding of stray cats, as well as animals put in shelters as a result of disasters.
■Information
"Snug-Tight Cat's Tail Smartphone Case"(「手にフィット猫しっぽマフラー スマートフォンカバーの会」)
"Fluffy Swaying Cat's Tail Bag"(「歩くたびしっぽふりふり 猫のもふもふマルチバッグ」)
Details & Purchasing: http://www.feli.jp/s/pr161026/2/
ーーー
■Related Article: Felissimo neko-bu releases new black cat coat & docking dress ー Adorable, sophisticated and stylish! ♪
http://www.moshimoshi-nippon.jp/20013
■Related Article: Forget ghouls and ghosts and dress up as a cute "Kuroneko" for Halloween this year!
RELATED ENTRIES
Pokémon Silicone Ring Phone Straps Keep Trainers Company in the Wild

Retail company Hamee recently released a new collection of Pokémon silicone ring phone straps in Japan.


Pokémon Silicone Ring Straps | ¥990 Each (Before Tax)

 These cute straps are sure to keep Trainers out there company while their Pokémon sleep in their Poké Balls.

Designs include Pikachu and Ditto which not only look adorable but will keep your phone safe from falling while you're using it too.

The rings are made from soft silicone which won't damage the phone or its screen if it touches them and also doesn't case discomfort when worn on the finger. They weigh in at just 3g. Use them not only on your phone case but digital camera, pass case, and more as a convenient hook.

They match perfectly with the Pokémon iFace First Class phone case series too.

©2020 Pokémon.
©1995-2020 Nintendo/Creatures Inc./GAME FREAK inc.

iFace's Pokémon Smartphone Cases Are the Perfect Gamer Fit For Your iPhone 11

Japanese smartphone accessory brand iFace has released a new collection of Pokémon design iFace First Class smartphone cases.

The iFace First Class series is made from polycarbonate and TPU, providing military grade protection for the iPhone 11—and in stylish designs to top it all off. The series draws a line under other cases, boasting superior and comfortable grip.

Pikachu & Friends

Eevee & Friends

Pink Design

Ghost Type Design

Familiar faces are dotted all across the cases, from Pikachu to Eevee, Mimikyu, Sylveon, Gengar, Ditto, and more, so you can carry your favourite Pokémon with you wherever you go.

©Nintendo ・Creatures ・GAME FREAK・TV Tokyo ・ShoPro ・JR Kikaku ©Pokémon

Kyoto Neko Neko: Cat Shaped Desserts and Pastries Served at Kyoto's New Bakery

ALL HEARTS COMPANY, a Japanese company that develops bakeries and patisseries across Japan, opened its new bakery and confectionery shop Kyoto Neko Neko in Shijo, Kyoto on June 1, 2020. There, they are serving cat-shaped pastries and desserts including Kyoto-exclusive products from their Neko Neko Bread brand and Neko Neko Cheesecake shop.

Kyoto Neko Neko Danish Bread: ¥1,200 (Before Tax)

This butter-loaded Danish pastry is folded into a braid shape and baked which keeps the pastry moist. It's topped with a sprinkling of sugar, leaving it glistening. It's recommended that you first try the pastry as it is—soft and moist. You can then try lighting toasting it which gives it a crispy texture and brings out the delicious aroma of the butter.

Products are packaged in a cute box making them a great gift idea.


Kyoto Neko Neko Cheesecake (On sale from mid-June 2020)

This cheesecake is made with Brie de Meaux cheese and is laced with black cocoa. The luxurious cheese combined with black soy beans and brown sugar syrup jelly makes for a marriage between Japanese and Western flavours. You get an extra layer of deliciousness too with a dusting of soy flour.

Kyoto Neko Neko Bread (Plain): ¥550 (Before Tax)

This Kyoto version of the Neko Neko Bread is still made without water, but rather than using only milk, Kyoto Neko Neko has added soy milk made using soy beans from a tofu shop in Kyoto, lending a smooth and rich flavour to the bread. And instead of mascarpone cheese, Kyoto Neko Neko uses soybean cream, and instead of dairy butter a soy cream butter.

Kyoto Neko Neko Bread (Houjicha): ¥680 (Before Tax)

Kyoto Neko Neko Bread (Matcha): ¥680 (Before Tax)

There's also a houjicha flavour made with houjicha tea and white chocolate, as well as a matcha flacvour combined with black soybean.

Information

Kyoto Neko Neko Shioji
Address: 578 Obiyamachi, Tachiuri Nakanocho, Shimogyo Ward, Kyoto
Grand Opening: June 1, 2020
Opening Hours: 10:30-18:00
No Fixed Holidays (Closed: New Year's Holidays)
TEL: 075-221-1001

Official Website: https://nekoshoku.jp/

Buy These Face Masks and Help Save Japan's Cats in the Process

Neco Republic launched online pre-orders of its new face masks, called "SAVE THE CAT MASK," via its website on May 6, 2020. Neco Republic is a company who pours efforts into helping save cats in Japan; they manage various businesses including the cat cafe Neco Republic which takes in rescue cats, NECOREPA/ which sells a variety of products and items with all proceeds going towards their efforts to taking in stray cats, Neco Ichi Neco Za which is a rescue cat event held in Japan, and more.

The "SAVE THE CAT MASK" series was launched for cat lovers and as a way to help cats in the process. The previous batch of these masks sold out in just two days.

High quality materials and skilful sewing, all made in Japan

SAVE THE CAT MASK – ¥1,980 for one / ¥9,900 for five

The masks are made from high quality natural cotton with all manufacturing carried out in Japan. They are sewed using a Japanese sewing method known as ayaori which ensures elasticity and makes it harder for the masks to wrinkle. The masks can also be washed repeatedly. Maintaining hygiene is of utmost important when it comes to face masks, and so these face masks are made so you can hand wash them lightly with detergent as well as put them in a net before putting them in the washing machine.

The masks are all sewn in Gifu Prefecture which is where Neco Republic is based.

Cute designs inspired by cats

There are five design variations of the masks each inspired by a different cat breed including calico, Russian Blue, tuxedo, white, and black. They are also shaped subtly like a cat which most likely won't be noticed by other people meaning you can express you love of cats secretly.

Save cats during the process

The masks aren't only for us humansーthey benefit our cats too. All proceeds from the masks will go towards Neco Republic's rescue cat cafe as well as be used for the company's efforts for helping rescue cats.

Information

Neco Republic's SAVE THE CAT MASK

Tadanori Yokoo Releases Art Book Collection of His Late Beloved Cat Tama

Since his cat Tama passed away in 2014, Japanese graphic designer and illustrator Tadanori Yokoo has drawn 91 pieces of his beloved feline companion. Those pieces have been compiled into a new art book entitled Tama, Kaetteoide ("Come Home, Tama").

Tama was a famous cat amongst fans of Tadanori Yokoo, who would feature him on his Twitter page and blog from time to time. Yokoo's love for Tama was also well-known amongst his followers. Tama was a stray cat and appeared in Yokoo's garden. In the 15 years Yokoo took care of him, Tama's affection warmed the hearts of both the artist and his family of fans.

The 91 pieces that Yokoo created of Tama since his passing were originally never going to be seen by anyone. But this year, on the seventh anniversary of Tama's death, Yokoo has decided to publish them.

Tama, Kaetteoide – ¥2,200 (Before Tax)

The collection features not only art pieces, but diary and written entries too that Yokoo occasionally wrote about Tama. Yokoo's Twitter page become a diary for the artist, where he expressed his sadness and loneliness after losing his cat, which has received much attention with his followers. The book includes the diary entries from when Tama was alive to his death and up to 2018.

Editor's Comment

When Yokoo met with Yoko Ono, he said of his work, "I didn't draw this as artーI drew it as a love letter to my cat," to which she responded, "And that's exactly why it's art." I too believe that if a piece of art moves a person's heart, then that in itself makes it art. Featured in this book are many of Yokoo's diary and written entries about his beloved Tama. But it also begs the question to people what is love, what is life, and what is death? It's a treasured illustrated collection for people, and above all one you can't help adoring. I believe this book will add something to the lives of every art fan, of every cat lover, and every person who kindly buys themselves a copy."


An exhibition showcasing all of the illustrations in the book is set to take place at Nishimura Gallery in the near future. The exhibition has been postponed as a result of the coronavirus outbreak, but you can check the gallery's official website for when the event will next be rescheduled.

Cat-Shaped Bread Shop Neko Neko Shokupan Re-Releases Neko Neko Packs Due to High Demand

Due to high demand from customersーselling out their previous limited stock in February in this yearーNeko Neko Shokupan re-released its popular "Neko Neko Packs" once more on March 20, again with limited stock.

What's inside the Neko Neko Pack?


Neko Neko Pack A & B – ¥1,000 Each (Before Tax) / Available: From March 20, 2020 while supplies last


Neko Neko Pack is available in two versions, A and B. Both contain one piece of cat-shaped bread, jam, and an original folder.

The texture of the jams differ between both versions: 'A' is smooth sweet bean paste while 'B' is mashed sweet bean paste. The specific bread that is included in the pack is not sold separatelyーyou need to buy yourself a full Neko Neko Pack.

Quality flavour guaranteed at Neko Neko Shokupan


The shop's "shokupan," a style of bread loaf, is made with 100% milk, giving it rich and milky flavour and moist, chewy flavour. No water is used for baking this bread, only milk, which is sourced from Hokkaido. It also contains honey, fresh cream, and butter to give it a sweet, melt-in-the-mouth taste.

Their cute arrangements of the bread are super popular

Kids and adults alike can enjoy eating at Neko Neko Shokupan with the many variations the bread can be served in, like face decorations with a chocolate pen. You can see lots of different original arrangements on Japanese social media like Instagram.

Neko Neko Shokupan's kawaii, high-quality bread is a must-try, so be sure to visit your closest branch when visiting Japan.

Information

Neko Neko Pack

Release Date: March 20, 2020 (while supplies last)

Available: Most Neko Neko Shokupan branches in Japan

Official Website: https://nekoshoku.jp/

Capy Neko Cafe: Japan's First Cat and Capybara Cafe Opens in Tokyo

Capy Neko Cafe is the newest animal cafe to hit Tokyo. Located in the neighbourhood of Kichijoji, right by the station, customers are able to interact with both cats and capybara at the same time.

Japan is famous for its host of animal cafes, from the ubiquitous cat cafes to more unique ones like the owl cafe. But Capy Neko Cafe stands out from the rest as being the first cafe in Japan to combine cats and capybara.

You might wonder whether it's actually safe to pet a capybara. They may be the largest rodent in the world, but they in fact loved to be pet by people. They are gentle creatures that get on with and can live alongside cats. At the cafe, you can take photos of the capybara who are sure to be chilling on the sofas as well as feed them. The comfy environment also means that they'll feel like your very own pet capybara at home.

▶︎Tawashi (Male)

Tawashi is a sensitive, affectionate, and gentle guy. He loves snacks, and he's sure to flop down if you start petting him on the butt. Part of his daily routine is having an afternoon nap on the sofa together with the cats.

▶︎Dan (Male)

The vice store manager of Capy Neko Cafe. He adores humans. He's the kind of guy who'll probably jump up onto you if you cover your lap with a blanket and sit on the sofa.

▶︎Emma (Female)

Another member with a soft spot for humans, Emma is reserved kitty who lets everybody eat their food first. She's a needy and spoiled girlーif she's on your lap, you're not getting up. She's siblings with Dan.

▶︎Cream (Male)

Cream is everybody's idol. He's unapologetically spoiled and a handsome guy with perfectly round black pupils.

This list is just a small taste of the many cute residents to meet at Capy Neko Cafe. The cafe is also active in finding families for their rescued cats. The number of people who want to own a cat in Japan are looking to rescues now instead of pet shops. At Capy Neko Cafe, you get the best of both worlds: you can meet and interact with a cat and see if they're a good match for you.

If you're interested in visiting Capy Neko Cafe, keep in mind that priority goes to those who have booked in advance. This can be done via their official website, so book first and look forward to kicking back and enjoying a cup of tea, coffee or soft drink before interacting with the cats and capybara!

Information

Capy Neko Cafe

Address: PLATANO Floor 2F, 1-5-10 Kichijōji Minamichō, Musashino, Tokyo

Business Hours: 12:00-18:00

Closed: Wednesdays

Official Website: https://capyneko.cafe/

GOODGLAS double-walled animal-themed glasses at Tokyu Department store!

Double-walled glass pioneer GOODGLAS will be selling cute animal-themed glasses at four Tokyu Department stores for a limited time only starting from 30th May 2019. The four limited stores are Shibuya main store, Shibuya station Toyoko store, Kichijoji store and Tama Plaza Kanagawa store. 

Bear: ¥3,200 + tax

Labrador: ¥3,200 + tax

The double-walled glasses will come in the following designs: Dog, cat, duck, bear, labrador, wild boar, grape, and cherry blossom.

Shiba Inu dog: ¥3,200 + tax

Bunny: 3,500 + tax

Cat: ¥3,500 + tax

From 8th June, more mug designs will be added to the series shown above! The Shiba Inu dog mug, which was fully sold out soon after it was launched for sale back in April, is making a comeback! There will also be two more brand new designs: the bunny and the cat! The Shiba Inu, bunny and cat mugs will be sold at Tokyu Department store in advance. They will be available for general sale from 14th June.

You won't be able to stop drinking from these cute mugs so get your hands on some!

Information

GOODGLAS

Release date: 30/05/2019

Available at:Four Tokyu Department stores

 

Store information

Tokyu Department store Shibuya main store (6th floor) Kitchen/ tableware section

(2 Chome-24-1 Shibuya, Shibuya City,)

Tokyu Department store Shibuya station, Toyoko store (Minamikan 8th floor) Kitchen/ tableware section

(2 Chome-24-1 Shibuya, Shibuya)

Tokyu Department store Kichijoji (6th floor) Kitchen/ tableware section

(2 Chome-3-1 Kichijoji Honcho, Musashino, Tokyo)

Tokyu Department store Tama Plaza (4th floor)  Japanese/western-style tableware section

(1 Chome-7 Utsukushigaoka, Aoba Ward, Yokohama, Kanagawa)

 

For more information on GOODGLAS double-walled glasses, please check GOODGLAS JAPAN's website: https://www.r-kj.com/

The Adorable Peach Coloured Cat Themed Set With Red Bean Paste Bread

The Bakery Blue Jean cafe and bakery at Hotel New Hankyu Osaka has revealed a special cat themed set of items that will go on sale from February 21 for four days only. The set is arriving in time for Cat Day in Japan on February 22.

The set comes with a pre-release of the new cherry blossom flavoured red bean paste cat bread arriving at the cafe in March. It also comes with cherry blossom flavoured cat paws, macarons, cookies and more including a pink Blue Jean cat plate. This will be available on Cat Day.

Be sure to get your paws on this set quickly as they sold out in 4 hours last year!

Information

Momoiro Neko Set

Running: February 21, 2019 – February 24, 2019

*30 to be sold on weekdays and 60 on the weekend

Price: 1 set – ¥2,200 (Tax Included)

Location: Bakery Blue Jean, Hotel New Hankyu Osaka Floor B1F (1-1-35 Shibata, Kita Ward, Osaka, Osaka Prefecture)

Opening Hours: 8:00-22:00

TEL: 06-6372-5101

Squidgy Cat Paw Phone Cases Released by Felissimo Neko-bu

Felissimo Neko-bu™ recently released a new line of cute cat paw phone cases so squidgy and fluffy you'll want to poke them every time you pick up your phone.


Made almost as real as the real thing, these 3D phone case designs also come with an adhesive sheet to stick  your phone to so you can just pop it right in there.


While in place your phone can slide up and down making for a smooth transition to photo mode. They didn't forget the handy card pocket either to keep those important cards safe.


There are three designs to choose from and can add even more relaxation to your phone break.

As always with Felissimo Neko-bu products, part of the price of these phone cases. goes towards numerous causes including shelter for animals with no owners and for helping find them owners, as well as aiding towards getting stray cats off the street to avoid overpopulation, and for protecting animals during times of disaster.

Information

Cat Paw Phone Cases
Released: January 29, 2019
Price: ¥2,909 (1 design per month)
→¥81 of the money will go towards the "Felissimo Cat Foundation". (The money donated is tax exempt)
・1 design will be sold per month from the date of release. Once each has been sold sales will stop.
Product Page: https://feli.jp/s/pr19021302/2/

Gel-Type False Cat Nails Released by Felissimo Neko-bu™

Felissimo Neko-bu™ released their new 'Cat Nail Seals' on their website on October 22.

The nails come with a thick and glossy transparent gel that you simply apply to stick the nails on which also give them three-dimensionality. They are perfect for people who are in a rush, want to make their nails stylish but aren't sure how, those who don't have time to go to a nail salon, and those who have an interest in nail art but it troublesome.


There are 4 designs to choose from.

Cat & Constellations: A girly colour combination of pink and white.

Cat Emblem: A good choice to match light skin tones with luxurious pink beige and greys. Also great for parties.

Cat and Cat Powder: A flowery design of the cat powder plant. Perfect for when you need to look flashy.

Cat Dots: A mix of greyish mint and brown to create a mildly cool look.

These high quality nail 'seals' have been carefully designed so they can be applied to a variety of nail shapes. They are made in such a way that it is difficult to end up with creases and wrinkles in the seals so you can apply them effortlessly. If you add a top coat of gel they'll be even longer-lasting.

Each order comes with a set of two so you can make both hands symmetrical or asymmetrical. There are so many combinations you can make even with the same set. The cat motifs and vibrant colours are ideal for a whole range of settings, whether it's an everyday look or you're off to a party. They're sure to be noticed and crop up in conversation when gathered around people. They also make for a perfect gift for cat lovers.

As always with Felissimo Neko-bu products, part of the price of these false nails goes towards numerous causes including shelter for animals with no owners and for helping find them owners, as well as aiding towards getting stray cats off the street to avoid overpopulation, and for protecting animals during times of disaster.

Show off your inner feline with these new nails from Felissimo Nekobu♪

Information

Pukkuri Gel Style Cat Nail Seals
Price: ¥1,200 (+8% ¥1,293)
→¥36 of the money will go towards the "Felissimo Cat Foundation". (The money donated is tax exempt)
・Set: 2 nail seal sheets (enough for both hands)
*The number of times they can be used depends on nail size.
・Material: Polyurethane
・Size: Large Seals – 1.4cm x 1.3cm / Small Seals – 0.8cm x 0.6cm
*May not be applicable with certain nail shapes. Cannot be returned after use.
*Please cease use after 5 days of use.
・1 of 4 designs shipped per month in rotation.

(Made in Japan)

Product Page: https://feli.jp/s/pr181030/2/
Felissimo Official Website: https://www.felissimo.co.jp/

A pop-up shop of "CASETiFY" will be opened at Isetan Girl

The Tech accessory brand, "CASETiFY" will open its pop up shop at Isetan Girl (Isetan Shinjuku Main Building 2F) from October 31st(Wed.) to November 6th (Tue.) 2018. This will be a rare opportunity where  you can look at products which are usually only available on the Internet.

Initial Glitter Case 4,900 yen (tax included)

CASETiFY's most popular item, popular among celebrities and models worldwide, is "Initial Glitter Case."This product can be ordered as usual.

In addition, CASETiFY launched a new product called, "Neon Thunder Case" in October. This product can now also be ordered. You can choose your favorite letters and fonts to make your one-and-only smartphone case.

Neon Thunder Case 4990 yen (tax included)

The will also sell various kinds of items including cases with digital gadgets and popular items which can be used as accessories. The items are durable but well-designed at the same time so they are suitable to be used as a gift for yourself, your partner or your friend.

Information

CASETiFY Pop Up

Venue: Isetan Girl (Insetan Shinjuku Main Building 2F) (3-14-1, Tokyo, Shinjukuku, Shinjuku)

Period: 2018, 10, 31st (Wed.) to 11,6 (Tue.)

Business hours: 10:30 to 20:00

Isetan Shinjuku Store official website: https://www.isetan.mistore.jp/shinjuku.html