Enjoy your chores more than ever before with this cute Rilakkuma-themed laundry bag by Felissimo! ♪
Felissimo is making washing more fun with the new character-themed Rilakkuma laundry bag.
Rilakkuma's everyday outfit is now a laundry net?! If you take a look inside the bag from the back zipper, you will notice that the inside of the bag has been accurately created and firmly secured to look just like Rilakkuma.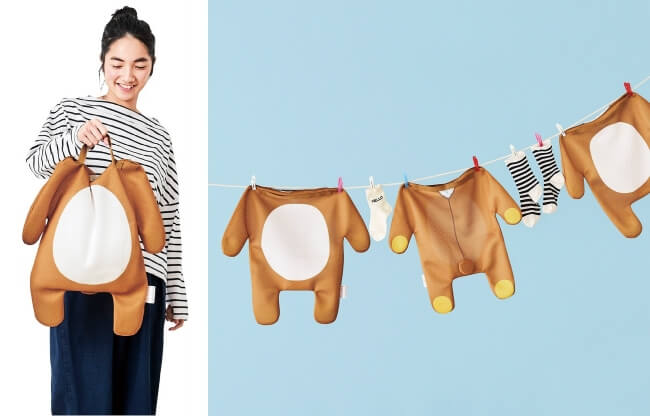 You'll feel as if Rilakkuma has come to stay at your house! Without realising, you'll be smiling at the sight of your new laundry bag swaying gently in the breeze alongside the rest of your laundry no matter where you are. If you're concerned about your delicates or socks, you can still wash them together with the rest of your laundry using this bag. You can put this bag directly in the washing machine! After you've finished the washing, you can easily carry the bag to the washing line by the handle! How useful!
The bag isn't fully transparent and it's made using mesh. This makes it perfect for carrying a change of clothes to the gym or your bath set for when you go to the hot springs!
Now you can finally enjoy doing the chores around the house thanks to the Rilakkuma laundry bag!
Information
Rilakkuma Dararinno hohon ♪ Character laundry bag
Price: ¥1,950 (+ tax)
Material: 100% polyester  ※ machine washable
Size :  50.5cm long X 35 ー 55cm wide,  handle length: 25cm
Maximum weight: 6kg
You can also choose to have a brand new laundry bag delivered to you each month (charges apply).
Made in China
Click here to purchase: https://feli.jp/s/pr190425/2/
RELATED ENTRIES
Netflix's Rilakkuma and Kaoru Promotes Official Fan Club With Community Stream Event

San-X is bringing fans of the popular Netflix animated series Rilakkuma and Kaoru with the launching of a community event to get everyone watching the series again together at the same time. Titled "Rilakkuma and Kaoru Watching Party," the event will take place on March 19. Although it's taking place in Japan, this is a fun chance for fan around the world to get involved too.

Rilakkuma and Kaoru has been well-received around the world. Netflix announced it as the second-most watched series in Japan in 2019. Now, fans can come together once again as the event, which is taking place in promotion of the opening of the series' official fan club, has them re-watching the first episode together.

There are two ways to get involved: via the Rilakkuma Community official fan club and on Twitter.

Getting Involved With the Rilakkuma Community Official Fan Club

The room for this event will open on Rilakkuma Community on March 18. There, fans can get ready to tune in to watch the episode together on March 19 at 19:00 (JST). There is a fee to pay if you want to join the fan club, and the website is in Japanese, so you'll need to be able to read the language if you want to use this method.

Fan club members will also receive an exclusive Rilakkuma and Kaoru wallpaper.

Getting involved on Twitter

You can follow the event with the official Japanese hashtag #リラックマとカオルさんを一緒に見ようの会 where people are encouraged to share their thoughts and support for the setries.

©2021 SAN-X CO., LTD. ALL RIGHTS RESERVED.

Chairoikoguma Market to Open at KIDDYLAND Osaka Umeda This Spring

Japanese character goods and toy chain KIDDYLAND is collaborating with San-X, the creators of the iconic Rilakkuma and its friends, to open the Chairoikogumarché, a market themed on Chairoikoguma, at KIDDYLAND Osaka Umeda. It will be open for a limited time this spring from March 11 to 25.

Chairoikoguma is a popular honey-loving bear character created by San-X who lives in the Honey Forest. This year marks the 5th anniversary since its debut.

In 2018 and 2019, San-X opened the limited-time Korilakkuma Meets Chairoikoguma Store which was hugely popular amongst Rilakkuma fans, with repeat buyers returning multiple times. Chairoikogumarché was originally scheduled to open at KIDDYLAND Osaka Umeda in April 2020, but it was postponed and will now open next month. Once they book their attendance, fans can look forward to laying their eyes on original Chairoikoguma artwork coupled with phrases spoken in the Kansai dialect. There will be exclusive items to purchase, merch pre-sales, bonus goodies, and more.

Merchandise Line-Up Excerpt

Charm Set | ¥1,320 (Tax Included)

Mask Case | ¥660 (Tax Included)

Pre-Sale Merchandise

Pre-Sale Release: March 11, 2021

*This product will be released for general sale at Rilakkuma Stores in Japan, excluding the Osaka Umeda branch, on March 13.

Chairoikogumarché & Nakayoshi Plush Toy (Sakuranokorisu) | ¥3,080 (Tax Included)

*Not available at Rilakkuma Store Umeda Osaka. Pre-sale exclusive to Chairoikogumarché.

*Will also be released on San-X's online shop.

Pre-Sale Release: March 11, 2021

*This product will be released for general sale at all Rilakkuma Stores in Japan on April 3, 2021.

Long Plush Pillow | ¥6,600 (Tax Included)

Mini Shoulder Bag | ¥5,500 (Tax Included)

*Will also be released on San-X's online shop.

Bonus Items

1. Customers who spend over ¥3,000 (tax included) at Chairoikogumarché will receive a random free zipper case from a possible two designs. First-come, first-served.

*One per person, per transaction. Design chosen randomly.

*Available while supplies last.

*Will be released at all Rilakkuma Stores except the Osaka Umeda branch on March 13.

2. Customers who spend over ¥5,000 (tax included) at Chairoikogumarché will receive a free tote bag. First-come, first-served.

*One per person, per transaction. Design chosen randomly.

*Available while supplies last.

©2021 SAN-X CO., LTD. ALL RIGHTS RESERVED.

Information

Chairoikogumarché

Running: March 11, 2021 – March 25, 2021

Where: KIDDYLAND Osaka Umeda

Address: Hankyu Sanbangai Floor B1F, 1-1-3 Shibata, Kita-ku, Osaka-shi, Osaka

Opening Hours: 10:00-20:00

*Opening hours subject to change

Event Page: https://www.kiddyland.co.jp/event/chairoikogumarche/

Rilakkuma Opens Official Fan Club

Fans of Rilakumma are in for a real treat as San-X, the company behind the internationally-beloved bear, opened the "Rilakkuma Tomonokai Official Fan Club" on Wednesday (February 10).

Plush Toy Set

Folder

Acryluc Key Ring

Signing up to the fan club means getting your hands on a range of merchandise from exclusive goods to new member items, a new wallpaper every month, access to the Rilakkuma Community, birthday mail, and more. Those who do sign up will receive a Rilakkuma plush toy and folder for free as thanks.

*Images are for illustrative purposes only. Size, colour, and design may vary from actual products.

©2021 SAN-X CO., LTD. ALL RIGHTS RESERVED.

Taiwan's Gift and Souvenir Shop Lai Hao Arrives in Japan

JAPAN POSTEC, a wholesaling company in Japan, is now an authorised dealer of products from the popular Taiwanese gift shop Lai Hao. The first product to enter the Japanese market from the company is a colourful collection of blotting papers which hit the country last Thursday (January 28).

Lai Hao Blotting Paper (8 Designs)

Taiwanese Scents: Oolong Tea / Gardenia / Yulan Magnolia / Hinoki / Pineapple

Size and Ingredients

Lai Hao's products are a display of Taiwanese creativity and high quality and are sure to leave an impression on buyers.

The blotting paper designs are based around a variety of different foods, with eight different picks to choose from. Each one comes scented with fragrances that remind one of Taiwan.

Kaori's Easy Valentine's Recipe: Learn to Make Rilakkuma Hot Chocolate Sticks

With just a small bit of ingenuity, turn everyday food into something cute using Kaori's Easy Recipe! With a few simple ideas, an ordinary recipe magically transforms into a cute dish.

Today, I'll be showing you a simple recipe for Valentine's Day made with ingredients bought entirely from the 100 yen store Seria. I call it the "Rilakkuma Hot Chocolate Stick."

Ingredients

Square mould from Seria (makes six sticks)
1 bag of milk chocolates

1 bag of white chocolates

1 bag of dark chocolates

Toppings of your choice (I used caramel chocolate chips and walnuts)

1

Melt all the chocolates separately over a bain-marie.

2

Create layers with each chocolate type. Pick your first choice and pour into the mould and wait for it to set lightly before adding the next chocolate. For this recipe, I went ahead and added the chocolate a little before layers had finished setting to create a marbling effect.

✩I also added some strawberry chocolate I had left over from my Rilakkuma chocolates.

3

Once all your chocolate is in the mould, stick in some lollipops and add toppings of your choice making sure they don't overflow. This will ensure they set together with the chocolate.

4

Allow to set overnight and your chocolate stick is ready.

5

I made Rilakkuma chocolates from scratch and added those to the sticks to finish.

Kaori invites you into her world of character-themed food dishes in her recipe series. Be sure to check out her Instagram where she has uploaded many pictures of her character dishes!

Kaori Kubota (@kaopan27)

I live in Hokkaido and I love to make character themed foods, desserts and pastries♡

I want to see my family smile, so I enjoy putting in a bit of effort to make character foods and changing food into something cute♡

You can see more of my character foods and character bento boxes on my Instagram page → @kaopan72

Get Fit With These Cute New Rilakkuma Dumbbell Balls

Japanese company Mizuno released a new series of Rilakkuma dumbbell balls, the "Ballretch Rilakkuma," on its official online store and San-X's online shop last week.

About Ballretch

The Ballretch is part of Mizuno's series of at-home training equipment. First released in June 2019, the Ballretch is a ball weighted at 500g which can be used for easy weight training. The balls are all made from soft material so do not cause calluses often associated with weightlifting.

Ballretch Rilakkuma


Rilakkuma & Kiiroitori Set | ¥3,960


Chairoikoguma & Korilakkuma Set | ¥3,960

Pick between the Rilakkuma & Kiiroitori Set or Chairoikoguma & Korilakkuma Set for helping to encourage and cheer you on during training. They also double as cute room decorations.

If your New Year's Resolution for 2021 is to exercise and train more, then why not let Rilakkuma and co help you along?

©2020 San-X Co., Ltd. All Rights Reserved.

Tokyo Banana Chooses Eevee as Next Pokémon Souvenir Sweet

Tokyo Banana World has revealed that its next sweet treat in its Pokémon Tokyo Banana series will be Eevee which Pokémon Trainers can expect to catch up and down Japan from January 2, 2021, including at the store itself as well as at 7-Eleven branches.

Pokémon Tokyo Banana Welcomes Eevee as Entry #2

Tokyo's official souvenir sweets brand Tokyo Banana launched its new Pokémon Tokyo Banana series of confections in November with the first catch being Pikachu. Now Eevee is being added to the collection.


The fluffy sponge is a delicious caramel macchiato flavour and is filled with sweet banana custard cream. It can be eaten as it is, refrigerated, or even baked to create completely different flavour experiences.

6 Designs Including a Lucky Heart-Shaped Tail

The sponge cakes come in six different designs, all of which are adorable. The one to look out for though is the one with a cute heart-shaped tail.

Fluffy Eevee Design Packaging

Eevee Tokyo Banana Caramel Macchiato (Contains 2) | ¥291 (Tax Included)

The packaging features fluffy artwork of Eevee in six different designs, such as a waving Eevee and winking Eevee.

Where Can You Catch Eevee Tokyo Banana?

Eevee will roll out at 7-Eleven stores across Japan (excluding Okinawa) at the dates listed below. Each branch will have a limited stock so don't miss out.

January 2, 2021 Release
Tokyo/Kanagawa/Chiba/Saitama

January 16, 2021 Release
Hokkaido/Aomori/Iwate/Akita/Miyagi/Yamagata/Fukushima/Ibaraki/Tochigi/Gunma/Niigata/Fuji/Ishikawa/Fukui

January 23, 2021 Release
Yamanashi/Nagano/Shizuoka/Aichi/Gifu/Mie/Okayama/Hiroshima/Tottori/Yamaguchi/Tokushima/Kagawa/Ehime/Kochi

January 30, 2021
Osaka/Kyoto/Hyogo/Shiga/Nara/Wakayama/Fukuoka/Saga/Nagasaki/Oita/Kumamoyo/Miyazaki/Kagoshima

©2021 Pokémon. ©1995-2021 Nintendo/Creatures Inc. /GAME FREAK inc.
ポケットモンスター・ポケモン・Pokémonは任天堂・クリーチャーズ・ゲームフリークの登録商標です。

Netflix Series Rilakkuma and Kaoru Gets Exhibition in Tokyo

An exhibition for the popular stop-motion animation Netflix series Rilakkuma and Kaoru will run at SEIBU Ikebukuro in Tokyo from December 27, 2020 to January 5, 2021. Fans of the series can look forward to plunging themselves into its adorable world with recreated sets, statues, photo spots, limited-edition merchandise, and more.

Stop-motion sets and figures used in the animated series

The actual sets and set pieces used for the stop-motion animation will be exhibited at the event including Kaoru's apartment, Rilakkuma who looks like he's about to pop to life, and more.

Stop-motion animation behind-the-scenes

Catch a behind-the-scene glimpse of the efforts put into creating the series including early sketches, character reference, designs, and more.

Take a photo at Kaoru's apartment

Fans of the series won't want to miss out on a special photo spot recreating Kaoru's apartment with Rilakkuma and co waiting to greet you inside.

Over 500 pieces of limited-edition merchandise

Special Replica Plush Toy Korilakkuma With Serial Number | ¥25,300 (300 available in Japan / 200 elsewhere)

Kaoru's Album Post Card Set | ¥1,650

Plush Pouch | ¥2,200 Each

Fans can get their hands on a selection of exclusive limited-edition merchandise, including a replica Korilakkuma plush toy of which only 200 are available, each with its own unique serial number on the foot.

Bonus Items

Designs given randomly

For every ¥5,000 spent in one transaction (tax included), visitors can receive a free original bag. These are available to the first 200 people per day of the exhibition.

© 2020 San-X Co., Ltd. All Rights Reserved.

Information

Rilakkuma and Kaoru Exhibition
Running: December 27, 2020 – January 5, 2021

Location: SEIBU Ikebukuro Floor 7F
SEIBU Ikebukuro Official Website: https://www.sogo-seibu.jp/ikebukuro/

A Dream Collaboration Between Rilakkuma and Sumikko Gurashi Announced For Hirakata Park

Hirakata Park in Osaka has announced a special collaborative event with San-X's popular characters Rilakkuma and Sumikko Gurashi which will begin on March 6, 2021.

Park entrance

Rilakkuma and friends as well as the characters of Sumikko Gurashi will both have their own special pavilions raised at the park entrance. At the Rilakkuma tent, the cute bear and his comrades where will be showcasing their three fundamental elements that go into having a leisurely and relaxing time. Over at the Sumikko Gurashi tent, you'll get a peek into the lives of these cute characters which are known for their lifestyle of dwelling in the corner.

The event will welcome a range of original Rilakkuma and Sumikko Gurashi themed food and merchandise too.

©2020 San-X Co., Ltd. All Rights Reserved.

Information

Rilakkuma & Sumikko Gurashi Festival
Running: March 6, 2021 – June 27, 2020

Opening Hours: 10:00-17:00 (Last Entries 16:30)

Location: Hirakata Park Event Hall I

Enquiries 0570-016-855 (10:00-17:00)
Event Page: https://www.ntv.co.jp/rilakkuma-and-sumikko-fest/

Decorate With These Fabulous Rilakkuma Flower Boxes Made With Colourful Preserved Flowers

If you're looking to brighten up and kawaii-fy your room this holiday season, then you'll want to check out the new Goyururi Rilakkuma Flower collection which hit Okada Shokai's online shop on Thursday (December 10).

Goyururi Rilakkuma Flower is a collection of flower boxes made with a variety of colourfully preserved flowers like roses, showy baby's-breath, hydrangeas, carnations, and more, bunched together with Rilakkuma, Korilakkuma, Kiiroitori, and Chairoikoguma.

Goyururi Rilakkuma Flower: Rilakkuma / Korilakkuma / Kiiroitori / Chairoikoguma

Goyururi Rilakkuma Flower Box

The characters are made from a combination of petals to look like a picture. And since the flowers are preserved, no watering is needed, so your box will stay eternally cute.

The boxes come wrapped in candy-like wrapping too which makes them perfect as a gift.

©2020 San-X Co.,Ltd. All Rights Reserved.

Information

Goyururi Rilakkuma Flower
Pre-Orders: December 10, 2020 – December 17, 2020
Release Date: December 18, 2020
My peridot Official Website: http://myperidot.com/

New Stop-Motion Animated Series 'Rilakkuma's Theme Park Adventure' To Premiere on Netflix

Japanese character manufacturing company San-x has teamed up with TYO Group's animation studio dwarf studios to produce an original Netflix series called Rilakkuma's Theme Park Adventure.

The series is a follow-up to Rilakkuma's first ever stop-motion animated series Rilakkuma and Kaoru which premiered worldwide on Netflix in April 2019. The new series is also a stop-motion animation adventure.

The new series features Kaoru (voiced by Mikako Tabe), Rilakkuma, Korilakkuma and Kiiroitori who are all set for a fun-filled day at an amusement park. Join the gang as they face a number of exciting incidents and make some new encounters at closing time.  There are a total of eight episodes, each of which lasts approximately ten minutes.

The Rilakkuma and Kaoru series ranked at number two on Netflix's list of top 10 most watched shows of 2019 in Japan. The new series will be available to watch in over 190 countries worldwide.

Rilakkuma's fun adventures have only just begun so stay tuned!

©2020 SAN-X CO., LTD. ALL RIGHTS RESERVED

Rilakkuma Book Cafe Themed Afternoon Teas in Osaka Will Serve Bear-Huggingly Kawaii Food

Major bookstores across Japan are rolling out the Rilakkuma Book Fair where fans can get their hands on short Rilakkuma fairy tails, exclusive merchandise, and more.


In line with the event, Fruits Parlor & Bakery Season & Co., a cafe in Umeda, Osaka, is serving up a special menu with the theme "Rilakkuma Book Cafe" from October 30 to November 30. This includes a afternoon teas which also celebrates the cafe's 1st anniversary, more exclusive merchandise, and novelties for customers who order from the Rilakkuma menu.

Rilakkuma Zukin Afternoon Tea | ¥4,000 (Before Tax) *Reservation-only

A special afternoon tea featuring 13 different goodies from desserts to a sandwich, quiche, and more. It comes with a fruit iced tea welcome drink too.

Rilakkuma Yuki Hime Afternoon Tea | ¥4,000 (Before Tax) *Reservation-only

A different afternoon tea that serves up 12 items. This also comes with a fruit iced tea.

Rilakkuma's Honey Apple Smoothie | ¥800 (Before Tax)

A honey apple smoothie topped with refreshing vanilla ice cream, smooth fresh cream, and a Rilakkuma jelly candy.

Rilakkuma's Royal Chocolate Milk Tea | ¥1,200 (Before Tax)

Classic royal milk tea served with chocolate Rilakkumas. Eat on their own or dip into your tea!

The cafe is now taking reservations for the afternoon teas. Bookings must be made two days in advance by telephone or the official website.

Information

Rilakkuma Book Cafe
Running: October 30, 2020 – November 30, 2020
Reservations: https://season-co.shop/rilakkuma2020/

Fruits Parlor & Bakery Season & Co.
Address: LINKS UMEDA 1F, 1-1 Ofukacho, Kita-ku, Osaka
Opening Hours: 9:30-22:00 (Last Orders 21:30)
TEL: 06-6743-4212
Official Website: https://season-co.shop