Celebrate the summer with these gorgeous Lindt treats! ♡
Swiss chocolate brand Lindt has held a strong reputation for many years. From Saturday 1st June to Sunday 1st September, Lindt is going to celebrate summer with the opening of the summer-limited Summer Chocolate Festival to be held at the Lindt Chocolate Cafe.
Lindt has combined chocolate with summer fruits to create three different treats; Lindt Soft Cream Chocolate, Lindt Ice Chocolate Drink and Lindt Chocolate Parfait. A new base flavour will be used for each month. The chosen flavour will reflect the flavours of that month. From 1st June, the flavour will be cherry. From July, it will be lemon, and tropical will be the base flavour for August!
The ice cream that will be used to make these treats is the Lint Soft Cream Chocolate, which is made using a generous amount of high-grade chocolate. The cafe's chocolate ice creams are extremely popular and are a perfect match with the premium chocolate waffle cone, which is made using 70% cacao dark chocolate sourced from Lindt's provider in Ecuador. The summer-limited Lindt Soft Cream Chocolate will be the cafe's first ever white chocolate fruit-flavoured soft serve ice cream.
Lindt soft cream chocolate: cherry/ lemon/ tropical ¥699 (price including tax)
Indulge in the smooth, melt-in-the-mouth, rich, juicy fruit and chocolate soft cream. Amongst Lindt's milky, mild and sweet white chocolate, you will discover a luxurious fruity puree that will catch you off guard. The two are blended perfectly, and the strong fruity flavour is the perfect accent for the milk chocolate. Come enjoy this dual flavour!

Lindt ice chocolate drink: Cherry/ lemon/ tropical ¥772  Ginza branch price: ¥,1388 (prices include tax)
This ice chocolate drink includes fresh fruity pieces that spread throughout the drink, leaving you refreshed with every mouthful. The mild Lindt white chocolate and strong fruity flavour work together in harmony, balancing out to create a divine flavour. Each cup is carefully decorated with the pattern of fruity chocolate spilling over the cup and crunchy-textured chocolate. From the flavour to its presentation, this cup is overflowing with enjoyment! This is a combination of refreshing cool frozen fruitiness and light and rejuvenating whipped cream. What a perfect dessert!
Lindt chocolate parfait: cherry/ lemon/ tropical ¥980 Ginza branch price: ¥1,780 (prices include tax)
A rich fruity flavour served up with soft serve chocolate ice cream and topped generously with frozen fruit and fruit sauce to create one very fruity parfait! Starting from the strong yet sweet fruity flavour, you will soon arrive at the accented milk chocolate soft cream, followed by the rich chocolate sauce. Enjoy the harmonious interweaving flavours between the layers of chocolate! Chocolate copo, macaron cakes, almond nougatine and crispy almond croustillant will add texture to your dessert!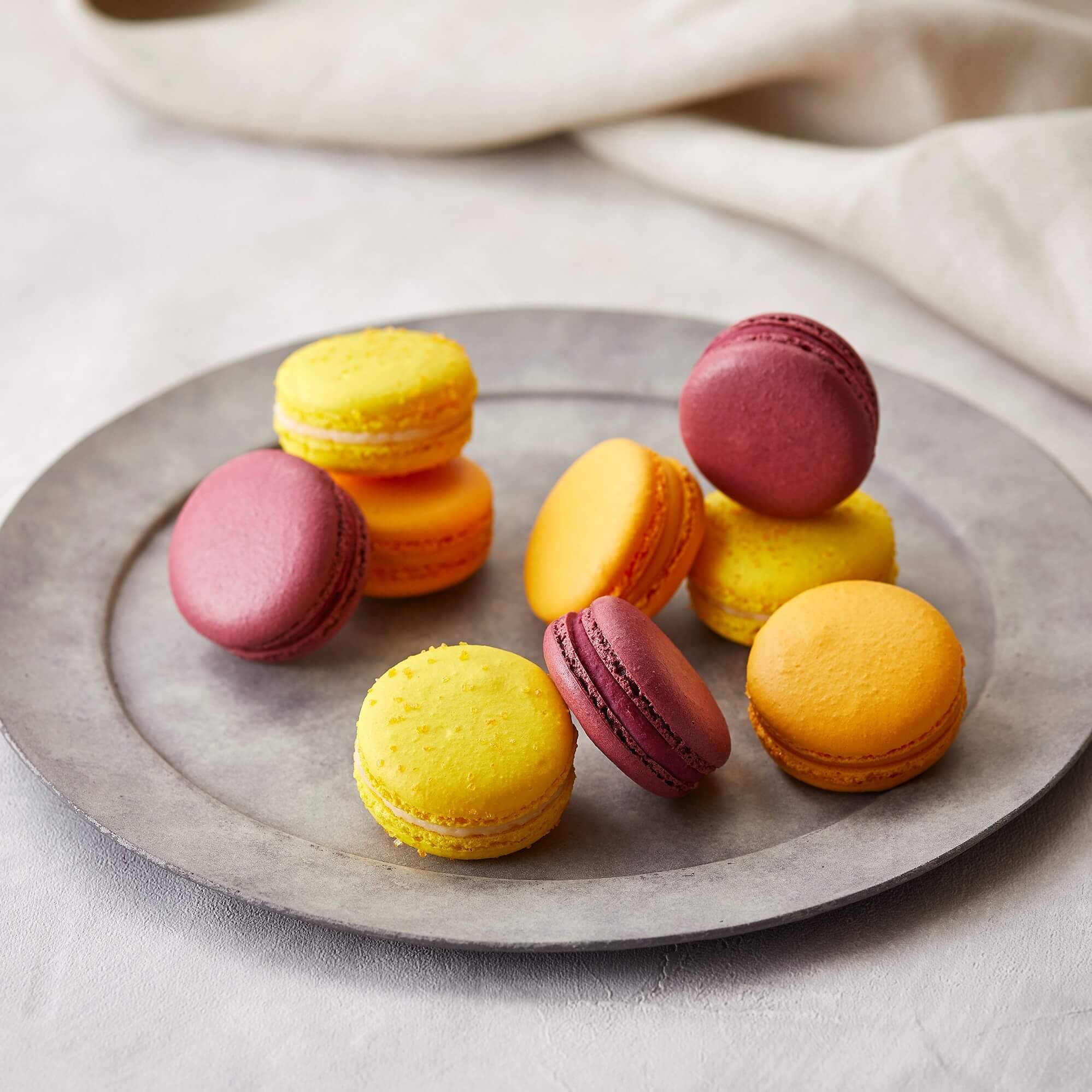 Lindt Délice: Cherry/ lemon/ tropical ¥302 (price including tax) 
A crispy shell filled with melt-in-the-mouth fruity ganache. Lindt white chocolate is infused with fruit puree for a strong, sweet fruity flavour that you can enjoy as a light treat. The vibrant vitamin colours are perfect for those summer vibes! This would make for the perfect gift!
These desserts just look so gorgeous! This is how you celebrate summer!
RELATED ENTRIES
No Chocoholic Can Resist Lindt's New Nutty Caramel Chocolate Drinks

Since being founded in 1845, Lindt has carried its reputation as a Swiss brand of chocolate throughout the centuries, capturing the hearts of chocoholics in over 120 countries across the world. Lindt will be releasing a brand new chocolate drink on December 1, 2019 across Japan. The chocolate drink will be available in hot and cold and is made using an irresistible Gianduia chocolate hazelnut spread.

Both the hot and cold versions of the drink contain Lindt's signature melt-in-the-mouth milk chocolate which is mixed with luxurious hazelnut praline paste. The praline paste is made from roasted hazelnuts fused into delicious caramel. Once the aroma of both roasted hazelnuts and caramel entices you to take a sip, the rich flavour will spread through your mouth and you won't be able to stop.

The drinks are topped with a fluffy chocolate and whipped cream combination and chocolate flakes which add a wonderful texture. The finishing touches on the drink consist of a drizzle of hazelnut praline sauce and a sprinkle of chopped hazelnuts. The wavy water pattern that can be seen decorating the iced chocolate drink can be mixed into the drink and enjoyed. If you're looking for a quick chocolatey refresh, the iced chocolate drink is perfect for you. For those of you who succumb to the winter chills, the hot chocolate drink will warm you up right away.

Once the fragrance of these drinks reaches your nose, no chocoholic will be able to resist.

Information

Lindt Iced Chocolate Drink Gianduia 

Lindt Hot Chocolate Drink Gianduia 

Price: ¥699 (After Tax)

Release: December 1, 2019 (to sell throughout the year)

Purchasable from all Lindt Chocolate Cafés in Japan.

Lindt Japan Official Website: https://www.lindt.jp/

Lindt's 6 New Chocolate Cafe Mochas Will Warm You Up This Fall

Premium chocolate brand Lindt is releasing six new mocha beverages on November 1 at Lindt Chocolat Cafe branches across Japan (excluding Lumine Tachikawa). The line-up includes white, milk and dark varieties of their new "Lindt Iced Chocolate Drink Mocha" and "Lindt Hot Chocolate Drink Mocha."

From these two new drinks customers will pick between their favourite kind of chocolate―white, milk or dark―after which their coffee chocolate beverage will be prepared with love and care with a fresh shot of aromatic espresso. The coffee beans used for these mocha delights were carefully chosen by the cafe chain to ensure they enjoy a harmonious combination with the espresso, resulting in a velvety sweetness from the chocolate and rich, full-bodied fragrance from the coffee.

Choose between hot or iced depending on how you feel that day. The iced mochas have a refreshing aftertaste while the hot mocha leaves smooth lingering sweetness in your mouth while also relaxing and warming you up.

Each drink is topped with a light and fluffy mousse and is drizzled in a rich mocha sauce before chocolate nibs and crunchy hazelnuts are thrown on top for texture. Whichever you order, it will be like a dessert in a cup: filling and satisfying. If you're near a Lindt Chocolat Cafe while in Japan from November 1, be sure to pop in.

Information

Lindt Iced/Hot Chocolate Drink Mocha (White/Milk/Dark)

Price: ¥699 (Tax Included)

Running: November 1, 2019 – all year round

Available: At Lumine Chocolat Cafe branches in Japan (excluding Lumine Tachikawa)

Lindt Japan Official Website: https://www.lindt.jp/

Coisof Releases Rain Ice Cream With Rainy Day Surprise and Resurrects Goth Ice Cream

Ice creams that will show you the meaning of true love! Coisof  will release a June-limited menu of soft serve ice creams. This includes a rain-themed ice cream that comes with a campaign that only runs on rainy days! Furthermore, the goth ice cream that was popular before the renovation of the shop is making a comeback!

Rain Ice Cream (Ame iro soft) 

With a drizzle of rainy magic, Coisof's popular milky and rich-flavoured ice cream has been transformed into a yumekawa (dreamy and cute) ice cream! ♡ The beautiful gradation of the blue lychee syrup and blue sugar pearls make it a perfect treat for the rainy season.

I bet you're dying to blow away the clouds that are hiding the June rainy day secret campaign! All you have to do is order the Rain Ice Cream on a rainy day during the June campaign period and your ice cream will be upgraded to the Rain Coi Soft (Ame iro coi soft) which is sprinkled with soft oiri candy toppings! This upgrade is absolutely free as long as it's raining! It looks so refreshing and cool! It's the perfect way to rejuvenate yourself in this humid season!

Goth Soft 

Before the shop renewal, the Goth Soft ice cream was incredibly popular. Now, post renewal, it has been resurrected! Black as midnight, the goth soft is no doubt Instagram-worthy. There's also the Goth Soft Mix which is a mix of the dark goth soft and the pure milk soft ice cream so you can enjoy both flavours at once!

Don't be glum during the rainy season! Shower yourself in love with these delicious Coisof ice creams! ♪

Information

Rain-coloured (Ame Iro Soft)

Selling period: Sat June 1 ー Sun 30

Price: ¥600 + tax

Goth Soft (black/ goth soft mix)

Selling period: From Sat June 1

Price: ¥600 + tax

coisof

Located inside re:Dine GINZA (9th floor NAMIKIKAN GINZA)

Address: 4-3-1, Ginza, Chuo, Tokyo

Opening hours: 11:00 ー 22:00

TEL: 050-3628-5009

Coisof official website: http://coisof.favy.jp

These Tropical Fruit Shaved Ice Desserts at Hotel Gajoen Tokyo Have Our Mouths Watering

Museum hotel Hotel Gajoen Tokyo's Cafe & Bar Yuian, is bringing back its popular shaved ice desserts from last year! This year, a limited number of melon and pineapple shaved ice desserts containing rich-flavored shaved ice are being served up! 

Rich Shaved Ice Melon ¥2,300 (+ tax & service charge)

 Rich Shaved Ice Melon & glass of champagne set    ¥3,800 (+ tax & service charge)

The king of the summer fruits; a melon, in a luxurious form. A fresh, high quality and sweet melon is filled with milk-flavoured shaved ice. Deep-flavoured, melt-in-the-mouth melon fruit pieces and melon foam garnish the bowl.

Rich Shaved Ice Pineapple  ¥1,800  (+ tax & service charge)

Rich Shaved Ice Pineapple & glass of champagne set ¥3,200  (+ tax & service charge)

The pineapple: a popular tropical fruit famous for improving your skin quality and help to ward off fatigue. The moderate sweet yet sour fruit pieces make for a good match with the mildly sweet milk-flavoured shaved ice. Tapioca pearls are used for the garnish.

For the perfect sophisticated dessert experience, there is also the option to add a glass of champagne as a set to either of the desserts. To really enjoy the fruity flavours, Lanson Black Label Brut champagne has been specifically chosen for the meal set as it brings out the aroma of ripe tropical fruit.

Information

Tropical Fruit Shaved Ice Desserts

(おとなのかき氷 リッチシェイブアイス)

Selling: Sat 1st June 2019 ー Sun 1st September 2019

Available at: Cafe & Bar Yuian, Hotel Gajoen  

Times: Weekdays: 14:30 – 21:30 (last orders)

Weekends/ nat.holidays: 15:00 – 17:00 (last orders)

Reservations/ restaurant information(TEL):050-3188-7570(10:00 – 19:00)

※ There will only be a limited number of these desserts available.

※ Customers who spread the word about these desserts on social media will receive a cup of peppermint tea or oolong tea on the house!

Hotel Gajoen , Tokyo

Address: 1 Chome-8-1 Shimomeguro, Meguro City,

Official website: https://www.hotelgajoen-tokyo.com/

Häagen-Dazs uses first tea pick of the season to make luxurious matcha and hojicha tea ice creams!

Häagen-Dazs Japan is releasing the matcha-flavoured crispy sandwich ice cream Green Tea Crème brûlée and a Japanese tea-flavoured latte ice cream in a mini cup called Hojicha latte. These two new ice cream flavours will be released on Tuesday 21st May countrywide at the same time for a limited period.

Green Tea Crème brûlée crispy sandwich ice cream (for a limited time only ) ¥272 (RRP before tax) 

The matcha crème brûlée made from matcha custard and caramel is the perfect flavour combination. This is encased in two crispy wafers. The rich aroma of matcha and the high quality sweetness is complemented with the creamy custard of the crème brûlée and provides a rich flavour for you to enjoy. A generous amount of caramel powder is used to create a deep-flavoured crème brûlée caramel. After biting through the crispy, fragrant wafer you will reach the subtle bitter flavour of the caramel.

Mini Cup Hojicha latte (for a limited time only ) ¥272  (RRP before tax) 

Two types of hojicha tea latte swirl together with a maple finish. You can enjoy the real taste of tea leaves and their delicious aromatic flavour. This ice cream became very popular when it was sold in 2017. It was made using leaves from the first pick of the tea season. These leaves are less bitter and less acidic, so you can enjoy the elegance of the tea along with the luxurious flavour of the milk. Both of these combined create an exquisite flavour. The temperature of the water in which the tea is brewed and the time it is brewed for has been carefully managed to produce a clear, refreshing aftertaste whilst maintaining the highly aromatic hojicha fragrance.  

Indulge in these two exquisite  Häagen-Dazs ice creams filled with carefully balanced flavours.

Information

Häagen-Dazs Matcha Crème brûlée (for a limited time only)

Launch: Tues 21/05/2019
Available at: Supermarkets countrywide, convenience stores, department stores, etc

Häagen-Dazs special edition website: https://www.haagen-dazs.co.jp/green_tea_creme_brulee/

 

Häagen-Dazs Hojicha latte (for a limited time only)

Launch: Tues 21/05/2019
Available at: Supermarkets countrywide, convenience stores, department stores, etc

Häagen-Dazs special edition website: https://www.haagen-dazs.co.jp/houjicha_latte/

Choose a cupcake from N.Y. Cupcakes and get it turned into an Instagram-worthy ice cream cupcake! ♡

Hey everyone! This is Midori from MOSHI MOSHI NIPPON's Editorial Department!

Summer is almost here and it's not summer without ice cream! Rather than normal ice cream, ice creams with beautiful toppings are no.1 trending right now!

That's why I took a trip down to N.Y. Cupcakes; a specialist cupcake shop in Shimokitazawa.

N.Y.Cupcakes is just a four-minute walk from Shimokitazawa station. Look out for the pretty pink store sign. Look at all the rows of cute cupcakes!

These would make perfect gifts, and are perfect for weddings, too!

Purchase a N.Y Cupcake and then it's just an extra ¥210 to get it turned into an ice cream cupcake!

Today I'm getting the cookie & cream cupcake with the silly face turned into an ice cream cupcake! Once I finish my order, the baker gets to work in the kitchen, crafting my cupcake ice cream by hand!

After a short wait…

So cute!!!

The cookie & cream cupcake I chose  has been transformed into an ice cream!
Of course, the silly face remains!

There's also some frozen fruit topping too.

The top half of the cupcake rests on top of vanilla ice cream.

I took a bite. The combination of the spongey cupcake and cold ice cream was very interesting and the overall sweetness level was just right!

I ate my way down the cone to discover the rest of the spongey cupcake!

The bottom part of the ice cream contained blueberries. From the start to the very end, this was very delicious!

A cupcake transformed into an ice cream ー this new invention is no doubt getting a lot of attention! The appearance is just too cute so you have to check it out!

Information

American cupcake specialist shop N.Y.Cupcakes
3-27-1, Kitazawa, Setagaya, Tokyo, 〒155-0031
Opening hours: 11:00 am ー 19:00 pm
Closed: Tuesdays & Wednesdays
TEL:03-3465-4262
FAX:03-3465-4262
Official website: http://www.cupcakes.jp/gift.html

Häagen-Dazs matcha salon opens in Roppongi offering a course full of matcha ice cream treats!

It has been 35 years since Häagen-Dazs ice cream arrived in Japan in 1984. This year, Japan is also celebrating the arrival of a brand new era! That's why Häagen-Dazs is celebrating with the release of a new course menu that you can enjoy with all five of your senses. The menu is currently available at the Häagen-Dazs MATCHA SALON which is open for a limited period only from Thursday 24th April to Sunday 5th May 2019. The salon is located at Hills Cafe/ Space in Roppongi Hills.

The supervisor for this salon is Daisuke Kaneko, who is also the owner and chef of the famous French restaurant L'AS. The main concept of the matcha salon is to enjoy Häagen-Dazs' specially-made matcha in all kinds of ways. There is a six-piece course overflowing with entertaining features for you to enjoy.

Green tea and lime non-alcoholic cocktail

 This welcome drink is made by combining carefully-made matcha with carbonated water. Rich matcha is added to refreshing lime so you can feel rejuvenated as you enter the world of matcha.

Matcha jelly made from matcha leaves grown in the dark! 

The leaves used for the Häagen-Dazs green tea maintain their fresh colour and flavour from being grown in a covered area. The smooth and juicy matcha jelly and the sweet and sour fresh fruits bring about a delicious flavour. These flavours taste better together than one might imagine. All that's left is to light the fire at the table and it's complete!

Matcha tiramisu made from three different strengths of matcha

Matcha sponge cake cream is smashed up and topped with mascarpone mousse and matcha powder. There are three different matcha strengths of tiramisu so you can enjoy the changing flavours!

Supreme bliss Häagen-Dazs green tea

-5°C is the best temperature to enjoy Häagen-Dazs ice cream. This ice cream just melts gently in your mouth with a wonderful new texture. Allow yourself to drift away with the scent of matcha surrounding you as the matcha flavour on your tongue spreads in your mouth!

You can even enjoy the sound of Häagen-Dazs ice cream! Immerse all of your senses in this range of Häagen-Dazs matcha ice cream treats with this special course!

Information

Häagen-Dazs MATCHA SALON(ハーゲンダッツ 抹茶サロン)

Open: Weds 24th April ー Sunday 5th May 2019

Location: Hills Cafe/Space (2nd floor, Roppongi Hills Hillside, 6 Chome-10-1 Roppongi, Minato City)

Opening hours: 11:00 ー 22:30 ※Limited seating time: 1-hour time slots.

Price: ¥2,900 (price after tax)

Reservations: https://www.haagen-dazs.co.jp/matcha_salon/

※ Some days may be busier than others, leading to the salon becoming fully booked. It is possible to get seats without reservations on the day. There will be a maximum of 14 seats per time slot available each day for customers without reservations. Please check the reservation website for more information on seating without reservations.

Häagen-Dazs official website: https://www.haagen-dazs.co.jp/

Food Review: Detective Pikachu & ROLL ICE CREAM FACTORY Collaboration

Hi, everyone. I'm Midori from MMN's editorial department. The upcoming live-action film Detective Pikachu is drawing a lot of hype right now. It will be released first in Japan on May 3 and worldwide on May 10.

As we wait impatiently here in Japan for the release, Harajuku's hugely popular ice cream shop ROLL ICE CREAM FACTORY has announced a collaboration with the movie. They are selling a limited-edition Detective Pikachu ice cream so I headed straight there to try it!

ROLL ICE CREAM FACTORY opened in Harajuku two years ago and to this day business continues to flourish with lines of people waiting outside.

Roll ice cream is made by pouring liquid ice cream onto a freezing cold plate. It is then scraped off and scooped into a roll shape.

Once they take your order the staff begin making your ice cream right in front of you. It's fun to watch!

As part of the collaboration, the Omotesando (Harajuku) and Shinkyogoku (Kyoto) branches of the store have their own Pokémon photo spots. Find your favourite Pokémon and snap some photos!

The staff were all wearing Detective Pikachu t-shirts. They looked so cute!

For this collaboration you can pick between strawberry and chocolate as your ice cream base.

I went for strawberry. The staff began by spreading out the strawberry ice cream onto the cold plate.

They then scooped it up into a round roll! It looks really difficult to do.

After adding lots of colourful toppings my ice cream was ready!

Cute!!

This one here has the chocolate base.

You can get a cute photo if you sit your ice cream next to the Pikachu in the Omotesando shop. If you look really closely you can see that the marshmallows have Pikachu printed on them. It seems a waste to eat something so adorable!

After taking my fill of pictures it was time to taste! I found that the sweetness of the yellow peaches and mango sauce go perfect with the sourness of the strawberries. It's an easy dessert to eat that can be enjoyed by both adults and kids alike.

My mouth was filled with all kinds of textures as I worked through my ice cream. I felt a crackling sensation and it turns out that the whipped cream is topped with popping candy! I definitely wasn't prepared for that. This is the perfect Pikachu ice cream, it's really fun to eat.

This ice cream is available until May 10. If you aim to go there during Golden Week you shouldn't have to line up too much, so I recommend visiting then♡

Treat yourself to some Detective Pikachu ice cream and enjoy the film when it's released!

Limited Edition Detective Pikachu Ice Cream by Roll Ice Cream Factory

Roll Ice Cream Factory is celebrating the upcoming release of Detective Pikachu with cute collaborative Pikachu ice cream which is set to hit the menu on April 24.

The ice cream is inspired by Pikachu's electric type move set through a mix of yellow peaches, strawberries and whipped cream. It's topped with a cute neon sign and a Pikachu marshmallow.

The ice cream comes in two flavours: chocolate and strawberry. And while it's on sale, the Omotesando and Shinkyogoku branches of Roll Ice Cream Factory will be decked out with promotional material for the film and staff will wear Detective Pikachu t-shirts. There will also be a photo spot for you to take a picture with your ice cream.

Lindt Orange Chocolate Desserts Released at Lindt Chocolat Cafe

The Ginza and Jiyūgaoka branches of the Lindt Chocolat Cafe released two new desserts on April 1: the Lindt Dome Chocolate Orange and Lindt Chocolate Parfait Orange.

Lindt Dome Chocolate Orange: ¥1,890 (Tax Included) / Available April 1, 2019 – May 31, 2019 @ Lindt Chocolat Cafe Ginza

The Lindt Dome Chocolate Orange has an appearance and taste that changes from the moment you pour over the chocolate to your last bite. The dome-shaped chocolate slowly begins to melt as you pour over the chocolate sauce to reveal a surprise in the middle.

The dessert also comes surrounded by fresh pieces of orange which are decorated with crunshed pistachios and raspberries. Enjoy after ladling on the hot orange and white chocolate sauce.

See how it melts in the video above.

Lindt Chocolate Parfait Orange: ¥1,780 (Tax Included) / Available: April 1, 2019 – May 31, 2019 @ Lindt Chocolat Cafe Ginza & Lindt Chocolat Cafe Jiyūgaoka

The Lindt Chocolate Parfait Orange is made with refreshing orange sherbet, fresh oranges and mini macarons filled with an orange ganache. The further you go down into the parfait the more your taste buds will be treated as they reach the dark chocolate whipped dream, rich dark chocolate sauce, and 70% dark chocolate ice cream. Also inside is a sweet vanilla mascarpone mousse and hazelnuts. Crowning the lovely-layered dessert is a dark chocolate disc.

Stop by the Lindt Chocolat Cafe to indulge in supreme bliss chocolate.

Strawberry White Chocolate Drink Released by Lindt for Spring

Lindt is a Swiss premium chocolate brand that established itself in 1845 and has gone on to be enjoyed in over 120 countries worldwide.

Japan is home to numerous Lindt Chocolat Cafe branches, and it is there that they are set to sell the new Lindt White Chocolate Strawberry Iced Drink from April 1 onward. Japan is home to numerous Lindt Chocolat Cafe branches, and it is there that they are set to sell the new Lindt White Chocolate Strawberry Iced Drink from April 1 onward.


Lindt White Chocolate Strawberry Iced Drink – Served in Takeout Cup: ¥772 (Tax Included) *Available at all branches except Ginza

The beverage is mixed with Lindt's milky white chocolate and the juice of fresh strawberries giving it a flavour amalgamation of sweet and sour. It is topped with whipped cream made with the juice of lemons from the Seto Inland Sea area and strawberry sauce. The cream is light and fluffy and has a refreshing taste to it thanks to the lemons that marries perfectly with the sweet and sour strawberries to create a fruity balance. The beverage is mixed with Lindt's milky white chocolate and the juice of fresh strawberries giving it a flavour amalgamation of sweet and sour. It is topped with whipped cream made with the juice of lemons from the Seto Inland Sea area and strawberry sauce. The cream is light and fluffy and has a refreshing taste to it thanks to the lemons that marries perfectly with the sweet and sour strawberries to create a fruity balance.


Lindt White Chocolate Strawberry Iced Drink – Served in Glass: ¥1,388 / Available at all branches April 1, 2019 – May 31, 2019 (Tax Included)

The drink is served with finely grated lemon zest at the Ginza branch of the cafe to add an even richer and more refreshing flavour.


Lindt Delice Set (Drink + 2 Delice): ¥1,080-¥1,296 (Tax Included) / *Available at all branches except outlets April 1, 2019 – May 31, 2019 (Tax Included)

The drink can be enjoyed as a set with two delices―strawberry and lemon flavoured.

Enjoy the flavours of spring at the Lindt Chocolat Cafe.

Information

Lindt Japan Official Website

I tried a ¥1000 soft serve ice cream ♡ My trip to the CREMIA pop up shop!

Hello, this is Midori from Moshi Moshi Nippon's Editorial Department.

Now we've plunged right into spring, the weather is perfect for soft serve ice cream! A limited edition pop up shop called "CREMIA" selling ice cream to fit that perky spring feeling has just opened in Omotesando!

This may be slightly more expensive than other soft serve ice cream places but it is popular because it is so tasty. Some of you reading this are probably already familiar with CREMIA. This pop up shop sells an upgraded version of their delicious ice cream which is even more luxurious! CREMIA is already a rich-flavoured ice cream and I was wondering just how you could possibly make it even tastier so I dashed over there to uncover the mystery!

I escaped Harajuku, which is full of people during this season, and headed for Omotesando which is relaxing and peaceful. It's a nice idea to enjoy the nice weather and eat your ice cream while taking a stroll but CREMIA melts particularly fast so I recommend enjoying it on the second floor.

CREMIA the rich ¥1000 (price including tax) 

This is the legendary ultimate "CREMIA the rich"… and it's ¥1000! It's quite expensive for a soft serve ice cream so I was a bit on edge!

….Aaaaahhhhh!!!!

It was just like the ice cream you can get on a farm! It was very smooth and rich but not sickening and it wasn't too sweet either. I was sat on the chair enjoying my ice cream and it was perfect. 

There are also other items on the pop up shop limited edition menu so I tried them for you too!

CREMIA the rich Matcha ¥1000  (price including tax)

CREMIA the rich Matcha is the most luxurious matcha ice cream! It is popular among adults. This is a rich ice cream but with just one lick the matcha flavour drifts and spreads through your mouth. This is the longest lingering matcha-flavoured ice cream I have ever eaten!

CREMIA the Custard  ¥540  (price including tax)

CREMIA the Custard is custard flavoured (as implied by the name). If you look closely at the cone, you'll notice it's pink ー how cute! This is a raspberry cone. You can only taste the raspberry flavour of this luxury cone just enough to recognise that it's raspberry -flavoured. This is very appropriate for spring and is goes perfectly with the custard soft cream.

CREMIA the Caramel  ¥540  (price including tax)

CREMIA the Caramel is a caramel soft serve ice cream. It is sweet yet slightly bitter which is a very adult-like flavour. The saltiness of the hidden rock salt makes for a sophisticated flavour. This is a very stylish ice cream!

This is the most luxurious CREMIA ice cream and for that reason it may be a bit expensive, but you will definitely be satisfied. This is a great way to reward yourself for accomplishing something, or perhaps you could go for a special date there with somebody? Of course, you can also eat it on an average day….or to add some luxury to your average day ー it's just the best!

Information

CREMIA pop up shop

20th March ー 7th April

Opening hours: 11:00 ー 19:00

Zero Base Omotesando