Bask in the Cool Summer Evenings at MIDTOWN LOVES SUMMER 2019
Tokyo Midtown is holding an event this summer titled MIDTOWN LOVES SUMMER 2019 from July 12 to August 25.
The concept of the event is "The Evening Cool of Japanese Summer" and will have people enjoying the warm evenings on verandas, beside the murmuring streams, and in big open environments surrounded by nature.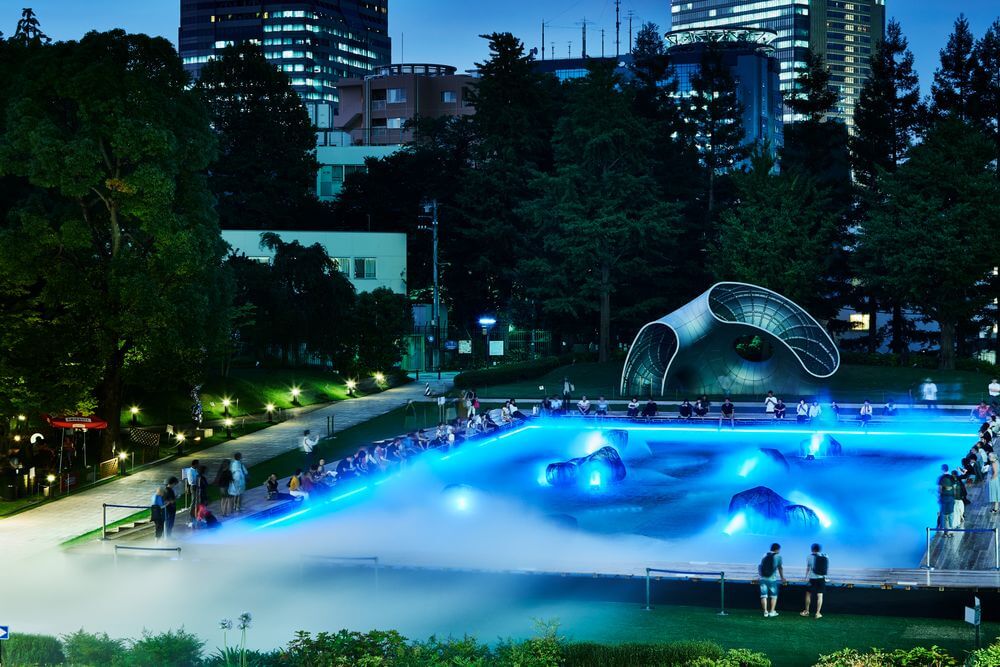 A digital art exhibition will be set up with benches for people to enjoy. This piece of modern digital art captures the cool of Japanese summer. Fog will fill the large lawn and colourful lights will illuminate the area to create a magical atmosphere.
At the outdoor ROKU MIDPARK LOUNGE you will be able to sit down at a table and enjoy the feeling of the cool air under the shade of the trees. This limited-time lounge is held annually and this year is taking place in collaboration with Japanese craft gin brand ROKU. Enjoy sipping on some special cocktails and tucking into food.
ASHIMIZU presented by Iyemon takes place at Midtown Garden's small running stream where you can dip your legs into the water. This is the 10th time it has been held and has become a popular summer event.
The Roppongi Uchimizu Daisakusen is also making a return. This annual summer event brings in lots of people every year. Uchimizu is a Japanese pastime of sprinkling water onto the pavements, and this year it is also being held as a way to tackle Tokyo's 'heat island' effect. Stored water will be used including rain water and waters from wells. Take your own bottle, fill it up and get spraying!
Information
MIDTOWN LOVES SUMMER 2019
Running: July 12, 2019 – August 25, 2019
Location: Tokyo Midtown
Mizu to Ikiru SUNTORY Hikari to Kiri Digital Art Garden
Running: July 12, 2019 – August 25, 2019 (*Will close if it rains)
Time: Fog 15:00-23:00 / Lights 18:00-23:00
Location: Lawn Plaza
Price: Free
ROKU MIDPARK LOUNGE
Running: July 12, 2019 – August 25, 2019 (*Will close if it rains)
Time: Weekdays 17:00-22:00 (Last Orders 21:30) / Weekends & Holidays 15:00-22:00 (Last Orders 21:30)
*Weekend times apply from Tuesday August 13th to Friday August 16th
Location: Midtown Garden
ASHIMIZU presented by Iyemon
Running: July 12, 2019 – August 25, 2019 (*Will close if it rains)
Closed: Tuesdays
Time: 14:00-20:00
Location: Midtown Garden
Roppongi Uchimizu Daisakusen
Date: July 23, 2019
Time: Reception open from 17:20 / Departure at 17:40 (*Will stop if it rains)
Locations: Departure from Tokyo Midtown Canopy Square. Will run from the Roppongi Crossing area to the Gaien Higashi-doriarea.
Price: Free
Tokyo Midtown Official Website: https://www.tokyo-midtown.com/
RELATED ENTRIES
The North Face Collaborates with Pokemon at GOLDWIN PLAY EARTH PARK in Tokyo Midtown

Goldwin Inc. has announced a special event for both children and families to enjoy! The GOLDWIN PLAY EARTH PARK event, running until May 29, has taken over the lawn at Tokyo Midtown. Five architects have created playground equipment inspired by five elements: fire, earth, water, wind, and sky. The event wants to inspire children to be more curious about the world around them. What better way than to get Pokemon involved?

For the event, Goldwin, The North Face, Helly Hansen, Speedo, and Canterbury all collaborated with artists, designers, and of course, the Pokemon series.

Goldwin is known for providing incredible sports and outdoor apparel, and behind its sturdy technology lies a deep curiosity regarding nature. This new collaboration has brought new perspectives and ideas to the collection, and those visiting the venue won't want to miss out.

Collaboration Items at a Glance

THE NORTH FACE ✕ Pokemon


YOUNG EXPLORERS Jacket: ¥10,890 (Tax Included)

YOUNG EXPLORERS Hat: ¥6,380 (Tax Included)

Just like everyone's favorite Pokemon Pikachu, the event wants to inspire children to be filled with energy as they explore the world around them and take on new adventures. These new jackets come inside a pouch inspired by a Pokeball and are mde of environmentally friendly recycled nylon material.

*Products in The North Face x Pokemon collection will be sold by lottery starting April 22. Check the official website for details on how to enter.

©Pokémon.
©Nintendo/Creatures Inc./GAME FREAK inc.
TM, ®, and character names are trademarks of Nintendo.

HELLY HANSEN ✕ minä perhonen


Left: VINDKRAFT PEP Tote: ¥9,900 (Tax Included) / Middle: VINDKRAFT PEP Patch Tote: ¥19,800 (Tax Included) / Right: VINDKRAFT PEP Pochette: ¥3,300 (Tax Included)

Based on Helly Hansen's 'VINDKRAFT' project to recover and upcycle sailboats' sails, minä perhonen has designed a bag by combining scraps from its own production process. Nothing goes to waste, making this perfect for those aware of the current problems facing our environment.

*As this is an upcycled product, the number of pieces is limited and each piece is unique.

Collaboration items are available at a pop-up shop at the GOLDWIN PLAY EARTH PARK event. A number of workshops are also open for children to enjoy, with a focus on their relationship with nature while living in the city. Check out the special site for more information!

Information

GOLDWIN PLAY EARTH PARK
Address: Tokyo Midtown Lawn (9-7-1 Akasaka, Minato-ku, Tokyo) 
Running: April 23 – May 29, 2022
Hours: 11:00-18:00
Special Site: https://playearthpark.goldwin.co.jp/

Junkissa Journey Reveals Third Collaboration Menu Featuring Unique Cream Sodas

Key Coffee is teaming up with Junkissa Journey, a website helping people find the best cafes for a third collaboration. Guests are welcome to visit Almond Roppongi to test a new menu inspired by old-fashioned junkissa, or cafes that don't serve alcohol. A selection of unique cream sodas in retro glasses and other tasty treats will be available from March 17 until April 10, 2022.

Blooming Cream Soda

Tokimeki Coffee Shop Plate A

Tokimeki Coffee Shop Plate B

Roppongi Pastry Ring with Anko & Butter

Strawberry Milk Sandwich

Morning Tea Set 

Two different lunch sets, a scrumptious dessert, and a breakfast option will be available alongside colorful cream sodas and milkshakes. The drinks are inspired by spring and look just like cherry blossoms and violets! The Adelia Retro glasses are stamped with a Showa-era retro decal, allowing customers to enjoy the charm of a nostalgic pure coffee shop not only in taste but also in appearance. 10 other limited-edition menu items will appear at the event, so keep an eye out for more info!

Imagine the Future at a New Design Exhibition from NTT Docomo in Roppongi, Tokyo

In order to explore a future made possible by telecommunications, NTT DOCOMO will hold the 'Peek into the Future of Design: Imaginary Margins' exhibition at 21_21 DESIGN SIGHT Gallery 3 in Roppongi, Tokyo, from March 19 until March 27. The event will explore the future of technology through the lens of design. 

The exhibition asks an important question: "Can people and technology exist in harmony in the future?" A number of product and device prototypes will be on display along with interviews with the designers and creators. All of these products are unfinished, which will allow for more unique perspectives!


Because these are unfinished products, we can see traces of the thought process that went into the shapes, colors, and materials used. These prototypes range from speakers to projectors and more. Along with the prototypes, keywords related to the inspiration, sketches, design drawings, and materials used in the conception process will decorate the space from the floor to the ceiling.

Information

Peek into the Future of Design: Imaginary Margins

Running: March 19 – March 27, 2022
Hours: 10:00-19:00
Admission: Free
Location: 21_21 DESIGN SIGHT Gallery 3
Official Site: https://design.idc.nttdocomo.co.jp/event/

Detective Conan: The Bride of Halloween Limited Edition Merchandise Revealed

Starting February 11, the Roppongi Museum will begin a new event to celebrate the upcoming release of Detective Conan: The Bride of Halloween, coming to theaters in April 2022. The 'Halloween Gift' event combines a museum experience with aspects of the real world, and guests will be able to visit and enjoy until June 5, 2022. 

Called a 'Live Museum,' the new brand of entertainment combines theater, puzzle-solving, and a museum exhibition. Each visitor will become a character working with Conan and his friends to solve riddles based on The Bride of Halloween film.

Merchandise at a Glance

RM Acrylic Figure (10 varieties)

RM Pin

RM Pâtissier Conan / RM Pâtissier Furuya

RM Poster Card Set

RM Bruno Hot Sandwich Maker / RM Bruno Kettle

RM Mini Towel Conan/ Furuya / Haibara / Matsuda

RM Embroidered Pouch Conan / Furuya / Haibara

RM Drifter Backpack / Tote Bag / Shoulder Bag

RM Secret Book

Special merchandise only available during this event has been unveiled, and fans can snag items featuring Conan and Furuya, a major player in the new film. Other popular characters also make appearances, so Detective Conan fans should try to grab their favorites before they're gone!

Information

Detective Conan: The Bride of Halloween Live Museum ~Halloween Gift~

Running: February 11 – June 5, 2022 *Open every day during the event period

Location: Roppongi Museum

Hours: 10:00-18:00 (Open until 20:00 on weekends, holidays, and during Golden Week)

Official Twitter: www.twitter.com/conan_museum

Official Instagram: www.instagram.com/conan_museum

Tickets/Official Site: www.conan-livemuseum.com

Maruyoshi Kosaka Wood & Urushi Works Holds Pop-Up Event at Tokyo Midtown

The WISE・WISE tools Tokyo Midtown store provides helpful tools for daily life, including products from artisans and crafters from all over Japan. The shop focuses on sustainable and ethical items, and to promote the Maruyoshi Kosaka Wood & Urushi Works, the lacquerware maker is holding a pop-up store at WISE from January 7 until January 23, 2022.

 

Kisohirasawa in Nagano Prefecture has been selected as one of the Preservation Districts for Groups of Traditional Buildings and is famous for its local lacquerware. Visitors to the pop-up event can enjoy a variety of new lacquerware products that embody traditional Japanese beauty and style. 

Maruyoshi Kosaka Wood & Urushi Works is an artisan workshop exploring new iterations of lacquer that reflect modern life, while also utilizing the tradition of Kiso lacquerware. Lacquer glass is hand-painted one color at a time by skilled artisans, combining traditional colors with a translucent texture to create one-of-a-kind pieces.


Roppongi Hills Christmas 2021 and Keyakizaka Lights, Tokyo's Signature Christmas Event, Begin

Tokyo's favorite Christmas event has begun! Roppongi Hills is a popular destination for shopping, eating, and having a good time, and the Roppongi Hills Christmas 2021 celebration brings the complex to life with plenty of holiday spirit. The Keyakizaka Lights signal the beginning of the Christmas season in the area, and this winter tradition is not to be missed! 

Keyakizaka Lights

The 400-meter-long Keyakizaka street is covered in over 700,000 blue and white LED lights, and the scene has become a popular representation of what Christmas looks like in Tokyo. This year's West Walk shopping arcade will also feature the special Bon-Bon Blossom installation, a Christmas tree made to look like bonbon chocolates.

Does this look like your ideal Christmas scene?

Information

Roppongi Hills Christmas 2021

Dates: Beginning of November – December 25, 2021

Address: Roppongi Hills (Roppongi Keyakizaka-dori, etc.)

Keyakizaka Lights

Dates: Beginning of November – December 25, 2021

Hours: 17:00-23:00

Address: Roppongi Keyakizaka Street

Bon-Bon Blossom at West Walk

Running: November 19 – December 25, 2021

Address: West Walk 2F South Atrium

Official Site: https://www.roppongihills.com

teamLab Reconnect Art and Sauna Exhibition Unveils New Autumn Art Space

Art collective teamLab has made a splash with their Reconnect exhibition, inviting visitors to enjoy a number of alternating hot and cold baths to transform their senses as they traverse a massive and constantly transforming art exhibition. From October 18 until November 23, the exhibition will feature incredible autumn scenery, including the piece 'Proliferating Immense Life in the Rain – A Whole Year per Year.' This constantly-moving image is not pre-recorded, but rather, the leaves will sway and respond to visitors' movements. Due to the popularity of the exhibition, more ticket plans are now available, including morning tickets for limited entry on weekdays. Guests can also reserve one sauna room for private use.

Ephemeral Solidified Light
teamLab, 2021, Interactive Installation, Sound: teamLab

Step into the Light Circle
teamLab, 2021, Interactive Digital Installation, Sound: Hideaki Takahashi, teamLab

A Whole Year per Year / Proliferating Immense Life in the Rain – A Whole Year per Year
teamLab, 2020, Interactive Digital Installation, Sound: Hideaki Takahashi

Levitation
teamLab, 2021, Digital Installation, Sound: Hideaki Takahashi

In collaboration with popular app TikTok, Reconnect aims to be a more down-to-Earth art experience. Rather than going to a prestigious museum, guests are invited to reconnect with the world and with the concept of time as they explore the exhibition. With senses heightened by the use of each sauna, visitors might find that they are able to relax and experience the beauty of the world more than ever before. 

Information

teamLab & TikTok, teamLab Reconnect: Art and Sauna

Address: 5-10 Roppongi, Minato-ku, Tokyo (Across from Keyakizaka Intersection) 

Running: March 22, 2021 – November 23, 2021

Hours: 10:00-23:00 (Last entry at 21:30)

Official Site: https://reconnect.teamlab.art/jp

Tokyo's The Art of DC – The Dawn of Super Heroes Exhibition and What to Look Out For

The Art of DC – The Dawn of Super Heroes opened at Tokyo City View in Roppongi Hills Tower last month where it's set to run until September 5.

The exhibition shines a spotlight on DC's Superheroes and Supervillains, such as Superman, Batman, and Joker, with over 400 exhibit items from comics to original documents and more on display. Let's take a closer look at just some of the things for DC fans to enjoy.

World-first exhibits of film costumes

In the Suicide Squad area, the actual costume worn by Margot Robbie when she played Harley Quinn in the film is on show. The costumes worn by Bloodsport and Peacemaker in the upcoming film The Suicide Squad are also being displayed.

See the Dark Knight's Batpod

The real Batpod used in The Dark Knight Trilogy stands in its full 3.7 meter long glory against a backdrop of night-time Gotham City.

A collection of masks worn by Heath Ledger's Joker

The mask and outfit worn by Heath Ledger as the Joker is also being showcased. He won the Academy Award for Best Supporting Actor for his role as the character in The Dark Knight. This one's a must-see for fans of the legendary character.

Harley Quinn & Joker afternoon tea

Harley Quinn & Joker Afternoon Tea | ¥5,000 (Tax Included)

Head to THE SUN & THE MOON restaurant to enjoy an afternoon tea inspired by Harley Quinn and Joker.

Superman Sky-High Drink | ¥1,400 (Tax Included)

The Clown Prince of Crime | ¥1,400 (Tax Included)

There's also a menu of mocktails to enjoy which are inspired by the characters of the DC universe.

DC Menu

Running: Until September 5, 2021

Location: THE SUN & THE MOON (Restaurant)

Opening Hours: 11:00-22:00

Official Website: http://thesun-themoon.com/

All DC characters and elements © & ™DC Comics. WB SHIELD: ™& © WBEI (s21)

Information

The Art of DC – The Dawn of Super Heroes

Running: June 25, 2021 – September 5, 2021

Location: Tokyo City View (Roppongi Hills Mori Tower Floor 52F)

Opening Hours: 10:00-22:00 (Last Entries 21:00)

Official Website: https://tcv-taod.roppongihills.com

60th Anniversary Sanrio Exhibition: The Beginning of Kawaii to Open at Roppongi Hills

From Hello Kitty to Pompompurin, Cinnamoroll, My Melody, and more – Sanrio's internationally adored cast of characters can be universally agreed to be representatives of Japan culture of 'kawaii.' In celebration of Sanrio's 60th anniversary, the company have announced an exhibition centred on the beginning of kawaii culture. The event will take place at TOKYO CITY VIEW from September 17, 2021 to January 10, 2022.

60th Anniversary Sanrio Exhibition: The Beginning of Kawaii recently finished up at the Matsuzakaya Art Gallery in Nagoya on June 12 and is set to move to Ōita Prefectural Art Museum where it will run from July 10 to September 5 before heading to TOKYO CITY VIEW. This exhibition will not only look back over Sanrio's 60-year history, but will also dive into how Japan's culture of 'kawaii' came about. Fans of Sanrio and Japan's kawaii can expect product and design showcases, in-depth explanations, and more.

Sebastian Masuda's iconic artwork is the centrepiece of the exhibition

Entrance exhibit in the daytime

At the entrance of the venue is the Unforgettable Tower, a symbolic art piece by Sebastian Masuda created exclusively for this exhibition which towers 6 meters tall. It's made up of countless plushies of Sanrio characters such as Hello Kitty.

Entrance exhibit in the evening


The kawaii installation stands gorgeously against the cityscape of Tokyo which makes for an Instagrammable photo in the evenings when the city is lit up. The piece, as its name suggests, hopes to create unforgettable memories. The exhibition is set to run through Halloween, Christmas, and New Year, so visitors are sure to make some memorable ones.


© 2021 SANRIO CO., LTD. APPROVAL NO. SP610376

Shouta Aoi's voice as the tour guide

Having lent his voice to other Sanrio events, including at Sanrio Puroland and in collaboration with the Little Twin Stars, the Japanese singer, actor, and voice actor Shouta Aoi has recorded announcements for the exhibition which will be played to guide people around the event.

A themed menu created for the Tokyo exhibition

From Left: Anniversary Afternoon Tea / Hello Kitty Daisuki Fried Apple Mille-Feuille / Cinnamoroll's Balloon Trip

© 2021 SANRIO CO., LTD. APPROVAL NO. SP610376

THE SUN & THE MOON, a cafe and restaurant fusion on the same floor of the exhibition, will serve up food, desserts, and non-alcoholic cocktails inspired by the Sanrio characters. Special seasonal afternoon tea sets will also be sold on Halloween, Christmas, and more too.

Dates
Restaurant: September 17, 2021 – January 10, 2022

Cafe: December 15, 2021 – January 10, 2021

*Closed December 21-26

The main exhibition

The exhibition will be split into six zones with 10 different themes. Over 800 products, documents, and materials related to Sanrio will be presented, many of which will shine a spotlight on some of their most famous characters out of their roster of 400, such as Hello Kitty and My Melody, and other characters that might not be known to those outside Japan such as best friends Patty & Jimmy. It's a chance to walk through the history of Sanrio and Japan's culture of kawaii.

© 2021 SANRIO CO., LTD. APPROVAL NO. SP610376

© 2021 SANRIO CO., LTD. APPROVAL NO. SP610376

© 2021 SANRIO CO., LTD. APPROVAL NO. SP610376

One of the six zones will look into secrets of Sanrio through the globally-beloved kawaii icon Hello Kitty. Another will display outfits such as the Hello Kitty dress worn by Lady Gaga.

Original merchandise

A small peek at just some of the items available

© 2021 SANRIO CO., LTD. APPROVAL NO. SP610376

Sanrio fans can also get their hands on a collection of merchandise with designs ranging from the exhibition's main visual to classic designs. There will be over 100 items to sift through.

Tickets for the exhibition will be available from August 1. A limited number of special tickets that include free merch will also be released.

© 2021 SANRIO CO., LTD. APPROVAL NO. SP610376

Information

60th Anniversary Sanrio Exhibition: The Beginning of Kawaii

Running: September 17, 2021 – January 10, 2022

Where: TOKYO CITY VIEW (Roppongi Hills Mori Tower Floor 52F)

Address: 6-10-1 Roppongi, Minato-ku, Toky0

Price: TBA

60th Anniversary Sanrio Exhibition: The Beginning of Kawaii Official Website: https://sanriocharactermuseum.com/

MIDTOWN ART PALETTE Brings Dreamy Digital Artwork to Tokyo Midtown For Summer

Tokyo Midtown's annual MIDTOWN ART PALETTE has returned again for the summer, opening on July 16 and running until September 5. This year, the event delivers a Digital Art Garden with gorgeous dream-like digital artwork.

Digital Art Garden

Last year's event

Experience a distinctively Japanese way to stay cool and refreshed on a wooden veranda with light and mist dancing through the outdoor space inspired by traditional Japanese rock gardens. Find yourself bewitched by an enchanting summer evening as the digital art transforms throughout the day.

This year's event is being held with all proper social distancing measures in place.

Take digital art home with you with AR fireworks

Locate five QR codes dotted around Tokyo Midtown which when accessed via your smartphone will award you with artistic AR fireworks, allowing you to enjoy fireworks with you wherever you point the camera on your screen, including at home.

Minerva Cafe to Open at The Promised Neverland Jailbreak Arc Museum Exhibition

Roppongi Museum is set to open its The Promised Neverland exhibition on July 17 where it will run until December 30. The exhibition covers the Grace Field House Jailbreak Arc, where guests can feel like they're really walking through the house.

Cafe Logo


As part of the exhibition, a themed cafe called the Minerva Cafe will open inside the museum serving food and drink inspired by the anime series.

BLT Sandwich & Salmon Cream Cheese | ¥1,740 (Tax Included)

Minerva & Phil's Chocolate Banana Pancakes | ¥1,600 (Tax Included)

The Minerva Cafe menu includes the mysterious William Minerva who Emma, Norman, and Ray are pursuing, chocolate banana pancakes with Minerva and Phil designs, and more, including a range drinks.

Latte Art | ¥770 (Tax Included)

Isabella's Brown Sugar Milk Tea | ¥540 (Tax Included)

The Emma, Norman, and Ray lattes also come with a coaster you can take home, and there's a special Isabella milk tea you can buy at THE ALLEY, a food truck at Roppongi Musuem that's popular for its Taiwanese milk teas.

©白井カイウ・出水ぽすか/集英社・約束のネバーランド製作委員会

Information

The Promised Neverland Grace Field House Jailbreak Arc Exhibition

​Running: July 17, 2021 – December 30, 2021

Venue: Roppongi Museum
Address: 5-6-20 Roppongi, Minato-ku, Tokyo

Opening Hours: 10:00-18:00 (Until 20:00 on Saturdays)

Tickets: On sale June 30, 2021

Event Page: https://neverland.taiken-museum.com

Gas Mask Plant Pots Showcased as Part of TENEO's Exhibition Tour

Japanese men's brand TENEO and Shibakusa Pottery, which was founded in 1841 in Hida-Takayama, are set to begin their first exhibition tour on July 9 which aims to make traditional Japanese craftsmanship part of our modern lives as contemporary art.

FULL HAND MADE with HAMAMOTO 

TENEO is rooted in the concept of combining and evolving the differing cultures and backgrounds of Japan and France. Shibakusa Pottery has been producing pottery in Gifu's city of Takayama since the Edo Period and operates on the motto of "Handing down tradition is on the decline; tradition is the continuation of innovation." Both TENO and SHibakusa have come together to launch a project that aims to develop and advance traditional craftsmanship, and so they are opening a series of exhibition pop-up shops beginning at DiEGO Omotesando in Tokyo on July 9 before heading to Discover Japan Lab. in Shibuya PARCO, g GIFT AND LIFESTYLE in Roppoingi Hills, and elsewhere.


Pre-orders for the products to be showcased at the pop-up shop are now available to pre-order online in Japan at TENEO and will be shipped in October. Exhibits include works by the young bonsai master Yusuke Hamamoto, flower arrangements Ayayoshi Ozono who maintains long-time traditional Japanese styles and techniques, and more.


The project will  collaborate with the international tattoo artist Hiro in October as well as many other traditional artists and craftsmen from inside and outside Japan. The pop-up shop also sees the release of the 'GAS MASK POT/VASE.' The purpose of these works is to show people new forms and ways of expressing tradition.

Information

TENEO POP UP  

Location: DiEGO Omotesando
Running: July 9, 2021 – July 24, 2021

Address: Oriental Harajuku 205, 4-17-8 Jingumae, Shibuya, Tokyo

Opening Hours: 13:00-18:00 (Wednesday to Saturday only)
Official Website:  https://www.di-ego.net

Location: Discover Japan Lab.
Running: July 30, 2021 – August 5, 2021

Address: 15-1 Udagawacho, Shibuya, Tokyo

Opening Hours 11:00-20:00
Official Website: https://shibuya.parco.jp/shop/detail/?cd=025804

Location: g GIFT AND LIFESTYLE
Running: August 6, 2021 – End of August 2021

Address: Roppongi Hills HILLSIDE B1F, 6-10-2 Roppongi, Minato-ku, Tokyo
Opening Hours: 11:00-21:00
Official Website: https://g-roppongi.jp



Project Details: https://prtimes.jp/main/html/rd/p/000000003.000068928.html

TENEO Official Website: https://teneo.work