Become a Ninja in VR, Tuck Into Ramen & More at Osaka Castle Park
JO-TERRACE OSAKA is a restaurant and shopping complex at Osaka Castle Park. On May 30, the facility is set to open Osaka Castle Shitamachi, a line of shops where you can experience all the great things from Osaka and the Kansai region from food to activities.
This traditional-modern fusion of Kansai-style establishments will make use of JO-TERRACE OSAKA's main space which covers 893m². Its concept is to be a "third place" of Japanese experiences. The term third place refers to public spaces like shops, cafes, clubs and so on―separate from the "first place" (the home) and "second place" (the workplace).
In the lane of ramen shops, which take on a traditional-modern look, various kinds of ramen from across Japan will be served up to customers. Restaurants will include those that were first established in Kansai as well as the most popular restaurants in the ramen scene right now.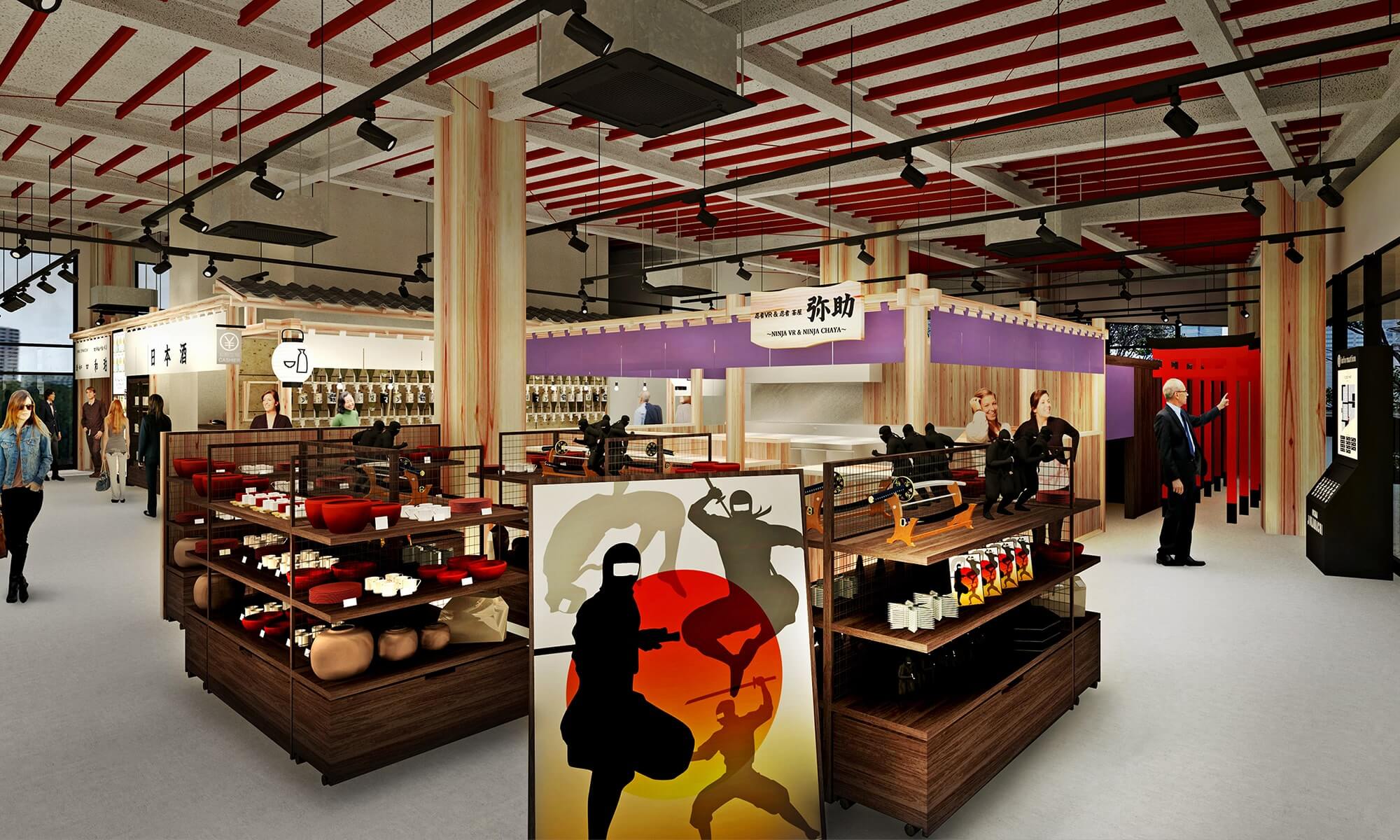 Over at VR NINJA Yasuke you can feel what it's like to be a real ninja, VR-style. Aimed at foreign tourists, this service is available in English, Chinese and Korean.
At WAHAKU you can tuck into some delicious and high quality wagyu beef and taste different brands of sake.
There are lots of other exciting things to look forward to as well, so if you're ever travelling to Osaka Castle be sure to pop in.
Information
Osaka Shitamachi
Address: JO-TERRACE OSAKA E TERRACE 2F, Osaka Castle Park, 3-1 Osakajo, Chuo Ward, Osaka
Grand Opening: May 30, 2019
Business Hours: 11:00-21:00
Official Website: http://emarche.co.jp/
RELATED ENTRIES
Yellow Coloured Minnie Mouse Cafes to Open in Tokyo, Osaka, Nagoya & Fukuoka

A new line of Minnie Mouse cafes are set to open in Tokyo and Osaka from February 28, 2020 and Nagoya and Fukuoka from February 29, 2020 for a limited time. Named "OH MY! MINNIE MOUSE," the cafes are an official collaboration between Disney and the Japanese cafe chain OH MY CAFÉ.

The cafe takes on the theme of Minnie Mouse being a living, breathing icon of today with a positive lifestyle. This is represented through the yellow colouring of the cafe, which features her iconic polka dots as well as ribbon taking on a yellow colour. Tuck into a cute menu line-up and get your hands on some cafe-exclusive Minnie Mouse merchandise.

Original Menu

Cheerful Burger – ¥1,990

This healthy burger is packed full of vegetables with a black bun made in the image of Minnie's silhouette. Feel as energised as Minnie with one bite of this tasty burger.

Beef Hash Ribbon Rice – ¥1,390

Inspired by Minnie Mouse's iconic ribbon, this hearty dish is a beef stroganoff plated with rice and veg. The ribbon is so cute it almost seems a waste to eat!

Fruit Sandwich – Single ¥990/ With Plate ¥2,790

An absolute must-order if you're wanting a dessert. This sandwich is piled with fresh fruits creamy yoghurt, sprinkled with poppy seeds, and doused in lemon juice.

Fizzy Lemon Squash – Single ¥690 / With Coaster ¥1,390

Charge yourself up with this fizzy lemonade and its refreshing aftertaste.

Relaxing Chamomile Tea – Single ¥490 / With Mug ¥2,090

Kick back and relax after your meal with a cup of chamomile tea♡

Original Merchandise

Heart Badge (8 Designs/Chosen Randomly) – ¥500

Folder – ¥350

Lunch Mat (6 Designs/Chosen Randomly) – ¥650 (*Table reservation required)

Those who book a table in advance will be given one of six possible lunch mats chosen randomly.

If you're in Japan for the spring, then why not stop by the OH MY! MINNIE MOUSE cafe for a Disney treat?

©Disney

Information

OH MY!MINNIE MOUSE

Locations/Dates

Tokyo: OH MY CAFE TOKYO (Tokyu Plaza Omotesando Harajuku Floor 3F, 4-30-3 Jingumae, Shibuya, Tokyo)

Running: February 28, 2020 – April 12, 2020

Osaka: kawara CAFE&DINER Shinsaibashi (Shinsaibashi OPA Floor 9F, 1-4-3 Nishi-Shinsaibashi, Chuo Ward, Osaka, Osaka Prefecture)

Running: February 28, 2020 – April 19, 2020

Nagoya: kawara CAFE&KITCHEN Nagoya PARCO (Nagoya PARCO South Building Floor 5F, 3-29-1 Sakae, Naka Ward, Nagoya, Aichi Prefecture)

Running: February 29, 2020 – April 26, 2020

Fukuoka: Kawara CAFE & KITCHEN KITTE Hakata (KITTE Hakata Floor 9F, 9-1 Hakataekichuogai, Hakata Ward, Fukuoka)

Running: February 29, 2020 – March 28, 2020

"OH MY! MINNIE MOUSE" OH MY CAFE Booking Website: https://mm.ohmycafe.jp/

Sanrio to Open Official My Melody Shops in Tokyo, Osaka and Nagoya to Celebrate Character's 45th Anniversary

Sanrio has announced that it is opening an official My Melody store to commemorate the popular character's 45th anniversary this year. It will open for a limited time on the first floor of Takashimaya Shinjuku in Tokyo from February 12 to 25.

The store is a must-visit for fans of Sanrio's kawaii white rabbit where they can get their hands on a huge assortment of merchandise, including exclusives, so adorable you'll want to add everything to your collection.

The line-up looks back at My Melody's 45 years in the business. The first 4,000 people to visit the store will be given a limited-edition shopping back, and the first 1,000 people who spend over ¥2,000 (tax included) will receive a free card.
*One card per person, per transaction

The store will also feature interactive projection mapping showcasing My Melody's 45-year history which when touched reacts. On February 15, the designer for the store will be drawing illustrations as well as doing signings for people.

As well as Takashimaya Shinjuku, the shop is set to hit Nagoya's Takashimaya Gate Tower Mall Nagoya and Osaka Takashiyama. Check the dates below, and help My Melody commemorate her 45th anniversary!

©'76, '20 SANRIO 著作(株)サンリオ

Information

My Melody 45th Anniversary Shop
Location: Takashimaya Shinjuku 1st Floor Main Square
Running: February 12, 2020 – February 25, 2020 (Closed February 19)
Opening Hours: [Mon-Thurs & Sun] 10:00-20:00 / [Fri-Sat] 10:00-20:30

Signings
Date: February 15, 2020 (Two Slots – ①11:30 / ②15:00)
No. of People: 20 per slot
Location: My Melody 45th Anniversary Shop
How to Participate:
・Receive a lottery draw ticket to the signing at the shop on the day (February 15) between 10:00-10:20.

・In the case that there are more people who want to join, one person may not receive two tickets for two signings. Additionally, tickets will not be handed out after 10:20.

・Winners and the order they will enter the signing will be announced at 10:20.

・Those who are chosen will receive a "Buyers Ticket." This must be exchanged for a ticket to attend the signing by spending more than ¥4,000 (tax included) at the My Melody 45th Anniversary Shop and handing over your Buyers Ticket.

*Signings and illustrations will only be done on paper and not merchandise.

*Requests for designs cannot be made

・My Melody 45th Anniversary Shop Nagoya
Running: March 25, 2020 – April 7, 2020
Location: Takashimaya Gate Tower Mall 7th Floor Rose Terrace

・My Melody 45th Anniversary Shop Osaka
Running: April 1, 2020 – April 7, 2020
Location: Takashimaya 1st Floor Good Shock Place

Sanrio Official Website: https://www.sanrio.co.jp/

3 Delicious, Mouthwatering Desserts in Osaka Perfect For Instagram

Our news website has already touched on a number delicious cafés in Japan's Kansai region. For those of you who are struggling with their itineraries for their upcoming trip to Osaka, we've got a sweet treat for you: a list of cafés serving up irresistible desserts in Osaka that you must try. 

All the cafés in this article were recommended by Instagram expert Tiara who knows everything there is to know about desserts in the Kansai region. Today we'll be using Tiara's mouthwatering photos to entice you that little bit more. 

Chihiro Sweets Shop/Nishiohashi

This shop belongs to desserts reporter Chihiro, whose reports have even been broadcasted on TV. The financier almond cakes and chocolate cakes here are very popular. You can also order to take out. 

Neoclassic Purin Set (Comes with financier almond cake and hot coffee)


This set includes a Neo Custard Purin topped with homemade vanilla ice cream full of rich vanilla flavour straight from the pod. The firm yet jiggly purin enjoys a rich eggy flavour which harmonises perfectly with the vanilla ice cream. The freshly baked financier almond cake is incredibly tasty . Chihiro's sweets shop opens from 12:00 but the café opens at 13:00 so if you're planning a  trip, make sure to not mix up the times.

▼Chihiro Sweets Shop (ちひろ菓子店)

Address: Floor 1, 1-25-13, Shinmachi, Nishi Ward, Osaka

Opening Hours:
Chihiro Sweets Shop: 12:00 – 19:00
Café: 13:00 – 19:00
No Fixed Holidays
Website: https://chihiroshop.thebase.in

Futsu ni Fruits Tosabori Parlor/ Higobashi

We've covered Futsu ni Fruits Tosabori Parlor in detail because it's just so good. The first floor serves takeout desserts while the second floor is used as an eat-in space. The café menu varies according to the time of day. For example, the morning menu includes toasts with a variety of toppings including fruit. The lunchtime menu introduces Futsu ni Fruits' main eye-catcher: the fruit sandwich. 


Seasonal Fruits Sandwich

 The rich flavour of the fresh cream perfectly embraces the fruity flavours and will leave you feeling refreshed. If a fruit sandwich isn't your thing, there are plenty of other ways to enjoy delicious fruits here. 

▼Futsu ni Fruits Tosabori Parlor

Address: 1-1-30, Tosabori, Nishi Ward, Osaka

Opening Hours:
Floor 1 Takeout: 10:00 – 16:00

Floor 2 Eat-In: 10:00 – 19:00
Closed: Mondays
Website: https://www.instagram.com/futsuunifuruutsu_cafe/

Fukushima Sugar/ Fukushima

Each dessert at this cake shop is handmade. This is the perfect place to enjoy the flavours of the season. Only 10 groups can eat-in per day so if you want to eat in, make sure to reserve in advance. 

Fig Chiffon cake/ Grape Tarts Assortment of 2/ Choux Pastry with Chestnut Cream Filling


The fig chiffon cake is soft and just one bite will fill you with happiness. The cakes are served on the most beautiful wooden plate. The cake menu changes according to the season so if you're interested, check out their Instagram. The showcase is lined with a variety of takeout desserts – you'll be spoilt for choice.

▼Fukushima Sugar

Address: 6 Chome-22-11 Fukushima, Fukushima Ward, Osaka

Opening Hours:
Takeout: From 13:00

Eat-In: 14:00 – 17:00 (Reservation Required)  

*It is possible to get a seat without reservation after 17:00

Closed: Mondays and Tuesdays

Website: https://www.instagram.com/sugar_fukushima/

All of Tiara's recommendations are just so mouthwatering – can you resist?

Tiara's Instagram is full of the most gorgeous cafés. If you're looking for a dessert in the Kansai region, make sure to check out Tiara's Instagram and you're bound to find your dream destination in no time. 

Original Text and Photos: @happy_pinkrose_tiara

*As cafés are constantly updating their menus, please check the official website or social media accounts of the cafés mentioned in this article for the most accurate information. 

NINJA SKILL BALLERZ Short Movie Combines the Worlds of Ninja, Basketball, Shamisen & Taiko Drumming

If you haven't heard of NINJA SKILL BALLERZ yet, you're in for a treat. They are a crew of five of the world's top level basketball players spreading a fascination of freestyle basketball to the world.

Their video NINJA x BASKETBALL? garnered over 1 million views on Facebook within just 10 days of its posting. One month after its release, they appeared on the Japanese television show Sukkiri where they held their first ever live television performance. The group are paving the way for the freestyle basketball culture, which in Japan isn't recognised enough and has few players.

Now, the group have just dropped a new short movie which translates to "Ninja-Style Basketball Squad."

The video not only shows off the group's thrilling skills, but their performance also incorporates Japanese elements like the tsugaru shamisen and taiko drums which serve to make the show that much more captivating. Pay particular attention to three of the members: ZiNEZ, the Flow Ninja; ISSEI, the Spin Ninja; and TaMa, the Multi-Ball Ninja.

Kyoto Brighton Hotel Offers 5 New Hotel Plans For Springtime, Cherry Blossom & Temple Experiences

Kyoto Brighton Hotel is now selling reservations for its new "Haru no Asobi Plan" (Springtime Fun Plan) which is taking place between March and May this year and offers guests the opportunity to enjoy Kyoto in the spring and its cherry blossoms.

Spring in Kyoto is the most popular season for tourists and travellers who flock from not only across Japan but from around the world. The Haru no Asobi Plan is made up of 5 exciting plans to see the ancient capital's breathtaking cherry blossoms, vibrant green maples, and other offerings.

"Asakatsu" – An early morning temple visit and stroll

Get away from the crowded streets and enjoy the rare opportunity to experience incredible early morning sights you don't normally get to see. Spend a quiet morning in a gorgeous environment in this plan. Several temples and gardens are in place for the experience: Kōdaiji Temple, Bishamon-do Temple, Taizō-in, Haradanien, and Tenryū-ji.

Kiyomizu-dera Temple special night viewing

One of the must-visit spots when travelling to Kyoto is Kiyomizu-dera, officially a World Heritage Site. This plan rents out the temple for you to experience it at nighttime. The main building is currently undergoing large-scale renovation to secure the roof as well as the inner construction of the temple. Seeing the temple is truly a sight to behold.

You are guaranteed a view of the famous "Stage of Kiyomizu," an enormous veranda attached to the main hall. The surrounding trees will be lit with enchanting lights, and you'll be able to gaze at the distant city nightscape. Experience Kyoto like never before as the warm lights illuminate the Niōmon (Deva Gate), 3-storey pagoda, and purified water which runs from the Otowa Waterfall.

Discover the world of Kyoto embroidery

The traditional practice of Kyounui, or Kyoto-style embroidery, has continued since the Heian Period and is even garnering attention overseas. It's a delicate and refined style of embroidery unique to Kyoto.

After your embroidery session which will take place in a Kyoto town house nearby the cherry blossom-filled Hirano Shrine, you'll look at kimono and yukata so beautiful they'll look like they should be in an art museum, before heading to eat together with the creator.

See the green maple trees of Hōgon-in on a private train

Board the private 1-2 carriage Randen train on the Keifuku Electric Railroad, which runs from Shijō-Ōmiya to Arashiyama. This cute retro train will take you Arashiyama where the green maples are breathtakingly beautiful.

You'll also get to stroll through the quaint gardens of Hōgon-in Temple, view artwork painted by Noriko Tamura, and more.

Sky Bus

Enjoy a panoramic view on a private ride of the Sky Bus, a double-decker bus which is gaining huge popularity right now. You will ride through the city of Kyoto and see the rows of pink cherry blossoms. In April, they will also do an evening tour of the cherry blossoms so you can see them at night, and in May they'll do a green maple tree tour.

Discover the beauty of Kyoto in this very special hotel plan at Kyoto Brighton Hotel.

Solve the Puzzles Of Osaka Metro and Reach the Goal With New Subway Game

Osaka Metro is currently holding a puzzle-solving game for passengers which will run until March 31, 2020. As of January 24, over 12,000 people have participated in this exciting endeavour.

The game requires people to ride with Osaka Metro and travel around Osaka while solving various puzzles to reach the goal. This style of escape game has proven incredibly popular in the subway around Tokyo and Nagoya, but this marks the first time it has been held in Osaka. The course is designed in such a way as to enable people to discover or rediscover the wonders of Osaka, allowing them to enjoy the many sights.

Participants must purchase a puzzle-solving kit, which comes with a 1-day train ticket to use Osaka Metro, and follow the instructions to complete the course. Once a puzzle is solved, they are granted knowledge of the next location to head to.

There is also a giant 4-meter long photo spot at Morinomiya Station which can be accessed via Osaka Metro's Chuo Line and Nagahori Tsurumi-ryokuchi Line. Snap a photo of yourself with the colourful train carriage handles, and also take a photo together with Osaka Metro's official mascot character Nyanbarou.

After completing the event, head to the photo spot so you can add to your Osaka travel album.

*"リアル脱出ゲーム" and "ナゾトキ街歩きゲーム" are registered trademarks of SCRAP Co., Ltd.

Information

Nazotoki Machiaruki Game "Puzzle Solve Metro Trip"

Running: November 28, 2019 – March 31, 2020

Puzzle Kit: ¥2,300 (Adults Only) at Osaka Metro stationmaster offices, and from February 29, 2020 will be available at season ticket sellers

*Comes with a one-day ticket to use with Osaka Metro

*Ticket cannot be used on the Osaka City Bus or Imazato Liner

Osaka Metro Official Website: https://www.osakametro.co.jp/en/index.php

Star Wars Theme Cafe Opens in Tokyo, Osaka, Nagoya, Hokkaido & Fukuoka

With The Rise of Skywalker concluding the Skywalker saga of the Star Wars film franchise, fans are left craving more from the galaxy far far away.

If you're one of those people, and need a fix before season two of The Mandalorian, which is coming in late 2020, then you'll want to hit up the all-new Star Wars-themed cafes now open for a limited time at branches of OH MY CAFE across Japan in Tokyo, Osaka, Nagoya, Hokkaido, and Fukuoka.

We visited the Tokyo branch of the cafe which is located inside Tokyu Plaza Omotesando Harajuku. Here's our report of this must-see cafe for Star Wars fans, a museum-like space chock-full of concept art.

Ready to greet you as you walk into the cafe is none other than Darth Vader. This life-size recreation of the Sith Lord is really striking, but don't worryーthough he is realistic, he won't use his Force choke on you, he only wishes for you to have a nice meal.

Plastered across the cafe walls are pieces of concept art used during the production of the Star Wars film series.

Here's a galactic showcasing of the cafe's menu. There are 7 food items and 5 drinks to choose from, all inspired by the franchise and its characters.

<STAR WARS> Far Far Away Galaxy Black Curry – ¥1,590

A signature dish of the cafe, this black curry features the Star Wars logo which is actually an edible wafer. The space design is bamboo charcoal-cooked rice which is mixed with spicy sauce and topped with peanuts for stars.

<BB-8> Seafood BB-8 Gratin – ¥1,690

Fans of BB-8 won't be able to resist this delicious gratin, served with salad and French bread for a full belly.

<Yoda> Root Leaf Stew – ¥1,590

This stew is inspired by Yoda living his final years in his little shack in Dagobah during Star Wars: Episode V – The Empire Strikes Back. It's packed full of vegetables and will no doubt be enjoyed by both kids and adults alike.

<R2-D2 & C-3PO> Buddy Burger Plate – ¥1,990

This set of two chicken burgers comes with an R2-D2 seasoned with béchamel sauce and a C-3PO burger seasoned with meat sauce. You can take the flags home with you too. We recommend sharing this between two people.

Portion Bread – ¥500

This is the one I was most interested in personally, because I was curious to know from its appearance how it would taste. It's the portion bread that Rey tries eating in the film. At first glance it looks crunchy, but to my surprise it was soft with a subtle sweet flavour.

Lightsaber Drinks – ¥600 Each (w/ Coaster ¥1,300)

From the left, the flavours are Darth Vader blood orange, Luke Skywalker ramune, and Yoda melon. When you draw your straw from the paper wrapping, it turns into a lightsaber!

<STAR WARS > Jet Black Coffee – ¥600 (w/Bottle ¥1,750)

These limited edition bottles of black coffee feature the famous Star Wars opening crawl credits. Which one you get is randomーa must-have for all fans!

After enjoying some Star Wars food and drink, it's time to check out the cafe's exclusive merchandise. There are 13 types of merch in total all bearing artwork from across the film series.

Folder – ¥350

I recommend picking up one of these folders made in collaboration with the cafe. It has illustrations of the food and drinks being sold there.

Tote Bag – ¥3,500

This tote bag has illustrations of characters from Star Wars and how they are all connected.

There's plenty of other must-grab merch too, from music to stationery and more.

Customers who spend over ¥1,000 (excluding tax) on any of these exclusive items will receive the above-pictured limited edition bag. These are limited in stock so are available while supplies last.

There's plenty of places inside for fans to take great photos, so make sure you snap lots.

Also, if you book a table in advance and order something from the menu, you'll receive one of these 25 possible A5 folders, so be sure to book before you go!

© & TM Lucasfilm Ltd.

*All listed prices are pre-tax. Photos are for illustrative purposes only.

Information

"Star Wars" at OH MY CAFE

Locations/Dates:

■Tokyo: OH MY CAFE TOKYO (Tokyu Plaza Omotesando Harajuku) / January 18, 2020 – February 23, 2020

■Osaka: kawara CAFE&DINING Shinsaibashi / January 17, 2020 – February 23, 2020
■Nagoya: kawara CAFE&KITCHEN Nagoya PARCO / January 23, 2020 – February 25, 2020

■Hokkaido: Cafe Interlude, Coach & Four Shinkawa-dori / January 24, 2020 – February 24, 2020

■Fukuoka: kawara CAFE & DINING KITTE Hakata / January 24, 2020 – February 26, 2020

"Star Wars" OH MY CAFE Official Website: https://sw.ohmycafe.jp/

Bunjee Jump From the Top of Kyoto Tower With Their New VR Experience

Have you ever wondered what the thrill of bungee jumping would be like, but are too afraid of heights to even consider putting it on your bucket list? Have no fear, because Kyoto Tower is bringing a new VR bungee jumping experience to the top of the building which will be available to experience from February 1 for a limited time.

This VR experience was first brought to the tower in the fall of 2018, and this year it is making its grand return. After the event originally ended, there was huge demand for it to be held again.

Those brave enough to have a go at this VR bungee jump (or bungy, depending where you are from), will go above and beyond the 100 meter observation deck to the highest accessible point of Kyoto Towerーup 120.9 metersーwhich is normally closed off to the public, to the special VR deck which has been prepared.

The experience will offer you not only the thrill of jumping from Kyoto's tallest structure, but the chance to gaze upon a panoramic view of the beautiful city too.

Information

Kyoto Tower VR Bungy Jump

Running: February 1, 2020 – March 31, 2020

Time: 12:00-21:00 (Last Entries 20:45)

Location: Kyoto Tower Observation Deck – Floor 1F (the 11th floor of Kyoto Tower)

Price:

・VR Bungy Ticket: ¥800 (Tax Included)

・Observation Deck & Bungy Set Ticket (Tax Included): Adults: ¥1,400 (Individual Purchase: ¥1,600)/High School Students: ¥1,300 (Individual Purchase: ¥1,450)/Elementary & Junior High Students: ¥1,100 (Individual Purchase: ¥1,350)

*Ages 7+ only

*Set tickets are available to purchase on floor 1F of Kyoto Tower

*Run times subject to change

*Ticket charges applied for ages 7+; those aged below 7-years-old are not permitted to use the VR system

*An entry ticket to the Kyoto Tower observation deck is not necessary to experience the VR system

Official Website: https://vr-bungee.com/

Irresistible Fruit Sandwich Shop "Futsu ni Fruits" Opens in Osaka

Popular Tokyo fruit sandwich shop "Futsu ni Fruits" has opened a branch in Osaka called "Futsu ni Fruits Tosabori Parlor". With the help of Kansai's expert dessert Instagrammer Tiara, we'll be taking a closer look at the shop's irresistible menu.

Futsu ni Fruits is a sister branch of Omotesando's popular café & bakery "Bread, Espresso &,". Futsu ni Fruits at Tosabori Parlor in Osaka sells takeout sandwiches on floor 1 and has an eat-in café space on floor 2. 

Fruit Sandwich

 The café menu varies according to the time of day. There's a toast menu in the morning which sells toast with various fruit toppings. Futsu ni Fruits' classic Fruit Sandwiches are available from lunchtime and onwards. The rich whipped cream embraces the flavour of the fruit filling perfectly, leaving a refreshing aftertaste. 

The teatime menu is served from 3 pm which is your chance to try the Tosabori Parlor-limited Purin à la mode, parfaits and much more. 

Seasonal Fruits Drink


Purin à la Mode, Strawberry Milk and Coffee Milk

The Tosabori Parlor-limited purin à la mode is a luxurious mountain of delicious fruit and purin. 

If you're curious to try a Japanese fruit sandwich then Futsu ni Fruits is guaranteed to give you an enjoyable experience. 

If you're a dessert-lover in Japan then you just have to check out Tiara's Instagram which is a library of the most delicious desserts in the Kansai region. 

Article Contents and Photos by: @happy_pinkrose_tiara

*The information on the desserts mentioned in this article are subject to change at any time. For the latest updates, please refer to the links provided in this article.

Information

Futsu ni Fruits Tosabori Parlor

Opening Hours: 10:00 – 19:00
(Floor 1 Takeout: 10:00 – 16:00)
(Morning Menu: From 10:00/Lunch Menu: From 12:00/ Teatime Menu From 15:00)

Address:  1 Chome-1-30 Tosabori, Nishi Ward, Osaka

Official Website: https://bread-espresso.jp/

Pokémon Sword and Shield Themed Food to be Served at the Pokémon Cafes in Tokyo and Osaka

The Tokyo (Nihonbashi) and Osaka (Shinsaibashi) branches of the Pokémon Cafe are releasing their second batch of menu items in collaboration with Pokémon Sword and Shield which will be served between January 18 and March 19 next year.

Pokémon Sword and Pokémon Shield are the latest games in the Pokémon video game franchise and were released for the Nintendo Switch on November 15, 2019. The two new menu items fans can hope to enjoy based on Weezing and Morpeko. Also, due to popular demand, the serving period for the first collaborative menu which featured Grookey, Scorbunny, and Sobble has been extended to March 19, 2020.

Weezing's Chemical Change Gas Pancakes – ¥1,628

Try pouring the accompanying blueberry sauce over Weezing's cotton candy gas clouds and you might just see an actual chemical change yourself!

Ingredients: Pancakes, Matcha Whipped Cream, White Chocolate Sauce, Blueberry Sauce

Morpeko's Hungry W Sauce Omurice – ¥1,628

Just like Morpeko can change between two forms via its Hunger Switch ability, this omurice too is served with two different flavoured sauces.

Ingredients: Omurice, Demi Glace Sauce, Tomato Cream Sauce

If you've yet to visit the Pokémon Cafe in Japan be sure to put it on your list of things-to-do, and expect to enjoy a whole range of Pokémon-themed treats!

*All listed prices include tax

©2019 Pokémon. ©1995-2019 Nintendo/Creatures Inc./GAME FREAK inc.

Pokémon, ポケットモンスター and ポケモン are registered trademarks of Nintendo, Creatures Inc., and GAME FREAK inc..

Information

Pokémon Cafe (Nihombashi, Tokyo)
Address: Nihombashi Takashimaya SC East Bldg. 5F, 2-1-2 Nihombashi, Chuo Ward, Tokyo
Business Hours: 10:30-22:00
No Fixed Holidays (Except when Nihombashi Takashimaya SC is closed)
Reservations: https://www.pokemoncenter-online.com/cafe/reservation.html

Pokémon Cafe (Shinsaibashi, Osaka)
Address: Daimaru Shinsaibashi Honkan 9F, 1-7-1 Shinsaibashisuji, Chuo Ward, Osaka, Osaka Prefecture
Business Hours: 10:00-21:30
No Fixed Holidays (Except when Daimaru Shinsaibashi is closed)
Reservations: https://www.pokemoncenter-online.com/cafe/reservation.html

*Reservations available online only. Telephone reservations not available.

Hotel Royal Classic Osaka: A Museum & Hotel Fusing Tradition and Innovation in an Art Museum-Style Space

Shin Kabuki-za is an old theatre in Osaka that has been loved by locals since it opened in 1926. The theatre is set to find new life as Hotel Royal Classic Osaka, a new hotel developed by Japanese architect Kengo Kuma which is set to open on December 1, 2019. The MOSHI MOSHI NIPPON editorial team received exclusive access to view the hotel before it opens to report on it and showcase how it differs completely from other hotels with its characteristic charms.

Its direct connect to Namba Station means super easy access

Hotel Royal Classic Osaka is situated in the central part of Osaka Minami. Direct access to the hotel from the Osaka Metro section of Namba Station will be made available from March 2020, allowing for easy access and the reassurance that you won't get lost wandering the streets trying to find your accommodation. Its location means easy access for tourists and travellers with a lot of luggage, working professionals who want to shorten the distance between commutes as much as possible, and pretty much any other scenario where accessibility is a priority.

An iconic building exterior combining tradition and modern innovation

Shin Kabuki-za is known by the locals who live in the area for its magnificent karahafu roof gables. The hotel will inherit this symbolic part of the theatre's design and restore the lower part of the building. The upper part makes use of multiple layers of aluminium to create a dynamic and intricate design, resulting in a unique appearance that fuses both the traditional formation of the original theatre with a modern touch. Thanks to Kengo Kuma's skillful architectural work, the building merges effortlessly with the surrounding buildings while retaining the local culture.

It's as much of an art museum as a hotel

Olympic Girl 100m by Ay-O (Takao Iijima)

The hotel also stands tall and proud as an art museum. As you walk down its corridors, your eyes will meet a plethora of gorgeous pieces of artwork which serve to lay guests into a sense of calmness and tranquility. These works are scattered throughout the hotel, both at the front desk, guest rooms, and elsewhere, making it feel like you have really stepped into a museum of art. High-class pieces also line the walls nonchalantly, so give yourself time to appreciate the many masterpieces you'll find there.

  

High ceilings create spaceーspace which is nothing less than relaxing

There are 150 guest rooms in total, consisting of Standard Rooms, Premium Rooms, and Suite Rooms. Not only does each and every room boast a beautiful and panoramic window view of Osaka's nightscape, they also enjoy high ceilings, creating a sense of space and freedom.

Wood is the base of all the rooms, giving them a natural and relaxed feeling. The furniture is simple which gives the rooms a minimalist design, again adding to the space and sense of luxury. We stayed in one of the Standard Rooms. Don't let going for Standard make you feel inferior, however, as we felt the room was incredibly spacious with plenty of space to store luggage.

Room lighting is controlled with a tablet located next to the bed. The tablets are compatible in four languages. Each icon on them also has universally easy-to-recognise pictures for easy use.

Also, the bathtubs in Standard Rooms have a little window that looks into the main bedroom. If you're with someone you're on good terms with, whether friends, family or a loved one, you can communicate back and forth while you take a soak. (There is of course a sliding door so you can close it off too!)

We were also shown around one of the Suite Rooms which are fitted with a living room and spacious washroom. It really is penthouse-level extraordinary.

The bathrooms have a window that looks out across the city nightscape, allowing for an indulging soak with a breathtaking view. It's not one we could afford every single time we book a hotel, on a special occasion one time it's an absolute definite.

 

Amenities galore to pamper your hair and body

The rooms come with a long line-up of fantastic amenities, like comfy cotton PJs, fluffy slippers, and our personal favourite: a compressed bag for your clothing. 

The amenities in the washroom were bountiful too, from shampoo to conditioner, shower gel and body gelーall of which, by the way, are by the Thai organic brand Panpuri. They all smelled incredible and filled the bathroom with their gorgeous scent.

They have all your ordinary must-haves too like a hair comb, cotton buds, toothbrush, and so on.

KUMO KUMO: The bar and lounge with comfy sofas

The hotel building has a total of twenty floors. After enjoying our time in the hotel portion, we headed up to the bar and lounge KUMO KUMO on the 20th floor. Inside the elevator, piano music plays while you gaze at the several pieces of art fitted inside. There was even a piece by Yayoi Kusama, so be sure to take a look.

When entering KUMO KUMO, there's not only seats at the counter, but lots of sofas too with a window view.

Jazz music flowed through the bar and lounge, which is best enjoyed with a cup of delicious sake while staring out over nighttime Osaka.

HAFU is a restaurant for guests only that serves breakfast.

Their menu consists of lots of healthy options, from fruits to salads.

The chef will also prepare fresh hotel-grade egg and meat dishes too, amongst other delicious delights. There's also a range of slim-friendly menu items made with foreign guests in mind. The assortment was truly incredible, we can't recommend this place enough.

Of course, there's yogurt, mini sweets and other dessert-like morning treats to indulge in too. It was a breakfast for the gods.

YURAYURA: A restaurant that combines Japanese and Western cuisine


The team enjoyed lunch at YURAYURA too, a buffet-style restaurant that also seats non-guests. Their menu is an amalgamation of the Japanese and Western palate, serving carefully-selected ingredients from countries around the world.

They had various foods from around Asia too like nasi goreng from Indonesia, as well as Korean japchae, and more.

Other things we spotted were pincho and small-cut sweets too.

For Japanese food there were things like freshly-fried tempura, and large cuts of roast beef which were cut there and then by the chef.

What I was personally happy about was their cafe menu, with things like cafe latte and other hot drinks. It was a satisfying 90-minutes spent, wolfing down food and then enjoying some sweets with a cafe latte.

5 spaces that can be used for weddings, parties & more


The hotel building even houses two chapels, as well as banquet halls, which can be used for weddings, parties and more. The chapels have large windows that let in plenty of natural sunlight. The use of natural wood also gives the room a warm feeling to it.

Floor 8's HANAEMI

There are five banquet halls in total each on a different floor and each with their own concept. Those on floors 7, 8 and 9 even have terraces for parties too. Whether you're having a party, a wedding, or a conference, there is a room for you.

Hotel Royal Classic Osaka's speciality is its inclusion of leaving a part of traditional Japan in there while still letting you feel the Japan of today. Whether you're travelling to Osaka for some sightseeing and fun, or you're in the business scene and need a regular-use hotel, look no further. We felt connected to Osaka in our experience there, so if you're planning a trip to Osaka, be sure to book with Namba's newest landmark.

Information

Hotel Royal Classic Osaka

Address: 4-3-3 Namba, Chuo Ward, Osaka

Grand Opening: December 1, 2019

Access:

①From March 2020, the hotel will be directly connected to Exit 12 of Namba Station in the Osaka Metro section

②4-minutes on foot from Namba Station via the Nankai Main Line

③3-minutes on foot from Namba Station via the Hanshin Namba Line

④10-minutes on foot from Namba Station via the JR Line by way of Namba Walk (underground)

Official Website (English): https://hotel-royalclassic.jp/en/

Pompompurin Cafe Reveals Christmas Menu For Harajuku, Yokohama & Umeda Branches

The Harajuku, Yokohama and Umeda branches of the Pompompurin Cafeーthe cafe chain centred on Sanrio's popular character Pompompurinーis serving up two cute Christmas menu items this year from December 1 to 25.

*Food names below are translated from Japanese

Hurry Up Santa – Pompompurin Cheese Keema Curry – ¥1,290 (Before Tax)

This rich and spicy keema curry is made with Parmesan cheese, cheddar cheese, and natural cheese. The colourful stars are made from carrot and paprika, while the spiralled Christmas cheese is a combination of spinach and mashed potato. Purin is made of rice and is waiting in anticipation for Santa to deliver his present. You'll see he's holding a stocking which is a made from bread and walleye pollack mayo. A hearty dish that is both delicious and adorable

Snowman Pompompurin – Snow Covered Chocolate Tart ¥1,190 (Before Tax)

Pompompurin has turned into a vanilla ice cream snowman and is standing next to a pistachio cream Christmas tree. They are both atop a rich chocolate tart. This cute dessert is like a Christmas garden straight out of a children's picture book.

If you decide you want to spend your Christmas with Pompompurin this year, then you'll receive a free lunch mat when you order food and a free coaster when you get a drink. These are both limited in quantity, so don't miss out!

©1996, 2019 SANRIO CO., LTD. APPROVAL NO.S603310

Information

■Pompompurin Cafe Harajuku

Address: CUTE CUBE HARAJUKU 3F, 1-7-1 Jingumae, Shibuya, Tokyo

Opening Hours: 11:00-21:00 (Food Last Orders 20:00 / Drinks Last Orders 20:30)

Access: 3-minutes on foot from the Takeshita Exit at Harajuku Station

TEL: 03-5786-0770

■Pompompurin Cafe Yokohama

Address: Yokohama Sotetsu Square, 2-1-5 Minamisaiwai, Nishi-ku, Yokohama-shi

Opening Hours: 10:00-21:00 (Last Orders 20:30)

Access: 5-minutes on foot from West Exit at Yokohama Station via JR

TEL: 045-311-6750

■Pompompurin Cafe Umeda
Address: Hankyu Sanbangai South Wing B2F, 1-1-3 Shibata, Kita-ku, Osaka-shi
Opening Hours: Weekdays 11:00-22:00 (Last Orders 21:30) / Weekends & Holidays 10:00-22:00 (Last Orders 21:30)
Access: 3-minutes from Osaka Station via JR
TEL: 06-6292-7140

Pompompurin Cafe

Official Website: http://pompom.createrestaurants.com